The Alexians recently introduced you Philips Hue smart bulbs. This remains the top of connected bulbs, of very good quality but at a rather… unsettling price. Indeed, it is necessary to count from 30 to 60 € per bulb, except promotion, according to those chosen (color, base, atmosphere…). It's expensive… Very expensive. And although we like these products very much at Alexians, we expect very high quality at this price. We haven't been disappointed… until now.
We have indeed chosen to present to you the first price connected bulbs from Philips, the Hue White, 9 W, E27 base, 806 lm, warm white and works with the Hue bridge or a Zigbee Hub like an Echo Plus or a Show 2. It is also with that -Here it will be tested. First price because it is available at € 19,90 individually or € 29,99 in a set of 2, excluding promotion. But what do we get for that price at Philips?
Not available
August 12, 2022 16:52 a.m.
Philips Hue White: a fairly basic bulb
La Philips Hue White is delivered in a very qualitative and friendly : imaged, in glossy printing, it uses the visual of the bulb and its main characteristics. But why always detail the packaging? Because we are average consumers and the visual aspect of a product casually has a significant psychological impact. Remember the LoraTap shutter switch test… From the start, things started badly.
Inside, the bulb is well wedged and protected. We also find there an installation guide efficient explaining the procedure for the different types of possible installations (with bridge or with Dimmer Switch).
What about the quality of the materials? The illuminating surface is relatively small, but made of glass, and the body is made of hard, glossy white plastic. Even if we are not talking about a glaring quality problem, the materials do not appear to be of high quality, the visual aspect is massive, not worked and we really have the impression of being in the presence of a low or mid-range bulb. It's more a feeling than anything else, but we expect much more quality from Philips. We tested bulbs from lesser known brands with a much more present quality aspect.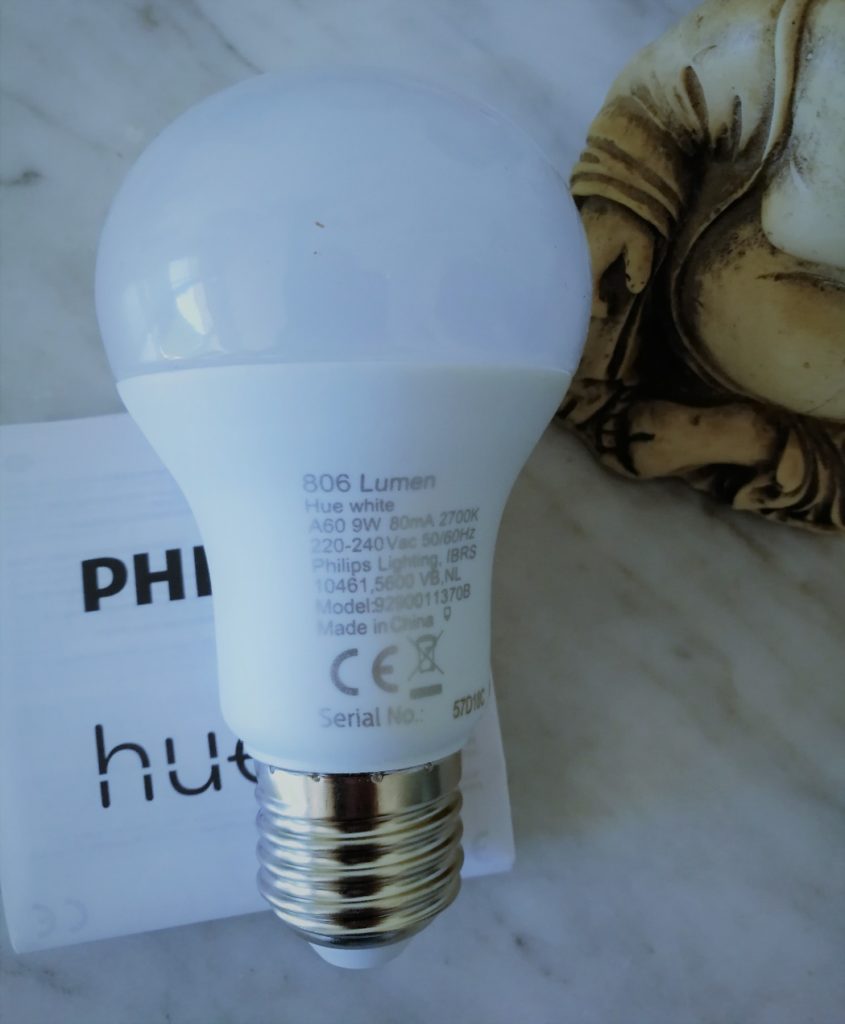 It is 6,1 cm in diameter and 11 cm in length (count 8,5 once in place). Its power is 806 lm (801 lux measured at 1 m in direct lighting), class A +, 9W, or in the average of connected bulbs. Her Theoretical service life is 25000 hours (i.e. 2 years and almost 11 months in non-stop operation and over 34 years if used 2 hours per day) or 50000 ignitions. The color is a warm white 2700 K… It is therefore relatively correct in its data and the quality of its lighting, but remains very limited.
Philips Hue White: installation with the Echo Show 2 and use
For this test, we installed the bulb without the use of the Hue Bridge but directly with the Zigbee hub of theAmazon Echo show 2. The installation is extremely simple and can be done in two ways:
Put the bulb in place, turn on and in the app Alexa, press add a device, select "Philips Hue" and let yourself be guided.
Put the bulb in place, turn on and directly ask Show 2 " Alexa, detect my devices ". And Alexa the fact. This is what we used.
No need to flash the bulb or anything, it's very fast. Once done, name it and start using it.
In terms of its management via Alexa, we are more limited than with the Hue app, but without the use of the Philips bridge, impossible to use it. We therefore remain on what the bulb knows how to do basic: vary its light intensity, that's all. That said, basically, use of the bridge or not, it wouldn't change anything because the bulb as such does not allow you to do anything else. The most with the application would have been to integrate it into scenes or others.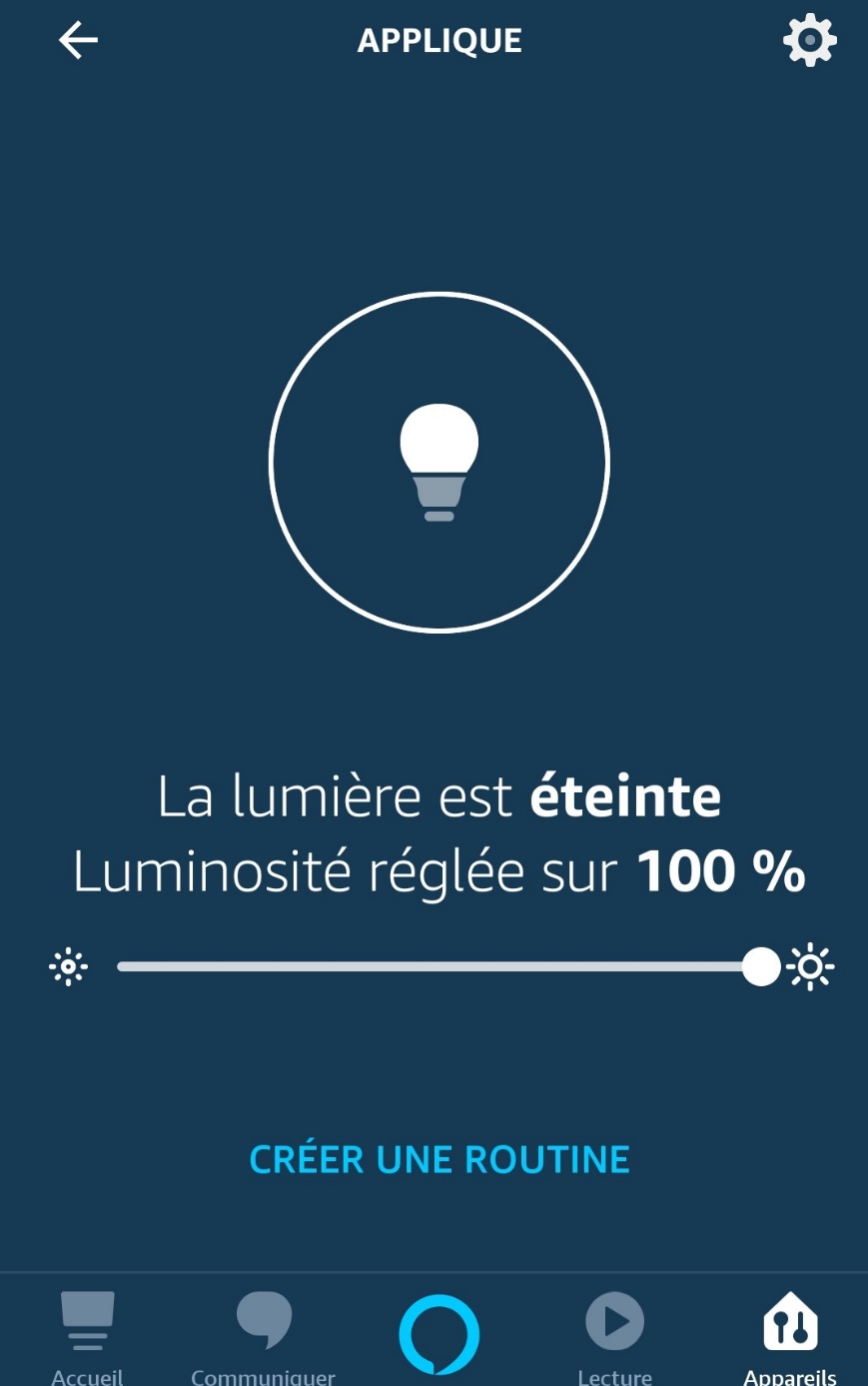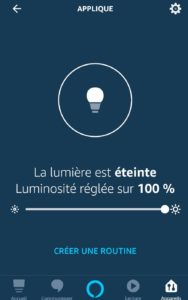 Why bring out a bulb with only one color […]?
In terms of colors, this bulb is only warm white. It is possible, as said before, to vary its intensity but it stops there. Warm white is a yellowish color, used for a warm atmosphere but loses in clarity. And this is a problem. Why take out a bulb that has only one color when the interest of connected bulbs is to adapt its lighting to the time of the day, its activity or its desire (we are only talking about the variation of white and no colors, that's another story)? That said, the color is clear and homogeneous. But also not exceptional in comparison with other tested bulbs.
Then ? What do we conclude from this Philips Hue White? That at € 19,90, we pay the Philips brand for a relatively average bulb whose only interest is to be a Hue, and therefore not to saturate your network and which can be integrated into your Philips installation already in place. Regarding its intrinsic characteristics, we are on the basic and it is possible to find much better for the same price. It is even surprising to find today single-color smart bulbs, without any possible variation of the whites. Interest is more than limited if purchased individually. This bulb is not representative of the quality of other Philips products in the Hue range. The ranges Philips Hue White & Color Ambiance and White Ambiance are a much better alternative. However, in a pack of 2, at a price ranging from 22 to 29 €, the conclusions are noticeably different, because we are now talking about bulbs at 11 or 15 € each. And there, its characteristics are no longer out of step with the price, on the contrary, it becomes a very good deal. The scoring was made starting on a purchase in lots of 2.
Not available
August 12, 2022 16:52 a.m.