You who read us and watch us on Youtube, you know that Les Alexiens did several tests ofPhilips Hue bulbs (White & Color E27, Hue White E27, Philips Hue E14 bulbs…). This range remains the best of connected bulbs, of a very good quality (with one exception) but in relation to a crazy price. Indeed, it is necessary to count from 20 to 70 € per bulb, except promotion, according to those chosen (color, base, atmosphere…). But at this price, you have exceptional products.
We continue for you our journey in the Philips Hue range. Follow us and let's go this time on a GU10 bulb, the very last of the range, the White & Color Ambiance (WCA, it's shorter), on sale since mid-August 2019. It's a 5,7 W LED for 350 lm. It comes in addition to the 10rd generation GU3 which was more greedy (6,5W) and less powerful (250 lm). Like all Hue, it works with the Hue Bridge or a Zigbee Hub like an Echo Plus or a Echo Show 2. It is also Bluetooth and can work locally, without a bridge.
99,99€
In stock
3 new from € 99,99
Refurbished from 5
August 12, 2022 11:52 a.m.
Not available
August 12, 2022 11:52 a.m.
Philips Hue GU10 WCA: unboxing without bad surprises
Our Philips Hue GU10 smart bulb is delivered in a glossy cardboard box quite qualitative and pictorial: visual of the bulb, main characteristics and highlighting of its operation with Alexa. However, we can blame the fact that there is mention of Bluetooth, the hub and the Hue application, but never the fact that it also works with a third-party Zigbee bridge (apart from the Zigbee logo, mandatory).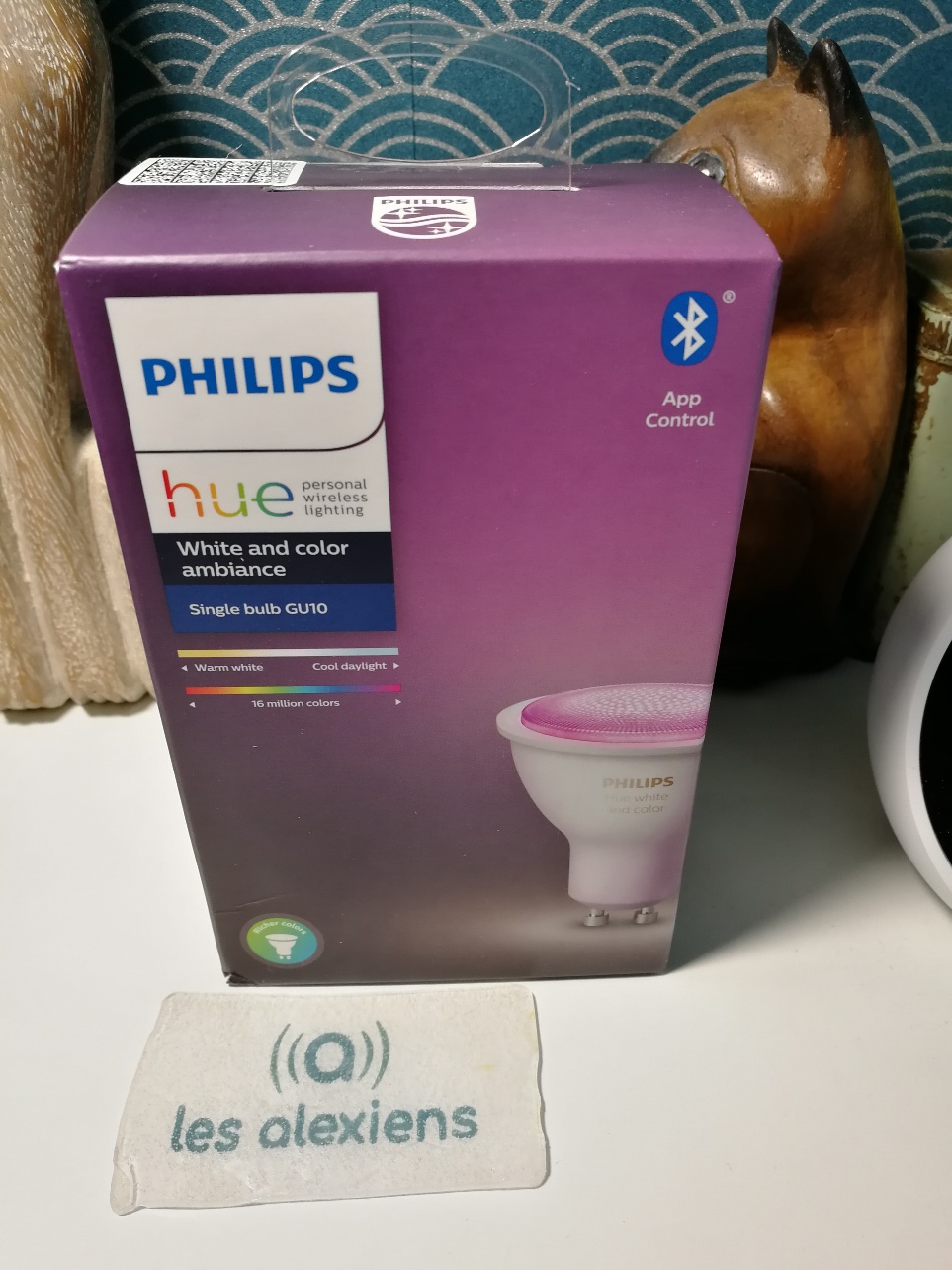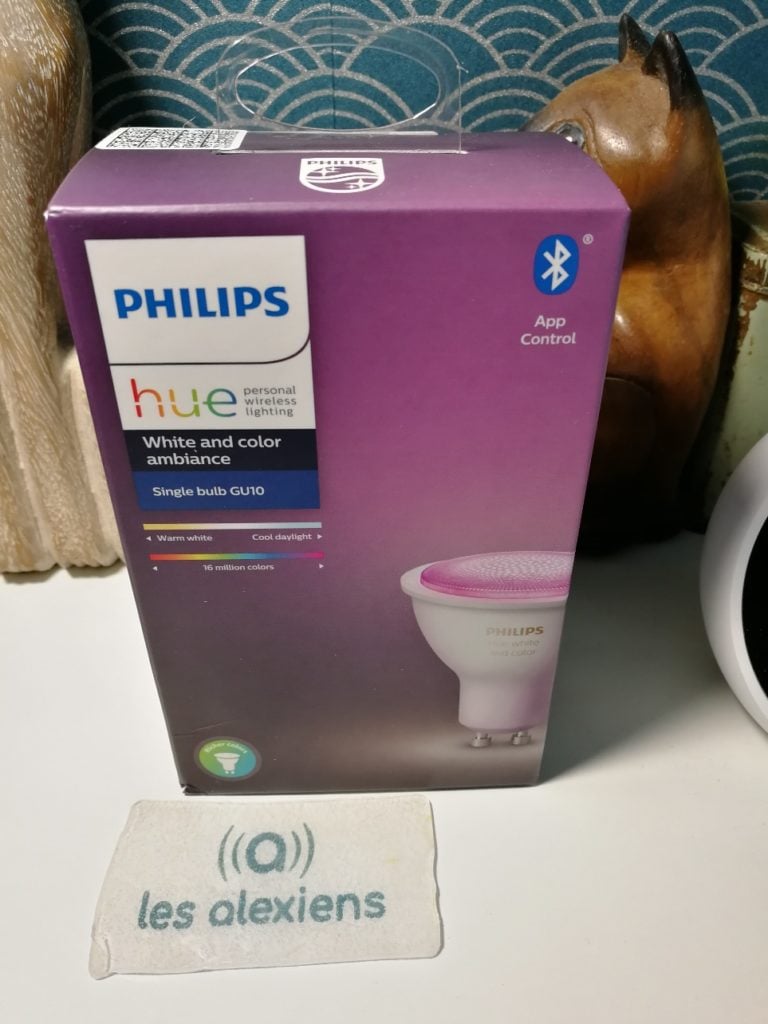 Inside the GU10 is corseted in cardboard and does not risk being damaged. There is also a installation guide efficient, all in drawings, explaining the procedure to follow with the different types of possible installations (in Bluetooth, with Hue bridge or with Dimmer Switch).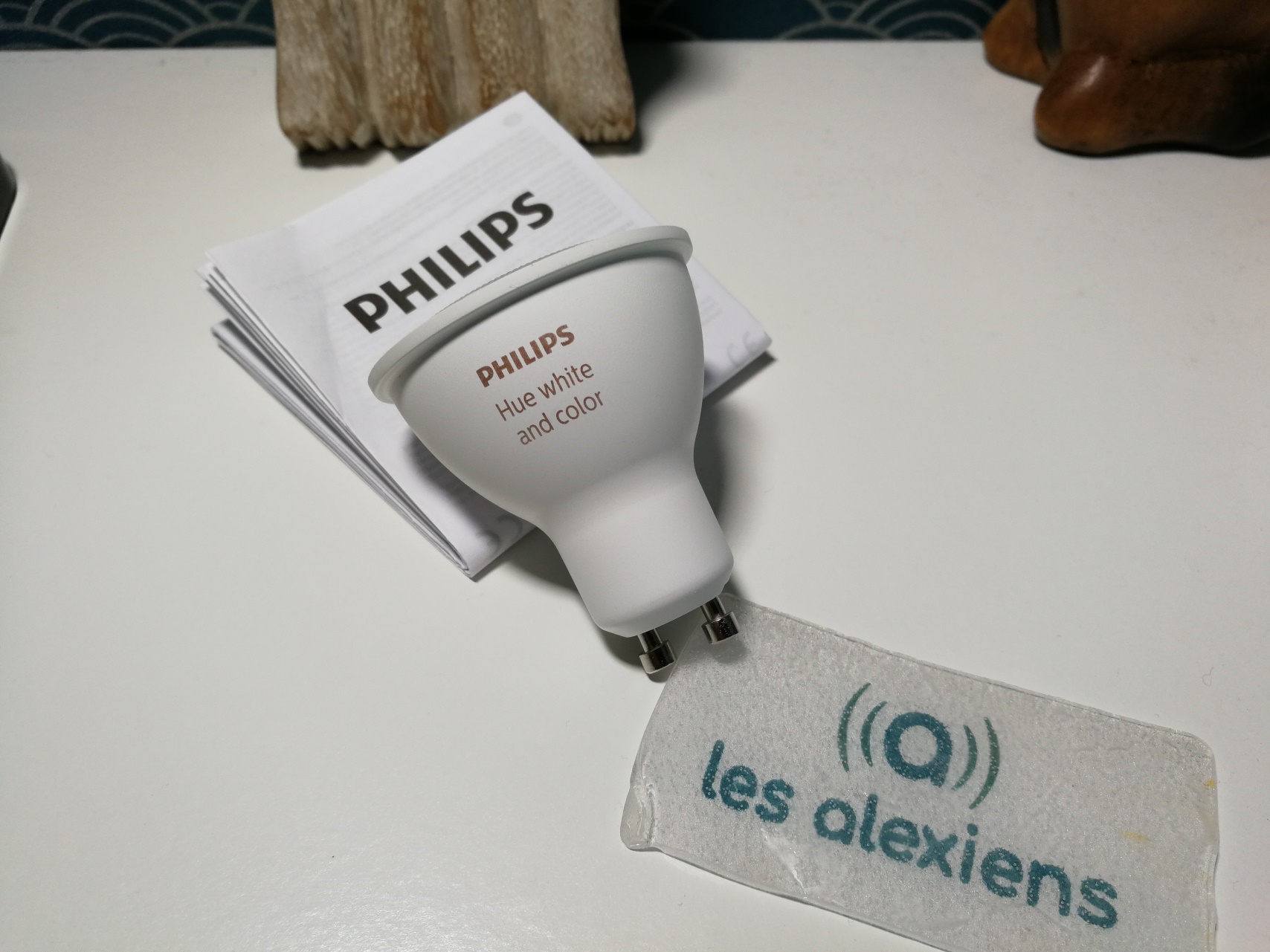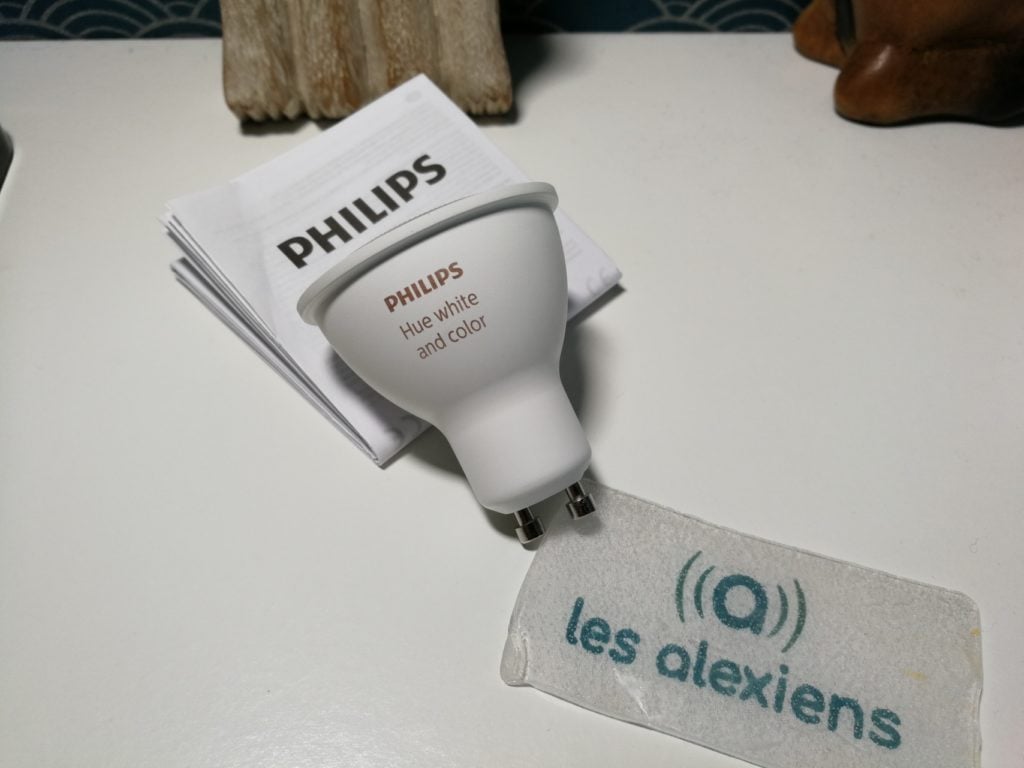 The appearance of the bulb is really very good : very thick matt white plastic, reminiscent of PC, for the body and relatively worked transparent plastic for the lighting part. The different cavities and other convolutions of the plastic will allow the light to be amplified to a lesser extent, but also to be diffused more efficiently. This is one of the important differences with the more basic brands. Of course, the quality of materials, circuits and relays is also largely decisive. It is clean, it is well finished and it is beautiful. We find on the side of the bulb its characteristics, its model (model: 9290019531) and its place of manufacture (China).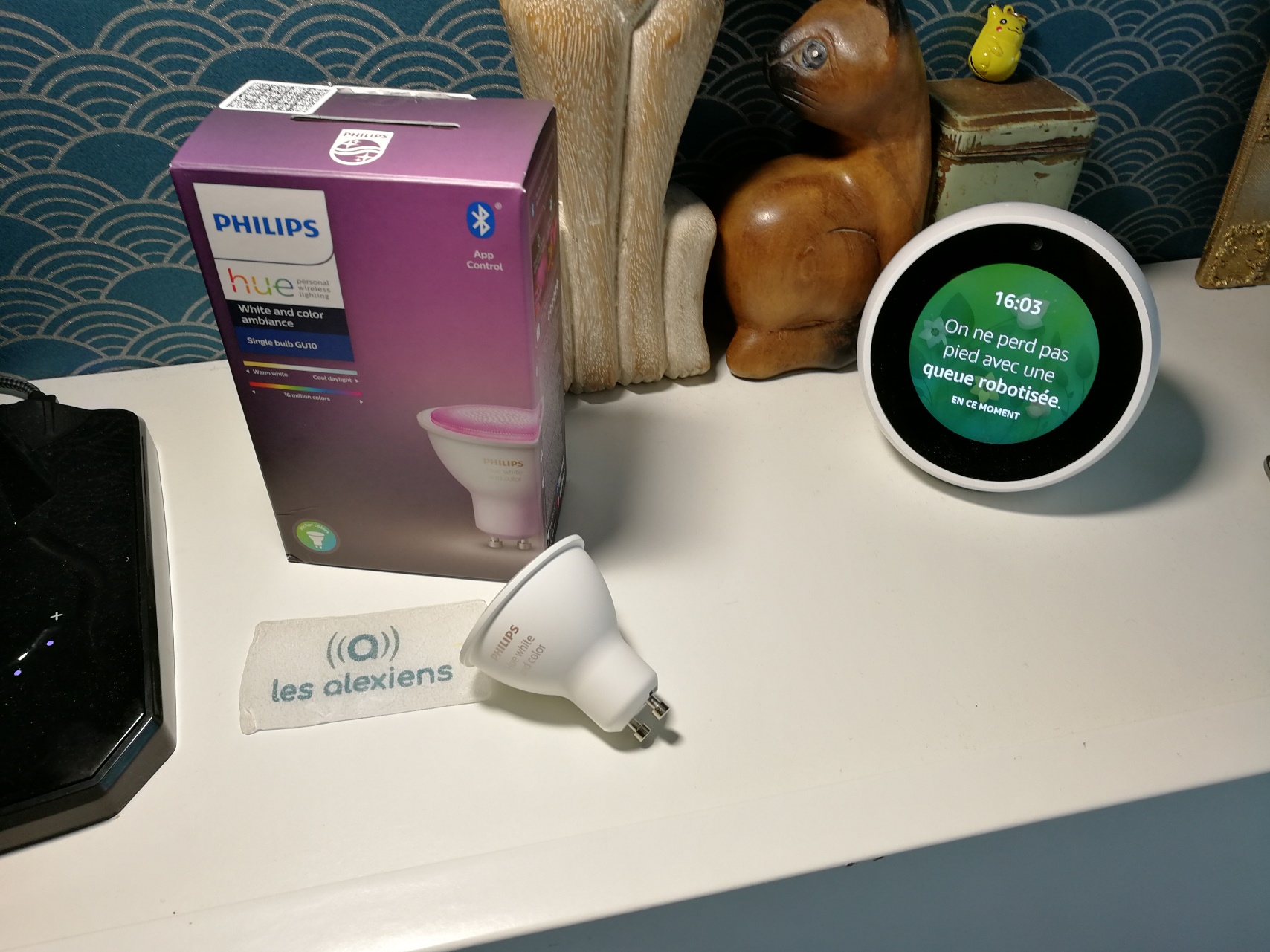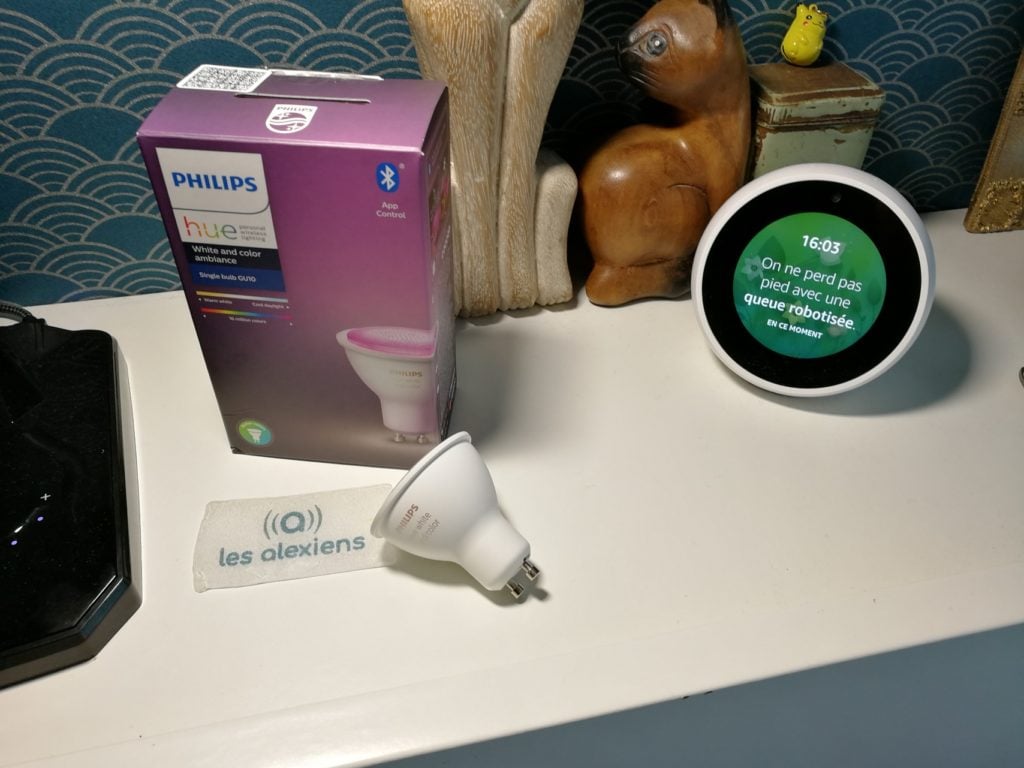 In terms of dimensions, our connected GU10 is 5 cm in diameter et 5,8 cm high and weighs 51 grams. Moreover, for information, GU10 means that we are in the presence of a bayonet bulb, universal (hence the U) and that there is 10 mm between the two pins. Its power is 350 lm (which is in the average for LEDs of this type), class A +, 5,7W. The advantage of this model is that it is small, not very greedy and more powerful than its predecessors. Its theoretical lifespan is 15000 hours (i.e. 1 years and 8 months in non-stop operation and more than 13 years if used 3 hours per day) or even 50000 ignitions.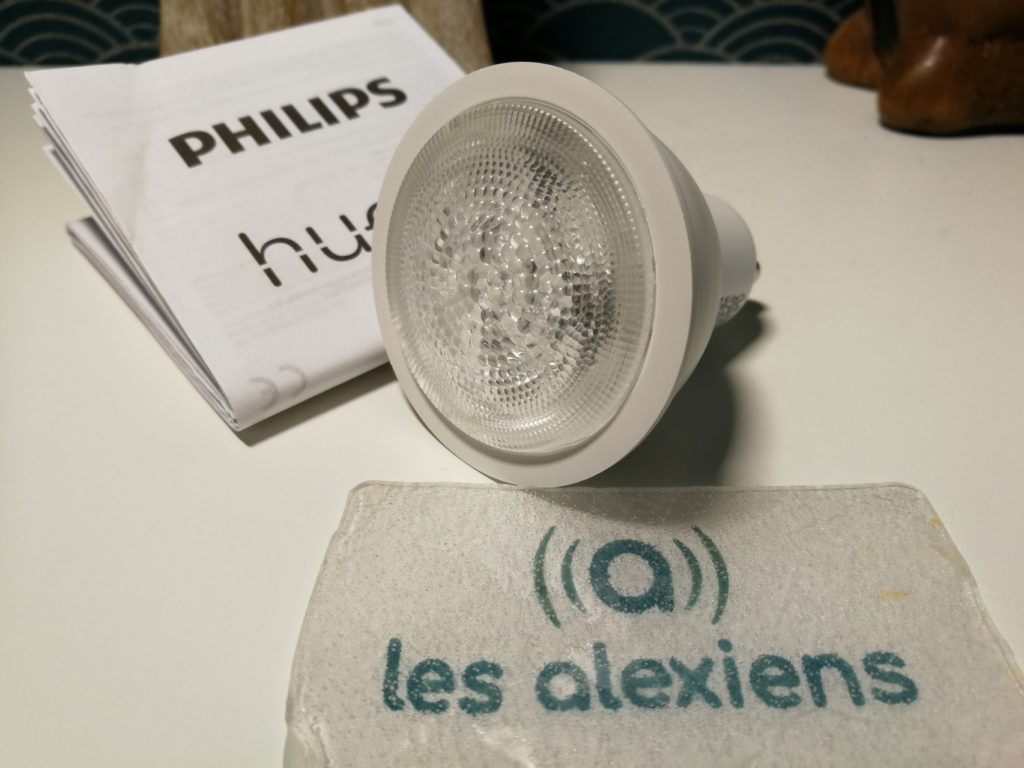 But let's not forget that we are on the range Philips Hue White and Color Ambiance, this means that our bulb is dimmable, that white are adjustable over a heat range from 2000 (yellow trend) to 6500 K (blue trend) and that it has 16 millions of colors. Which is good, because the human eye can distinguish 2 million for the most experienced. If you see duplicate colors, don't complain, this is normal.
If you like to know the details of your purchases, here is what you may like. It works on 220-240V AC, -20 To 45 ° C and at a humidity 5 to 95% but beware, non-condensing. So avoid bathrooms or kitchen hosts. No Wi-Fi of course, but Zigbee on channels 11 to 26 et 0 to 39 for Bluetooth.
Philips Hue GU10 WCA: installation with the Echo Show 2 and use
For this test, we installed the bulb without the use of the Hue but directly with the Echo Show 2 Zigbee hub. If you would like to see how to use the Philips Hue bridge, we refer you to our other tests.
The installation is extremely simple and can be done in two ways:
Put the bulb in place, turn on and in the app Alexa, to push on "Add a device", to select "Philips Hue" and let yourself be guided.
Put the bulb in place, turn on and ask directly to Echo Show 2 « Alexa, detect my devices ». And Alexa the fact. This is what we used because it is more… fun!
It's very simple because there is no pairing mode to implement: you screw the bulb, you turn on and get started Alexa. Another strong point of this type of product Zigbeeis that the bulb is operational as soon as you turn it on, no latency to connect to the network.
We chose this type of installation because not all users have Hue Bridge and some have purchased Echo Show 2 ou Echo Plus to have a Zigbee bridge. However, in terms of its piloting via Alexa, we are more limited than with the Hue app, which cannot be used without the brand bridge. We therefore remain on what the bulb knows how to do basic: vary its light intensity, colors and heat. The most with the application would have been to integrate it into scenes or others. With the Show, however, you can create routines.
In use, we immediately see the advantages and qualities of this GU10:
She's very responsive,
The colors are clear, deep and beautiful,
THEIRC 80 can be seen very well even if we could expect more from the product,
The heats of the whites are well marked and the rendering of daylight white is quite natural.
We invite you to realize the intensity and the beauty of the colors through this video test made love, by us, for you, kisses.
What to conclude for this conclusion? Only very good or almost:
flawless bulb finish
,
high quality materials
,
very responsive
,
very deep colors
,
very straightforward and homogeneous
. We are on an excellent product, top of the range as this brand knows how to do. Does that mean that there are less good ones? Yes… First of all, to judge the worse, you have to judge with regard to the price.
And there, we are at 59 € a piece!
Yes yes… it tingles a bit. From there, we expect the excellent, the sublime, the exceptional! We are on very very very good, but a
CRI of 80 only
while we find LEDs, not connected it is true, with IRCs of 90 and more, at ridiculous prices, or IRCs 80 connected at a quarter of the price, always leads us to ask ourselves the question of the famous quality ratio price.
So in conclusion of this conclusive conclusion, let yourself be tempted by these GU10s of an excellent level, but maybe wait for the promos ...
99,99€
In stock
3 new from € 99,99
Refurbished from 5
August 12, 2022 11:52 a.m.
Not available
August 12, 2022 11:52 a.m.
Philips GU10 Hue White and Color smart bulb 3rd Generation - Works with Alexa
NS. 59 €