Any good connected home installation begins with smart bulbs. That everyone knows. And tests, we did some: white, gray, good, average… But, sometimes, we want a connected bulb just because it is pretty, because it is out of the ordinary. And we managed to find you one, by giving of our person. We took our little cart and went to Action to stock up on provisions. The stores of this chain had offered the Flamingo connected plug which we tested almost a year ago. We will say thatshe will not be remembered. But what about this new, fairly extensive range?
Indeed, Action currently offers a full range of E14 and E27 bulbs, a strip light, a socket, an opening detector, an alarm.… This gives us a lot of ideas and the temptation is great to have all these products at hand, in self-service. This is a big strong point, not to mention the prices… They are very competitive. But what do we actually have for that amount? We'll see that with our pick (yes, yes, we're a bit scattered): the E27 filament smart bulb.
It is a bulb of 5,5 W for 470 lm with an very successful vintage design. There are several in the filament range going from the small E14 to the huge E27, but always in 470 lumens and with a price between € 8,95 and € 9,95.
The test on this particular reference is valid for the entire filament range, the technology being the same.
LSC Smart Filament: unboxing of the vintage bulb but connected
This private label of Action can only be found in some of its stores and unfortunately cannot be ordered on the web. However, there are no delivery times worthy of childbirth. As said in the preamble, the test of this reference is valid for the range LSC Smart Filament prayer.
Our E27 bulb (Edison 27 mm) is presented in a very colorful, glossy, colorful cardboard… It is very modern. It is in fact made up of two parts: a cover that can be removed quite easily because it is held with two adhesive pads and a bottom serving as a container. The information provided is clear: power, operation with the LSC App home application, compatible Alexa and various data. It is quite flexible but inside, the bulb is well wedged between two boxes. No risk of breakage. The first impression is very good.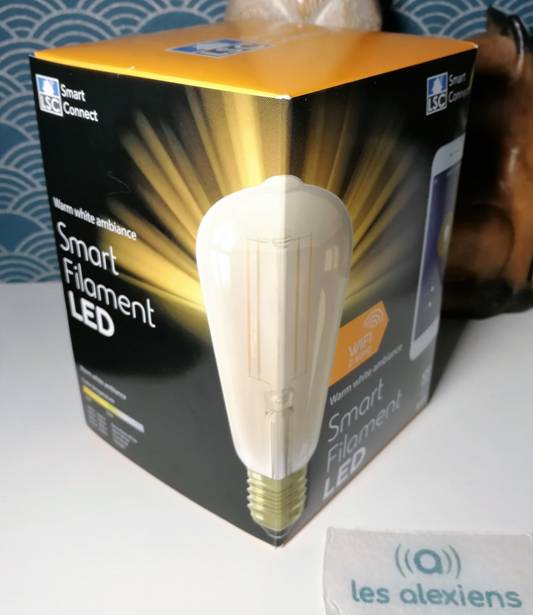 We find our bulb well wedged and basically a notice in 10 languages ​​on the connection mode. The first impression is "Wow !!! ". And yet, the wolf, we saw it, and several times, so to make us release this type of blissful interjection, it is necessary. It is frankly successful: its bulb has a nice golden color, the base is also in the same range of shades and its 4 filaments are quite successful. So yes, be careful, we are talking about filaments but they are not incandescent bulbs. These are filaments made up of very small LED chips. Its retro aspect is linked to this filament aspect, this bronze color and this incandescent bulb shape with a small prominence on the top.
In terms of materials, we are on a bulb "as before": glass bulb and metal base. No apparent Wi-Fi system, no big filthy cover that makes half the bulb as on standard LEDs… It is very well finished and very light (less than 50 g). We all remember those incandescent bulbs that burned us to the 3rd degree if we had the misfortune to touch them after having extinguished them. Well, it doesn't, it doesn't heat up at all. This is a very good point. The warmth of his whites will vary 1800 to 6500 K.
At the level of characteristics, she does 6,5 cm in diameter at the widest point et 11,5 cm long once in place. She is from class A + (6 kWh / 1000 h) and is advertised for 15000 hours of operation (1,7 years on permanently and more than 20 years if used 2 hours per day). It works in 2,4 GHz Wi-Fi, IEEE 802.11 b / g / n. At the electrical level, 220 250-V et 50 / 60 Hz. Only the light intensity can disappoint: 470 lm. It is therefore necessary to reserve for it the use of an auxiliary lamp, bedside lamp or decoration.
LSC Smart Filament: operation with the application mai… Smart Life!
Brand products are entitled to their home application, LSC. But this application is based on Tuya, we decided not to use it but to go directly through Smart Life in order to avoid having yet another application to manage. Which is good, because there is currently no LSC skill. If you are not used to using Smart Life, go see our different tutorials for installing a light bulb, But it's very simple.
Once in the application, press the "+" at the top right and select " lighting " et "Lighting devices". To put the socket in pairing mode, turn it on and off 3 times in a row until it flashes (but in our case, it went into pairing mode as soon as it was switched on)… Then follow the normal procedure: select the Wi-Fi network, let the detection take place and rename it. It takes 30 seconds maximum.


To use it in a simple way, rename your bulb and wait for the update to take place. It is also very fast. Here, your E27 connected bulb is ready to be used. If you have activated the Skill Smart Life, Alexa automatically discovers it.
Now that the bulb is installed on the app, let's take a closer look at what we can do with it. The interface is identical to all other bulbs. You can turn it on and off by clicking on the bulb logo. By going to "Schematic", you will have access to a schedule for switching on or off. By going to "White", you can vary light intensity from 1 to 100% (unlike the 10 to 100% announced by the house application) and the warmth of whites from 1800 to 6500 K or extra warm in the light of day. And of course, there is the possibility of scenario, routines via Alexa... Via the skill Alexa, you are limited to the colors of the application (about fifteen) that will be easy to call up by voice.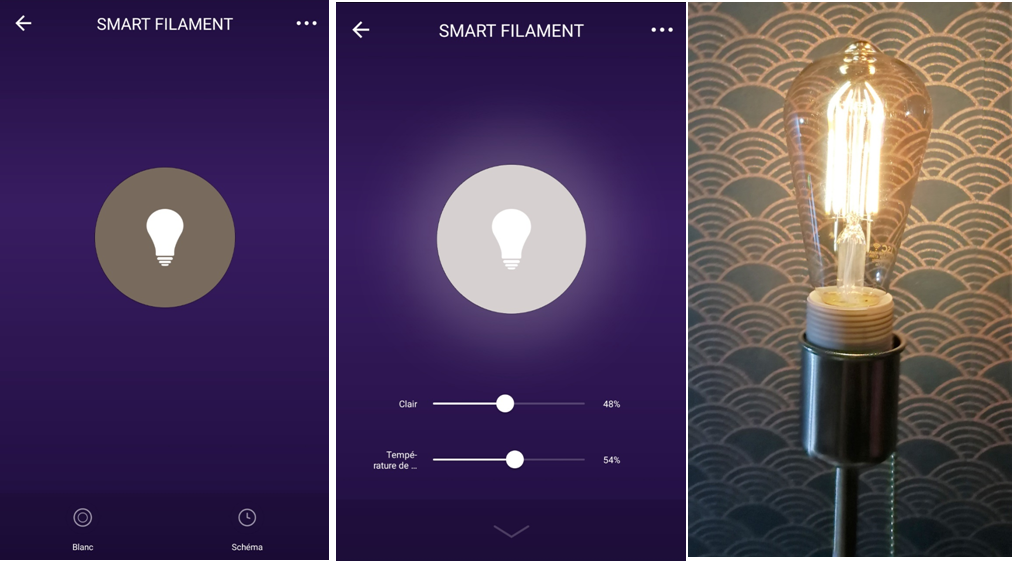 You can see our Action Bulb in action via this video test. She is very responsive, the colors are very clear and the heat is very marked. The low light intensity is counterbalanced by a deep, radiant luminosity. It is a very good product… and very pretty. There is no flickering of the bulb when it is filmed, proof of the quality of the product… We are really on a very good product at an unbeatable price.
In conclusion, our Smart LED filament is a great surprise. It already appeals with its very successful retro design and then surprises with its quality of manufacture, its clear and deep whites. Only its low light intensity at 470 lm is to be put in the weak points, but it is clearly not a main lamp. And above all, what a price! € 8,95 !!! It is an unbeatable value for money!