Alexians love light and even more smart bulbs who transmit it to us in the most beautiful way. In this context, we wanted to know more about a brand, Innr, that we had not yet tested in our lab which, it must be said, is starting to be well supplied with equipment compatible with our favorite voice assistant: Alexa. We therefore wanted to submit the E14 White flame bulbs compatible with the Philips Hue bridge. In its absence, it will be necessary to have an Echo device with an integrated bridge like the last and very noticed Echo Studio, or Echo Show which with its large screen also allows you to manage your connected home with your finger and eye.
For information, Innr is a Dutch brand created in 2012 by former Philips Lighting and Ikea staff. So let's see what our set of two bulbs Innr E14 white RB245 at 29.99 € is able to do.
22,99€
27,99€
In stock
2 new from € 22,99
August 13, 2022 12:51 a.m.
Innr E14 White: connected bulbs thanks to ZigBee
Unboxing and presentation
The "flame" bulbs arrive in one and the same relatively thick packaging and perfectly rigid, just the size you need to contain them without them colliding. the flaming red card is in the brand's colors. We find visually on both sides our bulbs type E14 White topped with the brand's logo.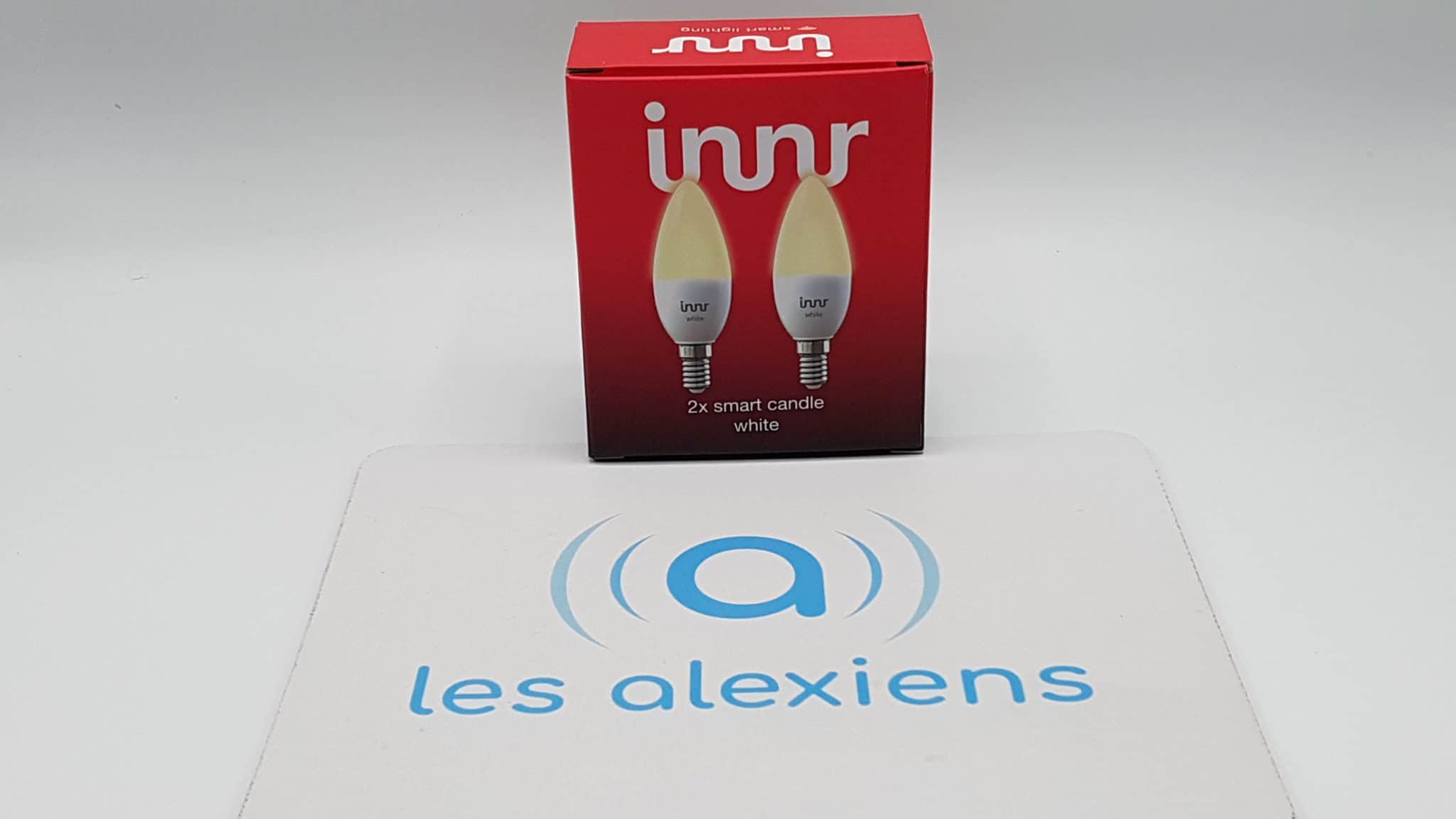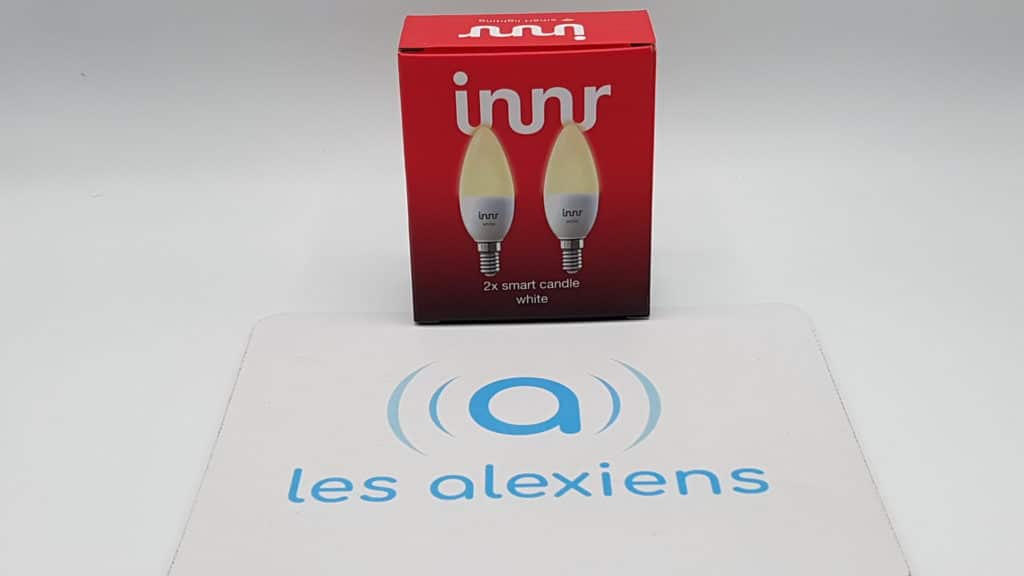 On one side all technical information are displayed as small pellets. The information as such is rich, but is it a reflection of reality? This is what we will see later. Let's see for the moment what the essence of logos is ...
First of all the protocol with which our lights are compatible: the ZigBee. This protocol makes it possible not to directly saturate the Wi-Fi network of the box while using the frequency of 2.4 GHz. Indeed, our bulbs work via a pont used to communicate with the box, whether integrated as with some Echo, or external like that of Philips Hue with which Innr brand objects are compatible. In the case of Philips Hue, the bridge is counted as a single object by the box and can yet manage up to 50 objects which are paired with it, you understand the interest ... To find out more about the different communication protocols it's here. In the case of use via the Hue Bridge, it will be necessary to install the home application. This option should also be preferred to take full advantage of all the application's resources.
The color temperature is 2700K, that is to say that the rendering will be a yellow light. the CRI ou Color Rendering Index or IRC in French is> 80. For information, the index 100 corresponding to daylight. A bulb which will provide an artificial luminosity will not exceed the index 90. Our Innr E14 White bulb indicating to provide an index> 80 must allow us to obtain an optimal light. They will respond to our requests with a latency less than half a second. Theprotection sign (IP) for them is only 20, so they will not be suitable for humid places without a protective globe. A pastille also indicates the lighting radius: 300 ° (which, it must be said, is very rare as information).
Here is all the main information of our LED bulb measuring 11cm long for 3.8 cm diameter, whose service life is over 25 hours and which displays a 5.3 W power (corresponding to a 40 Watt incandescent bulb).
Ah yes, one last information on our box these bulbs are announced non-dimmable ... according to the logo at the top right. The image indeed represents a crossed out dimmer which clearly suggests that it will not be possible to vary the intensity of our bulbs which only provide warm white. Except in the technical sheet our bulbs are advertised dimmable … What information to believe? Will we have a pleasant surprise? Will we be disappointed in the test?

After this flood of information that has taught us almost everything about this little connected LED bulb in the shape of a flame, let's see what we learn from the other side of our box. The W-Fi and automation symbols for programming are printed. Finally, the bottom of the box tells us about the energy class to which the LED bulb belongs: A+.
After this very complete tour of our beautiful box, it is high time to open it to see what it contains: yes, bulbs, we agree ... The opening of the box reveals the head of the flames through the two openings designed to hold them. We also find at the bottom of the box a pierced cardboard base allowing the base to be correctly fixed during shipping. The top and bottom of our smart bulbs being well established, they fear nothing.
Once out of their packaging, we discover our Innr E14 White bulbs. The globe part is all in opaque plastic while the white lower part is also in plastic, the mention White is printed below the mark. Everything is of good and good quality. The whole is harmonious. Also attached are two small documents: one being a marketing leaflet and the other containing the safety instructions and the reset procedure (turn off / on the switch 6 times)
After this tour of the contours, here is a summary of the technical sheet ...

Technical characteristics
Brand
Innr
Routing
Smart Candle
Reference
RB 245 White
Type
Dimmable E14 LEDs
Material
plastic
Dimensions
11 x 3,8 x 3,8 cm
Weight
40.8 grams
Luminous flow
470 lm
Engime
5.3W
Food
230V
Color
2700K - IRC 80
Innr E14 White: simple installation via the Philips Hue bridge
So yes, if you have read everything correctly, you have identified the problem with the description or the technical sheet: on the box the logo of the dimmer is scratched indicating that these bulbs can only be used ON / OFF but the data sheet indicates dimmable… It is therefore only after installation that we will have the final word. Suspense!
As indicated previously, Innr bulbs benefit from the compatibility with Philips Hue bridge where they can be installed to take advantage of all the possibilities offered by the Hue application such as predefined scenarios. They can also be installed directly on an Echo device embedding the Zigbee protocol, but their use will be restricted without being able to have access to the panel of settings offered by the application. Having already Hue products and its bridge we will install our 2 bulbs on this one.
If you want to install your bulbs directly via an echo device, you can refer here to the test of Philips Hue GU10 White & Color Ambiance bulbs.
If you are installing the Philips Hue app for the first time, see the Philips Hue White E14 review or Philips Hue E27 starter pack test to find your way around the app. As far as we are concerned, we already have Philips Hue products and therefore an active account and the application installed.
For us, it will therefore simply be necessary to add our new bulbs in the Philips Hue application so that they are recognized and become part of the Hue family. Once the application is open, in « settings« (bottom right), then « light configuration« , you have to click on "Add a light" and choose "Search" and our bulbs appear as if by magic.
You can find that our bulbs appear fine as dimmable bulbs! So they can? once integrated into a part, be controlled by a " dimmer switch " such as that of Philips Hue. To learn more about the dimmer switch and the Philips Hue app, see our Philips Hue E27 White & Color bulb test.
And with Alexa ?
Well, nothing to do, because while the bulb was installed in the Hue application, it also went up in the application Alexa as the screenshots above show. So just give it the same name as in the Hue application for better management if you have changed it. You can see that they appear to be connected via Philips Lighting. It will therefore be possible to integrate them into a routine.
22,99€
27,99€
In stock
2 new from € 22,99
August 13, 2022 12:51 a.m.
Our opinion on Innr E14 bulbs
We are faced with a light bulb full of surprises because if the information on the packaging is not the best concerning the dimmable function and the absence of any mention compatible with voice assistants, the fact remains that these bulbs are qualitative and although offering only one type of warm white, this one is comfortable. The Innr E14 White bulbs of 5.3W (corresponding to 40 watts incandescent) will know how to be a good solution for additional lighting but not for main lighting. Integration with the Hue app and a Hue dimmer is no problem. This possibility of mixing brands is most pleasant. Price side, they remain at the same high level as the Philips Hue. And this is a big minus.
Innr RB 245 E14 - Pack of 2 smart LED bulbs, warm white
29.99 € (set of 2)
Most
ZigBee compatible Philips Hue and Amazon Echo
Good build quality
Reactive bulbs
The lessers
The price too high: why not choose the Philips Hue instead?
Low light: only 470 lm
A single warm white at 2700K
Misleading packaging