Going back to the roots of connected products never hurts. And it is the connected bulbs that are, by far, the first elements domotics of a house. But it is not that simple. There are at all prices and of all kinds. We have therefore sought to offer you very accessible bulbs but despite everything with good characteristics. This is the brand Nityam Smart which seems to us to meet these different criteria. And as we are generous with you, it is not one but two bulbs that we are testing: an RGB + CCT bulb (i.e. multicolored and variable whites) and a CCT (variable blanks). Sold between 7,90 et 9,90 €, what are they worth?
Nityam Smart : unboxing of E27 LED bulbs
Nityam Smart is a branch of Nityam, brand present in France since 2010 and specializing in the manufacture of light fixtures and bulbs. It launched in 2014 on the LED market and now on that of connected objects (not just the bulbs) with the Nityam brand Smart.
The two bulbs are delivered in relatively identical boxes except for an illustration on one of the sides and the highlighting of the multi-color aspect on the RGB + CCT. To clear things up now, RGB or RGB in French means Red Green Blue and CCT means " Changing color Temperature »Therefore modifiable warmth of whites. These packaging are well illustrated, the main characteristics (lumens, power, etc.) are clearly highlighted and the operating mode is printed on one side. Full specifications are below below. The box and the bulb holder being in cardboard, the whole is 100% recyclable.
Nityam bulbs Smart are well wedged in their respective boxes in which you will also find a user guide in French, something rare enough to be reported. The latter is also quite complete concerning the use of the application and the connection of the bulbs. CE and ROHS certified, you also have the list of harmonized standards to which they meet.
The bulbs as such have a completely standard shape because in accordance with the A60 nomenclature. They are not going to shine by their design that is really basic with their aluminum base, their body (2/3 of the size) in polycarbonate and the globe in opaque plastic. The plastics are standard quality although the PC looks a bit thin. They do 60 mm in diameter for 12 cm in height (including the 3 cm base). At first glance, nothing differentiates them except the weight. The color bulb makes 66 grams while the white does only 63 grams, which is partly due to the additional LEDs for color management.
But on closer inspection, the engravings on the body of the E27 reflect the specificities specific to each and in particular the notion of CCT and RGB + CCT. So if you mix them up, no problem… if you have good eyes.
We did not notice any problem with the finish. These bulbs are basic in materials and shape, but they are still well made.
Features of E27 Nityam LED bulbs Smart
Regarding the characteristics of the Nityam bulb Smart E27 CCT:

Bulb shape: A60 therefore 6 cm in diameter and 12 cm in length
Base: Edison 27 or E27
Energy class: A+
Power : 9W,
Lifetime : 15000 hours of operation (in the very low average),
Number of cycles: 15.000 (ditto)
Luminous power: 806 lm,
Colours: NA
Whites: 3000 to 6000 K, or warm to cold white.
Dimmable: Yes
Connectivity: 2,4 GHz Wi-Fi, IEEE 802.11 b / g / n
Supply : AC 220-240 V at 50 Hz.
Standards: LVD / EMC / RED / RoHS / REACH / CE
Nityam bulb Smart E27 RGB+CCT
Bulb shape: A60 therefore 6 cm in diameter and 12 cm in length
Base: Edison 27 or E27
Energy class: A+
Power : 9W,
Lifetime : 15000 hours of operation (in the very low average),
Number of cycles: 15.000 (ditto)
Luminous power: 810 lm,
Colours: 16.000.000 colors
Whites: 3000 to 6000 K, or warm to cold white.
Dimmable: Yes
Connectivity: 2,4 GHz Wi-Fi, IEEE 802.11 b / g / n
Supply : AC 220-240 V at 50 Hz.
Standards: LVD / EMC / RED / RoHS / REACH / CE
We are therefore on smart bulbs with characteristics that are both basic (810 lm, class A +, aspect, etc.), even very basic such as lifespan, but also interesting specifications such as variable white from 3000 to 6000 K. But let's say that for the price, it is very satisfactory !
E27 Nityam LED bulbs: operation with the home application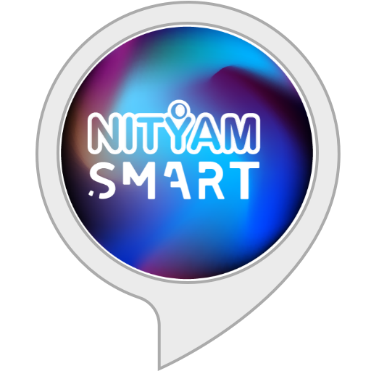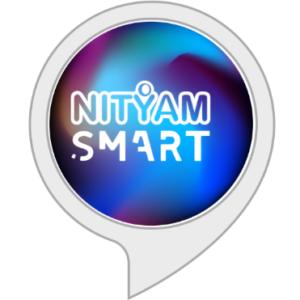 Nityam Smart developed his application and its in-house skill (available on the store Alexa France), on a Tuya base. You therefore have the possibility of using the application Tuya or Smart Life to use these lights.
In order to install the connected bulbs, you will have to create an account Nityam Smart. You must enter your email address on which you will receive a 6-digit code. You will need to copy this code into the app and then create a password (6 to 20 characters including at least one letter and one number). Once done, you can move on to installing your bulb, after activating your GPS and connecting to the Wi-Fi which the product will pair with.
Put the bulb in place and it should start blinking. Otherwise, turn on and off the switch about 5 times. On the home page, select « Add device » or « + » top right. Then select "Lighting" et « lightSource (Wi-Fi) ». Enter your Wi-Fi password (be careful to be on 2,4 GHz). Confirm that the lamp is flashing and let it go. In about 20 seconds it will be found. Change the name to be able to use it by voice. There you go, it's done!
If you have a dual band network, you may get a message telling you that the installation is not possible because you are using 5 GHz. In this case, go back and redo the next one, it should pass.
Let's take a look at the app. You will not be really out of place if you use Smat Life.
For the whites: variation of heat and intensity with the gauges at the bottom. The one with the sun corresponds to the intensity and the one with the thermometer corresponds to the heat. At 100% you are in cold white and at 0% in warm white.
For the colors: choice of colors, saturation and intensity. Of course, this option is not available with the CCT bulb.
Atmosphere: you can come and apply pre-recorded modes such as brightness for reading, color changes for the evenings… Each mode is adjustable as desired.
And of course, you also have the scenario options to turn on your bulb (s) at a fixed time, turn it off after a certain time. In short, basic but useful.
Operation with Alexa
You must have activated the Nityam skill Smart to be able to move the bulb under Alexa. If so, it will appear automatically upon installation. Otherwise, activate the skill with your credentials, then search for new equipment. Same process if you have chosen to use Smart Life or Tuya.
In the application Alexa, You can turn on or off the bulb by pressing the virtual button but also vary the light intensity. By going to "color", you can vary the warmth of the whites, but also the fifteen colors pre-recorded in the application. If you want to change its colors to the voice, you have to use their names.
Ask « Alexa, alight X " ou "Turn on X at 80%" or even « Alexa, lights X in yellow ", or in" Salmon "… Of course again, this is only possible with the RGB + CCT version
Works with Google Assistant
The principle is the same as with Alexa. You must first of all activate the Nityam extension. Smart in " works with google »And leave Google Assistant discover your devices. Of course, you may again be required to enter your access codes. If you have already activated it, the bulb will be directly visible.
The purpose is the same as with Alexa : you can use it by voice and directly from the application via the virtual button and the intensity rule. It couldn't be simpler. You also have the possibility to choose, thanks to the virtual button, a color all those proposed by the application (more numerous thanAlexa). These are also the names of these colors that you will need to call.
E27 Nityam LED bulbs: daily use
We were really very surprised at the quality of the rendering of these two bulbs.
Let's start with Nityam Smart E27 CTC. First of all, the bulb lights up very quickly, which is not always the case with inexpensive products. What's more, the whites are well restored even if the temperature range is only from 3000 to 6000K where others go from 2500 to 6500K. But let's be frank, the difference is negligible.
The 810 lumens are sufficient to illuminate a small room, but a little tight for a living room if you only have one bulb. Warm white pulls well on yellow, while cold is relatively blue. THE'IRC is greater than 80, which means that the restored color of the objects will not be really altered, with a neutral white of course.
Here is the warmest white:
Neutral white:
And here is the cold white:
You see it is really very differentiated and of good quality : no flickering or other problem linked to low-end bulbs.
Regarding the bulb Nityam Smart E27 RGB+CCT, the blanks are exactly the same as those in the CTC. We are therefore going to look in more detail at the colors and in particular the greens and yellows. Indeed, poor quality bulbs have the annoying habit of mixing brushes between these two wavelengths.
Here is the green:
And here is the yellow:
And here is also a preview on red and blue:
You can see that the colors are really bold and well marked. Of course, we are not on Philips Hue, but for the price it's excellent!
In conclusion, we are really excited about the
exceptional quality / price ratio
of these bulbs. We remind you that the
Nityam bulb Smart CCT is € 7,90
and
Nityam bulb Smart RGB + CCT at € 9,90
. For the price, the color rendering is very good, the whites are well differentiated, the brightness is very present, very responsive to voice control… Their lighting angle of 180 ° is average, but they fail by their lifespan too tight compared to competitors with only 15.000 hours. However, if you are looking to equip yourself without breaking the bank, do not hesitate,
these are excellent products
.