After the discovery of the Aqara G2 camera with Zigbee bridge integrated and the Aqara LED Light Bulb smart bulb test, we continue today our exploration of the Aqara ecosystem with a very small sensor that should interest more than one Alexian. Indeed, many of us appreciate being able to monitor the temperature of their home from a mobile application or, even better, by querying Alexa. Unfortunately, the connected weather stations and compatible thermometers Alexa are still scarce, and it is difficult to obtain them at affordable prices. This is where Aqara comes in by offering us a solution that is both affordable and very compact: the Aqara Temperature Sensor!

a sensor that simultaneously acts as a thermometer, hygrometer and barometer. Operating in Zigbee thanks to a Aqara bridge or Mijia, its compactness and design will obviously only seduce you, which is why we are unveiling it to you today, shortly before the start of its marketing in France.
Aqara Temperature Sensor: a truly discreet temperature and humidity sensor
Please note that you will need to obtain a
Zigbee Aqara footbridge
- or Xiaomi Mijia - to make it work. Indeed,
that of our Echo devices is not compatible
, but the arrival in France of the Aqara Europe gateway is imminent, you will soon be able to get it.
Note, moreover, that it is strongly advised to wait a few weeks rather than acquiring a Chinese model.
In addition to avoiding the use of an AC adapter, note that
only the Aqara EU gateway has CE certification
, a guarantee of security that we recommend.
Unboxing and presentation
Those who already know the brand's universe will not be lost when they discover the packaging. All dressed in white, its facade presents a visual of the product discreetly accompanied by the essential logo Aqara and three pictograms informing us of its main functions: capteur de temperature, humidity, But also atmospheric pressure. Everything is written in English, French, and Spanish. We are therefore facing a product intended for the European market, as evidenced by the CE marking found next to the technical sheet present in the packaging and on which we will come back later.
On the sides, we learn a little more about this little sensor. We understood it, it is intended to monitor temperature, humidity and atmospheric pressure, but above all has the advantage of being wireless and therefore requiring no wiring. Equipped with a humidifier allowing it to calibrate itself, it operates in fact thanks to a single CR2032 battery capable of powering it for 2 years, the Zigbee requires very little energy to operate, unlike Wi-Fi.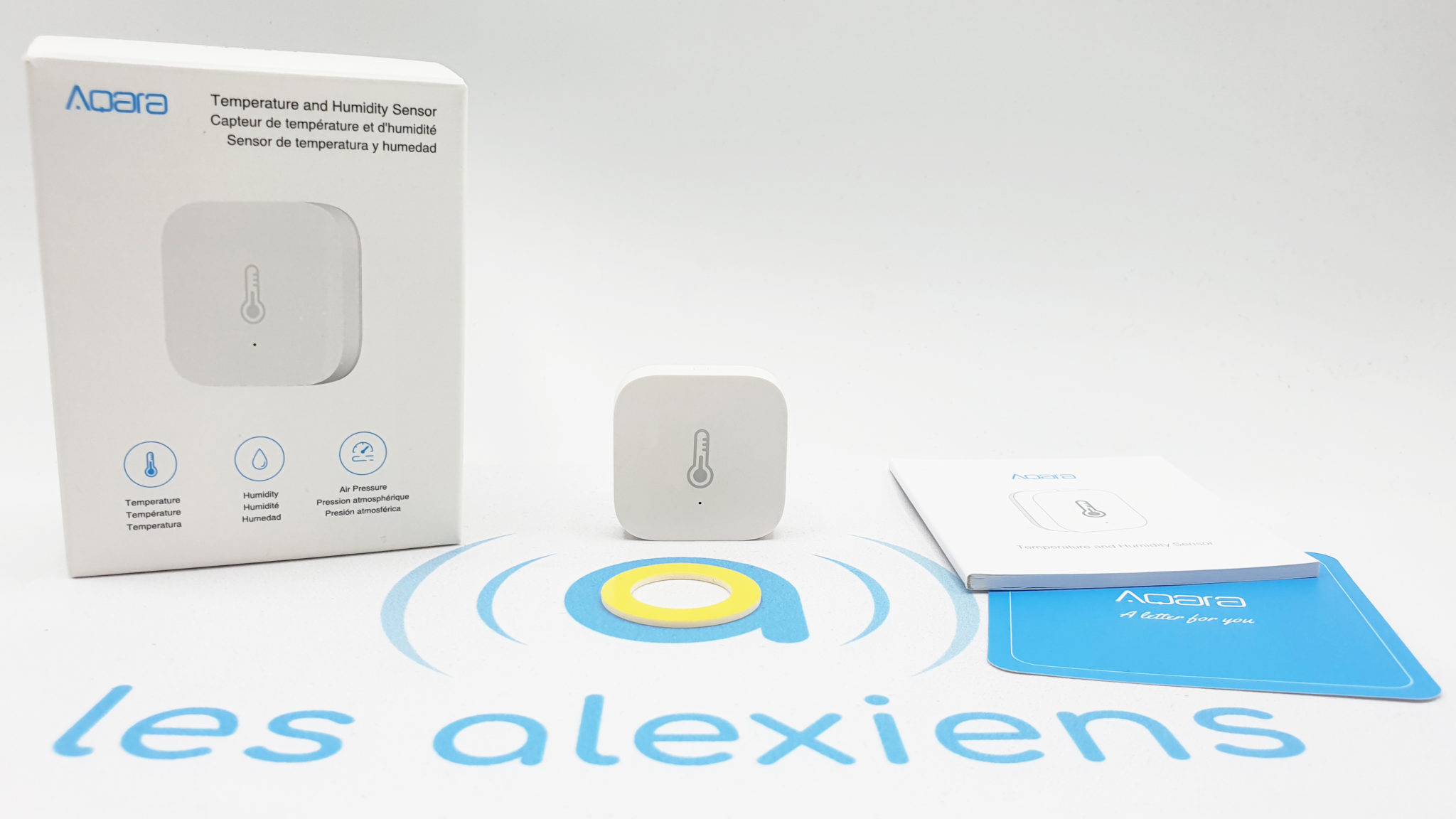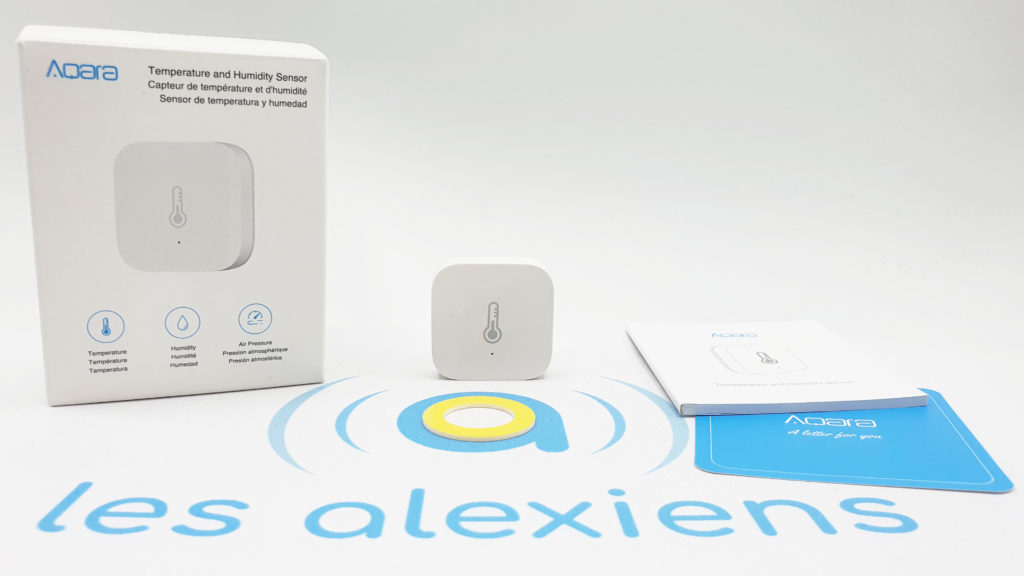 Inside, we find a nice little sensor and a small circle spare 3M type sticker, the first being already attached to the device.
A device that surprises with its extreme compactness. Indeed, at Aqara everything is miniaturized to the extreme and fits in an ultra compact format. Square in shape, the Aqara temperature and humidity sensor QUOTE 36 mm side for only 9 mm d'épaisseur and offers a modern design that looks like it came straight from Cupertino. There is no doubt that fans of Apple design will be seduced - note, moreover, that the Aqara gateway is HomeKit compatible ...
Finally, a small thank you card with the contact details of the support accompanies the instructions for use which details the installation procedure and the technical characteristics of the Sensor Aqara ...
Technical specifications
Brand
AQARA
Model
Aqara Temperature Sensor - Temperature and humidity sensor
Reference
WSDCGQ11LM
Protocol
Zigbee
Accuracy Pa
30 kPa - 110 kPa, ± 0.12 kPa
T ° accuracy
-20 ° C– + 50 ° C , ± 0.3 ° C (-4 ℉ - + 122 ℉ , ± 32.54 ℉)
HR precision
0 - 100% RH, ± 3%
Dimensions
9 x 36 x 36 mm
Weight
NC
Food
CR2032 battery
Autonomy
2 years


Aqara Temperature Sensor: a connected thermometer, hygrometer and barometer at a low price
Installation of Aqara Temperature Sensor on Xiaomi Home
Like all the brand's products, the Aqara temperature and humidity sensor is very easy to install via the Xiaomi Home app.
Once connected to your network 2.4 GHz or 5 GHz Wi-Fi, here it is your choice and it is appreciable, you just have to press the « +« at the top right, select "Sensor" in the left menu and finally choose "Aqara temperature and humidity sensor".
If you use Xiaomi Home in French on a European server, it is the first on the list. Then a 30 second detection phase starts, and you will find that it takes even less time than that for your gateway Aqara EU detects it.
At Aqara, simplicity and efficiency are always part of the game. The Alexians
The installation of the device does not present the slightest difficulty and is done at a speed that commands respect. At Aqara, simplicity and efficiency are always part of the game. This is the great strength of the Xiaomi ecosystem of which the brand is a part. Now let's see what the application offers us ...
Complete and detailed statements
To view your statements, all you need to do ispress the box corresponding to the sensor. You then come across a screen whose the color informs you at a glance of the room comfort.
By touching the upper part providing you with the "comfort" information, you access three small gauges giving you the readings of. temperature in degrees Celsius,hygrometry in percentage RH and atmospheric pressure in kPa. Each of the gauges is accompanied by an indicator which also makes it possible to estimate the resulting comfort.
Note that you can choose the reading interval in days (D), week (W) or month (M). In addition, by pressing the "full screen" pictogram at the top right, it is possible to read these results more comfortably in "landscape" format.
Alexa, What is the temperature ?
Yes, the thermometer Aqara Temperature Sensor is compatible with our dear Alexa ! All you need to do is activate the Xiaomi Home skill. Thus, your gateway will send back the information from the sensor. Once you have assigned a name to the equipment, all you have to do is ask what the temperature is on the equipment so thatAlexa answer you.
« Alexa, what is the temperature of the Aqara thermometer? "
Unfortunately, this information is not yet usable in routines Alexa, but according to our sources, it will not be long. In the meantime, it remains nevertheless possible, and easy as we will see, to create very advanced automations thanks to our Aqara gateway.
Extensive automations via Xiaomi Home
Another strength of the Xiaomi ecosystem and the Mi Home application: the interoperability of devices from different brands and the possibilities of automation. As we explain to you regularly now, the application Xiaomi Home allows you to create very sophisticated and complete routines. Thus, an Aqara switch can control a Roborock vacuum cleaner, and thanks to the Aqara connected plug - which should arrive in France in the first quarter of 2020 - you can for example trigger an electric heater if the temperature drops too much.
As an example, here is an automation allowing you to create a notification on your smartphone accompanied by an audible alert via the Aqara gateway. The possibilities are endless, of course, but we are content to give you examples with the Aqara products which will soon be officially available in France.
In short, you will understand, as always Aqara seduced us with one of its products. A magnificent design, a compactness taken to the extreme, an irreproachable reliability and a price more than content: it does not take more to charm an Alexien. We can only recommend it to you, even if we advise you to wait patiently for the arrival of the gateway Europe within a few weeks. Like its entire range, this temperature, humidity and atmospheric pressure sensor is a qualitative device, a product capable of seducing any fan of technology and home automation. Soon available in France at the official price of € 18.99, there is little doubt that the Aqara Temperature Sensor will be a great success.
€23,99
In stock
2 new from € 23,99
July 4, 2022 21:57 a.m.
€15,47
€21,49
Not available
Aqara - Temperature and humidity sensor - Thermometer, hygrometer and barometer compatible Alexa
18.99 € (excluding promo)
Most
Neat and compact design
Build quality
The best value for money ?
Cordless, two-year battery life on CR battery
Compatible Alexa
The lessers
Not integrable in the routines Alexa for the time being
Nothing else !