More than a year ago, we were able to test the system Blink XT security cameras which had fully convinced us. The announcement by Amazon of the release of a new model had therefore logically caught our attention and, following numerous requests for Blink XT2 test on our community, we decided to buy it to give you our opinion on this second version. More efficient than the first, she is too less expensive since now offered from 119 € on Amazon. Fr with its essential synchronization module (109 € the additional camera). Let's see if this camera keeps its promises ...
Blink XT 2: take the same one and start over?
Already owning a dual camera Blink XT system, we just took a additional camera, the XT2 synchronization module being identical to the old one and supporting up to 10 cameras. The packaging is therefore, logically, more compact but also more modern. In two words: more successful! Simple and effective, we find the visual of the camera, the logo of the brand and the mention XT2.
In addition to its microphone, the Blink XT2 camera is equipped with a small speaker. The Alexians
The back of the package states some differences with the first generation of this camera suitable for both indoor and outdoor use.
This new iteration is indeed endowed with a two-way audio, excellent news because if we could listen on the previous one, it was impossible to speak through the microphone of our smartphones. The advertised battery life is still two years, but with a doubled recording capacity, we will come back to that. No 4K on the program, the Blink XT2 still film in HD 1080p and still benefit from a night vision with better resolution if we are to believe the brand, we'll see that.
Good news, the cloud stays free for life is now only free for the first year (ed : Amazon has, since the writing of this test, modified its policy in this area), the motion detection always being there, just like the compatibility Alexa ! A compatibility which, we hope, will be richer than previously and will exempt us fromuse our Blink cameras with IFTTT...
The other sides tell us a little more about the contents of the packaging which contains a Blink XT2 camera (phew!), two batteries Energizer Ultimate Lithium AA 1.5V non-rechargeable, one assembly kit and User Manual… Which we will check immediately.
Once the "Sleeve" withdrawn, we discover a pretty blue box flocked with an elegant "b" like Blink! Inside, the camera is well protected in a tailor-made location and a notch contains various documents.
"At first glance, the Blink XT2 camera looks a lot like the XT and that's good […]" The Alexians
Everything is there, we are reassured! At first glance, the Blink XT2 camera looks a lot like the XT and that's good, she will not swear in our facility.
Still as compact and well finished, it measures 71 x 71 x 34 mm and weighs slightly more than 89 grams (120 grams batteries included). Its deep black which, we can now confirm, does not fade over time, makes it always so discreet. Especially at night, of course. From a design point of view, no major change ...
"From a design point of view, no major change…" The Alexians
Very smart the one who will know how to differentiate them from elsewhere, right? In our photos below, the Blink XT, first of the name, is on the left and the new Blink XT2 on its right. They therefore obviously use the same mold… With one slight difference: the strapping is a little clearer on the new model. And, again, it all depends on the angle and the light.
The most visible differences can actually be seen when the device is turned over. At the back, the little news is embellished with a XT2 flocking and, if you are an observer, you will notice fifteen small holes on the underside which allow the two-way communication and are logically absent on the XT which is devoid of it.
"The opening system remains the same and still easy to use. " The Alexians
The spring-loaded opening system remains the same and still easy to use. Do not hesitate to force a little, but it makes sense because, let's remember, Blink's outdoor cameras are IP65 and offer a total protection against dust and splashing water spear from all directions.
A protection also visible inside with the presence of a seal and a double screwed bottom. The possibility of drilling a small notch to power the camera via a micro-USB socket has been preserved. An interesting option because it will allow you to visualize the flow at will without fear of using the batteries. If, in addition, you do not go like a nag and just make a small slit, you will retain the seal.
"Blink's outdoor cameras are IP65 and therefore offer complete protection against dust and water spray from a lance from all directions. " The Alexians
The more discerning eyes will also notice that the manufacturer is now « Amazon EU ", proof if necessary that Blink is now fully a brand ofAmazon ! Hopefully this will be felt through its use with Alexa.
You know if you already have Blinks, the brand has chosen to place a physical switch for LED Operating. Why? Simply to prevent someone with bad intentions from observing you without your knowledge. He is impossible to turn off the LED other than by physical intervention on the camera. Intervention that you can nevertheless choose to do to make your cameras ever more discreet.
We recommend that you turn off the LED on a camera placed outside and leave it if you place it inside your home.
"It is impossible to turn off the LED other than by physical intervention on the camera. "The Alexians
Another good news is to note: Blink has redesigned its mounting bracket ! More practical because it allows you to easily orient the camera in all directions, it is also much more firmly attached to the camera, which will prevent you from accidentally unhooking it when handling it. XT owners will understand us ...
Composed of two parts, it is easy to install thanks to the two screws provided and will not generate unwanted movements if the wind were to blow a little hard, a defect which until then had led many users to invest in third-party supports.
"Blink has integrated a new proprietary processor into the XT2 […]" The Alexians
If the differences seem only cosmetic, they are more important at the hardware level. Blink has integrated a new proprietary processor into the XT2 called Immediate AC1002B features 4 hearts cadenced at 200 MHz. It may not seem like much to you, but it's still double the previous model.
In fact, this makes it possible to go from a 720p video to full HD 1080p with a motion detection thinner, but also to double the usage time. If the previous ones were given to last 2 years at a rate of 40 seconds of live or recording use, the Blink XT000 now promise us 80 seconds of use or more than 22 hours.
"The Blink XT2 now promise us 80 seconds of use, or more than 000 hours. " The Alexians
Finally, for those who don't already have Blink cameras, here is the synchronization module. Even thinner and smaller than cameras, it measures 62 mm x 59 mm x 18 mm. There is a micro-USB port intended for its food, a Operation LED and Connection LED to the Wi-Fi network. Super light with its 39 grams, it communicates with Blink cameras via a very low energy proprietary radio protocol. Powered by a processor Qualcomm - Atheros 9331 and 32 MB of memory, it also contains a chip 2.4 GHz 802.11n Wi-Fi to transmit its data to the network. It is a rather unusual system, it must be admitted.
"A rather unusual system […]" The Alexians
Technical specifications
Blink XT2 Camera
Video: 1080p, H.264 encoding
Imaging: Color, auto white balance, auto exposure
Motion detection: Camera sensitivity adjustment up to 6 meters
Drums : 2 AA Lithium batteries
Battery level indicator: Yes
Battery life: 2 years for normal use, up to 5 years.
Night vision : Infrared
Temperature sensor : Yes
Audio: bidirectional (built-in microphone and microphone)
Field of view : 110 degrés
Focal length spectrum: Fixed (from 50 cm to infinity)
Conditions of use - temperature: from -20 ° to 45 °
Environmental assessment: IP65
Dimensions: 71 x 71 x 34 mm
Synchronization module
Power : 5V via Micro-USB connector
IP configuration: DHCP
Wireless : 2.4GHz 802.11n
Processor and memory: Qualcomm-Atheros 9331, 32MB memory
Conditions of use - temperature: from 0 ° to 40 °
Dimensions: 62 x 59 x 18 mm
Blink XT2: simplicity and efficiency
Installation of Blink XT2 cameras
Still as well thought out, the Blink application has recently benefited from a major update. Even more pleasant to use, it is always feature rich and the Blink XT2 installation process remains as quick as it is easy.
You will need less five short minutes before you can use your camera (including update) and less than a minute to add it to your Blink system. Real "Plug and play" who does not suffer from the slightest difficulty.
Download the application BlinkHome on your favorite store. You will find it here on the Play Store et there on the App Store. After launching the application, you must create an account, accept the terms of use, and validate everything by clicking on the link of the email received. Nothing really rocket science.
"Real "Plug and play" who does not suffer from the slightest difficulty. " The Alexians
You then arrive on the home page of the application.
Press the "+" at the top right of the application,
Choose if you want install a complete system or an additional camera,
Scan the QR Code your module or your camera
It is done ! After a quick update, you will be able to use your cameras directly!
In short, you will probably understand, one of the big strengths of this system Blink XT undoubtedly lies in its easy to use. But is its application as easy to use once the installation is complete? This is what we will see ...
The Blink Home app
Unfortunately, at Blink as with many others today, no web interface. It's a bit of a shame because it could come in handy. Short. We compared the Android and iOS apps… well they're pretty much the same, so let's take a look at the Android version.
In the brand's colors, the application is simple and the user experience well thought out. We don't look for options, we find them!
Add a camera or system
Camera setup (see screenshots below for details)
Live video,
Snapshot (to locate its cameras),
Link state with the synchronization module,
Arming or disabling of the system.
Clips and captures
Account management and system settings
THEvideo history is an important feature and the update made by Blink makes it much easier to find them than before. They are saved in the cloud, which, remember, is free. Indeed, where many offer you a subscription, Blink offers a video surveillance system. turnkey and without subscription. You can choose the recording time, filter media by type or camera. Only regret: impossible to download them… For that, it will be necessary to wait for the arrival of the new synchronization module which has just been announced at the time of the release of the Blink Mini indoor camera.
"Blink offers a turnkey, subscription-free video surveillance system. "The Alexians =
Blink XT2: a multitude of features
If we had been conquered by the price / quality ratio of the first XTs, we are all the more so by that of the XT2 since their price has dropped significantly.
HD video: Capturing HD video at 1080p ensures that you get a clear view with minimal distortion or blur. For our part, we have chosen to adjust it as much as possible. Certainly, the battery life should be affected, but we really have a nice picture much better defined than on XT.
Motion detection: When armed, the motion detector triggers the recording of a small video clip. Optionally, the clip can be between 1 and 60 seconds long.
Instant alerts: Blink sends out a push notification alert with a link to the attached video to let the user decide how to respond. And the least we can say is that it does not drag!
Live View Mode: access to the live video is available in streaming, via the Blink application.
Instant ignition: with the function "Instant On" from Blink, video recording starts in a fraction of a second, to make sure you can clearly see what triggered the alert. As on the other models, we were surprised by the speed of detection. The camera is usually triggered even before an individual is completely in their field of view. The rather sensitive detection that we have chosen is indeed able to distinguish between movements and variations in brightness. No false positive during our tests.
Temperature sensor : XT2 cameras incorporate a capteur de temperature which allows you to monitor your home in all weathers and wherever the cameras are placed. In the event that the temperature rises suddenly, such as when a fire breaks out, an alert is instantly sent. A very interesting feature. Home automation box users like Home Assistant will appreciate.
Arming / Deactivation programming: In addition to activating or deactivating the Blink system manually, it is possible to schedule it in order to define when the system should be active.
Multi-system support: cameras allow you to monitor your home, second home or business at the same time! Indeed, it is possible to control several Blink systems from the application. You just have to create different systems and it is then very easy to switch from one to the other.
Built-in microphone and speakers: the audio is now two-way, so you can both see and hear what's going on at home, but also talk to intruders or reassure your children.
A non-hackable LED: the LED indicator on the camera is not hackable as it is only physically accessible. It lets you know when Blink is recording or when it is in Live View mode.
Infrared night vision: this is clearly a strong point of this system! The infrared night vision which ensures optimal reception of videos in HD quality and color, day and night, is incredibly efficient.
A compatible camera Alexa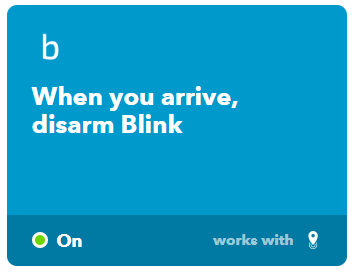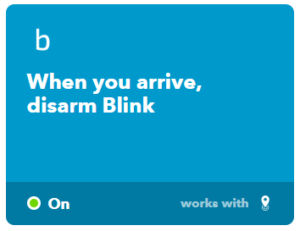 After some stammering, the skill Alexa for Blink cameras is finally more complete and it is now possible to arm and disarm the system by voice. Rest assured, Alexa won't let anyone do it and you will need to enter a PIN code.
If you have learned your voice to Alexa and she recognizes it, you don't necessarily have to give her the code. If necessary, you just need to give it the four digits to disarm your Blink XT2 cameras.
Here is the list of commands Alexa to use Blink XT2 cameras:
For the live feed from your Blink camera:
« Alexashow me the camera . "
« Alexa, hide the camera "
To arm / disarm your Blink system:
« Alexa, ask Blink to arm . "
« Alexa, ask Blink to disarm , my PIN is ####. "
To find out when your last video clip was recorded:
« Alexa, ask Blink when was my last motion alert. "
To find out how many unread and played video clips you have:
« Alexa, ask Blink how many video clips I have. "
To check the schedule for arming and disarming your system:
« Alexa, ask Blink what I have planned. "
To check the current status of your Blink system:
« Alexa, ask Blink what my status is. "
The wireless security camera Blink XT2 is a new successful iteration of the previous model which made the success of the brand ofAmazon. Compatible Alexa and IFTTT, it offers more convincing image quality and even better autonomy than the previous version. A feat to which we must add a completely free cloud storage, which makes it a camera with a very interesting quality / price ratio. Although we still expect to be able to use them routinely without going through IFTTT, we warmly recommend this model if you are looking for a camera model primarily for motion detection with cloud recording.
A new model has just arrived: the Blink Mini indoor camera. A wired Wi-Fi model that should be of interest to people looking for local storage. We hope to be able to test it soon to tell you more!
Blink XT2 - compatible indoor / outdoor connected security camera Alexa
from 119 €
Most
Installation always so simple and fast
Compact and discreet wireless camera
Exceptional two-year autonomy
1 year free cloud storage
Compatible Alexa and IFTTT
The lessers
Still no integration into the routines Alexa