Alexians are, for the most part, heavy consumers of music streaming. What better way, indeed, than to ask the voice to Alexa to play what comes to mind. But, if you are subscribed to Amazon Music Unlimited, you are probably also using the streaming serviceAmazon on the move on your smartphone. And for that, you need good headphones ... Compatible models Alexa are not yet legion, but you can still listen to your favorite streaming services through Bluetooth. This is why we are going to offer you, in the coming weeks, a selection of wireless headphones more or less affordable allowing you to listen to your favorite songs without spending ten minutes untangling your wired headphones.
Today is the brand BlitzWolf which we presented to you Tuya compatible camera / Smart Life which again caught our attention. Why? Because it offers bluetooth 5.0 stereo earphones at the very competitive price of 39.99 € on Amazon. Fr.
Not available
August 13, 2022 13:52 a.m.
BlitzWolf BW-FYE7: Bluetooth freedom without breaking the bank
Unboxing
The BlitzWolf in-ear headphones are delivered in a small cardboard box which uses the brand's colors: green and white. We find the logo at the top and the model reference in the center: BlitzWolf BW-FYE7.
At the back, we learn that these "earbuds" are equipped with Bluetooth 5.0 (HFP / HSP / AVRCP / A2DP profiles) and a 50mAh battery each allowing you a battery life of 3 to 4 hours. The box, in which the headphones rest, has a battery of 500mAh allowing you to recharge them and push this autonomy up to 16h. Perfect to leave quietly all day therefore.
When opening, we discover the small charging and storage base. Measuring 3 cm x 3.5 cm x 7 cm , it is relatively compact and will easily find its place in a bag or in your pockets.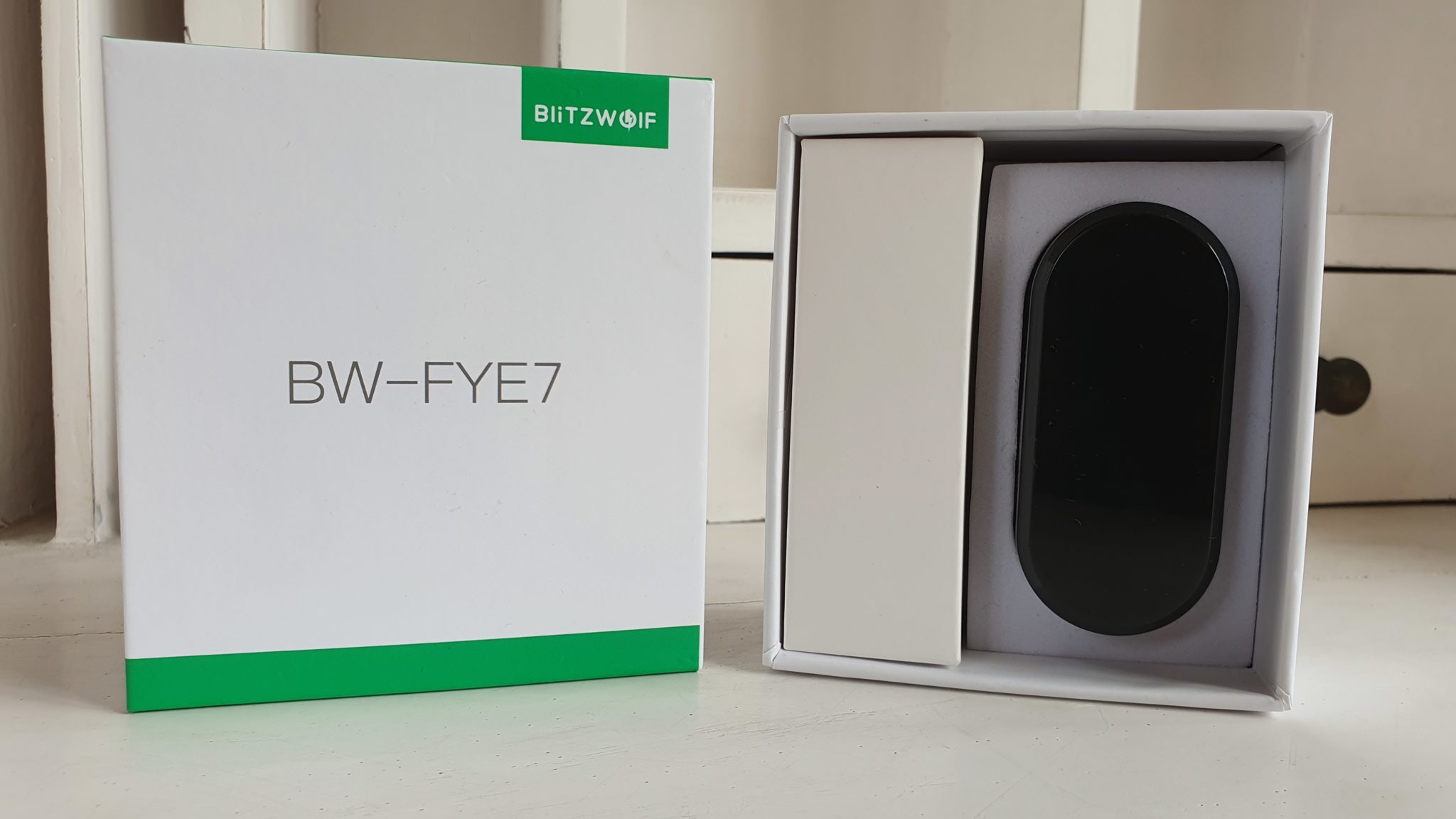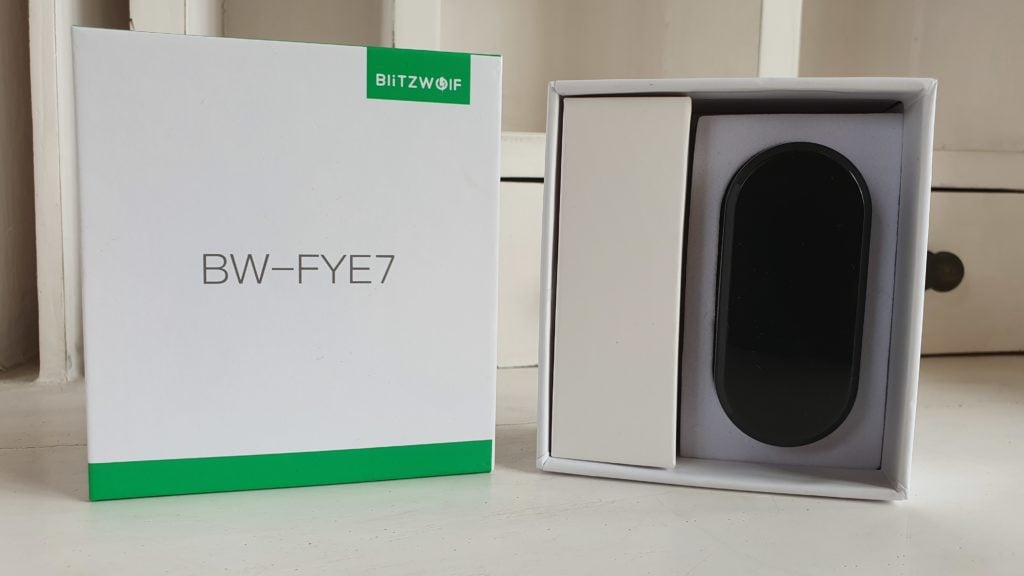 As always with BlitzWolf, everything is accompanied by a user manual perfectly translated into French. An excellent point because pairing this type of device is not always easy. Of course, a USB to micro-USB cable is there to allow you to reload everything without difficulty. Finally, two sets of additional silicone tips are provided, which is nice.
So let's open this box to see what's hiding inside. Unsurprisingly, we discover two atria at relatively compact size for the genre. Here, no silicone structure encircling your ear, you just need to place them correctly so that they do not move.
Informed eyes will notice that BlitzWolf wireless headphones are equipped with two small coils : it is two drivers. A proven technology that has the advantage of producing deep bass. We will see in use.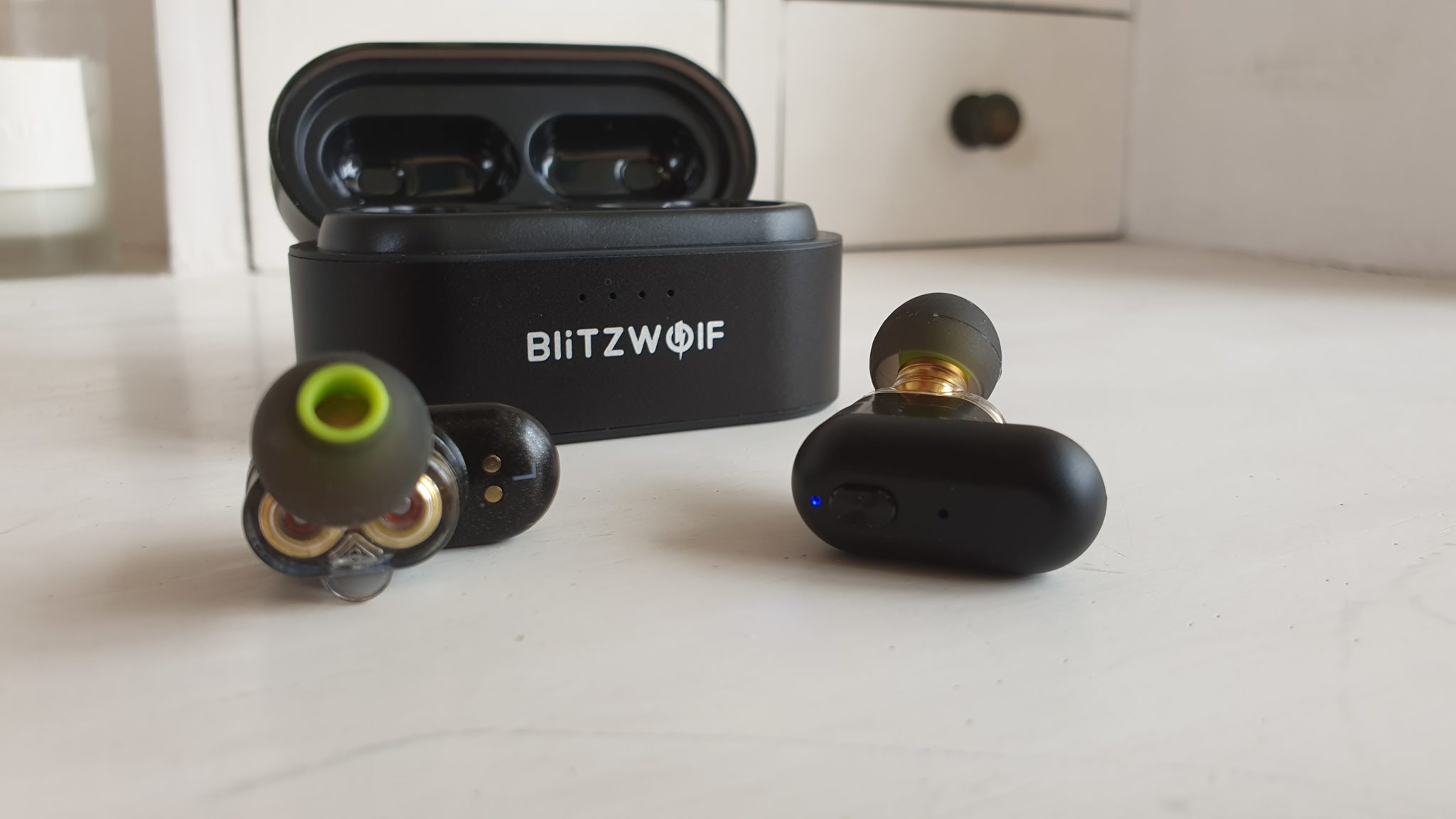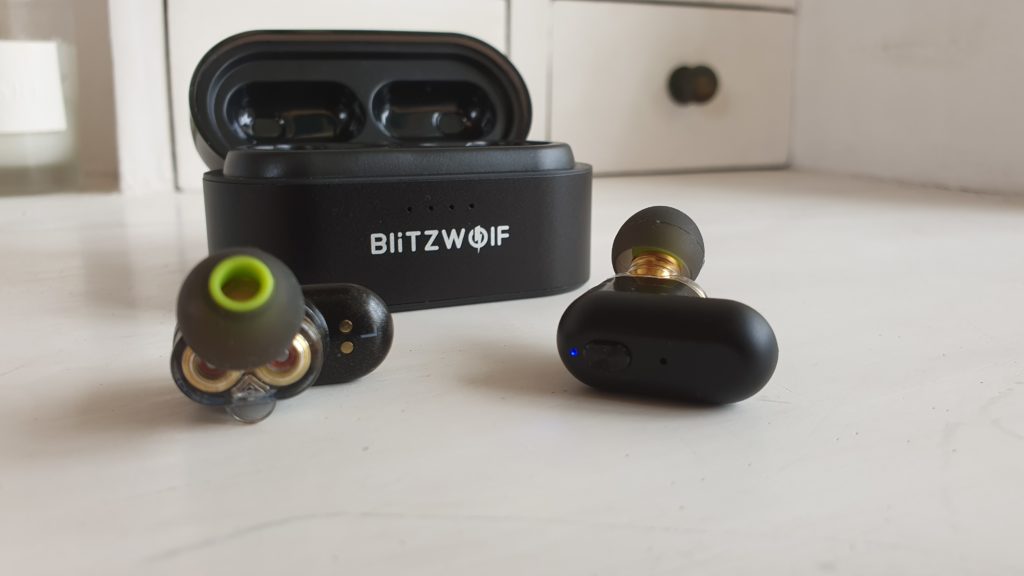 Each earphone is equipped with a multifunction button allowing you to increase / decrease the volume, play / pause, answer / reject calls, go to the next or previous track… And of course to pair everything to your favorite device.
But before we get to that, let's take our classic look at the technical sheet these BlitzWolf wireless headphones.
Technical sheet :
Brand
BlitzWolf
Models
BW-FYE7
Connectivity
Bluetooth 5.0
Audio technology
2 x dynamic 6mm drivers
Sound power
97dB +/- 3dB
Bluetooth Profiles
HFP / HSP / AVRCP / A2DP
Range
10 meters
Batteries
50 mAh (earbuds) / 500 mAh (case)
Autonomy
3 to 4 hours
Total autonomy
16 hours
Protection sign
IPX4
BlitzWolf BW-FYE7: good value for money
Here, no application to install, no Smart Life, and even less 2.4 GHz Wi-Fi: these headphones work without and only require a bluetooth connection. Equipped with its version 5.0, they offer the most widespread profiles (in particular the AVRCP and A2DP of our appliances Amazon Echo) and will therefore be fully compatible with all your devices, whether it is your smartphone or why not your very last Amazon Echo show 5. Indeed, this device being more or less intended to serve as an alarm clock and taking place on a number of bedside tables, it may be interesting to pair wireless headphones to take advantage ofAlexa orAmazon Music without disturbing your better half who sleeps close by soundly.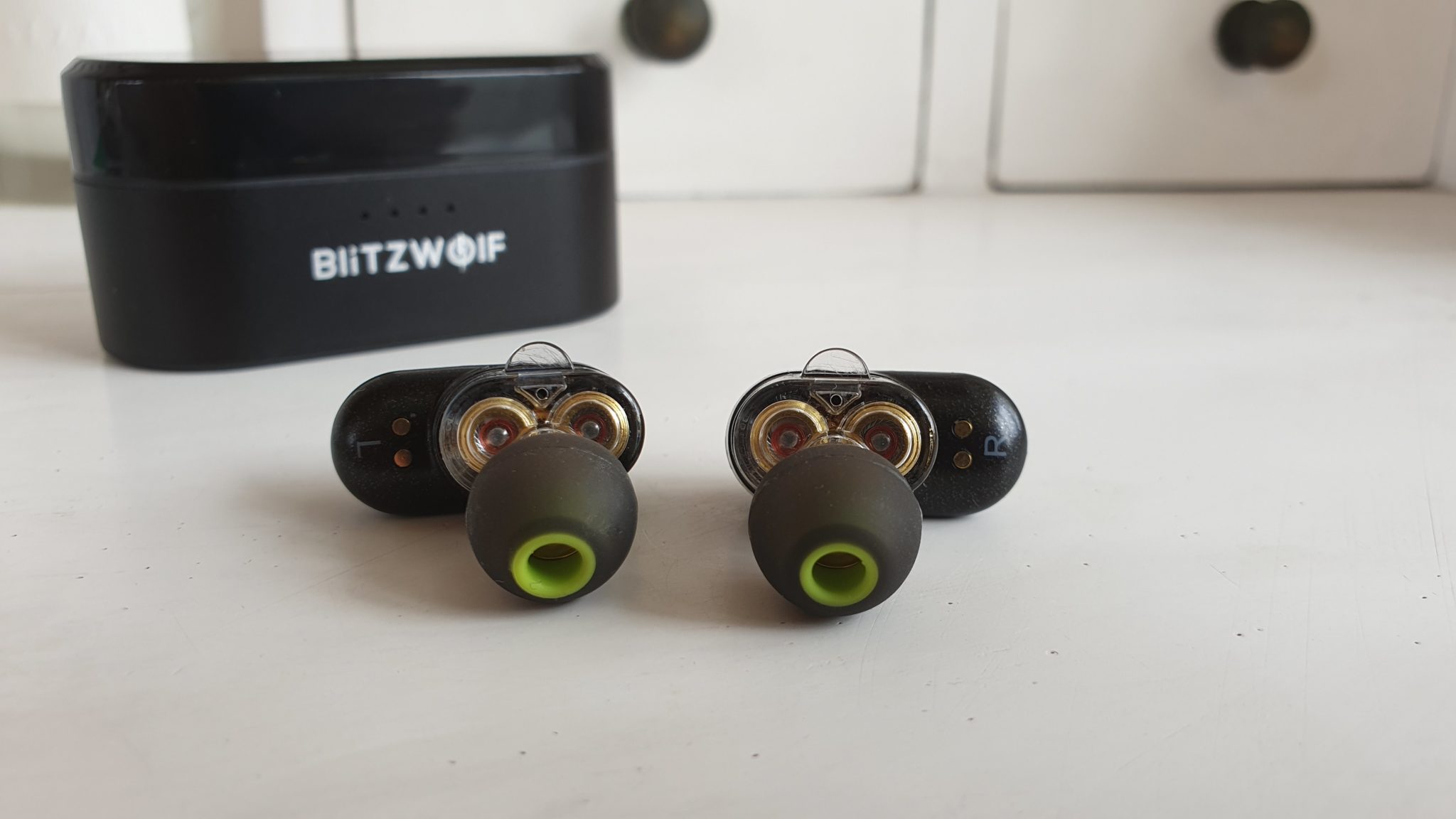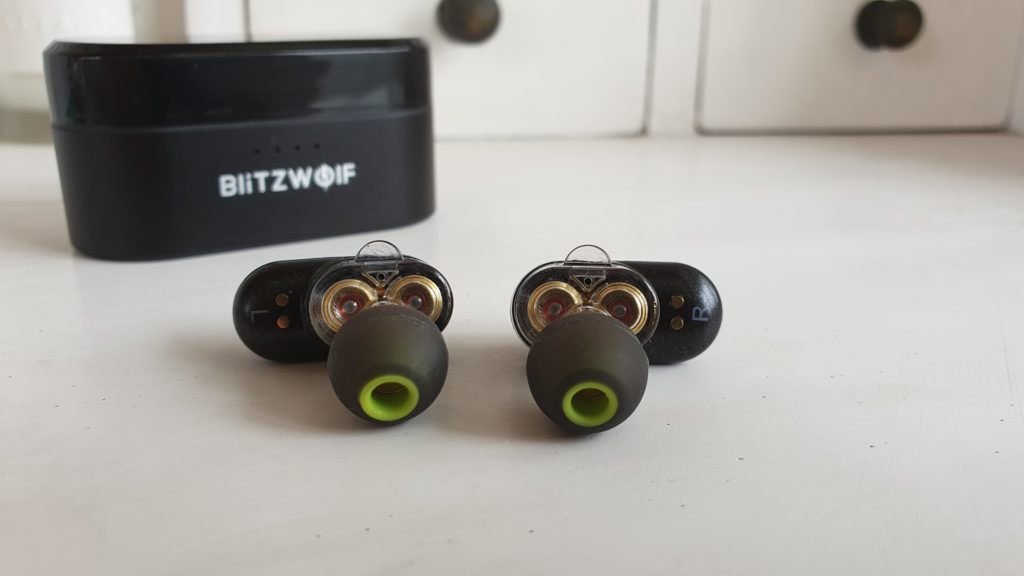 Sound quality level, as we told you, these headphones are equipped with two dynamic drivers of 6 mm delivering up to 97 dB +/- 3 dB (pay attention to your ears, do not listen too loudly or too long) which allow excellent bass rendering. Indeed, the latter are rich and well defined for a device at this price. Present, but not too much either. Likewise, the treble are clear but not loud, which is too often the case with this type of intra-auricular. In the end, the sound is rather well balanced. Tested on symphonic music, a style to say the least demanding, they even completely surprised us. We frankly did not care as much. The bass is perhaps a little present and we can note a slight lack of clarity in the mids, but let's not forget that it is aboutwireless headphones at 40 euros, and that an equalization is always possible to best adapt them to your preferences. Anyway, there is really nothing wrong with them sound quality which is quite respectable. At this price, do not expect to find the equivalent of the best brands in the field either. But we have seen, or rather heard, much less well on much more expensive devices ...

In use, these headphones are comfortable to wear. They fit perfectly in the ear and they are not at all tiring to wear because of their lightness. They isolate well from the environment you find yourself in and don't need to be pushed all the way to hear music on public transport. Your ears will appreciate it. The biggest complaint we could make with them concerns the use of the multifunction button. If it falls naturally under the fingers, the too light and plastic design of the whole means that their handling generates an unflattering plastic sound. However, the use of buttons is ultimately rather occasional and this is not very annoying. We would have preferred tactile surfaces, but that would necessarily have pushed the price up ...
On the phone, our interlocutors have always heard us clearly. Much better than with the latest Samsung Galaxy Buds, which cost three times as much! Because, of course, you can use it as a hands-free kit. You can also turn off one to switch to mono mode to make a phone call for example and not isolate yourself too much from the rest of the world. City dwellers will appreciate it.
What about our Echo devices? Pairing is done without any difficulty. Tested on Echo Show 2 as Echo Show 5, we appreciated being able to listen to a little music before sleeping, then being able to put them back in their box when Morpheus called and to find them perfectly charged the next day. Thanks to the supported Bluetooth profiles, you can increase or decrease the sound, pause, skip to the next or previous track. As on your smartphone in fact. On the other hand, and it's a shame, the buttons are not programmable (for that, an application would have been needed): impossible to activate Alexa its smartphone, but it will hear you just fine once the button is pressed or on your Echo devices.
In conclusion, these are therefore wireless Bluetooth 5.0 headphones with a really interesting price / quality ratio. If their design can be improved and their multifunction buttons impractical, they nevertheless hold perfectly in place and have for them the advantages of being extremely light. Pairing and Bluetooth range are very satisfactory. The sound quality is frankly flawless at this price, with powerful bass and non-screaming highs that give the whole thing a very nice overall balance. In short, at this price, it is clearly difficult to do and find better.
Not available
August 13, 2022 13:52 a.m.
BlitzWolf BW-FYE7: Bluetooth 5.0 wireless earphones
39 € approx.
Most
Good sound quality for the price: bass well present and clear treble
Correct autonomy (approx. 3h)
Bluetooth 5.0 and profiles compatible Amazon Echo
Comfortable ear cups
Quality / price ratio
The lessers
Perfectible design
Convenient multifunction button
Lack of clarity on the mediums
Unable to activate Alexa via button