After the news Konyks Antalya at the beginning of the month and theZigbee Aqara LED Light Bulb last week, we continue our exploration of the world of connected LED bulbs with a brand that you may already know from our test of the BlitzWolf camera for Tuya / Smart Life. Today, the company returns with an idea that is as classic as it is bright and a new LED bulb called BlitzWolf BW-LT21. Controllable remotely via the brand's app, this is a Tuya technology / Smart Life which you can also control through these applications. But, without further ado, let's see what it's all about!
Not available
August 13, 2022 14:50 a.m.
BlitzWolf BW-LT21: a large format bulb
At the opening of our package Amazon, this bulb being there recently available, we find the color codes dear to the brand. White with a touch of green, a discreet logo BlitzWolf at the top, and in large letters the model reference: BW-LT21. It's simple and no frills, to say the least.
At the back, we find the technical sheet of the object and the inevitable legal notices with the markings CE, RoHS, FC, etc. The packaging, although sober, is qualitative and makes us want to discover the product as quickly as possible.
And there, it is the surprise! Or not. Indeed, we discover a bulb in classic format A70. Of rather imposing size therefore, it measures indeed 13.4 cm, E27 base included, and has a 7 cm diameter. His body is in polypropylene (PP) and the part ensuring the diffusion of light by Polycarbonate (PC), a thermoplastic very resistant to shocks and offering a beautiful transparency. The finishes do not suffer from the slightest defect and the bulb seems qualitative.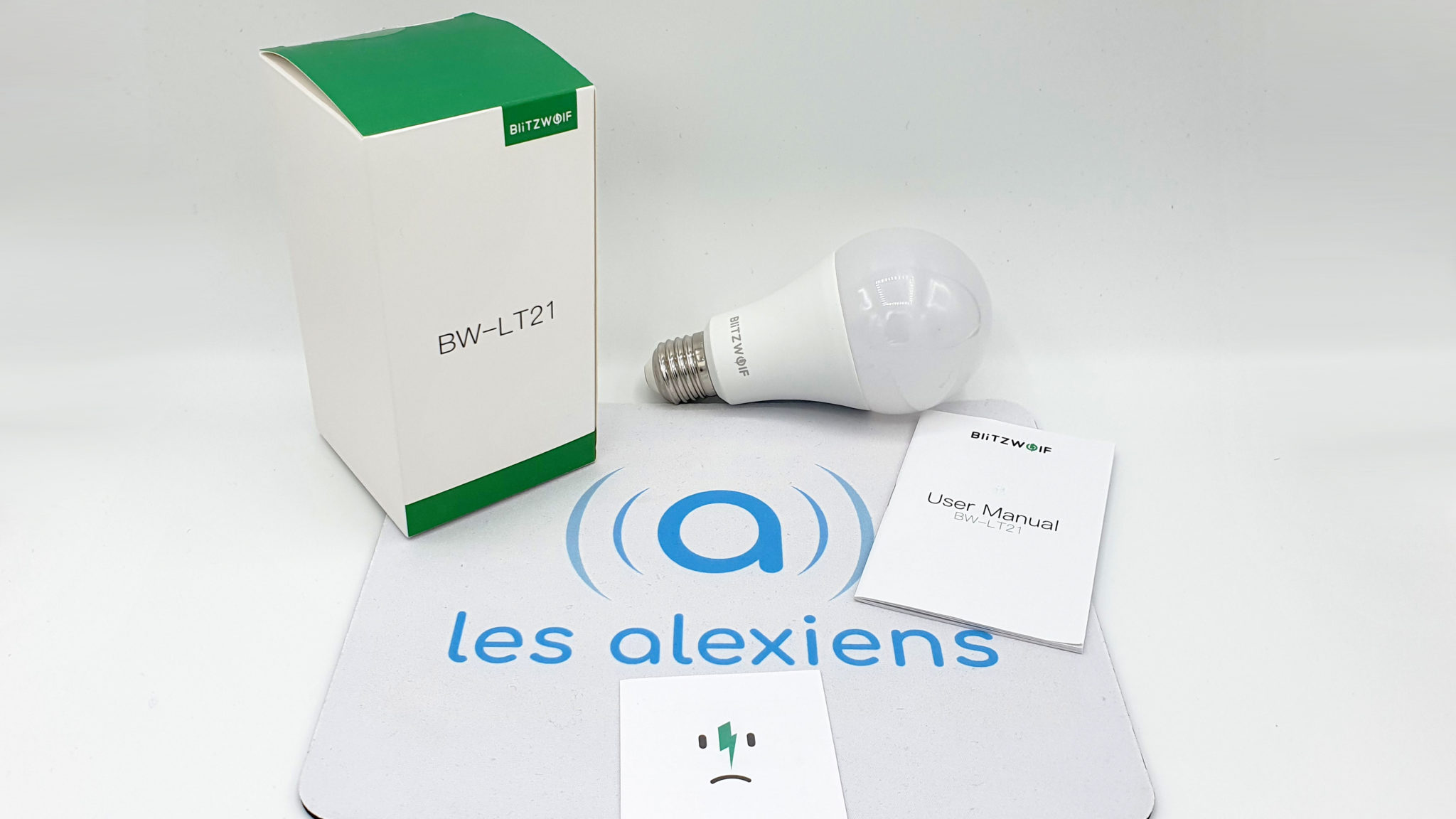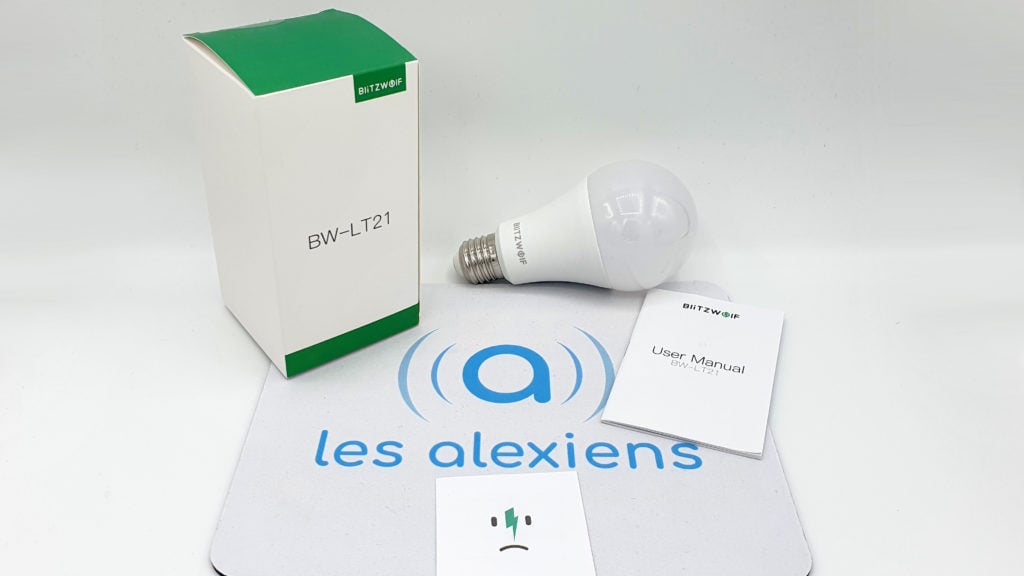 Bigger than average, theBlitzWolf BW-LT21 bulb is of a rather imposing size, which can be more than nice to use it on a ceiling light. Indeed, it is much more massive than a Philips Hue White and Color or that a Aqara Light Bulb, and thus will not look ridiculous in a large light fixture.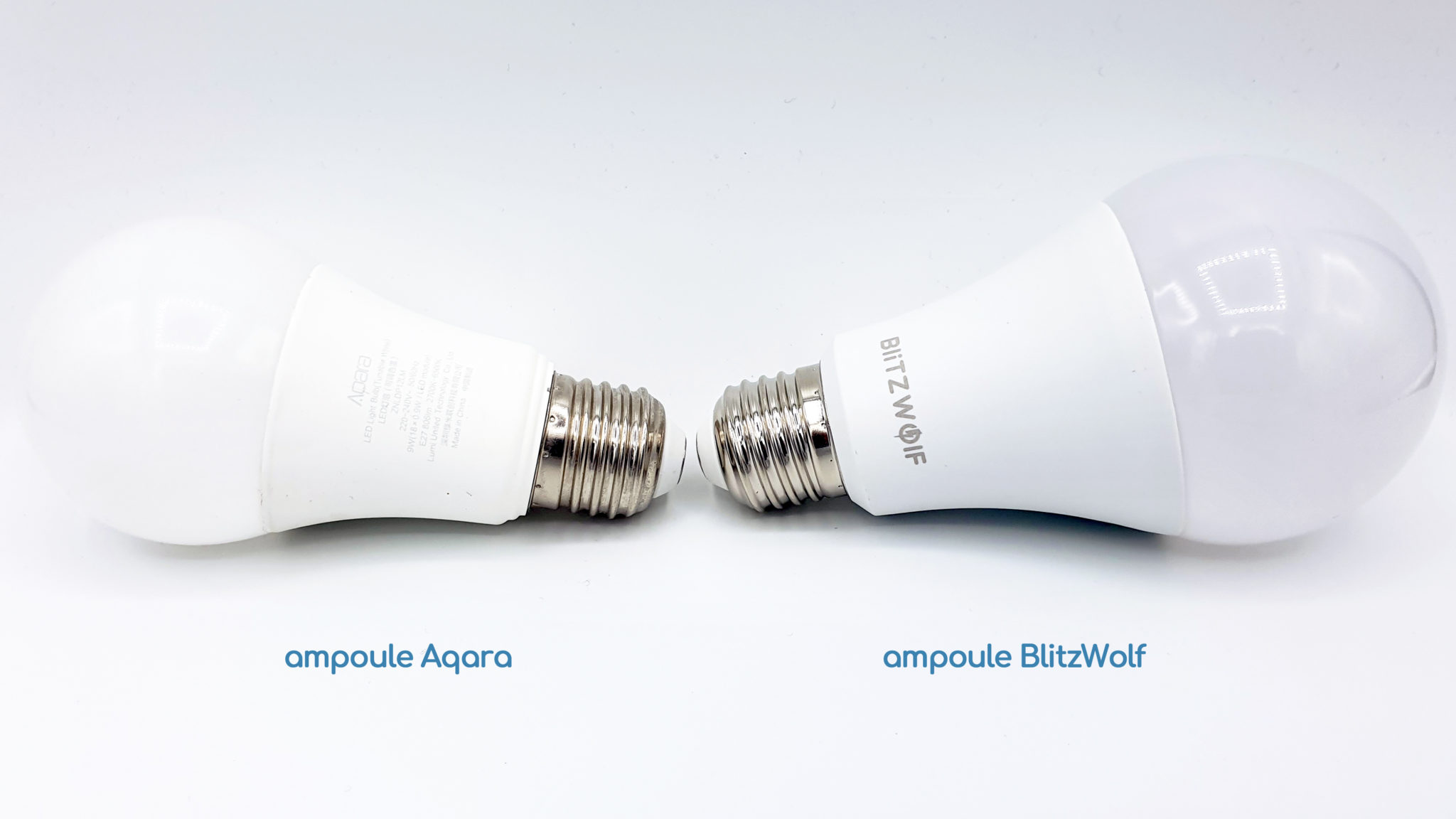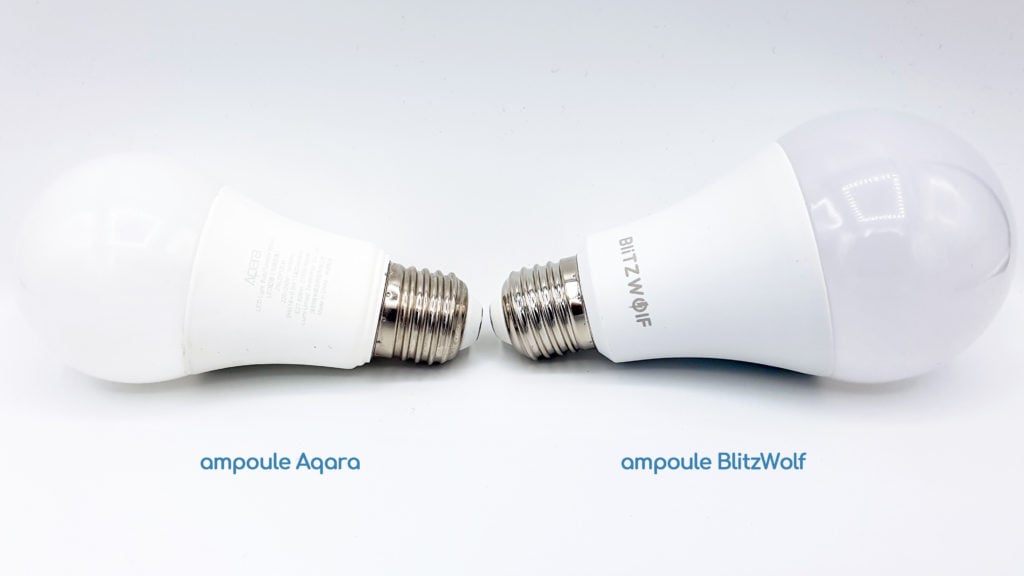 Regarding the technical aspects, the packaging tells us that it is a Wi-Fi LED bulb, as evidenced by its fairly significant weight of 170 grams, which offers rather powerful lighting with 900 lumens for 10W. Compatible with alternating current 100-240V, it offers a unique warm white at 3000K and RGB colors once connected to the 2.4 GHz bands from your home Wi-Fi. Indeed, it will obviously have to be associated with its application to be able to take advantage of all its characteristics ... And this is what we will do after a quick glance at its technical sheet.
Technical specifications
Brand
BLITZWOLF
Model
BW-LT21
Type
A70 format / E27 base
Dimensions
70mm dia. x 134mm
Weight
170 grams
Engime
10W
Luminous flow
900 lumens
Connectivity
Wi-Fi
BlitzWolf: efficiency and simplicity with Tuya / Smart Life
An easy-to-use bulb
We find with pleasure theBlitzWolf app which we had already spoken about during our camera test of the same brand. Note that this is a personalization of the Swiss Army knife of connected objects: Tuya / Smart Life. You can therefore choose to use one or the other. Up to you !
Like always, installation is easy. You just need to screw in your bulb,turn it on and off 3 times, and here it is in pairing mode. If your smartphone is well connected to your network 2.4 GHz Wi-Fi, then enter your SSID and mot de passe associate. The bulb is recognized in less than a minute. It's simple and effective, as always with Tuya products.
It's simple and effective, as always with Tuya products. The Alexians
After choosing an intelligible name for your bulb (it's better if you then want to control it with your voice assistant), you will find it in the application interface. A shortcut allows you to turn it on and off without opening the device, but also to choose the white fashion ou colours and from quickly adjust the light intensity. Practice ! We notice that BlitzWolf continues to evolve its application and to follow the updates of Tuya. It's good.
But let's go further by taking a closer look at the settings available in the app. Beyond the application switch that allows you to turn the bulb on or off, four pictograms allow you to switch to white light mode (hot at 3000K, in case you forgot), in color mode with an color spectrum circular and two sliders allowing you to adapt brightness and saturation. as fashion " ambience« where are offered 8 presets appropriate to Smart Life (Night, Reading, Party, Casual, Soft, Rainbow, Shiny or Superb), and finally a "Planning" tab which allows you to add a time schedule. You can go further by using the automations and other scenarios, such as program an ignition at sunset time ou force the extinction of your bulb when it comes up.
An efficient bulb
As you have seen, this bulb is very easy to install and just as easy to use. The 900 lumens are present in 3000K white mode and provide a warm white lighting pleasant on a daily basis. If you prefer cold light, on the other hand, this bulb is not for you since it is impossible to regulate the temperature of the whites. It's a bit of a shame, but in the end we generally stay more or less always on this type of light which is much more similar to traditional filament bulbs than to LEDs whose light cools more than one.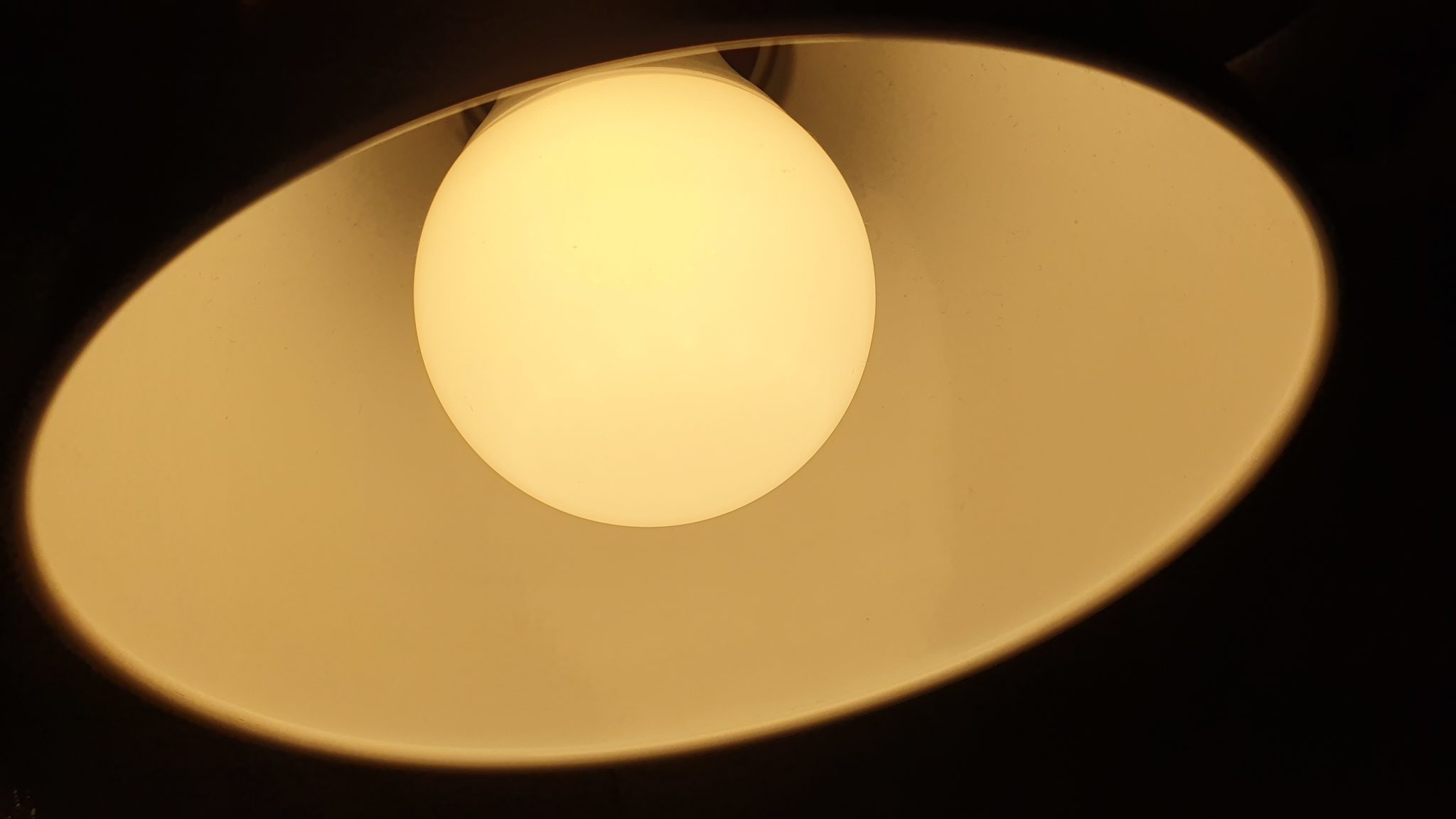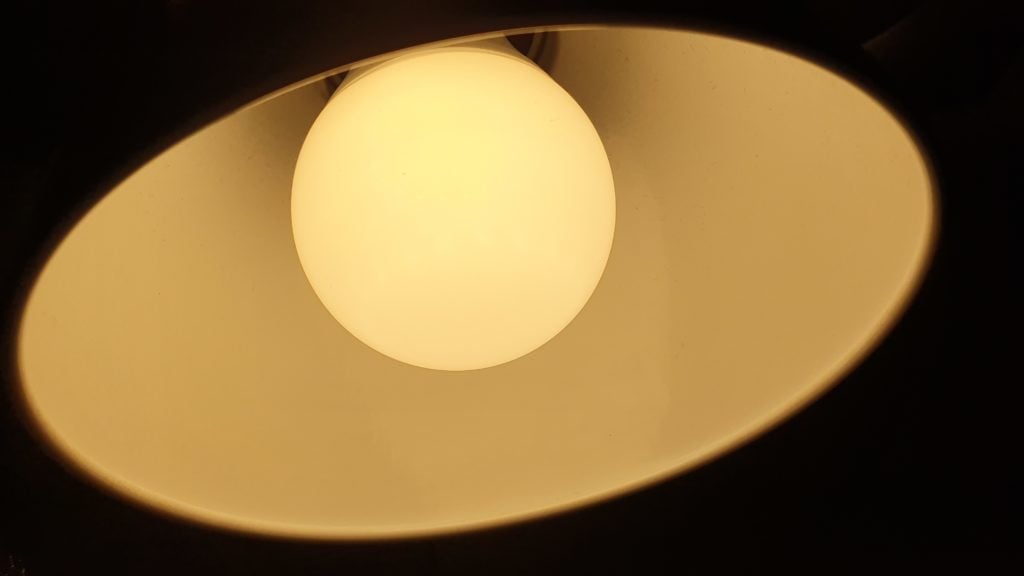 The colors are frank and rather nice. On the other hand, forget the 900 lumens, the drop in intensity is quite obvious when you switch to color. It is then a mood lighting. An atmosphere that you can adjust as you see fit by opting for a preset or by selecting your favorite color among the 16 million available. We're still counting them, but trust us, there are plenty!
The colors are frank and rather nice. The Alexians
A compatible bulb Amazon Alexa and Google Home
Obviously, if we are talking about this bulb, it is because the BlitzWolf BW-LT21 is compatible with our voice assistants and in particular the best of them: Amazon Alexa. If you prefer the Google Home Assistant, it's up to you, we'll just be interested in Alexa.
Unfortunately, the BlitzWolf skill has disappeared from the French skills store ofAmazon, we therefore invite you to use Smart Life. Once your bulb is installed on Smart Life (see our tutorial for installing a bulb under Tuya / Smart Life), you will immediately receive a notification informing you thatAlexa detected your bulb. It could not be simpler, it is one of the great strengths of our dear assistant.
You will therefore find the bulb in your application Alexa, along with color and brightness settings. Alexa offers 16 colors, including white, and allows adjust the brightness in steps of 1%. Finally, you can easily integrate your bulb into a routine.
So what about this bulb
BlitzWolf BW-LT 21
? Well, that this is a
good Wi-Fi LED bulb, simple and efficient
. A little too simple perhaps, because to our great regret it only offers
one and only warm white
at 3000K (it will eventually come in!). It's a bit of a shame, because if the use of colors is fun at first, adjusting the temperature of the whites quickly becomes a habit and a fairly significant comfort for many Alexians. Well, not all, and
this bulb will therefore be perfect for people simply wishing to find the warmth of traditional filament lighting
. Likewise, if the colors are shimmering, they lack a bit of power, which is however relatively common on Tuya bulbs. Nevertheless, their use is nice for mood lighting and will suit many users.
Sold € 18.99 on Amazon. Fr
, this bulb therefore has a
good value for money
and will satisfy those looking for unadorned lighting with the option of occasionally using colors.
Not available
August 13, 2022 14:50 a.m.
Updated: August 13, 2022 14:50 a.m.
BlitzWolf LED Wifi Connected Bulb Compatible with Alexa Google Assistant 10W E27 RGBW
18.99 € (excluding promo)
Most
Sober design and quality finishes
Wi-Fi bulb that does not require a bridge
Good value for money
Compatible with voice assistants
The lessers
A single warm white at 3000K
Lack of power on the colors that will rather suit mood lighting