Alexians love their voice assistant so much that today they almost always equip themselves with compatible devices, even making this point a main purchase criterion. But, if more and more devices are today " Alexa friendly "or outright "Certified Alexa » by Amazon, we are not going to renew all our electronic objects in a few months, not to mention that we sometimes even want to keep some as long as possible, either because they are of high quality, or quite simply because they remain fully functional. But wouldn't it be possible to control them by voice?
Well yes, a large number of devices can be made compatible even though they came out at a time when Alexa had not yet germinated in the minds of its creators. Obviously, as you can imagine, there are still some prerequisites for this, including the fact that they have a remote control. Whether infrared (IR), radio-frequency (RF), Bluetooth or even Wi-Fi, there are indeed several solutions on the market to dispose of your remote controls and enjoy voice control with Alexa.
Alexians often joke about the future compatibility - or not - of a famous Logitech Harmony hub, a Swiss company that seems to care little about the French-speaking market given the time it takes to provide us with its skills, but fortunately there are other almost equivalent solutions. This is precisely one of them that we decided to test for you today, in this case the Broadlink RM pro +.
Indeed, the Chinese manufacturer did not hesitate to provide us with a skill that makes its device devilishly effective with Alexa. But let's take a closer look at what this Wi-Fi device for IR / RF remote controls can do for us.
32,99€
In stock
August 13, 2022 13:51 a.m.
49,99€
In stock
August 13, 2022 13:51 a.m.
Broadlink RM pro +: say goodbye to your remote controls
Unboxing
Le Broadlink RM pro + comes in a rather nice and confidence-inspiring box, which immediately announces the color: this device will allow you to control audio, audio / video devices, or even air conditioning, curtains, shutters, switches and even light bulbs. It works over Wi-Fi and therefore acts as a Universal remote controller as indicated on its packaging. The brand announces outright compatibility with more than 50.000 devices, an assertion impossible to verify, but not really improbable given the impressive number of products using infrared (IR) and radio frequency (RF) technologies.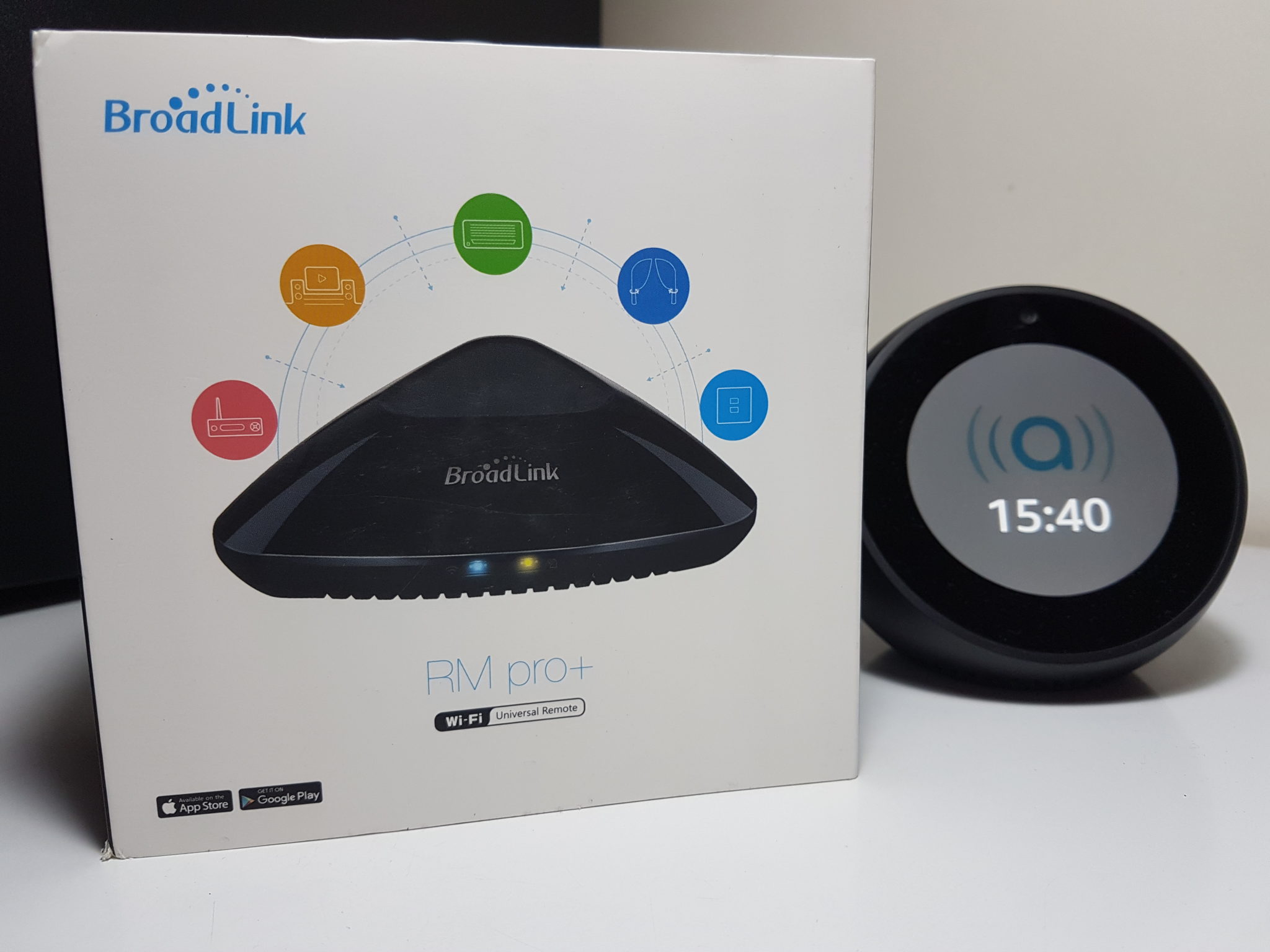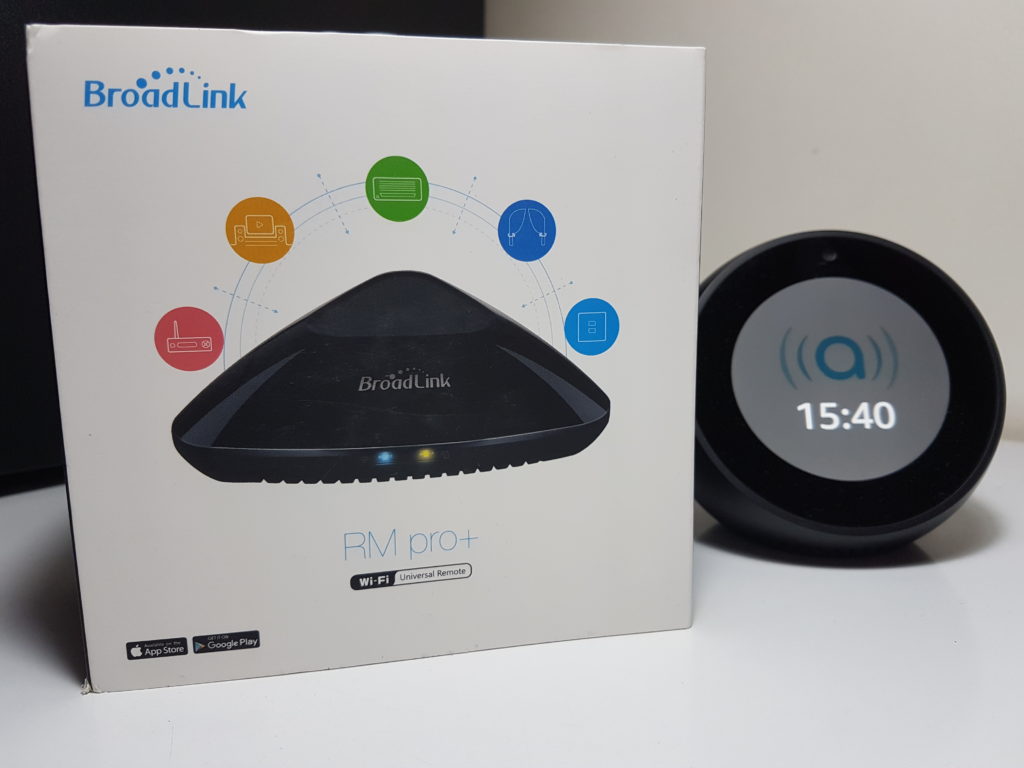 When opening, we immediately spot the device, all dressed in black, which is reminiscent of infrared receivers. Logic. This last one is supplied with a fastening system, two screws and two wall plugs, to fix it if necessary against a wall. We appreciate the effort.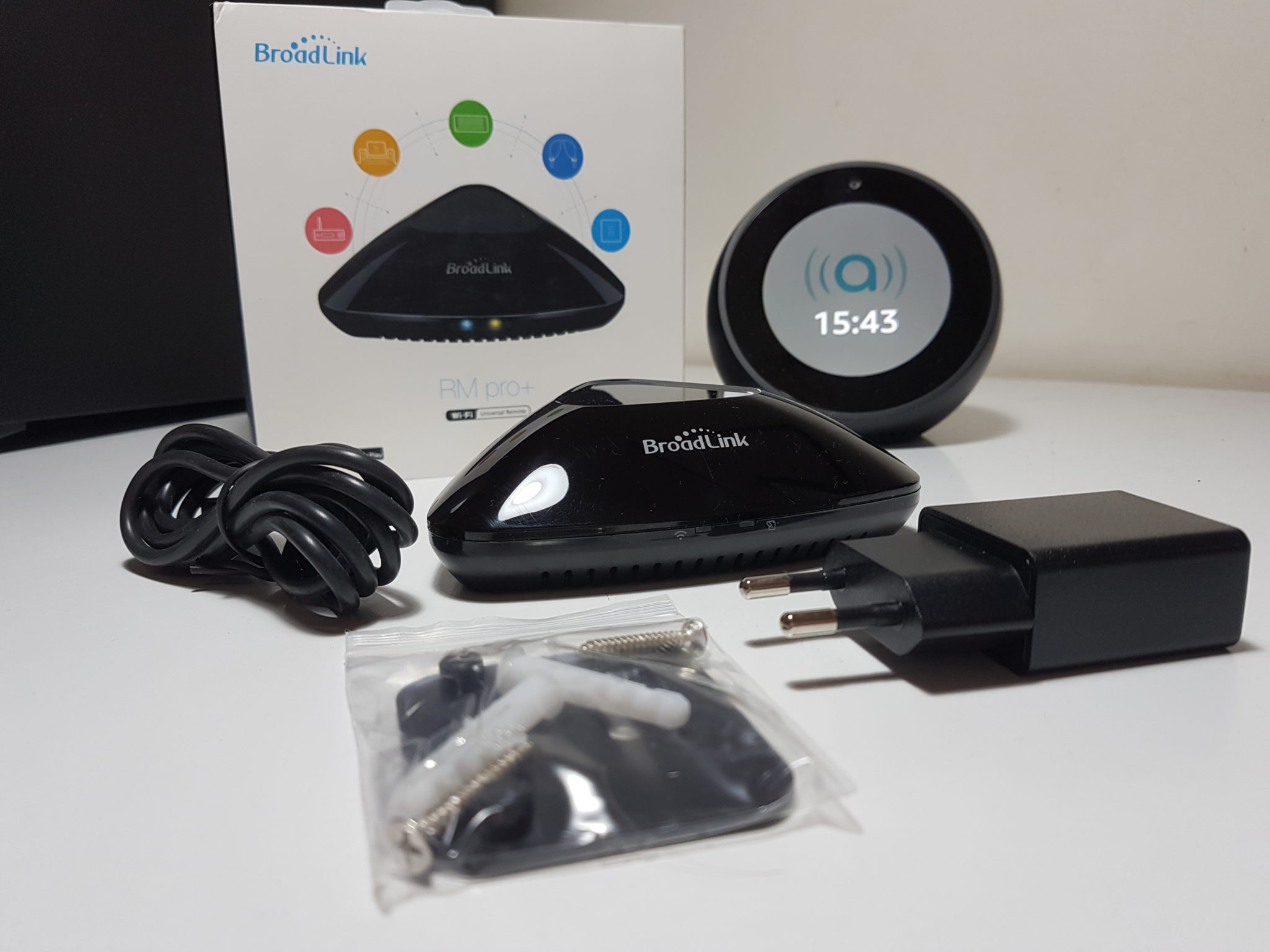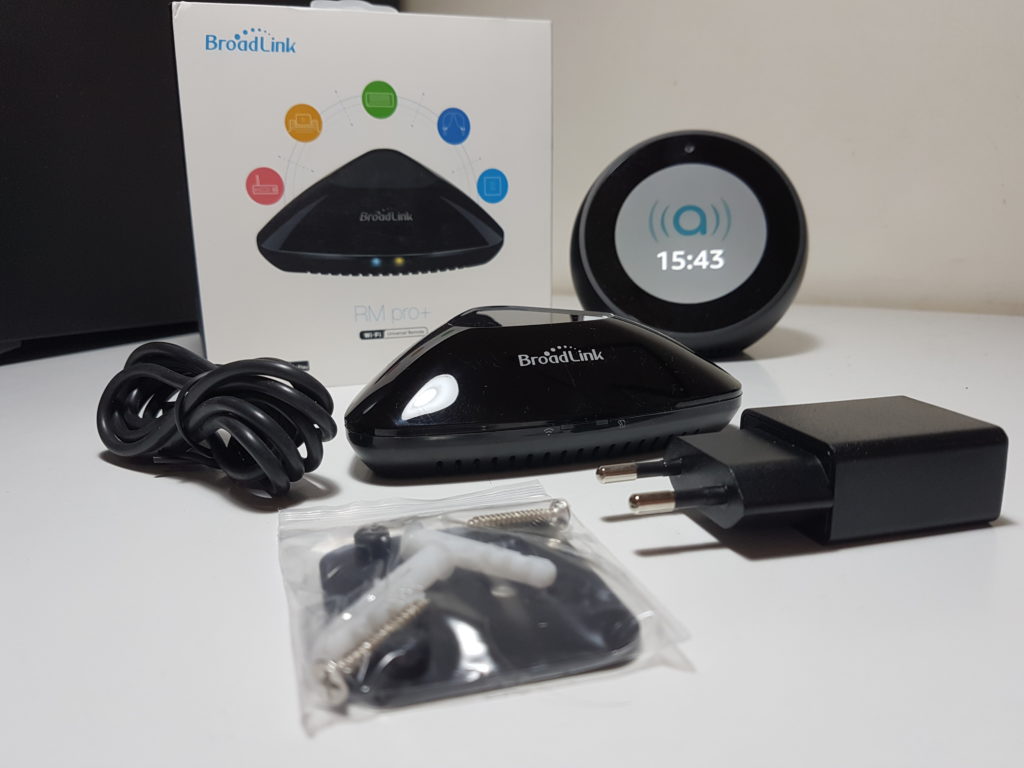 A very small notice is also in the game, but it takes almost a magnifying glass to be able to decipher the content exclusively in English. But do not worry, nothing to stop an Alexien, and we will detail you a little the installation procedure in the language of Molière.
In the meantime, let's see what this little polyhedron of 114.5 109 mm × mm × mm 36 has in the belly.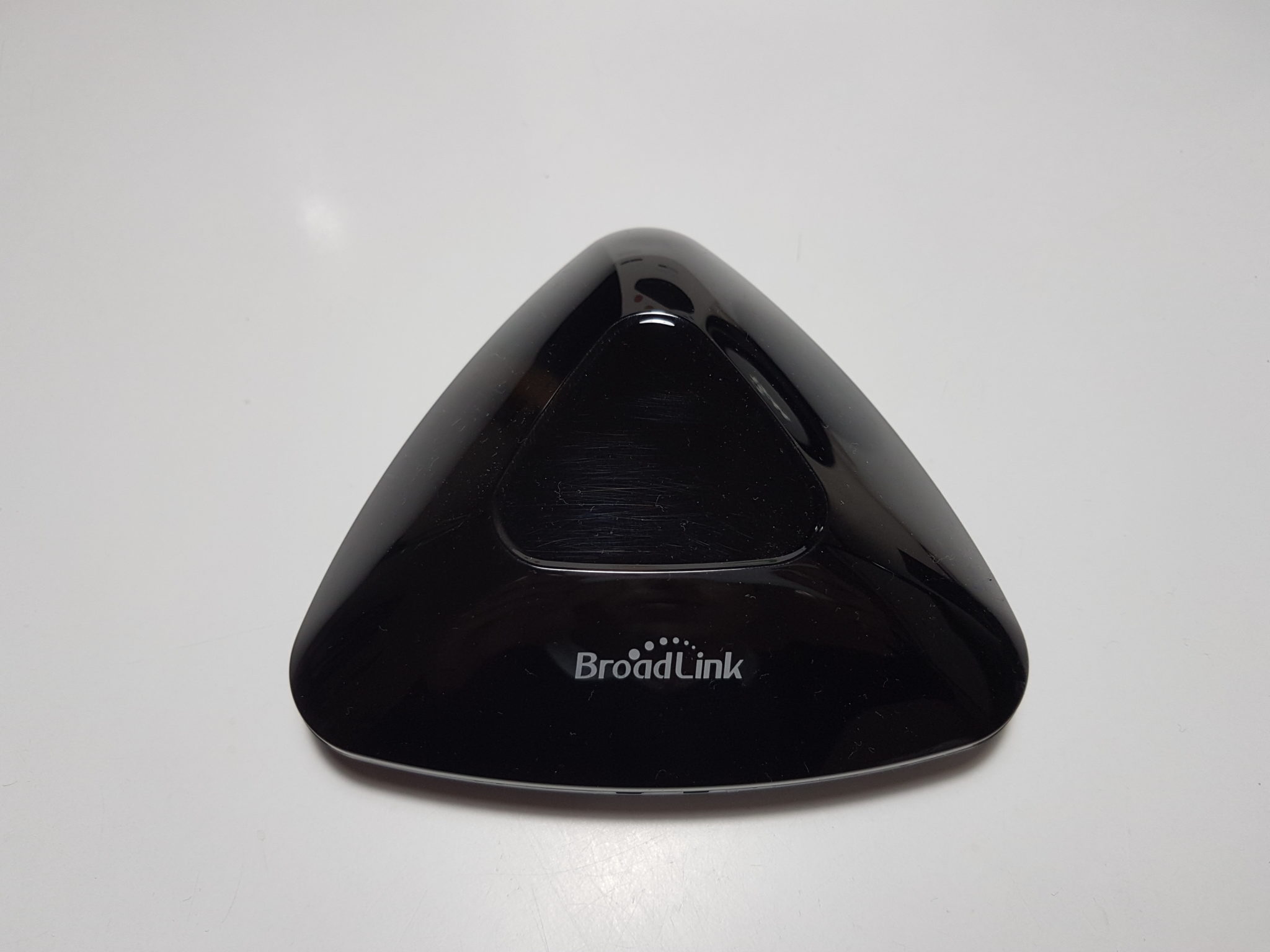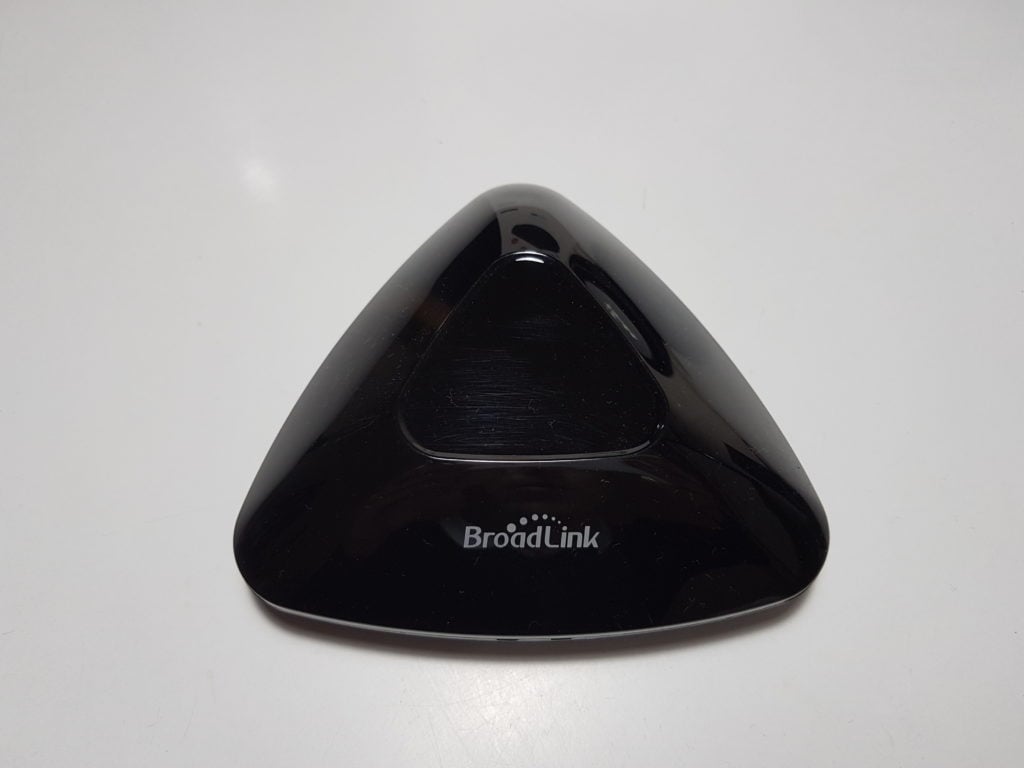 Information
Supply : 5V DC ≥1A

Operating temperature :

0 ~ 55 ℃

Supported humidity:

X85% RH

Wi-Fi frequency:

2.4GHz 802.11b / g / n
Infrared frequency: 38 kHz (multidirectional diodes)
RF frequency: 433/315MHz ≤10dBm

Standby consumption:

≤1W
As you have probably noticed, the Broadlink RM pro + uses infrared IR at 38 kHz, but also two radio frequencies RF on the 433 MHz and 315 MHz bands. Interesting! But what about in practice?
Broadlink: control your devices with your smartphone
As the Broadlink system is delivered without a remote control, you will need to arm yourself with a mobile device to configure your devices, but also to transform it into a universal remote control. It is indeed a simple hub and the most practical will undoubtedly be to use your smartphone.
Installation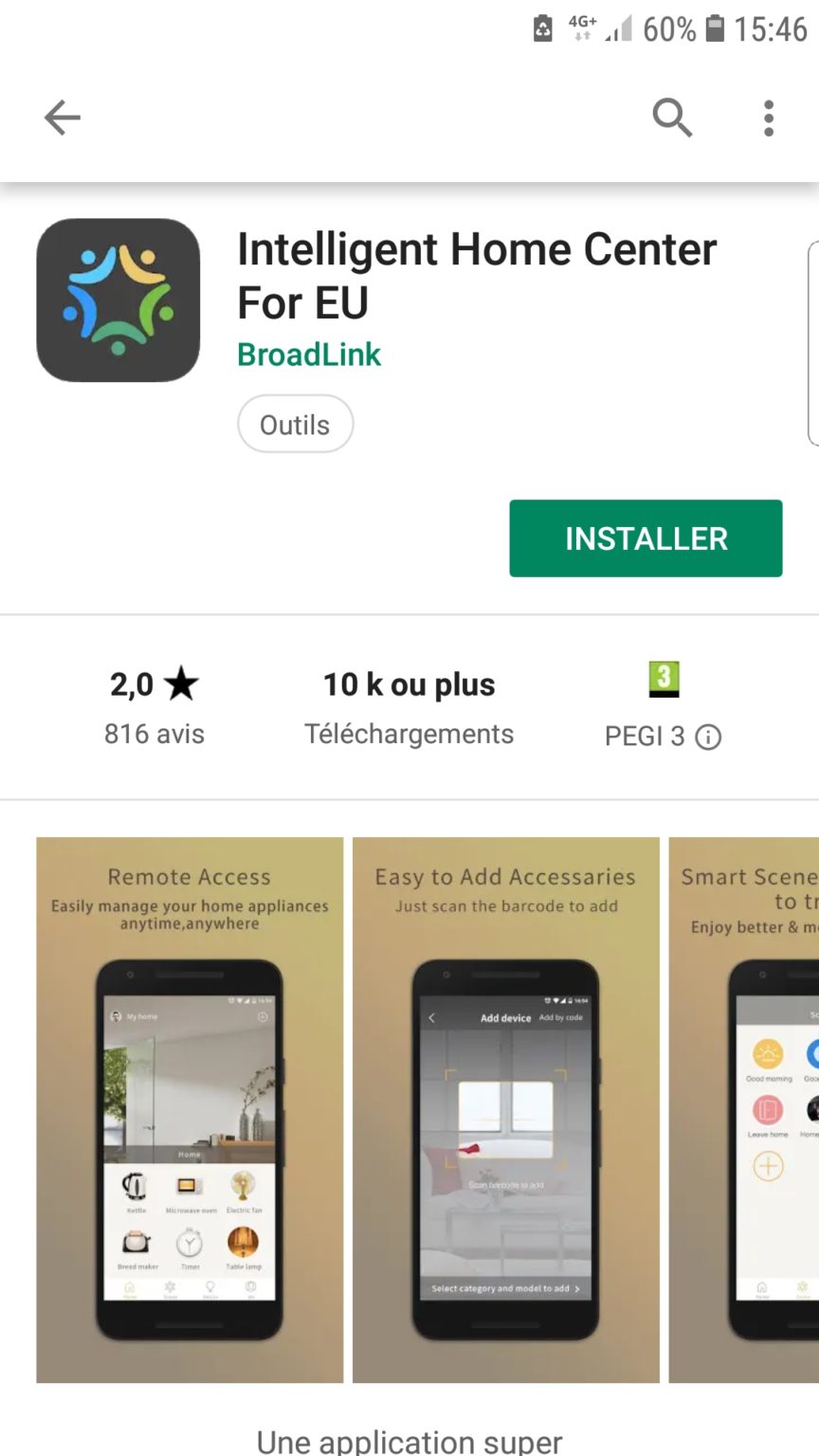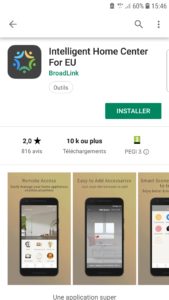 The installation of the application presents no difficulty. Just go to your favorite store and download the app IHC for Europe, or Intelligent Home Center for Europe on the PlayStore or the one of the same name on the App Store from the mark to the apple.
Be careful, unless you live across the Atlantic or in a more exotic country, be sure to download the European version or you will have the greatest difficulty finding your devices in the list, as long as the arm, of brands offered by Broadlink .
Open the app. This invites you to create an account, condition sine qua non to be able to use the device which will then need to connect to your home Wi-Fi.
Then plug in your brand new toy to the sector and connect it to your box or router on the 2.4 GHz Wi-Fi.
Then follow the on-screen instructions.
That's all! All you have to do is configure your first device.
Adding a device
Adding a device can be done from two different ways : by selecting it from the list of devices already known to your Broadlink RM pro +, or by learning the remote control directly from the hub. Either way, it's quick and easy.
In our example, we decided to connect a Sony brand Hi-Fi amplifier which already has a lot of flight hours, since it dates from 1999. Yes, even a 20-year-old device will be able to control itself by voice thanks to this device. Isn't that just awesome? We love it anyway!
In short, take your remote control and follow the on-screen instructions.
Choose the type of device and look for it in the official list. If, however, you cannot find it, go to "Me" And click "Can't find my brand, learn the remote right away". As you will understand, this means that we will have to teach the remote control to the Broadlink RM pro +.
Our Sony brand amplifier being 20 years old, we chose to teach it the remote control ourselves, not being able to find it in the database.
To do this, simply grab the device's remote control, choose the function of the button to learn, and aim at the Broadlink hub by pressing the button when the application requests it.
Each key will be configured and tested immediately. If your device does not respond to commands sent by the Broadlink RM pro +, you can start over.
Be careful not to get too close to the device, it won't work any better. On the contrary, even if you are too close, the codes may be incorrectly recorded, which could generate errors later.
That's it, you can now control the registered device with your smartphone. Okay, that's all well and good, but what about voice control?
Broadlink RM pro +: when Alexa turns into a universal remote control
Like any self-respecting Alexien, you now want to go further and do without your smartphone using your favorite voice assistant.
Voice control with Amazon Alexa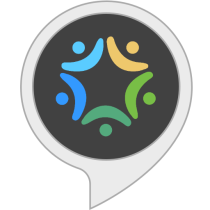 Broadlink, unlike Logitech, has not forgotten us and provided us, several months ago already, a skill Alexa in French! You will find it on the skill store ofAmazon.fr under the name of broadlink Smart Home for EU or on your application Alexa.
You just need theactivate and enter the information relating to your Broadlink account that you previously created via the mobile application. At this point, however, Alexa will not necessarily find your Broadlink RM pro + in its device list. Indeed, not all types of devices appear. If you set up a tv, however, you will have the pleasure of finding it again and being able to control it by calling it TV or TV.For other devices, don't worry, you can indeed use them too! You will just need, first, create scenes in the IHC for EU app. This done, Alexa should automatically detect these scenes and you can then control them by voice.
Create scenes for Alexa
Once the remote control is configured, go to "Scenes" to start creating your scenes.
First of all, choose an image or icon (not compulsory) but especially a name that you will find in your application Alexa.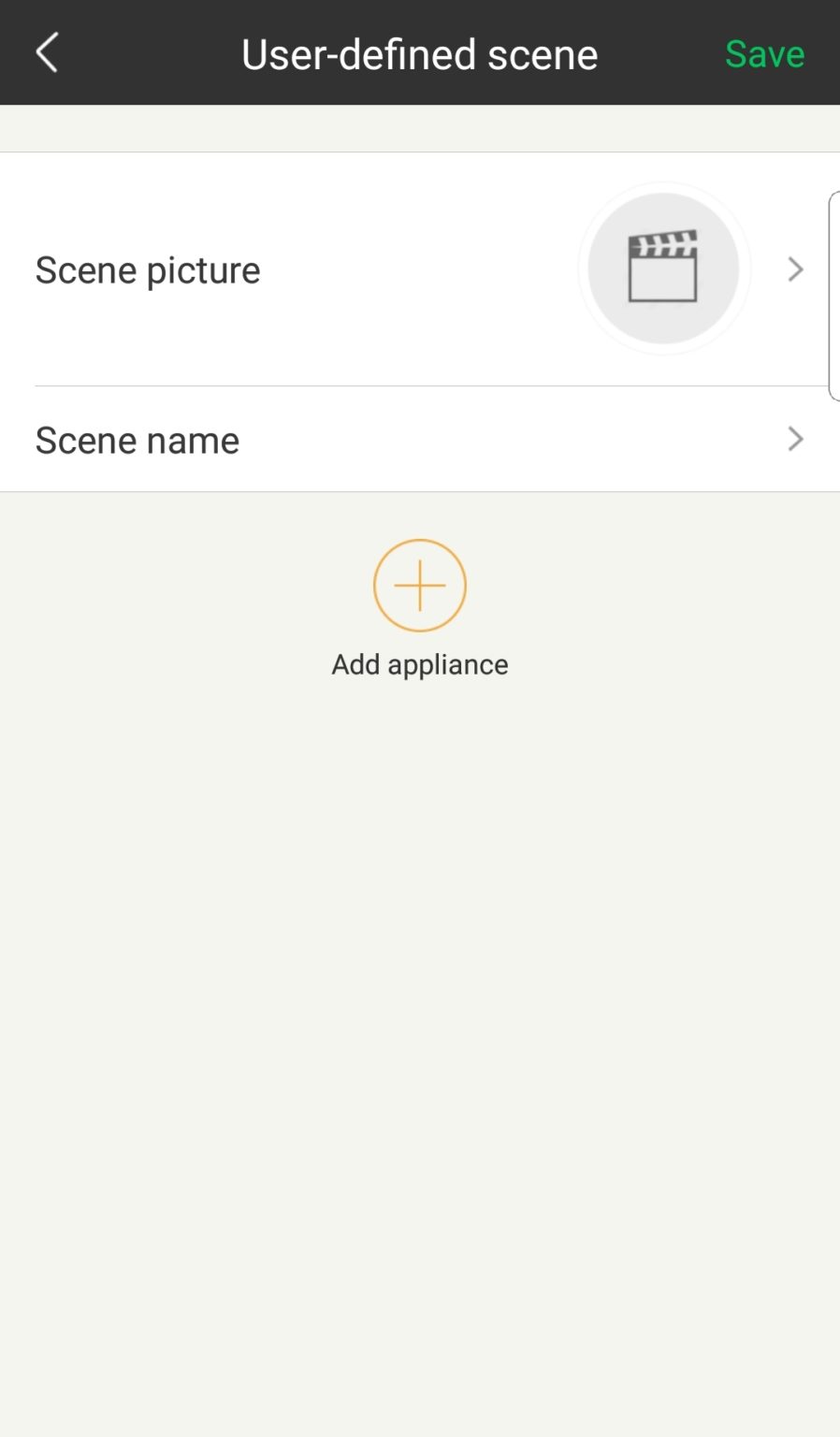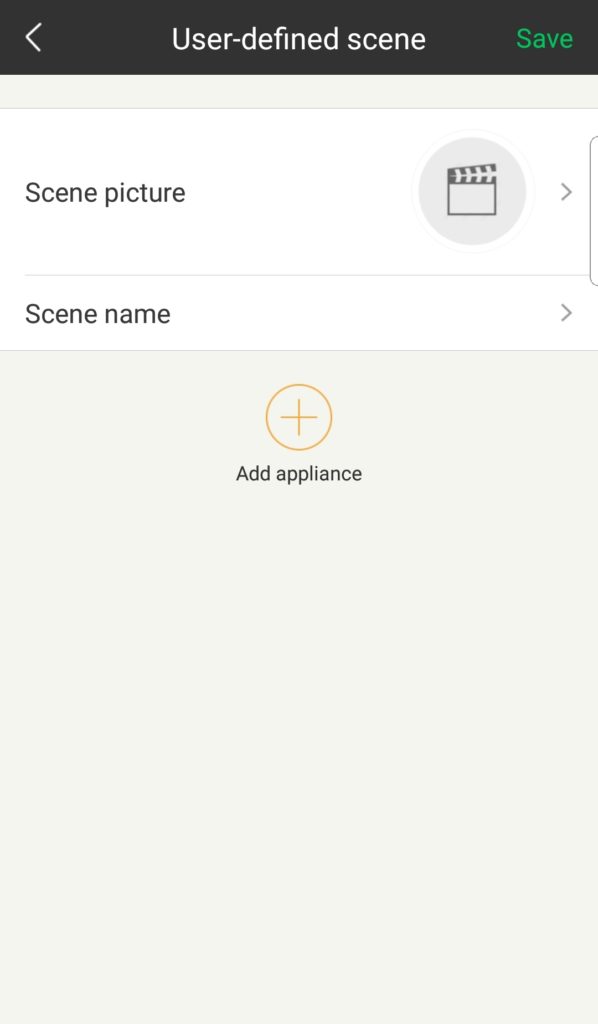 Then press "Add appliance" to configure the actions to be performed. Switching on and off using the same button, we don't need to create two different scenes here.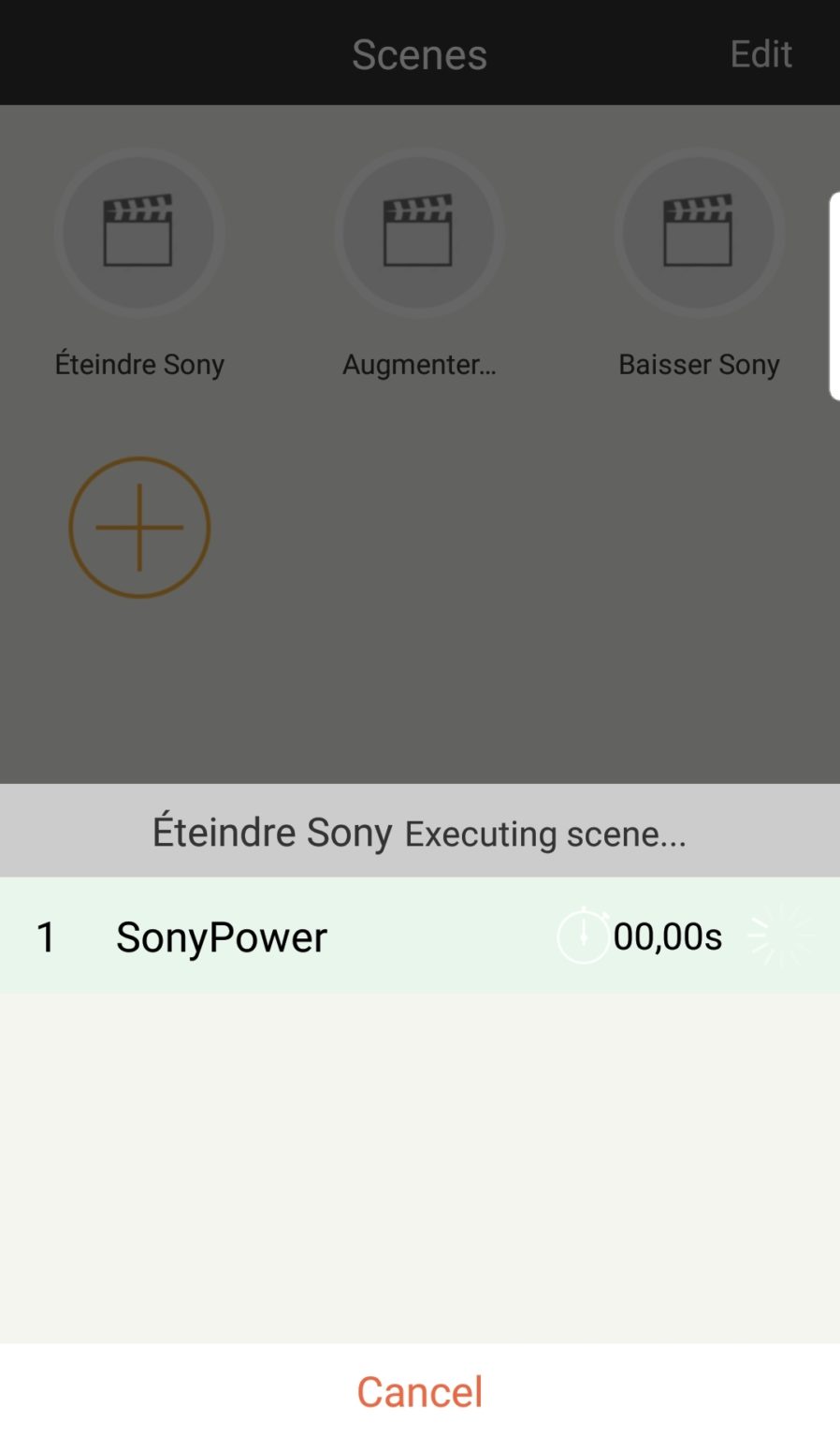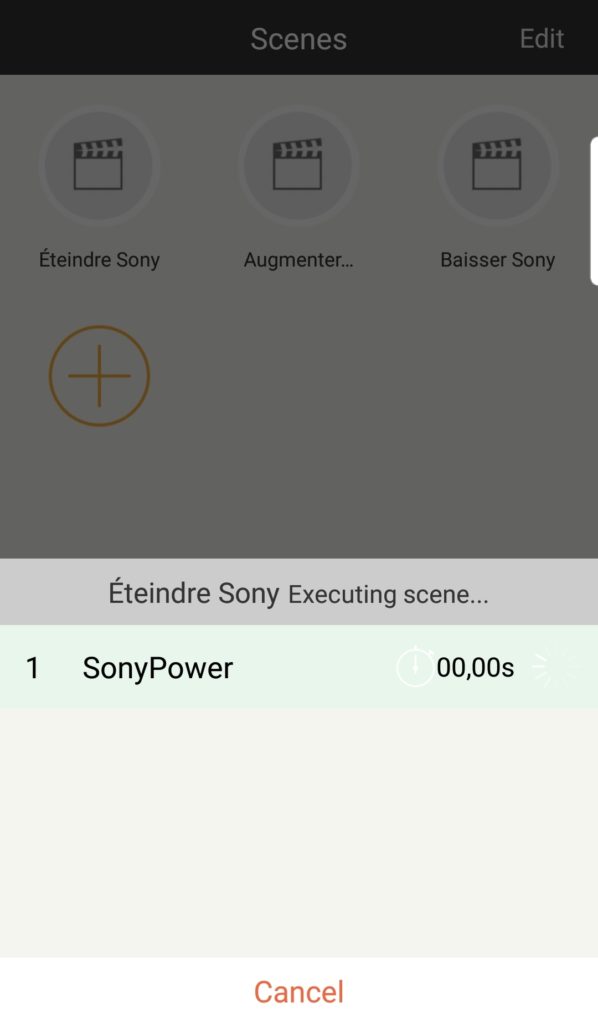 You can add other actions to be performed in a certain order and you can even determine a waiting time between each action, which can be useful for devices with a low latency, in particular the TV decoders of our dear ISPs.
Let's take another example by making the device perform two actions. This can be useful for, for example, increase the sound in steps of 2 or 5. A single press generally only increases the latter very little, it would become tedious to do it by voice in steps of 1, so it may be interesting to increase the latter a little more. In our case, two will be more than enough. In addition, the remote control being very reactive, there is no need to put any waiting time, the actions are carried out one after the other and are well picked up by the infrared receiver of the amplifier.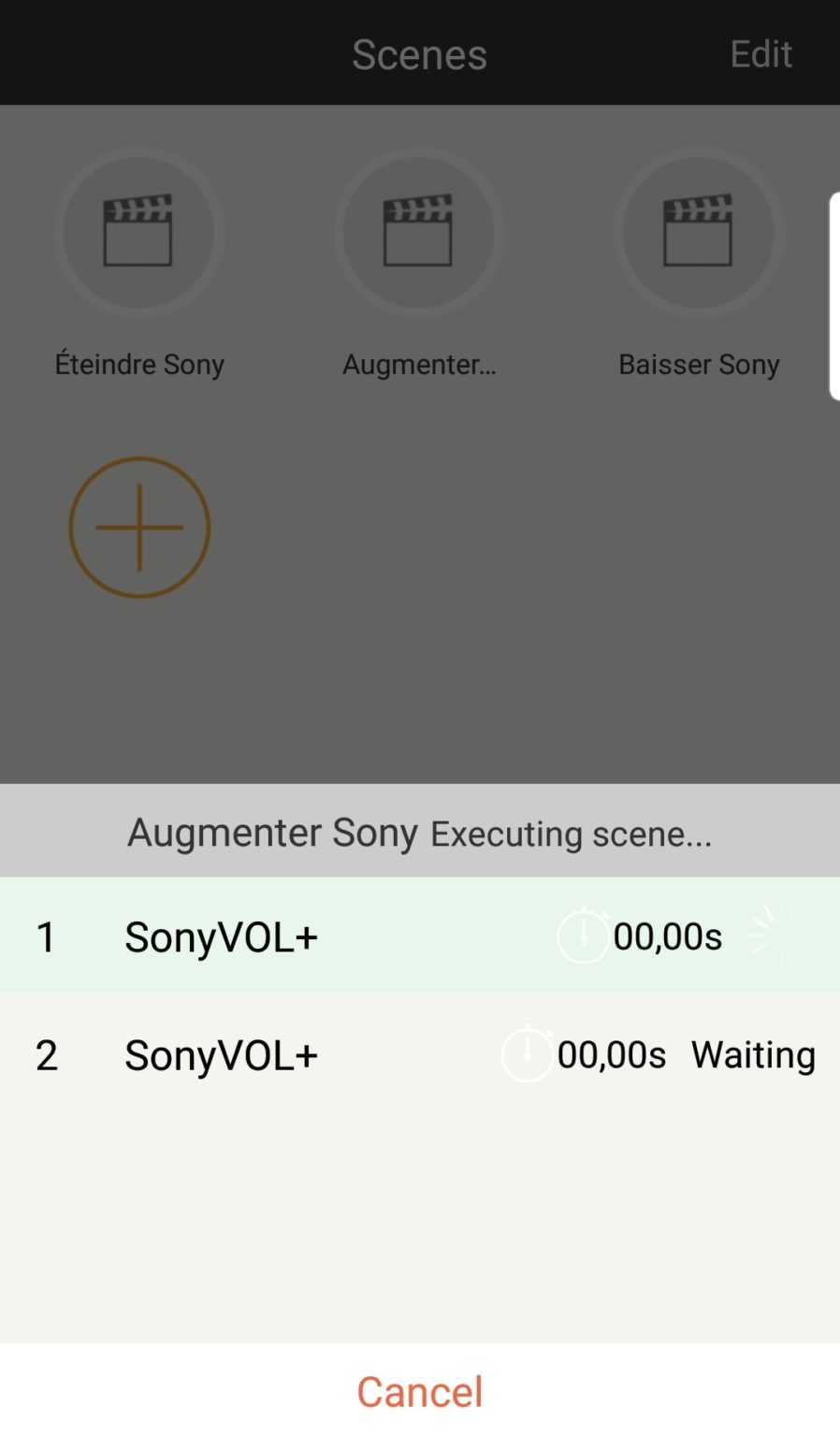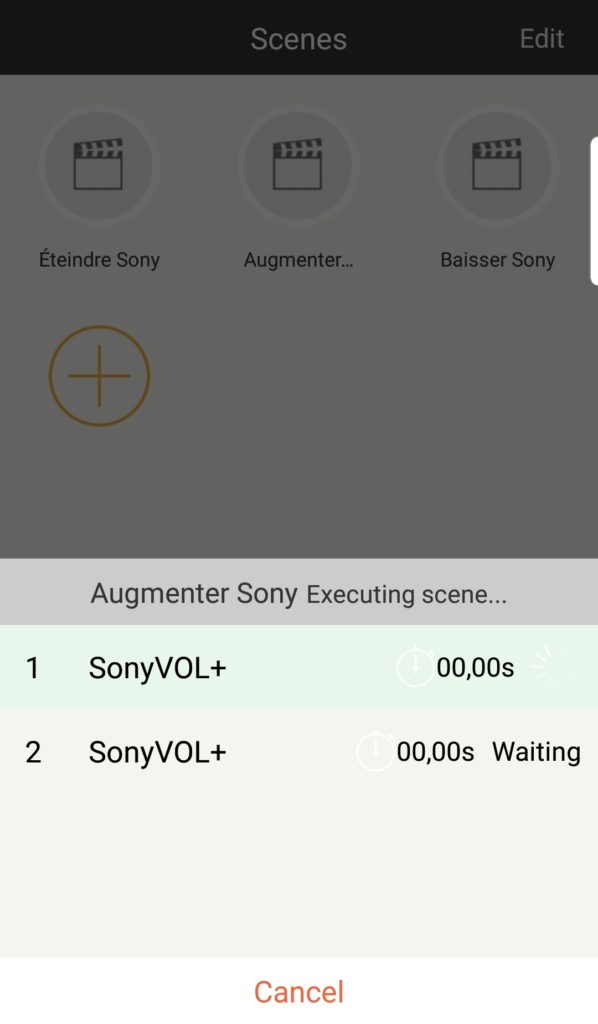 But you can obviously imagine much more complex scenes as, for example, for a Home Cinema installation:
Switch on the television,
Switch on your decoder,
Switch on the Home Cinema amplifier,
Launch a channel or your favorite SVOD application.
You can also imagine many other things and even insert your scenes into routines Alexa. Routines which, as we will see, also make it possible to simplify the commands and make them more natural.
And to configure a television?
We invite you to watch this very complete video published by Alexandre Sabatier, moderator of the most famous Facebook groups dedicated to Alexa.
Routines Alexa for your Broadlink hub
The main benefit of the routines will be that you can customize the voice command as desired. Here we have made it simple and chosen to call the device "Sony". The commands will therefore be of the type « Alexa, turn on / off Sony " or even « Alexa, increase / decrease Sony ". Again, it's up to you to see what suits you best, and it's up to you to create much more complete scenarios.
A more than conclusive test
Once again we unearthed there an inexpensive and frankly practical device which should appeal to more than one Alexian. Especially if, like us, you don't want to part with a device that is admittedly old but still just as powerful. If we have so far only tested this hub on audio / video devices, know that it can control virtually all infrared devices, RF315 or RF433.
Finally, note that, if you don't have anything to do with RF control, you can also turn to the model Broadlink RM Mini 3 which is satisfied with infrared but whose even smaller size can also be an asset.
Indeed, infrared does not pass through walls, you may want to place several in your home, which you can do for less than 20 € with the mini version of this hub.
32,99€
In stock
August 13, 2022 13:51 a.m.
49,99€
In stock
August 13, 2022 13:51 a.m.
In conclusion, as you will have understood, this Broadlink RM pro + really caught our eye. Not really for its design, although it isn't ugly either, but for the many possibilities it offers. For around 40 € on Amazon.fr, you can indeed enjoy voice control on your older or older devices that are not natively compatible with Amazon Alexa. The proof with our 20 year old amplifier! We can therefore only warmly recommend you the acquisition of this extremely versatile device and benefiting from an unbeatable quality / price ratio compared to its competitor Logitech Harmony (which still does not deign to make its hub compatible Alexa in French…).
Broadlink RM pro +
around 40 €
Most
Excellent quality / price / possibilities
Super easy learning of remote controls
Consumes little electricity
No need for remote control
Works perfectly with Alexa
The lessers
Do not support bluetooth
No remote control
Austere application with a few small bugs (not really problematic)