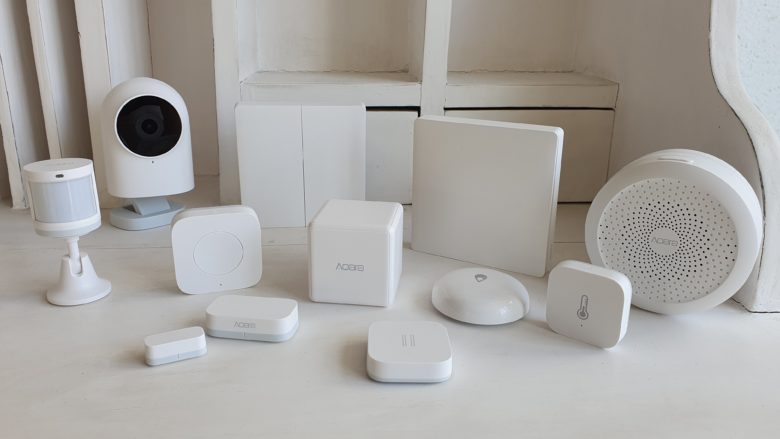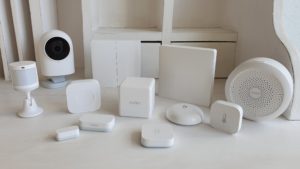 We recently promised to make you discover little by little the home automation universe of Xiaomi. Indeed, even if all connected objects Xiaomi Mijia ou Aqara are not yet compatible with Alexa, the Chinese brand is gradually invading the European market and is attacking France in particular by offering equipment equipped with suitable plugs ... Moreover, Aqara has launched pre-orders for its ZigBee bridge in Europe, which is even already available in some Nordic countries, France being scheduled for September a priori.
We also learned that the brand owned by Xiaomi is very interested in our favorite voice assistant, wanting to make all of its hardware compatible. This is excellent news which therefore leads us to present to you, not the gateway Aqara, but a camera also fulfills this role: the Aqara G2 "Gateway Edition" camera. The society Lumi United Technology Co. Ltd who markets it indeed had the excellent idea of ​​offering a hybrid product that acts both as a camera and a ZigBee bridge. Let's take a closer look.
Not available
May 14, 2022 23:14 a.m.
€37,62
€57,87
Not available
Xiaomi Aqara G2: a compact and elegant camera
Unboxing and presentation
Delivered in a small box, we quickly understand that the Aqara G2 camera is, like the other devices of the brand, a compact connected object. The packaging is simple and no-frills, but not quite as chic as the rest of the range. Indeed, it does not use the color code, probably because it is a Chinese model not yet marketed in Europe. But that's not what is likely to stop us!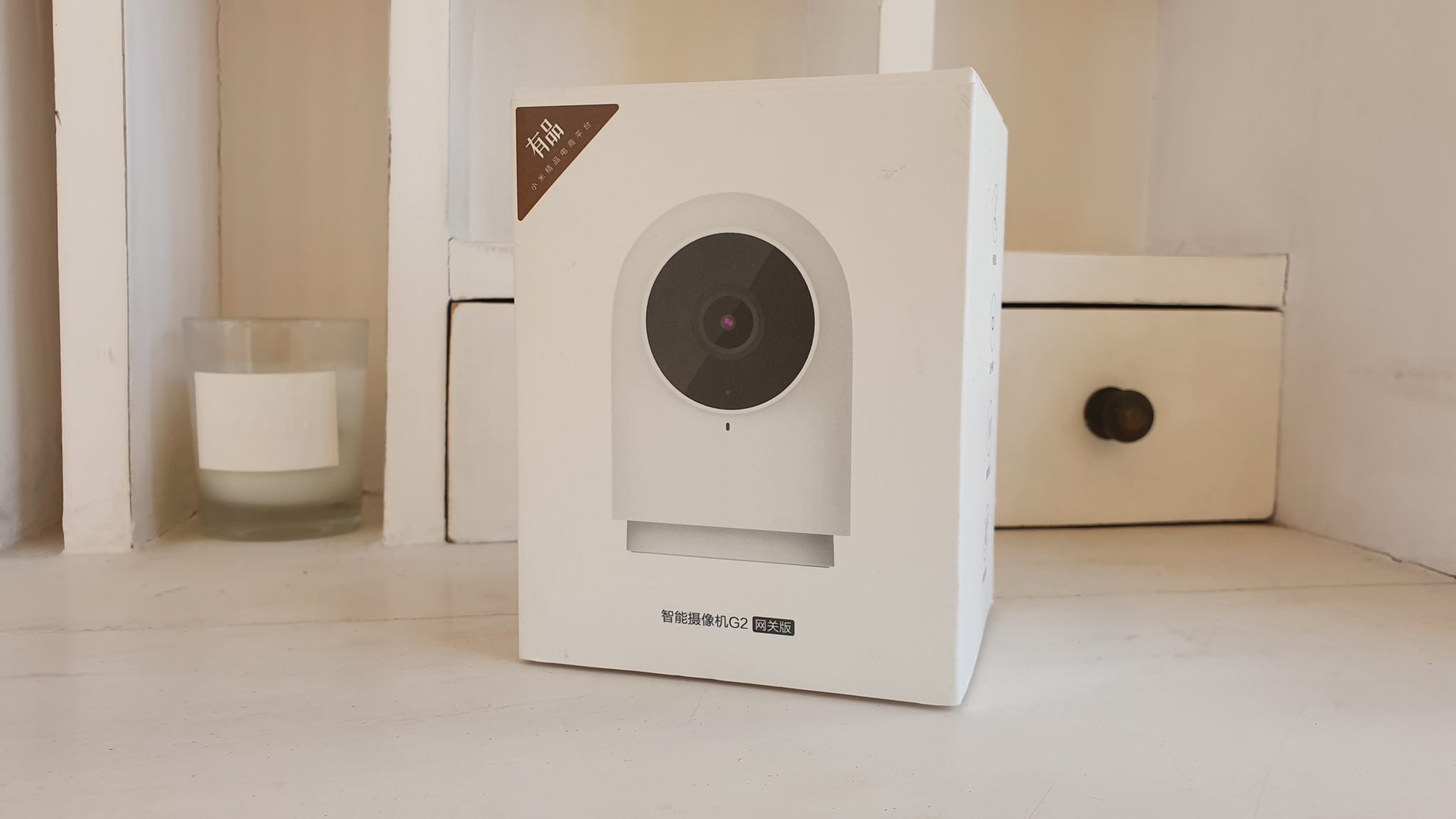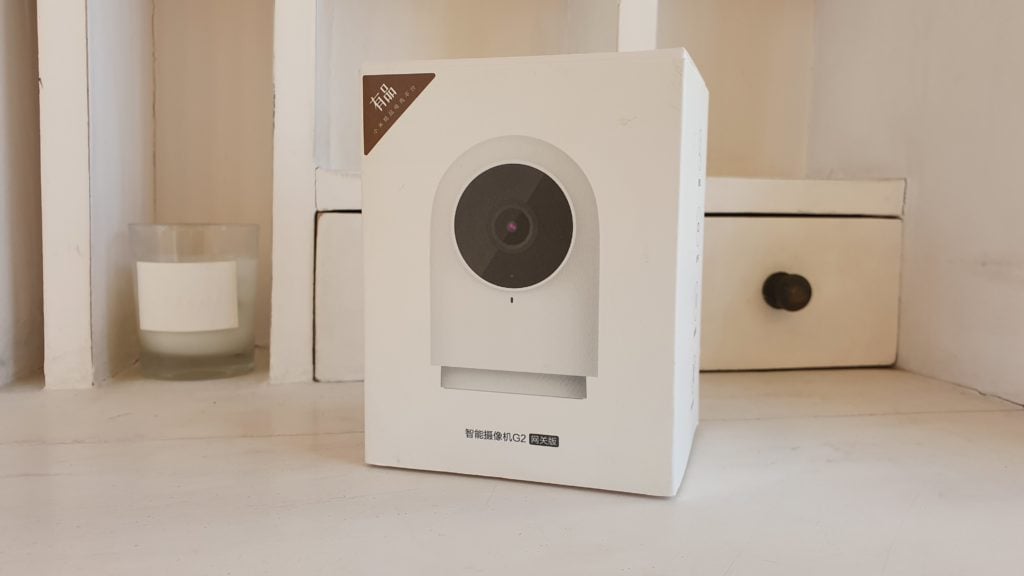 The sides of the packaging tell us a little more about the Product Features : 1080p full HD video, H265 encoding, 140 ° viewing angle, night vision, motion detection, micro-SD slot and presence of a ZigBee bridge allowing you to connect other Aqara or Mijia devices.
At the opening, we find a typical Aqara design. The camera takes on an unusual form, with soft curves and compactness quite worthy of the brand. To some, she will look like a Minion, to others like Kenny McCormick dressed in white. Moreover, as this is a Chinese version, we had just as much difficulty understanding its instructions, but we will come back to it ...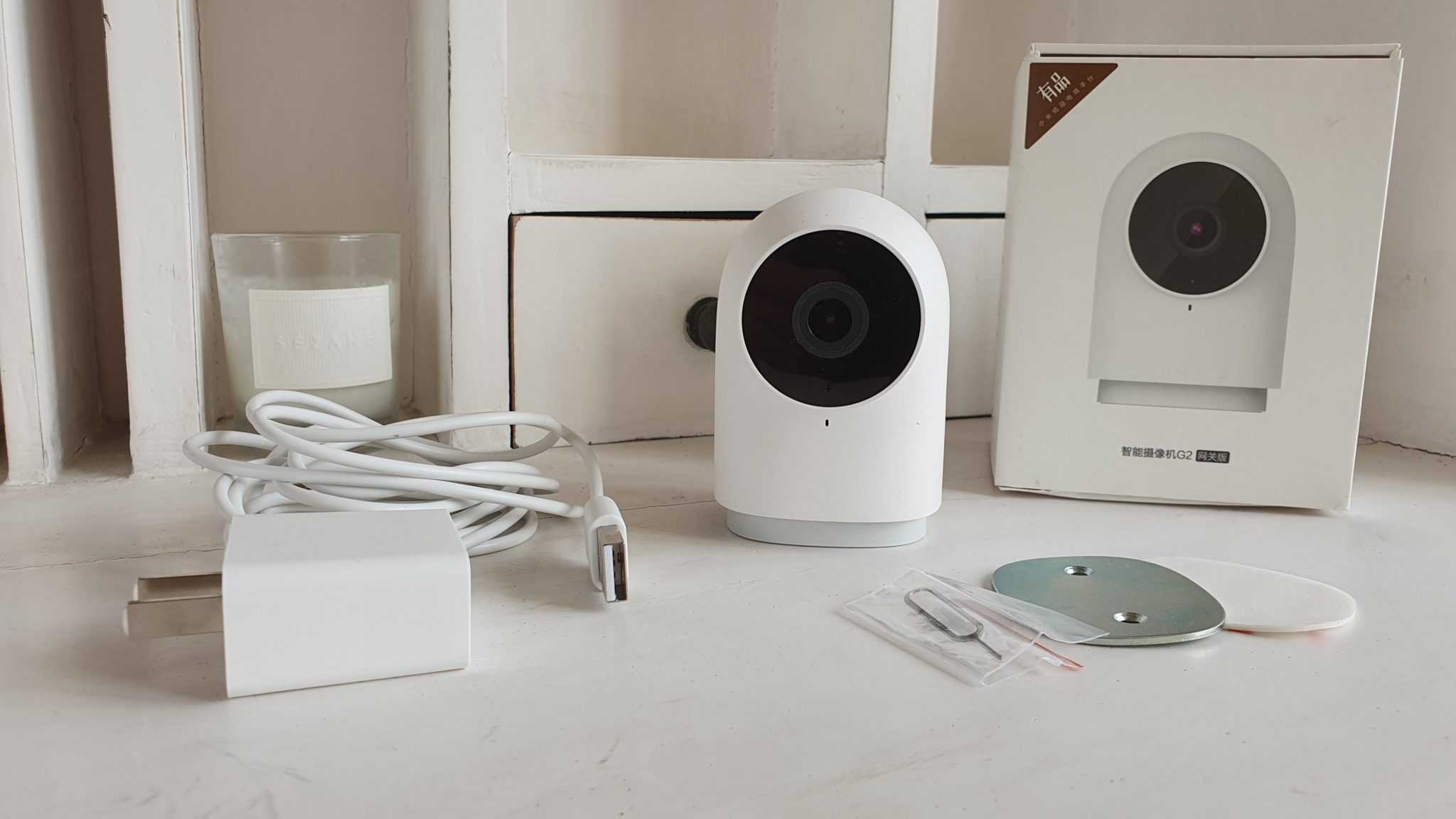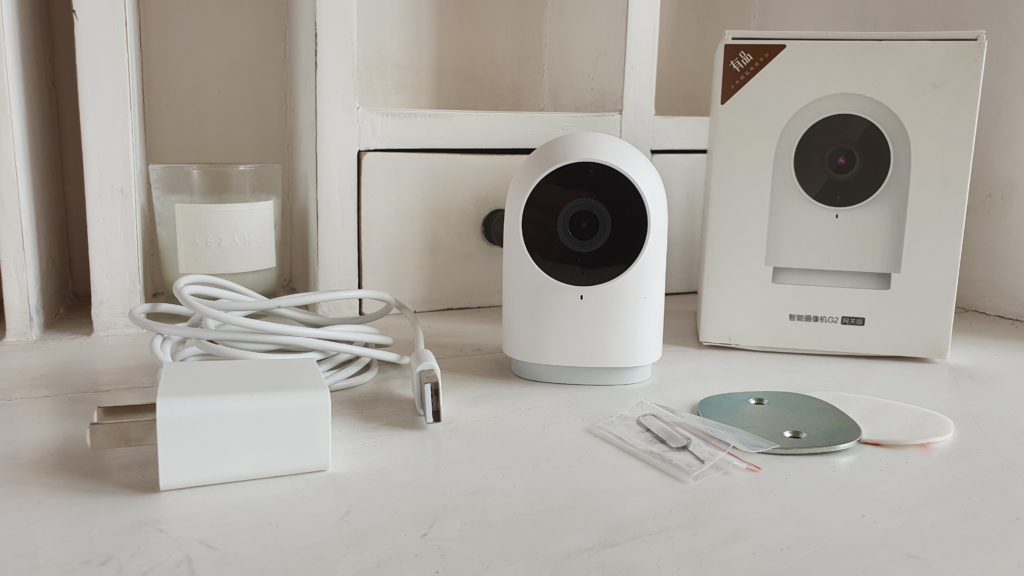 Whatever your reference, you will necessarily notice its extreme compactness. Showing a weight of 112 grams only, the Aqara G2 camera only measures 5.05 x 5.65 x 8.24 cm. Suffice to say that she will be able to be discreet!
Its front face has a large black circle with the camera lens in its center. This goal of 2 million pixels is surrounded by 8 totally invisible infrared LEDs allowing this digital eye to see up to 8 meters in the dark.
La G2 has a light gray swivel base that allowsorient 360 ° and which turns out to be unfoldable so that it can be placed in any direction, and even head to toe if you wish.
Base that contains a very powerful magnet, which allows it to be easily fixed to a wall using the metal plate supplied, or to any metal surface. Well seen! And, if this fastening method isn't right for you, Aqara provides its traditional 3M sticker allowing to firmly stick the camera anywhere… Or almost!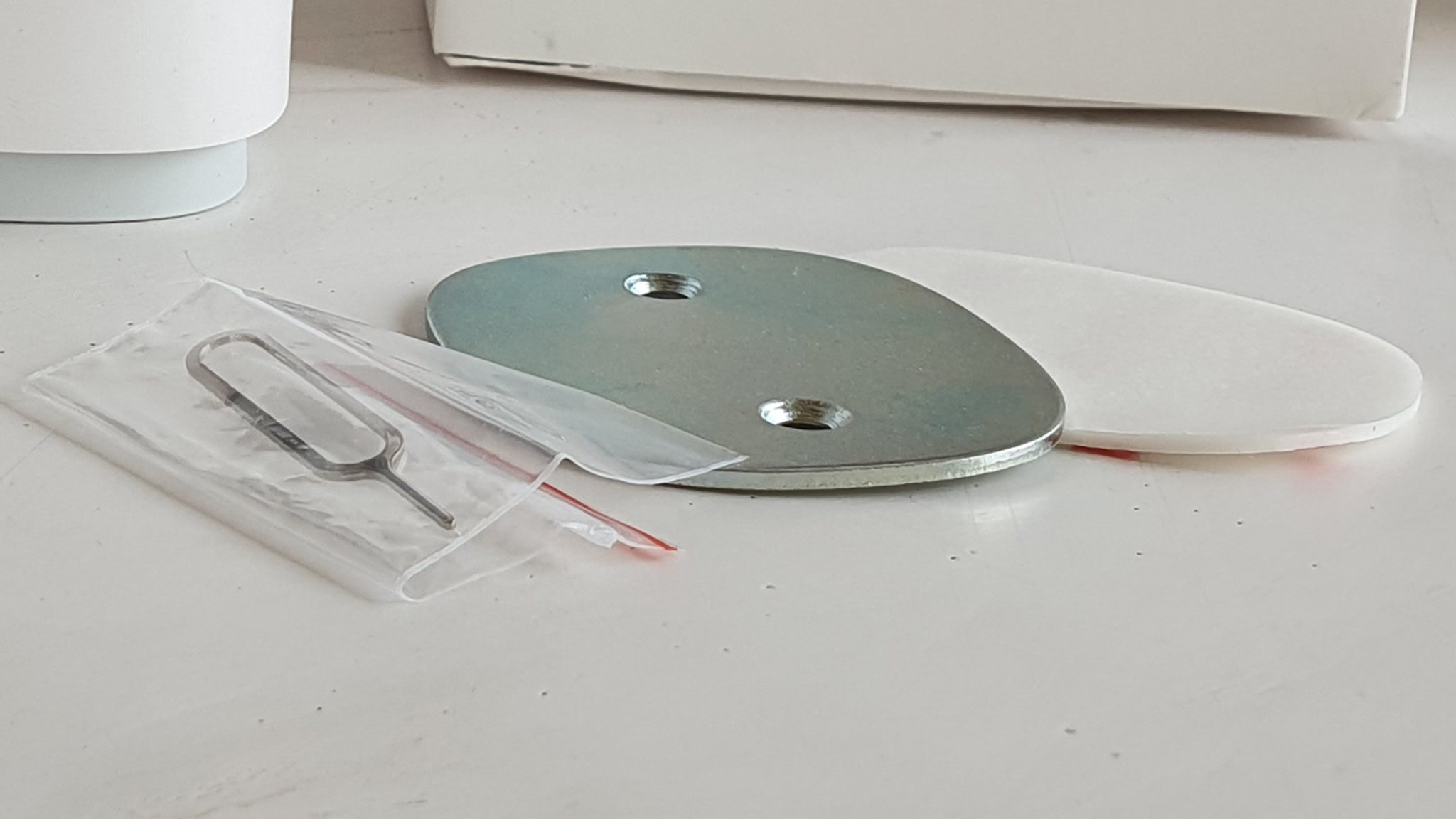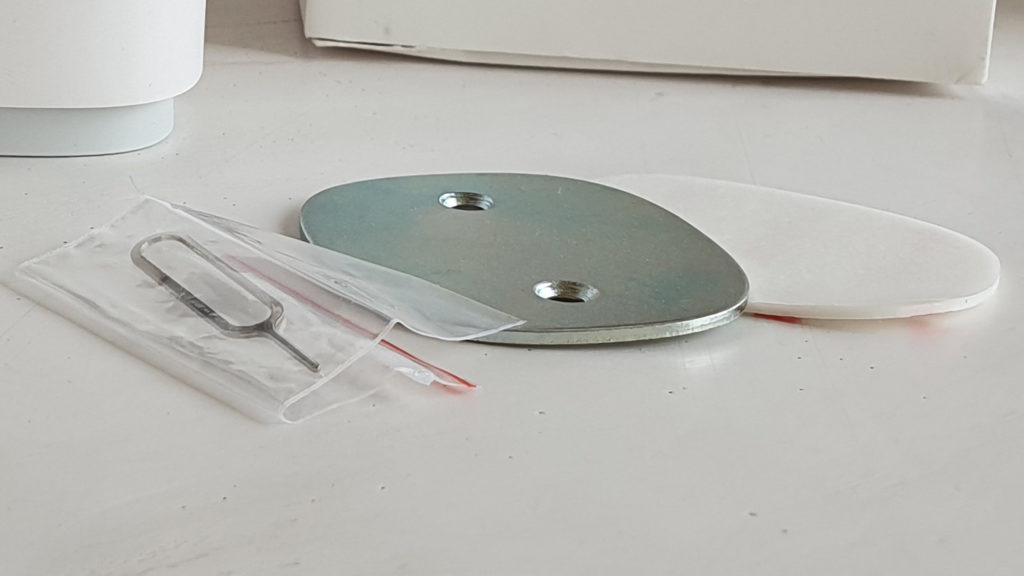 Especially since the latter also contains a micro-SD slot allowing you to place a memory card in order to save photos and videos locally. You will also notice a small hole for resetting and configuring the camera, with the added bonus of the adequate little tool provided.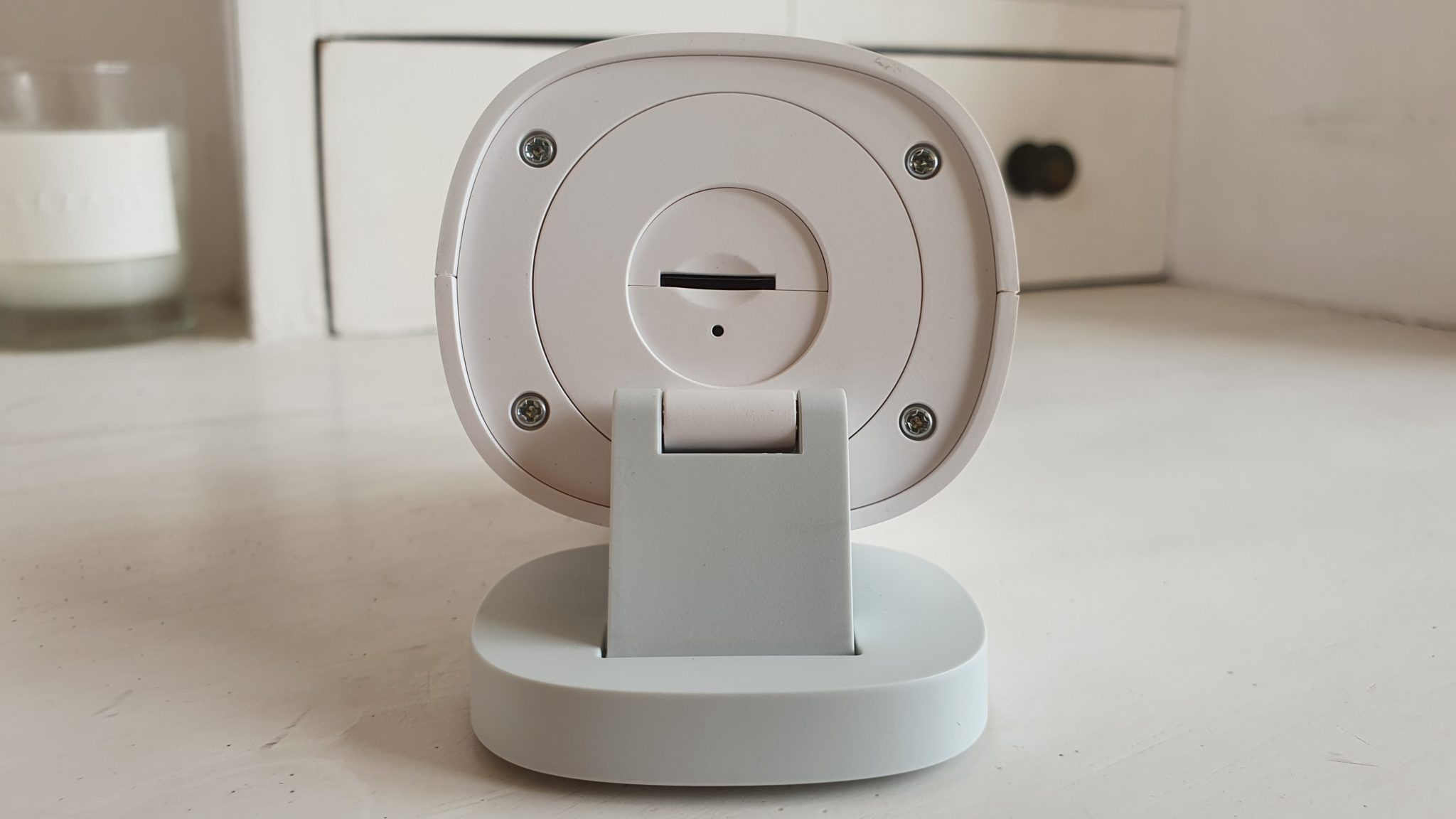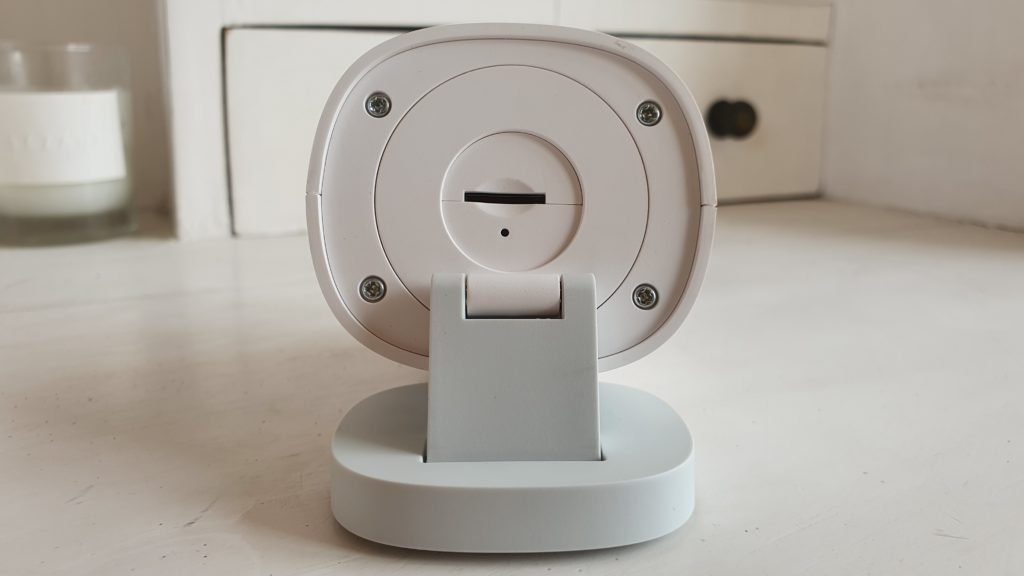 At the back, the Aqara G2 camera has a USB port and nine small slots hiding a speaker ... Because yes, this camera offers a system two-way audio, with a mic placed at the front of the camera, just below the lens.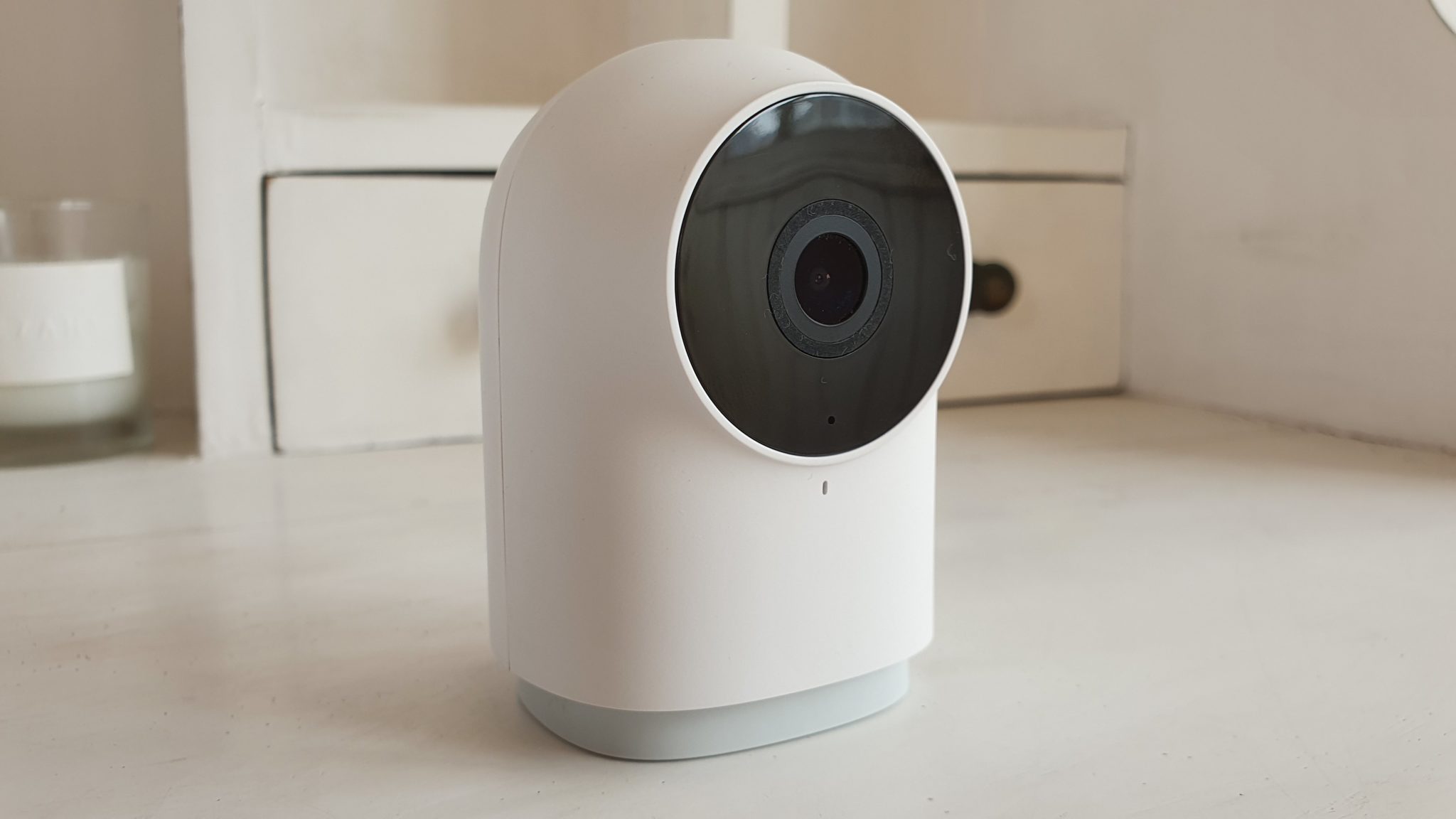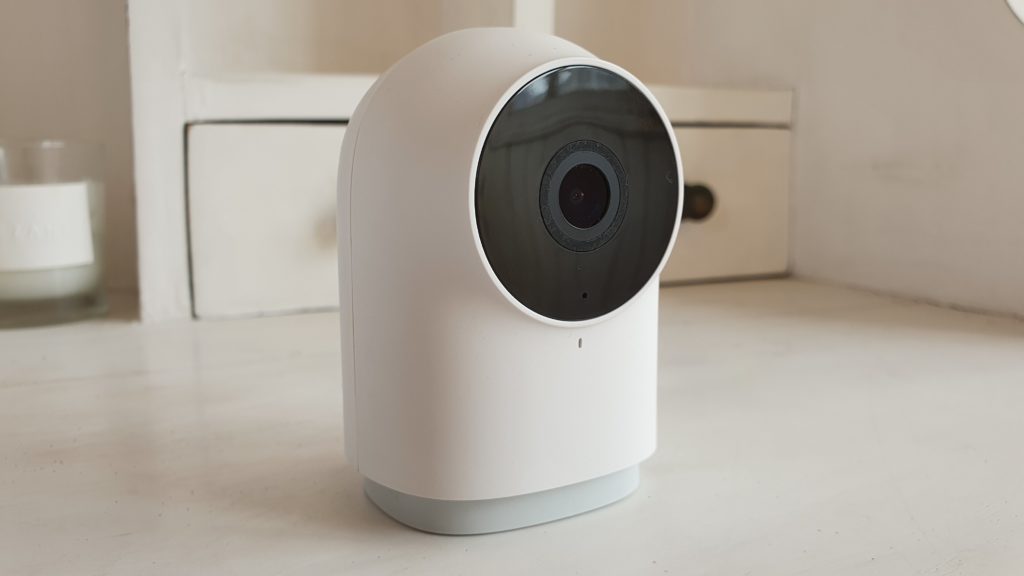 We find, on top, a perfectly integrated button in the device. What is it used for? To activate and deactivate the camera of course… But not only! Indeed, by pressing it you can record a 15 second message send to whoever you want, and that's the kind of detail that makes the difference between a good and a great brand. Aqara, like Xiaomi, innovates and constantly seeks the best experience for its users: we can only congratulate them!
In short, you will understand, this Aqara G2 presents a design to say the least successful and, although it is not intended at all, it is very pleasant to handle with its smooth surface with flawless finishes.
Finally, this camera comes with a USB to micro-USB cable accompanied by food which, in our case, is unfortunately intended for the Asian market. Nevertheless, we managed to use it by feeding it directly to a connected outlet, the G2 camera only requiring a power supply. 5V / 1A. You can also use an adapter, or even find a power supply with the same characteristics, which will undoubtedly be much more discreet.
Before we get down to business, let's take a closer look at his technical sheet...
Technical specifications
Brand
Aqara (Lumi / Xiaomi)
Model
G2 "Gateway Edition"
Resolution
1080p
Angle of vision
140°
Compression
H.264 or H.265
Angle of vision
140°
Night vision
Up to 8 meters
Audio
bi-directional
Motion detection
Yes
Other
ZigBee 3.0 bridge and video message recording
Aqara G2: easy installation with Xiaomi Home
If you are new to the Xiaomi ecosystem, you will first need to download Xiaomi Home for Android et MiHome for iOS. An application that should not confuse you more than that as the application design is classic.
On the home screen of Xiaomi Home, click on the traditional "+" at the top right (or in the middle if you have no device installed on the application),
Logically select the Aqara G2 camera in the tab "Camera", the one that should appear first,
If the camera has already been paired, you will need to use the aforementioned little tool to reset the device, otherwise you can continue,
Wait for oral instructions. Don't be afraid, your camera works perfectly fine, but she speaks chinese for the time being.
Un QR Code is displayed on your Xiaomi application, you must have it read through the camera lens. Normally you should get there without too much difficulty, otherwise make sure that the lighting is correct and you stand about 15cm away from the camera,
The camera then tells you that the installation will take place, still in Chinese, proof that the operation was successful,
You then arrive on a screen allowing you to rename camera and assign to a room your accommodation, which will then allow you to find your equipment more easily,
The camera should then launch and you view your live stream, final proof that the installation procedure went off without a hitch.
So what about this procedure? Well, there is nothing exceptional about it for those who are a little used to connected objects and that it is carried out without the slightest difficulty despite the voice instructions in Chinese ... But when you are good, and when we have a good tutorial, no problem!
Okay, that's all well and good, but what about the application features?
Let's detail them from left to right:
The little eye allows you to put the camera on standby, or reactivate it;
The "telephone" symbol offers the possibility of communicating with the person near the camera thanks to the two-way audio system ;
The central button allows you torecord video footage ;
The penultimate button gives you the possibility to take a photo capture ;
Finally, the last button is there to arm or disarm the motion detection andintegrated alarm.
Other buttons at the top allow you to choose resolution desired (practical in mobility to save dates or simply when the flow is a bit tight), activate or mute the sound, To pass in full screen mode. You will also notice the possibility of doing PiP or "Picture in Picture" which will allow you to keep an eye on your camera while using another app. This is the first time we've come across this feature and we really like the idea.
Now let's see what is offered in the settings. To do this, simply click at the top right on the three traditional small dots, then go to "Camera settings"
You can therefore:
Activate or deactivate the LED indicating the operation of the camera,
Save your dates by preventing the flow of the stream on the mobile data network,
Schedule a hibernation mode,
Access to video settings,
Un time-lapse mode,
Adjust volume of the camera,
Activate a time stamp,
Flip the image 180 ° if you have chosen to mount the camera upside down,
Adjust the infrared mode.
But the most interesting is probably the configuration of the detection of movements and / or abnormal sounds. Indeed, the Aqara G2 camera offers motion detection doped with artificial intelligence allowing in particular to react only to human movements. This is to avoid false positives because of your pets or your breathing machine who works in your absence.
The essential associated alerts are really very comprehensive and make it possible to create very interesting scenarios if you own various products from thexiaomi ecosystem. You can imagine associating opening sensors, vibration detectors, or even switches or buttons. Especially since, let us remember because it is an undeniable strength of this camera, you can directly associate them with the bridge integrated into the camera. Most Mijia and Aqara home automation devices are also compatible with this ZigBee bridge.
Not available
May 14, 2022 23:14 a.m.
€37,62
€57,87
Not available
In conclusion, what to say about this Aqara G2 camera?
Well, that although we have already made many IP camera tests, this model has managed to surprise us. On the one hand, its very successful design, its finishes and its compactness means that it isa quality product completely in line with the Aqara range. On the other hand, its integration into the Xiaomi Home ecosystem makes it a perfect indoor surveillance camera for those who are already working in the brand's home automation universe. Finally, it is a rather unusual object thanks to the integration of a ZigBeee hub. One more time, Aqara therefore fully seduced us, especially since its camera offers top-of-the-range services for an unbeatable price as always.
However, we have two regrets. The first is theinability to use it for the moment on European servers from Xiaomi, although Lumi is actively working on the matter. It will therefore be necessary to agree to have your data hosted on Chinese servers, which from a confidentiality point of view is far from ideal, it goes without saying. The last regret goes hand in hand since it results in an incompatibility, momentary we hope, with Alexa and therefore theinability to visualize the flows on our Amazon Echo show 2 or 5.
In short, if you are a fan of the brand, already own a number of its connected objects and do not especially expect compatibility with Alexa : go for it, you won't regret it. Otherwise, just wait a bit.

Aqara G2 Gateway Edition Camera (Xiaomi Home)
50 € (reduced price)
Most
Modern design and extreme compactness
Adjustable and magnetic foot
Micro-SD slot
Complete application and integration into the Xiaomi ecosystem
Integrated ZigBee Bridge!
The lessers
Wired camera without Ethernet
Only available on Chinese servers, confidentiality and convenience take a hit ...