The Alexiens, listening to their readers and their members, are currently putting together a dossier on IP cameras compatible with Alexa. As we mentioned in other articles, to date there are several CCTV camera systems. compatible with the voice assistant ofAmazon. We therefore scoured the catalog ofAmazon and selected for you several models, each with their advantages. We must say that the EZVIZ brand very quickly interested us for several reasons: price, options available on the cameras and, which is not negligible, offices in France (it is rare, therefore it is good!) .
We start our EZVIZ test series with the ez360 (or C6C following its name change). Why ? Because it is, at first glance, an excellent quality / price ratio. It is a motorized camera available from around sixty euros in its 720p version but with a 360 ° rotation, the incline at 120°, a function motion detection, for an privacy mode, the night vision, a system of two-way voice communication, a way motion tracking...
That is to say everything that is available on the high end, but with a mid-range price. Everything that Alexians like. Let's see if the practice is so exciting!
25,67€
In stock
Refurbished from 1
August 13, 2022 16:52 a.m.
EZVIZ ez360 / C6C: a camera that runs smoothly
Our camera is delivered in a qualitative and very well pictorial packaging. In the form of a sheath (a part can be removed from the top to have access to the camera), it is quite sober but it contains the essential information: resolution of the camera, visual, characteristic… On the other hand, do not look for compatibility with voice assistants, there is no mention of it. The shape of the sheaths is quite design, but an opening from the front and not the top would be simpler: once the camera has been removed, everything must be turned over and emptied on the table to recover all the items. All the more true when you have big hands… We nitpick, it's true, because the whole is quite coherent and pleasant.
What do we find in it? We find there our camera (which is pretty good), a notice in 18 languages ​​including French (rather brief: configuration with the Ezviz application and wall mounting. There is another downloadable from Amazon a little more complete), a 3 meter cable (finally a real cable !!), an adapter, the base for wall mounting and the jig and screws.
The camera as such is quite compact and surprisingly design with its balloon shape. But the quality of the plastic and the finishes are very good. Several details show this: the audio outputs, the slot for a micro SD card (up to 128 GB, not supplied) hidden in the motorized system of the lens, a single visible connection ... 11 cm high for 5 cm in diameter and a weight of 250 g. It is really very compact for this type of camera.
The set-up is relatively simple. Either you use it with a camera placed high up or on the edge of a cabinet, shelf or other, or you can attach it to the ceiling (there is an option to flip the image in the application). First of all, you have to put the plugs in the support, come and fix the base and then hang the camera there by the base, turning it to make the plastic nipples coincide. The support seems quite thin but in principle, the camera being light and having the purpose of remaining attached to this support, indoors, it is quite suitable.
I can hear you from here: ok, she's pretty, she's light and small, but what does she do ?!
Here are the features of the EZVIZ ez360:
Video: 720p HD, H.264 encoding, adaptable bitrate
Imaging: Color, IR filter, 3D DNR (digital noise reduction for a sharper image), digital WDR (reduces the brightness if too intense in an area and vice versa for a dark area), 4 mm lens on M12 mount.
Motion detection: Adjustment of masking zones possible
Supply : mains, DC 5V, consumption 7W max.
Night vision : Infrared, 10m max IR spectrum.
Audio: Built-in bi-directional microphone, AAC compression
Field of view : 340 ° pan and 120 ° tilt.
Focal length spectrum: Fixed but digital zoom x 8.
Conditions of use - temperature: from -10 ° to 45 °, max 95% humidity
Environmental assessment: ND
IP configuration: 64/128-bit WEP, WPA / WPA2, WPA-PSK / WPA2-PSK, WPS
Wireless : 2.4GHz 802.11 b, g, n
Dimensions: 87,7 mm x 87,7 mm x 112,7 mm
To this we can add its specific characteristics in use:
Two-way audio over 5m for good quality,
Cloud image and video storage (paying) or on SD card,
Movement tracking: the camera can follow people and animals over 340 ° / 120 °
Privacy mode: with a simple click on the application, the lens turns towards the inside of the camera, which no longer films and cuts off the sound.
The camera is compatible with the EZVIZ solution and allows global control (anti-intrusion system, water leakage, etc.). The global solution requires the alarm control panel which will play the role of Hub (except for the C6T RF Edition camera which integrates this control panel, like the Echo Plus integrating the Zigbee hub).
A 360 ° vision or almost
Securing the application via digital print
As you can see, this camera has a lot of strengths.
EZVIZ ez360 / C6C: installation via the Ezviz application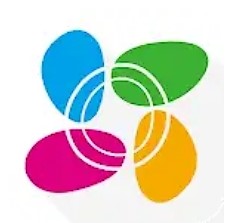 La EZVIZ ez360 will be installed and controlled thanks to the Ezviz proprietary application running on Android and IOS.
Pairing is extremely quick and easy. Here is the operating mode in pictures. You must create an account either via Facebook or Google +, or by creating your identifiers from scratch. In this case, either via email or phone number. You will get a code to enter and then go further and create your account with username and password.


You can also secure your account with your fingerprint! When it comes to security, here's a good example, right?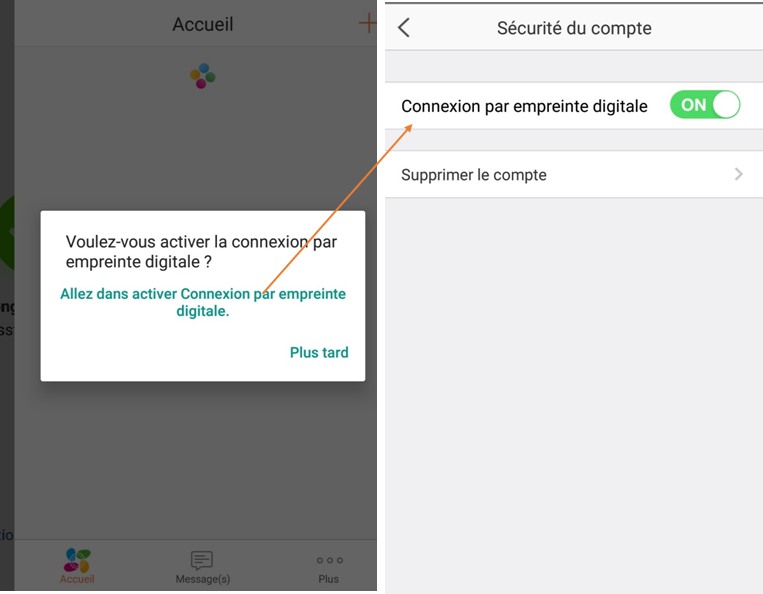 Once done, the real fun begins. Finally ... serious ... way of speaking, because for once, it's very very simple. Press the + and authorize access to your camera because you will have to scan the QR-code under the camera. Once done, the camera is automatically recognized. If you remember from a previous test, recognizing through the camera for another brand was a bit of a hassle. In this case, no problem. Also activate your GPS to allow the configuration of your Wi-Fi network (2,4 GHz).



That's it, your camera is now connected to your Wi-Fi and it is possible to control it via the application.
EZVIZ ez360 / C6C: Use via the Ezviz app
The main use of the Ez360 will be done through the application. This is good because it is quite easy to use and relatively complete. Here is an overview, with the general view when you are on the main page of your camera (click on the camera view to access it).
Here is what automatic tracking gives (very practical for monitoring your pet, your child or anyone doing stupid things all the time like your husband).
You can also have access to other options when you are in camera view mode.


What more can I do by going to the camera settings (the little cogwheel at the top right)?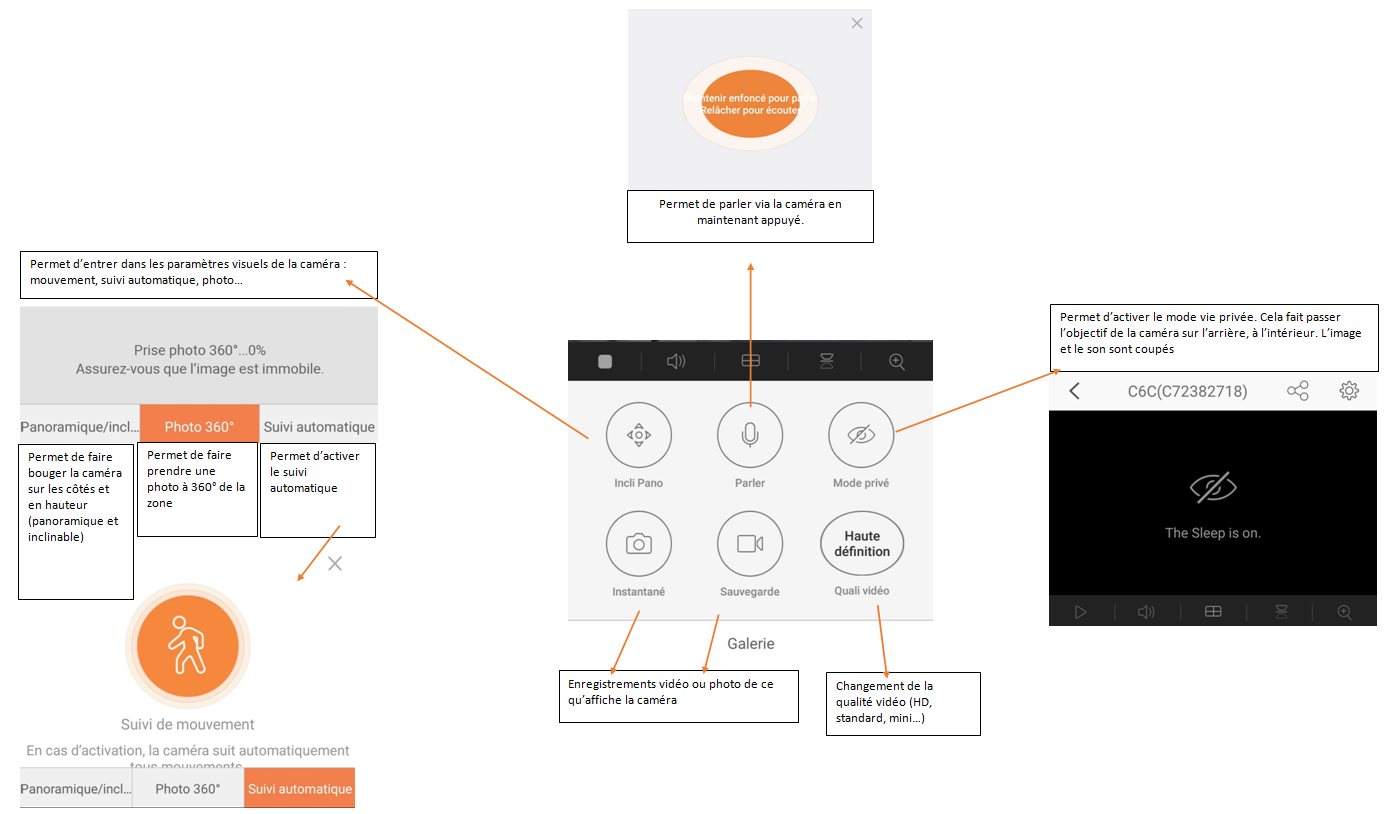 So what does all this tell us? that the camera has a very good motion tracking system, that it is possible to activate the motion detector permanently or according to a schedule, that the detection zone can be chosen to avoid unwanted detections, that alarm notifications are made in push on the phone but it is also possible to activate a sound from the camera more or less loud or to leave it silent in the event of an alert ...
The data will either be saved locally on a card to be placed in the camera or in the Cloud. The cloud has the advantage of making the data fully available even if the camera is stolen or damaged.
There are two subscriptions:
One to € 4,99 / month ou € 49,99 / year for 7 days of rolling registrations,
The other to € 7,99 / month ou € 79,99 / year for 30 days of rolling registrations.
You may be asking yourself the question of data archiving: where are they? Where ? in which country ? EZVIZ is playing it safe because the cloud data is hosted in Ireland, on the servers of? of? OfAmazon, well done ! In addition to avoiding having personal data roaming around Asia or other sometimes insecure countries, it also allows the application to be more responsive. Indeed, as soon as you ask for the display of the camera, it is really fast.
EZVIZ ez360 / C6C: Use with Alexa Ezviz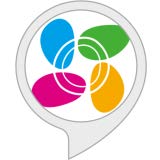 It exists an EZVIZ skill on the store Alexa France. What can we do with it? Well… What can be done with the other surveillance camera skills… no more and no less.
Let us explain this to you, because for once EZVIZ, Blink and others cannot provide us with what we are waiting for. for reasons of restrictions and security on the part ofAmazon. So you can clearly see the image on your Echo Spot Or your Echo Show 2, but you will be required to use IFTTT to set up "routines" with Alexa.
Why ? It might sound strange but on reflection, if it was enough to say « Alexa, turn off the camera " to put it offline, what is the point if you come across a zealous burglar? Manufacturers can modify and "overlay" basic skills validated by Amazon, but manages more.
Native, asking, « Alexa, display the camera », you will be able to display your camera in real time on your Echo Spot (for the Show, we will see if it comes out in France one day). The display is quite fast although it will depend heavily on your network. On the other hand, probably because ofAlexa, we noticed that you had to repeat the device name twice to display the video ("which device do you want to display?"). Anyway, the image is of perfect quality.
To do "routines", activate or deactivate the camera remotely, you will have to go through IFTTT. A number of interesting applets are offered by EZVIZ on IFTTT, compatible Alexa. As for example the possibility of receiving an SMS in the event of detection or more simply to arm and disarm the system when you are in the immediate vicinity of your home (uses the geolocation of your smartphone), but also to create scenarios with your IFTTT compatible bulbs. On the other hand, expect a little lag between the request and the completion of the action.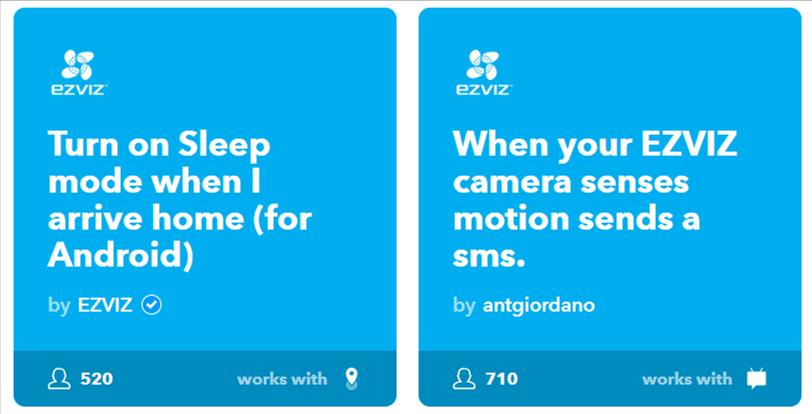 Pairing with Alexa is done very quickly, like any other connected device. Activate the skill, enter your EZVIZ credentials and leave Alexa search for the camera.


Easy no? Ah? It does not work ? This is normal, you have to disable the image encryption in the settings (look above on the settings tree). A code will be sent to you by SMS in order to perform this deactivation (security requires).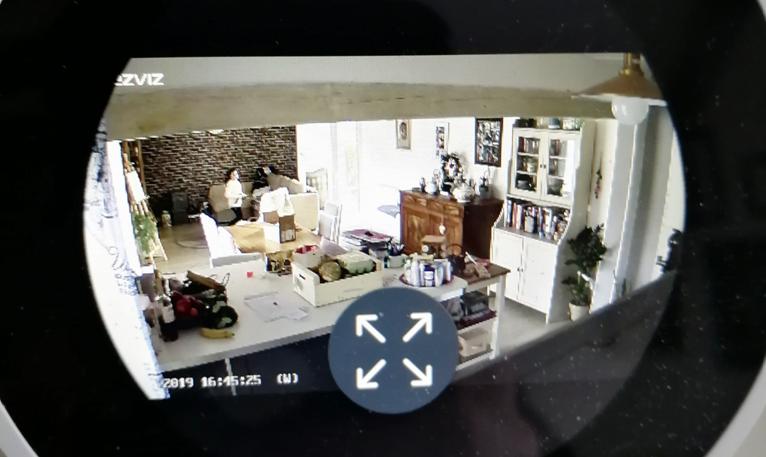 What can we say in conclusions of this test? Quite simply, for us, the EZVIZ C6C is an excellent indoor surveillance camera. It embeds everything that is possible to find on high-end cameras: panoramic operation, HD, motion tracking, IR, two-way sound, privacy mode, an affordable cloud system, application security and data ... Only facial recognition would be missing, but there, multiply the price by 3 at least. His lack of interaction with Alexa, although not to him being attributable, seems to be one of his only weak points…. Priced at € 49,99, it is currently available at the very interesting price of 36 € on Amazon. Fr .
25,67€
In stock
Refurbished from 1
August 13, 2022 16:52 a.m.
Most
Very easy to install
Ability to watch live on your Echo devices
Privacy mode
Motion tracking mode
The
The lessers
Obligation to use IFTTT with Alexa to set up "routines"
No integration into routines Alexa