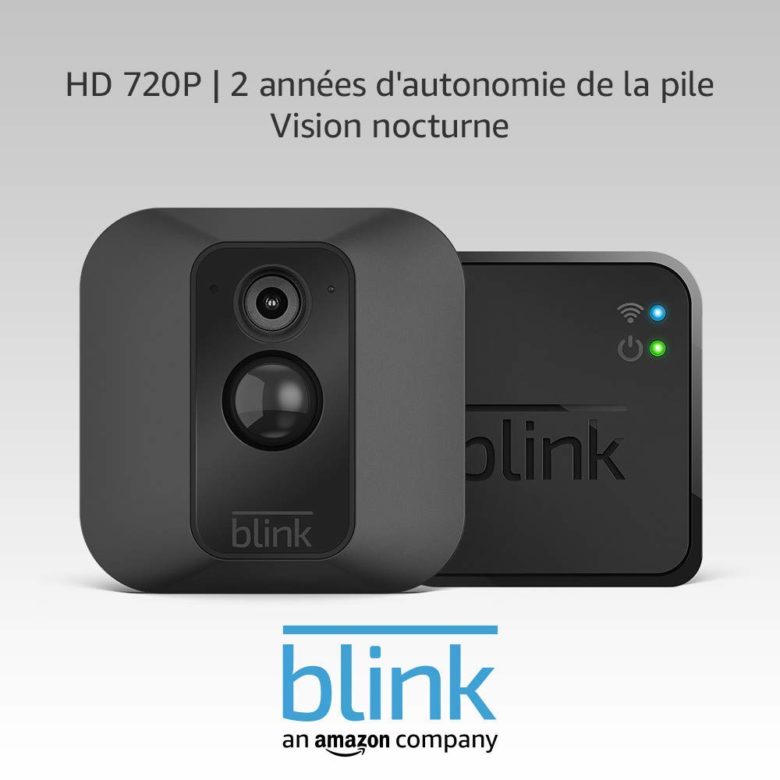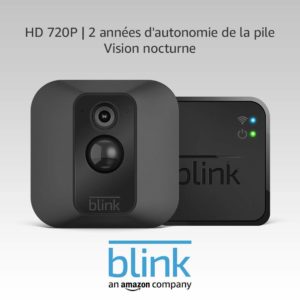 As long as we put ears everywhere in our houses, why not also add eyes to them and finally give to Alexa the possibility of offering yourself on the screen of your Echo Spot a "live" image of your home?
As we mentioned previously, there are to date several systems of CCTV cameras compatible with the voice assistant ofAmazon. In order to prepare a large dossier on the subject, we scoured the catalog ofAmazon, and selected several models. From low prices offered by Netvue to the expensive Arlo from Netgear, our interest very quickly focused on the brand Blink and its wireless security solution relatively accessible home.
Blink, you may know if you are interested, like us, in the world of startups. Indeed, you will most certainly remember that the company behind this solution, Immedia Semiconductor LLC, had been talked about a lot in 2014 during a fundraising of over a million dollars on the famous Kickstarter crowdfunding platform. It was then for them to finance their very first "Blink system", pretty little white and square cameras which had the particularity of working wirelessly, but also with simple AA lithium batteries. A real revolution that led the company to make two major announcements in December 2017: its acquisition by Amazon and the release of a new model named Blink XT.
It is the latter that we are going to test today for our " Alexa Lab '". Follow the guide!
Updated: August 13, 2022 14:50 a.m.
Blink XT: waterproof and wireless HD cameras
Unboxing
At Blink, we talk about "Video surveillance system" because the compactness of the cameras and their wireless system allow you to cover your entire home with a single bridge, or bridge, which connects via Wi-Fi to your box or router. This is why we found it wise to test not one, but two cameras, in order to better measure the effectiveness of the "Blink system".
Both cameras come in a really compact box, and above all, surprisingly light. Let's go over the design of the whole which did not really seduce us, and discover as quickly as possible the inside of this cardboard dressed in blue. Although it is clearly indicated "2 Cameras System" - system with two cameras, Editor's note - the box is in fact intended for three devices, which logically leaves a free space. It's surprising, but it's not really embarrassing.
But, let's stop quibbling because, to be honest, we were immediately seduced by its content ... Yes, the "Wow" effect is indeed there: Blink XT cameras are beautiful and alluring. All dressed in black, their satin plastic coating inspires confidence and their compactness astonishes. The Blink XT in fact only measure 71 mm x 71 mm x 34 mm and display a weight on the scale of only 119 grams. Once again, we are tempted to think that size is definitely not everything ...
Seriously, we expected to find a big server or bridge under the first floor. Nay, this one is even smaller and thinner: 62 mm x 59 mm x 18 mm. Impressive! The Blinks have clearly not finished surprising us… And we can't wait to install them!
Each camera is accompanied by a small cardboard box in which you will find 2 1.5V lithium batteries Energizer brand, Ultimate Lithium model. A hyper compact support is also part of the game, cleverly accompanied by a screw to fix it. Blink takes real care in its products and it shows. The bridge, meanwhile, is accompanied by a very small 5V / 1A power supply and a USB / micro-USB cable. Suffice to say that the Blink XT should not add too much to your electricity bill! Note that if you ever don't get a visa to stay in Europe, or if you just want to go on holiday to the UK with your cameras on - ok, that's a bit far-fetched! - you can easily do this thanks to a second charger in UK format. It can still be used.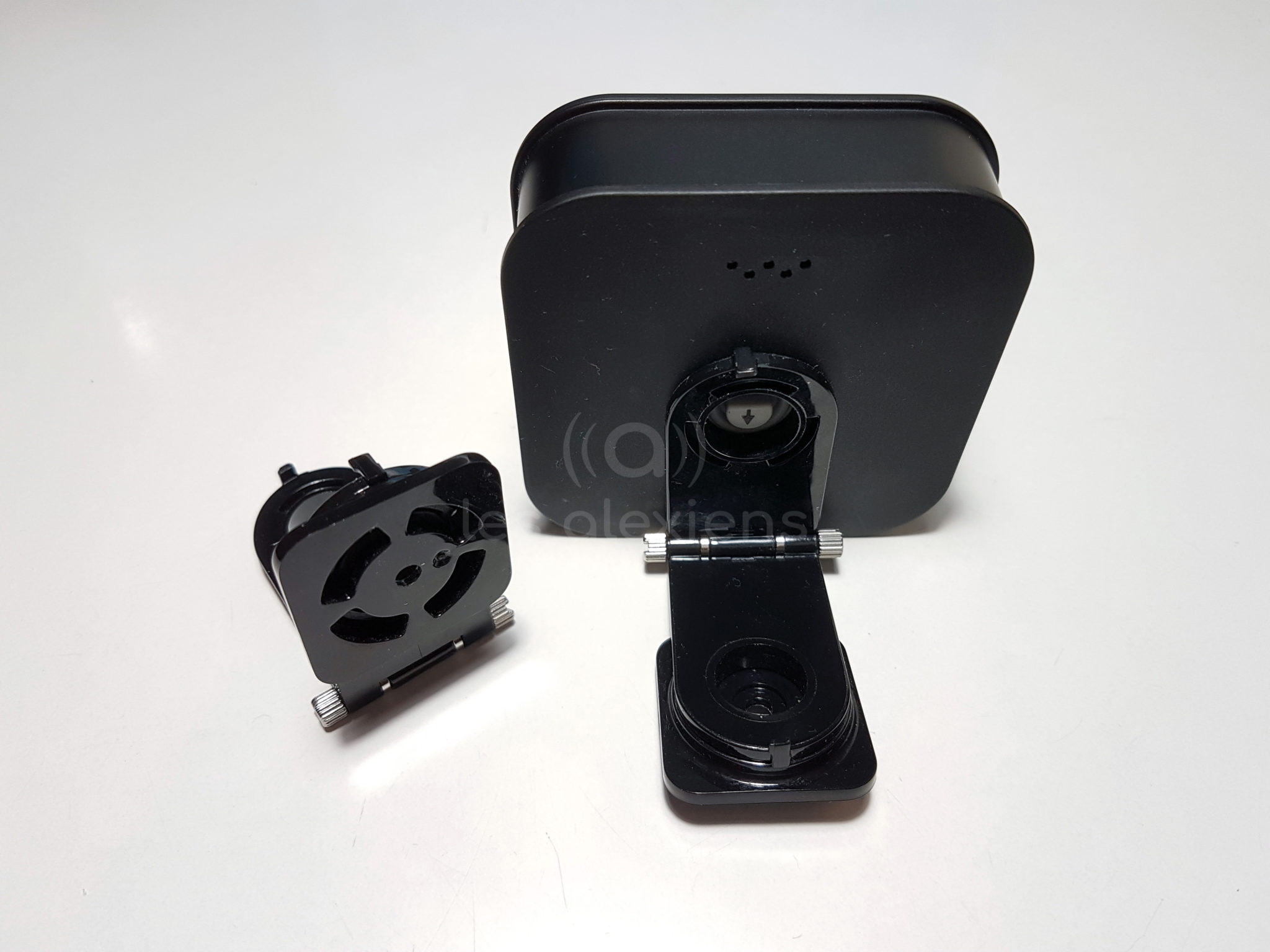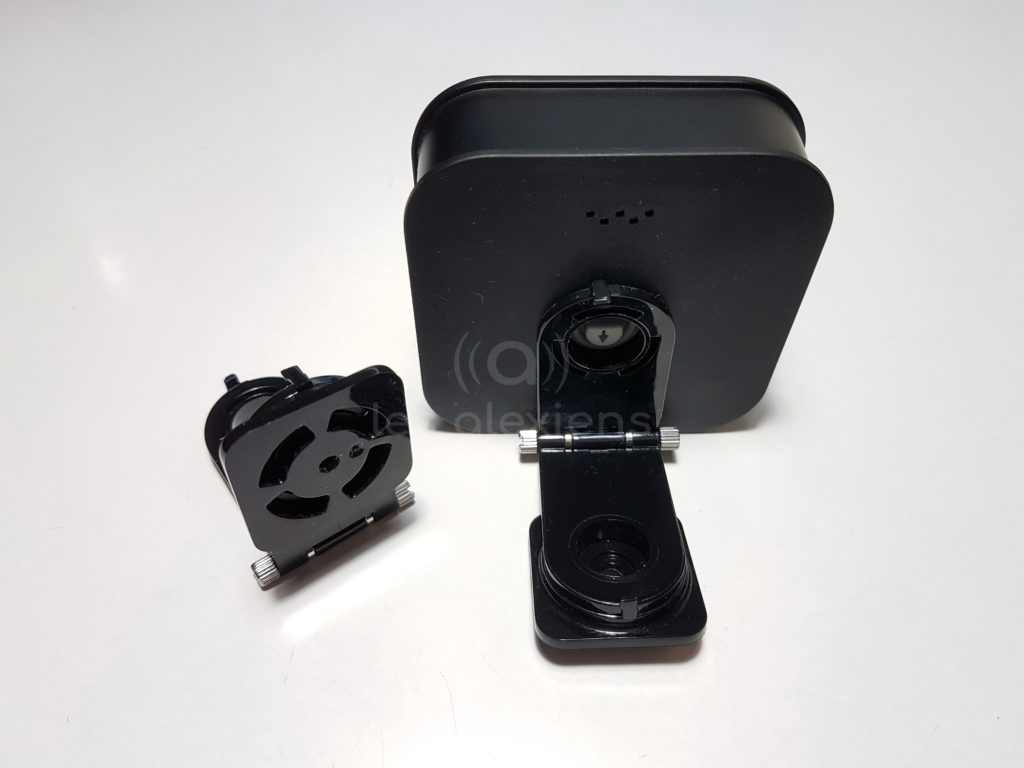 We have read here and there criticisms concerning the supports… Admittedly, these are made of plastic, but they seem all the more practical to us as they are, themselves, more than… compact! Decidedly, compactness seems to be Blink's keyword!
Their metal clamping system also allows them to be securely fixed, and we did not notice any turbulence related to the wind during their stay outdoors. The Alexians not being afraid of anything, we indeed had the "nerve" to expose one for several days to the sea spray. The legislation does not allow us to record the result without prior declaration to the CNIL, unfortunately we will not be able to prove it to you by the image, but know that it came out completely unscathed and therefore rose to our challenge with flying colors. ! All we have to do now is offer it to ViewSurf to make it an observation device for our surfing friends ...
To be honest, we were still a little anxious at the idea of ​​seeing her unhook, the fixation seemed a little fragile to us ... But, know thatit withstood winds of over 70 km / h and that there are, if you wish, a number of brackets for Blink XT on Amazon.fr to protect yourself from the vagaries of nature. Some even have a small anti-drip cap! Finally, note that a small closed notch, but soft, has been provided to access the micro-USB port ... This will allow you to connect your Blink XT cameras to a power supply if you ever wanted to do without their first quality: wireless! All tastes are in nature, as they say ...
Well, "that's all well and good", you will tell me ... But what about their technical characteristics?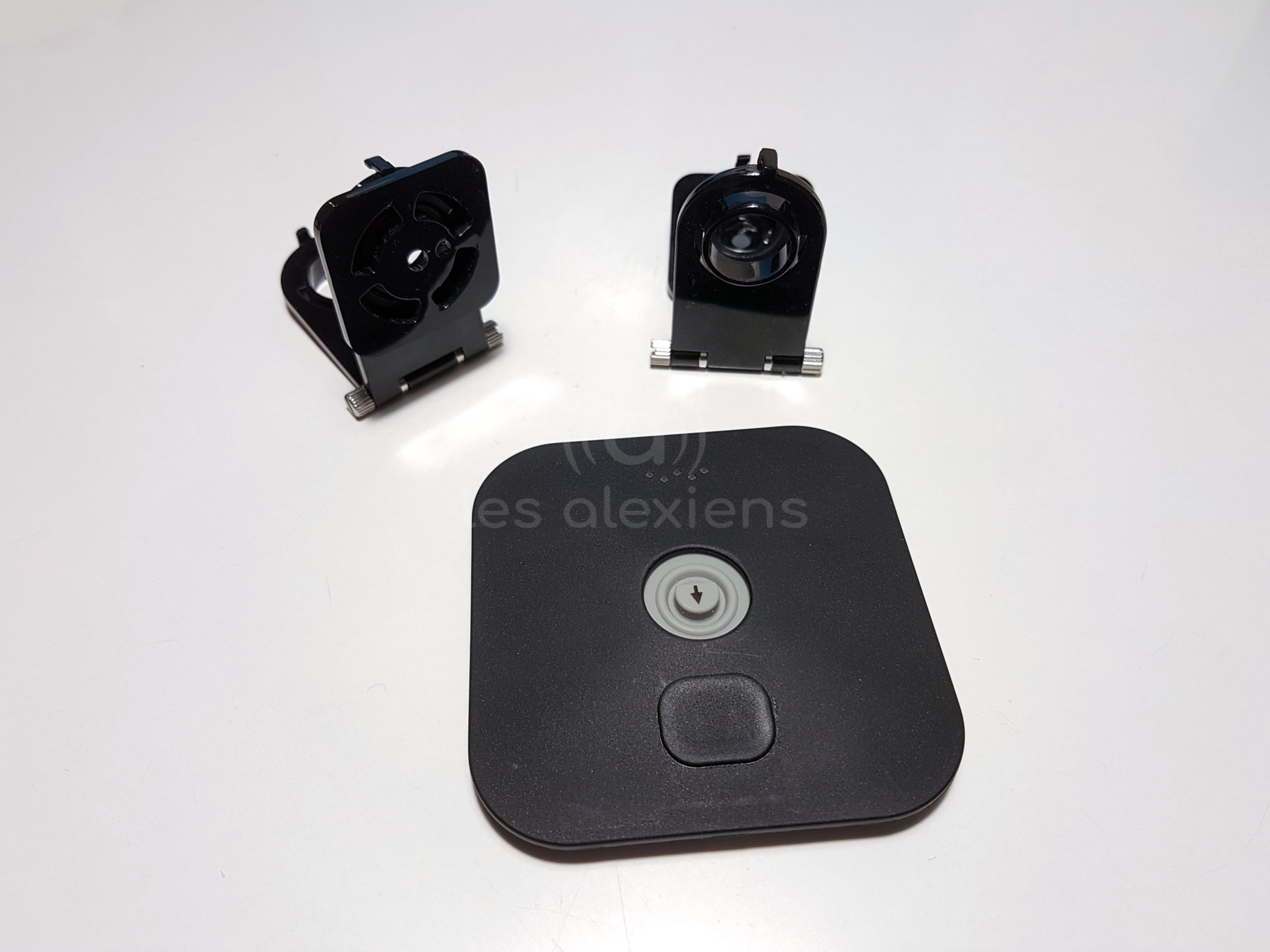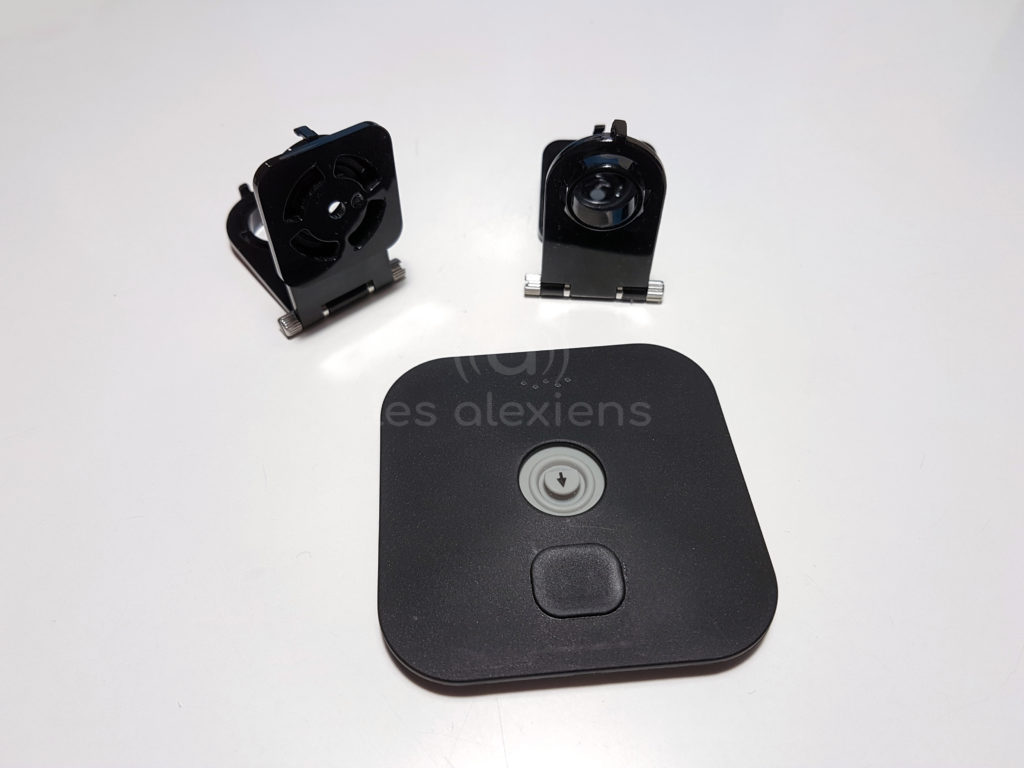 Technical specifications
Blink XT Camera
Video: 1080p, H.264 encoding
Imaging: Color, auto white balance, auto exposure
Motion detection: Camera sensitivity adjustment up to 6 meters
Drums : 2 AA Lithium batteries
Battery level indicator: Yes
Battery life: 2 years for normal use, up to 5 years.
Night vision : Infrared
Temperature sensor : Yes
Audio: integrated microphone
Field of view : 110 degrés
Focal length spectrum: Fixed (from 50 cm to infinity)
Conditions of use - temperature: from -20 ° to 45 °
Environmental assessment: IP65
Dimensions: 71 x 71 x 34 mm
Synchronization module
Power : 5V via Micro USB connector
IP configuration: DHCP
Wireless : 2.4GHz 802.11n
Processor and memory: Qualcomm-Atheros 9331, 32MB memory
Conditions of use - temperature: from 0 ° to 40 °
Dimensions: 62 x 59 x 18 mm
Well, we have to confess that the technical sheet being way too succinct for our liking, so we investigated a bit to figure out what drove these seemingly frugal little cameras. Indeed, if the brand's website provides very few details, its product sheet Amazon reveals the little name of the flea that lodges in its entrails: Immedia Proprietary - ISI108, 4/100 MHz. This is probably what explains the little flocked Blink chip that we see on the box!
Indeed, if Blink took so long to release its very first model, it is because the development of the solution required a lot of work and necessity. the very design of a chip. A chip which, you will probably have guessed, has the particular quality of being particularly energy efficient. A unique component which remains the exclusive property of the brand. But that's not all. The synchronization module, or bridge, also uses a proprietary radio protocol once again very energy efficient. The whole is animated by a Qualcomm-Atheros 9331 processor and 32 MB of memory. Add to that a bullet 2.4 GHz 802.11n Wi-Fi and you get a pretty unusual system, let's face it. Because, yes, Immedia's revolutionary low power solutions, with 3D noise and noDRAM ™ technologies, really make Blink cameras. real jewels of technology.
But, before we lose you definitively, let's move on without further ado to their installation.
Installation of Blink XT cameras
Compactness rhymes with? Simplicity! Of course, this is not always the case, but Blink gratifies usa well thought out application and an installation procedure that really blew us away with its speed. You will need in fact around ten short minutes to synchronize your two cameras. We are therefore on real "plug and play" and we must admit that it is more than pleasant. To sum up, the procedure is as simple as that of theinstallation of a bulb with Smart Life. It has to be done!
As proof, here are pictures of the procedure. To do this, you will need to use a mobile device (smartphone or tablet) and download the application Blink HomeMonitor on your favorite store. You will find it here on the Play Store et there on the App Store. After launching the application, you must create an account, accept the terms of use, and validate everything by clicking on the link of the email received. Nothing really rocket science.
You then arrive on the home page of the application. From then on, you just have to follow the instructions to configure the synchronization module. It could hardly be simpler! In the event of a problem, you can even rely on short video clips. Blink has thought of everything!
Then add your Blink indoor camera, your Blink XT outdoor camera, or your siren of the same brand… Repeat the operation as many times as necessary. Here, the installation of two cameras took us, altogether, less than ten minutes.
In short, you will probably understand, one of the big strengths of this system Blink XT undoubtedly resides in its great simplicity of implementation! It all becomes almost disconcerting. But, is its application as easy to use once the installation is complete? This is what we will see immediately.
The Blink Home Monitor app
Unfortunately, at Blink as at netview, no web interface. It's a bit of a shame because it could prove to be very interesting in the context of using a Echo Show 2. We've been repeating ourselves a bit lately, right?
Short. We compared the Android and iOS apps… well, they're pretty much the same, so we'll take a closer look at the Android one.
In the brand's colors, the application is frankly simple and the user experience really well thought out, if not natural. We don't look for options, we find them! Some should also take the seed ...
General informations : account management
Blink system configuration: addition of new cameras, time programming, etc ...
History videos / cloud storage,
Configuration of the camera,
Individual activation button for the motion detector,
Live video,
Snapshot (to locate its cameras),
Link state with the synchronization module,
Arming or disabling of the system.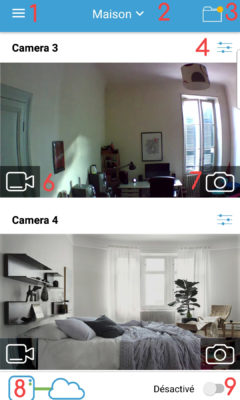 To learn more about all these functions, I invite you to consult the excellent tutorial from Gaspard Alizan on our forum. It details all the features that we have just listed.
Video history is an important feature and we are pleased to see that we find our videos on Blink's cloud, which, remember, is free, which is a big plus. Indeed, where many offer you a subscription, here you have a turnkey video surveillance system and without (almost) compulsory subscription.
Blink: an innovative and unique video surveillance system
If we had been conquered by the quality / price ratio of Netvue cameras, we can only hide from you Blink still plays a division above. Does it deserve the price difference? We leave it up to you to weigh the pros and cons, but for us the answer is "yes". Yes, Blink XT cameras very clearly have undeniable advantages.
HD video: capturing HD video at 1080p (but set to 720p by default) ensures that you get a clear view with minimal distortion or blurring. For our part, we have chosen to adjust it as much as possible. Sure, battery life should take a toll, but we really have a pretty picture.
Motion detection: When armed, the motion detector triggers the recording of a small video clip. Optionally, the clip can be between 1 and 60 seconds long.
Instant alerts: Blink sends out a push notification alert with a link to the attached video to let the user decide how to respond. And the least we can say is that it does not drag!
Live View Mode: access to the live video is available in streaming, via the Blink Home Monitor application. Alexians regret, however, not being able to access it other than through this application, as is nevertheless also the case with many competing offers.
Instant ignition: With Blink's "Instant On" feature, video recording starts in a fraction of a second, to make sure you can clearly see what triggered the alert. Here too, we were surprised by the speed of detection. Often, the camera is triggered even before an individual is in their field of vision. The fairly sensitive detection that we have chosen is indeed able to detect variations in brightness or the movement of a door, all without having generated a false positive over the 15 days of the test.
Temperature sensor : Blink XT cameras incorporate a temperature sensor that allows you to monitor your home in any weather and wherever the cameras are placed. In the event that the temperature rises suddenly (start of a fire), an alert is sent instantly. Another interesting feature that can be used to warn firefighters for example, but also to recover this information for other purposes. Home automation box users will appreciate it.
Arming / Deactivation programming: In addition to activating or deactivating the Blink system manually, it is possible to schedule it in order to define when the system should be active.
Multi-system support: Blink cameras allow you to monitor your home, second home or business at the same time! Indeed, it is possible to control several systems
Blink from the Blink Home Monitor app. You just have to create different systems and you can then switch from one to the other.
Built-in microphone: a built-in microphone allows one-way audio access, so you can both see and hear what's going on at home. Unfortunately, you won't be able to talk to the intruder, but why talk to his burglars? You might as well not waste your saliva and hurry to warn the police!
A non-hackable LED: Assurance of privacy, the LED indicator on the camera is non-hackable and lets you know when Blink is recording or when it's in Live View mode, so you're never caught off guard. This can be disabled only physically, which will allow you to make your camera completely discreet, or on the contrary to be alerted if someone manages to access your cameras without your knowledge.
Infrared night vision: this is clearly a strong point of this system! The infrared night vision which ensures optimal reception of videos in HD quality and color, day and night, is incredibly efficient. In a lighted street, for example, the sensitivity of the sensor is such that the camera uses it little.
Blink XT: an integration with Alexa to use your cameras on Echo Spot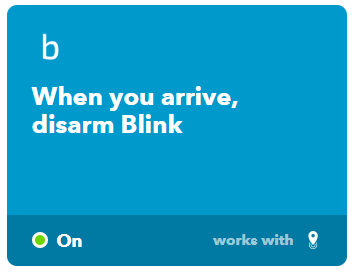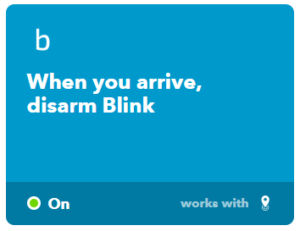 For want of not having yet had the chance to test theEcho Show 2, it is on Echo Spot that we were able to test the live video. Probably because ofAlexa, we noticed that you had to repeat the device name twice to display the video (edit: this is indeed a problem related to Alexa). A little infuriating, but we don't blame Blink, more its parent company. Anyway, the image is of perfect quality.
The only disappointment, but Blink has guaranteed us to work on the issue, is the inability to arm and disarm the camera system directly by voice. Alexa. To do this, you will indeed have to go through IFTTT (edit: the skill now offers the functionality with a PIN code, although it is not operational, which presages a very soon arrival of the functionality). We have also made a detailed tutorial on this subject, because a number ofinteresting applets are offered by Blink Europe on IFTTT, for example the possibility of receiving an SMS in the event of detection or more simply to arm and disarm the system when you are in the immediate vicinity of your home (uses the geolocation of your smartphone), but also to create scenarios with your Philips Hue bulbs for example.
EDIT 17/10/2019 - After months of waiting, Amazon has finally published in France the new skill Blink on the occasion of the release of Blink XT2. We can now voice arm and disarm our systems by giving a code to Alexa ! Awesome !
Here is the list of commands Alexa to use your Blink, Blink XT or Blink XT2 cameras:
For the live feed from your Blink camera:
« Alexashow me the camera . "
« Alexa, hide the camera »To stop and return to the home screen of your device Alexa with a supported display.
To arm / disarm your Blink system:
« Alexa, ask Blink to arm . "
« Alexa, ask Blink to disarm , my PIN is ####. "
To find out when your last video clip was recorded:
« Alexa, ask Blink when was my last motion alert. "
To find out how many unread and played video clips you have:
« Alexa, ask Blink how many video clips I have. "
To check the schedule for arming and disarming your system:
« Alexa, ask Blink what I have planned. "
To check the current status of your Blink system:
« Alexa, ask Blink what my status is. "
Alexians are also eagerly awaiting the possibility of being able to integrate the cameras into routines, as we have been able to do with the models from Netvue, even if this feature seems to still be running in at Alexa which is quite capricious from this point of view. Blink owned by Amazon, we can only hope that all this will be done as soon as possible and that the integration will be up to what remains, for the moment, the best system that we have had the opportunity to test with Alexa.
Updated: August 13, 2022 14:50 a.m.
In conclusion, Alexians highly recommend the Blink system and in particular the indoor / outdoor model Blink XT. Between its record autonomy of two years on AA lithium battery, its compactness and its wireless connection, this system fully seduced us and offers in our opinion a quality / price ratio of the most interesting. In addition, the brand's affiliation with Amazon should bring particularly interesting features to users ofAlexa.
Blink XT - Wireless Dual Camera System for Alexa
219€
Most
Really super simple and fast installation
Compactness and discretion of the device
Innovative and energy-efficient wireless system
Efficient and free cloud storage
Ability to watch live on your Echo devices
The lessers
Obligation to use IFTTT with Alexa
No integration into routines Alexa
Mobile app only