We presented to you, a few weeks ago, the Spanish company Cecotec. A brand, well known in its country, which offers many products for the home and also offers a wide range of connected robot vacuum cleaners. Cecotec had drawn our attention during the IFA because it presented a robot with a dazzling suction of 8000 Pa. Pending its release, we therefore took an interest in the existing range and in particular the compatible robots Alexa. If, unfortunately, the Cecotec skill is not yet available on the French skills store, it should soon be and we therefore wanted to present one of their best models: the Conga 3690 Absolute. [Edit 11.2019: the Cecotec skill is now available Amazon. Fr]
467,91€
586,60€
In stock
2 new from € 399,00
August 13, 2022 8:50 a.m.
Cecotec Conga 3690 Absolute: design and technology
Unboxing and presentation
Ordered via Cecotec's e-commerce site, the robot reached us safely from Spain within 48 hours. It's as fast, for us anyway, as a delivery Amazon Prime and we wanted to make it clear. You can therefore buy on this site with your eyes closed. But back to our Conga.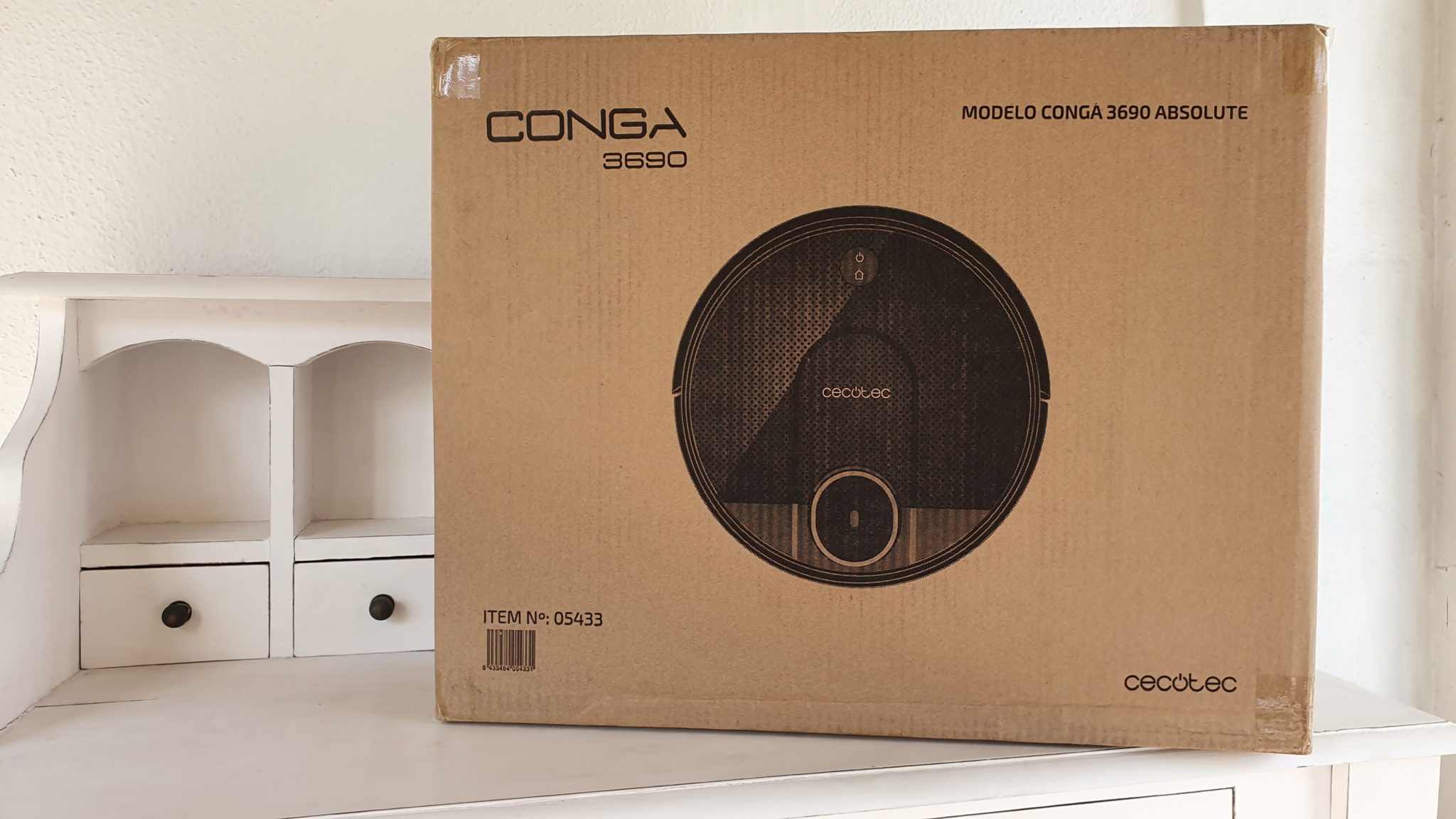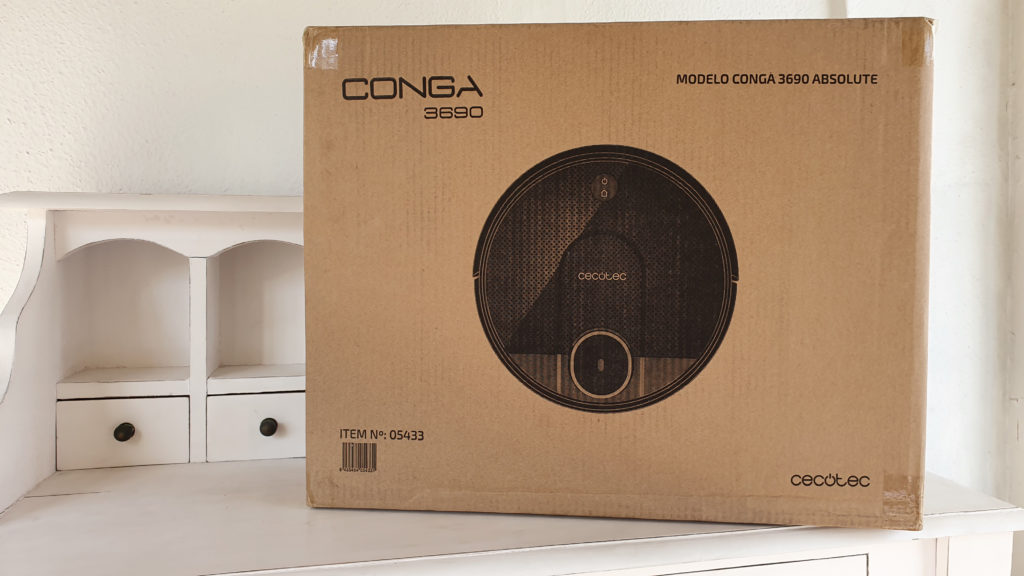 Super well protected by three cardboard packaging, the Conga 3690 Absolute is nicely presented in a predominantly black box with a few touches of turquoise blue, the brand's color. A very "high tech" packaging which incorporates the main advanced technologies embedded in this robot: 4 in 1 toy (sucks, sweeps, scrubs and mops), iTech Laser 360 for navigation using a rangefinder, cartography with cutting of plans into zones and up to 5 cards for your floors.
We of course find a visual of the robot, its various compatibilities (Android and iOS, Amazon Alexa and Google Assistant) and, this is the first time we've seen this, the robot's compatibility with 2.4 GHz AND 5 GHz Wi-Fi. This is a good thing because it allows the robot to communicate more quickly and will prevent many users from having installation difficulties.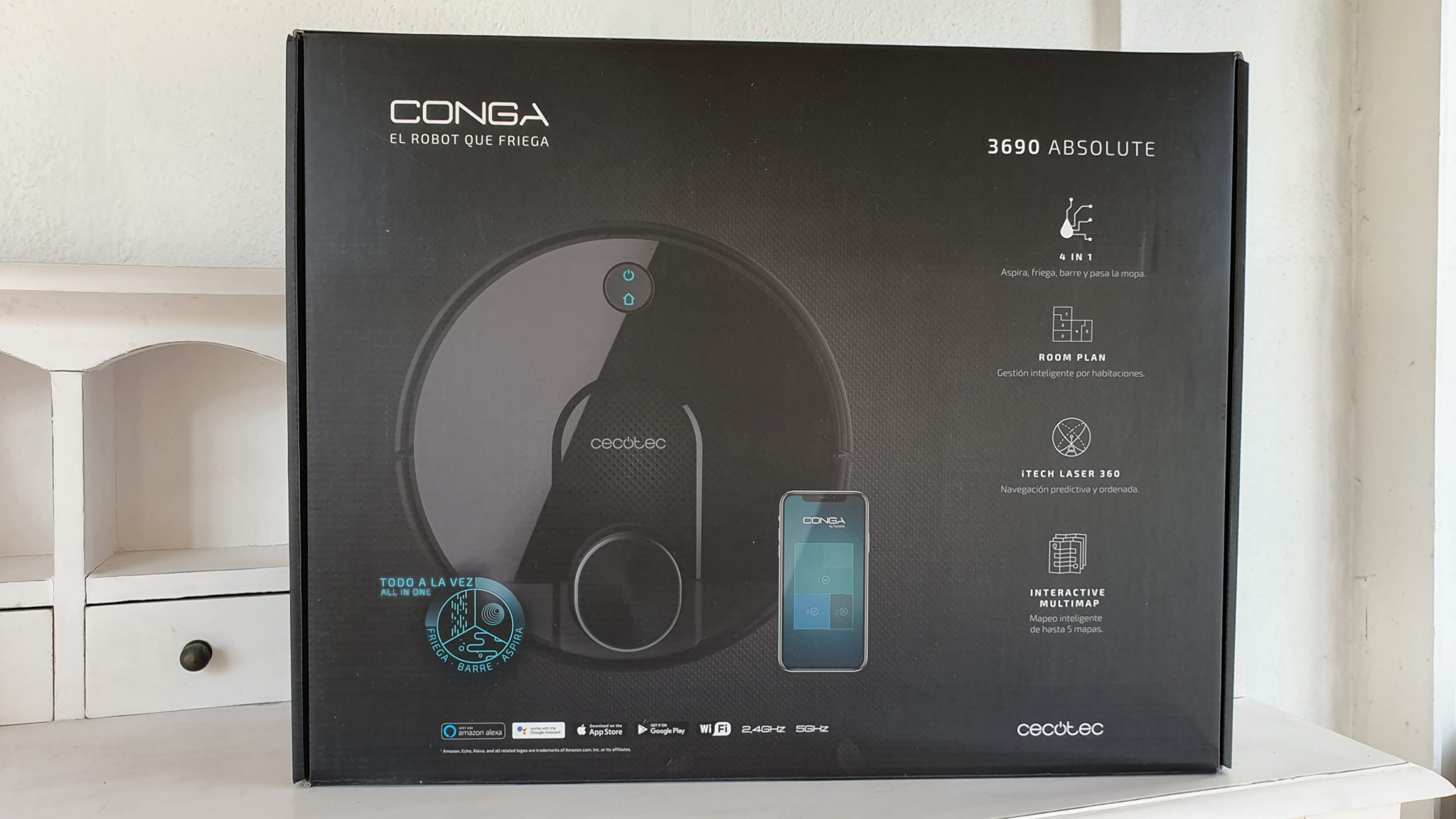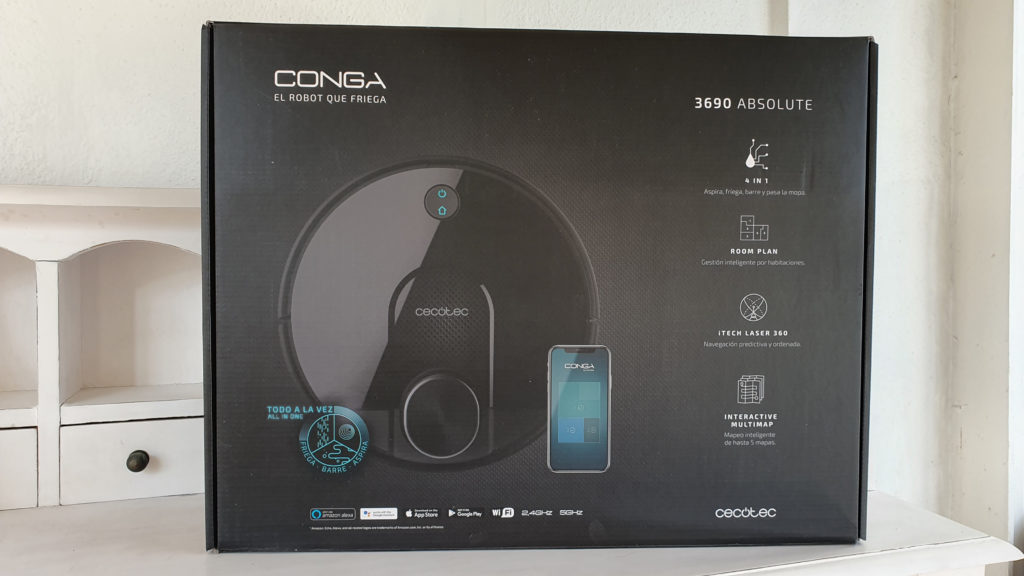 At the back, Cecotec has taken over the functionalities and technologies used by the Conga 3690 Absolute more comprehensively. We note, in addition to those mentioned above, the very important suction power of 2700 Pa (it is the most powerful robot vacuum cleaner that we have tested to date), but also its various cleaning algorithms (10 programs), and in particular a scrubbing mode very particular back and forth intended to rub the ground to which we will obviously come back.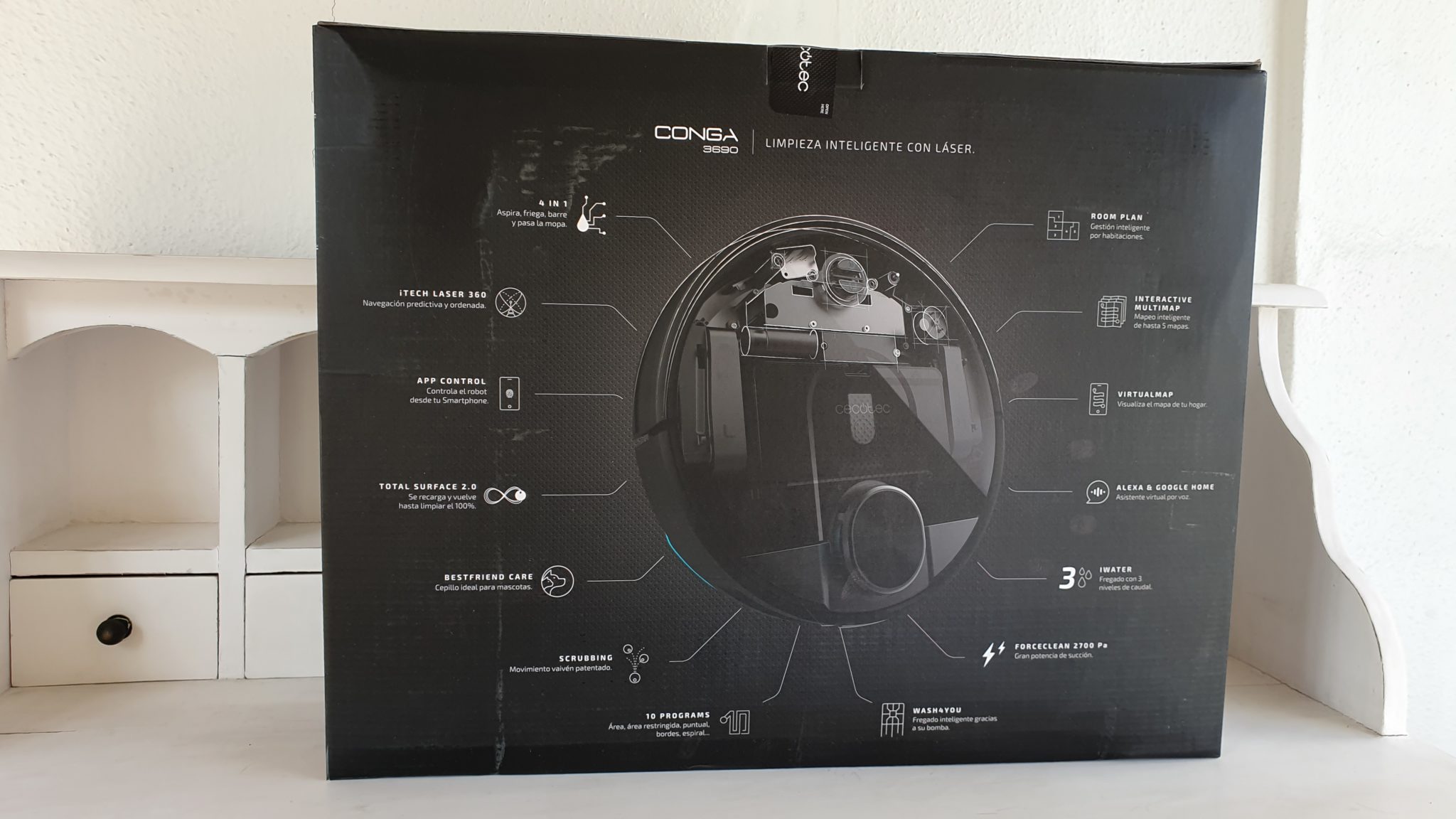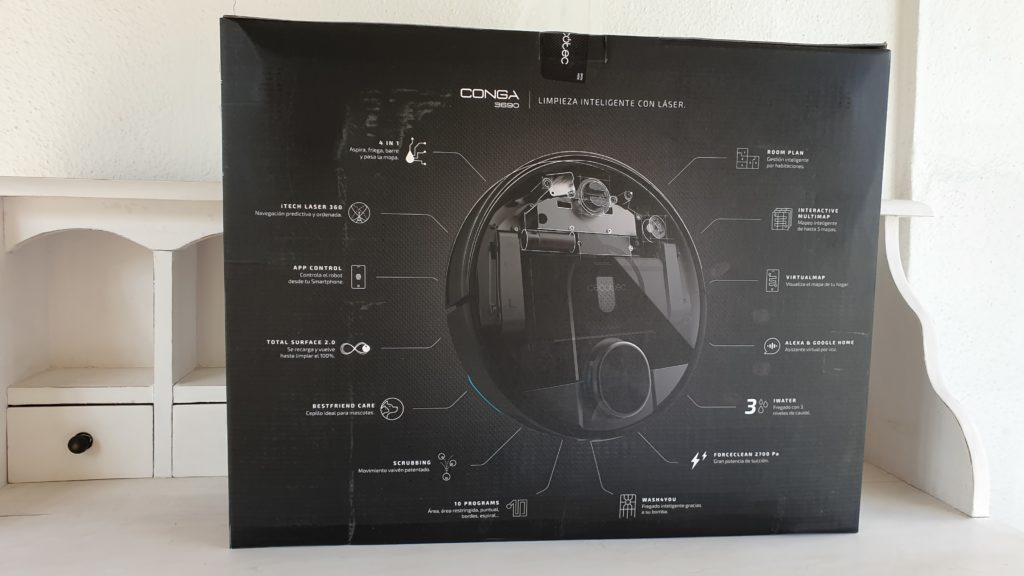 Inside, well wedged in custom packaging topped with an elegant cardboard sheet wishing us "Welcome to the new technological era" in the language of Cervantes, we therefore find our Conga 3690 Absolute accompanied by its accessories and instructions.
At first glance, its design is pleasant, combining different textures with colors shiny black or mat with a carbon effect at its center.
But it is much more beautiful once the sticker touting all its merits has been removed. Much more discreet, it therefore reveals her shiny black that suits her perfectly. The carbon effect is finally discreet and the robot seems to leave the world of tuning by offering us a finish that is both very modern, very High-Tech, but also very discreet.
Measuring 34 cm in diameter, it is rather heavy and weighs 4 kg, which suggests that he will press his mops well. Eh yes, being heavy is clearly an advantage for a vacuum robot. In addition, it will pass almost everywhere given its height of 9.5 cm, which is rather low for a device with a laser rangefinder. Appendix which also gives it a side very high-tech. The streaks at the top reflect the light nicely and the effect is pleasant when the robot spins or turns. We are definitely immersed in the technological era promised by Cecotec!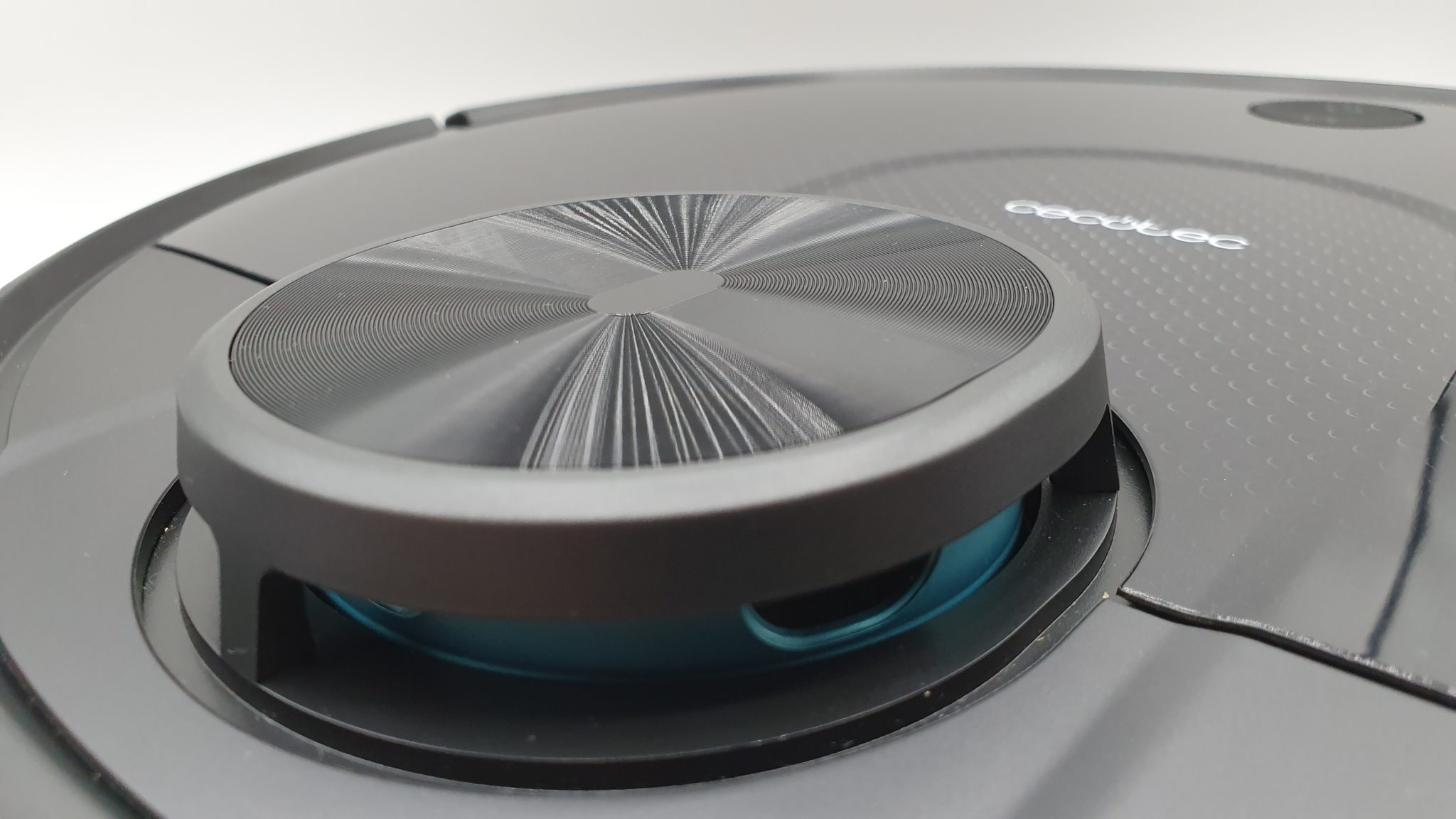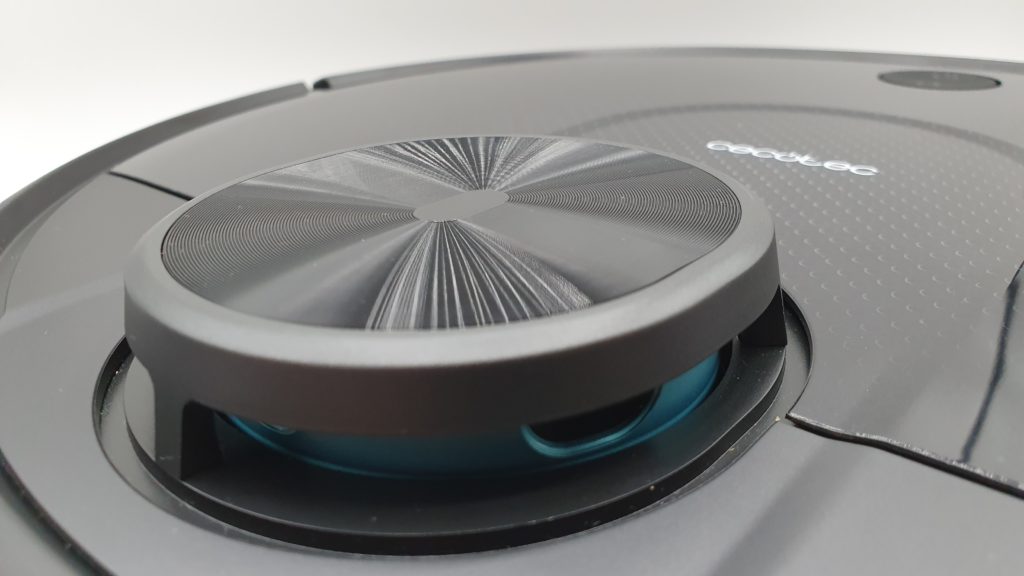 The optical part uses the turquoise blue dear to the brand. A very nice little touch of color!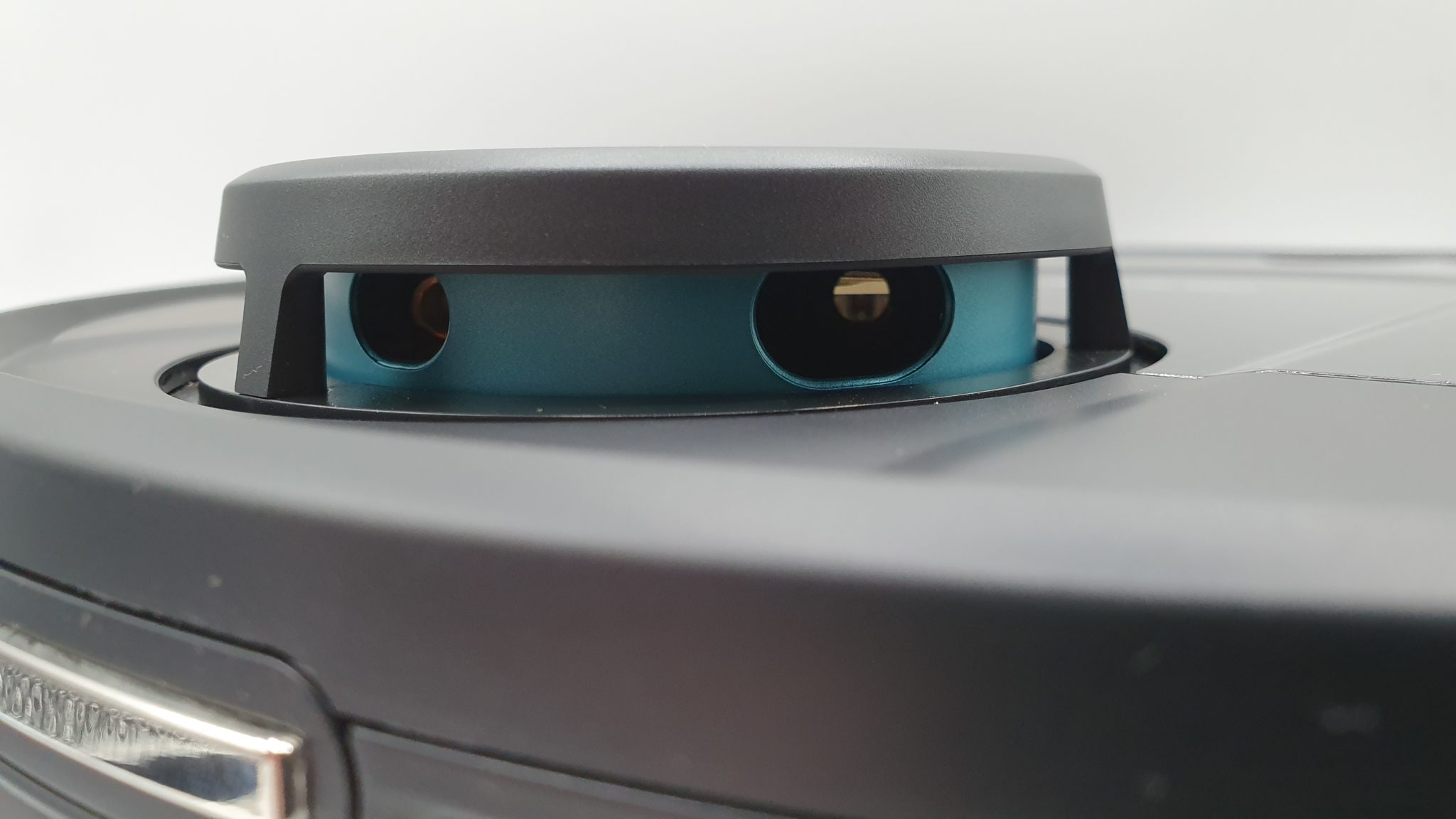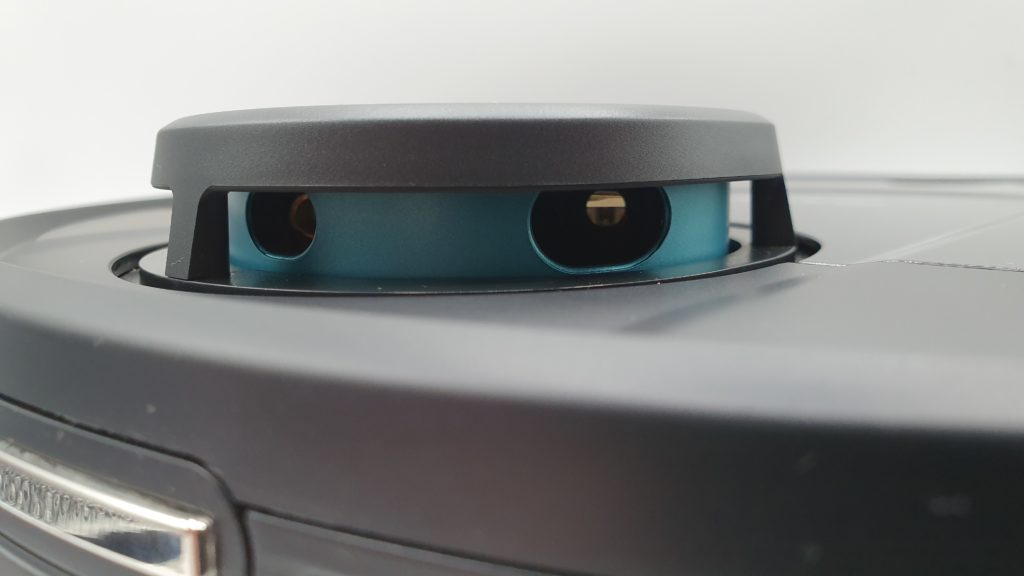 Le Conga 3690 Absolute has a front bumper covered with a rubber band and dotted with sensors (one front and four below). A complete robot that will not fear the stairs, will not damage your furniture, will be able to differentiate between rugs / carpets and hard floors, and will be able to find its charging base on its own.
Like any self-respecting robot, its charging base is of the "dock" type where the device comes on its own to charge.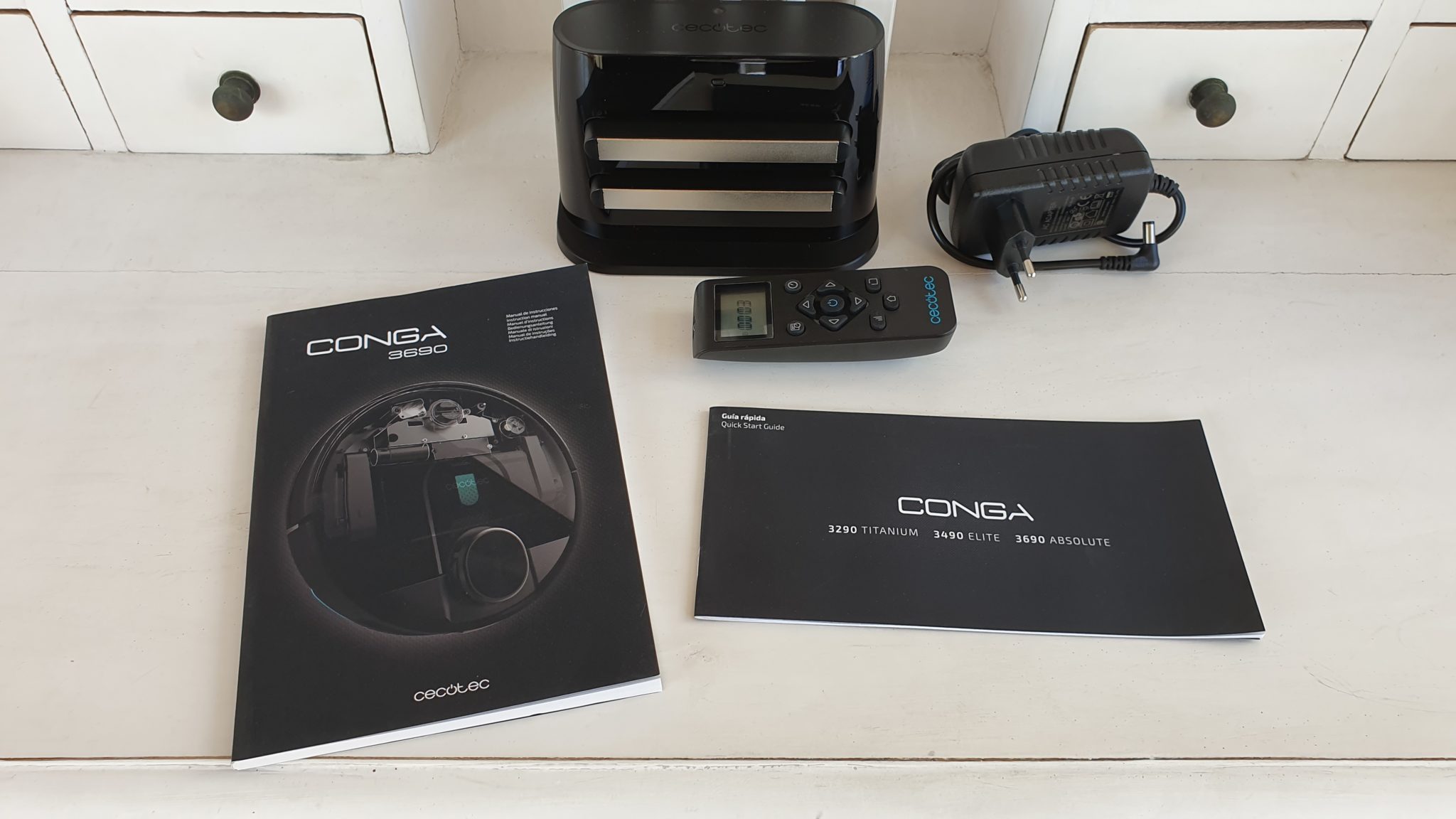 You will notice that the Conga 3690 Absolute also comes with a remote control (batteries are included), an element that is unfortunately too often lacking in high-end robots while the most basic have them. Because they are more readily used with their applications for smartphone, yes, but a remote control can prove invaluable in many cases. If you don't have your smartphone handy and want to start a simple automatic cleaning, or if an accident has occurred and quickly requires localized cleaning for example. In addition, it is a valuable tool for the less technophiles or for the elderly who generally seek more simplicity.
Moreover, this remote control is not devoid of functions since it has an option of edge cleaning, the possibility of selecting the various modes, back to base, But also arrows to pilot the robot and take it to a specific location. And, being tech-savvy, we can already imagine what a remote control can bring us in terms of automation with an infrared such as the Broadlink RM Pro + : the possibility of creating scenarios at will to benefit from a voice control of each command with Alexa ! Interesting, isn't it?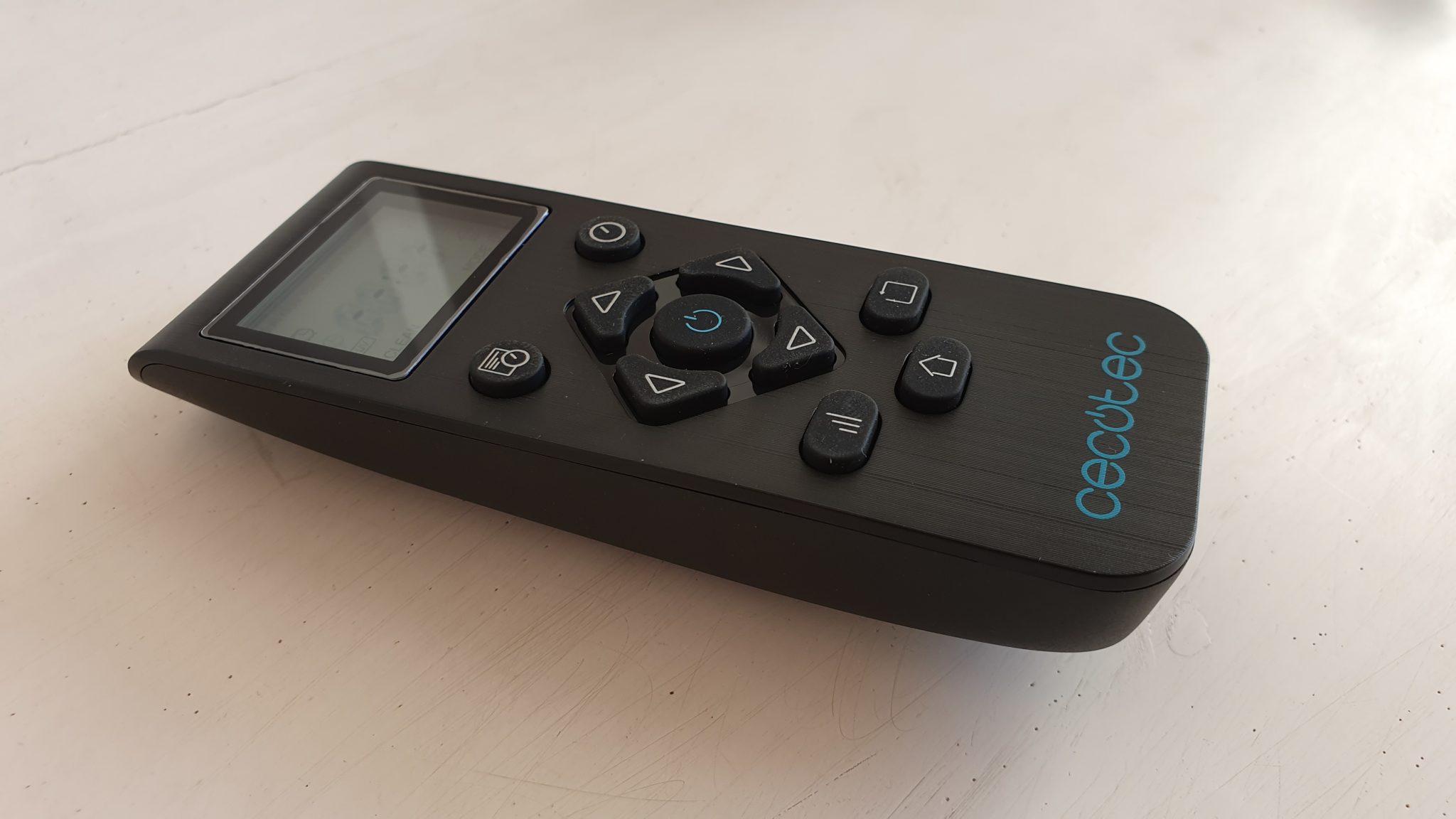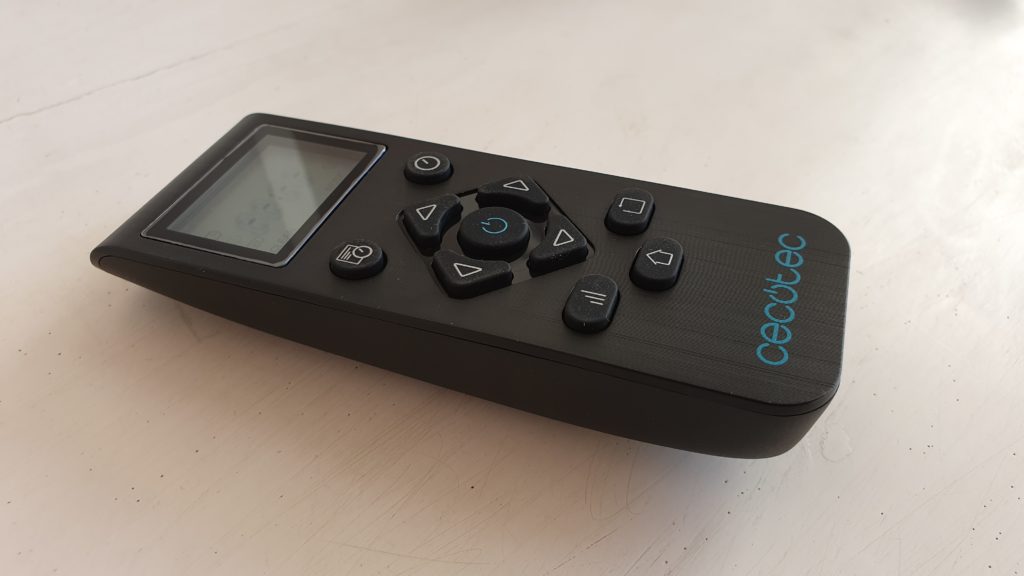 More compact than those we tested previously, the charging cradle has two large connectors on the front where the Conga 3690 Absolute will delicately put his hindquarters. After having made its approach, the robot turns on itself in order to gently put its pins in contact.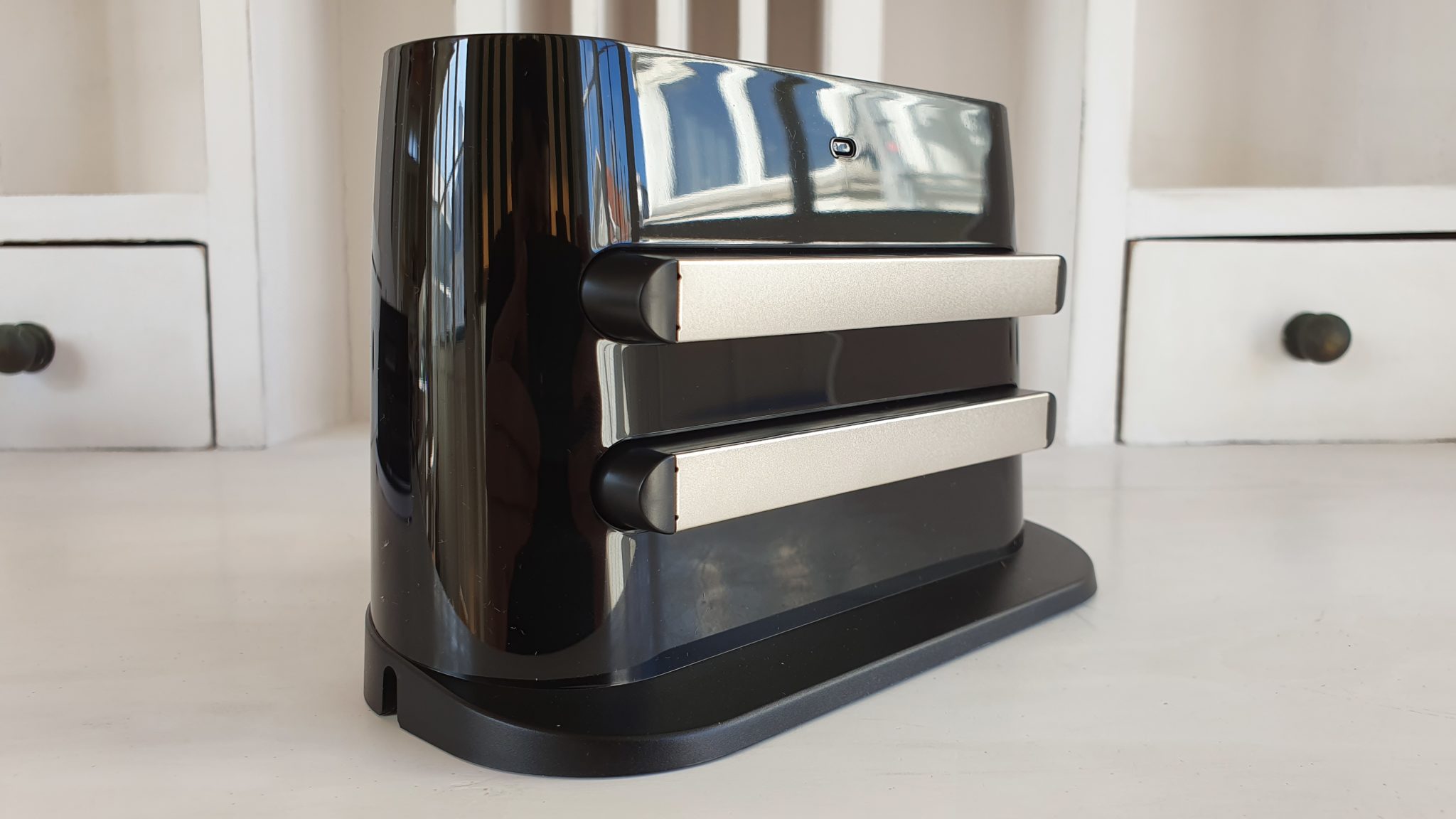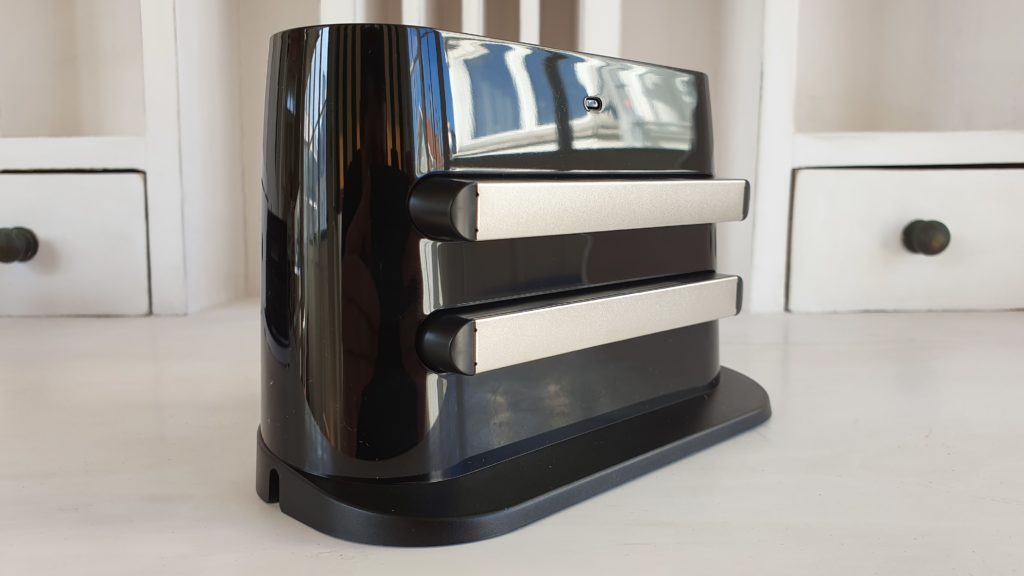 THE20V / 1.2A power supply is not integrated into the base, but rather compact, it will be connected to the socket and the cable can be rolled up inside a cover located below. A good point because we do not like to see wires lying around everywhere, and robot vacuum cleaners even less so.
Cecotec delivers its Conga 3290 Absolute with a large number of accessories and, in particular, two side brushes, two mops and their fixing plate and two rotating brushes for the central suction port.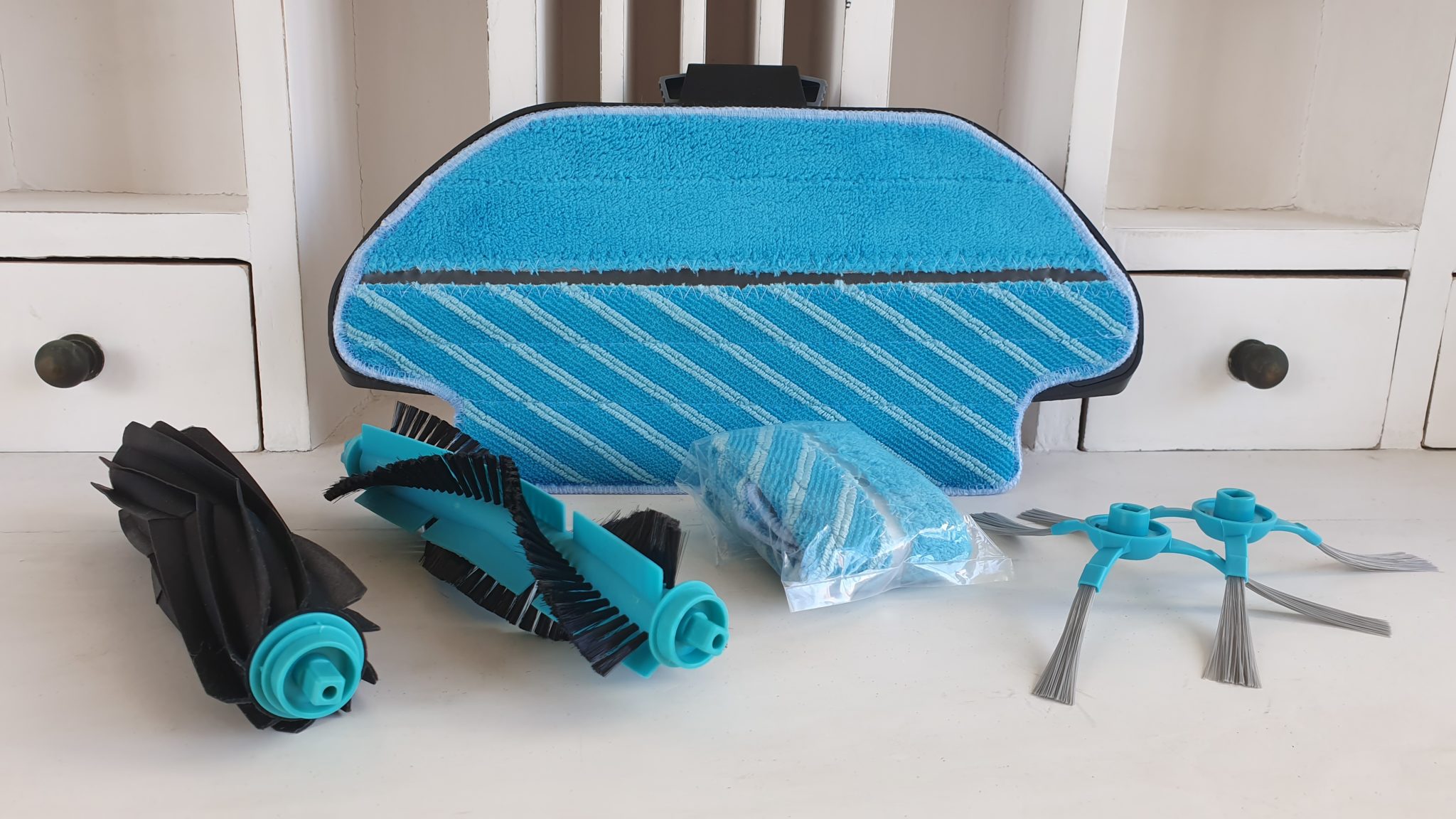 La side brush, unique as on the Roborock S6, is composed of semi-rigid bristles with a curvature allowing them to maximize their contact with the ground. The robot only uses one to push the dirt down in its center, so there is a spare.
Cecotec delivers two rotating brushes for the suction mouth. The first is quite classic and alternates semi-rigid bristles and silicone blades to maximize the cleaning of rugs and carpets. The second is entirely in silicone and made for collecting animal hair. Owners of four-legged companions will appreciate.
These will logically be placed under the device at the level of the suction mouth via a fairly conventional system and very easy to use.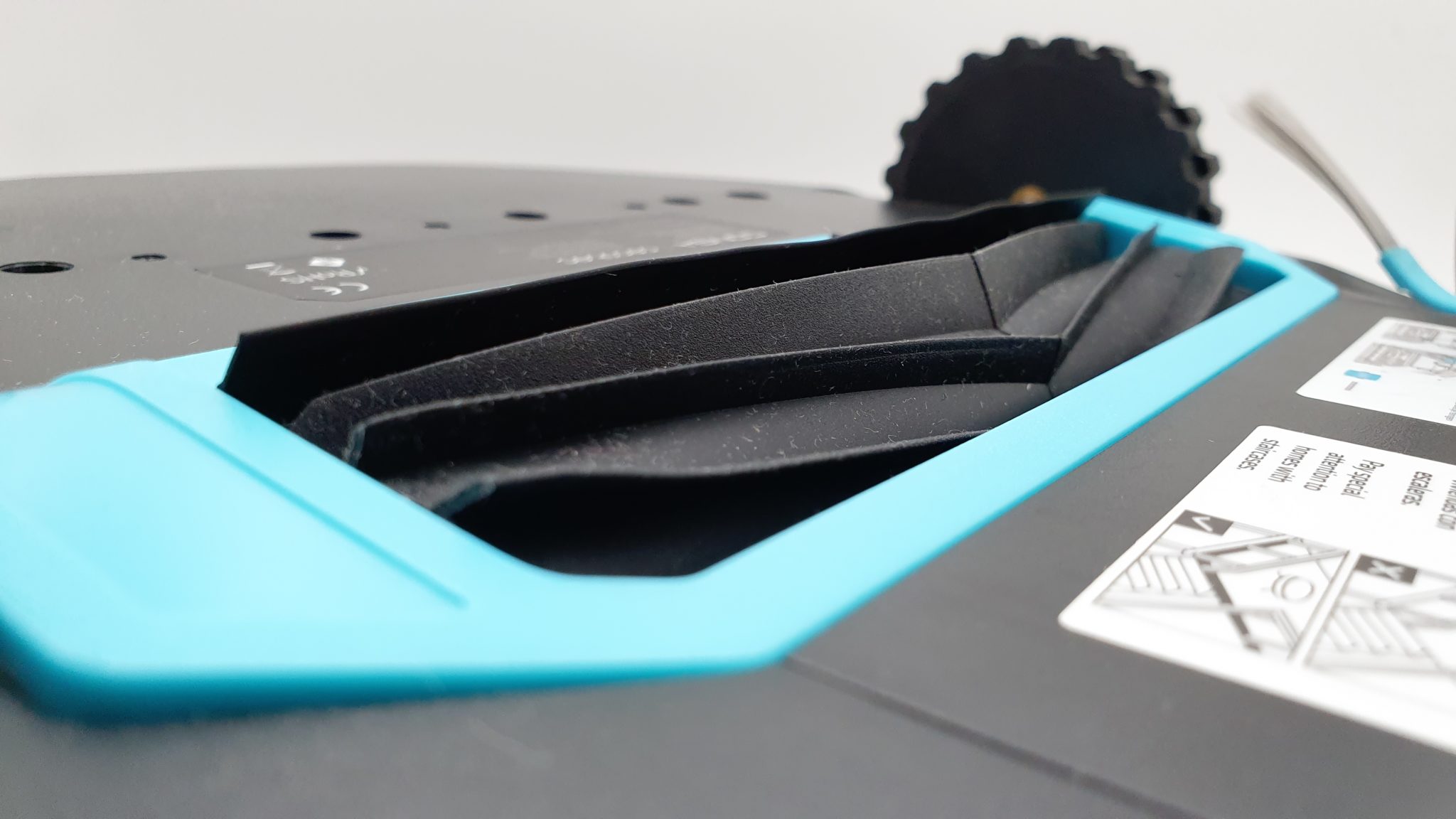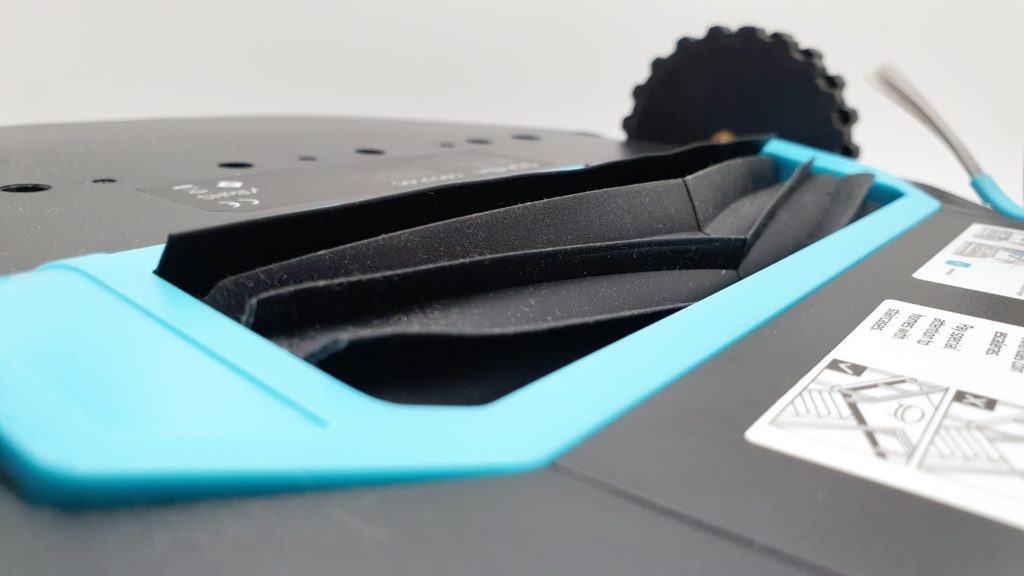 Finally, the mops are attached to a plate by inserting on one side and pressing down using scratch, as on the Deebot Ozmo from Ecovacs. We noted a good thickness on the latter, which allows it a excellent contact with the ground. The "rags" are composed of two types of fiberssay "Twin Floor", to alternate between scrubbing and gentle wiping. It is very clever, it seems to us, especially since the robot uses a technology "Scrubbing" very special patented.
But besides, where is the water tank? This is quite unusual, but you have to lift the cover and position it in place of the dust container. In the end, it seems rather practical, especially since it is a mixed tank allowing the robot to store the dirt that it will vacuum up just before washing the floor.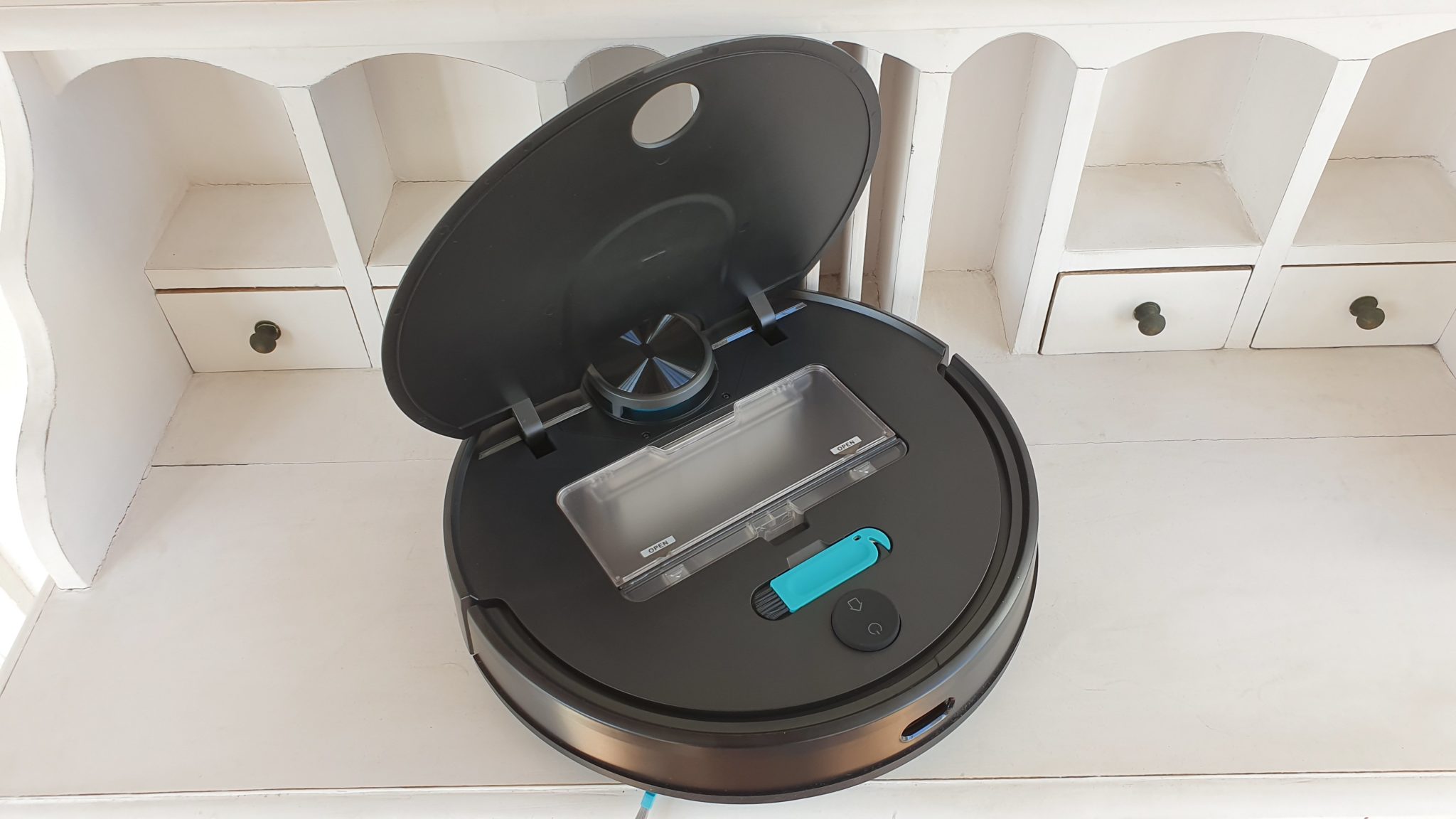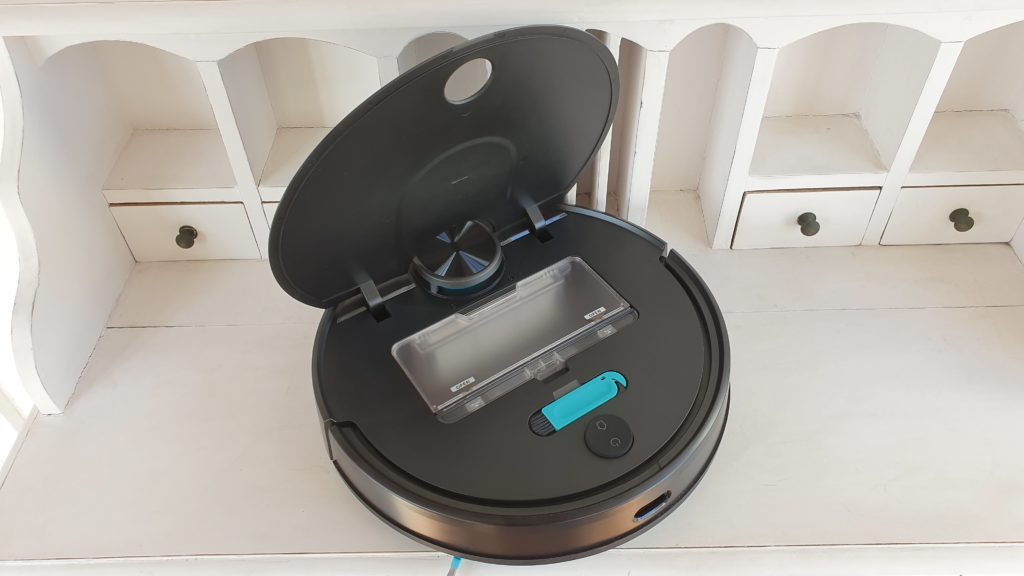 Also equipped with a HEPA filter, it is made of two compartments: one for dust, the other to contain water. Its electronic management allows it to manage water flow from the application, which is very appreciable and that we strongly regretted on the Roborock S6.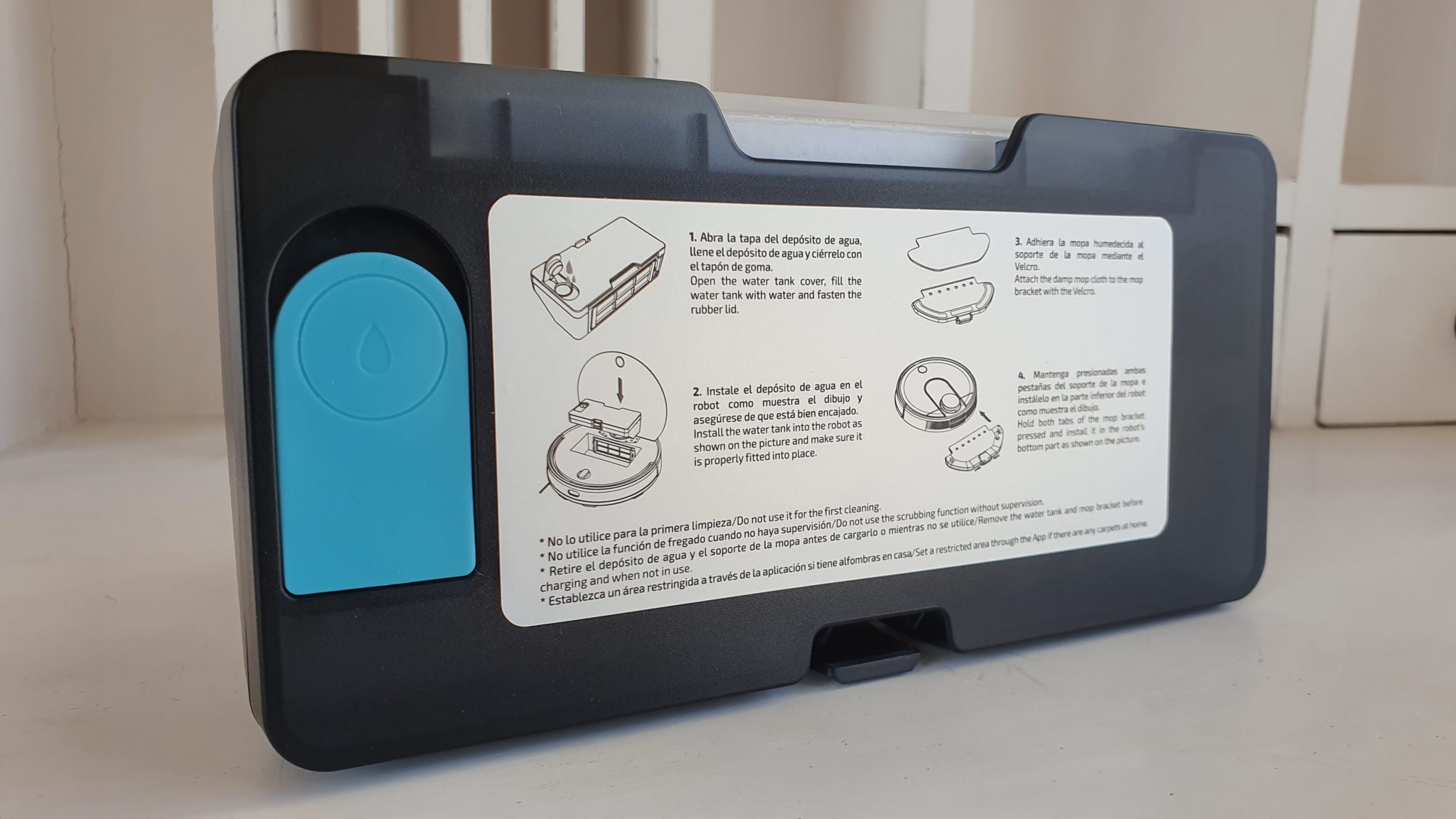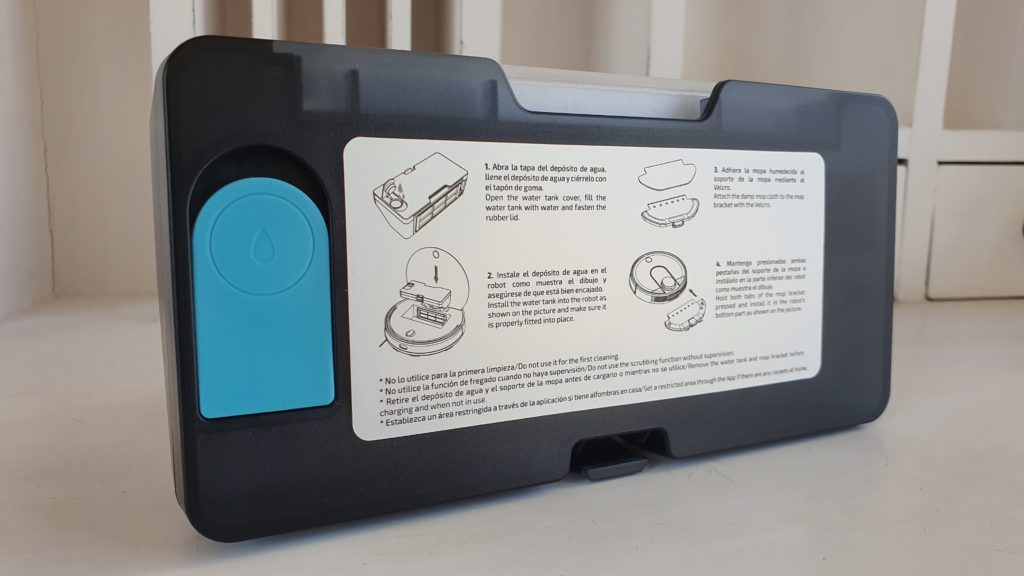 Le dust bin, meanwhile, is more classic in its design with on the one hand an entrance equipped with a non-return slat, an opening system and a so-called HEPA particulate filter to recover the finest particles and block allergens.
This bin is therefore inserted under the hood of our robot where there is also a small cleaning brush. A very practical location that more and more manufacturers are using.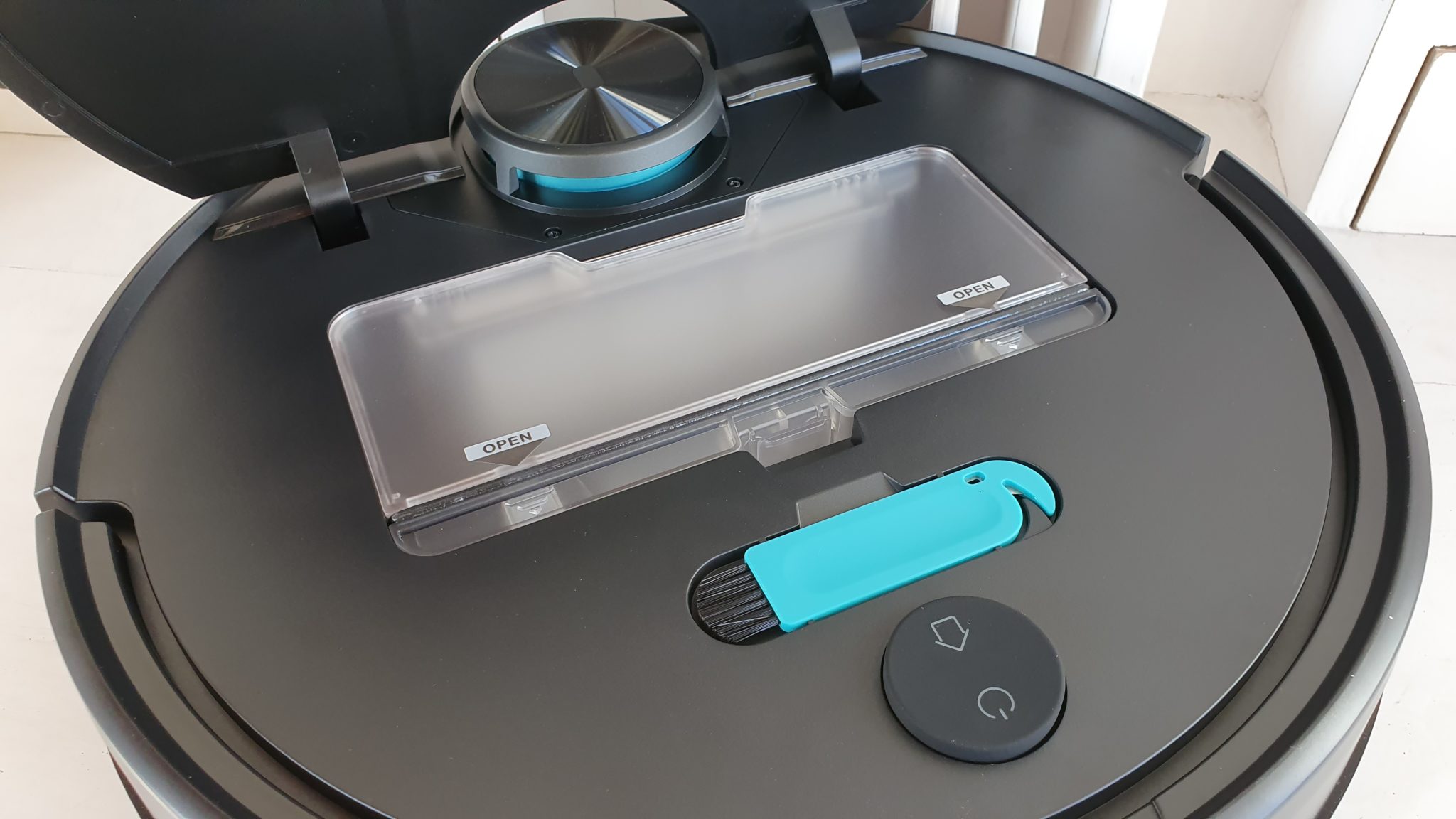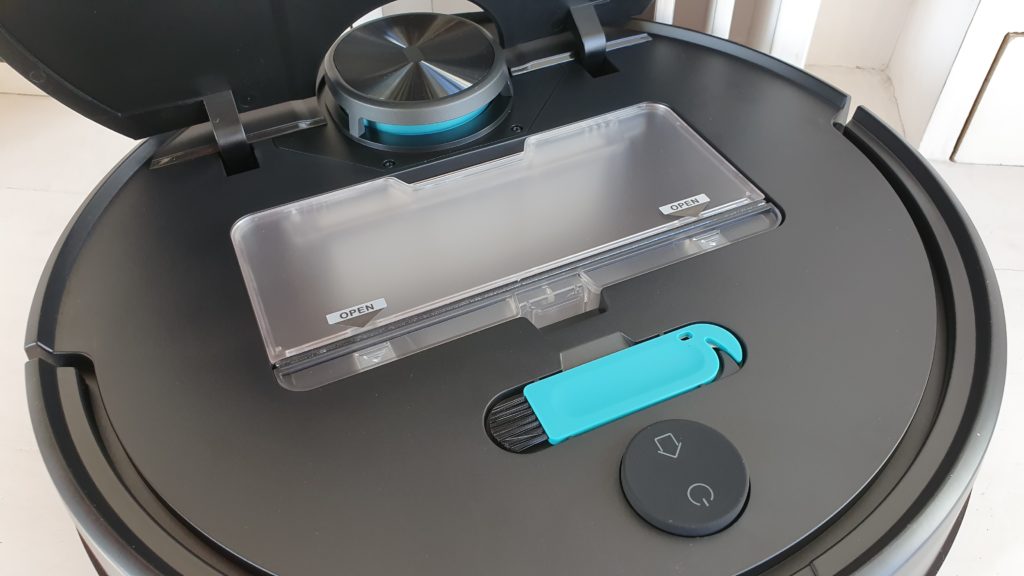 Okay, that's all very well, but this famous Conga 3690 Absolute is it effective? This is what we will see after examining its technical sheet.
Conga 3690 Absolute technical sheet
Brand:
Cecotec
Model:
Conga 3690 Absolute
Drums :
3200mAh Li-Ion
Aspiration:
2700 Pa
Dimension:
34 cm x 34 cm x 9.5 cm
Weight:
4 kg
Autonomy:
150 minutes
Loading time :
2 hours
Remote control:
app and voice control
Charging station :
dock type
Accessories :
HEPA filters x2, brushes x2, water tank x 1, dust container x 1, mops x2, microfiber plate x1
Dust container:
500ml
Water reservoir :
200 ml of water + 350 ml of dust
Connectivity:
Wi-Fi IEEE802.11 b / g / n 2.4 GHz
Other:
Cleaning tool x1 and user guide
Conga 3690 Absolute: a rich application
Before seeing what the Conga has in its belly, we must of course install it and connect it to our home Wi-Fi network.
Robot installation
Cecotec offers several applications for its robots. Be careful which one you choose at the time of installation, otherwise it will not work. As far as we are concerned, we have obviously chosen the application for 3000 series robots under Android, which is also available for iOS.
The installation is then very simple and relatively quick:
Click on "Add a robot",
Press the "on / off" and "home" keys for 3 seconds until they flash blue,
Wait between 1 and 2 minutes for network configuration,
You will then have to connect the robot to your home network:
Enter your login details Wi-Fi (SSID and password),
In your Wi-Fi settings, then connect your smartphone to the CongaLaser_XXXXX network,
Return to the application.
That's it! You can now start a full cleaning that will allow the robot to discover and map your home.
A host of options
But instead, let's find out what options are available to us.
The application is divided into four main menus: "Control" which allows you to control your Conga 3690 Absolute and start cleaning sequences, "Programming" which, as its name suggests, is used to schedule automatic cleaning, "Activity" which informs you about the various sequences performed by your robot, "Profile" which classically offers various parameters concerning your account and the traditional legal notices.
Conga 3690 Absolute Control
Let's start with the robot control, the menu that offers the most options and will inform us about the capabilities of this Conga 3690. This is divided into four sub-menus: "Base" for the return to the charging base, " Fashion " with the different robot cleaning algorithms, " Light switch " which allows you to choose the suction power, " Water reservoir " which is used to choose the water flow.
The cleaning methods:
Car : you leave the keys to the robot who will take care of a systematic cleaning as it sees fit,
Edges: allows you to clean the edges of a room,
Spiral: the robot creates a spiral for localized cleaning, an ideal feature in the event of an "accident", such as a spilled coffee for example,
Deep cleaning: the robot will perform two successive cleaning of the room, practical after a birthday snack or an aperitif that has dragged on,
Floor cleaning: this is the water washing mode, to use it, insert the water tank and fix the cleaning plate on the robot,
Zone: allows you to select one or more areas to clean on the map generated by Conga,
Restricted area: allows you to ban areas for automatic cleaning, an option that can be useful when you want the robot to exceptionally avoid an area,
One-point cleaning: this is called cleaning "Spot", which makes it possible to clean a particular area, in a conventional way this time and not by performing spirals,
Manual: it is the robot control pad, with arrows like on the remote control that allow you to orient the robot and take it wherever you want.
Light switch : translation probably a little clumsy, but very practical mode that allows you to select the suction power of the robot
Off: allows you to turn off the suction, if you want the robot to simply mop silently.
Eco: economic mode which gives the robot maximum autonomy and allows cleaning in silence.
Normal: ideal for daily cleaning, the best efficiency / autonomy ratio. In this mode, the robot will activate its technology Force Clean when it detects rugs and carpets in order to apply all its suction power and dislodge the dirt in depth.
Turbo: perfect for deep cleaning, this mode releases 2700 Pa. Less autonomy and more noise, but uncompromising suction!
Water reservoir : allows you to choose the water flow of the système iWater to clean the floor and mop over any type of surface.
Off: no flow, you will understand.
Weak : for cleaning the surface floor, on vitrified parquet for example.
Way : ideal for daily floor cleaning, whatever the surface.
Raised : perfect for deep cleaning of the floor.
Programming the robot vacuum
This menu allows you to define cleaning automations or routines, so that the robot works when you are away for example, or at fixed times. In short, it is the "Lazy mode", which will even exempt you from taking out your smartphone.
You can define:
THEactivation time of the robot,
La recurrence or frequency (Monday / Tuesday, etc.),
La card of your choice (you can create up to 5),
Le cleaning plan to be done (up to 10 per card, i.e. 50),
An option of deep cleaning (2 successive passages),
Le cleaning mode (see above),
Le power level (Off, Eco, Normal or Turbo),
Le water flow (Off, Low, Medium or High),
Robot activity
As its name suggests, this menu allows you to see the cleaning performed by the robot : date, surface cleaned, duration of execution. By opening the sequences, you can see the details of each and the robot's settings.
Profile and settings of the Conga 3690 Absolute
In the tab "Profile", you will classically find the information about your account (email address and password), but above all The settings more advanced of your robot (or several for that matter) such as the name of the robot, its ID, the night mode (often called " do not disturb", This mode corresponds to the time slot during which the robot will not trigger itself), volume of robot beeps (note that the Conga does not speak), the lifespan of the various consumables of the robot (side brush, mop, filters HEPA, main brush) but also sensor that you will not have to change but to clean from time to time.
Conga 3690 Absolute: an intelligent and efficient robot vacuum cleaner
Precise navigation, complete mapping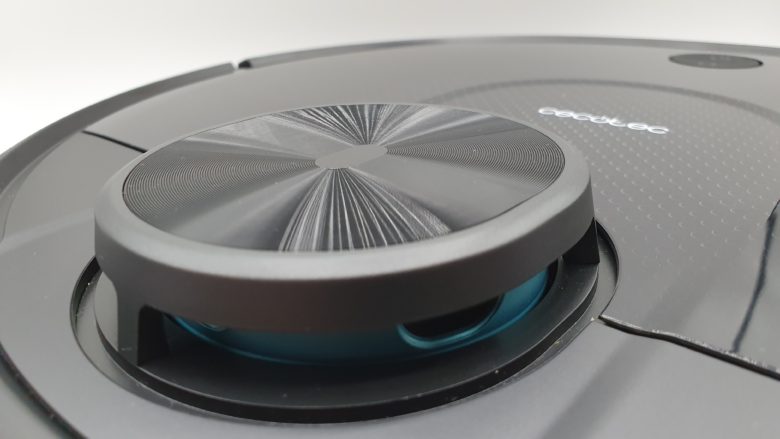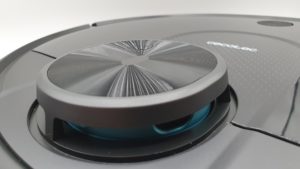 Like the Deebot Ozmo 900 et Roborock S6 that we have previously presented, the Cecotec Conga 3690 Absolute is equipped with a laser rangefinder. Also called Lidar, this device allows it to accurately map its environment. Thus, he navigates without hesitation and quickly finds the shortest way to get to his base. It also offers the possibility of sending it to the room of its choice, to clean a defined area, all with extreme precision.
Thanks to this system, the Conga 3690 robot vacuum forgets no room and no zone. Once there, he begins like his fellows by delimiting his perimeter of action before making systematic back and forth. Her No worry Total Surface 2.0 is clearly effective and everything works. Its significant autonomy, which we estimate at just over two hours in normal mode (150 minutes in Eco), allows it to clean between 75 and 100 m² in one go, which makes it one of the best robots that we have tested. until there.
Concerning the cartography, here too Cecotec did not do things by halves. the Conga 3690 Absolute makes it possible to achieve up to 5 cleaning cards. Perfect for multi-story homes, these maps can also come in handy if you want to divide your home and map different areas independently, although the app also allows you to manage this. up to 10 plans per card.
But what are the differences between maps and blueprints? It's simple, the maps are made for map floors, dependencies, etc. The cried, as for them, are thought to delimit cleaning areas with different characteristics, depending on the type of soil for example. These plans allow you to define a default cleaning type and automations. For example, you can decide that the tiled areas will be cleaned with a high water flow, those with vitrified parquet with less, the carpets with the most powerful suction mode. Another example, a kitchen being generally dirtier than the rest of the house, you can order the robot to make two passes. You can also select several rooms on a plan and the robot will go to each of them at all times, without cleaning those it crosses to get from one to the other. It's well thought out, very practical, and not all brands offer these options, even the most famous ...
A really powerful suction
As this is a vacuum robot, it is obviously worth talking about its suction power. From this point of view, the Conga 3690 Absolute is quite simply the most powerful past in our hands. With its 2700 Pa, it is clearly above the rest since we had never seen more than 2000 Pa before.
In use, it is felt, especially on the finest and most encrusted dust in carpets. Despite the passing just ahead of another robot, that of this Cecotec managed to collect a rather impressive amount of dust. This fineness of the particles particularly struck us when opening the dust container. The bulk of the cleaning having already been done, only the dust left by its counterpart remained, but the Conga 3690 en turbo mode has all the same unclogged very fine particles, proof of its effectiveness and the available power. Clearly useful and rare power in a robot. Moreover, it is a bit the trademark of the Spanish company which has just presented to the IFA a model soon available with stratospheric suction of 8000 Pa. From there to say that Cecotec is a bit like the Dyson of the robot vacuum cleaner, there is only one step!
Cecotec is a bit like the Dyson of the robot vacuum cleaner The Alexians
A unique washing method
Washing is probably the least convincing thing about robot vacuum cleaners. Moreover, some brands do not believe in it, like iRobot which prefers to design dedicated robots. And yet, these connected objects being a little bulky, it is very practical to have only one.
But once again, Cecotec surprises with a very particular washing method… and patented! This is a mode "Scrubbing". To avoid a trip to Google Translate, know that "To scrub" usually translates to " to rub ". Because, surprising as it may seem, the Conga 3690 from Cecotec rub! He doesn't just wipe the floor with a damp mop, but flies back and forth with a slight curve. Concretely, this is materialized by lateral back and forth movements, as in the image below.
Is it effective? Clearly, yes, and so it is the best washer of our selection to this day, and probably proof that the famous iRobot brand is once again sticking its finger very deep in the eye (yes, they also prefer cameras to laser rangefinders, hence their approximate navigation…).

In addition, the design of the Cecotec mop also testifies to this concern to optimize cleaning as much as possible, it being composed of a part intended to scrub well, the second to wipe.
In use, it is rather effective, it must be recognized. Will the Cecotec Conga 3690 be the best washer in our final ranking of best robot vacuums and scrubbers ? In any case, it's a good start, this well-thought-out innovation allowing the Conga 3690 Absolute to be the best robot vacuum cleaner and mop as we write these words!
"The best robot vacuum cleaner and mop of our selection!" " The Alexians
Le Conga 3690 is compatible with Google Assistant, but especially with Amazon Alexa. Indeed, the skill is available on Amazon.com. Note that 249 people have already left a review on Amazon.es, a significant figure which proves that although the Cecotec company is not yet very well known in France, our neighbors to the south have already fully adopted it!
In the meantime, here is the list of commands Alexa that it will be possible to have Alexa at your Cecotec Conga robot vacuum :
* Alexa, tell Conga to start cleaning up. * Alexa, tell Conga to start cleaning up. * Alexa, tell Conga to start sucking. * Alexa, tell Conga to stop cleaning. * Alexa, tell Conga to cancel the action. * Alexa, tell Conga to stop the task. * Alexa, tell Conga to go to base. * Alexa, tell Conga to show his location.
Not bad is not it?
The Cecotec Conga 3690 Absolute is a very convincing robot as a whole. The Alexians
Conclusion
What to conclude from this robot vacuum cleaner? Quite simply that it ranks without problem among our
TOP 3 of the best robot vacuum cleaners
and that he could well take his place from the famous
Roborock S6
! Indeed,
The Cecotec Conga 3690 Absolute is a very convincing robot as a whole.
Its modern design seduced us, its navigation was precise and its formidable efficiency with its 2700 Pa suction. In addition, its patented washing mode in "Scrubbing" is effective and its large water tank allows it to deserve the name of robot vacuum cleaner and cleaner, which is less obvious with some of its competitors. Pet owners will also appreciate the benefit of a dedicated brush for collecting hair.
Another point, which is far from being a detail, the Cecotec Conga 3690 robot costs only € 279, which for a robot offering all these services also classifies it among the best quality / price ratios on the market. In other words, you will have understood it, this is a very good choice and Cecotec is clearly a company to follow in this booming market.
467,91€
586,60€
In stock
2 new from € 399,00
August 13, 2022 8:50 a.m.
Cecotec Conga 3690 Absolute
279.99€
Most
2 in 1 device: vacuum cleaner and washer
Exclusive "scrubbing" cleaning mode
Nice autonomy of 150 minutes
Up to 5 cards with 10 cleaning plans
Delivered with a remote control (and its batteries)
The lessers
No skill Alexa in France
A little austere application