In order to have elements of comparison, we always test several products of each type and at different prices in order to satisfy all budgets… After the Roborock H6 stick vacuum test at the start of the week, a very convincing top-of-the-range model at 399 €, we wanted to find a good cheap broom vacuum cleaner to introduce you. Indeed, even if our robot vacuum cleaners Relieve us greatly of the chore of vacuuming, it is clear that they do not go everywhere and do not climb on walls to dust high up. This is where thebroom vacuum intervenes and presents itself as a leading ally and the perfect complement to a robot. Available today at super competitive catalog price of 320 € with a launch promotion to 228.49 €, here is a new model: the Dreame XR Premium.
Dreame XR: a premium stick vacuum cleaner?
Unboxing of Dreame
Delivered in a very neat and necessarily a little imposing white packaging, the Dreame XR offers a rather premium first impression. We find the very design touch of the products of the Xiaomi universe with, on the front face, the logo of the brand and the model of the device, a visual of the product and its main characteristics: a 60 minutes battery life, the 99.9% advanced filtration, for an Quick Start which would take place in 0.3 seconds ... We can't wait to see it!
At the opening, we are impressed by the large number of accessories provided. Dreame forgot absolutely nothing and all the accessories we have come to expect from a broom vacuum premium are there.
So we find the vacuum cleaner body multi-cyclonic, the essential rigid hose, the motorized carpet brush, the brush for fragile floors type "Fluffy", the mini motorized brush, for an a flexible pipe, for an nozzle and dust brush. Everything is accompanied by the essential food and a wall mount. It is therefore a model for the less complete!
From a design point of view, the Dreame XR is successful. Its white design is pleasant and its copper finish rather nice. The plastics are of good quality and the accessories all seem solid. All this makes you want to examine it in more detail ...
From a design point of view, the Dreame XR is successful. The Alexiens
Dreame XR Premium datasheet
Brand:
Dreamer
Model:
XR Premium
Drums :
Li-ion 2500 mAh
Aspiration:
140 AW - up to 22 kPa in max mode
Dimension:
284 x 111 x 221 mm
Weight:
1.5 kg
Autonomy:
up to 60 minutes in Eco mode (28 minutes in medium mode, 10 in max mode)
Loading time :
4 hours
Sound level :
84dB max
Charging station :
wall mount accessory holder
Tank :
500ml
Accessories :
HEPA filters x1, brushes x3, nozzle x1, flexible hose x1, tank x 1
Other:
Power supply x1, support x 1, user manual.
Dreame XR review and review
Dreame XR Premium: powerful suction at a low price
The body of the vacuum cleaner
Of type multi-cyclonic, the body of the vacuum cleaner is rather compact. Display 1.5 kg on the scale, it can be used for long minutes without too much fatigue. It measures 34 cm long for 20 cm high and his 500 mL reservoir presents a 11.5 cm diameter. Heavier and bulkier than a Robo Rock H6, it is logically less manageable but its grip remains quite correct.
The manipulation of Dreame XR is rather good, but again below the H6. It is nonetheless easy and pleasant to handle, rest assured, but its ergonomics are a little less successful, it must be admitted. the suction mode selector is placed a bit high in our opinion and not as easy to reach as on the Dyson and Roborock. While it is possible to activate it with a gesture of the thumb for a male hand, it seems less obvious to women who will likely have to use both. We also regret the lack of a locking button. Like on a Dyson V8, you have to keep your finger on the trigger at all times. People used to stick vacuum cleaners will not be disoriented, those who have sleds a little more. It's a blow to take.
The trigger, wide and soft, engages very easily and keeping it pressed for long moments does not tire too much. The handle is well balanced with its batteries placed at the bottom and its motor which rests on the hand. The Dreame XR is pleasant to use.
"The Dreame XR's power selector is placed at the engine level. " The Alexians
Here, no control screen indicating the power or the autonomy, but three small LEDs discreetly and intelligently placed let you know where you stand. It's convenient, but not as accurate as an on-screen gauge. Good point, Dreame thought of both left and right-handed people and placed some on each side of the device.
"The charge gauge is made up of three small LEDs. " The Alexians
The charge is carried out using a 100 / 240V mains charger supplied which is placed at the back of the handle, or even better, on the support. A well-thought-out support that will allow you to very simply put the device on its contactors, we will come back to this later.
"A well-thought-out support that will allow the device to be very simply placed on its contactors […]" The Alexians
From a power point of view, the Dreame XR Premium shows excellent performance. Its 450 Watt motor delivers no less than 140 AW, generating depressions of up to 22 kPa in Max mode. It's a little less than on the Roborock H6 and its 25 kPa, but the difference is slight and not really visible on a daily basis.
Air-Watts, denoted AW, correspond to the ratio between air flow, suction and power consumption. They therefore indicate the efficiency of the engine and allow the devices to be compared with each other.
The engine also deserves that we linger a little on it. Incorporating technologies inherited from aerospace, the engine of Dreame XR took more than three years to be developed by the brand's engineers. A long R&D phase which focused on search for efficiency uncompromising. His precision engine thus develops a power of 450W, runs at impressive speed of 100 rpm. / min and starts in 0.3 seconds. Hat !
"Incorporating technologies inherited from aerospace, the Dreame XR engine took more than three years to be developed by the brand's engineers. " The Alexians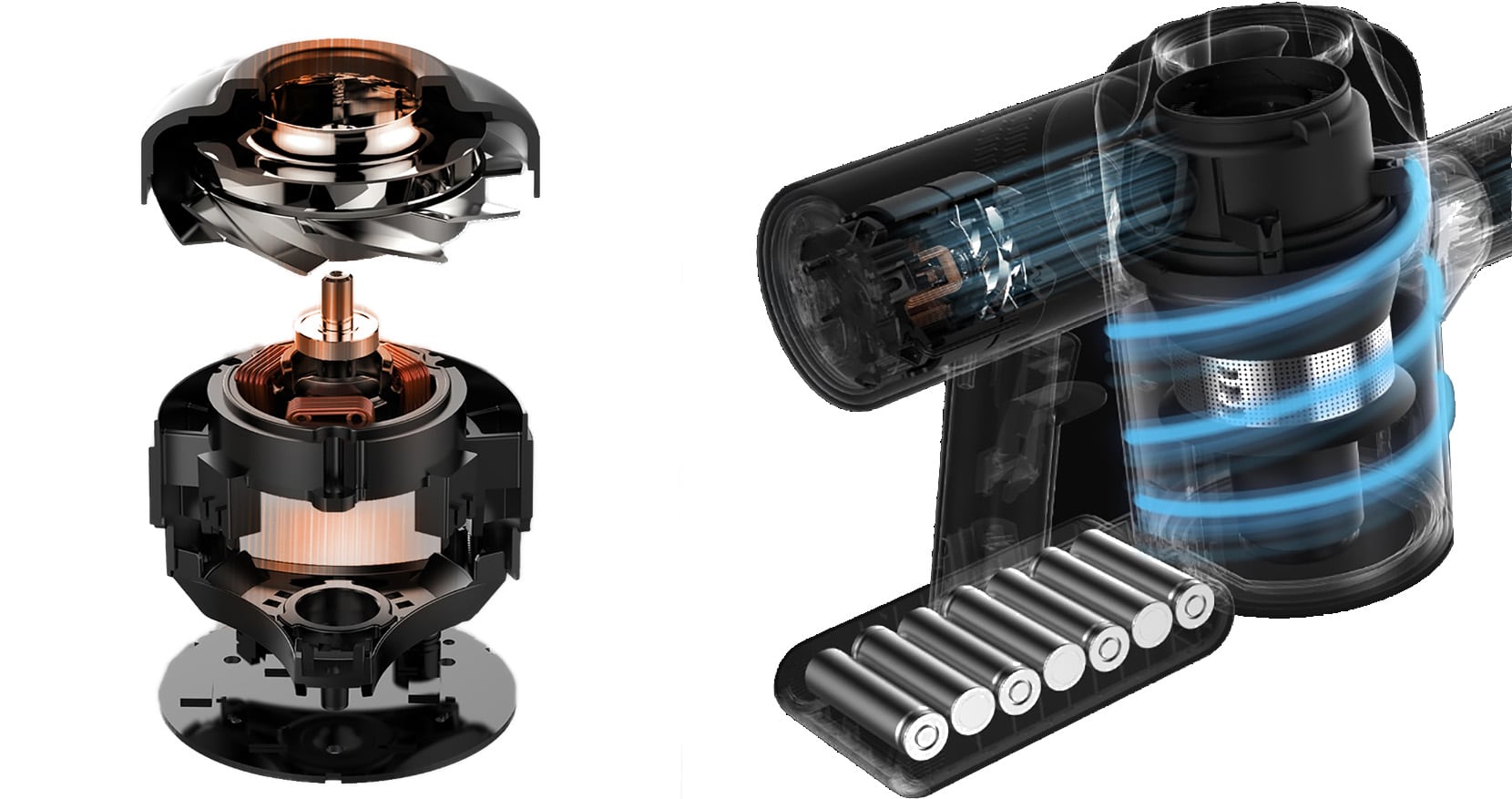 The brand has also particularly worked on heat dissipation which takes place in real time and allows the vacuum cleaner Dreame XR not to overheat. You will also notice several air intakes, both on the engine and on the compartment containing the accumulators.
From a power point of view, the Dreame XR Premium displays excellent performance. The Alexians
Le dust bin, with a capacity of 500 mL , is not very large but sufficient for a complete cleaning session. It fills up fairly quickly, but very easy to open, its emptying does not require disassembling the body of the device thanks to a opening button cleverly placed on it. Just press for the hatch to open and release its contents in one go. Unfortunately, however, the collector is not completely removable and therefore cannot be passed underwater. It's a bit of a shame, but it's nothing crippling.
Le multi-cyclonic filtration system is meanwhile removable and washable. The brand recommends leaving it to dry for 24 hours before replacing it. Filtration is carried out over no less than five levels, each made up of several cyclones, to which filters are added. Everything is very efficient in use, but we regret that you have to put your hand in the collector to remove the cyclone system. It's a shame, but very often it does, even on a Dyson V8.
A cyclonic filtration system separates dust from the air by gravity. Heavier, the latter is then redirected into the collector. On the Dreame XR, this air treatment is carried out several times for more efficiency, hence the name multi-cyclone.
Like the Robo Rock H6, we find a HEPA filter, or High Efficiency Particulate Air, who filters the air sucked in by the vacuum cleaner before he was thrown back into the room and which, according to Dreame, captures 99.99% of particles (up to 0.3 micron). Pollens and other the most microscopic molds have better watch out!
HEPA filter captures 99.99% of particles (down to 0.3 microns) The Alexians
In terms of autonomy, this broom vacuum cleaner offers good results here too. Her 2500 mAh lithium-ion battery gives it a battery life of up to 60 minutes in eco mode, 28 minutes in medium mode and about 10 minutes in max mode. This is about the same on a Dyson V8 or V10, but not as good as on the Roborock H6 nonetheless, although it does a comfortable cleaning of about 100m² in one go. It takes about 3 hours 30 minutes to fully charge the battery.
Noise level, the Dreame XR is in the industry average, neither very quiet nor very noisy. Silence is indeed rarely a quality of these devices and our measurements are still quite average, since we noted 68 dB (A) in economy mode, 74 dB (A) as standard et 82 dB (A) at maximum power. This is very slightly less than on the Roborock H6. Note that our measurements were taken above the device, at 1 meter, with the nozzle nozzle.
Now let's see what the accessories are ...
Accessories: a truly premium kit
This is one of the characteristics of high-end vacuum cleaners: they are generally delivered with several essential accessories. Dreame has understood this and offers everything you need. The package, qualified as Premium, offers no less than six! And, the least we can, is that there is everything you need ... Really everything.
A rigid pipe
Like all vacuum cleaners, Dreame is no exception to the rule and obviously delivers its XR with a rigid pipe. Lightweight, it is 72 cm long, it has an internal diameter of 3.4 cm and clips very easily to the various accessories associated with it. You will notice two pins which allow to feed the elements which require it: the motorized brushes.
A brush for fragile or "fluffy" floors
It is the most voluminous of the packaging, the one that you will probably have to use the most. It measures 28 cm long connection included. The brush part is 25.6 cm long for a width of 12 cm. Made of good quality plastics, it lets us easily observe the scroll. This is practical because it allows you to see if something is blocked, but especially to know at a glance which brush we are dealing with!
Because, this is the very good news, the pack Dreame XR Premium (currently in launch promo) includes a so-called brush "Fluffy". Invented by Dyson, this funny-named brush is designed to improve the dust collection on hard floors. Also called "Soft roll", it is covered with a soft fur through which we find rows of soft hairs, but more dense and long. The latter (in red on the photo) collect the smallest waste, as would a conventional brush, while the soft surface (gray on the photo) catches large residues and flaps them towards the suction opening.
In use, this "Fluffy-like" is formidable. In addition to perfect maneuverability which really allows it to be controlled in all positions, its engine is really efficient. We almost have the impression of being pulled by it because it is so effective. She owes this to her integrated motor which dynamically drives the flexible brush via a belt! Very effective, this brush is definitely a "Must have" essential for all owners of parquet and hard floors.
"Very effective, this brush is definitely a must have essential for all parquet and hard floor owners. " The Alexians
Motorized carpet brush
The motorized carpet brush is strictly identical to the soft brush, except that it contains a roller dedicated to carpets and rugs. By turning it over, we see that the latter is made up of two rows of two types of hair : soft and hard. In addition to two wheels placed at the level of the handle giving it perfect stability, the brush is also equipped large rubber caster to protect your floor from possible scratches and fabric ruler also allowing nothing to be left on the way.
A mini motorized brush
Fortunately Dreame did not forget the mini brush, a really practical element, not to say essential on a broom vacuum. Very similar to the one found at Roborock or Dyson, it allows you to clean the seats of your cars, sofas or mattresses. Combined with the filtration system, it is very useful for hunting down mites and sucking up all unwanted items.
The mini-brush is used to clean car seats, sofas, mattresses… and much more! The Alexians
Nozzles, dust brushes and flexible hose
Dreame had the great idea to equip each of its brush tips. More than classic nozzles, they are also retractable brushes. They are perfect for reaching any corner. In the car, it is remarkably efficient, in particular thanks to the flexible and expandable hose which allows you to go everywhere. Each element has its interest and everything makes the Dreame XR a premium stick vacuum cleaner car really complete.
"The Dreame XR is a premium stick vacuum cleaner because it is truly complete. " The Alexians
Finally, we find a wall mount. Well thought out, it serves both as a charging base and allows you to hang or unhook accessories in a gesture. The big advantage is to avoid leaving the accessories lying around here and there. Who has never looked everywhere for his nozzle?
The wall bracket serves both as a charging base and allows you to hang or unhook most accessories in a gesture.
In conclusion, what to say if not that this Dreame XR Premium is a success? Indeed, although used to Dyson and Roborock, this stick vacuum cleaner has impressed us. Its more than complete pack, its maneuverability, its endurance and its suction power make it an everyday ally! It certainly has a few small lacks that we find on the most high-end, but offered at an unbeatable price, it undoubtedly stands out as the best quality / price ratio on the market for stick vacuum cleaners per hour. where we conclude this test! So you can buy it with your eyes closed ...
Dreame XR Premium
NS. 269 €
Most
Successful design
Two motorized brushes: one for rugs / carpets and one fluffy at the top!
A very complete kit with all the necessary brushes
An unbeatable value for money
A practical wall mount
The lessers
No suction lock button
Power selector not very accessible for small hands
Disassembly of the unhygienic cyclone system