Let's continue our foray into the fabulous world of robots. After the more than convincing test of Deebot Ozmo 920, a high-end robot vacuum cleaner that is clearly a hit with users ofAlexa, we wanted to take a little interest inentry level. Indeed, all users do not necessarily want to put 500 € in a food processor, and Ecovacs has understood this well by offering in its range Deebot 500 series whose release we had mentioned at the end of August.
As this is a brand that we particularly appreciate and which has been able to seduce us from our very first Deebot Ozmo 900 robot test, it seemed wise to present to you today the Deebot 502. Anthracite gray variation of the 500 series, this model is indeed offered at a price more than content of About 200 € on Amazon. Fr. So let's see what one of the market leaders in robot vacuum cleaners can offer us at this competitive price to say the least.
159,90€
In stock
Refurbished from 1
August 13, 2022 9:50 a.m.
Deebot 502: a nice little robot
Unboxing and presentation
Ecovacs Robotics does not depart from its good habits and gives us the Deebot 502 in a packaging of the most beautiful effect. On the front side, we find a beautiful photo of the robot printed with a selective varnish, the logo of the brand, that of the model and an inscription "The Vacuum Robot". The whole is on an immaculate white background which perfectly highlights the device. At Ecovacs, marketing is never half done and the products are always very nicely protected! As we already said in our previous Ozmo 920 test, this is something that we particularly appreciate and which is not that anecdotal. The perceived quality is indeed in our opinion something quite essential when spending relatively large sums in a High-Tech device.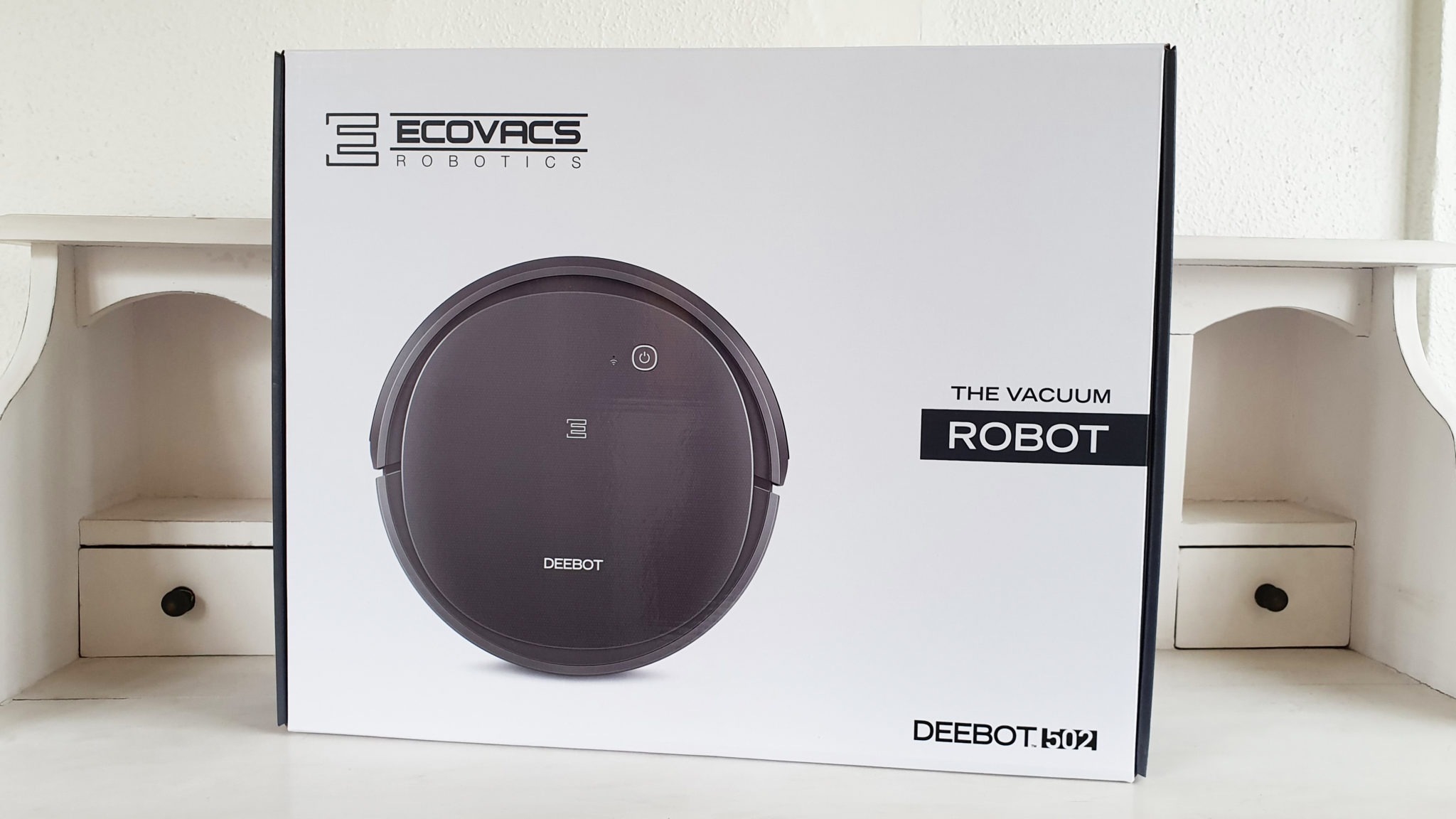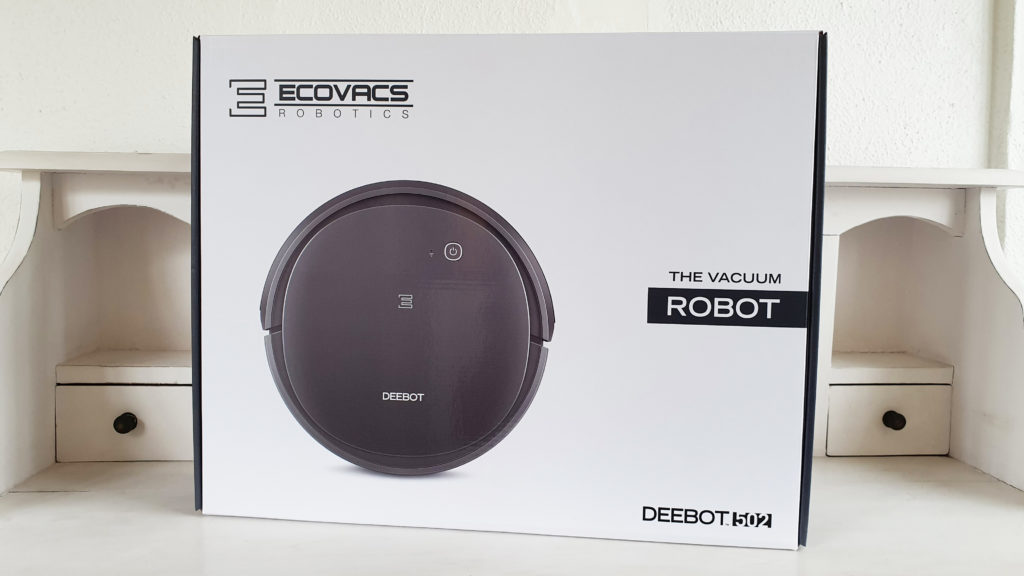 At Ecovacs, marketing is never half done and the products are always very nicely protected! The Alexians
At the back, Ecovacs highlights four main features : the Max Mode which allows to benefit from a suction up to twice as powerful as in normal mode for a deep cleaning, the three-step cleaning technology, the ease of use provided by the remote control supplied or the possibility of remotely controlling the robot via theEcovacs Home application (available for Android and iOS), and finally the Deebot 502 compatibility with voice assistants (Google Home, but above all Amazon Alexa !).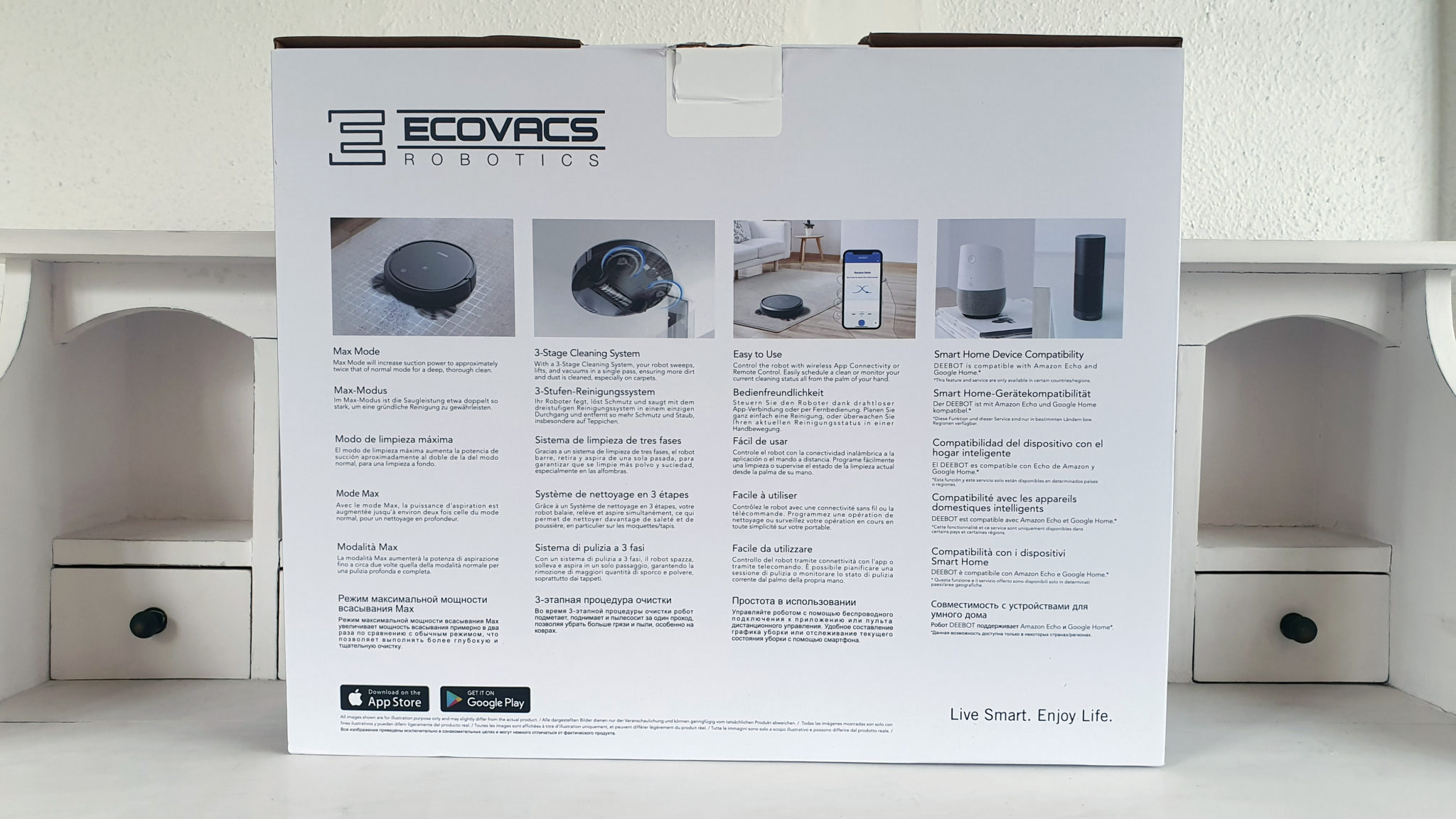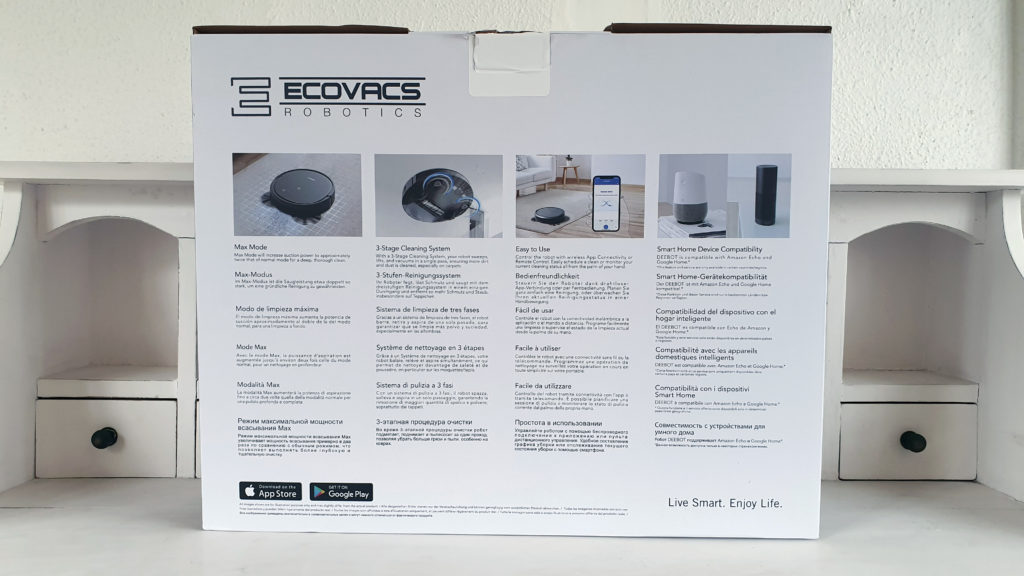 On the sides, the Chinese company goes further and details even more features with, in particular, the application control, automatic recharge of the robot which will therefore be able to find its base on its own, the anti-fall technology very important to prevent the robot from running down the stairs, its anti-collision system which you will see is very effective, and the possibility of schedule cleanings. In other words, this robot does everything to make our life easier!
Without further ado, let's open this beautiful case and discover this famous Deebot 502. Here again, no surprise, the robot is perfectly protected and presented. It is revealed to our eyes in a really nice charcoal gray dress. His parentage is more than obvious: he looks like a Deebot!
Ecovacs wanted to offer the cheapest robot possible, so we are not dealing with a riot of accessories, but everything you need is nevertheless present: robot vacuum cleaner of course, his charging station and his AC adapter, two side brushes, central rotating brush, for an cleaning tool, for an HEPA filter washable already installed on its essential dust bin, a small remote control with its two batteries supplied, one User Manual and the traditional Quick Start Guide. It is complete and sufficient to be quiet for at least six months.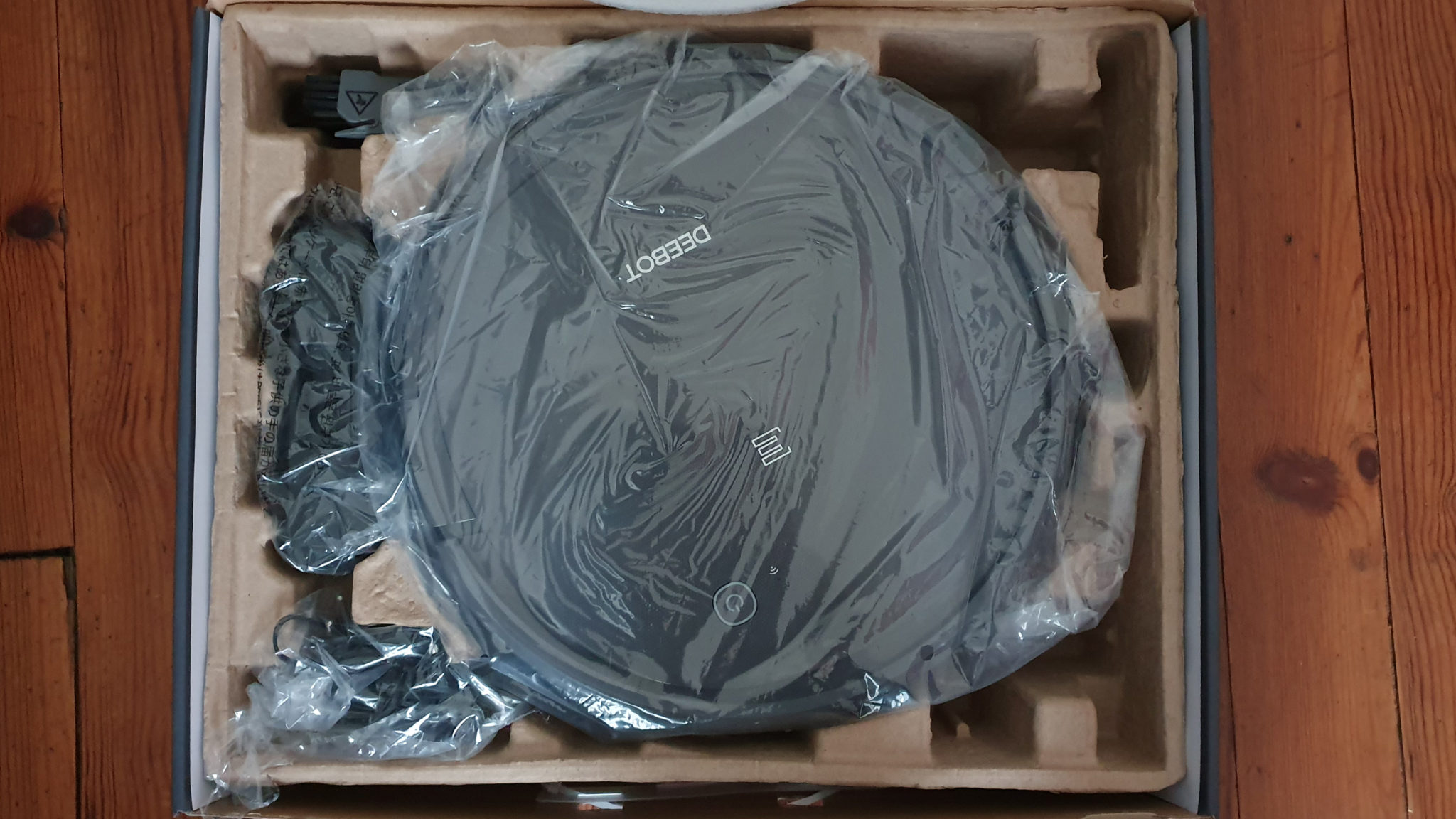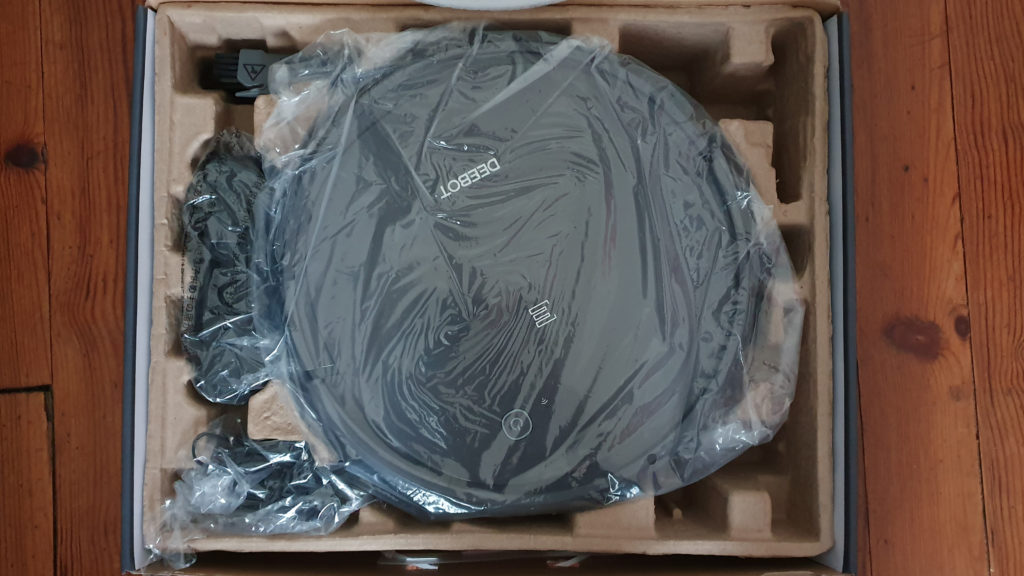 Circular in shape, much more aesthetic than the unfortunate D-shape of the Neato D450, this little robot measures only 33.2 cm in diameter et 7.9 cm high, which will allow it to squeeze almost everywhere. It is also the most compact of robot vacuum cleaners that we have tested so far. The lightest also since it displays a little less than 3 kg on the scale (2.95 kg precisely). You can therefore lift it without difficulty and place it wherever you want.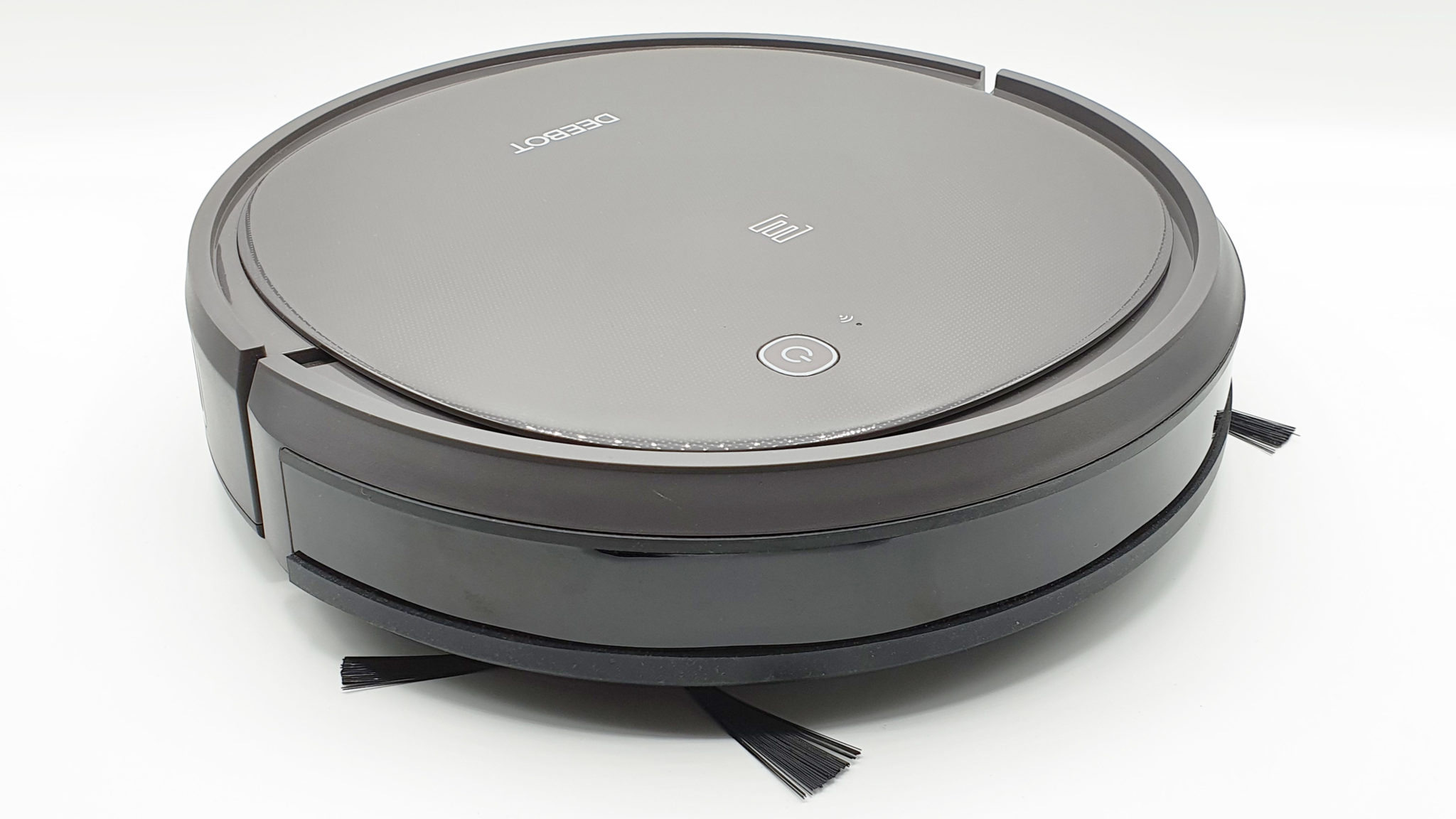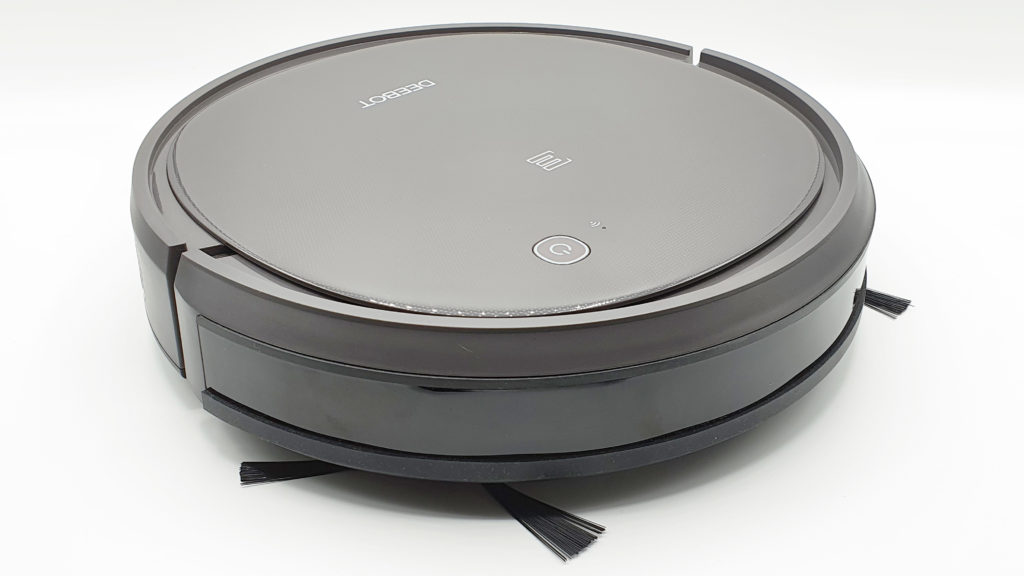 There is something a bit futuristic about its look with its frontal visor. A cousin of Daft Punk? It is quite possible with this "Very robot look". In writing, we love it! Although entry-level, it does not at all "Cheap", quite the contrary. The plastics are of high quality, we do not detect the slightest play in the assembly. In short, the design of the Deebot 502 is very successful, we find the Ecovacs Robotics brand.
The design of the Deebot 502 is very successful, we find the Ecovacs Robotics brand. The Alexians
The device is obviously equipped with an on / off button. Well, even two in reality, since we find a power button arranged on the side which allows the robot to be turned on or completely off, as well as a power button (a press also allows to pause it and a long press to order it to return to the dock). Located on the top, the latter is accompanied by a small LED located to its left which indicates, or not, its connection to your 2.4 GHz Wi-Fi network. Indeed, although entry-level, this robot is connected and reacts to voice commands. Isn't life beautiful?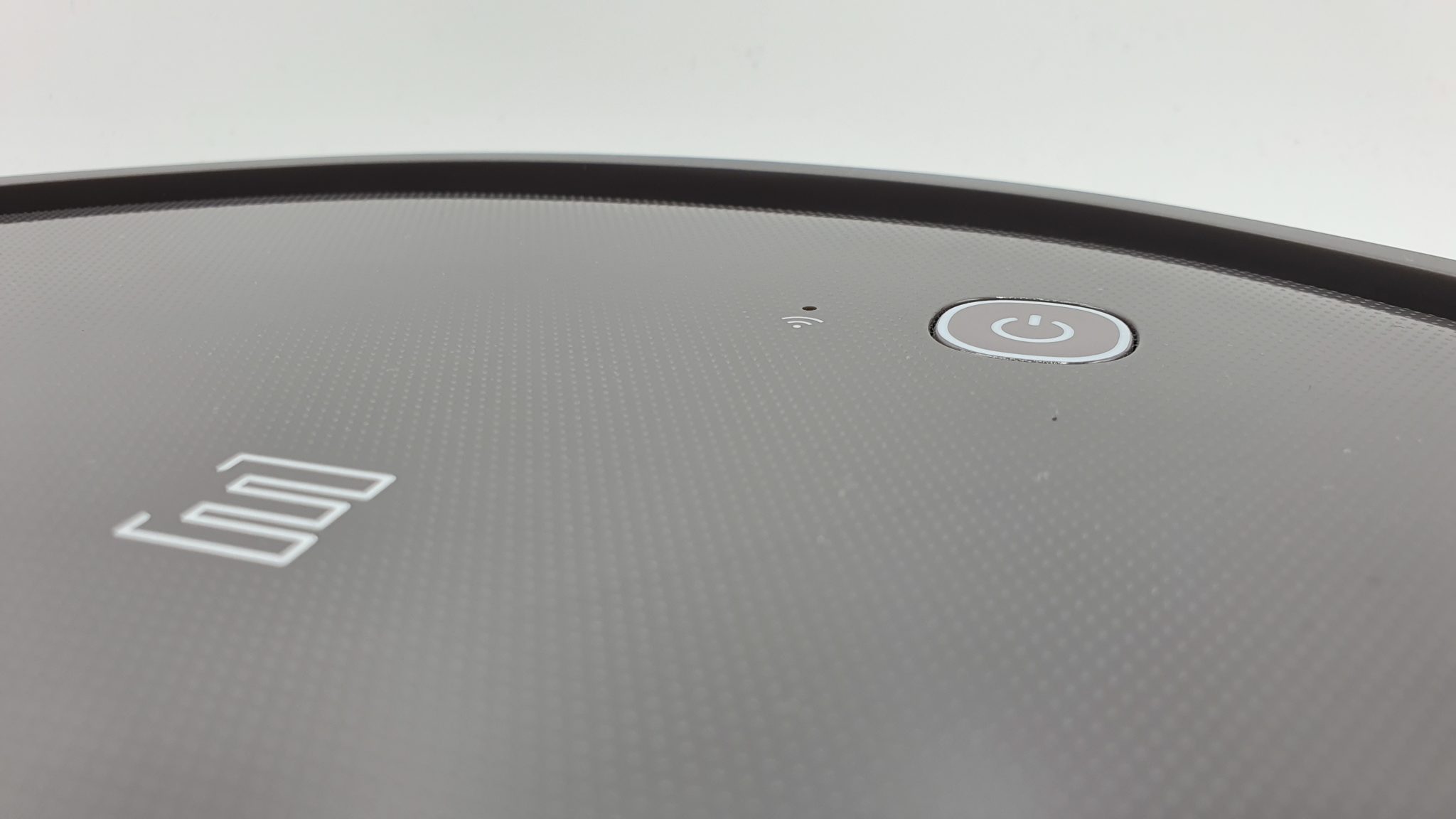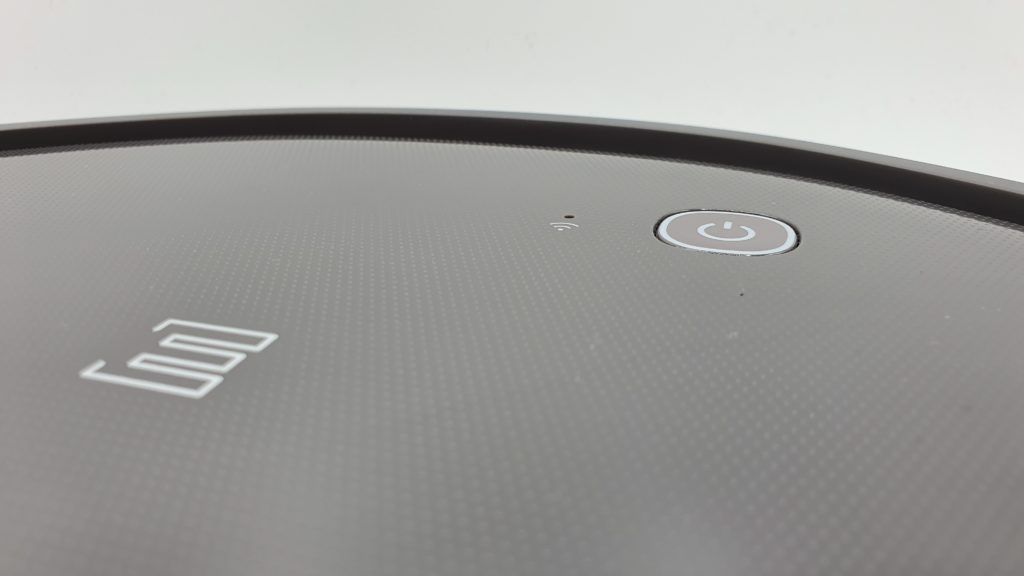 Its design is very successful, we find the Ecovacs Robotics brand. The Alexians
Let's come back to his "visor", a term not so overused as that, because if it is above all a bumper, it's actually crammed with sensors. Sensors that are real eyes and allow it to locate itself a little in space, but above all not to violently collide with your furniture. In fact, and this is one of the surprises that this model brings us, they even allow it not to hit your furniture at all, because the Deebot 502 is a nice little robot, not a nag. Come on, even if robot vacuums don't like it much more than turtles, it's time to flip it over and put it on its back.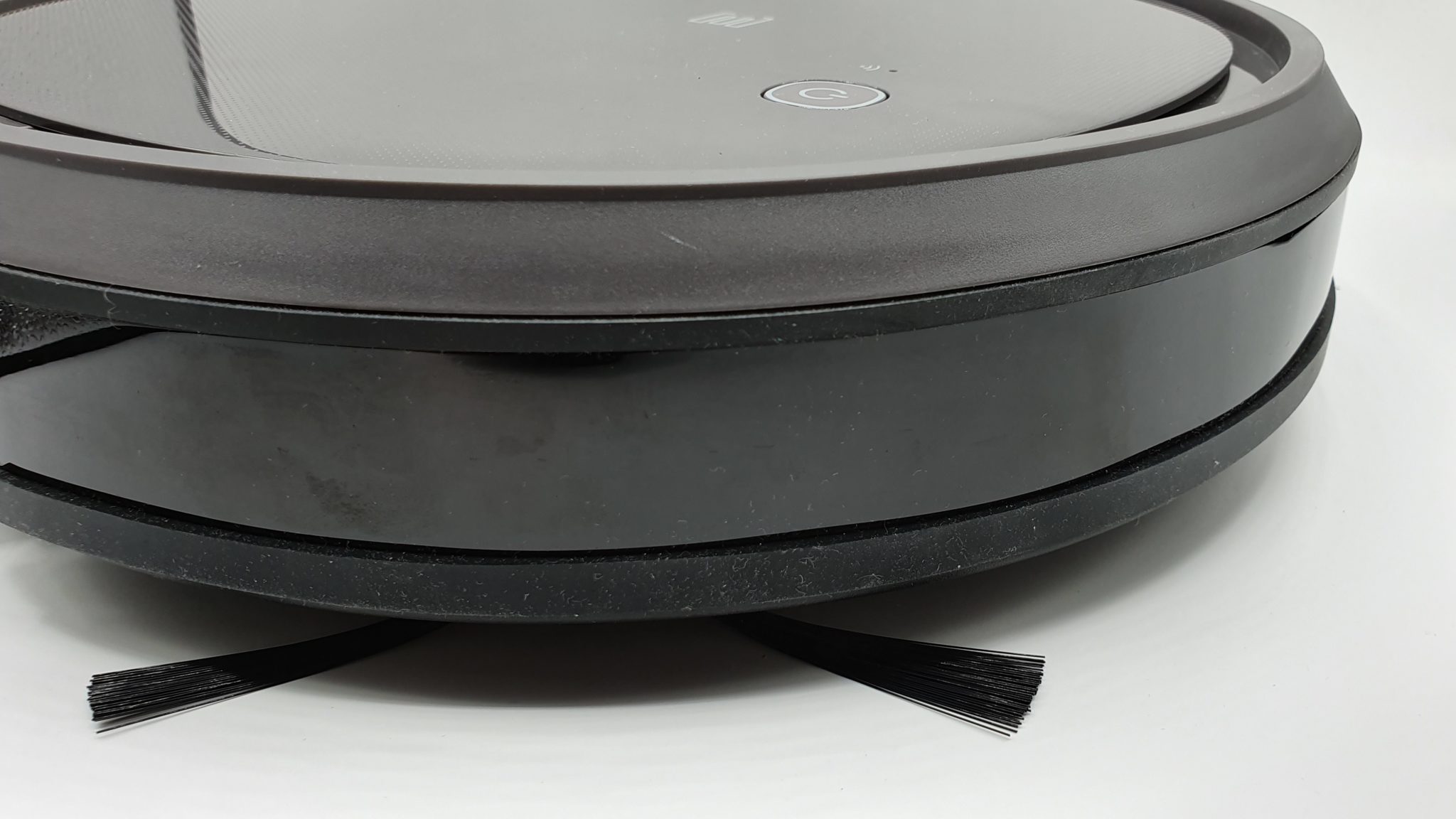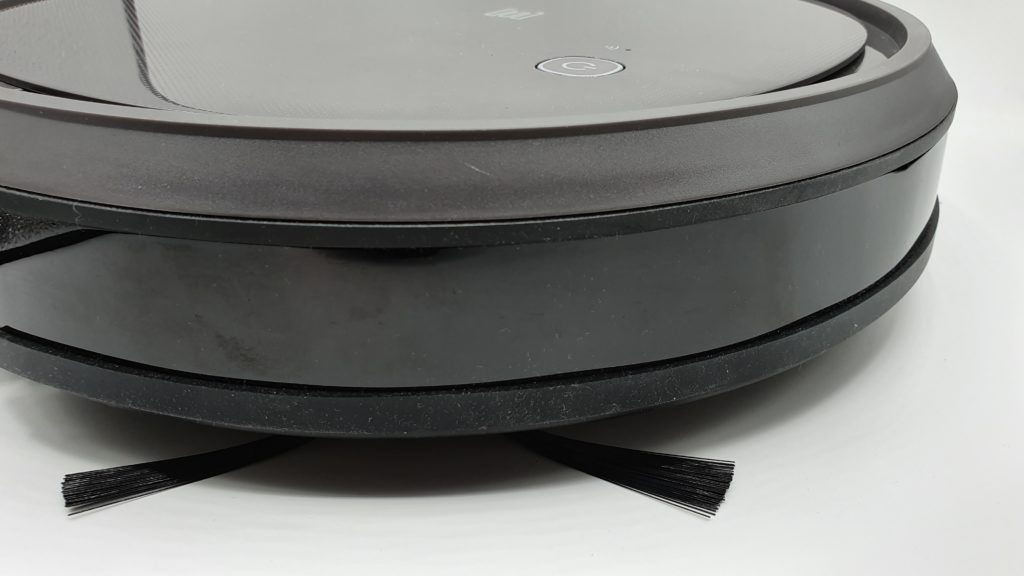 Indeed, it is only by observing more closely its equipment that we will be able to measure what it is capable of. If the sensors on its front visor are invisible, the "Cliff sensors" which allow it both to estimate its ground clearance and toavoid falls logically take place under the device. There are three of them and they are arranged in a completely conventional way in the middle of the bumper and near the wheels.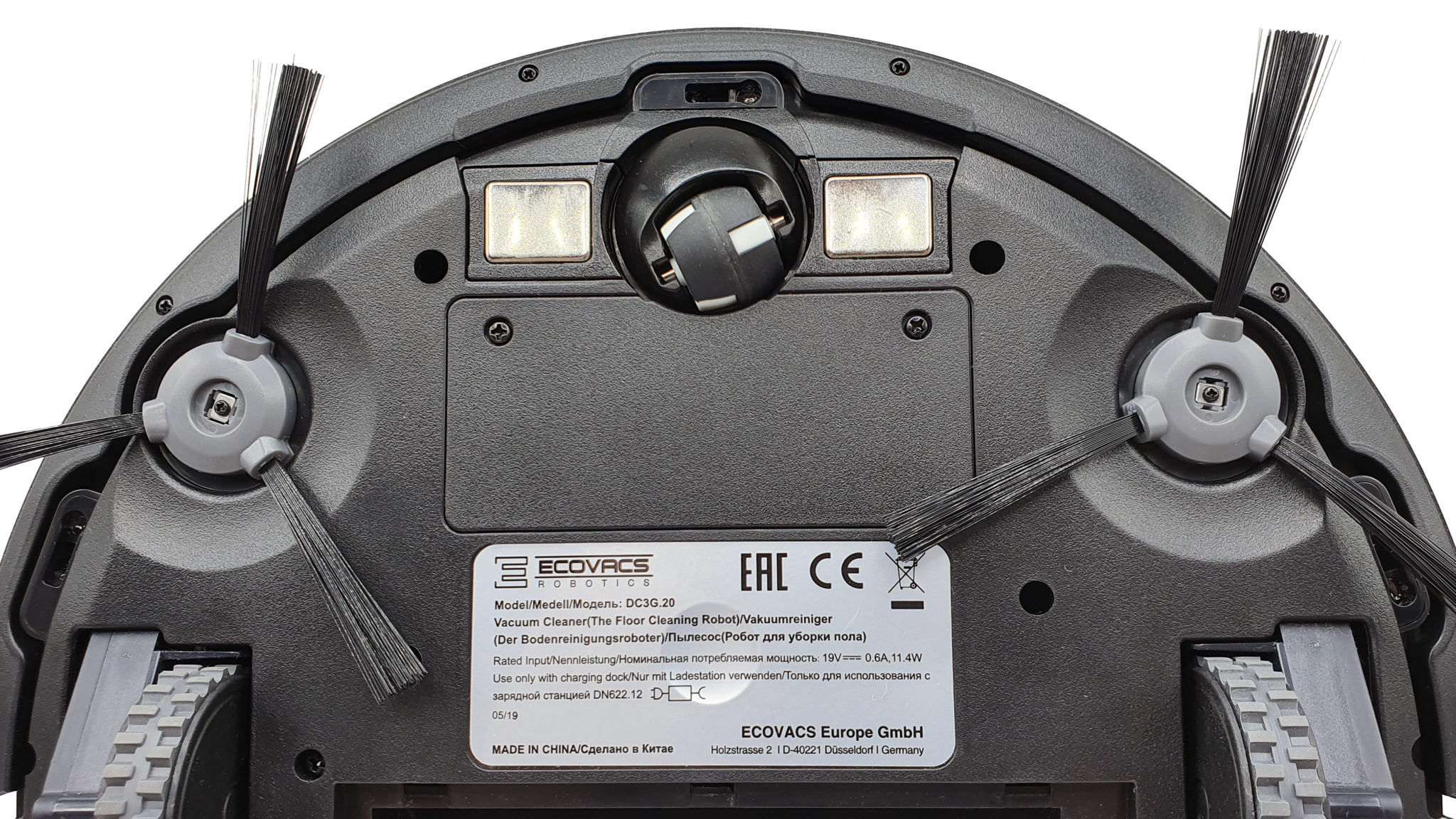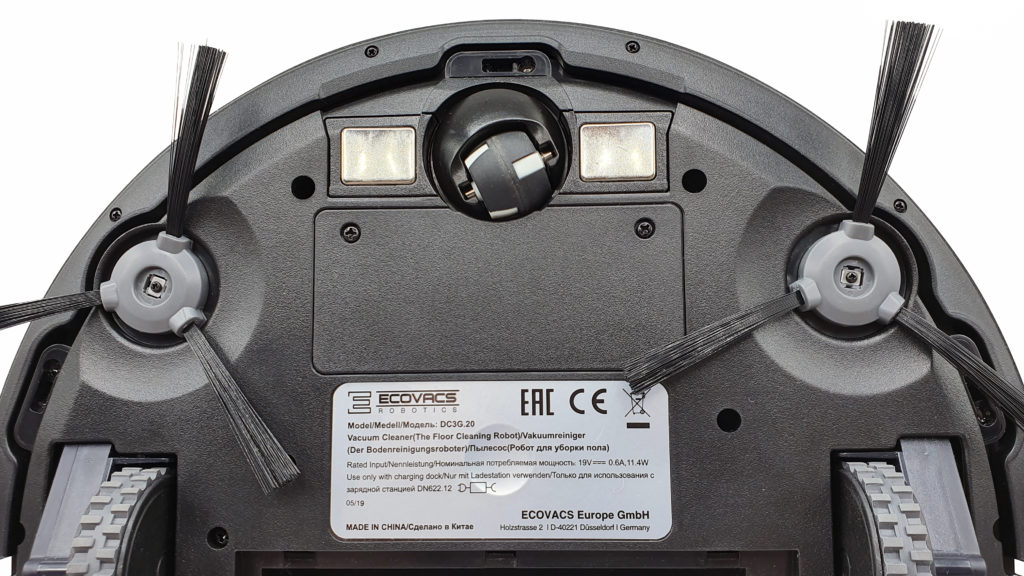 Your discerning eyes will probably have noticed the traditional omnidirectional wheel which allows the robot to move 360 ​​°, as well as the two pins for recharging.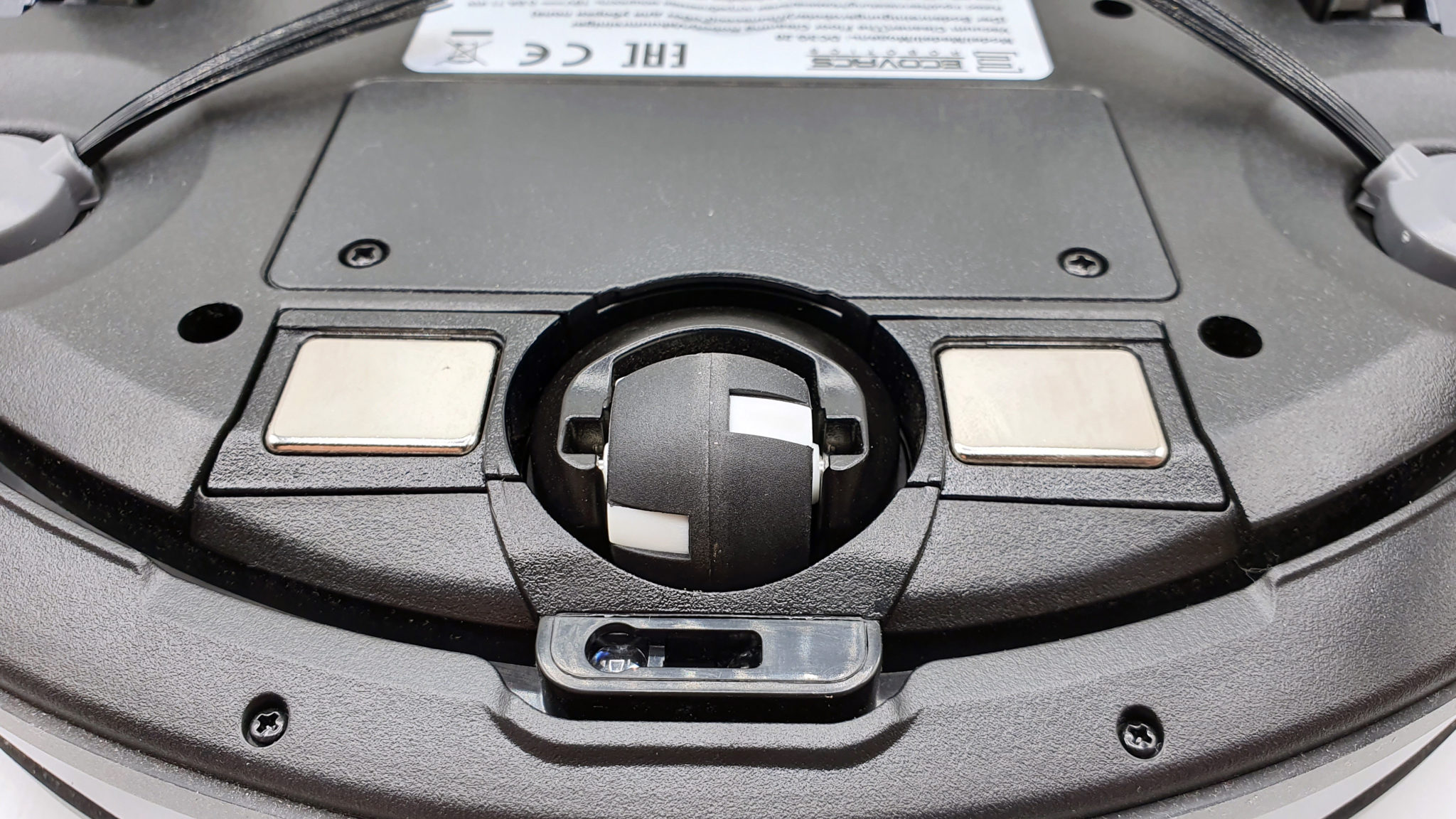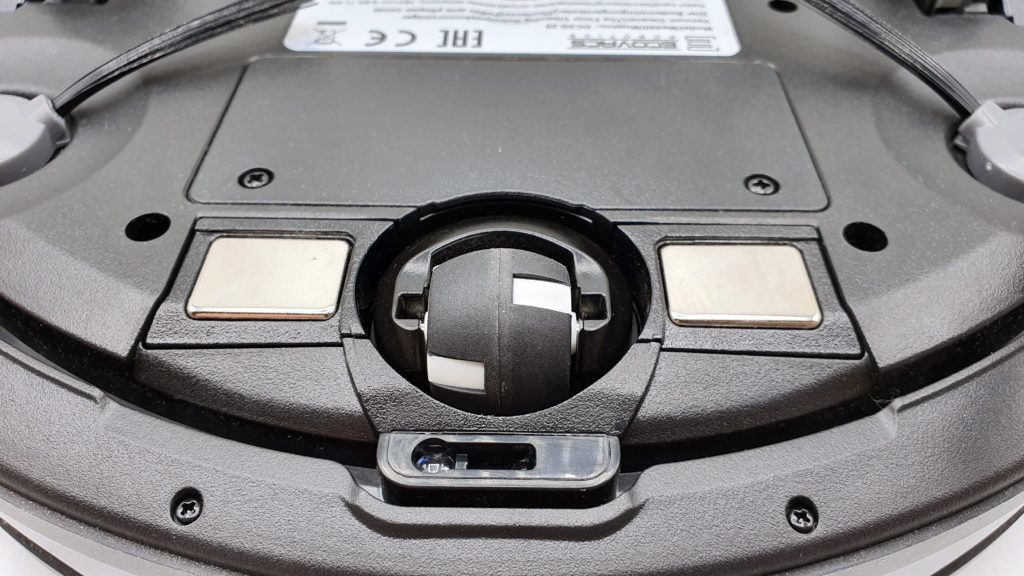 But the Deebot 502 especially two motorized wheels located laterally. Fairly classic in shape, they are well made and have a non-slip coating. With a rather large clearance for an entry-level robot, they allow it to easily pass door thresholds and easily cross obstacles up to 1.4 cm.
Above these wheels, of course, we find the essential side brushes. Two in number, they have long semi-rigid bristles intended to push the dirt towards the central suction mouth.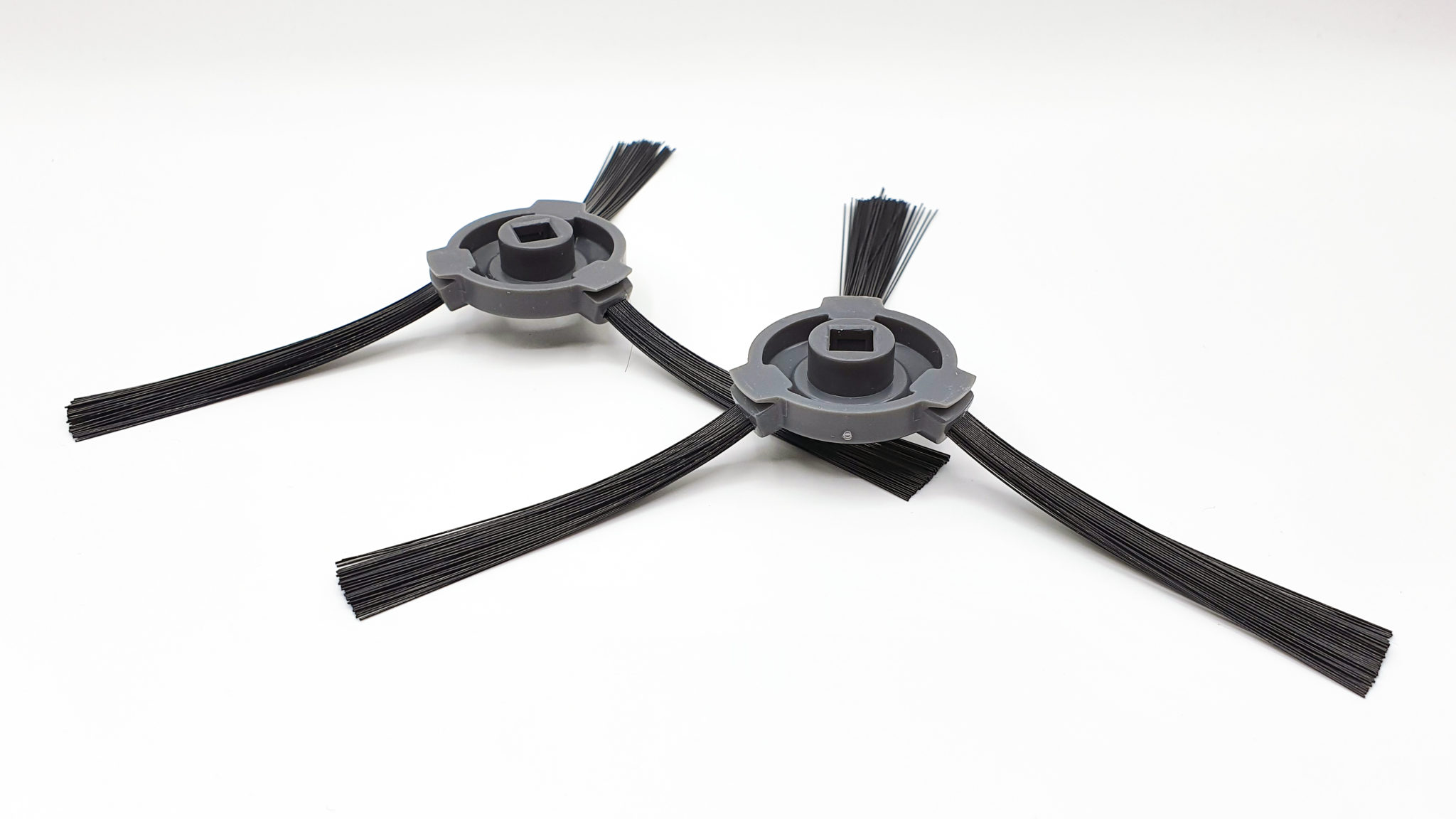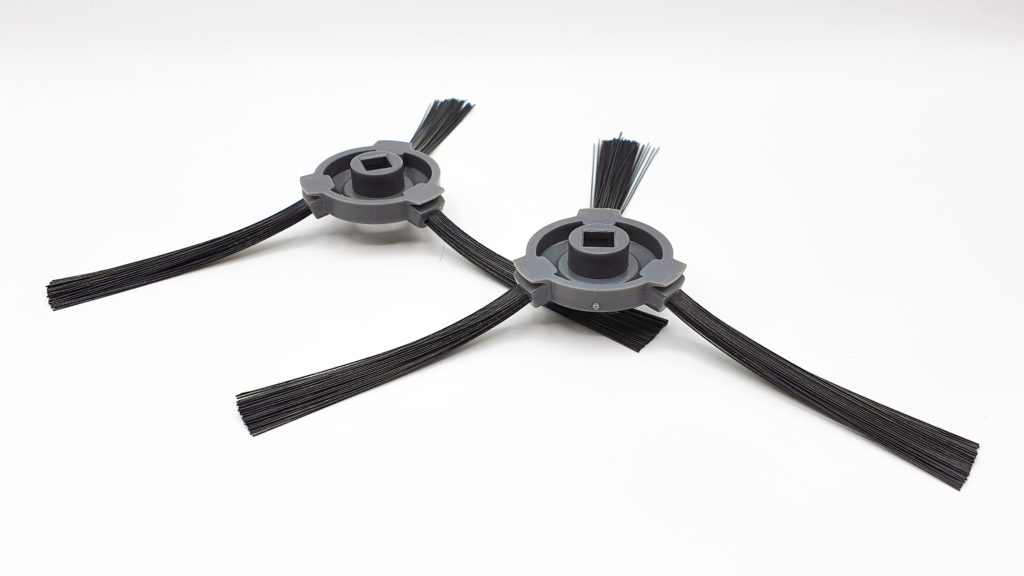 A central suction mouth fitted with a rotating brush, where many robots of this price are content to offer a direct suction mouth. We are reassured, the Deebot 502 is therefore a versatile robot able to treat hard surfaces but also rugs and carpets.
Ecovacs has not skimped on quality, we can only be delighted, this is rare on robots at 200 €. The Alexians
The brush is composed of a alternation of semi-rigid bristles and rubber strips arranged in v shape. Again, it's a surprise, because this brush is really similar to those of much more expensive robots. Ecovacs has not skimped on quality, we can only be delighted, this is rare on robots at 200 €.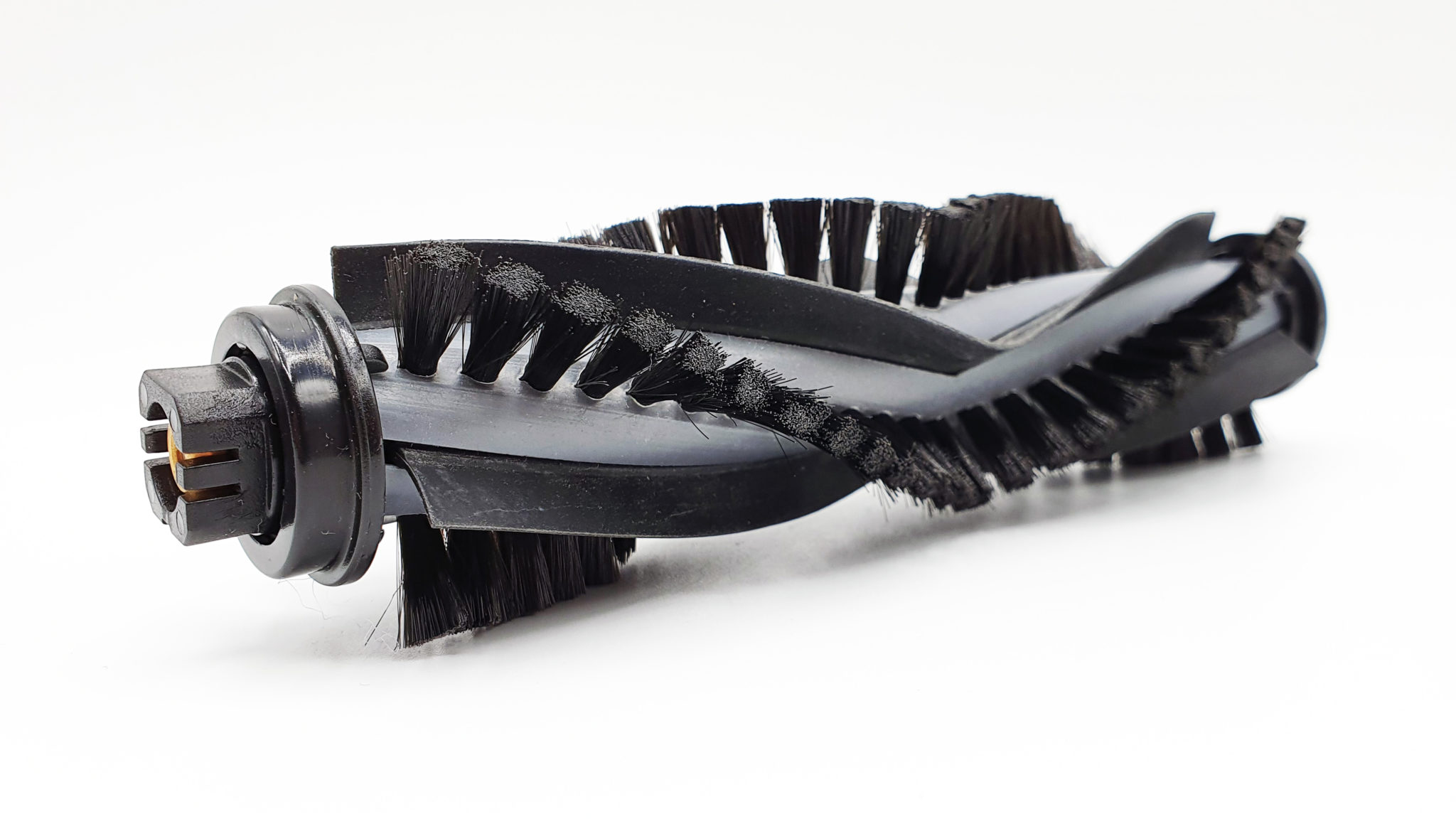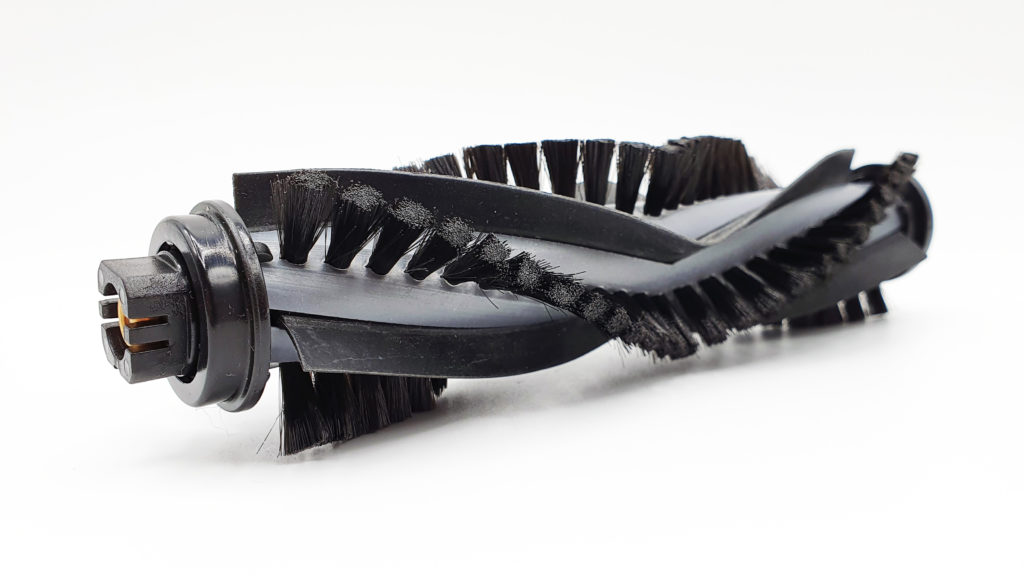 This central brush will take place, you will understand, at the level of the central suction mouth. Located between the two driving wheels of the robot, it can be easily removed in order to be cleaned and can even be removed if necessary. We note on its frame the presence of a rubber strip intended to scrape the ground well and to leave nothing in the way.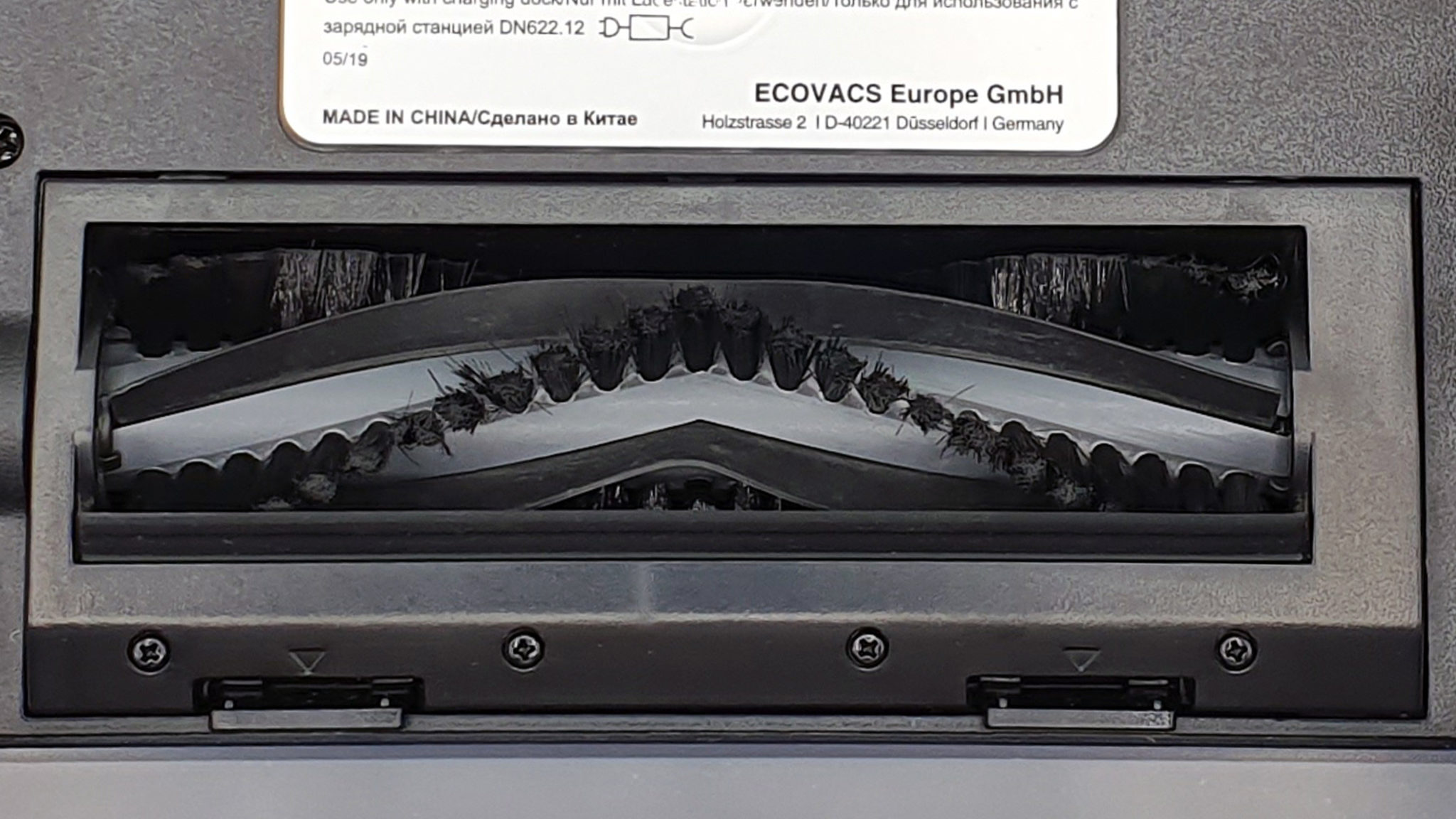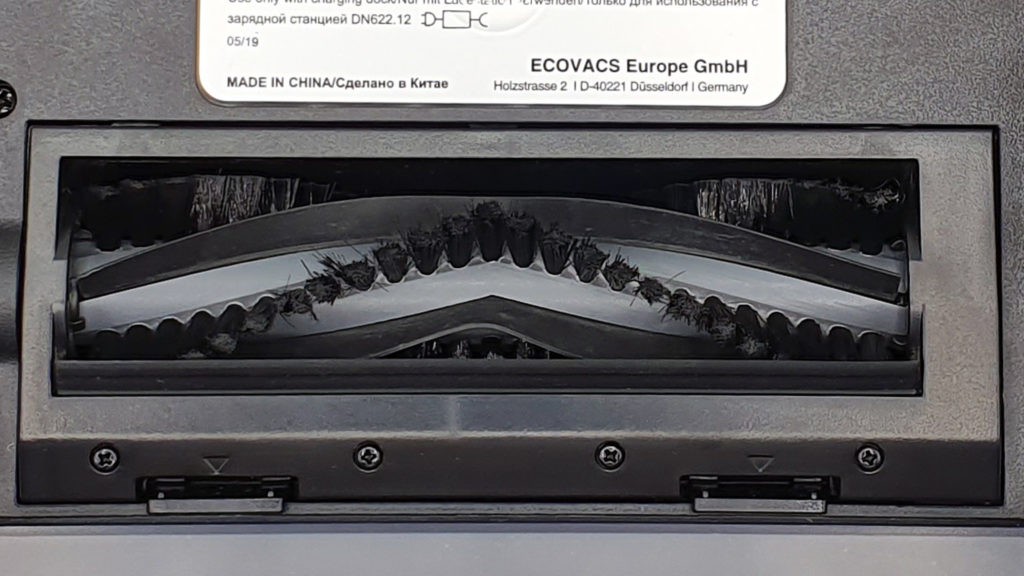 Logically, all the dirt will then be stored in the essential dust bin at the back robot vacuum cleaner. A push button makes it very easy to release it with one hand to empty it.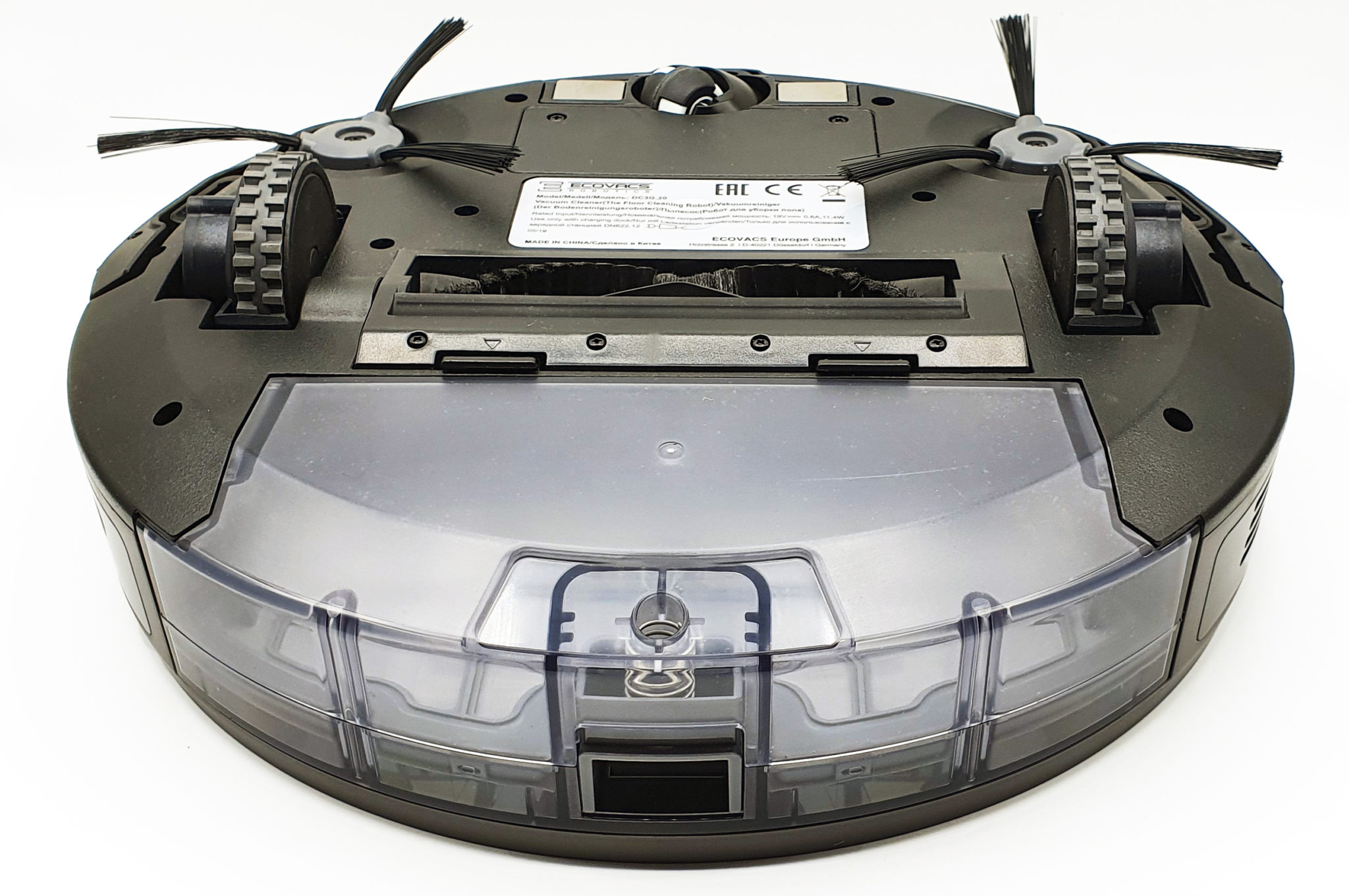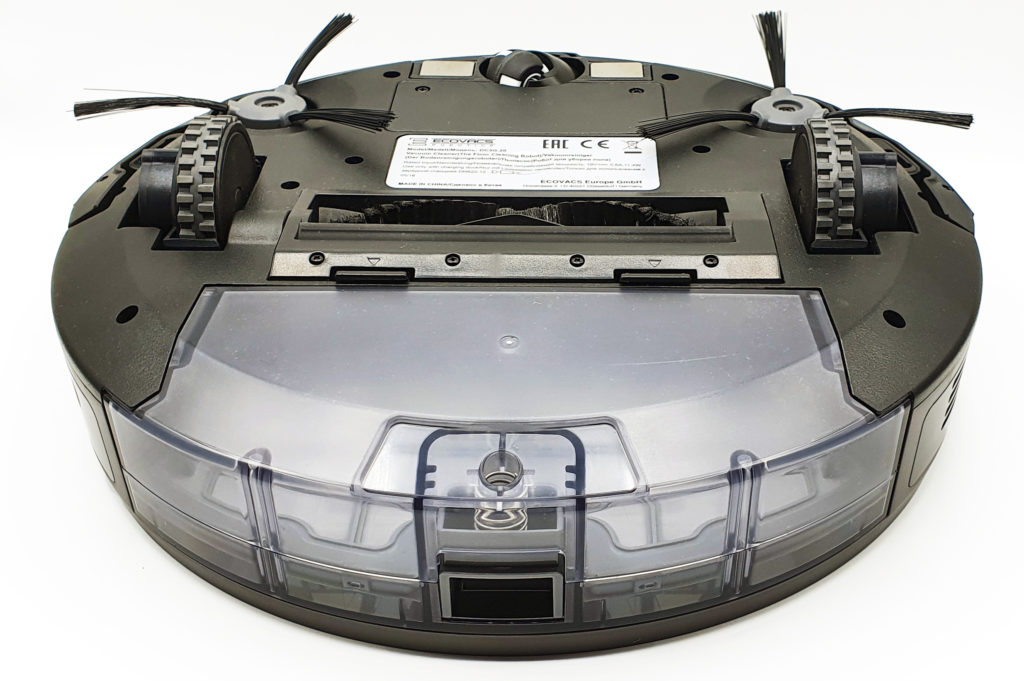 With a completely comfortable capacity of 520 mL , it takes place at the back of the device and integrates within it a first filter to stop dust, but also a HEPA filter accompanied by a foam surface to filter the finest particles and not release any allergens into the air. A hatch allows to access it very simply in order to clean it.
Finally, the Deebot 502 obviously comes with a charging station. Small in size, it is discreet and comes with an external power supply. No cable cover here, it's a shame but understandable, considering this is an entry-level robot. There is obviously an infrared surface that will emit a signal to allow the robot to find its way and come to recharge its 2600 mAh battery which allows him to reach 110 minutes of autonomy, a comfortable duration.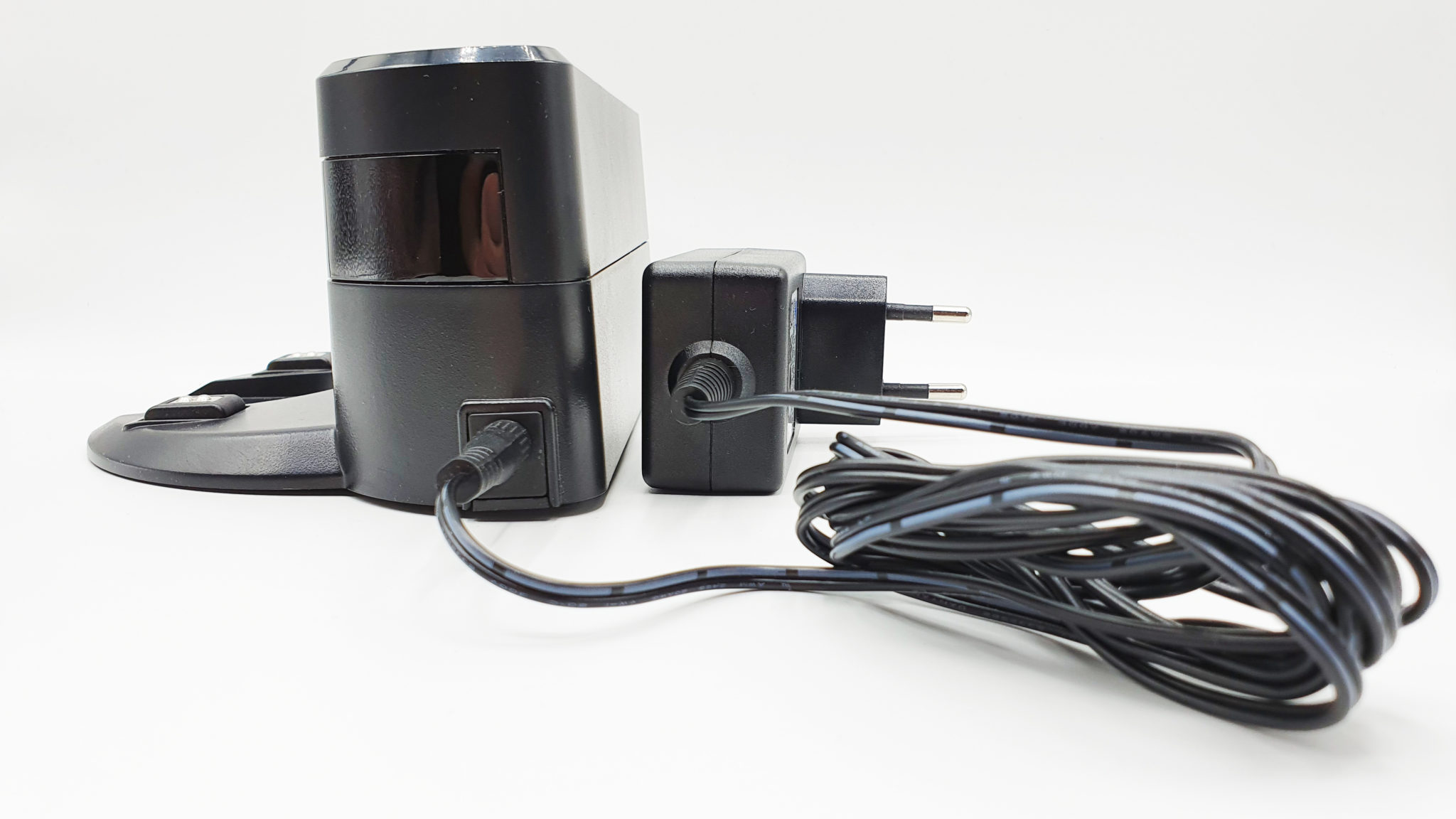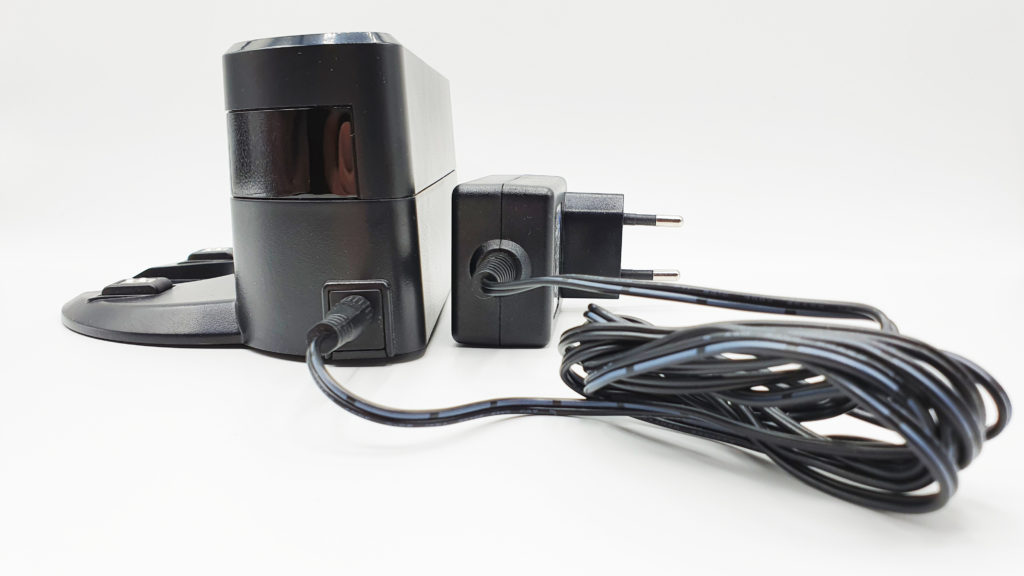 Well, all that is very nice, but what is this charming little vacuum cleaning robot worth? That's what we'll see in a moment!
Information
Brand:
Ecovacs Robotics
Model:
Deebot 502 - DC3G.20
Drums :
2600mAh Li-Ion
Aspiration:
NC
Dimension:
diameter 33.2 cm, height 7.9 cm
Weight:
2.95 kg
Autonomy:
110 minutes
Loading time :
4 hours
Remote control:
Remote control, app and voice control
Charging station :
dock type with external power supply
Dust container:
520ml
Connectivity:
Wi-Fi IEEE802.11 b / g / n 2.4 GHz
Accessories :
HEPA filter x1, brushes x2, dust bin x 1
Other:
Cleaning tool x1, quick start guide and user manual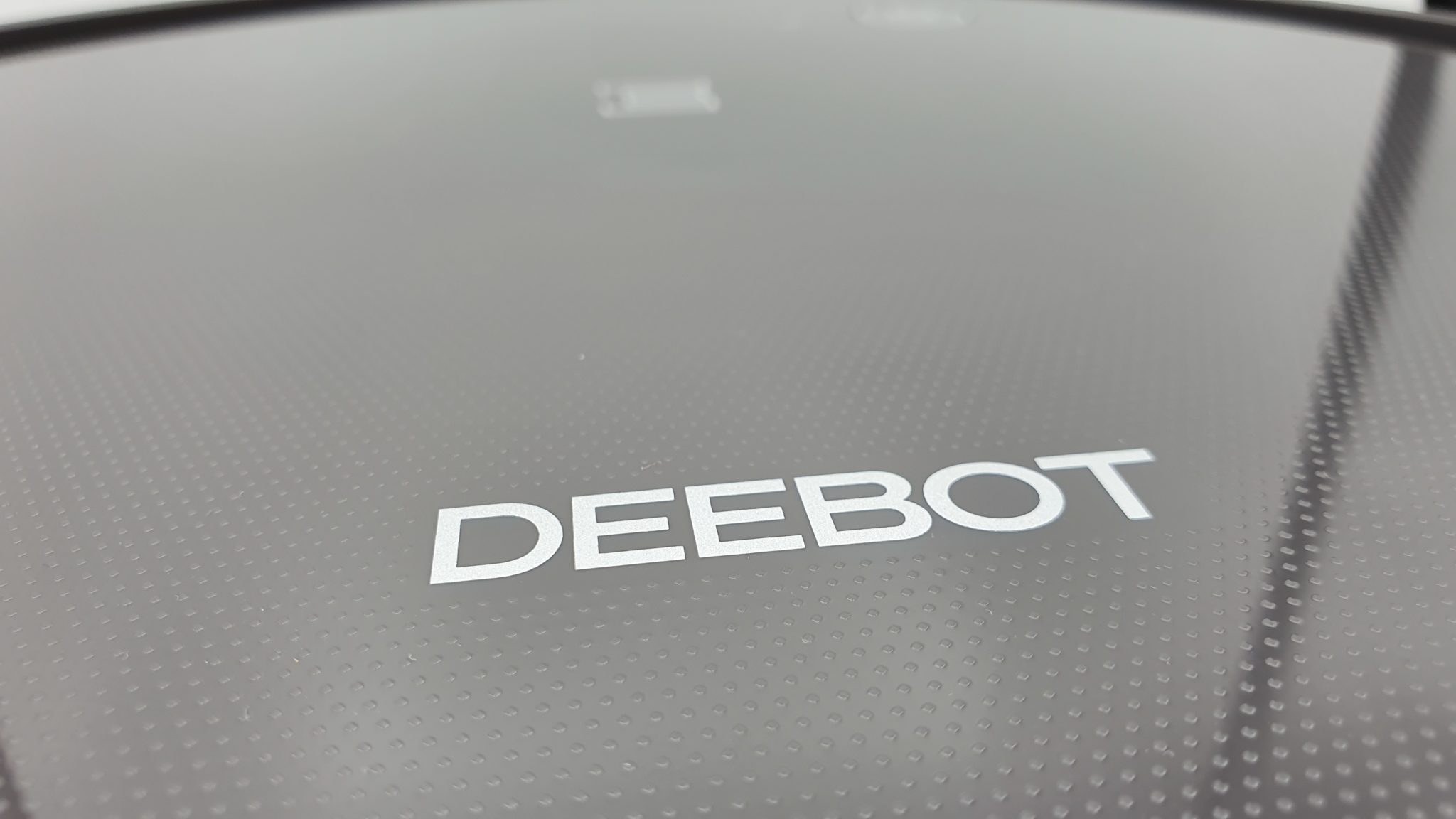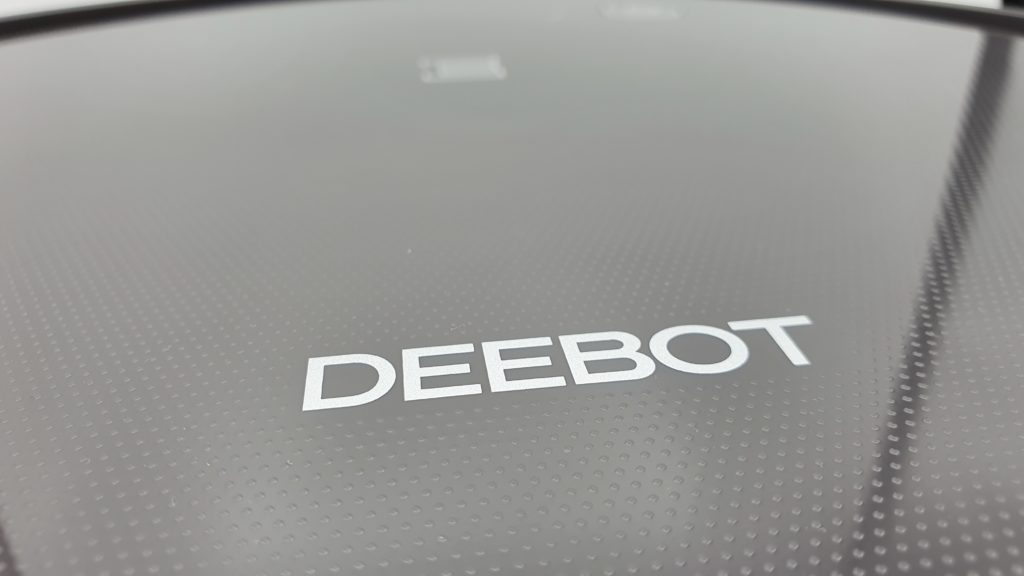 Deebot 500 series: simplicity and efficiency
A simple installation
If the Deebot 502 is a simple and affordable robot vacuum cleaner, it is nonetheless connected. In fact, in addition to a remote control, the latter can be controlled using the application. Ecovacs Home. An application that we know well and that we had plenty of time to present to you during the Ozmo 900 test and more recently with the very convincing Deebot Ozmo 920 review. A complete and very reliable application, we can guarantee it to you since we use it on a daily basis.
To install the robot vacuum cleaner, all you have to do is install the application for Android or iOS, then choose the device by selecting its model: Deebot 500 series.
After pressing the initialization button, the robot will first connect to your smartphone by sending a network with the evocative name of ECOVACS_XXXX. You will be asked to enter your SSID and password for the device to then connect to the Internet. The procedure is quick and the application guides you step by step.
Be careful, however, if you have a Tenda Nova MW6 mesh Wi-Fi router… Nothing to do, the robot never wanted to and despite dozens of attempts, it was impossible for us to connect it. Never mind, we therefore preferred the Wi-Fi of our ISP box and everything went off without a hitch.
This done, here we are on the application. Just as neat as the Ecovacs devices, its home screen shows us the different robots in our possession. So let's press on the visual of the Deebot 502 since we have already spoken to you extensively about its big brother now located below.
An efficient application
As this is an entry-level robot, the functions are obviously smaller, but still relatively numerous. Presented very similar to the Ozmo models, the interface is as elegant as it is easy to use. No need to search everywhere, the main functions of the Deebot 502 fall naturally under our fingers.
The main functions of the Deebot 502 fall naturally under our fingers The Alexians
Three main sections are proposed: the edge cleaning, automatic cleaning or random, and the zone cleaning. At the top right, three small dots allow you to adjust the suction power robot (standard or max), but also to define cleaning programs, consult the cleaning log, to know when to replace robot accessories, baptize the Deebot 502 and rename it as you see fit, but also locate your vacuum cleaner at any time.
You also find two big buttons : one for launch the robot, the other for send it back to its base loading.
There are therefore three cleaning methods:
Edge: it allows cleaning of edges, along walls and in corners.
Automatic: it is the random mode which launches the robot to attack your home and leaves it master of its destiny. The Deebot then performs what is called a systematic cleaning. Fear not, although it doesn't do any mapping on the app, it still doesn't come back to the same spot ten times.
Area cleaning: also called spot cleaning or " spot cleaning", This is a feature that allows you to clean the area where the robot is located. He will then describe arcs of a circle by gradually widening his area. Practical when a domestic accident occurs, it allows efficient vacuuming of an area without having to do the entire room.
A compatible robot Amazon Alexa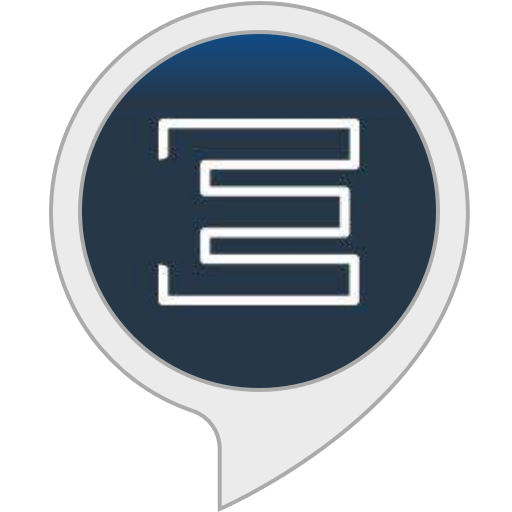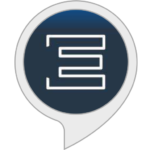 Like all the robots we test, the Deebot Ozmo 920 is compatible with Alexa and skill available on Amazon. Fr. If the skill of the Proscenic 800T had turned out to be somewhat capricious, that of Ecovacs works perfectly. Unfortunately, the robot does not yet offer as many possibilities as the Roborocks, but the main controls are perfectly functional.
Here is the list of possible commands:
« Alexa, ask DEEBOT to start cleaning ", you will understand, allows you to initiate the cleaning process,
« Alexa, ask DEEBOT to stop cleaning » allows to stop this same process,
« Alexa, ask DEEBOT to suspend cleaning " allows you to pause the robot, if you have an important call for example,
« Alexa, ask DEEBOT to resume cleaning ", when your call is finished, will restart the robot,
« Alexa, ask DEEBOT what is it doing? " lets you know what the robot is doing,
« Alexa, ask DEEBOT to return to its base " allows the device to be repatriated to its charging station.
Deebot 502: a perfect first robot
Robot vacuums, as you know, are a real "Alexian passion". After having tested more than ten models, some of which were not presented here due to their poor performance, we were sometimes disappointed, sometimes totally charmed, but generally quite satisfied. Indeed, if there is one device that for us seems essential in any connected home, it is the robot vacuum cleaner.

Et Ecovacs Robotics clearly did not steal its leading position in this market. Market that the Chinese company knows better than anyone since it works for famous Western companies by manufacturing and designing vacuum cleaners and robots of many brands in OEM.
Like proscenic, it is indeed originally the main activity of the company which counts among its customers such prestigious brands as Hoover or Philips. Holder of more than 600 patents, Ecovacs is a company at the forefront of household robotics and this is reflected in each of the models that we had the chance to test. Indeed, as we tell you each time, we have always been seduced by the quality of the products offered by this brand which, for us, simply offer the best quality / price ratio on the market.
We have always been seduced by the quality of the products offered by this Ecovacs which, for us, is quite simply the best currently available on the market. The Alexians
With a pleasant design, quality assembly and more than honorable performance, the Deebot 502 is no exception to the rule and finds its place in the Deebot range. Its cleaning, said systematic, is frankly effective. Forget about robots that bounce in a totally random and disorderly fashion, the Deebot 502 does better than that!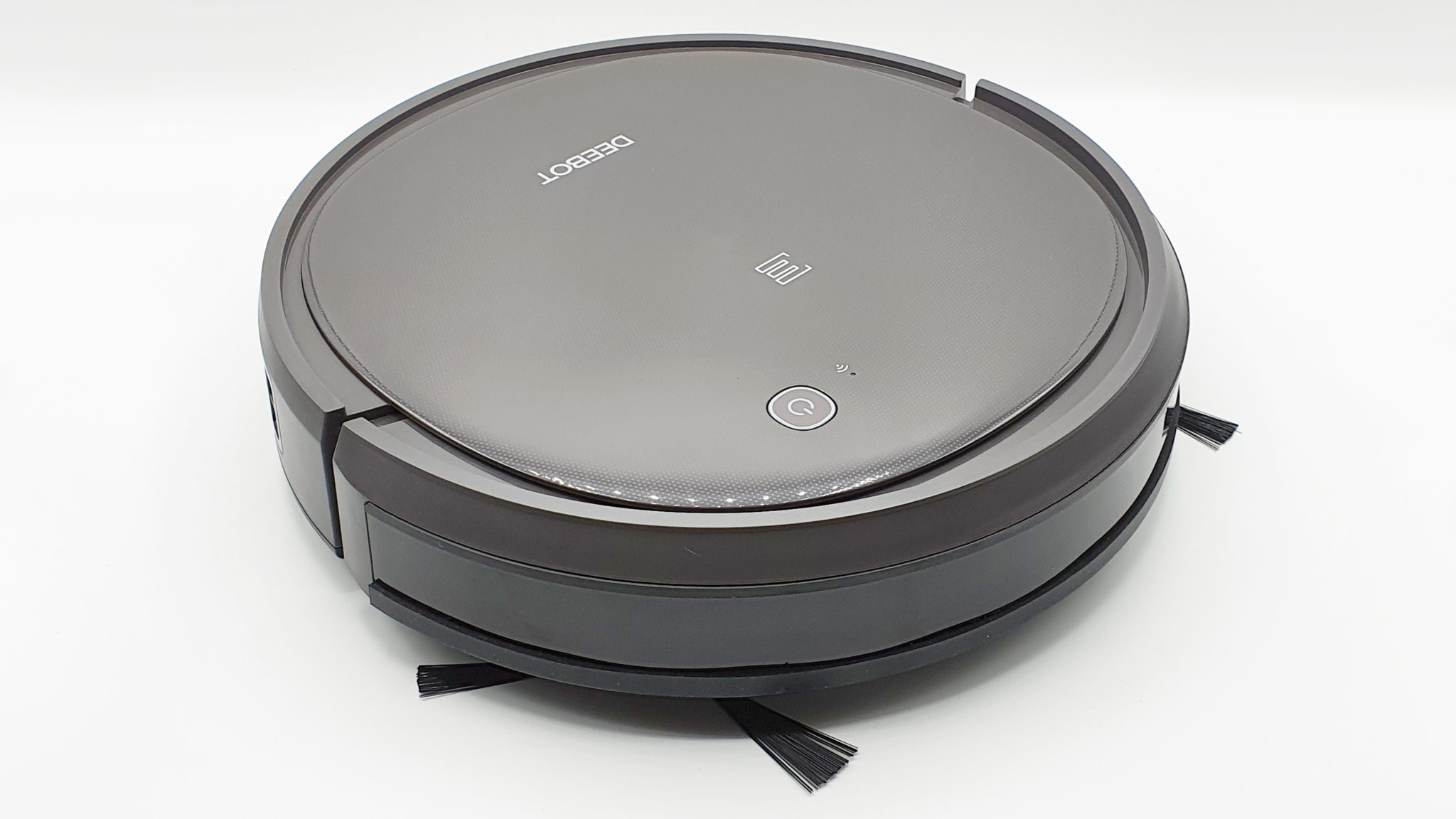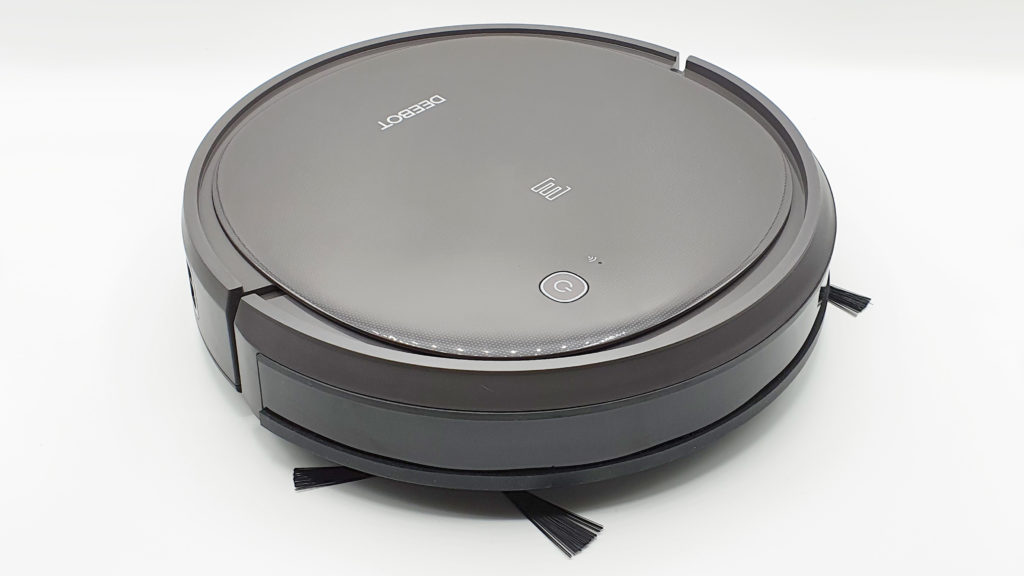 Admittedly, it does not map, but it does follow a logic, does not come back to the same place ten times and almost does not forget anything, as long as you prepare the ground for it a little. Carpets are not his enemies, he knows how to climb them and does quite well on them. Its central brush, with a design worthy of robots twice as expensive, also allows it to dislodge almost everything. Having tested just before the market leaders, we expected it to come back a little empty-handed: nay, the Deebot 502 is quite powerful enough and does a quality job. We were really pleasantly surprised!
The big improvement that we can note compared to other models of the same category concerns the absence of violent collisions. The Deebot 502 indeed spares your furniture and does not systematically collide with furniture or chair legs as we had observed on the Proscenic 800T. He even manages quite surprisingly well with the cables lying around, comes out on his own from a situation where we thought we were trapping him. In short, this robot vacuum cleaner is a great surprise!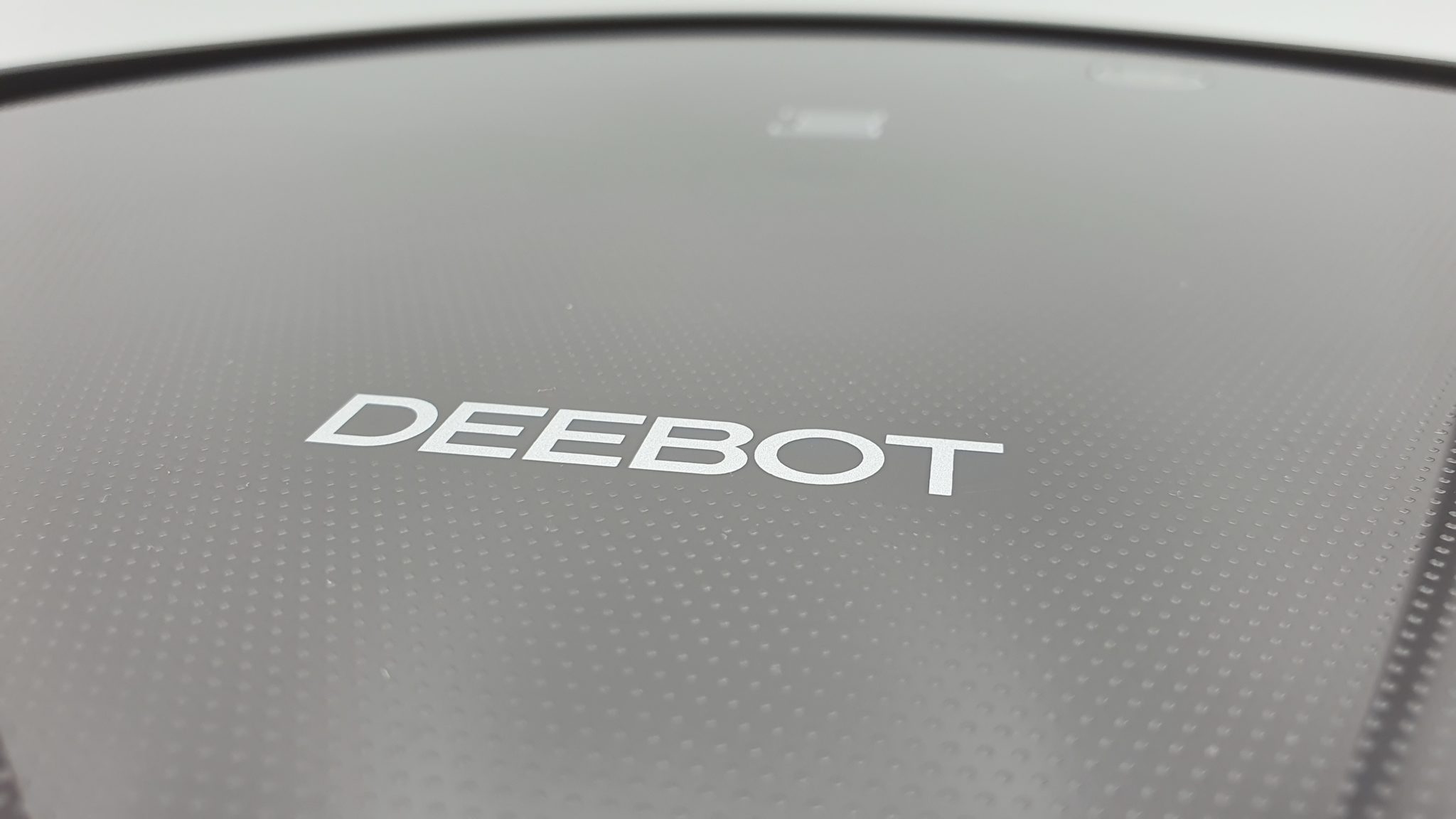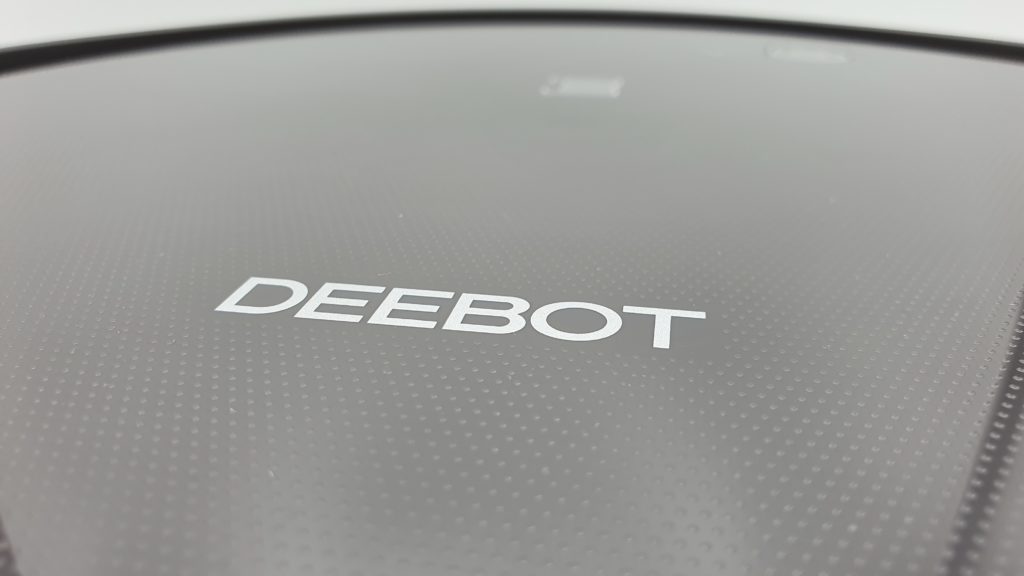 Marketed at around € 200 on Amazon. Fr, the Deebot 502 is in our opinion an excellent choice for those who wish to discover all the comforts of the connected household at low cost.The Alexians
Obviously, it is not devoid of faults, foremost among which we can cite theabsence of application mapping. Certainly, at this price, we have never encountered such a feature, but real-time mapping would already be a plus. Besides, it would probably make it easier for him to find his base more easily. Here again, this trial and error is unfortunately still the preserve of entry-level robots, so it is not a reproach but more a desire that we formulate for the future. Finally, we would have liked a mop wash function with a tank like on the Deebot 715. Obviously, this would probably have had the effect of inflating the price of the robot but, who knows, it may already be in the pipes of Ecovacs!
In conclusion, this Deebot 502 from Ecovacs is

a great surprise

. Its very successful design makes it an attractive object and its very small size a discreet device. Connected and controllable by voice with Alexa, its application offers simple but effective features. Because, yes, the Deebot 502 is clearly an efficient robot. Its brushes do their job well, its suction power is quite sufficient for everyday use. Its plus: a remote control that allows anyone to use it or not to systematically have to unsheath its smartphone. Marketed at around € 200 on Amazon. Fr,

the Deebot 502 is in our opinion an excellent choice for those who wish to discover all the comforts of connected household at a lower cost

.
159,90€
In stock
Refurbished from 1
August 13, 2022 9:50 a.m.
ECOVACS Robotics DEEBOT 502 Robot Vacuum Cleaner
199€
Most
A pleasant design and quality services
Efficient suction
Systematic navigation but does not bump everywhere for all that
Control with app and remote control
Good autonomy of 110 minutes
The lessers
No mapping, even in real time, on the application
No washing function