We presented to you, last week, the Proscenic 800T robot. A first successful foray into the world of connected household since it was our first compatible robot vacuum test Alexa. Eager to present to you a complete selection of best devices on the market, we have now chosen another famous brand in the very closed world of cleaning robots: ECOVACS.
If society Ecovacs Robotics offers a wide range of connected robots, our choice this time stopped on a more upscale model: the Deebot Ozmo 900. A model offered at 499 € on Amazon. Fr , price range in which we find the most efficient devices on the market. A robot that promises to respond to the shortcomings observed on entry-level models because it relies on ever more innovative technologies. Without further ado, let's see what kind of wood this robot vacuum cleaner and cleaner has to offer.
303,34€
In stock
Refurbished from 1
August 13, 2022 14:50 a.m.
Ecovacs Deebot Ozmo 900: the wow effect!
A market leader in robotic vacuum cleaners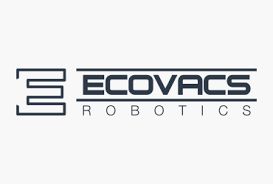 Before getting to the heart of the matter, let's take a look at the company behind this robot. Created in 2006, Ecovacs Electrical Co, LTD from the start launched into the world of household robots with its brand Ecovacs Robotics. A year later, in 2007, the Deebot series was born after months of research and development. Anxious not to be confined to the only ones robot vacuum cleaners, the company is launching a new device in 2011 which may well also arouse your interest: a window cleaning robot!
After a rapid development in China, its home market, in 2012 the company established solid subsidiaries in Japan, Germany and the United States. Subsequently, it extended its sales to a large number of other markets such as Canada, the Czech Republic, Iran, Malaysia, Poland, Spain, Switzerland, and of course our dear country, the France.
In 2017, Ecovacs becomes so the APAC market leader (Asia Pacific) robotic vacuum cleaners according to Euromonitor International. In the highly competitive European market, the company then quickly and logically rose to the rank of No. 2 in terms of market share. A reputation that immediately gives us confidence for the rest of the events, namely the test of one of their best robots: the Deebot Ozmo 900.
Unboxing and presentation
The robot comes in a large beautifully crafted white cardboard using the logo ECOVACS Robotics, the model of our robot DEEBOT OZMO 900 and a visual of the device. The presentation is really clean and neat, the design of the device seems pleasant, which immediately gives us confidence.
When opening, our impression of quality is confirmed by a very neat presentation again: the robot is perfectly wedged and the accessories stored in small boxes. As we suspected, theEcovacs Deebot Ozmo 900 is a really nice device. Its sparkling white color makes it a most aesthetic robot that will blend in perfectly with contemporary interiors.
Round in shape, it presents at its top a Laser rangefinder flocked with the brand's logo - we will come back to its usefulness - as well as a power button. Both are circled in metallic gray: we appreciate the attention to detail. We also find a discreet mention of the family of robots to which it belongs: Deebot.
Its circumference presents a bumper black and white with rubber protectors resuming the gray keys present elsewhere on the device. The design of the device looks really qualitative and its weight of 4.3 kg augurs well for a powerful device. Its look is resolutely modern, the Deebot is really robot-like with its black infrared visor. In writing, it is unanimous!
The contents of the packaging are, here too, complete. There is obviously the device, its main brush with suction cup, but also two mops in blue striped microfiber with neat finishes which suggests that they are qualitative, two sets of brushes cleverly differentiated by a green or red center piece depending on which side you need to place them (you know, like the famous Kickers shoes from our childhood!), two particulate filters to avoid discharging dust into the air, a dust bin, a water tank and the essential dock where the robot will come to take a deserved rest and recharge its batteries before a new cleaning session.
Finally, note the presence of a instructions for use perfectly translated into French and a small tool to make cleaning the brushes of the appliance easier. Everything is there!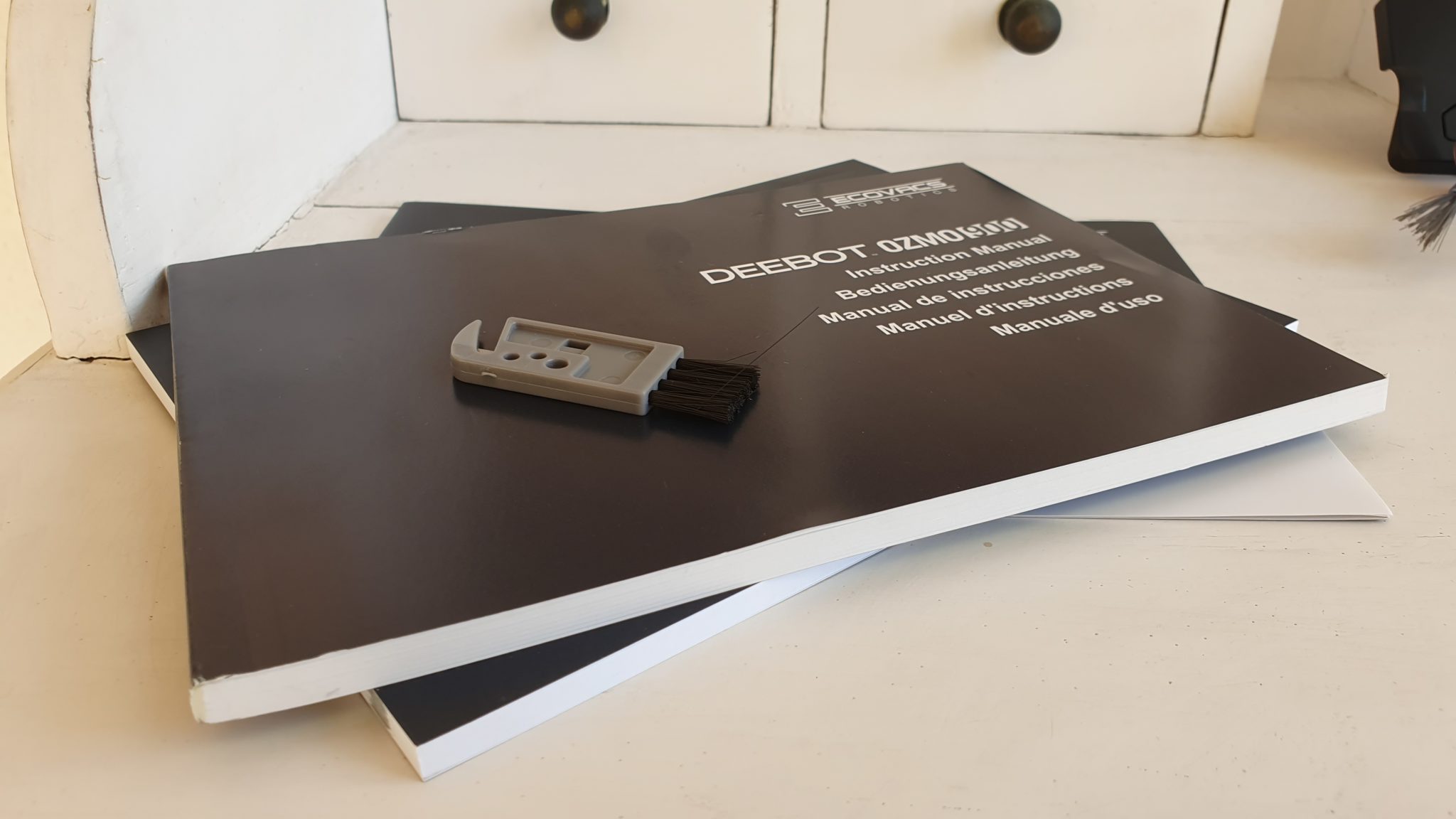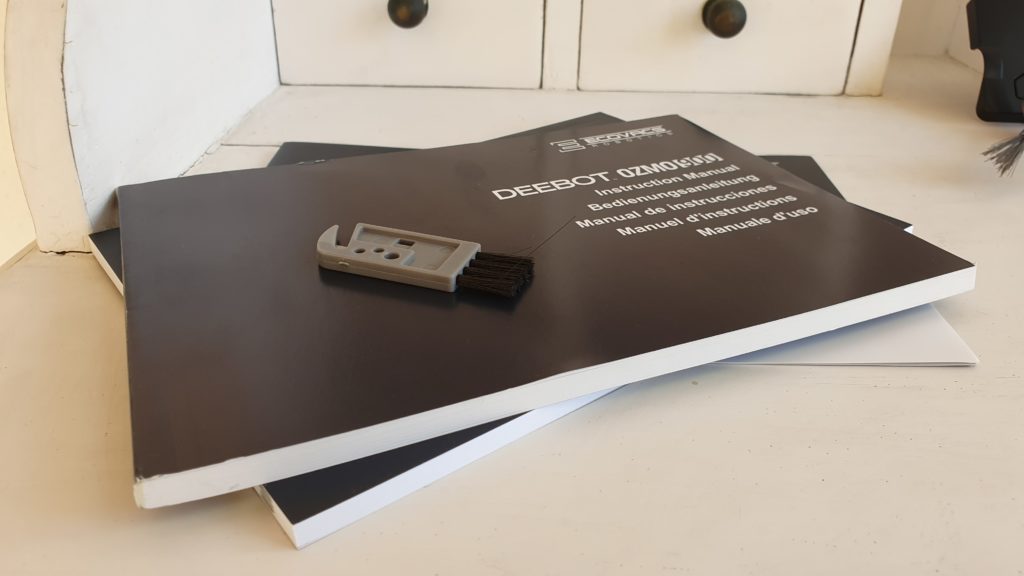 But let's take a look at what's underneath ... Like most robot vacuums, the Deebot Ozmo 900 moves thanks to three wheels: two central placed on each side of the appliance and a steering wheel located at the front. Two contactors for recharging are placed on either side of the front wheel.
The aspiration is ensured by a central mouth provided with rotating brush equipped with rubber squeegees and a suction cup for good contact with the ground. This has two bars preventing large objects or debris from blocking it - we think in particular of the wires that often lie around in our connected homes. The brush also seems more qualitative than on other models, its bristles being flexible and their density high. The two side brushes are also perfectly in contact with the ground thanks to a smart design which allows them to better bring dirt back to the suction mouth.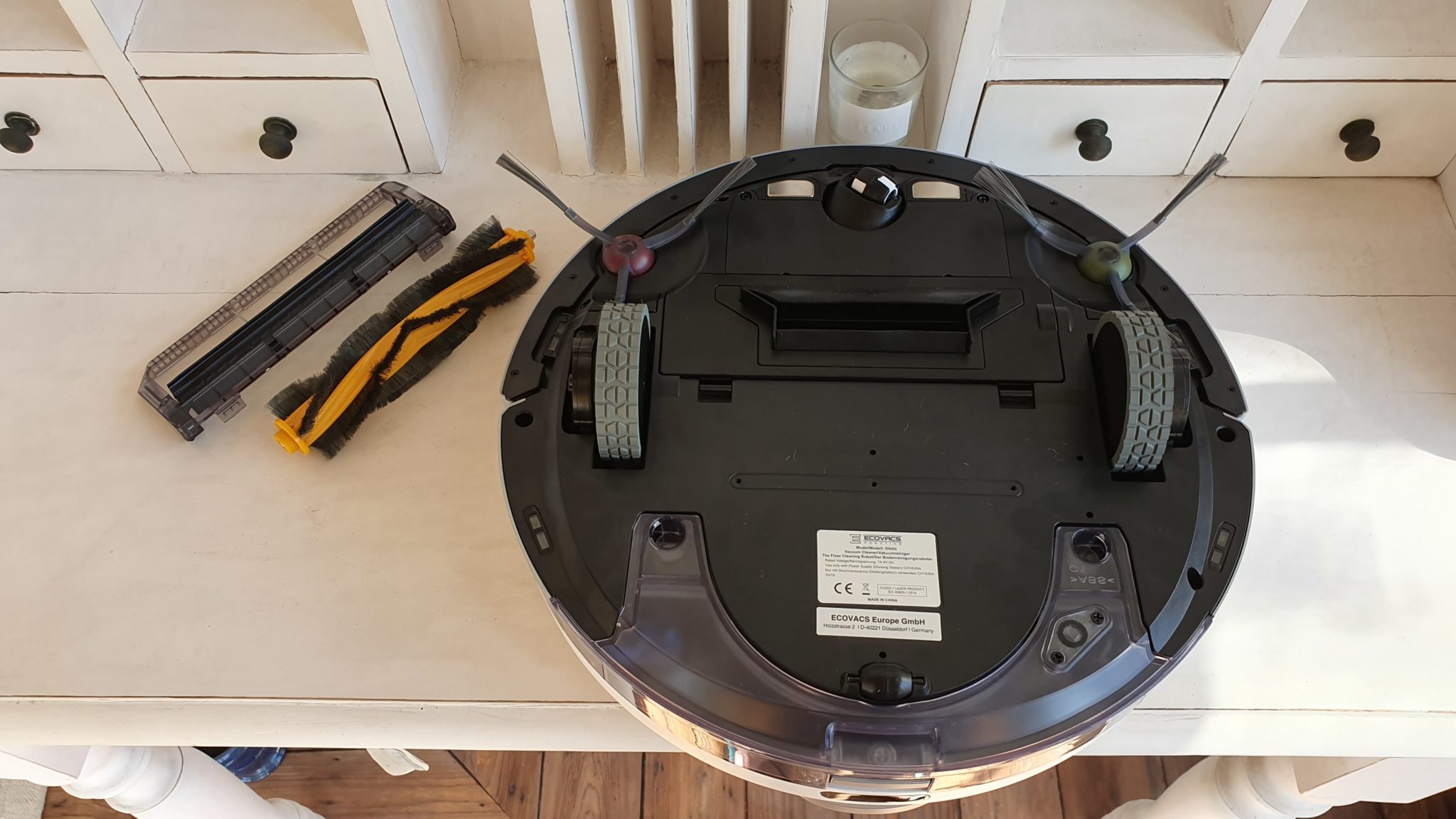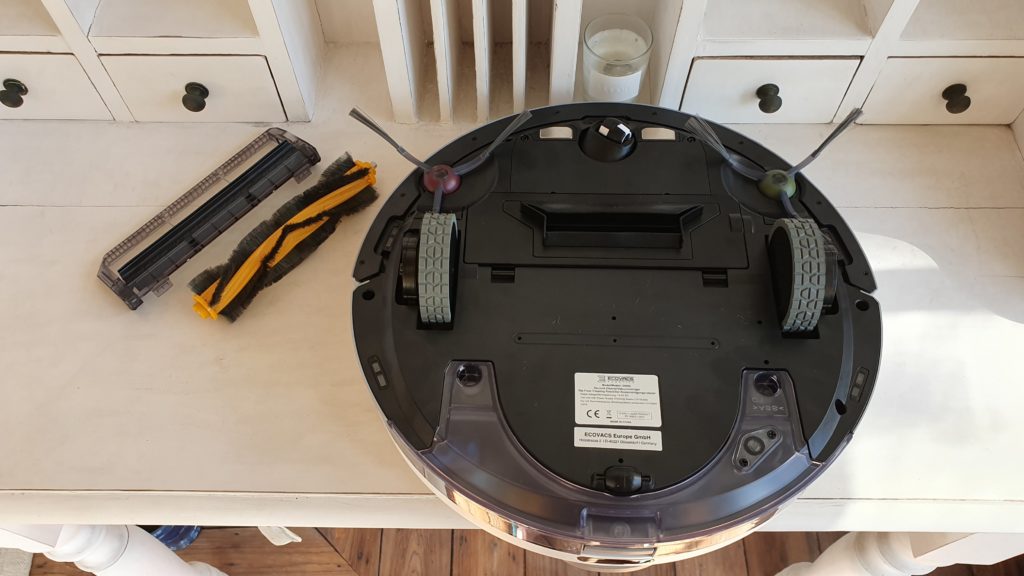 You can also opt for a direct suction mouth if you have animal hair and other hair long to pick up, this will prevent the robot from seeing its brushes jamming. During our tests, we also noticed that this significantly increased the suction capacity due to a smaller opening, which can be practical in a lot of cases.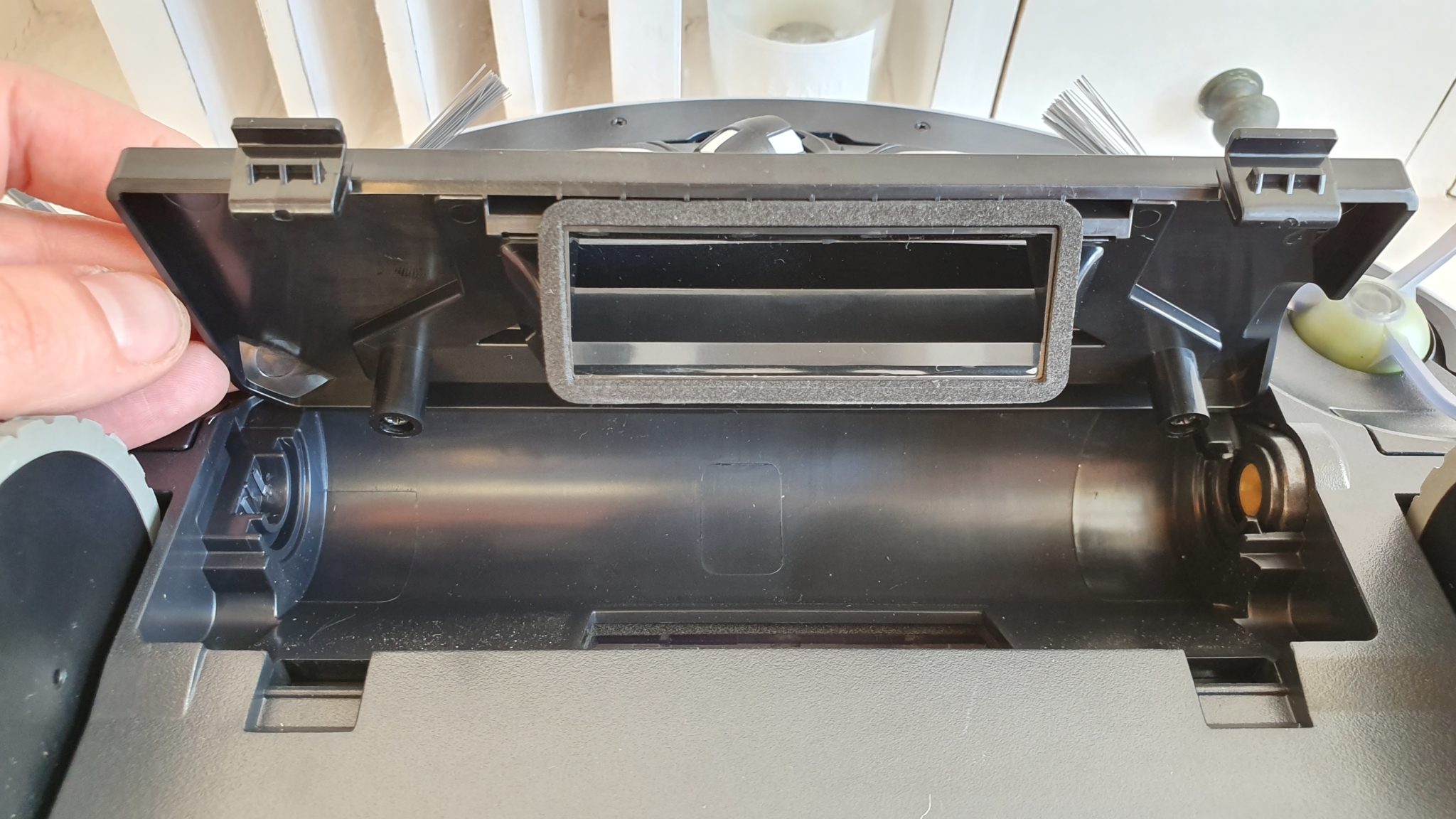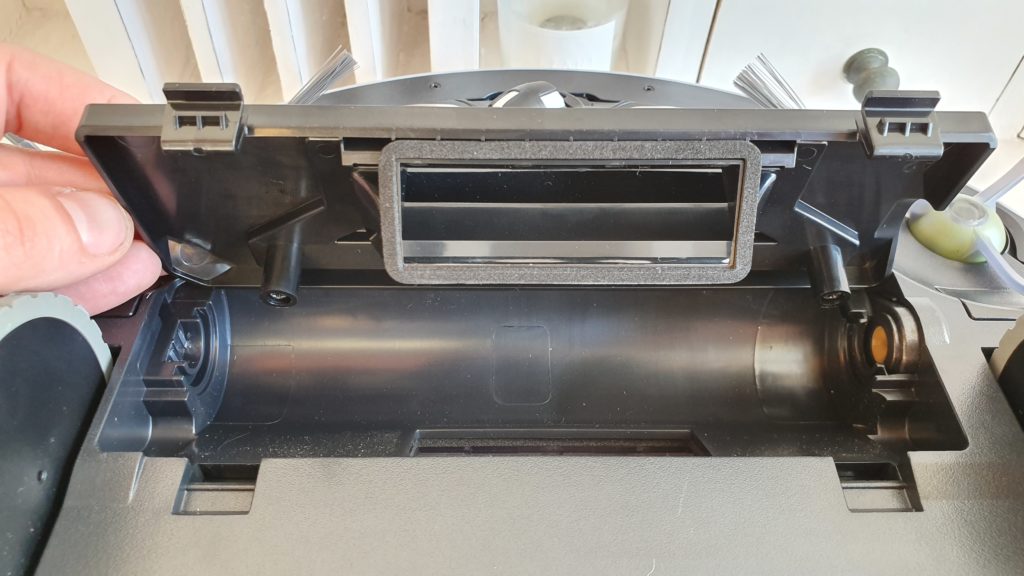 At the back of the device, two holes make it very easy to place a plastic plate fitted with scratchs to hang a rather large mop for this type of device, a sign that theEvovacs Deebot Ozmo 900 is probably a good washer in addition to being an efficient vacuum cleaner.
We note the presence of a rolling part at the back and three infrared sensors located as often at the front and side, whose function is toprevent the robot from falling down the stairs.
Finally, let's take a look at dirt storage spaces collected by our new robot. They are of two types: one for dust - placed under the hood of the device - and the other to contain water necessary for cleaning. The first has a capacity of 450ml, as on the Proscenic 800T, the other of 240ml which may seem weak, but in fact seems to us perfectly sufficient to clean two or three rooms.
Let's recap it all, as usual, taking a look at Its technical sheet.
Information
Brand:
Ecovacs Robotics
Model:
Deebot Ozmo 900
Drums :
2600mAh Li-Ion
Aspiration:
2000 Pa
Dimension:
diameter 35 cm, height 10.2 cm
Weight:
4.3 kg
Autonomy:
100 minutes
Loading time :
4 hours
Remote control:
app and voice control
Charging station :
dock type
Accessories :
HEPA filters x2, brushes x4, direct suction inlet x 1, reservoir x 1, cloths x2, cloth plate x1,
Dust container:
450ml
Water reservoir :
240ml
Connectivity:
Wi-Fi IEEE802.11 b / g / n 2.4 GHz
Other:
Cleaning tool x1, MU pack x1 and user guide
Ecovacs Deebot Ozmo 900: a devilishly efficient robot vacuum cleaner
Installation
Before launching the Deebot Ozmo 900 to storm our apartment, we obviously have to go through the essential installation phase. Like any connected device, this one has an application for Android ou iOS that should be downloaded beforehand.
This done, we discover an application just as neat as the device that we just unpacked. The welcome screen asks us to identify ourselves, but we are going to register first, it's still better. After entering our e-mail address, we must logically choose a password. Classic. Once this operation has been carried out, we are faced with a card telling us that we have no robot and inviting us to install one. At the same time, the application is of little use without breathing machine!
The application offers a double menu including all the connected robots Ecovacs: 17 different devices are available, it's impressive! The company indeed offers two ranges: Deebot et Deebot Ozmo. The first belong to the entry level, the second to the high end. Our robot Deebot Ozmo 900 is therefore a high-end device, which promises us to have a good time testing and observing it.
Two options are available to us: choose the device by selecting its model or scan its QR Code. And here we are in front of the traditional login screen to our Home Wi-Fi IEEE 802.11 b / g / n. Once the SSID and password are entered, the device connects to the Internet very quickly. You will not be surprised to learn that the robot only accepts the 2.4 GHz band. Why? Quite simply because the volume of data passing through the device is not important and the robot being doomed to move everywhere in your home will benefit from better coverage than at 5 GHz.
Back to the application. Once again, the device is elegantly presented with its visual and a status indicator telling us that it is online. That's good, we want to test it, but let's explore the application a little before that.
Using the app
The application is well thought out, fluid and easy to use. We find on the left a menu allowing us to access the information of our Ecovacs account, with the possibility of choosing a photo and a nickname, the username being imposed and associated with our e-mail address. A tab allows you to share device with a loved one and why not with Conchita if you haven't already fired her. Yes, you will see, there is a good chance that this robot vacuum cleaner and mop will replace it effectively, but let's get back to our sheep. No dust, of course, it is now the business of Deebot!
At the top right of the application is a small bubble-shaped pictogram. This is the"Messages" space. You will find the messages from the robot, those from the robot's sharing, and its status notifications.
In the center of the application, a card with the visual of the Deebot Ozmo 900 finally allows us to access the robot's main settings via three small dots placed at the top right. In a classic relative location and that we can easily spot.
Among the options we find the setting of the cleaning power : standard or max (obviously, the robot is noisier in max mode, you can imagine).
You can also choose water flow used by your OZMO 900: low, medium or high. The latter will wet the ground more or less if you wish, practical for adapting the robot to the state of cleanliness or the nature of the ground.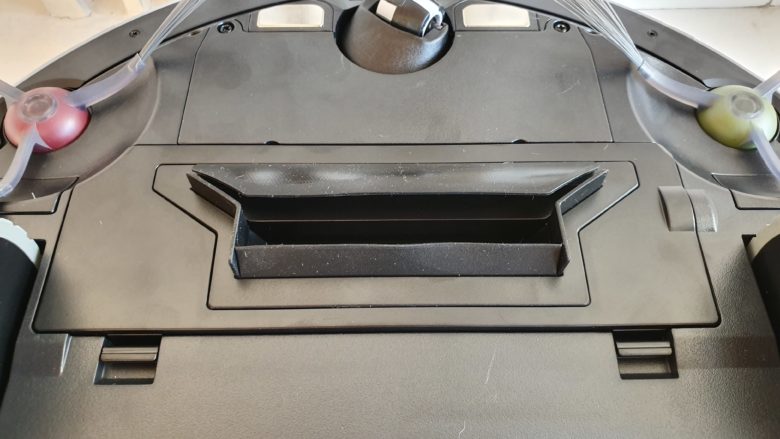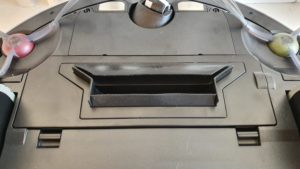 Another interesting option to note is the possibility for the robot to detect carpets and rugs in order to apply a more consistent suction. An excellent point because many lower end robots fish on these types of surfaces which tend to keep dust. This option is for use with direct suction mouth, i.e. not equipped with a central brush, which will really vacuum carpets and rugs: DEEBOT OZMO 900 is really suitable for all surfaces!
You can also program the cleaning hours simply in the app.
If you have a large home and the Deebot Ozmo 900's autonomy of more than an hour does not allow it to go into all the rooms, an option to resume cleaning after recharging is also possible. The robot will start to recharge before picking up where it left off. Again, that's what makes the difference at this price point: it's a smart device.
Finally, you can obviously consult the robot's log with its cleaning log. Useful to check if your new slave has done his job well! You even find an accessory usage gauge to know exactly when different cleaning consumables are changed. Smart because we don't necessarily always know when to change a particular brush or if the particle filter is still effective.
In short, everything is there, everything easily falls under our fingers: this app is really well designed. But, like any self-respecting Alexien, we are not going to launch our robot thanks to the latter ... We will of course activate the Ecovacs Deebot skill and start the device by voice using our voice assistant: Alexa!
A compatible robot Alexa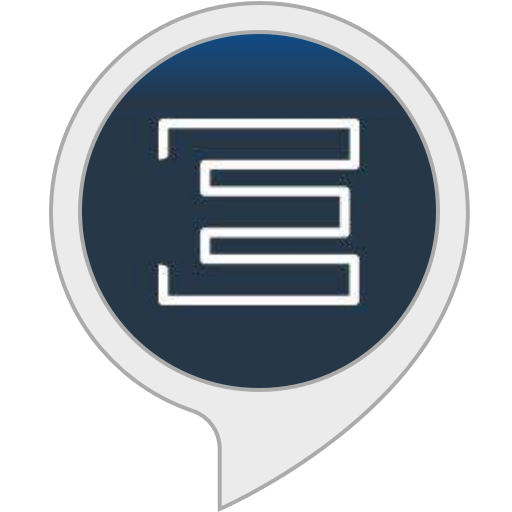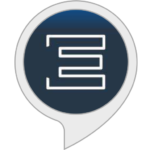 If the question still burns your lips, you will be delighted to hear that yes, this robot is compatible with Alexa. If the skill of the Proscenic 800T had turned out to be somewhat capricious, that of Ecovacs works perfectly. Better yet, it offers many more possibilities than just starting up and returning to basics. We can indeed ask a number of things to Alexa. Ecovacs has also chosen a name that is more logical and easier to remember than "clean bot" or " smart bot ": DEEBOT. That's good, that's his name!
Here is the list of possible commands:
« Alexa, ask DEEBOT to start cleaning ", you will understand, allows you to initiate the cleaning process,
« Alexa, ask DEEBOT to stop cleaning » allows to stop this same process,
« Alexa, ask DEEBOT to suspend cleaning " allows you to pause the robot, if you have an important call for example,
« Alexa, ask DEEBOT to resume cleaning ", when your call is finished, will restart the robot,
« Alexa, ask DEEBOT what is it doing? " lets you know what the robot is doing,
« Alexa, ask DEEBOT to return to its base " allows you to bring the device back to its charging station.
Ecovacs Deebot Ozmo 900: a more than conclusive test
The qualities
For starters, it's a quick vacuum. Indeed, he gets through a 75 m² apartment in about 30 minutes. Not bad at all! Although it is a little louder than the Proscenic 800T and its 55 dB, it is also relatively quiet for a vacuum cleaner with only 66 dB in mode. In fact, this is probably explained by the fact that it is more powerful. In any case, that is the impression he gave us.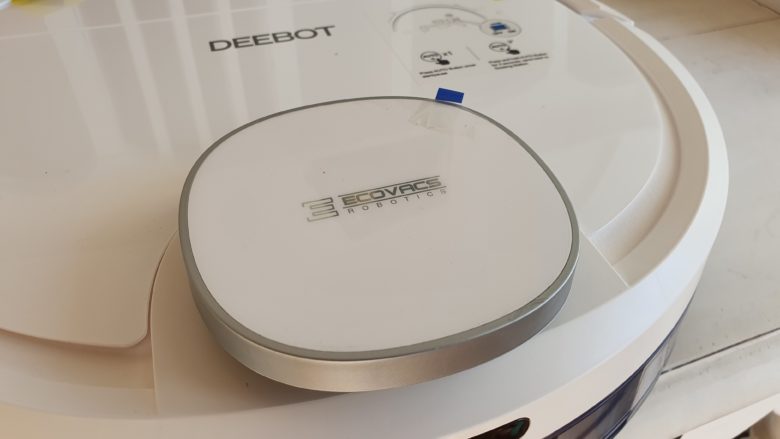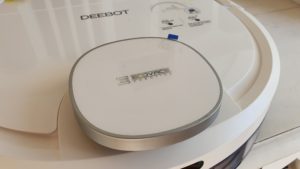 When using for the first time, our Deebot Ozmo 900 started by taking a short tour of our accommodation. Indeed, the latter first identified the places and mapped our accommodation. Where some entry-level robots are content with a systematic and sometimes a little anarchic cleaning, this more upscale model will retain the configuration of the home and be able to go to specific places thanks to its No worry Smart Browsing 3.0 which is based on the famous protuberance that we described above: a laser rangefinder.
While some cheaper robots also offer it, not all are equal, and we were impressed with the efficiency of this rangefinder. Indeed, unlike others, this robot very rarely uses its bumper (except during the learning phase, of course, but its supports are carried out with finesse) and stop just before the obstacles that it can easily spot thanks to the combination of its laser and infrared detectors.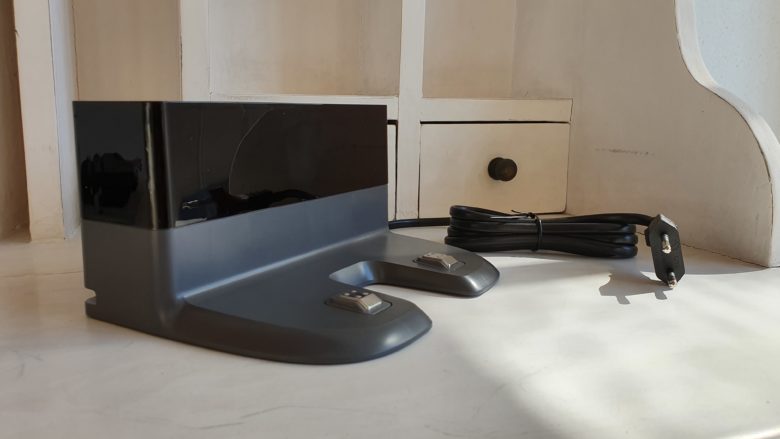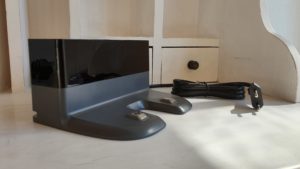 Great interest of this intelligent navigation, the Deebot Ozmo 900 will not go all the way around the accommodation before returning to its base. Indeed, the robot knows exactly where it is its docking station and will join it by choosing the shortest path. In various and varied tests, we never found our Deebot desperately looking for the exit of a room by housing its walls. Another advantage of this technology: just use the application to tell it where to go and when to clean a particular area. No need to lift it to place it in a room and close the door to prevent it from leaving: this breathing machine knows exactly how to get there and just cleans that one room if needed. This is particularly useful when cleaning with water, because it will not attempt to clean rugs, carpets or unglazed floors with water.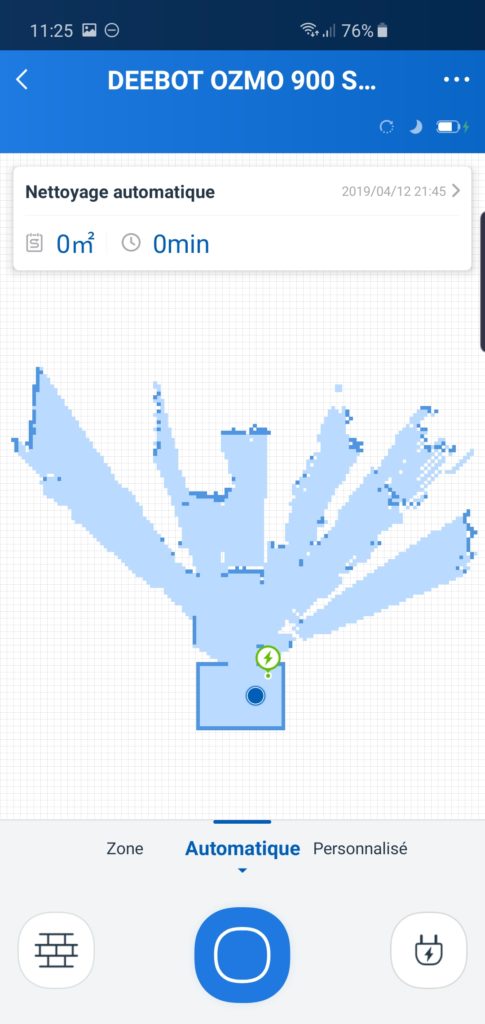 Moreover, virtual walls allow certain areas to be excluded : Ecovacs gives us the example of a space where a child plays. Great, our robot is not going to suck up the youngest's Lego bricks and we will have plenty of time to hop on one foot after stepping on them!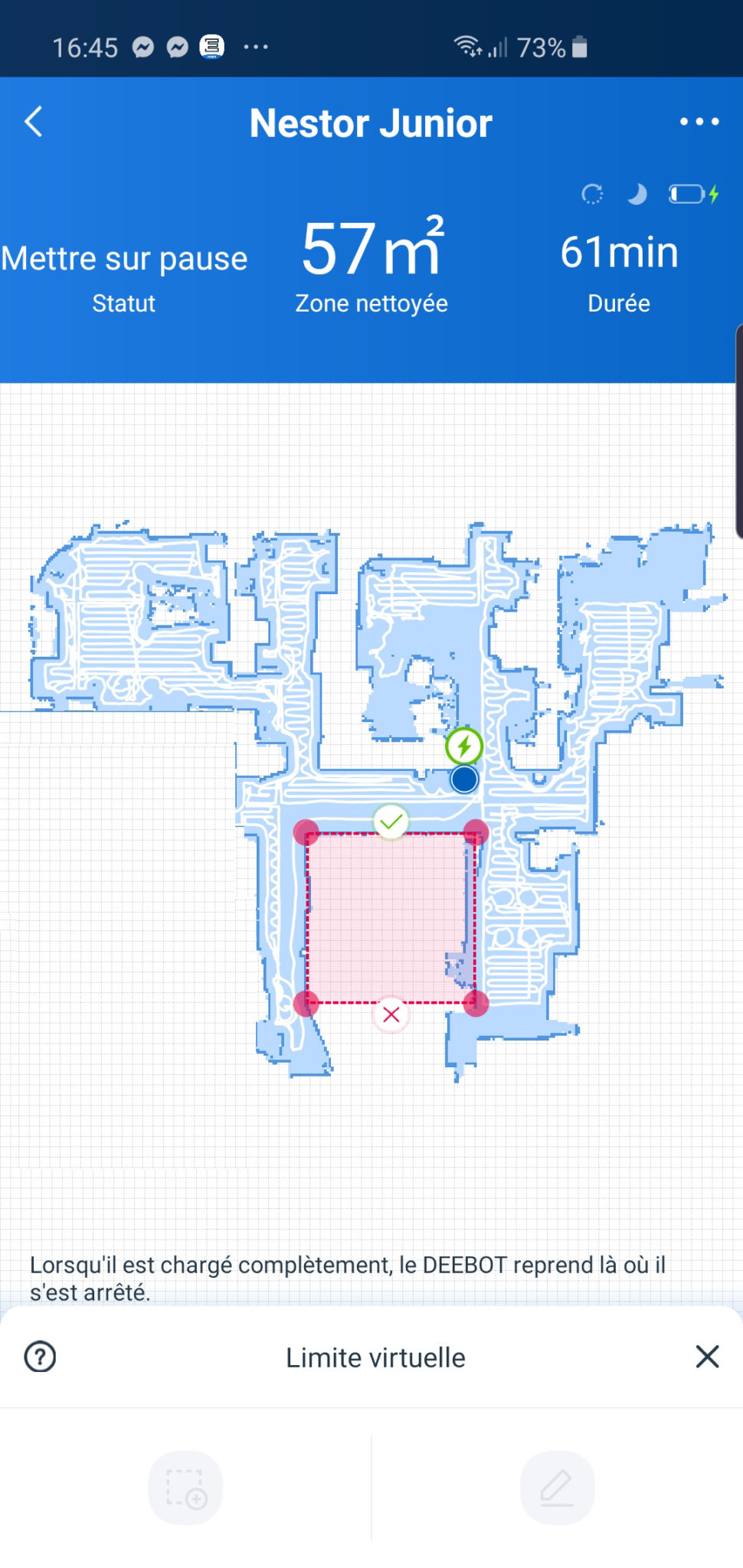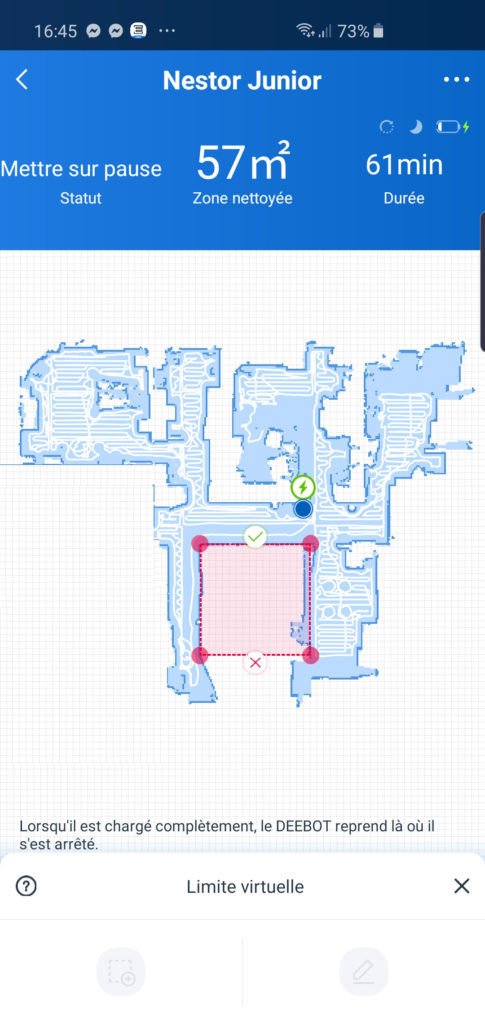 Conversely, a zone functionality allows it to be confined to a specific space. Useful if you have, for example, overturned a flowerpot and only want to clean the soiled part. We tested it on carpets, it's quite impressive: it stays precisely on it and does not come out.
Regarding washing, again the Deebot Ozmo 900 is pretty good. Its relatively large weight (3.45 kg) allows it to press hard enough to remove dirt effectively and to "rake" quite wide thanks to the mop that is larger than the average. This results in a really convincing cleaning and no longer limited to just quick maintenance. Unless you live in a pigsty, this robot should therefore give you full satisfaction, although we repeat this type of device is not made for a deep cleaning, but rather for a daily maintenance. Unlike some of its congeners, it also does not leave no trace, defect that we noticed on the Proscenic 800T which tended to leave a slight trace of its final turn of the part (which nevertheless fades quickly). Moreover, the Ecovacs robot begins by going around the room before going back and forth. A visibly more effective technique.
Faults
Faults? Not really, but let's see what we could advise Ecovacs to improve to make it the best robot vacuum in the world.
The first should be put into perspective: Ecovacs does not provide no remote control. Some will regret it, perhaps, if they have people who are resistant to new technologies at home. Indeed, its main remote control will be our smartphone, our tablet, or Alexa but it will not necessarily be very suitable for elderly or non-tech-savvy people, for example. Note that a simple press on its power button can still launch a very effective automatic cleaning.
The second fault is that it is unfortunately not possible to name the parts and therefore to ask our dear voice assistant to send it to a specific room. Although we do not know of any robot capable of doing this to date, it is something that we invite Ecovacs to study to improve its skill. We would, in fact, dream of being able to ask Alexa : "Tell Deebot to clean the kitchen". Yes, the Alexians are demanding!
Another small defect observed: it is cannot register multiple cards. It could have been useful for, for example, cleaning a first floor and then an upper floor. On the other hand, robot vacuums are generally confined to one floor, they do not know (yet?) How to climb stairs. The solution is therefore to have one device per floor… Which probably won't scare an Alexien!
Finally, but the thing must be put into perspective: its water tank is rather small. Nevertheless, it is more than enough to clean two or three rooms without having to refill it. Likewise, you have to regularly empty your dustbin, but it is done so easily that it is not a chore. Some robots, generally very expensive, offer larger bins or outright a dump station, but we find them rather ugly and much prefer a more compact device.
Conclusion
Ecovacs has clearly not stolen its leading position in robot vacuums and scrubbers:
the Deebot Ozmo 900 is devilishly efficient and totally charmed us
. In addition to being really pretty, this robot is packed with technologies allowing it to ensure precise and methodical cleaning. Comparison is not right, so we will not measure it at the
Proscenic 800T that we presented last week
, but be aware that he clearly plays in another course. His
pleasant design
We have also won over and set it apart from many of its competitors who most often opt for a gray or black finish. It will therefore fit perfectly into contemporary interiors. Admittedly, at 499 € excluding promotion, it is rather expensive, but this is easily explained when we see the services it offers. Even though we loved our first robot, Ecovacs' one is frankly
more intelligent
and allows us to leave it completely unattended: it does not get stuck in situations that it has already encountered and is able to return alone and quickly to its base before its battery fails. In summary, it is
a very efficient robot vacuum cleaner and cleaner
able to satisfy the most demanding users. Cherry on the cake, its
skill Alexa is really effective
and saves you from having to open the application to launch the most common tasks.
In short, the Ecovacs Deebot Ozmo 900 is an almost perfect robot that you can buy with your eyes closed!
303,34€
In stock
Refurbished from 1
August 13, 2022 14:50 a.m.
ECOVACS DEEBOT OZMO 900
About 499 €
Most
2 in 1 device: vacuum cleaner and cleaner
Pleasant contemporary design
Intelligent navigation and recorded mapping
Well-designed application and skill Alexa effective
The lessers
A bit high: does not go easily under all the furniture
No remote control
Not very quiet (66 dB)