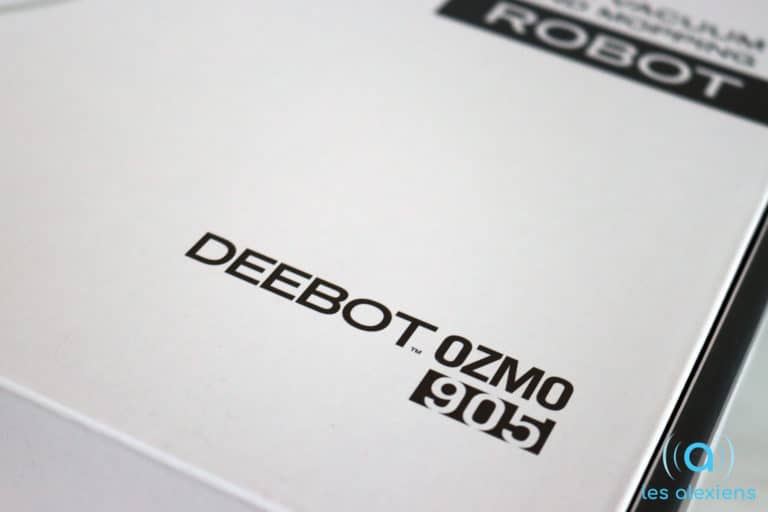 If you are a regular reader you know necessarily Ecovacs Robotics which we talk to you about regularly because it is one of the world leaders in household robotics. After the tests of Deebot 502 et Deebot Ozmo 920, it is a new model that we present to you today: the Deebot Ozmo 905.
Being a new iteration of its predecessor Ozmo 900 from which it takes the very successful design, this 2-in-1 robot has already won over a number of Alexians due to its price positioning at 379 € excluding promo and its compatibility Alexa... Let's see if this craze is deserved.
Since 2017, Ecovacs has been the APAC (Asia Pacific) market leader for robot vacuum cleaners according to Euromonitor International. The company is No. 2 in terms of market share in the still nascent European market. A reputation that immediately puts us at ease!
Not available
August 13, 2022 9:50 a.m.
Deebot Ozmo 905: a successful robot vacuum
Unboxing and presentation
Ecovacs Robotics has not changed his habits and presents us his Deebot Ozmo 905 in a beautiful, predominantly white cardboard box. Its matt coating is underlined by a selective varnish which nicely highlights the visual of the device. Always clean and neat, the packaging immediately gives you confidence and the perceived quality is once again excellent.
In terms of design, Ecovacs is once again flawless. The Alexians
At the opening, the impression is confirmed. Perfectly fitted, the Deebot Ozmo 905 is revealed in a pearly white dress of the most beautiful effect. We are not really surprised as we are used to the impeccable liveries of the brand. In terms of design, Ecovacs is once again flawless.
Round in shape, the Deebot Ozmo 905 presents at its top the attribute of high-end robots: the Laser rangefinder. Also called Lidar, it is flocked with the logo of the brand and accompanied by a power button as well as a indicator allowing to know at any time if the robot is well connected to the Wi-Fi network. We also find the name of the range: Deebot.
"The Deebot Ozmo 905 has at its peak the attribute of high-end robots: the laser rangefinder. " The Alexians
A Deebot, of course, but not only because this robot belongs to the Ozmo family, the top of the range Ecovacs which designates 2-in-1 devices of the brand: robot vacuum cleaners and scrubbers. Indeed, it is equipped with a 240 mL water tank on which will be fixed a microfiber mop.
On the other side, we find the classic bumper intended to cushion any collisions of the robot. Its large black visor gives it a very futuristic look. If we had particularly appreciated the design of the Deebot Ozmo 920, we must admit that that of the 905 is also very successful and that its white with pearly reflections really suits it perfectly.
"Its large black visor gives it a very futuristic look. " The Alexians
The contents of the packaging are, as always with Ecovacs, really complete. As it is a robot mop, two mops microfiber striped blue are part of the game and accompanied by the essential cleaning plate which will come to fix it under the water tank. Note that it is particularly large compared to those we generally meet, which gives it a larger bearing surface. A release allows a small caster to support the weight of the full tank.
Un water reservoir whose comfortable capacity of 240 mL allows you to mop large areas. The electronic management of the pump offers the possibility to choose between three levels of water flow depending on the type of surface or the condition of the soil. A very good point.
"The electronic management of its pump offers the possibility of choosing between three levels of water flow […]" The Alexians
La cleaning plate, equipped with its mop, can be fixed very simply and its filling is easy thanks to a wide orifice well hermetically closed by a rubber stopper. It is easy to put on and take off thanks to a push button, the click of which shows the correct installation which is accompanied by a sentence in French confirming "A cleaning plate has been installed".
Two particulate filters are delivered with the robot, one of which is already in place on the dust container. These filter up to 99.97% of particles including allergens such as pollens, moths and molds. a foam filter placed front allows to preserve them and to stop the larger particles before a second finer filtering.
"Up to 99.97% of filtered particles! " The Alexians
Le dust bin, an 450 mL capacity, is very easy to handle thanks to a well-designed handle which, unlike many other models, allows it to be removed without risking to empty it on the ground and to lock it in a gesture under the hood.
It is indeed under the hood that the waste collector takes place. Taking up a design which is reminiscent of that of other models of the brand and in particular of ozmo 920, its inlet port is fitted with a non-return tab while a HEPA filter takes place at the exit.
Note the presence of a second QR Code which allows the robot to be installed very quickly via theEcovacs Home application available for iOS and Android, the former taking place on top of the device. A good idea because you can remove the most visible and keep the other.
"Note the presence of a QR Code which allows the robot to be installed very quickly" The Alexians
Let's turn "the beast" over to see what it has in store for us. As the vast majority of robot vacuum cleaners, Deebot Ozmo 905 can move thanks to its three wheels: two central placed on each side of the appliance and a steering wheel located at the front.
The two side wheels, motorized, have a large clearance which allows them to cross thresholds and obstacles up to 1.8 cm. It is slightly less than on a Deebot Ozmo 920, but in practice, this robot goes almost everywhere and turns out to be quite agile.
Between the two main wheels, we obviously find the suction mouth. If it is not of the floating type like its predecessors Ozmo 920 and Ozmo 950, it is nonetheless well thought out.
Two protective bars prevent large objects or debris from blocking it - we think in particular of the wires that often lie around in our connected homes. A rubber squeegee makes it possible to collect all the dirt as the robot passes by and not to leave any on the way.
"A rubber squeegee makes it possible to recover all the dirt as the robot passes by […]"The Alexians
The central brush, of good quality, presents a fairly classic design, alternating four sets of soft bristles with good density for excellent overall rigidity. Silky, the brush of the Deebot Ozmo 905 will not damage fragile floors.
"Silky, the brush of the Deebot Ozmo 905 will not damage fragile floors. " The Alexians
Although the Deebot Ozmo 905 is equipped with its main brush, it also comes with a direct suction mouth. Mainly useful for pet owners, it allowsavoid hair jams and take full advantage of the robot's suction power.
Obviously the Deebot Ozmo 905 also has two side rotating brushes. Each is cleverly differentiated by a central green or red button (you know, like the famous Kickers shoes from our childhood!). Two sets are provided by Ecovacs, which lets see coming, knowing that a pair can be used for more than six months under normal conditions.
On either side of the front multidirectional wheel, take place two contactors intended for recharging. The robot comes to put them alone on its charging base to replenish your energy before falling asleep or resuming work where it left off.
"On either side of the front multidirectional wheel, two contactors are placed for recharging. " The Alexians
A compact and well-designed base since it houses both the power supply and a cable cover. It's practical and more aesthetic, and even Deebot should appreciate as the threads lying around are enemies of robots.
Finally, we find in the packaging the essentials user manuals, perfectly translated into French it should be emphasized, as well as the traditional cleaning tool. Unfortunately, the latter does not attach under the hood of the device, so be careful not to lose it.
Now let's see how the Deebot Ozmo 905 in practice after a quick glance at his technical characteristics.
Information
Brand:
Ecovacs Robotics
Model:
Deebot Ozmo 905
Drums :
2600mAh Li-Ion
Aspiration:
2000 Pa
Dimension:
diameter 35 cm, height 10.2 cm
Weight:
3.49 kg
Autonomy:
90 minutes
Loading time :
Remote control:
app and voice control
Charging station :
dock type
Accessories :
HEPA filters x2, brushes x4, direct suction inlet x 1, tank x 1, mops x2, washing plate x1,
Dust container:
450ml
Water reservoir :
240ml
Connectivity:
Wi-Fi IEEE802.11 b / g / n 2.4 GHz
Other:
Cleaning tool x1, MU pack x1 and user guide
Ecovacs Deebot Ozmo 905
Installation and use
Before starting the Deebot Ozmo 905Must of course install its application, Ecovacs Home, which is available for Android et iOS. The installation is really very simple and does not present any difficulties, it is moreover the same as that described in our Deebot Ozmo 920 review. We invite you to read it if you encounter any difficulties.
"In short, everything is there, the application is complete and really well designed. " The Alexians
Let's take a look at the app. the Deebot Ozmo 905 is elegantly presented with its visual and a status indicator informing us if it is online or not. Just touch the robot to access its settings.
By opening the application, we find:
left a menu allowing us to access information from our Ecovacs account, with the possibility of choose a photo and a nickname, the username being imposed and associated with our e-mail address.
a tab allows you to share device with a loved one and why not with your cleaning lady.
at the top right, a small bubble-shaped pictogram symbolizes the"Messages" space. You will find any alerts from the robot, those from the robot's sharing, and its status notifications.
By clicking on the three small dots at the top right, we access the advanced settings:
Two suction powers are available: normal and max. We don't draw you a picture.
Three levels of water flow : low, medium, high.
Cleaning cloth reminder : an interesting option that allows you to be alerted, when you want, when you need to change your mop or micro-fiber. Convenient for large areas or if you want to make two passes, cleaning or changing the fabric may be necessary to obtain a better result.
Suction with increased power : when the robot detects a rug or carpet, it exerts increased power on it. We obviously advise you to activate it.
Continuous cleaning : if the robot cannot finish its task in a single sequence, it will finish it after recharging its battery.
Do not disturb : allows you to define a time slot during which the robot will not speak and above all will not perform cleaning alone or resuming cleaning. By default, it is set to 22 p.m. - 8 a.m.
Cleaning program : allows you to program various automatic routines.
Reset the map : allows you to erase the card from the robot's memory.
Finally, you will find the features that we had already discovered in our previous tests:
Cleaning log: a log of the different sequences performed by the robot.
Use of accessories: allows you to know the percentage of consumables wear.
Voice report: allows you to choose the robot's language (French is available!).
Rename your Deebot: give a name to the Deebot Ozmo 905.
Aid : as the name suggests, this is the help topic.
About : allows you to consult a certain amount of information related to the robot (software version, surface unit, serial number, quality of the Wi-Fi link, etc.).
Find Deebot: if you are looking everywhere for your Ozmo, you can find it by making it talk.
In short, everything is there, the application is complete and really well designed. But, like a good Alexien, we will of course activate the Ecovacs Deebot skill and sometimes voice the robot using our voice assistant: Alexa!
A compatible robot vacuum Alexa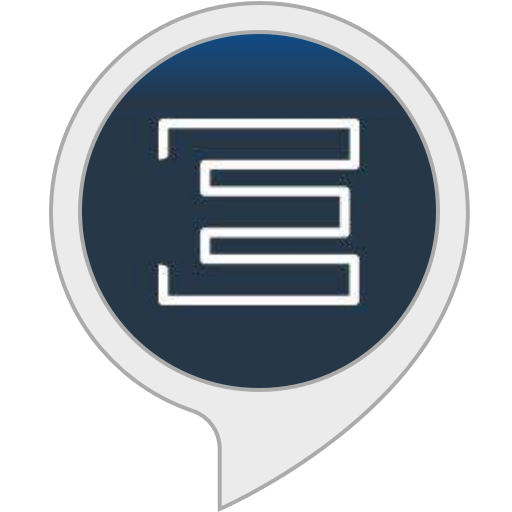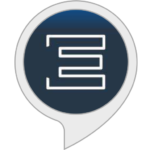 As we said in the introduction, this robot vacuum cleaner is compatible with Alexa. The Ecovacs skill works perfectly, although it is limited to the start / stop / pause / resume and return to base commands.
Unfortunately, it is not yet possible to integrate the robot in routines Alexa, or even send it to a specific room. It's a bit of a shame, but this is a limitation related to Alexa itself and we must admit that the use of voice commands is still anecdotal for this type of connected device as they have different options that it would be easier to adjust via the application anyway.
Here is the list of possible commands:
« Alexa, ask DEEBOT to start cleaning ", you will understand, allows you to initiate the cleaning process,
« Alexa, ask DEEBOT to stop cleaning » offers the possibility of stopping this same process,
« Alexa, ask DEEBOT to suspend cleaning " is useful for pausing the robot, if you have an important call for example,
« Alexa, ask DEEBOT to resume cleaning ", when your call is finished, will restart the robot,
« Alexa, ask DEEBOT what is it doing? " informs you about what the robot is doing,
« Alexa, asks DEEBOT to return to its base » is used to repatriate the device to its charging station.
"[…] Precise navigation and the possibility of mapping one's environment […]" The Alexians
Our opinion on the Deebot Ozmo 905
As usual, we tested the robot for almost a month, 3 times a week. After more than 1000 m² of surface cleaned, this new iteration from Ecovacs seemed rather convincing to us, let's see why ...
Efficient navigation
Like its predecessor, the Deebot Ozmo 905 is equipped with a laser rangefinder. Also called Lidar or LDS, this system offers the robot vacuum cleaner a precise navigation and possibility to map its environment with very good precision, unlike robots which are devoid of it and only work with simple ultrasonic radars. This technology also allows the robot to evolve in the dark, unlike the majority of those with cameras, which turns out to be a plus for those who wish to make it evolve at night.
Where low-end robots are content with systematic, sometimes a little anarchic cleaning, technology Smart Navi 3.0 ™ gives the Ozmo 905 the ability to truly navigate its surroundings and go where you want to go. This is a very good point which offers a real comfort in use daily.
" […] technology Smart Navi 3.0 ™ gives the Ozmo 905 the ability to really find one's way around its environment […] " The Alexians
Once its mapping is saved in memory, you will indeed be able to send the robot wherever you want via the application. Ecovacs Home. This is new compared to the Ozmo 900: it is now possible to select a room. Indeed, Ecovacs has updated its application and the Deebot Ozmo 905 now performs a smart card cutting like the Deebot Ozmo 920. But, unlike the latter, it is not possible to select several parts to perform. It will therefore be necessary to do them one after the other. It's a bit of a shame, but it is still possible to make a selection by creating a larger area comprising several rooms. In the end, it comes back pretty much the same because you just have to use the functionality of zone selection, it's just a little slower.
"It is possible to create prohibited zones and virtual barriers […]" The Alexians
LDS requires, it is obviously possible to create prohibited areas and virtual barriers where Ozmo 905 will not be allowed to go. A practical option to prevent the robot from getting entangled in loose cables behind the TV or sucking up your children's play space. No specific prohibited areas for washing on the other hand, it will therefore be necessary to remove the mop or prohibit the areas.
But, good news, the Deebot 905 is able to detect rugs or carpets and switch to max mode to apply 1.5 times more powerful suction. Not bad !
"The Deebot Ozmo 905 offers two modes: normal and max. "The Alexians
A good aspiration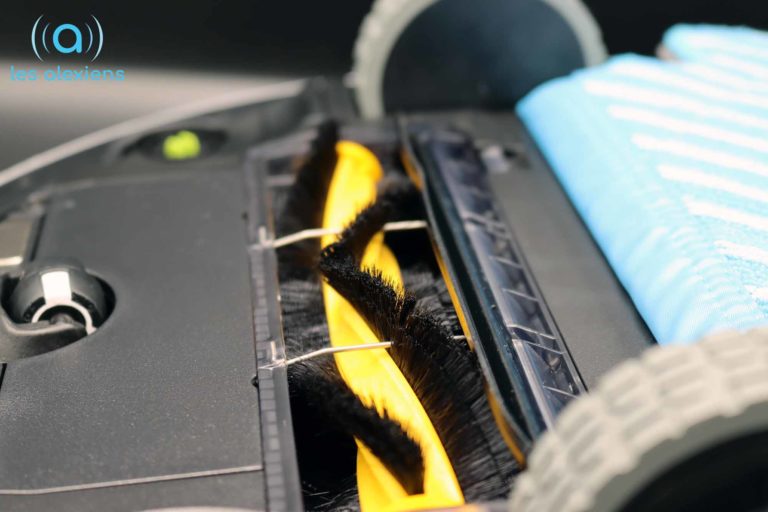 As this is a robot vacuum cleaner, it is important to mention its suction capacities. the Deebot Ozmo 905 offers two modes : normal and max. The former is ideal for everyday cleaning and offers excellent 90 minutes battery life. This is more than its big brother Ozmo 920, more energy-hungry, and this allows it to cover more than 100 m². A comfortable and more than enough surface because, as you know if you already have one, robot vacuum cleaners are often used a little bit every day. It is therefore rare to need to cover a larger area and, if this is the case, Ozmo can also recharge before returning to work where it left off.
Although the motor power in Pascal is not indicated by Ecovacs, we know its air flow! As you explained in our file guiding you to make the best choice the best robot vacuum cleaner, the power of depression in Pascal is often a mirror to the larks and better to look at the air flow.
If the value displayed in Pascal (Pa) does give an idea of ​​the depression created by the engine, and therefore of its pure power, it is not sufficient on its own. The most important concept in terms of suction is that of the air flow, which corresponds to the volume of air actually sucked by the robot.
Measured at 15 L / s in normal mode, Ozmo 905 reaches up to 20 L / s in max mode. Lower performance than the most upscale of the brand, but superior to that of a Neato D450 Animal Edition or a Roborock S50 for example. It is therefore an efficient robot and it shows in use. Without equaling an Ozmo 920, its results are quite satisfactory.
Noise level, it is the same. Without being the quietest, the new Ozmo displays very good levels. We measured 57.9 dB (A) in normal mode et 66.4 dB (A) in max mode, which ranks it among the quietest of our many robot vacuum cleaner tests.
A robot mop
You know this if you've followed our previous 2-in-1 robot reviews: it's hard to find really convincing ones in this area. the Deebot Ozmo 905 is like his colleagues: a perfectible scrubber. Nevertheless, the function has the merit of existing and it is all the same very convenient. Of course, the robot will never replace a good blow of elbow grease once a week, but it turns out to be a valuable ally in everyday life because it allows you to rough the work and maintain a clean floor.
"[…] The Deebot Ozmo 905 presses evenly on the ground and does a good job overall! " The Alexians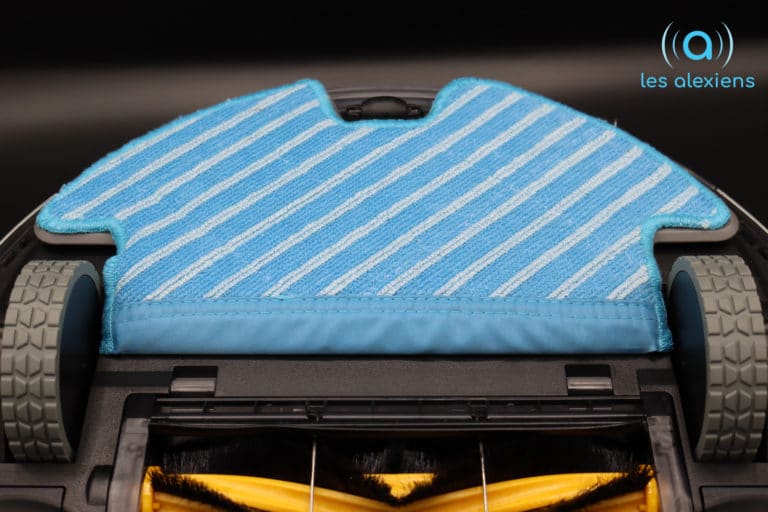 With three levels of water flow (low, medium, high), the Ecovacs robot is rather economical, to say the least, and we recommend that youmoisten your mop beforehand and leave it in max mode. Add a bottom cap of a non-corrosive product - we tested it with the Starwax gentle floor cleaner, very efficient - and the result is rather not bad with two passages.
We regret the absence of a slightly higher level of flow and disposable microfibers as on its elders, but his mops are effective and even if it does not perform Y passages like the new one either Proscenic M7 Pro or Cecotec Conga 3690 Absolute, Deebot Ozmo 905 presses evenly on the ground and overall does a good job!
Not available
August 13, 2022 9:50 a.m.
Another success at Ecovacs! A worthy successor to the 900, the
Deebot Ozmo 905
is him too
very efficient and has seduced us
. In addition to a very modern look and a pearly white for the most beautiful effect, this robot is equipped with high-performance technologies allowing it to ensure
precise, methodical and efficient cleaning
. Although it lacks some options such as the ability to select multiple rooms or a silent mode to mop, its
build quality
and his
interesting price positioning
make it a great compromise for those who don't want to spend $ 500 on a robot.
Offered from € 379, the Deebot Ozmo 905 offers excellent value for money.
Ecovacs Deebot Ozmo 905 - robot vacuum cleaner and mop with Alexa Echo
379€
Most
2 in 1 device: vacuum cleaner and cleaner
Really successful pearly white and a pleasant futuristic design
Laser rangefinder for precise navigation and mapping
Comprehensive and intuitive application with skill Alexa
The lessers
A little high with its 10.2 cm
No multi-surface map and possible selection from a single room
Slightly light water flow