Ho Ho Ho! Here is Christmas, which is fast approaching, and how do you make sure that this big man with the red nose (we are going to blame it on the cold) does not miss your home during his deliveries? By putting in your home a connected garland that can go both indoors and outdoors. And, you never know, maybe it also works with Chronopost delivery people?
And this is the brand Earthsmart, well known to our loyal readers, who gives us this beautiful gift before its time! And a preview please! This RGB garland makes 8 m long for the lighting part, is protected against bad weather and, thanks to Tuya / Smart Life, is customizable in its slightest flashes! Isn't that beautiful? It's Christmas we tell you!
21,69€
35,56€
Not available
Connected garland: simple, to highlight the light
Our garland is delivered in a neutral cardboard box without any identification or mention of any kind. The packaging is still the weak point of the brand, even if in our case, we are on a exclusive product. Despite everything this time there is a notice explaining the working with Smart Life, all in French. But it explains the characteristics of the garland. It is one of the most complete of its kind at present for this type of product.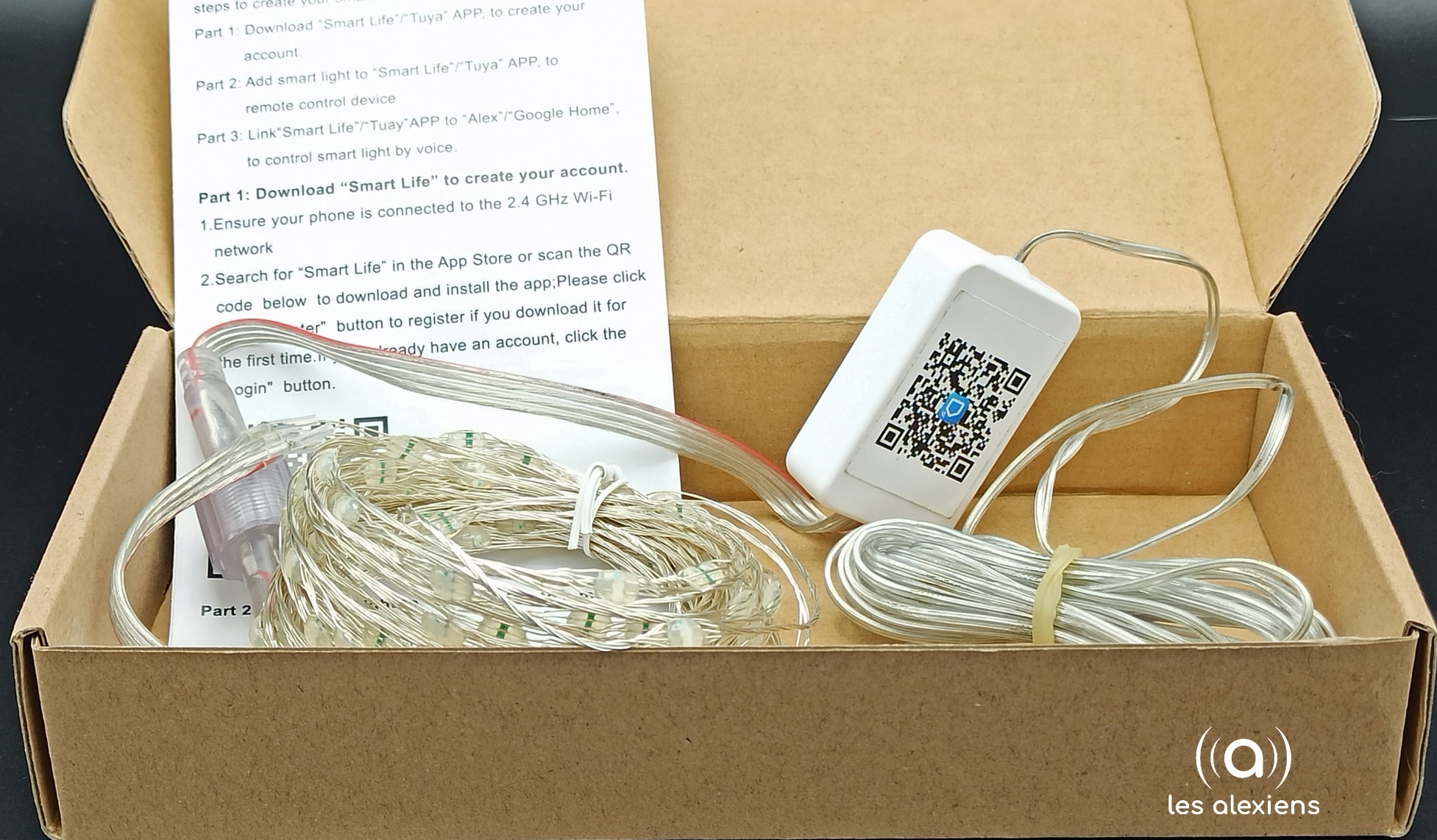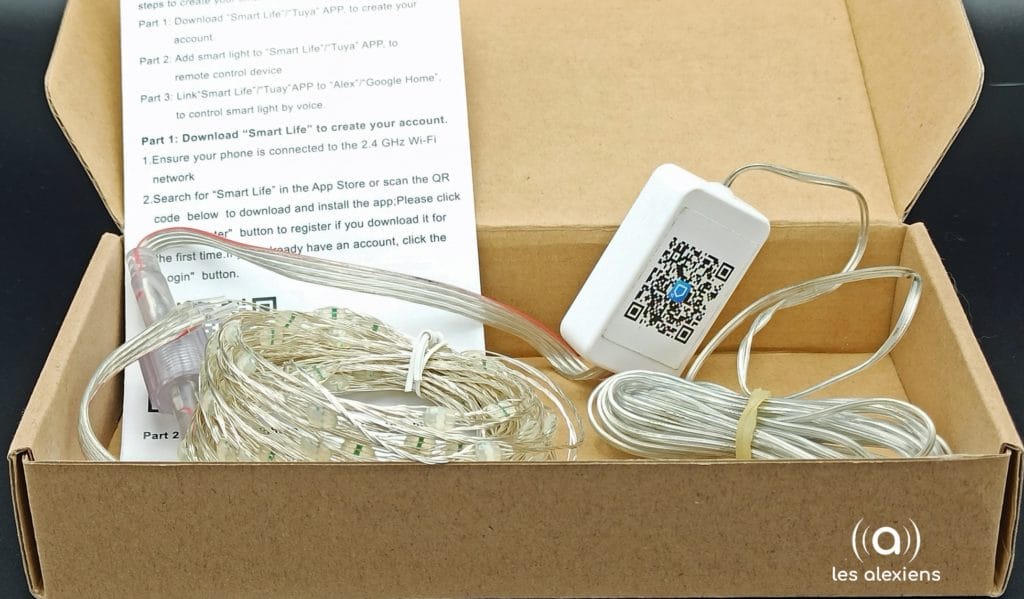 We find our garland in a single block. She is made to go outside because you can see that the LEDs are encased in a plastic ball, making them waterproof. The connection between the ribbon as such and the Wifi module / USB cable part is also airtight thanks to a screw system.
Design level, as you can see, we are very sober. The silver-colored copper wires are very thin and the LEDs relatively small, which ultimately allows you to focus only on the essential: light. No big headband like on LED strips. Once lit, it is the light points that will be highlighted and not the support. Everything is very light (the LED part).
Earthsmart solved the problem of connections between countries by putting a simple USB plug as a connection. It's up to you to equip yourself with a typical AC adapter smartphone or other to connect it to your home.
We failed to get the IP rating of the garland, so we did a test by wetting it with a sponge soaked in water and leaving her in a small puddle for an hour. No problem observed, but however, better communication from the brand would be necessary.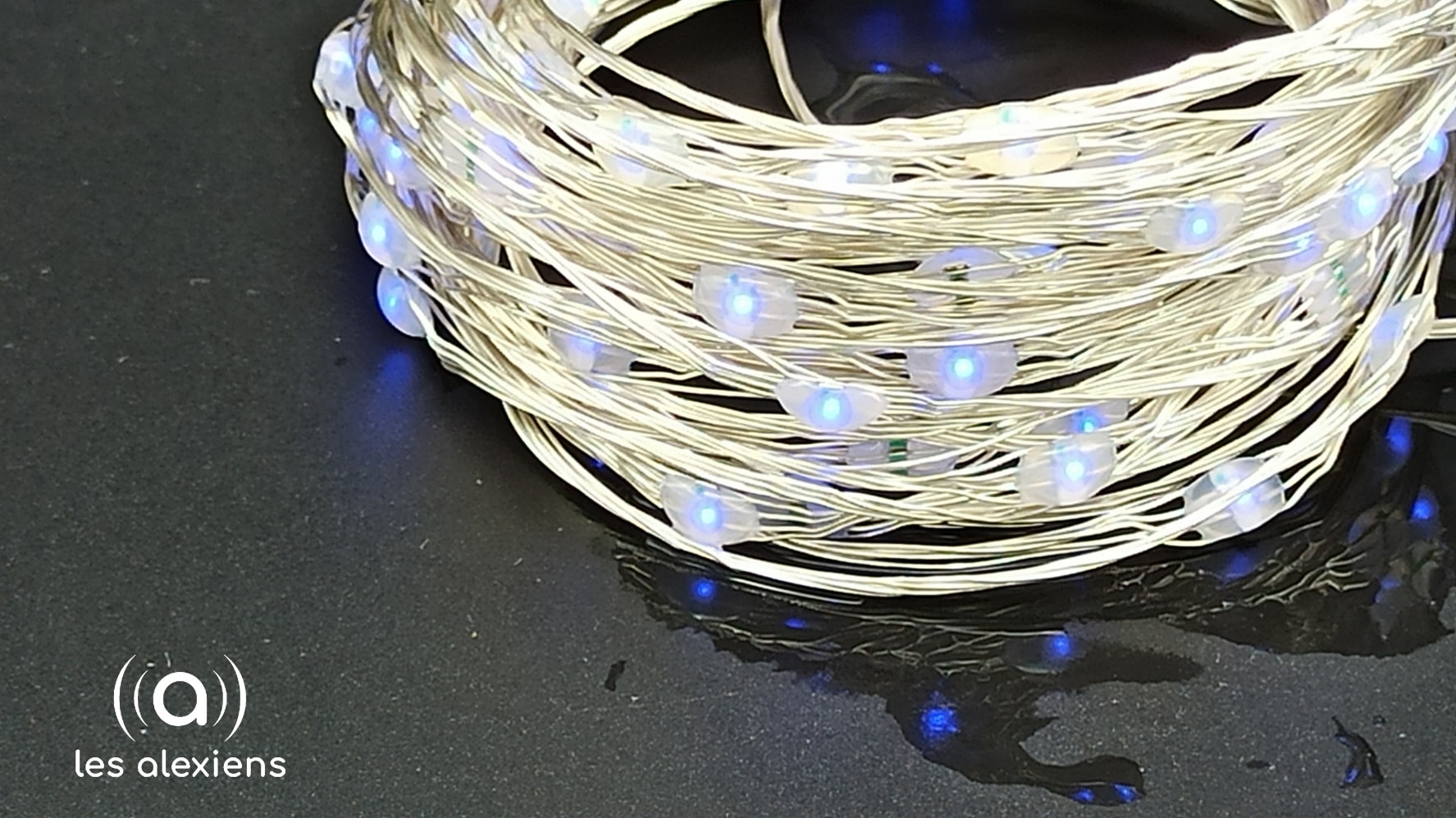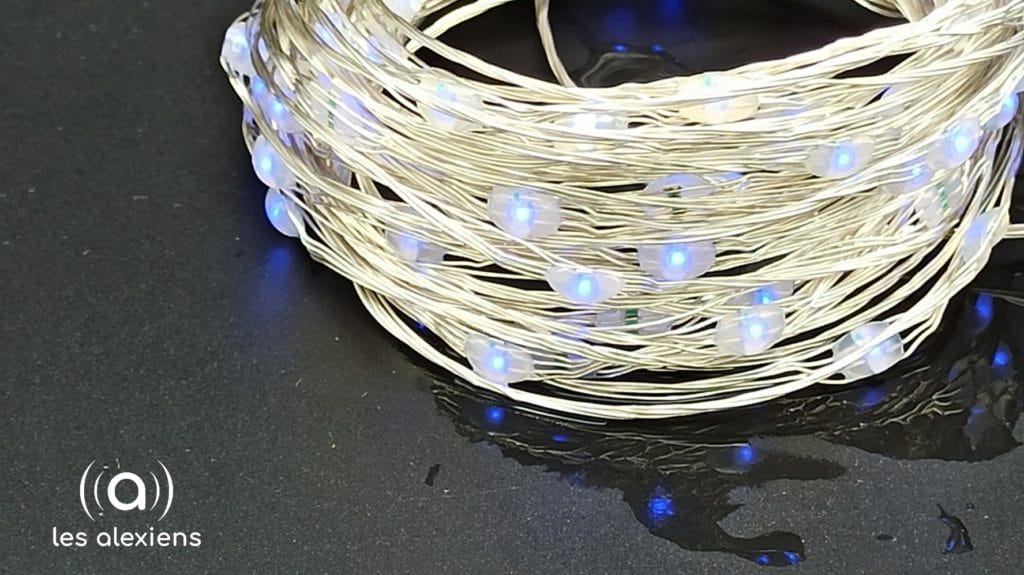 At the level of technical characteristics : we are on a RGB garland, no white, operating thanks to a 5V, 1 to 2A power adapter. It consists of 100 LEDs separated by 10 cm each, therefore 10 m of light strip and a 3,5 meter USB cable. She consumes 3W and works on a 2,4 GHz Wi-Fi.
Connected garland: use with Smart Life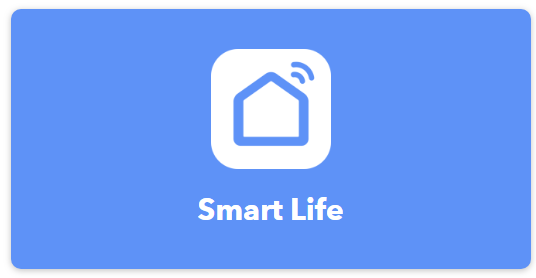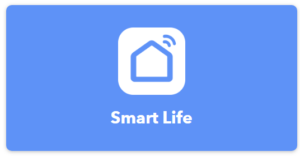 Earthsmart uses application Smart Life or Tuya for all of its products and this one is no exception. This also makes it possible to have only one application to simplify the scenarios for example or if you are looking to use ZigBee Remote Switch.
No difficulty to install it. Activation of the Skill Smart Life is of course necessary.
To bring the garland into pairing mode, this is done just by plugging it in the first time. Otherwise, plug and unplug it several times to make it flash (in red). Then select " lighting ", " ampule " and There you go. Let it be, it's very fast. Rename it so that you can then use it by voice. Also activate the skill under Alexa.
So it's very simple, like a standard bulb. The application will allow you a variety of light atmospheres, some of which are customizable:
Basic you can choose a color et vary its intensity and saturation.
There are then 8 scenes:

Night: yellow color, not configurable.
Reading: very pale blue color, resembling white. Not configurable.
Party: orange color, not configurable.
Leisure: blue color, not configurable.
Soft: a configurable color (by pressing) which will turn on and off slowly. You can vary the intensity, speed and saturation.
Shine: a configurable color which will flash. You can vary the intensity, speed and saturation.
Rainbow: 6 configurable colors which will alternate, without blinking. You can vary the intensity, speed and saturation.
Gorgeous : 6 configurable colors which will alternate, with flashing. You can vary the intensity, speed and saturation.
In addition, thanks to the application, you can set up timers for the switch or to do it light up at certain times. You also have the possibility, via the scenarios, to do it turn on or off at particular times of the day (sunset for example) or in specific situations (closing the shutters and switching on the light in the process). With Alexa, you are free to let yourself be tempted by a routine that goes well. It works like a connected light bulb because that's the end.
You can see through our video test of the connected Christmas garland that the color rendering is very good! Also look at the different photos. The lights are crisp, the brightness very good for the size and spacing of the LEDs. Attention, we are not on an LED strip, it is not an accent light but really a decoration. However, personally, we installed it in a hallway to decorate for the end of the year, but also to provide a slight light at night. To note that the threads keep the shape you give them, also you can install this garland as you see fit (in a circle, at a right angle…). You can also make it stick very easily with adhesive paste. Another advantage is that it does not heat up during use.
21,69€
35,56€
Not available
Another good surprise from Zemismart. This garland is really nice: sober, easy to install, it is made to highlight the light and go unnoticed. The different scenes are well found for 4 of them to decorate these end of year celebrations. We can blame him for the lack of real white, the lack of information on its IP and the fact of not having an adapter included. But in the end, we forgive him.