Always on the lookout for news Alexa et Amazon Echo, we revealed to you a few months ago the probable exit from a " Echo Flex Smart Clock " whose documentation Third Reality had inadvertently left lying around on the skill store Alexa France. Marketed last month, so we had to give you our opinion on this clock Amazon Echo Flex in a full test.
Not available
January 23, 2022 20 h 36 min
Clock Amazon Echo Flex: one « smart clock made for Amazon »
Unboxing
As was already the case for the previous accessories that we presented to you in our Echo Flex test, this connected clock is designed by Third Reality for Amazon. It is therefore not presented in the well-known blue packaging of Pregnant Amazon Echo, but in a small cardboard box as simple as it is austere.
At the opening, we discover a small device of 3,3 x 3,5 x 7,2 cm equipped with a USB socket for powering it and attaching it to the smallest speaker Alexa. Equipped with a 5 cm diagonal screenalmost 2 inches, this clock Amazon Echo Flex also has a light sensor placed on his right.
Intended to be housed under Echo Flex, it makes it much less compact and unfortunately more difficult to place on certain sockets. Its integration is nevertheless perfect and does not swear. That's about all we can say about it for now. So let's move on to its installation.
"Its integration is nevertheless perfect and does not swear. " The Alexians
Echo Flex: a connected clock for Alexa
Installation
If you already have a Echo Flex, the installation will be almost disconcertingly simple. In fact, you just need to place the connected clock on the latter and ask « Alexa, check for updates ». Once this is done, your favorite assistant should inform you that an update is available and that it may take up to 30 minutes to install. In fact, rest assured, it should take about three, no more. This update carried out, Echo Flex will restart and the connected clock will be operational.
You will also notice a notification on your app Alexa informing you of the detection of a new named device "Third device" in our case. This is obviously our Echo Flex clock that you can rename as you see fit.
Note, finally, that there is a skill dedicated to this small device named "Third reality gadgets" (sic)… Its interest is more than limited since it only allows you to change the time format (12 or 24h) using a voice command Alexa… That is.
In stock
January 23, 2022 20 h 36 min
Use Case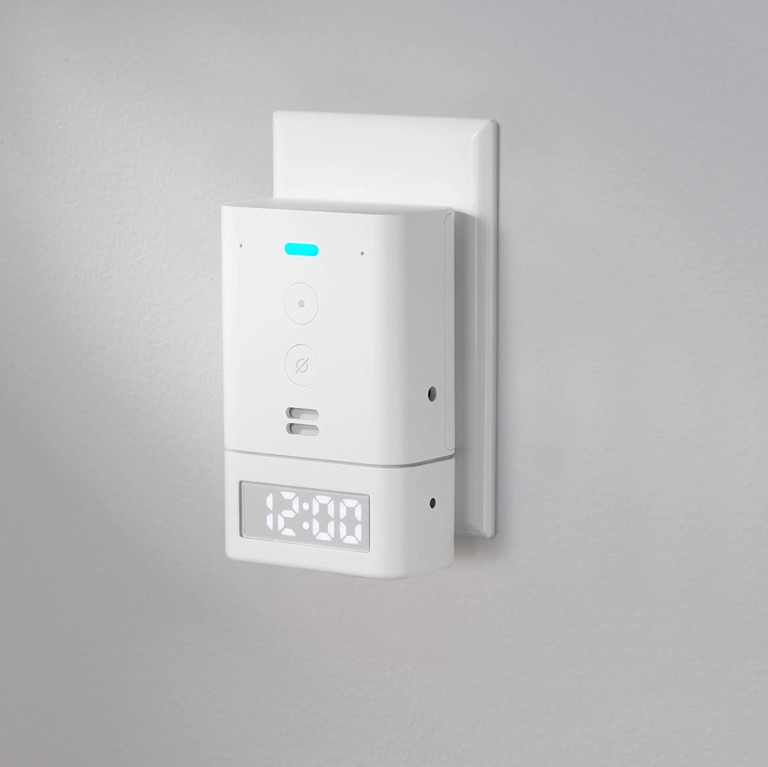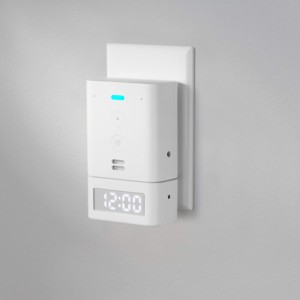 In use, what does it give? Well, you will surely be surprised, but this accessory for Echo Flex displays the time ! In format 12 or 24 hours, it's up to you. The most useful will undoubtedly be to use it for timers, in a bathroom to brush your teeth if you do not have connected toothbrush, or in a kitchen to cook yourself an egg. Or a pizza, it's up to you.
Like the last Echo Dot 3 with clock, this Echo Flex Smart Clock is therefore not an accessory providing many features, but some will probably find it interesting depending on the use they make of their device. We note all the same the excellent functioning of the light sensor because, if the screen brightness can also be configured in the application, its adaptation to ambient light is a real plus and allows you to always read the time perfectly during the day without lighting the whole room at night. Last good point, it is possible to use the device in both directions, the time switching automatically. It is convenient.
€14,99
€29,99
In stock
January 23, 2022 20 h 36 min
Not available
January 23, 2022 20 h 36 min
In conclusion, this
smart clock for Echo Flex
has the advantage of adding a much sought-after feature to the most compact speaker Alexa : reading the time. Could not be easier to install, it is
perfectly integrated
to the device, but it seems to us all the same
a bit expensive
.
Offered at 19.99 € on Amazon. Fr
, it certainly allows to have a compact speaker Alexa displaying the time for only 50 € (Flex + clock therefore), but with a sound quality all the same well behind that of an Echo Dot 3 with clock proposed for its part at 69.99 € excluding promo (currently disappeared from the catalog elsewhere…).
Everything will therefore depend on your use and the location of the device.
New connected clock "Made for Amazon »For Echo Flex
€19.99