The connected switches are really practical but of very variable quality like the LoraTap test was able to demonstrate it. That said, the Alexians persevere and today we are going to introduce you to the brand's roller shutter switch. Earthsmart. This brand offers several products, but only one roller shutter switch. The model tested is the model Earthsmart EU ZM-CSW002-D, CE and FCC (US) standards. It's a product sold between 17 and 25 € which presents the functionalities inherent in its use: closing / opening / pause modes, works with Smart life, capacitive ... We will therefore see together whether Earthsmart fulfills the Alexiens specifications.
27,47€
In stock
August 13, 2022 2:26 a.m.
Zemi roller shutter switchsmart : a pass everywhere
The switch is delivered in a packaging a little more worked than those of its competitors: white, glossy, small, illustrated but moderately thick… However, well wedged in the box, the device is properly protected. In terms of illustrations, we are on the basics and the essential: the product, the brand and the use with Alexa, Among others. Good first impression.
What do we find in our packaging: the switch (phew), a bag of 2 screws, an installation guide and a user manual. However guide and manual are in English and, while the manual will explain in detail the use via Smart Life and Alexa, the guide will direct you to the physical installation of the switch. On the other hand, both provide general information and not specific to the switch ... Moreover, the guide connection diagram is not suitable for our installations. And if you want to know that to put the switch in pairing mode, you have to press the "button" to open for about 15 - 20 seconds… well… now you know it!
Design level, we are on a beautiful product but almost identical to the others connected switches. The front of the switch is in 4mm tempered glass with a white background, three zones pressure. It's sleek, it's sober, it's pretty but, who knows why, the slightly different design for the 3 pressure zones appealed to us more than those of other brands. The "buttons" for opening / pausing / closing the curtains are in fact capacitive zones activating springs below. The Ddimensions are also standard for the front (8,6 cm side) and a depth of less than 3 cm for the transplanting system. Once set up and well glued to the wall, count a small centimeter of thickness. So identical to the others. The plastic, without being of exceptional quality, is of good quality.
The thread transplanting block is quite standard size and adapts without any problem to the placo boxes of the French market. Once the glass plate has been removed from the switch, there are 4 holes allowing it to be screwed into the flush-mounting box without any problem on any type of box and in any direction depending on the fixing system of said box. box.
At the level of technical characteristics, classic: it works on 100-240V at 50/60 Hz, so no problem. A load limit of 300 W. However, no information concerning the amperage, the standby consumption… At the level of Wi-Fi connection in 2.4 GHz only, IEEE802.11b / g / n. So in principle, it is suitable for most installations.
Earthsmart ZM-CSW002-D: quick installation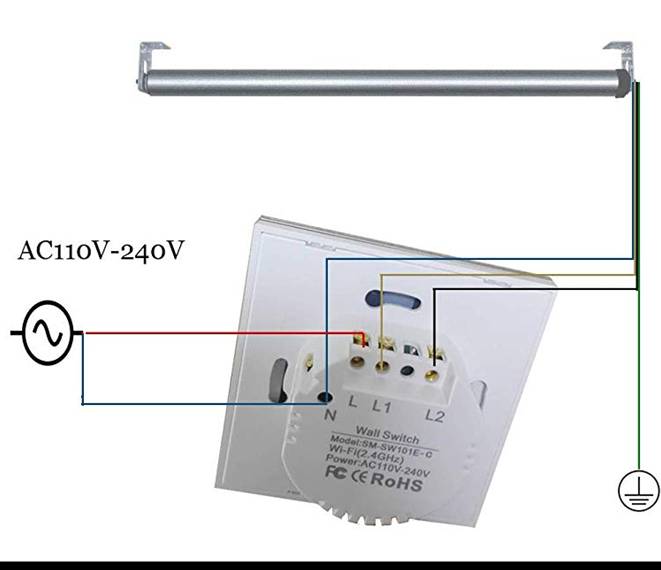 Regarding the installation, the diagram to follow is relatively simple and identical to what we have for the other switches. So base yourself on it for the installation, because the one in the guide is not what to do. We refer you to our tutorial, but know that this is done quite easily once you have found the arrival of cables for your roller shutter and the arrival of your own wires. Neutral is required but if you have roller shutters, this is usually the case.
Like some of its competitors, the Earthsmart works with 3 small springs. By pressing on the front, we will press on it and therefore activate the raising or lowering of the shutter. This may again explain the problems that users encounter with this type of system. If the front is not properly placed (too deep for example), there may be permanent or random contact with one of the springs, and therefore cause the shutter to open or close unexpectedly.
There are two important things to highlight with the Zemismart :
All clamping studs are at an adequate distance to be able to insert normally stripped wires of standard diameter. However, moving the neutral and phase pads a little further apart would be a plus in terms of safety,
When it is in "standby", the switch does not emit any light. and will therefore not come as a nightlight (if it is in a room, it is appreciable).
Earthsmart : compatible shutters switch Smart Life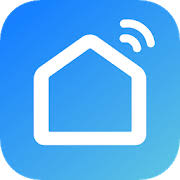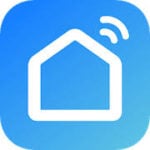 Earthsmart decided to allow the control of its switch via the application Smart Life, the Swiss Army knife of applications for connected devices. So no difficulty installing it because it is done like a plug.
Be careful, because when it is just powered on, our switch does not flash. It is necessary to come press the opening zone for about 15 seconds to switch it to pairing mode. If necessary, it is also possible to do it to rediscover your switch. Don't forget to activate the Skill Alexa to be able to use it with Alexa.
As with all connected shutter switches, you must show it off as a standard wall switch and not a curtain switch (in Zigbee only on Smart Life), and from this arises the subtleties:
In native mode, to open or close the shutter, you have to say on or off. Not very practical, eh? It will therefore be necessary create routines under Alexa to use a more intuitive vocabulary (see the tutorial on shutter switches for routines).
At present, it is not possible, under Alexa, to control the "pause" function during descent or ascent (the middle button). It will take for that go through a scenario under Smart Life and then put it in a routine under Alexa (cf. tutorial).
You also can't turn off the blue light on the switch, which can be annoying when it's in a room.
You are then free to create the routines and scenarios you want to control your shutters by voice. It is even possible to create a scenario for the shutters to close at sunset time or they open when it's time to wake up, without any intervention on your part.
27,47€
In stock
August 13, 2022 2:26 a.m.
In conclusion, this connected switch for roller shutters Earthsmart is a good product: it is Easy to put in place, good quality and works well. It has the advantage over others of not staying on permanently, but an installation guide worthy of the name is necessary because the one provided is useless. For its daily use, with a little script and routine, it is doing very well!
Earthsmart ZM-CSW002-D
24.90€