For several months now, Alexians have been testing, retesting and sometimes hating connected switches for roller shutters. Many of you are also contacting us to find out if your shutters in place are compatible or not, which brand to choose ... a real interest in these products, the quality being your main criterion of choice, more than the price. This is why we are interested today in the youngest of KONYKS: the Vollo.
We no longer present this French brand belonging to Apynov, chaired by Olivier Medam, of whom you can find the interview to get to know this company better whose know-how is based in France (sales, support, development, etc.). The brand's key words are "easy to use", "useful" and "inexpensive" (less than € 50 per product). But always with a optimal value for money, so no compromise on components to lower prices.
The model tested is FULL, the only switch for roller shutters of the brand. Of course, he respects the CE and RoHS standards (European standard for the reduction of hazardous materials in electronic products). Sold € 39,90 out of Amazon. Fr, the Vollo works under the house application Konyks (Powered by Tuya, so Smart Life) and will allow the closing / opening / pause modes, but also the scenarios… We will also see what differentiates it from the competition, sometimes cheaper, but with almost identical functionalities.
Not available
August 12, 2022 4:07 a.m.
KONYKS Vollo: It's all in the detail
Le Konyks Vollo is packed in the orange and white cardboard inherent in the brand. It is of good quality and allows a good protection of the product (to this is also added a foam pad in the box for more security). The visual of the product is highlighted, its working with Alexa and GH as well as the possibility to control it by Wi-Fi and to make scenarios. It also contains its characteristics, which we will come back to. The little extra? The manufacturing batch number, therefore the product traceability, is noted on the box. This is one of the rare times we see them!
What do we find in our packaging besides the switch? a bag of 2 screws and user manual in 5 languages. There is detailed the installation in 3 steps, the connection diagram (basic), the characteristics, the precautions for use, the warranty, as well as a real EC declaration of conformity (directive 2014/53 / CE and 2011/65 / CE and therefore the 9 standards met) signed by the president of Apynov. Are you looking for quality guarantees?
Design level, we are on a switch that at first glance looks a lot like the others. Having said that, if we look at mechanical switches, we can also see the same thing for many of them. The differentiation will be done on the quality of raw materials and components. The front of the switch is in 4mm tempered glass with 8,6cm sides, With a White background and comprises three pressure zones. It's uncluttered, it's sober and if you look closely at the bottom right, you can see the brand's logo. An appreciable detail.
The "buttons" for opening / pausing / closing the curtains are in fact capacitive zones activating springs underneath, like most products tested. However, they are not excessively long, which means that you have to press a little on the front panel to activate them and this will therefore prevent inadvertent opening and closing. The depth of about 3 cm for the transplanting system means thatit can be set up in all French flush-mounting boxes. Once set up and well glued to the wall, count a small centimeter of thickness.
The transplanting block is quite interesting in several ways. First of all, the neutral and phase connections of the sector are placed on both sides, which avoids if by chance there is a problem during the installation that the two wires do not touch each other and make a short circuit. The transplanting blocks have a 5 mm depth, which makes it possible not to strip the wires too much and to hold the cable well. In addition, the clamping screws are really sturdy, as are the studs. Nothing to say, we are on quality metal, just like plastic.
The circuit, visible when you remove the cover, looks quite simple and clean. We immediately see LEDs at the base of each contactor. Will our shutter be backlit or is it just for highlighting when ordering? We will see that later.
At the level of technical characteristics : it works on alternating current 220-240V (therefore specific Fr). A load limit of 600 W and 3A max, so very good because some are only satisfied with 300W, which allows you to connect a powerful motor. In terms of Wi-Fi connection in 2.4 GHz only, IEEE802.11b / g / n. So in principle, it is suitable for most installations. It has been tested with Somfy motors by Apynov, which is good to know if you have this type of material.
KONYKS Vollo: a standard installation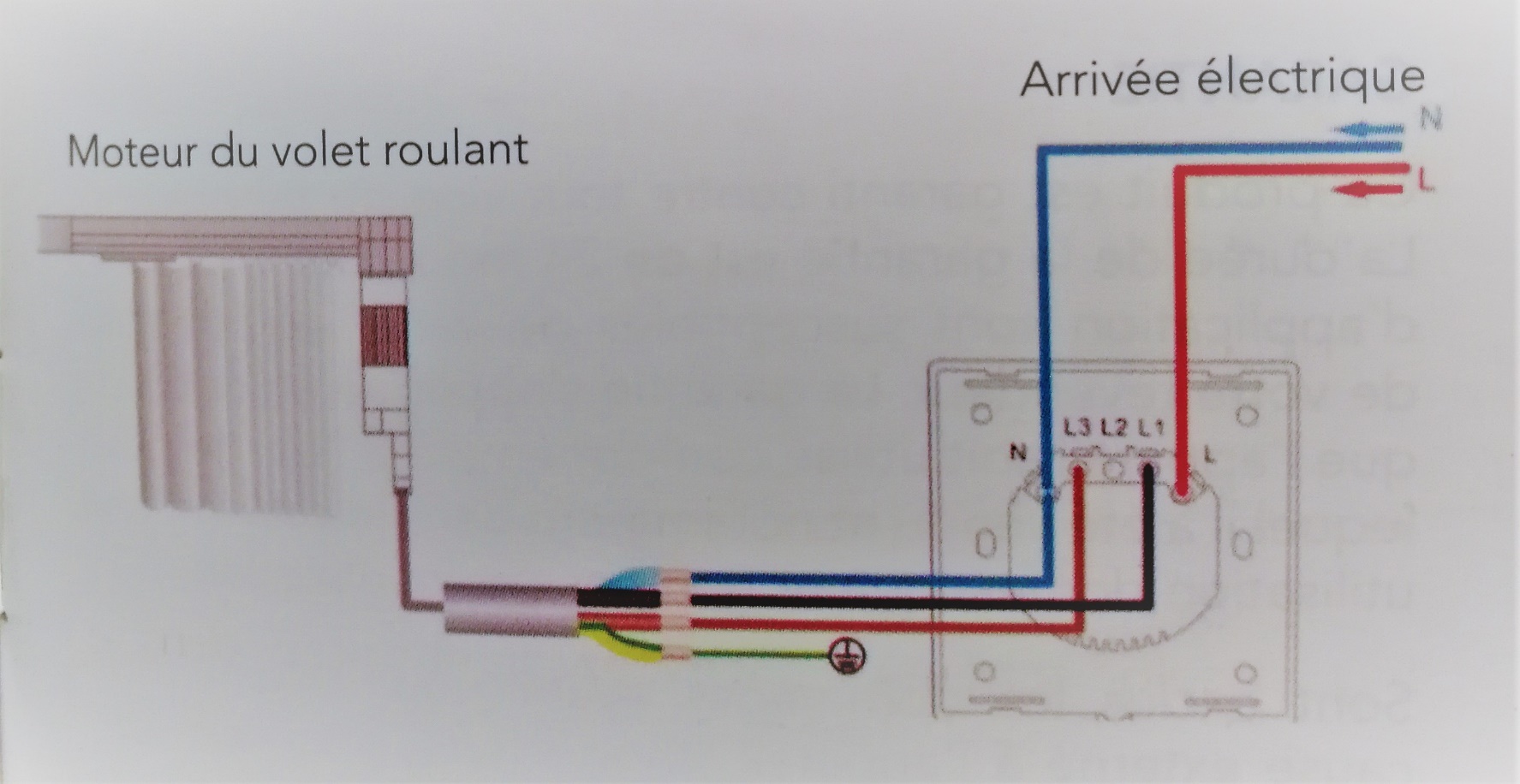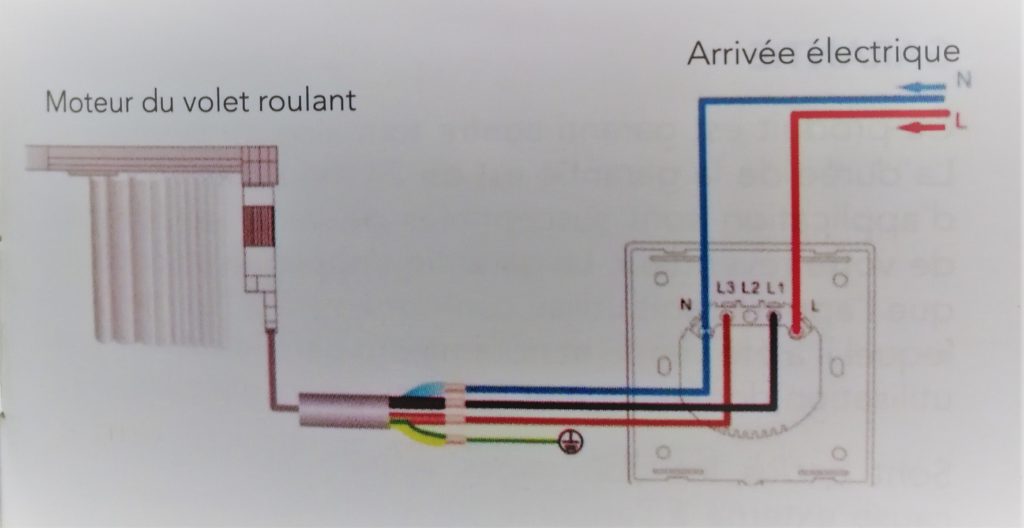 Regarding the installation, the diagram to follow is relatively simple and identical to what we have for the other switches. If you have any difficulties, we refer you to our tutorial to install a switch for roller shutters but know that this is done quite easily once that you have found the arrival of the cables of your roller shutter and the arrival of your own wires. Neutral is required but if you have roller shutters, it is.
Be careful, if your shutters only work with a wireless remote control, you cannot install this type of switch.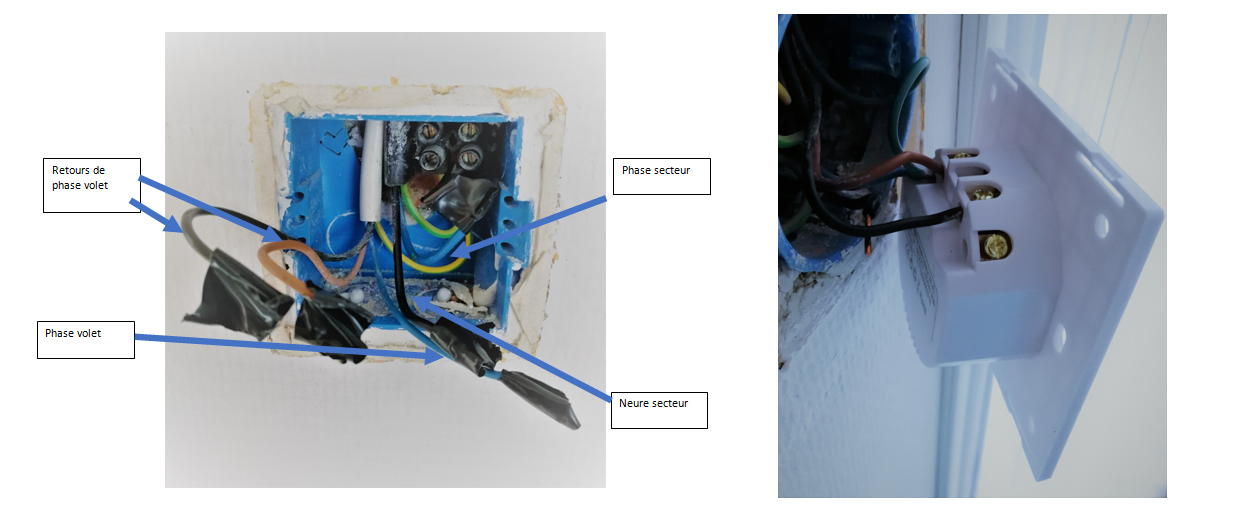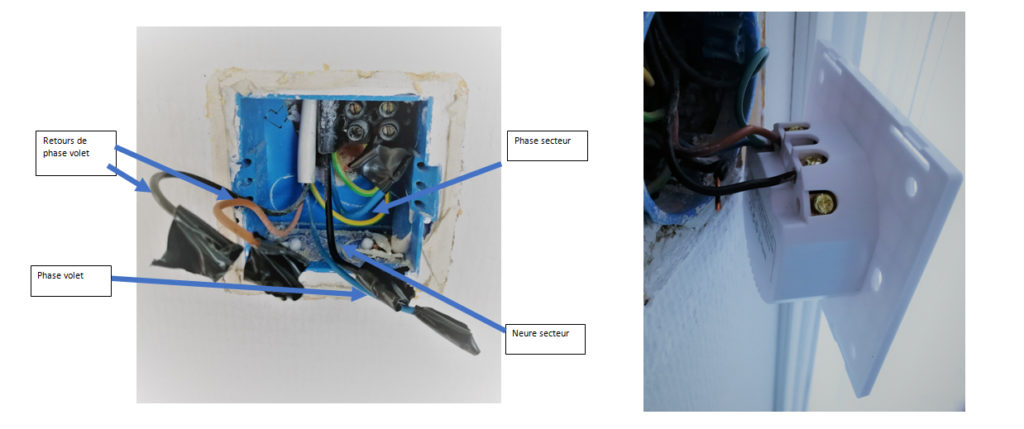 In principle, the installation should not pose a problem, but respect a minimum of safety rules such as do not install them without cutting off the power supply Or other. We also advise you to restore the current before putting everything in place in order to ensure that you have not inverted the upward and downward phase returns.
Once powered on, we see that KONYKS opted for the use of a backlight on its switch. To have tested a number of them, it has its advantages and disadvantages. The main disadvantage is that there is always a blue light in the room at night. You get used to it ... or not. The advantage, in use, is that if you have to close the shutter almost entirely manually (close it but leave space between the slats for ventilation for example), without light, you don't see where to press. But the best of the best, it would be to have the choice to activate or not the backlight. But that is not possible…
KONYKS Vollo: the KONYKS app for more security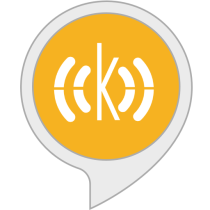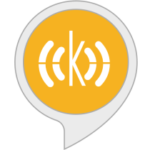 KONYKS decided to create its own application smartphone in order to control its devices. If you are not used to it you will quickly find your way around as it is kernel based Tuya Smart. But why in this case do not go through Tuya or Smart Life? That's a good question because it requires you to have yet another third-party application and an additional skill, which after a while becomes a real headache. The big advantage is that the servers allowing the operation of KONYKS products and the storage of data are located in Europe, at AWS, i.e. Amazon. So again, a detail that is important for the security of your information and the reliability of interactions. There is also very little latency when using voice or via the application.
For installation via the app, it is Smart Life, therefore no difficulty to install it because it is done like a catch. We will give you the outline, but for more details, do not hesitate to go to our tutorials Smart-Life / Tuya Smart.
When you turn on the switch, the top button will flash showing that it is ready to be paired. If you ever need to start over, keep your finger pressed on the top button for 20 seconds. Don't forget to activate the Skill Konyks to be able to use it with Alexa.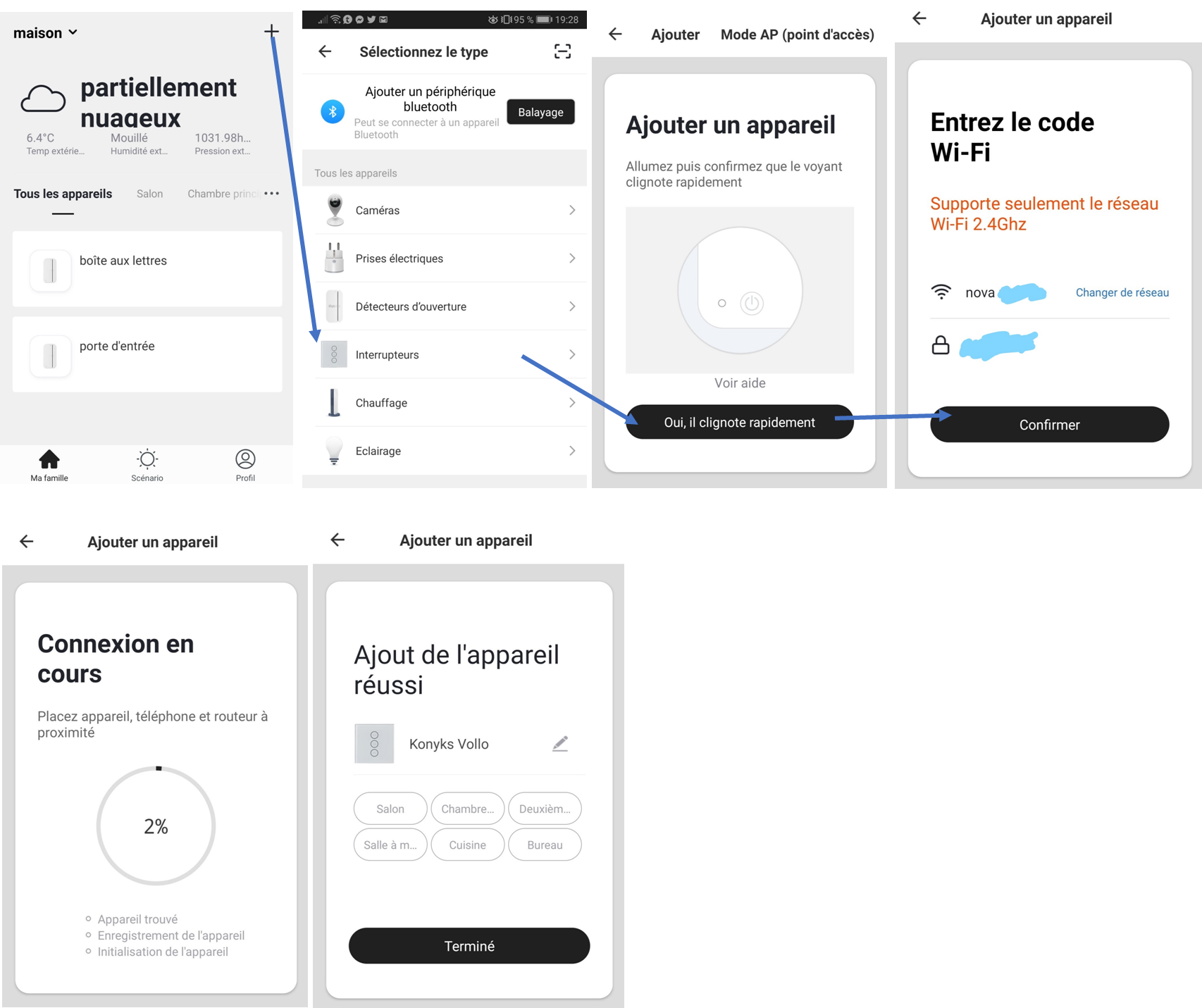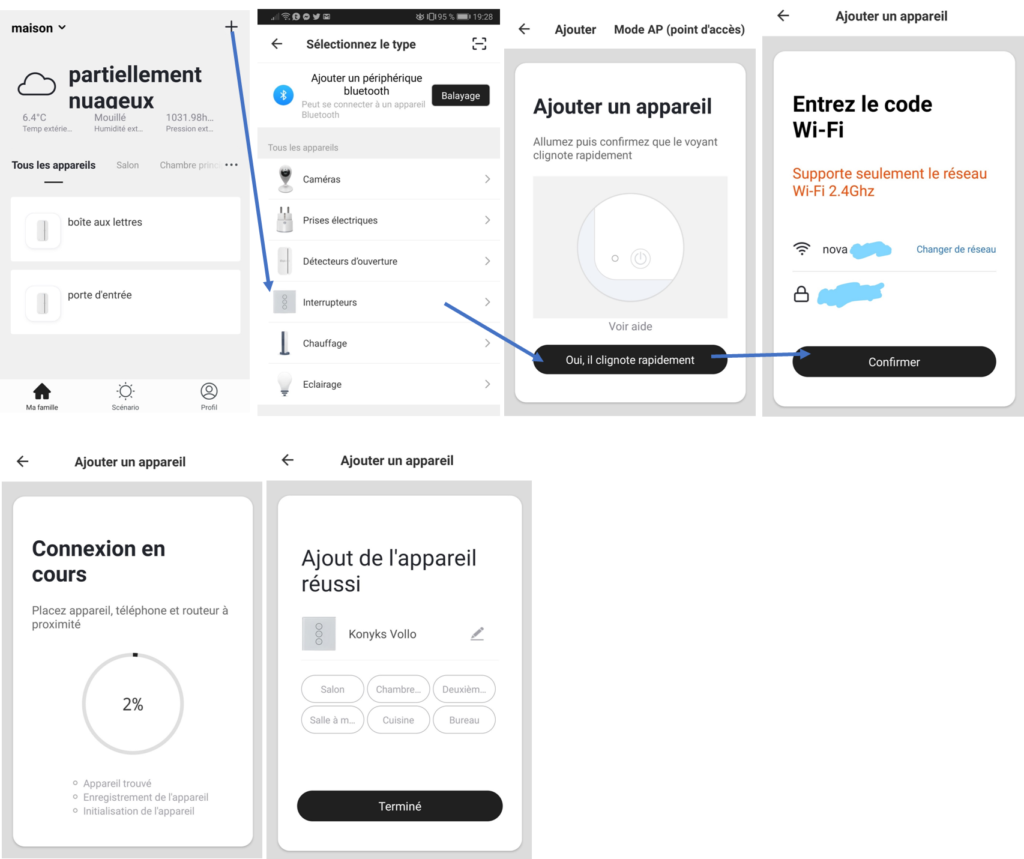 The switches for shutters remain above all switches and it is necessary to know that natively, to open or close the shutter, you have to say on or off (but you can create a routine. Check out the dedicated tutorial). At present, it is not possible, under Alexa, to control the "pause" function during descent or ascent (the middle button). This will require going through a scenario (it works as under Smart Life) and then put it in a routine under Alexa (Cf. roller shutters tutorial).
THEKONYKS app offers you the possibility of customizing as much as possible the use of your shutters thanks to time schedules (opening, closing, also possible via the routines Alexa) but also scenarios for automate the opening and closing of your shutters according to sunrise and sunset for example. These scenarios also go back to Alexa.


Alexa should automatically detect your new device. If not, press the "+" to add a device, select "Add a device", switch and let it guide you.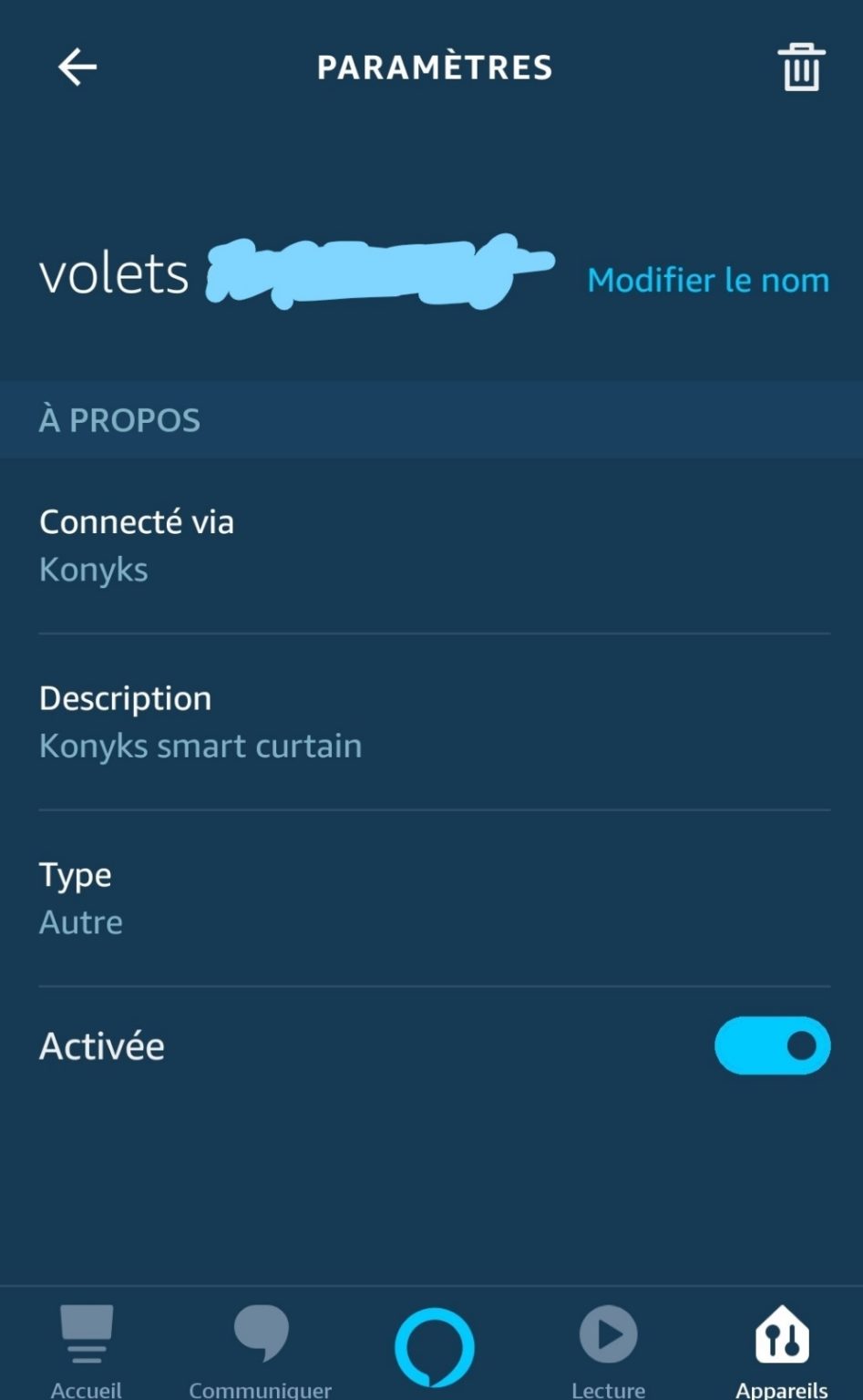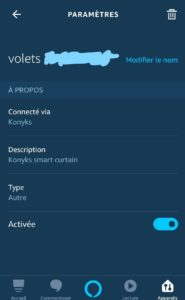 What to say about our Vollo? We hear you from there saying that we can do exactly the same things as with the other switches tested (at least the ones that don't creak), not less but not more either. It's true. But where KONYKS stands out is in quality and detail. You have materials of good quality (screws, plastic, stud ...), traceability, real declarations of CE conformity, a discreet logo, characteristics that make it usable with almost any type of engine and a securing of servers that n do not have all brands. On the other hand, the blue lights are still not deactivatable and the price can bother some ... In conclusion, it is an excellent product as the brand has accustomed us to it.
Not available
August 12, 2022 4:07 a.m.
Konyks Vollo - Built-in WiFi switch for roller shutters compatible Alexa
39.90€