Ah lala, the connected switches... For some time, they finally manage to free themselves from this dirty neutral wire. The Alexians have already tested two switches working with our facilities, both from the Zemi brandsmart. first was in Wi-Fi but required a capacitor and the second in ZigBee installed like a standard switch (with a Hub anyway). But in both cases, no possibility of back and forth.
So we come back to you with a third thief, a new Zemi switchsmart, without neutral because wireless ! Yes, we are more on a remote control switch (its name is actually remote switch) than a real switch. It will allow you to operate all types of devices, but also scenarios. It works in ZigBee (it will not saturate your Wi-Fi, but you need a Tuya Hub) and it does not require any hacking of your installation. This switch is available in single, double and triple ways. Sold from € 17,64 depending on the number of routes, it is still an exclusivity by Les Alexiens!
Earthsmart : a ZigBee switch without neutral or wire, beautiful and thin
Our switch is packed in a neutral white cardboard without any specific identification, as the brand is used to. Inside, it remains well protected. We find there the switch, a double sided adhesive and that's all. Novelty and exclusivity oblige, there is no installation guide available yet. But it's relatively simple, you'll see. Please note, as stated above, ZigBee products require the use of a dedicated gateway. The Echo Show 2 or the Plus also have a hub, but compatibility is not systematic with all ZigBee products. In this particular case, it is mandatory to have a Tuya hub, you will understand why later. To install the bridge, watch this test for the procedure.
Design level, it is magnificent. The Alexians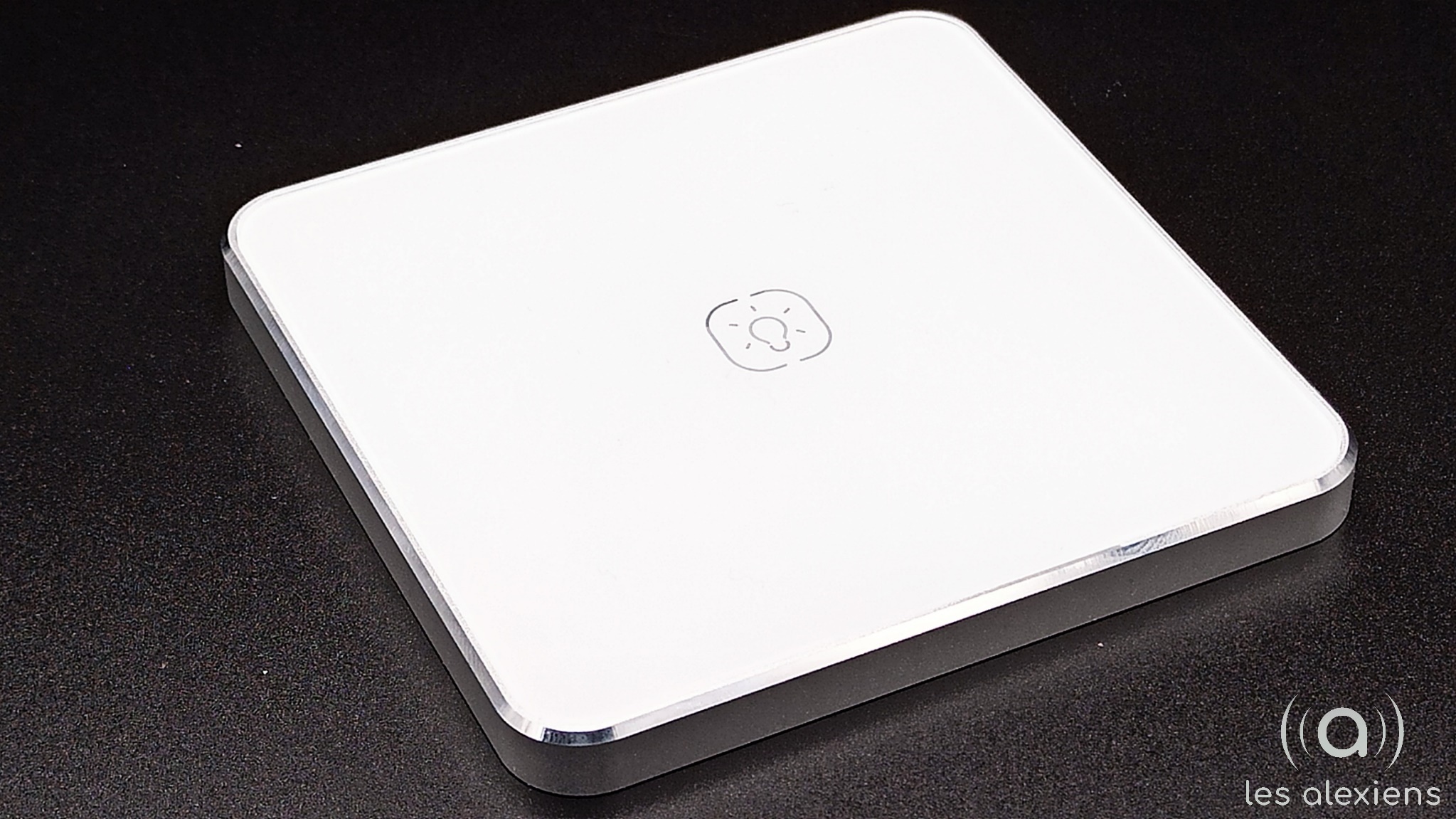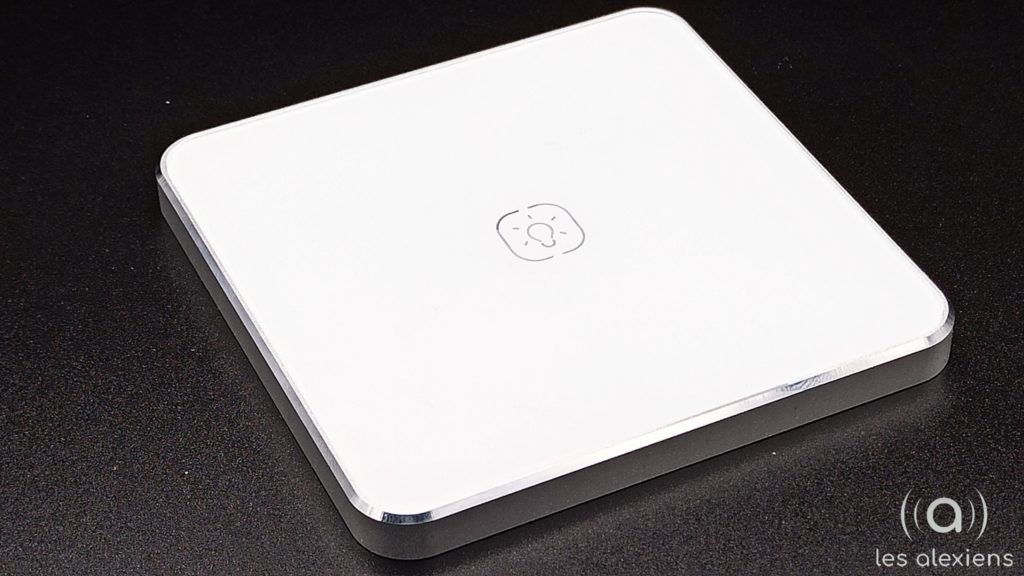 Design level, it is magnificent. It is the switch in its simplest form: a facade and a frame. The latter, in aluminum, rounded in the corners, gives it a high-end appearance. The front is in tempered glass 8,6 cm wide, with a white background (also available in gold), and has between one and three pressure zones depending on the number of lanes. Its thickness is only 1 cm.
There isn't really a button per se. Indeed, no electrical circuit to manage, just a small contactor which will come to put into practice your various requirements according to the exerted pressure. It works with two supplied CR2032 flat batteries. In order to be able to use it, it is necessary to remove the protections under the batteries in order to close the circuit.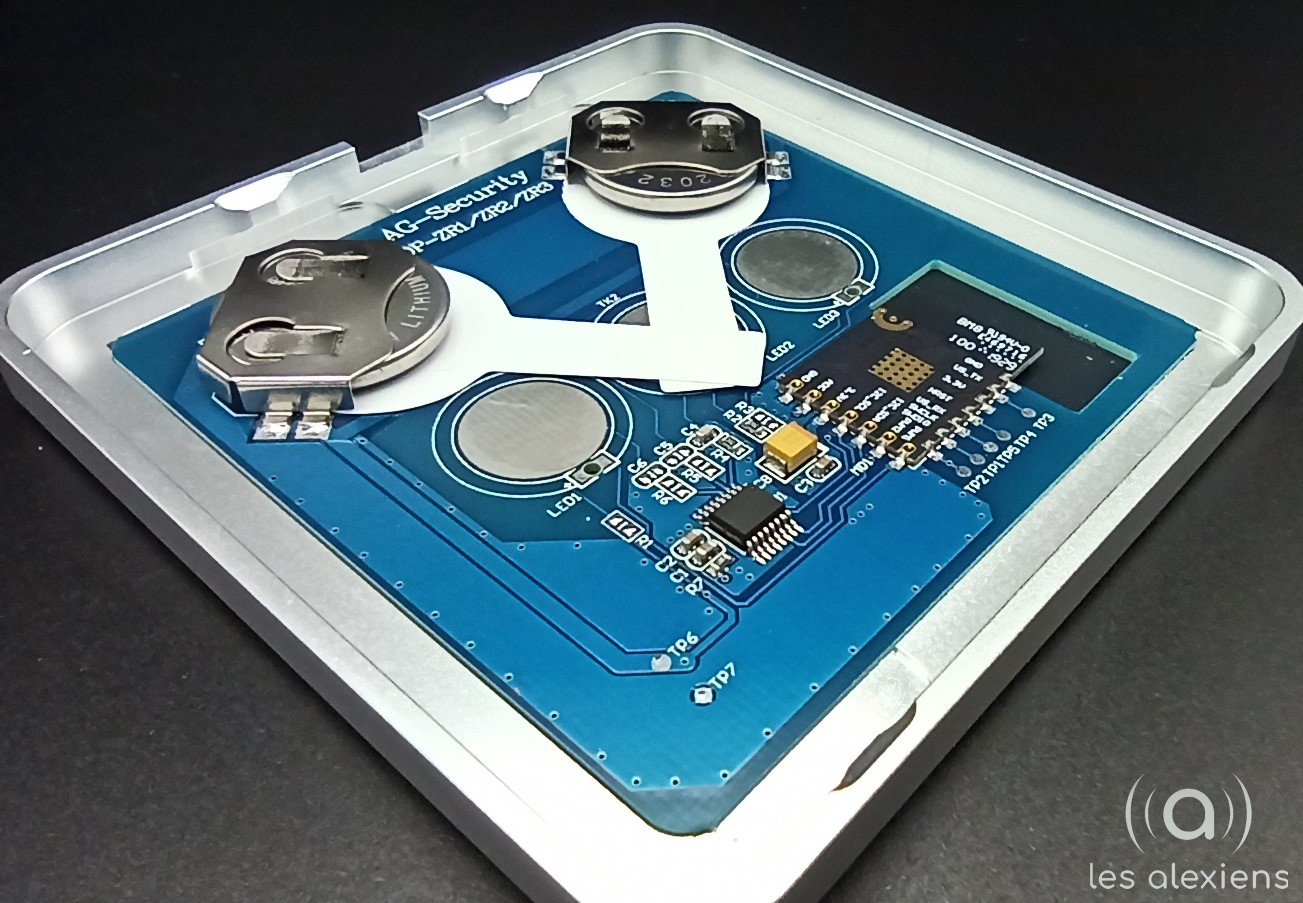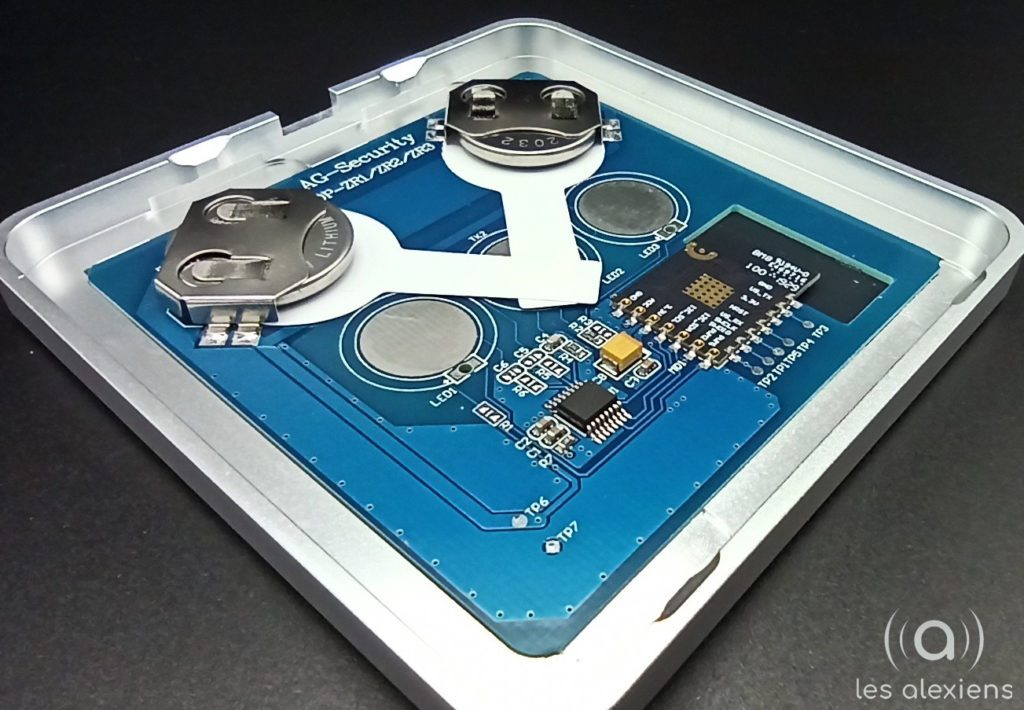 Zemi Wireless ZigBee Switchsmart : use via Smart Life and a Hub
To use the switch, you need a ZigBee bridge. We used the one from the Zemi brandsmart, which you will find here how to get started. To install the remote switch it is very simple. First of all, press the "button" for 10 to 15 seconds to make it enter pairing mode. It will blink. Then in Smart life, go to your Hub, on the first page, and press "Add a sub-element". The app will take care of the rest.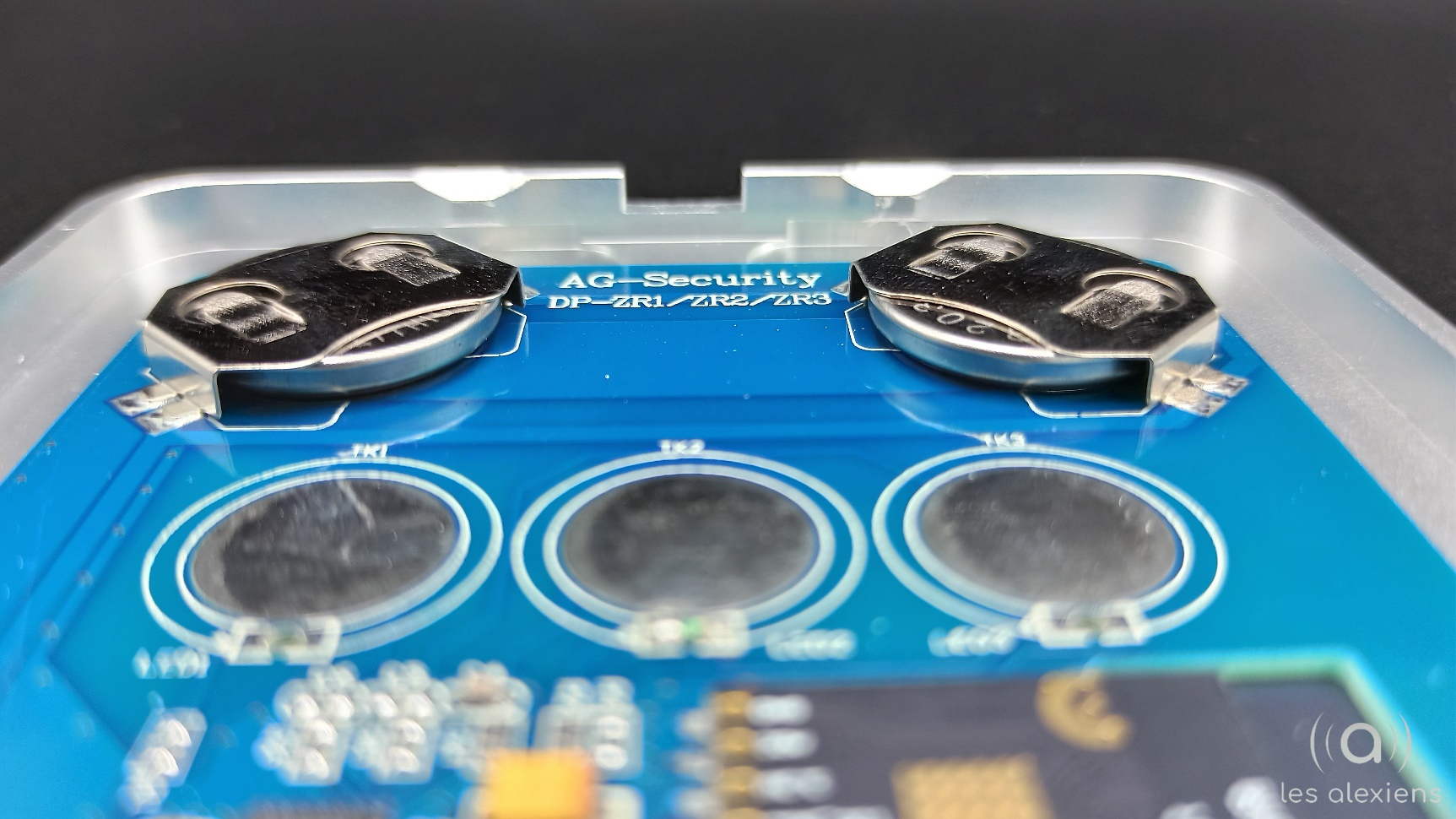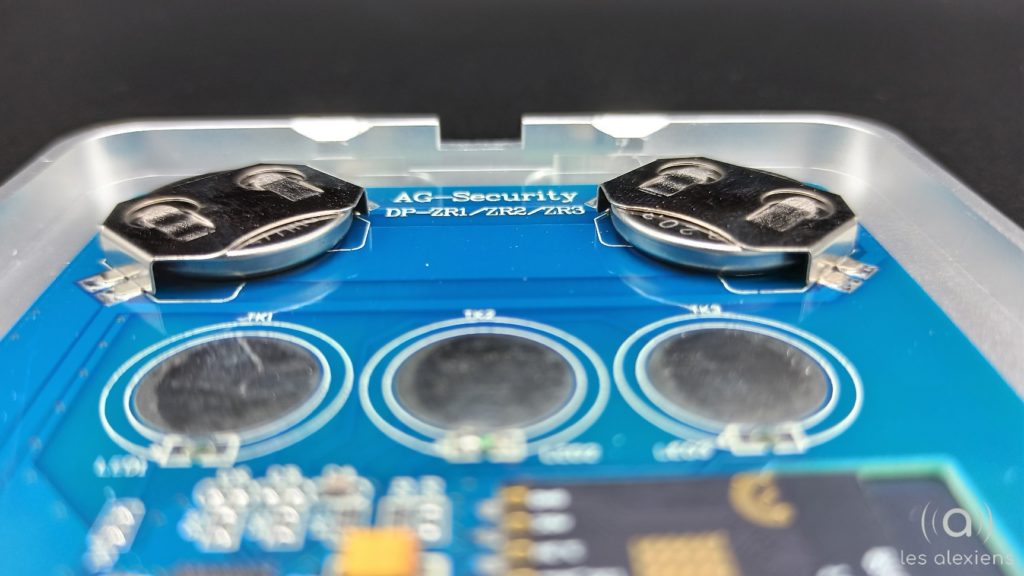 Once installed, your switch will appear and by entering it, you will be able to configure it. Indeed, as such, it is useless. You have to go on "Add intelligence". From there, let your imagination run wild.
Indeed, you will be able, for each "button", to choose the action to associate with:
One push
Double pressure
Long press
Then, for each physical action, it's up to you to determine the digital action to apply:
The triggering of an already created scene,
The realization of an existing automation,
Control of a connected device.
Hey yes… Top no ?! But be careful, this is only possible with devices or scenes / automation under Smart Life / Tuya. Indeed, the list of devices available to be controlled is that of your Tuya application / Smart Life, as well as your various creations. There is absolutely no need for the device you want to drive to be a ZigBee device, although it is mandatory to have a ZigBee bridge for switch operation.
So you can turn on a device with a single click, l'extinguish with a double et switch off a group of devices with a long press for example. You can also set up a back and forth system by putting two switches from one end to the other of a corridor for example, provided that your bulbs are connected. You can also put a switch connected with wire but without neutral at one end of the corridor and this one at the other end to control the first. The possibilities are enormous and varied. In use, there is no problem. It's extremely responsive thanks to the ZigBee. It's truly pleasent.
It's extremely responsive thanks to the ZigBee. It's truly pleasent. The Alexians
In conclusion, this ZigBee wireless switch is remarkable. Wireless, therefore without neutral, it does not require any modification of your installations. It is more than a switch because it will allow you to control your equipment, but also to apply scenarios or automations (closing all the shutters of a house for example). Its price is also an excellent asset, because at minus 18 €, it is an unbeatable quality / price ratio.