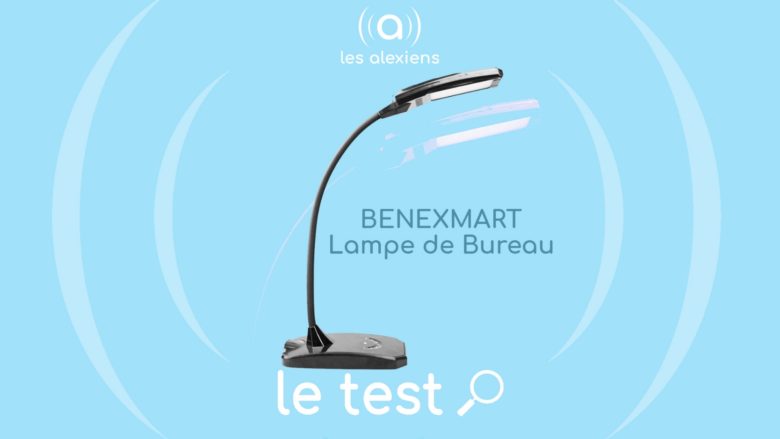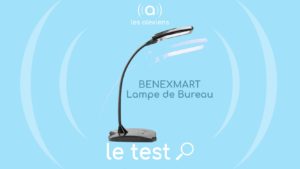 The Alexiens offer you very regularly Wi-Fi smart bulbs or working with a bridge, but never a connected luminaire. Well, it's done with this test! Corn ? What is a luminaire? Well, according to the French lighting association, by luminaire is meant the assembly containing the lamp but also all that is necessary for its operation.
It's here desk lamp (or bedside, as you wish, or both if you work in bed, like us) from the brand BENEXMART which opens the ball. This recent brand belongs to Earthsmart and this product is on sale since July 2019 at the price of 40 €. Not necessarily excessive for this type of lamp, but for the price, what do we have? Patience, patience ...
You will find this same product under the Benexmart brands on Amazon.fr and Zemismart on Aliexpress. Why? Mystery, but they are exactly the same.
Not available
August 12, 2022 5:52 a.m.
BENEXMART: a lamp with warm and cold whites
Our Benexmart / Zemi desk lampsmart is delivered in a white box with a small handle on the top. It's white and… that's it. There, we could not be more minimalist. But hey, with experience, we've learned that just like with people, appearing is sometimes misleading, one way or the other. But for the ego of the consumer, the pleasure of receiving, the joy of offering it, more sophisticated packaging would be a real plus and unconsciously, the qualitative aspect of the product can be modified. But let's continue our unboxing (it's like unboxing, but more connected).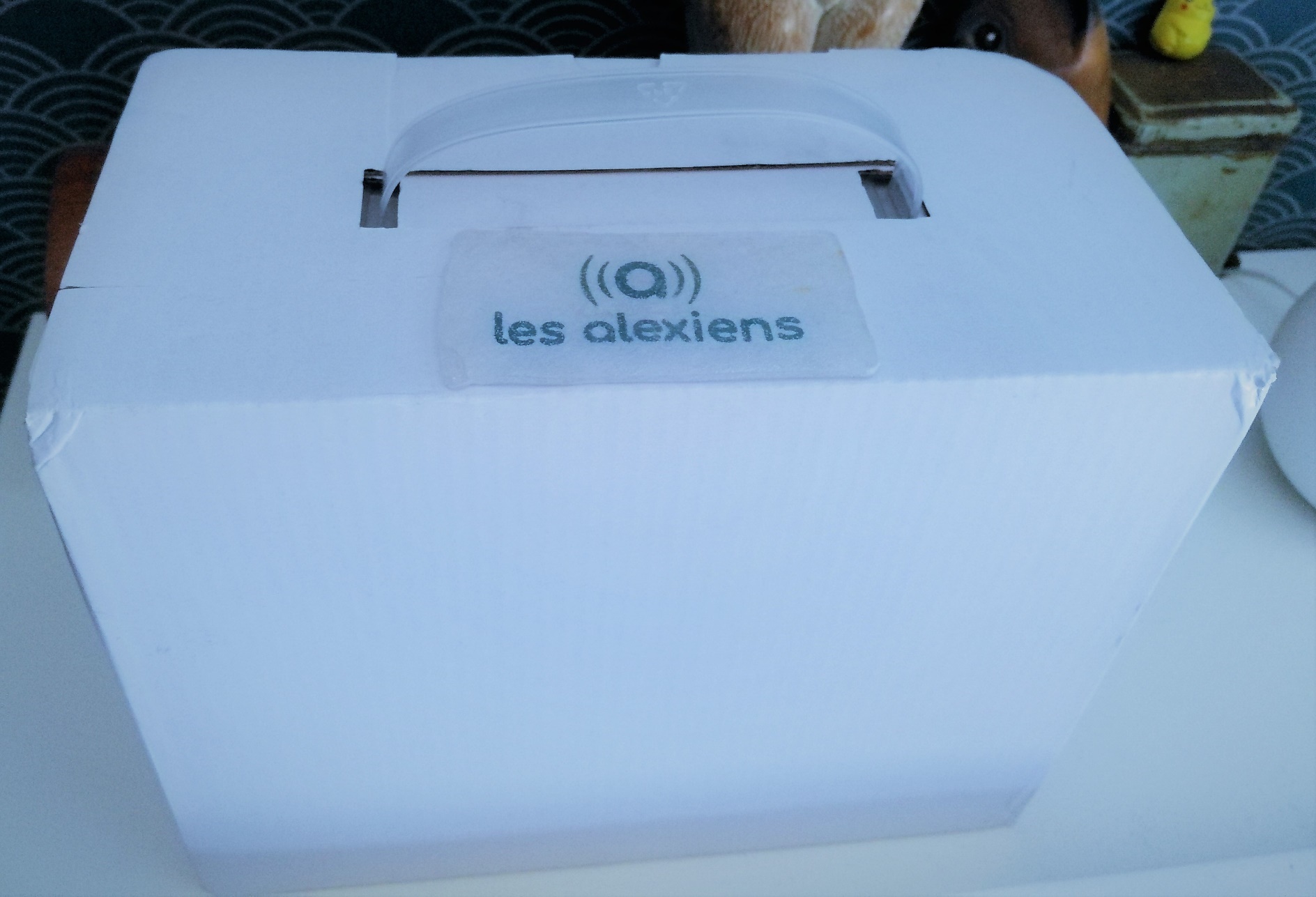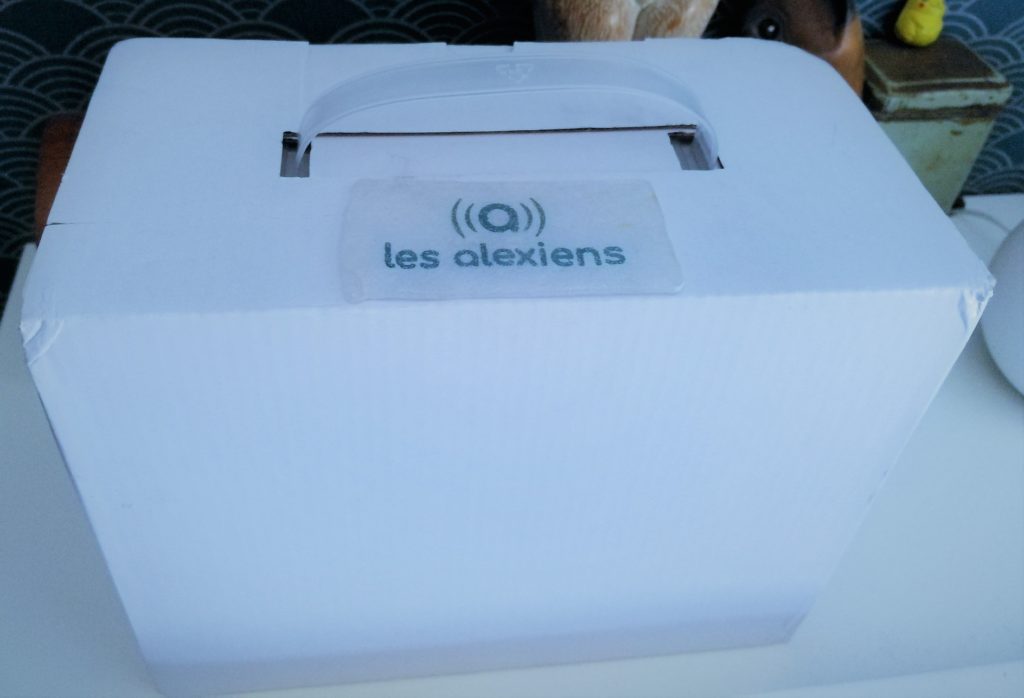 Inside, we find a power supply, a notice " et our desk lamp well wrapped in bubble wrap (which, for info, was created in error by two researchers trying to come up with washable textured wallpaper. They still wonder how they got there, but that's another story …). The word "notice" is in quotation marks, because it is made of an A4 sheet photocopied in front and back, black and white and folded. It does not look very professional, but that said, even if it is exclusively in English, we find there the information necessary for the installation and the pairing of the lamp. There are, however, typos in the diagrams, as we will see later.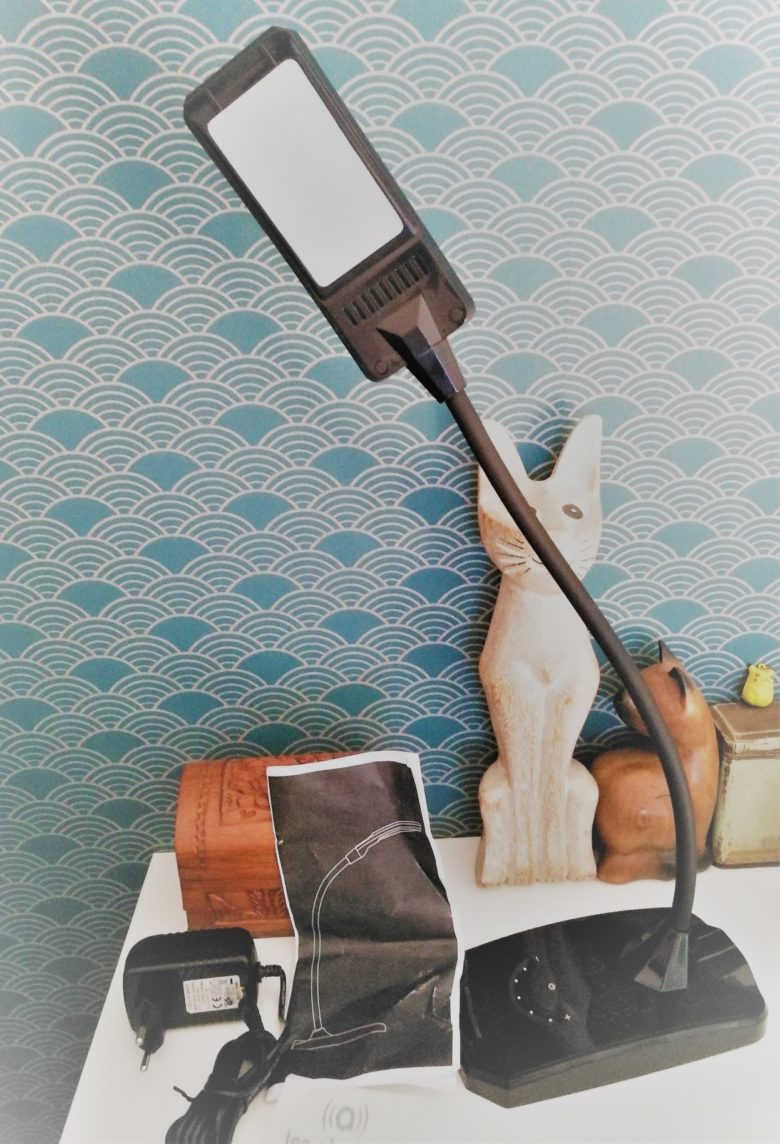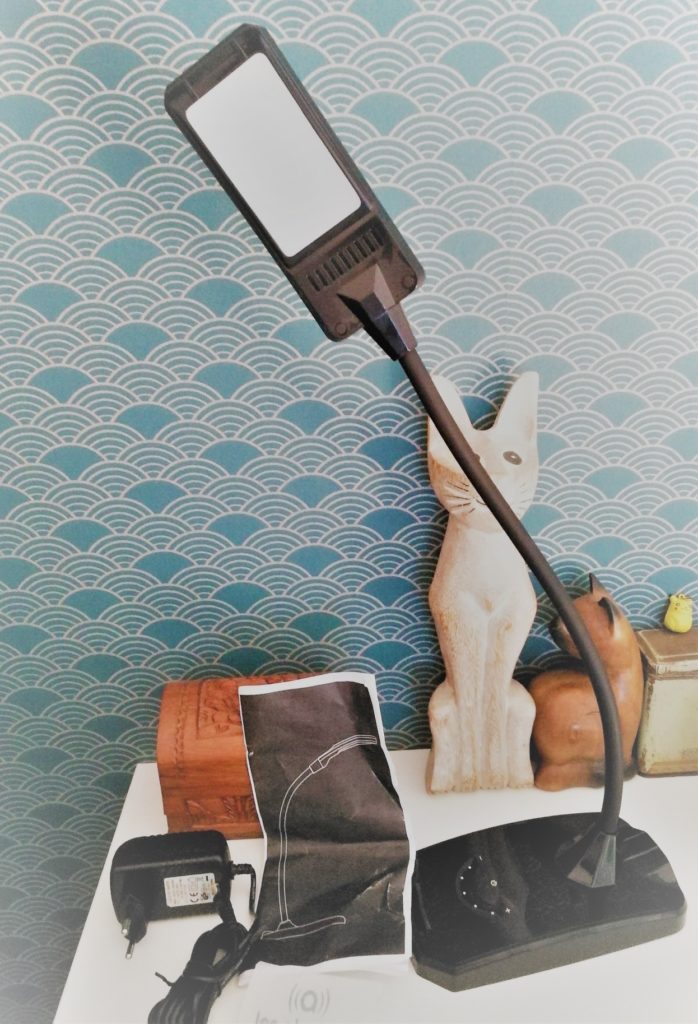 Le luminaire is a block, in black plastic, and is more than 50 cm erect to the maximum, with the LED head perpendicular to the ground, because it 15 cm long and arm in fact 32, add to that the height of the base. Moreover, the axis can take all the desired positions and tilts 180 ° while the head can turn 90 ° on each side. The weight is loan from 800 g all inclusive. What about the quality of the materials? She is in black plastic, shiny, quite qualitative and thick even if the design is rather sketchy. But this is a matter of taste. However, it is quite square and angular while current designs are more about curves and light colors.
The base has a touchpad with 6 resistive buttons : on / off et 5 gradations of light intensity (20, 40, 60, 80 and 100%). It is also possible to do vary the brightness by sliding your finger on the pad from right to left and vice versa. It is very responsive to use. Something else well thought out, there is a USB socket on the back to charge your smartphones or tablets. It is given for 1 A and 5V on the technical specifications, but 9,5V on Amazon. The 5Vs seem the most true with regard to the products and the observed charging speed. Sufficient to charge your devices at night or during your working time, we are by no means on a fast charger which is more towards 2 amps. The loading speed is not at all ridiculous, however. For example, allow about 10 minutes to charge an active phone by XNUMX%.
Level technical characteristics, how is it looking ? We will say that this is the strong point of our lamp because it is full of good intensions:
21 "hot" LEDs and 21 "cold" LEDs. It is the fact of playing with these different LEDs and the intensity that will vary the heat of the light,
Maximum consumption of 6W,
Temperature from 4000 to 4500 K,
Color rendering greater than 80,
Luminous flux of more than 1000 lux maximum (2000 measured by us at 30 cm from the source), 270 lm minimum.
No UV in the light emitted (which is quite logical because LEDs generally produce little, unlike halogens),
Soft light avoiding eye fatigue. Moreover, on the videos and photos, you can observe that there is no flicker or light flicker phenomenon. The latter occurs with poor quality LEDs and also causes eye strain on its own.
No mercury or lead in the manufacturing,
The underside is made of a velvet type covering which does not scratch the furniture… but which slips a little.
Zemi desk lampsmart : daily use with Smart Life and Alexa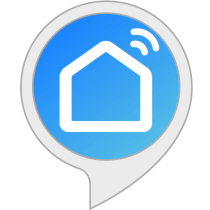 The installation of this Benexmart lamp will be done with Smart Life like a standard bulb. But how do you make it flash to put it in pairing mode? It's ultimately simple, but you need a paperclip ! Yes, behind the base unit, to the left of the USB socket, and not to the right as in the technical documents, there is two small holes. Push the paper clip into the one closest to the USB plug (so the one to the right of the left, are you following?), You should hear a little click. Leave to press for a few seconds until the little blue light, coming from the second hole (so the left from the left, ok?) Flashes. Your lamp is in pairing mode.
Remember toactivate the Skill Alexa to be able to use it with your echo devices. Open theapplication Smart Life, then press " add " and select " lighting "then "Lighting device". Then, as usual, once in pairing mode, select your Wi-Fi, its password and let it be (see our complete tutorial for Smart Life).
In the application, you will be able to control the bulb of two different ways :
Setting thelight intensity
Setting the warmth of white
Use with Alexa is done via the Skill Smart Life and will consist in driving it like a lambda bulb. There are 5 heats of whites under the application which are callable by voice. Do you want natural light? « Alexa, turn on X in daylight white » ! And the rendering is very good!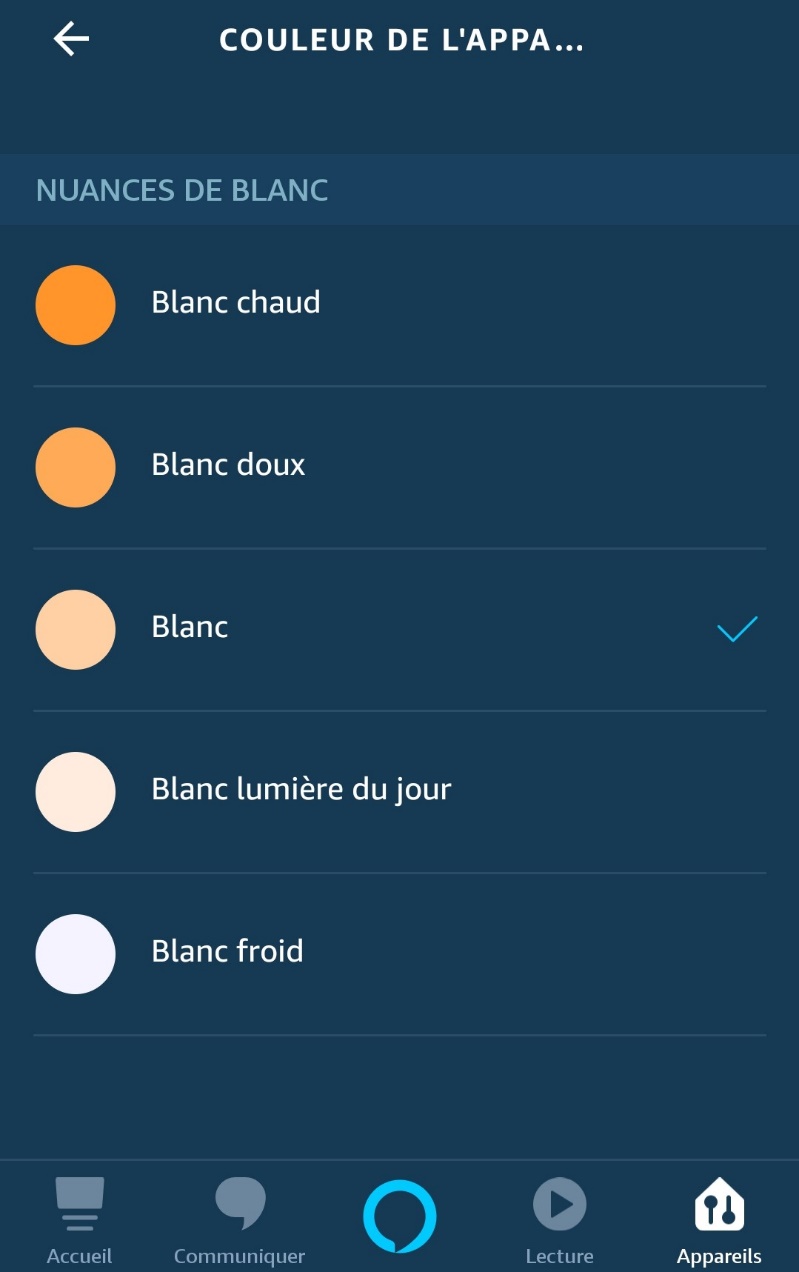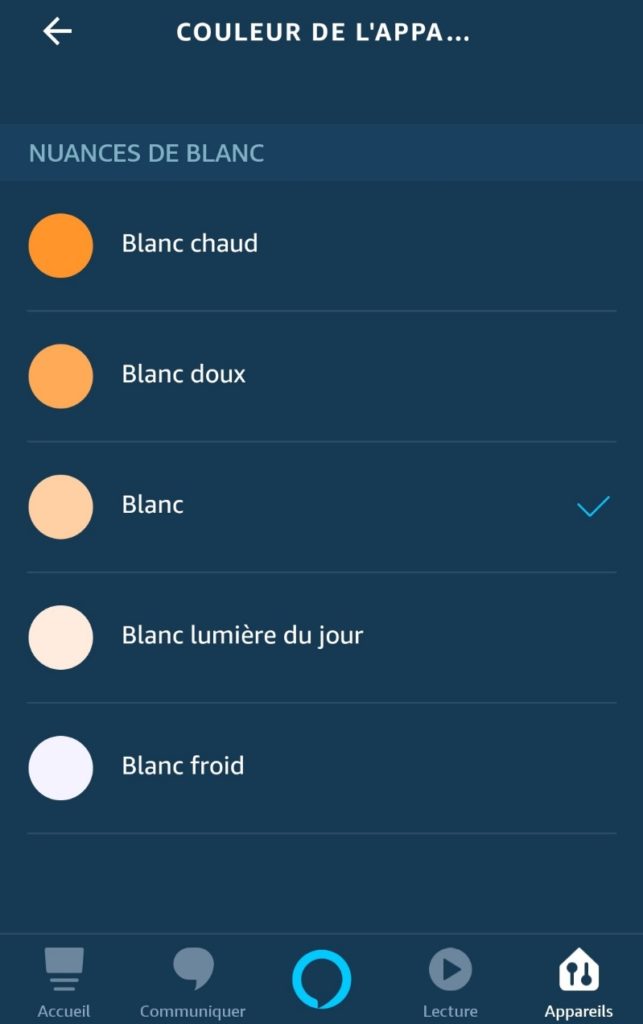 In use, the variation of the intensity is very reactive et the different heats are well marked. The light is very good, with an excellent rendering, without fluctuation or flutter. It is a great accent lamp for reading as a bedside lamp or for working as a desk lamp. The photos aren't going to show you the colors and responsiveness of this fixture at their true value, so we'll let you judge with the test video. It is always possible, with Smart Life and Alexa, create scenarios and routines to turn your lamp on or off whenever you want (in the morning for waking up for example or in the evening at a certain time if you tend to fall asleep on your book).
In conclusion, Benexmart smart desk lamp is a very good idea if we add all its strengths: controllable by voice, very good light quality, responsive, limits eye fatigue, no heavy metals, simple orientation, no brittle element in the event of a fall, charger Integrated USB ... It is nevertheless difficult to ignore its weak points which are poor quality packaging and technical documentation, a slightly dated design and may be below what the proprietary brand, Zemismart, got us used to it. That being said, we are on a completely acceptable product, of good quality and of completely satisfactory quality. So let yourself be tempted, especially in promotion.
You will find this same product under the Benexmart brands on Amazon.fr and Zemismart on Aliexpress. Why? Mystery, but they are exactly the same.
Not available
August 12, 2022 5:52 a.m.