We have presented you smart bulbs, Wi-Fi switches, led tapes, robot vacuum cleaners, kibble distributors, ZigBee products, CCTV cameras, smart detectors and lots of even more extraordinary things than the last. Alexa is it only used to automate your interior? No ! Of course not ! You can also play with your connected speaker. There are a good number of Skills ranging from quizzes to escape games by the way, for the more music lovers among you, to the noises of farts. But we are going to present to you a hybrid game, the first of its kind on Alexa. A game combining a physical board game that can be sublimated thanks to Alexa via an ad hoc skill (not the fish or the captain, but "which is perfectly suited to this use" says the Petit Robert, not your cousin but the dictionary). This is the board game "The Adventurers of the Rail" published by Days of Wonder (Asmodée group).
38,56€
50,40€
In stock
35 new from € 38,56
Refurbished from 1
August 13, 2022 15:52 a.m.
77,05€
Not available
August 13, 2022 15:52 a.m.
Railroad Adventurers: the board game
This game, created by Alan R.Moon in 2004, received several international recognitions as'Ace of Gold 2005, Game of the Year 2004, for an Origins Award 2004 or a Japan Boardgame Prize in 2006. Very good then. We'll talk about the base game here, but there are variations like The Adventurers of Rail Europe, Scandinavia, Märklin, 10th anniversary… As well as extensions (Asia, India, France, Africa, London, the Netherlands, New York…). There are thus some rules which may change from one version to another.
The box does 30 30 cm x cm et 7,5 cm high for a weight of 1 kg 350. All the same ! She is nicely illustrated with a steam engine and passengers dressed in 1900s fashion. The back features a visual of the game board, the story brief and the contents of the box.
To know :
1 board, which when unfolded is 79 cm by 52,5 cm,
240 colored wagons, i.e. 48 cars per color (45 to play and 3 in advance),
110 Car cards (12 of each color: purple, orange, yellow, red, white, black, green, blue and 14 multicolored (locomotives),
30 Destination cards,
1 summary card,
1 rulebook of 4 pages,
1 "Longest path" card,
5 score markers in wood (blue, red, green, yellow and black),
1 codes to have access to Days of Wonder Online.
Everything is really well illustrated, very early twentieth century, and very good quality: the board is very thick, the wooden pawns, the superb cards… Nothing to say, we can't wait to try it. Only plastic wagons are a little coarser.
Now let's talk about the goal of the game. You are a group of friends who have decided to challenge each other to win 1 million dollars by crossing by rail as many cities as possible on the territory of the USA (and a little Canada) in 7 days . Okay… the days aspect doesn't matter in the game, nor does the $ 1 million… To put it simply, you will have to connect as many cities as possible and, if possible, with the longest route.
Indeed, each player (from 2 to 5) starts with 4 wagon cards randomly distributed, 3 Destination cards et 45 cars of its color.
To get as many points as possible, there are three ways to do this, which can be combined:
Take possession of the railway between two towns. For this, it is necessary to place a number of wagon cards equal to the number of spaces between the two cities and of the same color. For example, between Salt Lake City and Las Vegas, you will need to place 3 orange Wagon cards in order to be able to put your plastic wagons. Some routes are double (for example between San Francisco and Salt Lake City) and in this case, it is up to you to choose which color to apply. Please note, double lanes can only be used from 4 players. Locomotive cards allow you to substitute any color.
Connect by a road, continuously, the two cities of one of your Destination cards (unknown to your opponents so be careful not to be cut off). For example, connecting Los Angeles to New York will earn you 21 more points at the end of the game. But if you didn't succeed, you will lose those points instead of earning them. You are free to choose the number of Destination cards you want to create.
Take the longest path. The player with the longest continuous path (even if excluding Destination cards) will have a 10 point bonus at the end of the game.
At each turn of the game, you will be able to either take wagon cards (2) either take possession of a railway between two towns (one and only one at each turn) or take additional Destination cards. It is therefore necessary to choose your tactics well so as not to squander your cards in small sections but to favor longer ones. Indeed, each section will earn points according to the number of wagons the constituent (from 1 to 15 points). The points are marked on the perimeter of the game board, with the wooden pawns. The game ends when a player has less than 3 cars at the end of his turn. In this case, you can take one more turn and then proceed to the counting of end points by adding or subtracting your Destination points and those for the longest path. Allow between 30 and 60 minutes per game, depending on the number of people.
Allow between 30 and 60 minutes per game, depending on the number of people.
It is a game with relatively simple and addicting rules. The first part is enough to understand the rules and the following ones to set up tactics to score as many points as possible. Accessible from 8 years old, Les Aventuriers du Rail by itself is definitely worth it. The kids want it, the adults love it and everyone is having a good time. But, you say to yourself, what comes to do Alexa in there? We get there ... by car!
Play with Alexa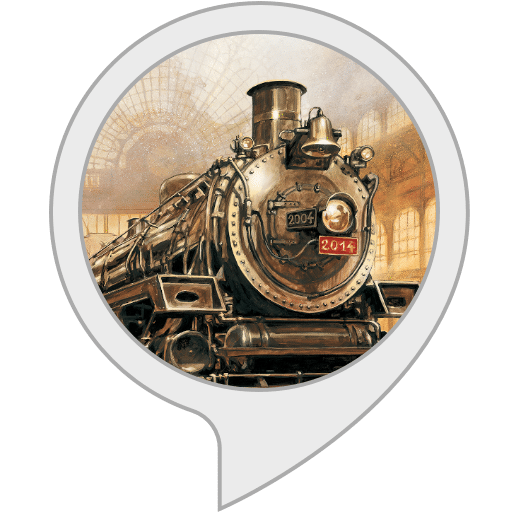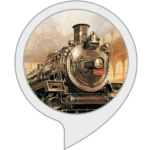 To be able to use the Skill Alexa, it is of course necessary to activate it but also tohave a physical version of the board game. Please note that Les Aventuriers du Rail exists in two versions of the Skill: the one for the base game (USA) and that for the European version. This is the first version that we will present to you.
As we have seen, this game has many expansions and variations, but dating back to 2004, it can go around in circles, the principle remaining the same. How to diversify without making yet another add-on? Using new technologies. Days of Wonder has already taken the plunge with the Online version of the game on www.daysofwonder.com that you can activate with the code you have on the rulebook. This will give you access to versions that allow you to play against other players.
With Alexa, the approach is different because it is based on interactivity via two modes of play.
First of all, if you have never played this game, Alexa will offer you a demonstration. But we invite you to do at least one part on your own in order to familiarize yourself with the rules. Afterwards, if you are under 5, she will ask you if you want her to join you. Hence the two ways of using your speaker.
Indeed, the first game mode will transform Alexa as master of the game and ambianceuse. It will guide you in this case throughout the adventure by counting the points, reminding you of the rules if you try to take a route already in the possession of an opponent or a double route not available to less than 4 players. It's up to you to tell him what you are doing, for example: " Alexa, black player takes Seattle - Portland ". It tells you when the game ends according to the number of cars remaining and validates or removes you, if you fail, the points of your Destination cards, by announcing the routes that are present there. It also awards points for the longest railroad. And she doesn't cheat or cheat! You made a mistake in a statement, tell it to cancel and let's go.
Why ambiente? Because you will be entitled to a
saloon-like background music
, nice enough without becoming heady. There will also be
sound animations
for each railway track taken, with a
train departure announcement
,
steam engine noise
...
and the images that go with it
! Indeed,
this skill is multimodal
and she takes all her interest in a
Echo Show 5
or a Spot by letting you see the
real time scores
, by displaying the lane you have just taken but also various animations throughout the game. All information stated is also written for clarity.
In the second game mode, Alexa becomes a player, so you can even play alone. There is no need to draw car cards from him, which could have been quite painful. You will just be asked to draw three Destination cards from him and tell him the routes on each one. She will then manage her game by drawing virtual cards. When it's his turn to play, tell him « Alexa, it's your turn " and she'll draw cards or take a railroad track. In this case, it's up to you to place his wagons on the board. The games are not out of balance at all, she is far from winning every time. However, if you forget to let her play, she will tell you. There are also regular little touches of humor in her statements or remarks if she has been cut off the route she wanted to make. Of course, Alexa also counts the points and sets the mood. No problem noted on the different parts made in her company even if on the first, she managed to place 6 wagons in 4 turns without drawing cards, which is impossible… But maybe it was an error on our part during the first game?
You can see through our different screenshots a sample of the animations available in the
skill Alexa
The Adventurers of the Rail.
To play or not with Alexa is a personal choice but it has its advantages: allowing to play alone but also to play with the rules of 4 while being only 3.
The pace of the game is not necessarily slowed down because we can cut short his monologues. We also didn't see any particular understanding issues from the Skill, except maybe with a town name like Raleigh or Duluth.
The game itself is very addicting, fast-paced, and addicting, but you chose one or the other of the game modes, using Alexa takes the game to another dimension, bringing it a huge plus by making the game interactive and immersive.
An example ? One of the young testers of the game had already installed the board and the cards on the map at 7:30 in the morning impatiently waiting for a new game!
This Skill is a real success and knows how to both maintain the spirit of the game and breathe new life into it. Well done Days of Wonder!
34,11€
50,40€
In stock
36 new from € 34,11
Refurbished from 1
August 13, 2022 15:52 a.m.
79,98€
Not available
August 13, 2022 15:52 a.m.
38,56€
50,40€
In stock
35 new from € 38,56
Refurbished from 1
August 13, 2022 15:52 a.m.
77,05€
Not available
August 13, 2022 15:52 a.m.
Asmodee - Railroad Adventurers - Compatible Strategy Game Alexa
About 38.00 €