Tomorrow, Monday March 1, many home automation fanatics will rush to the shelves of Lidl stores to try and acquire the famous connected objects of the home automation solution Lidl Home. Far from the riots caused by the release of a certain food processor, it is clear that the success seems to have been there during the previous sale, the shelves being quite empty at the end of the day in the stores that we have visited… Did you do well to jump on it? Should you fall for the SilverCrest home automation gateway and Livarno Lux starter packs tomorrow ? This is what we will see.
Lidl Home: ZigBee in supermarkets!
A fairly extensive range
As we explained to you previously, Lidl hits quite hard by offering a fairly rich range from the start:
The Livarno Lux LED E27 white adjustable bulb : 9W for 806 lumens advertised,
The Livarno Lux LED E14 white adjustable bulb : 9W for 806 lumens advertised,
The Livarno Lux LED GU10 adjustable white bulb : 9W for 806 lumens advertised,
The Livarno Lux LED E27 RGB bulb : 16 million colors, 9W for 806 lumens advertised,
The Livarno Lux LED E14 RGB bulb (complete test) : 16 million colors, 9W for 806 lumens advertised,
The Livarno Lux LED GU10 RGB bulb (full test) : 16 million colors, 9W for 806 lumens advertised,
The connected plug SilverCrest ZigBee (complete test) : which offers wholesale on / off like its congeners,
Livarno Lux ZigBee RGB LED strip (full test) : 16 million adjustable colors and shades of white!
And of course:
La SilverCrest ZigBee 3.0 gateway embedding the well-known technology Tuya / Smart Life !
Ah yes, you can also find a SilverCrest ceramic fan heater operating in Wi-Fi, but we will only talk about ZigBee today…
Unboxing
Since we have chosen to present the Lidl solution Smart Home, we will start by telling you a little about the famous footbridge. Indeed, note that apart from the Wi-Fi heater mentioned above, all connected objects sold by Lidl under the SilverCrest and Livarno Lux brands require a ZigBee bridge.
Attention, if you do not know what ZigBee is, you need this gateway, or a compatible one, otherwise it will not work for you !
In short, the packaging is austere, but not ugly either, and Lidl explains rather well how its solution works ...
Inside, we discover the famous SilverCrest home automation gateway Smart Home that everyone is talking about. Measuring 8.9 x 8.9 x 2.35 cm, it is rather compact and that's good! Neither beautiful nor ugly, it is anyway a hub that you will probably hide and Lidl is well aware of this by providing you with screws and dowels, as well as a small drilling guide to make your holes well. Nothing to say, everything is there, and the whole seems rather qualitative. Note, moreover, that the brand offers a 3 warranty, i.e. one year more than the legal guarantee of conformity in force in Europe. It's good !
"Neither beautiful nor ugly, it is a hub that you will probably hide […]" The Alexians
La SilverCrest gateway Smart Home has two entries: a micro-USB for power and RJ45 Ethernet. It is therefore not a Wi-Fi + ZigBee gateway, but only ZigBee, like the famous Philips Hue hub. Moreover, you will notice that they are roughly the same format ...
Technical specifications
Here, for lovers of technical specifications, what to remember from this SilverCrest home automation gateway Smart Home :
Brand: SilverCrest
Model: Home automation gateway
Protocol: ZigBee 3.0
Connectivity: RJ45 Ethernet
Supply : micro-USB
Scope: NS. 70 meter in open area
Reception angle: 360°
Security: encryption of transmissions
Dimensions approx. 8.9 x 8.9 x 2.35 cm
Voice assistants: Google Assistant, Amazon Alexa (partially)
SilverCrest gateway: installation and use of the Lidl Home home automation solution
Installation with Tuya Smart
We have already mentioned it in our various articles on the subject, the SilverCrest gateway is powered by the Tuya cloud solution, you can therefore choose to use the Lidl Home applications, Smart Life or Tuya Smart. It is the latter that we have chosen because it is the mother application. Available under Android et iOS, you just need to install it on your mobile device and create an account to begin.
This done, all you need to do is:
Connect your SilverCrest gateway to your router / box in Ethernet,
Click on the "+" at the top right of the main screen,
Go in "Gateway control",
Select "Wired gateway (ZigBee)",
Reset device by pressing the button using the small tool provided and waiting for it to start, the two LEDs should be green.
Wait a little,
Rename your hub if you wish it.
It is done ! Nothing to say, it's super simple and fast, no difficulty is to be feared.
Note that, contrary to what we have read here and there, it is absolutely

no need to switch to the 2.4 GHz Wi-Fi network

. Indeed, your Lidl gateway communicates over Ethernet and uses the ZigBee protocol, so this step is not necessary and that's good!
You just have to pairing your sockets, connected bulbs and other devices compatible with the ZigBee Tuya / Smart Life. You will then discover the application and will be able to create many scenarios as well as automations, but here too, we have already discussed the issue extensively in our Lidl Home tests but also in our Tuya tutorial / Smart Life that we invite you to consult if you are not yet familiar with this application " smart home Has become essential.
The connected plug SilverCrest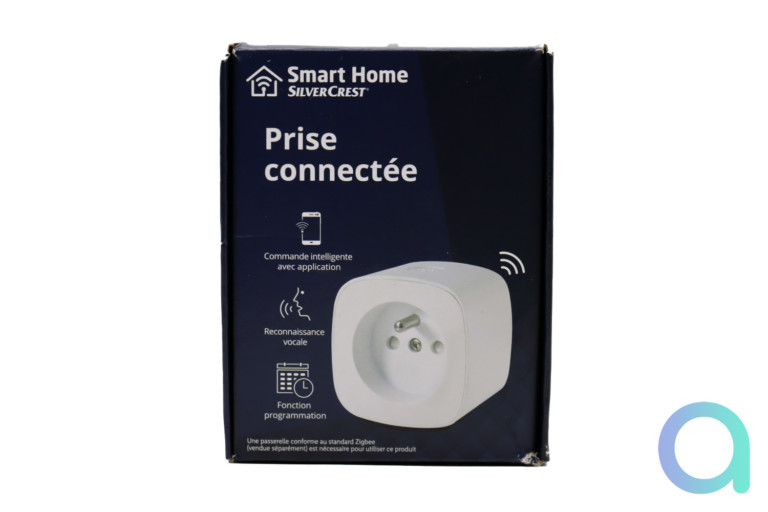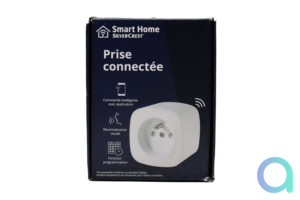 La SilverCrest connected socket is a little imposing, it is a little its only fault because its reduced latency make it pleasant to use everyday, whether you use a Hue Bridge, Tuya Bridge or a home automation box. Some will regret the lack of monitoring of power consumption, but it is ultimately a gadget that is not used much in the long term.
De robust design, its 16A allow you to connect a large number of devices. We appreciated being able to choose whether or not to use the LED light and its 3-year warranty which suggests good durability. She may be a bit fat, but we will do with her price of only 9.99 € ! In short, you can go if this point is not prohibitive for you!
Livarno Lux LED bulbs: a real good plan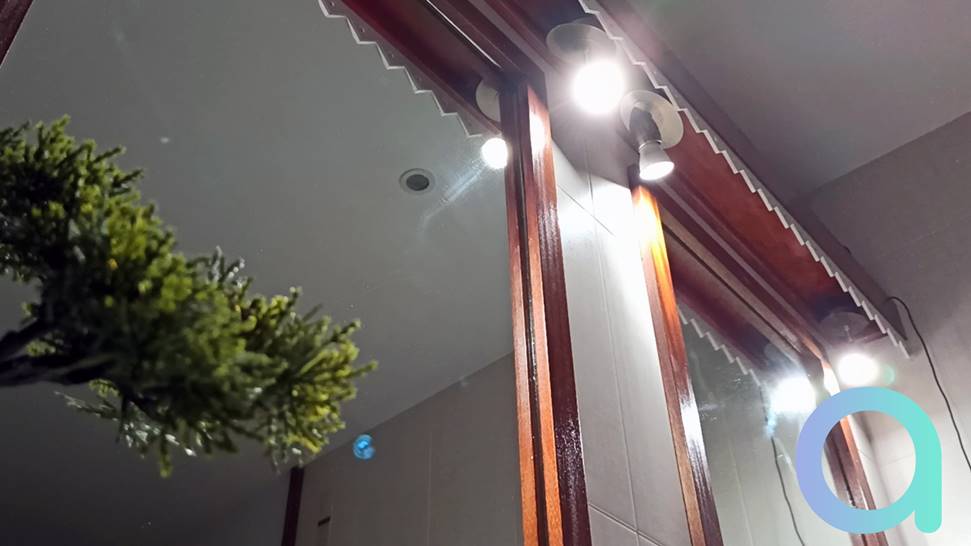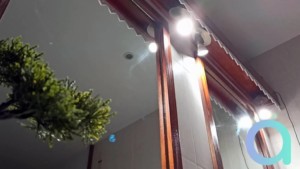 The installation is done in a few seconds and, to say the least, is that at this price the ZigBee Livarno Lux bulbs are a good home automation plan as we see little.
Whether you use the SilverCrest home automation gateway, a Tuya hub / Smart Life, a Hue bridge, a ZigBee dongle on your Home Assistant home automation box or Jeedom, these are very interesting alternatives to the famous Philips Hue bulbs ... In much less expensive obviously. So, of course, the colors are not as powerful, not as precise on certain tones, no complaints about the warm or cold whites which, for once, are sometimes more powerful than some Hue models!
We invite you to consult our complete tests of the E14 and GU10 models:
The Livarno Lux LED strip: the Wow effect! the appointment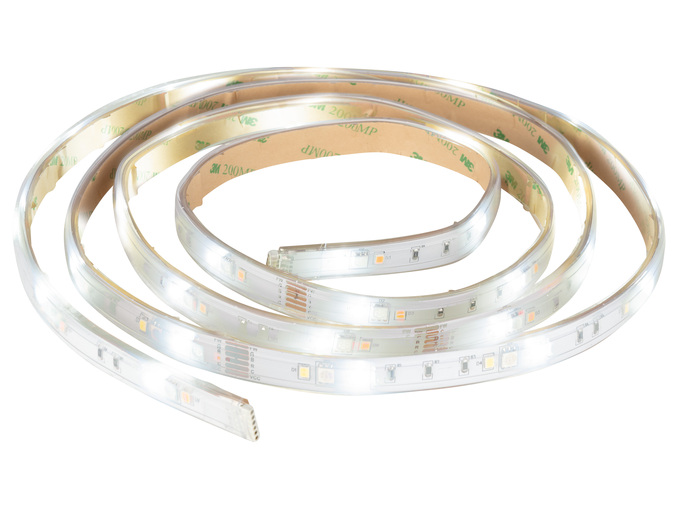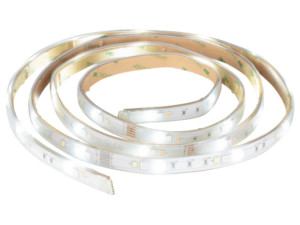 Here too, Lidl has succeeded in offering us a product of excellent quality at a low price in ZigBee 3.0.
The whites are superbly well restored, the colors are good and clear, even if the brightness drops drastically on certain wavelengths. Best of all, you can even connect two with the supplied connector, although the overall brightness drops a little in this configuration. Nevertheless, the price / quality ratio is really remarkable.
Lidl Home likes Google Home, but a little less Alexa...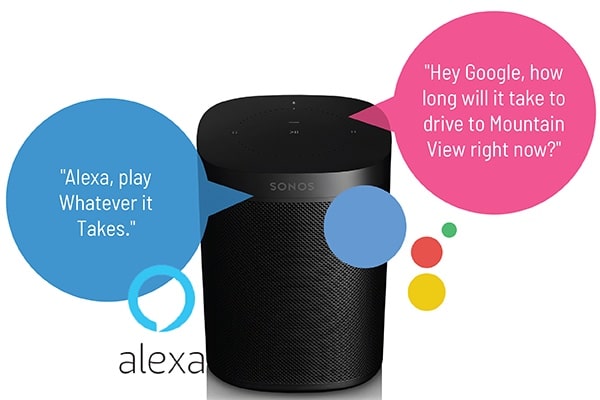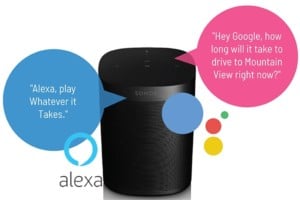 No worries to be expected, you will be able to fully use your gateway SilverCrest Smart Home with Google Home. It is not really a surprise, it is indicated on the box! To you Google Assistant voice commands and the routines, everything goes well and works pretty well when the assistant wants it ... Because, it must be admitted, he is rather capricious lately.
With the assistant ofAmazon, on the other hand, the exercise is more complicated, but not impossible for all that since you just have to create automations which will then go up in the scenes of the application Alexa. Everything is explained in our tests, but keep in mind that the support is only partial for the moment… It seems that Lidl is working on the subject, but no date has been put forward.
€58,00
€59,99
In stock
14 new from € 58,00
Refurbished from 1
May 15, 2022 19:51 a.m.
Our opinion on the Lidl Home solution
La
SilverCrest home automation gateway
is really a
interesting product for those new to ZigBee with Google Home
, which is perfectly compatible via Tuya / Smart Life like their
fork
Lidl Home.
It is nevertheless a little less true for users ofAlexa to whom we recommend instead the acquisition of a Philips Hue bridge, the hubs integrated into the devices Amazon Echo not yet being able to fully manage the color bulbs for the moment (for the whites and the socket, no problem however). Certainly, it is trading around 49.90 € against only 19.99 € at Lidl, but it will offer you full compatibility with your voice assistant and a much more sophisticated application than those stamped by Tuya.
For all, moreover, choose to use lighting Livarno Lux products on Philips Hue may turn out to be a perfect compromise between the quality of the Dutch ecosystem and the low prices of the discounter, even if we regret in particular the lack of management of the behavior when switching on Lidl devices.
Anyway, our conclusions are final, all the products tested above present a undeniable quality / price ratio and frankly are good deals! Do not hesitate too long, the spokes risk once again to empty at speed V.
SilverCrest - Lidl Home home automation gateway
€19.99
Most
An unbeatable value for money
Tuya compatible / Smart Life
Google Assistant voice commands
Gateway open to other connected objects
Reliable gateway and low latency
The lessers
Partial support ofAmazon Alexa
Maximum number of connected objects not specified