The smart bulbs autonomous (that is to say operating without a bridge) remain the most used at the present time in the microcosm of Alexians and other fanatics of AI All the brands are getting started with more or less bright ideas, some copying, others innovative and others disappointing ... We are never immune to a good surprise, but it is true that strong brands rarely disappoint with this type of product. Indeed, it is sought for clear lights, deep colors, a responsive application and an available skill.
Our brand MEROSS has been tested several times by us and rarely disappointed. So we decided to test for you (yes, we know, we are too good) theMeross MSL120 bulb, the only one adapted to EU / US / CA markets of Sino-Californian brand (US design, manufacturing in the Middle Kingdom). It is a 9W, 700 lm, E26 / E27 base at a price of 14,99 € each or 26,99 € for two, count between 21 and 26 CDN $ for Canada in packs of 1.
MEROSS MSL120: unboxing, we unpack everything!
We will present the set of 2 bulbs to you, although in principle the differences with the unit pack will be minimal (except that there is one less bulb, unless you are lucky). The cardboard is quite sober: "cardboard" color precisely, solid and very thick. It protects our products very well. This packaging is multi-country and multi-product because it includes the different bulbs of the brand dedicated to different geographical areas, different types (simple white, multicolored, etc.) and base system (B for Bayonet and E for Edison, 22 and 26/27 for the size in millimeters of the base).
On the back of the box, you will find the bulb characteristics and on the bottom, how to pair it with theMeross app. Almost everywhere, the cost of using this bulb, estimated by the manufacturer at $ 1,08 USD per year, based on 3 hours of use per day… Good… To be confirmed with the cost of the local KWh.
In this pack, in addition to the two bulbs, you will find instructions in English and Japanese. Don't panic, the mode of use does not change in any way from that of the other connected bulbs, so nothing too bad, but we will give you a little tutorial because the pairing mode is quite disconcerting.
In terms of materials, we are on the very high quality: plastic bulb, as always, but polycarbonate body. PC is a flame retardant plastic polymer material. Very well finished, it is very solid (with its PC body) and quite heavy because it weighs about 155 grams, the negative aspect of this polycarbonate body is the fact that the bulb heats up when in use. So be careful with your fingers if you want to touch it but above all, choose a support that does not fear anything ...
At the level of characteristics, she does 7cm in diameter at the widest and 12 cm long once in place. On the other hand, it will be better than some of its competitors on several points and in particular its consumption because it is of class A ++ and not A + like almost all (around 78% savings announced by the manufacturer). She dispenses 700 lumens and is given for 23 years of operation (3 hours per day), which is in the market average. It works in 2,4 GHz Wi-Fi, IEEE 802.11 b / g / n. At the electrical level, 100 250-V et 50 / 60 Hz, again, adapted to the market CAN and FR.
MEROSS MSL120: operation with the Meross application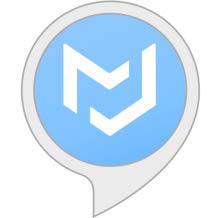 As for all Meross products, it is necessary to use the home application which is quite well done and is quite didactic. You must first create an account if it is not done. We refer you to our tutorial dedicated to the Meross application . Also activate the Meross skill on the app Alexa, it would be silly not to use it with your voice.
Once in the application, press the "+" at the top right and select « Smart Bulb ". To bring the socket into pairing mode, turn it on and off three times in a row until it flashes in warm white and cold white… The connection mode is quite confusing because you will be connecting to the bulb live via its own Wi-Fi system, then then connect the bulb to your Wi-Fi. Just find out!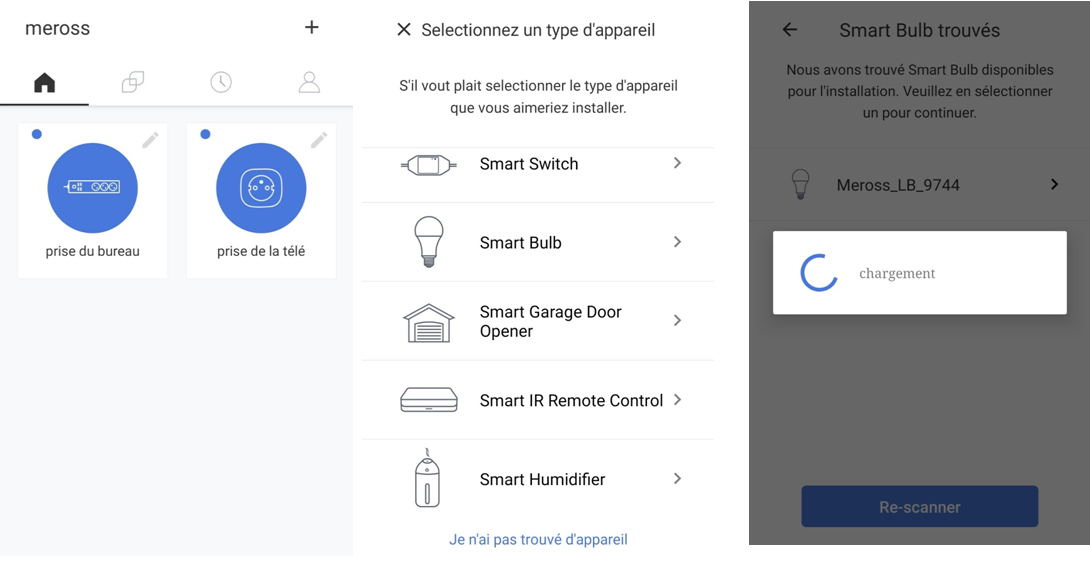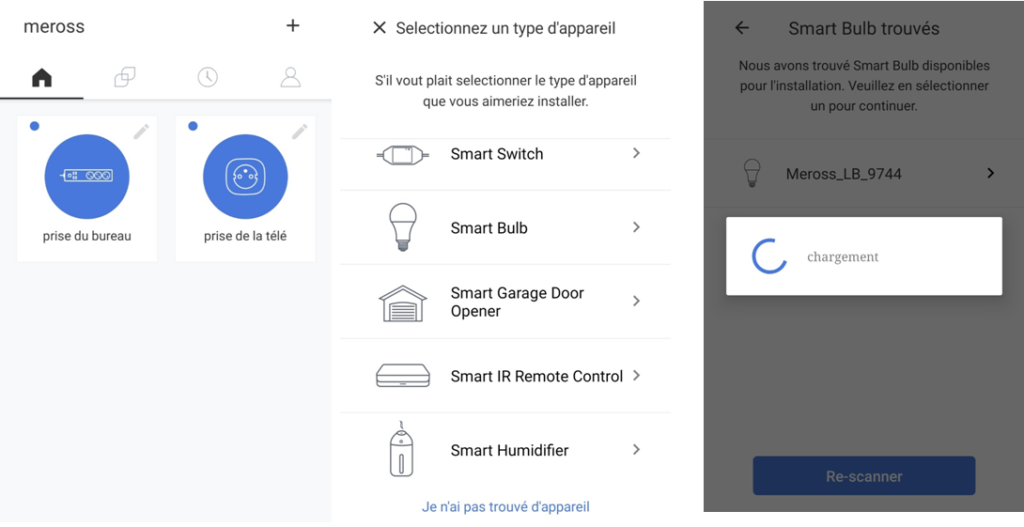 But before that, rename your bulb et select an icon. And that's when you can connect your bulb to your home network. And There you go !!


Now that the bulb is installed on theMeross app, let's take a closer look at what we can do with it. The interface is fairly well thought out and allows you to vary the warmth of the whites (ranging from 2700 to 6500 K) by sliding your finger across the top of the screen (you can also change the way you choose the temperature) and the intensity by sliding your finger on the left bar. Press on RGB to select one of 16 millions of colors. Also note the drawing when the bulb is off, very nice. And of course, there is the possibility of scenario, routines via Alexa... Via the Skill Alexa by Meross, you are limited to the colors of the application (about fifteen) that will be easy to call up by voice.
In use, we can only highlight the quality of this bulb. The colors are frank and deep. The whites are very detailed and the bulb is very responsive. You can see this in our video, although the color changes will saturate the sensor. There is no no flickering of the bulb when it is filmed, proof of the quality of the product… A light intensity of 1000 lux at 75 cm from the bulb. Note that it is also overvoltage protected (partly thanks to its PC case). We are actually on a very, very good product.
We are actually on a very, very good product.
In conclusion, the MSL120 conforms to Meross quality. It surprises with its sober design, any limit, but its polycarbonate structure makes it a more upscale and resistant product. Its colors are frank, deep and with excellent rendering. His whites are also quite acceptable. The fact that it tends to heat up can be annoying for some but that does not change the fact of being on a product of very good quality.