In writing, we like to go fishing for tests to present new products and / or new brands. This time again, it's a Chinese brand, and what better way than to put a new power strip in our nets for that? We decided to put to the test our Lab ' la 6-port power strip and 4 USB charging ports from Echiluck. A multi having 6 takes is not that common, it must be admitted, and this is what caught our attention. It is of course compatible with Alexa, but also Google Assistant, and provides protection in the event of a surge as told to us the product sheet on Amazon. The fuse is on one side of the block and is hidden by a small black button. The Echiluck company which markets it is a young Chinese company which is just a year old and which is based in Shenzhen, where a large number of technology companies are concentrated.
ECHILUCK ZLD 64-EU-W: a mastoc block
Unboxing
Our power strip comes to us in a kraft bag, but without having suffered any contempt, let us note it. Once opened, we discover the cardboard box of our multi-take. It is iced and well made, and it features the photograph of our multi on a white background. The size of the packaging is substantial, but as it is a multi-socket to connect 6 devices, this is all in all normal given the dimensions it is: 25.5cm W x 10.8cm W x 4cm H for a weight of 620 grams. Beautiful baby !
On the back of the box are indicated the product parameters and the length of the cord: 1.80 meters. A significant length and this is rather practical for connecting devices a little far from an electrical source. Also indicated on the back are the mentions CE et RoHS. You will find the definition of the different electrical standards here. On one side are affixed 5 informative logos concerning the specifics.
Once opened, we discover the content of our order, namely, the power strip (it's still better, right?) Made in a white ABS plastic not too thick so as not to weigh it down more than necessary. Below, 6 skates are distributed to prevent it from moving. Our sockets are of type F: SchuKo and perfectly compatible with our devices as specified in the file indicated above. We also find in our box with the power strip 3 small booklets: one installation guide for Alexa (in English) as well as two notices and guides for Smartlife and Alexa (in German). Nothing in French! But in the case of a socket operating under the so-called application of " Swiss knife " SmartLife, we shouldn't have any bad surprises.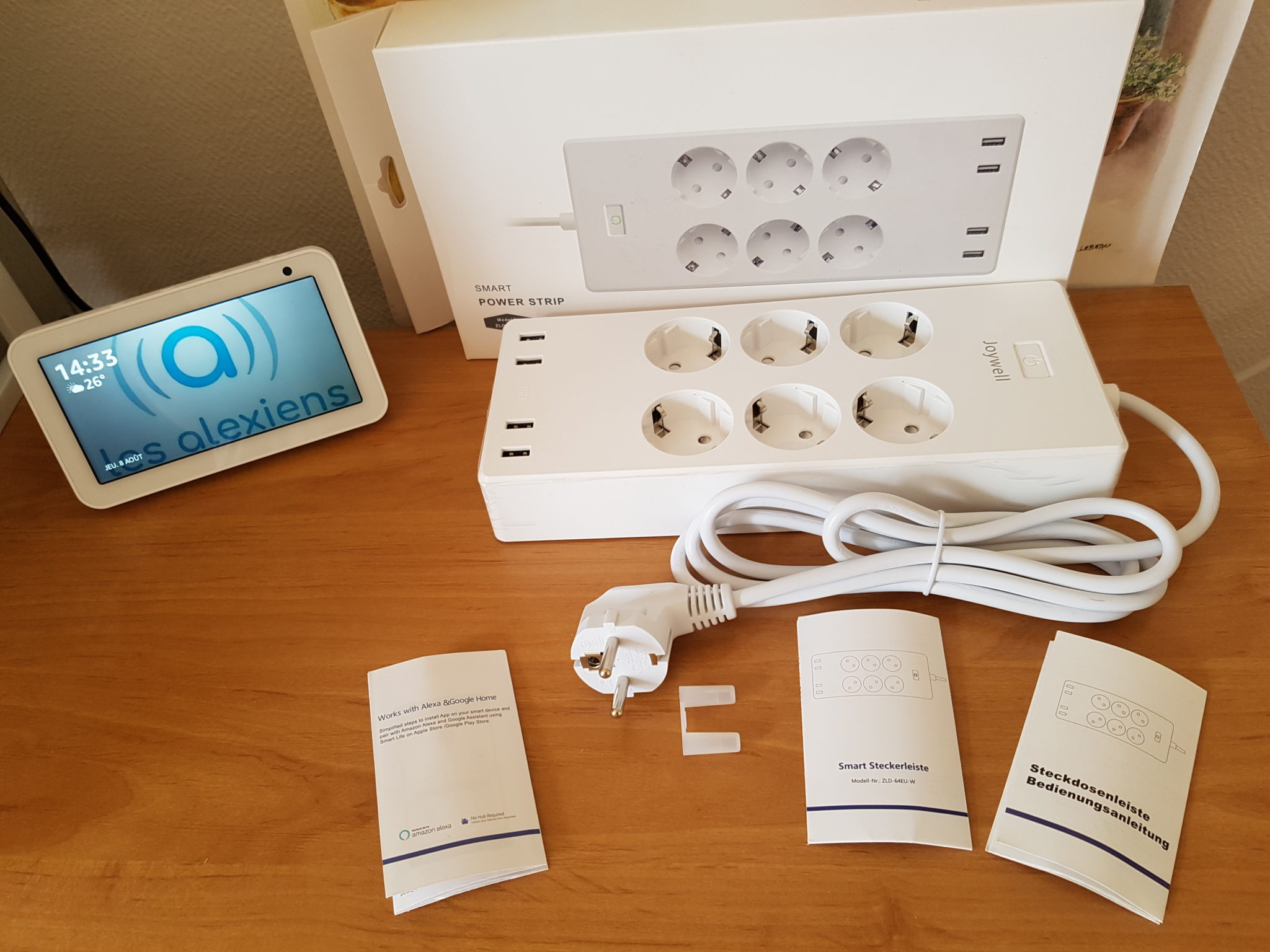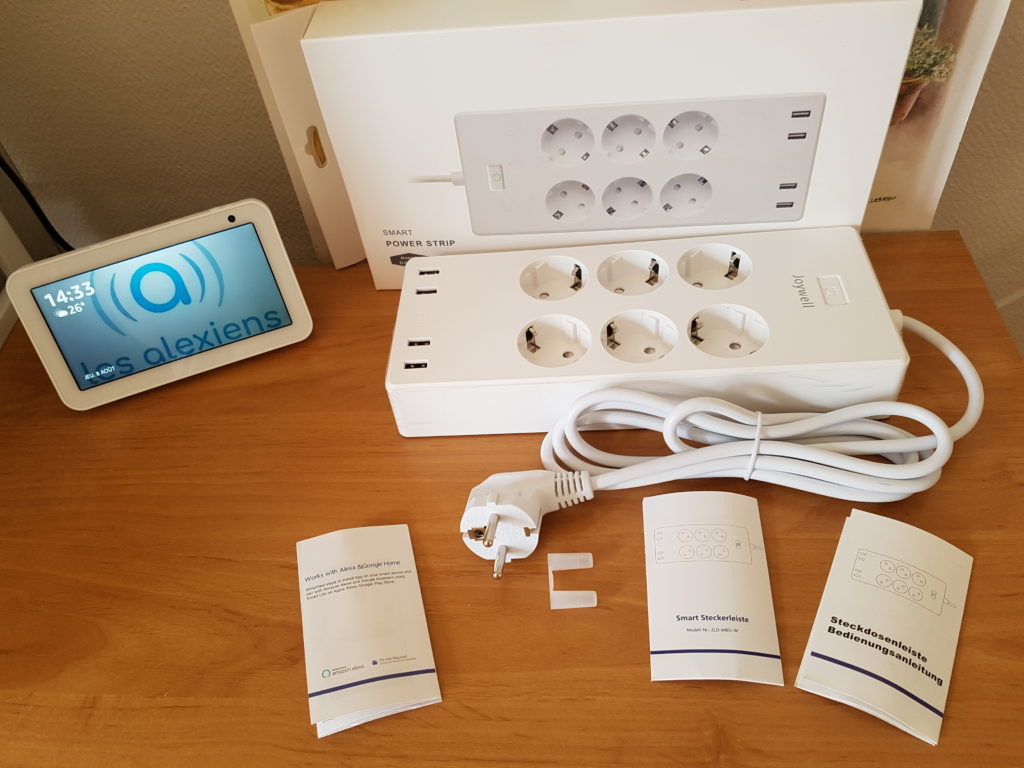 But before we get to commissioning our socket, let's see its technical data ...
Technical characteristics:
Brand
ECHILUCK
Model
ZLD-64EU-W
Input voltage
AC 100-240V
Wi-Fi band
2.4 GHz
Nominal current
16A
Max power
2300W
Operating temperature
-20) C to 50 ° C
A power strip ... surprise
Installation
As indicated above, our power strip running under the app Smartlife, it will have to be installed if it has not already been done and be sure to choose the 2.4GHz Wi-Fi network, because like practically all connected objects, it is on this band that the pairing will be done. You can follow the installation tutorial for Smart Life / Tuya Smart here. For us, this is not the first use, so we go directly to Smart Life
If you need to proceed with the pre-requisites, once the installation and the creation of the account are done, as we go in the application Smart Life to see what it looks like with our news Echiluck power strip.
After pairing, our power strip should appear. If this is not the case, press the button on the socket again for a few seconds to reset and start the recognition procedure again. This may be necessary depending on the number of devices already installed and any server downtime….
Once everything is ok we easily find our Echiluck socket in Smart Life, where we can rename it instead of « Smart Power Strip 64EU " by default and not very explicit, it must be said. But we can also change the name for the USB block (the 4 ports being manageable in common) and give a name to each block of 3 sockets.
Yes, this multiple socket does not manage the outlets individually but three outlets at the same time, so two AC blocks and a USB block. Therein lies the surprise, let's face it, because unlike all the other power strips tested so far, whether it is the Yuanguo power strip, Elelight SVB2, or the Meross MSS425E, all allow individual control of the sockets. But these are smaller multiple takes.
It will therefore prove useful for simultaneous use of at least 3 devices that you want to turn on and off at the same time. Not too important, but Good to know in advance to possibly rethink the organization of its electrical equipment.
Here is a picture of what it looks like in the application Smart Life:
For each of the three blocks, it will be possible to program a timer (also rename) or a timer which will turn on or off the module chosen beforehand.
And in the app Alexa?
Normally, our power strip and the three independent "blocks" go up alone in Alexa, but if this is not the case, a simple detection of the new devices will do the necessary. Our four sockets are then installed and manageable with Alexa as are all sockets.
In conclusion, a multiple socket on which we will think about the devices that will be installed on it, since it is a block of three sockets that will be switched at the same time. Once this apparent problem has been resolved, this multi-grip kid is attractive. Its great width requires a little space to install it, it must also be recognized, but its use is not more complicated than another connected power strip. The Echiluck power strip is marketed for around € 35 during the promotion period, and 46 € at the normal rate.
ECHILUCK 6-port AC power strip with 4 USB ports
45€
Most
6 AC outlets, that's rare!
Application Smart Life
Compatibility Alexa
The lessers
Outlets not individually controllable: two blocks of three outlets
Obviously massive, a lengthwise arrangement would be more judicious