As avid users ofAlexa, you have probably already noticed relatively large amplitudes between the outside temperature announced by Alexa and the reality displayed by your good old alcohol thermometer ... It's normal, Alexa gets its weather forecasts and temperature readings from the department AccuWeather, which is based in particular on the National Weather Service, the US Weather Forecast Service. While the data is fairly accurate and reliable, it rarely coincides perfectly with your reality: the temperature at your doorstep. This is why Les Alexiens looked for connected solutions compatible with Alexa, and the least we can say is that they are far from being numerous, because only the Netatmo weather station that we mentioned previously is now compatible thanks to its skill Amazon Alexa. When asked, other manufacturers looked downright surprised at our request, but promised to look into the matter! In the meantime, we have therefore decided to offer you a complete test of this Netatmo weather station that we got from Amazon. Fr.
Netatmo Weather Station: attractive design and many features
Packaging
When opening the package Amazon, we were struck by the small size of this box. The packaging, sober and qualitative, presents in photo this "Individual weather station" and promises us our "Own measurements on smartphone ". Rather pleasant!
Fortunately, the back of the packaging tells us a little more. Phew, the Alexians are reassured, the logo Amazon Alexa is there, just like that of IFTTT, Google Play for Android, machines Apple and even the deceased Windows Phones. So we shouldn't have to worry about just using this personal weather station.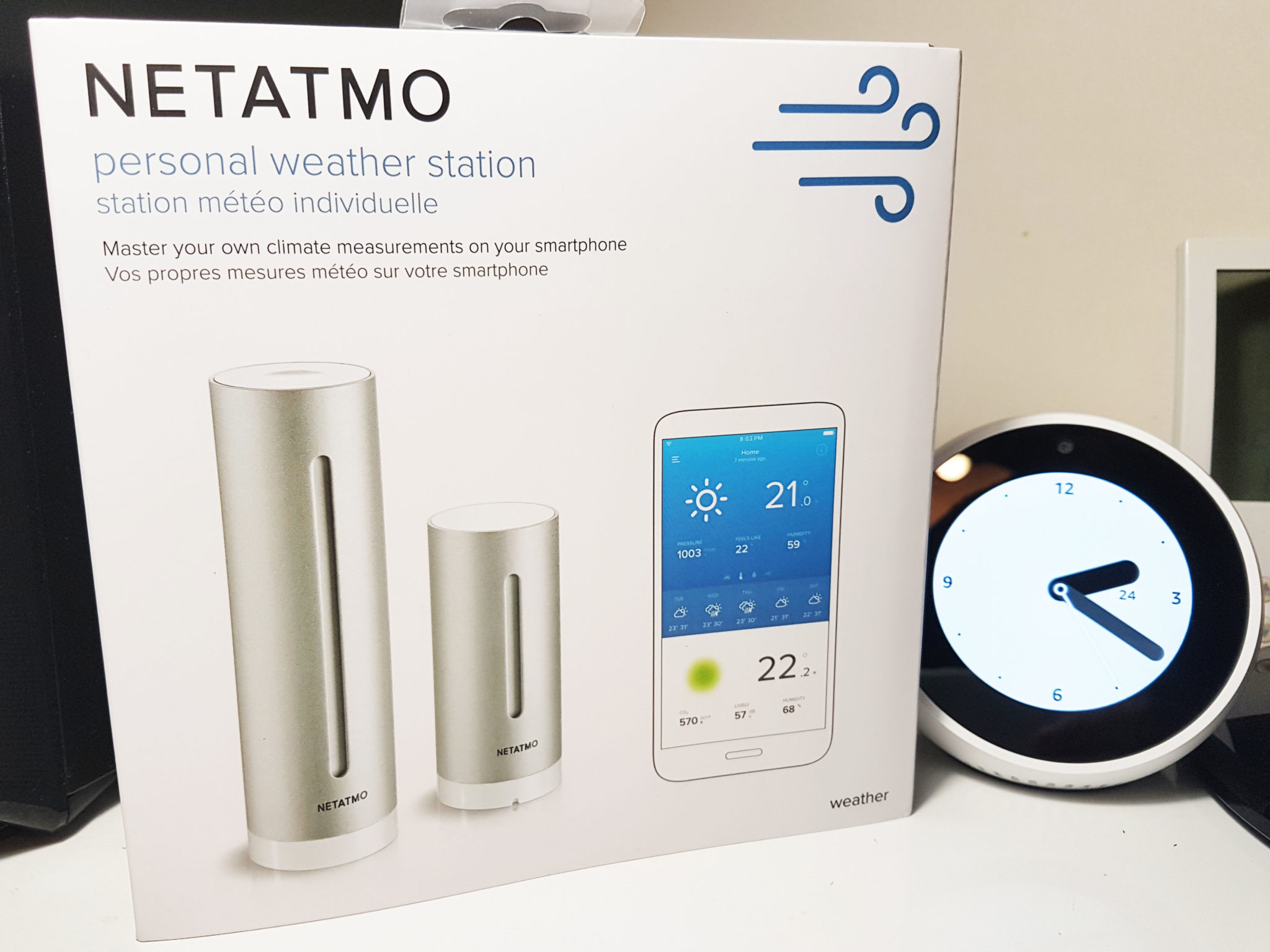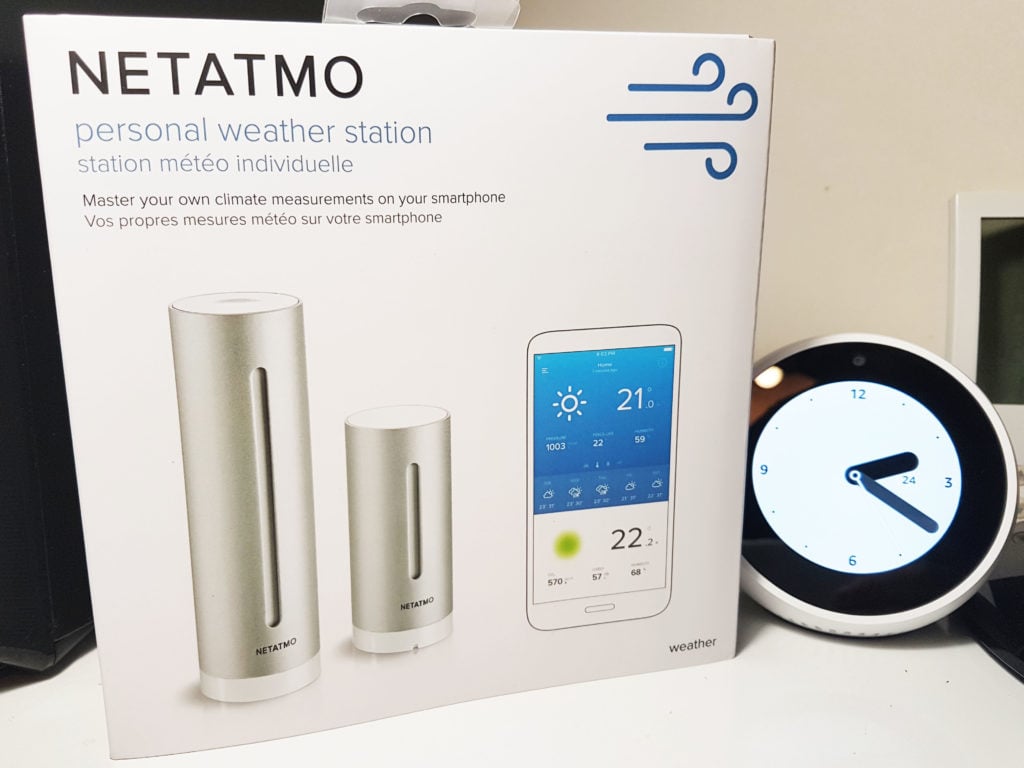 A small box suggests complete the station with additional modules : an indoor module, a rain gauge and an anemometer. We will come back to that.
Finally, nine pictograms detail the data collected by this attractive station, in particular the indoor / outdoor temperature, the humidity level inside or outside your home, the indoor and outdoor air quality, atmospheric pressure, or the level of the ambient sound volume thanks to a sound level meter ...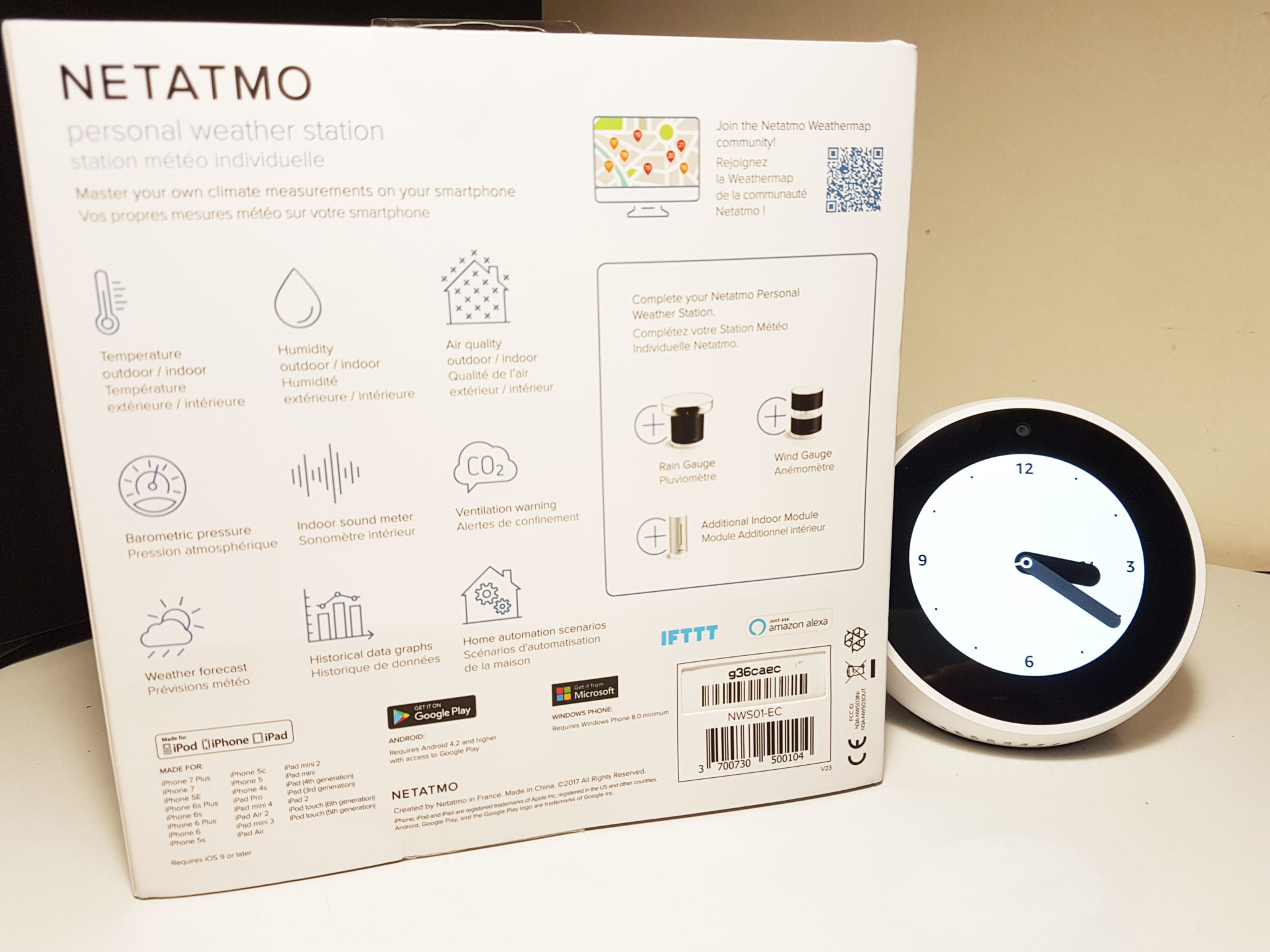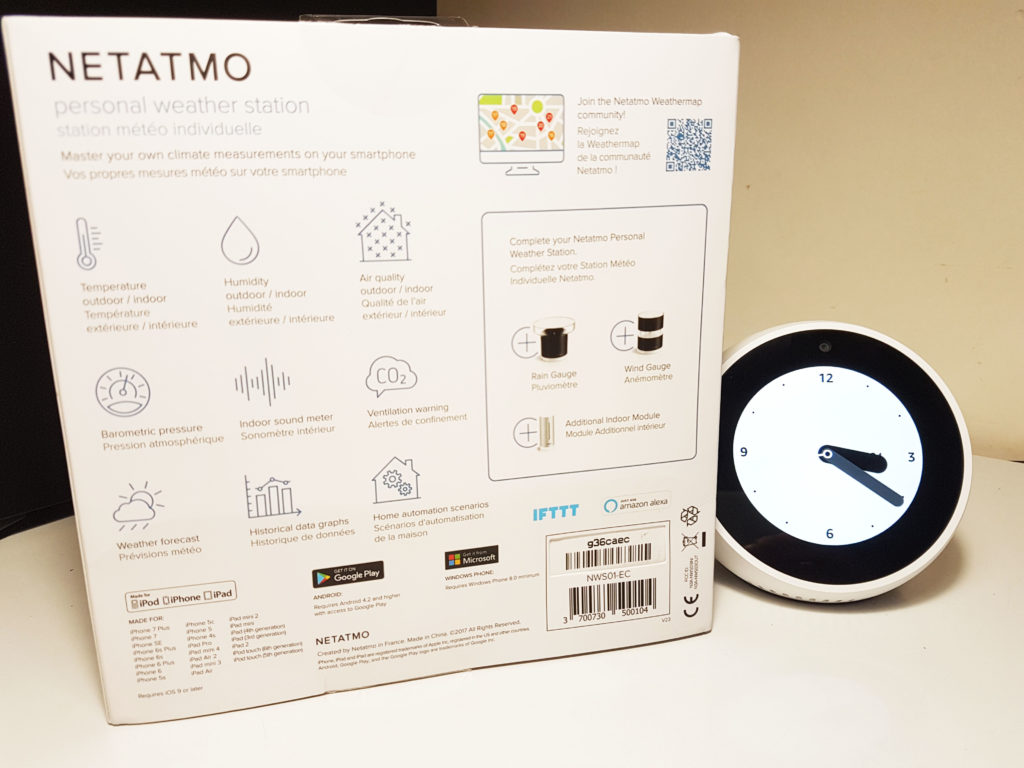 It is also a question of a community weathermap about which we spoke to you in our first article, and which we will of course present to you at the end of the test. In the meantime, let's continue with a quick unboxing.
Unboxing
We are now facing a white box simply signed Netamo. It's clean and classy, ​​everything to please an Alexien!
Inside, no frills, the station is nicely presented in a box made of quality cardboard and plastic with a "velor" touch. You will find a small and a large cylinder, as well as a small cardboard box.
This is, in order, the outdoor measuring module and the station itself. The box contains a small power adapter, two AAA batteries, a hook and loop fastening system as well as a single screw with a single plug. A little tight? Maybe, but basically one is enough, and you will see that we won't even use it in the end.
Anyway, the object is more than pleasant. Its brushed aluminum is the most beautiful effect and exudes quality. The "Wow" effect is there, we are confident and ultimately not worried about having paid € 169 for two small hits. Because, you may have already noted it, the Netatmo station does not offer any screen and you will have to use your smartphone to read your statements. At this price, some will cringe, but the absence of a screen is not something prohibitive for an Alexian already experienced with tubes without a graphical interface!
Before proceeding to its installation, let's take a look at the technical characteristics of the device.
Technical specifications
Our letters to Netatmo having remained dead letters, we had to turn to the site of the brand, French by the way, to find out more. We would have liked to learn more about the company and the technologies used, but impossible to know more ... It's a shame, we expected better from a French Tech company, but we will continue to solicit them in the hope of obtaining more information.
That being said, here is the technical sheet of this famous weather station:
Materials and design:

One-piece aluminum part.
UV resistant plastics.

Food:

Indoor module powered by AC-USB adapter.
Outdoor module powered by 4 AAA batteries (up to 1 year of battery life).

Sensors and measurements:

Temperature (indoor)

Measuring range: 0 ° C to 50 ° C
Accuracy: + - 0.3 ° C

Outside temperature)

Measuring range: -40 ° C to 65 ° C
Accuracy: + - 0.3 ° C

Hygrometry (indoor and outdoor)

Measuring range: 0 to 100%
Accuracy: + - 3%

Barometer

Measuring range: 260 to 1260 mbar
Accuracy: + - 1 mbar

CO 2 sensor (indoor)

Measuring range: 0 to 5000 ppm
Accuracy: + - 50 ppm or + -5%

Sound level meter

Measuring range: 35 to 120 dB

Units of measurement:

Metric system: ° C and mbar.
Imperial system: ° F and inHg.

Wireless Features:

Compatible with 802.11 b / g / n WiFi.
Supported security: Open / WEP / WPA / WPA2-personal (TKIP and AES).
Wireless connection between modules: 868 MHz long range 100m.

Dimensions:

Indoor module: 45x45x155 mm
Outdoor module: 45x45x105 mm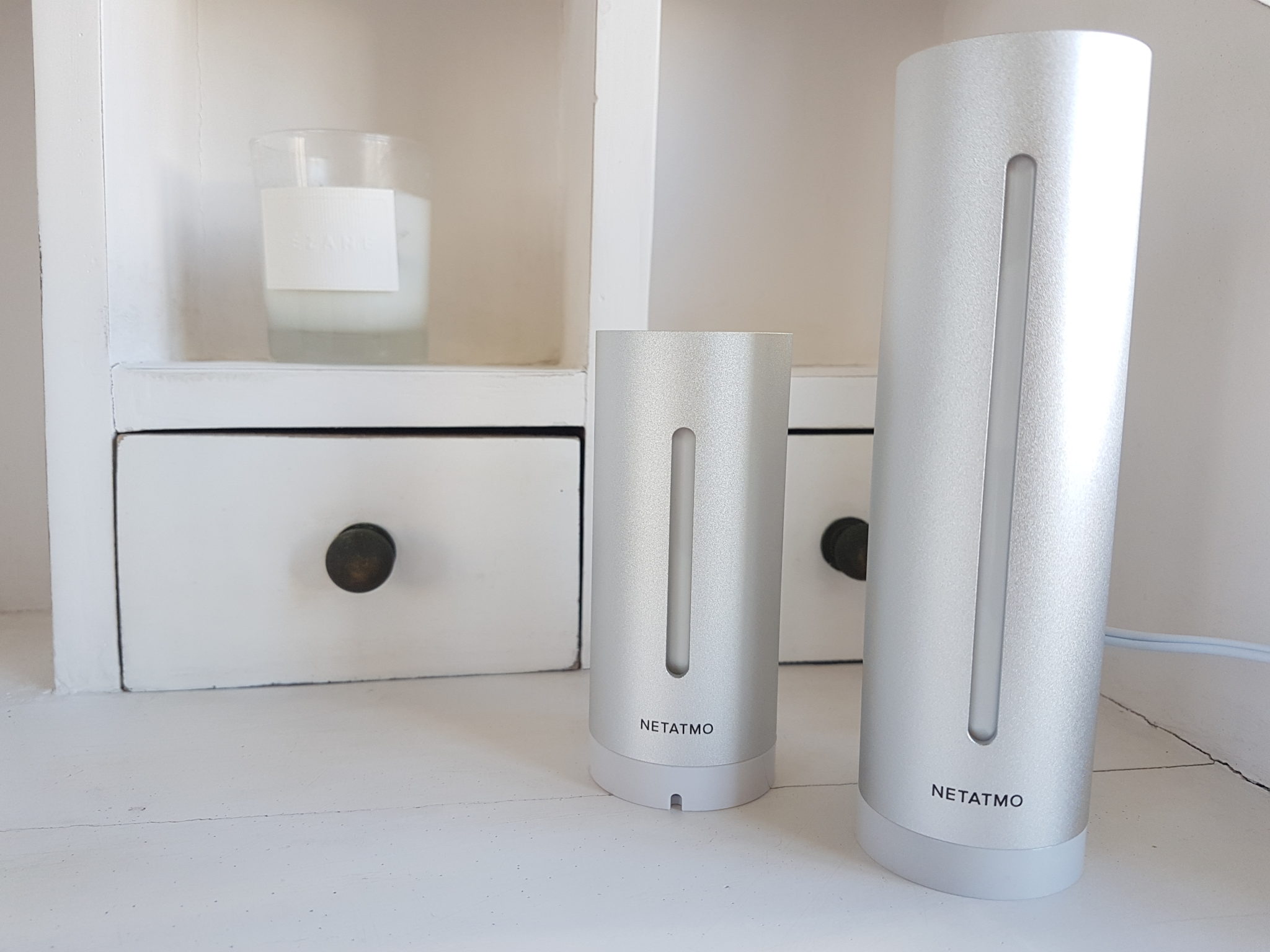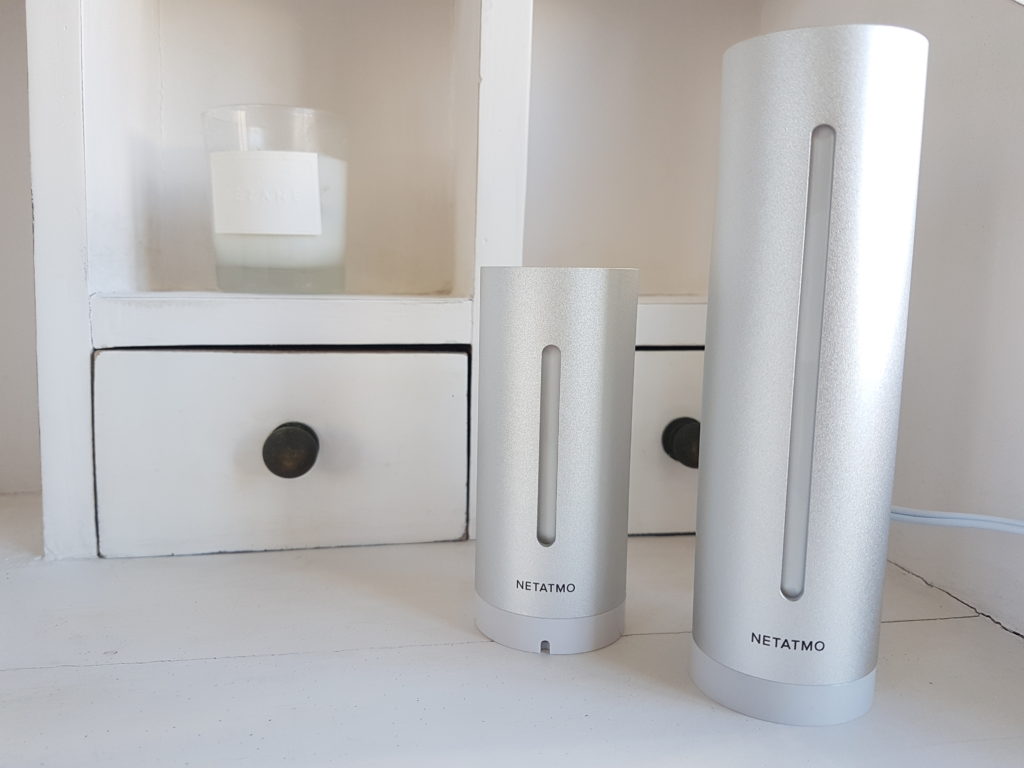 Installation of the main module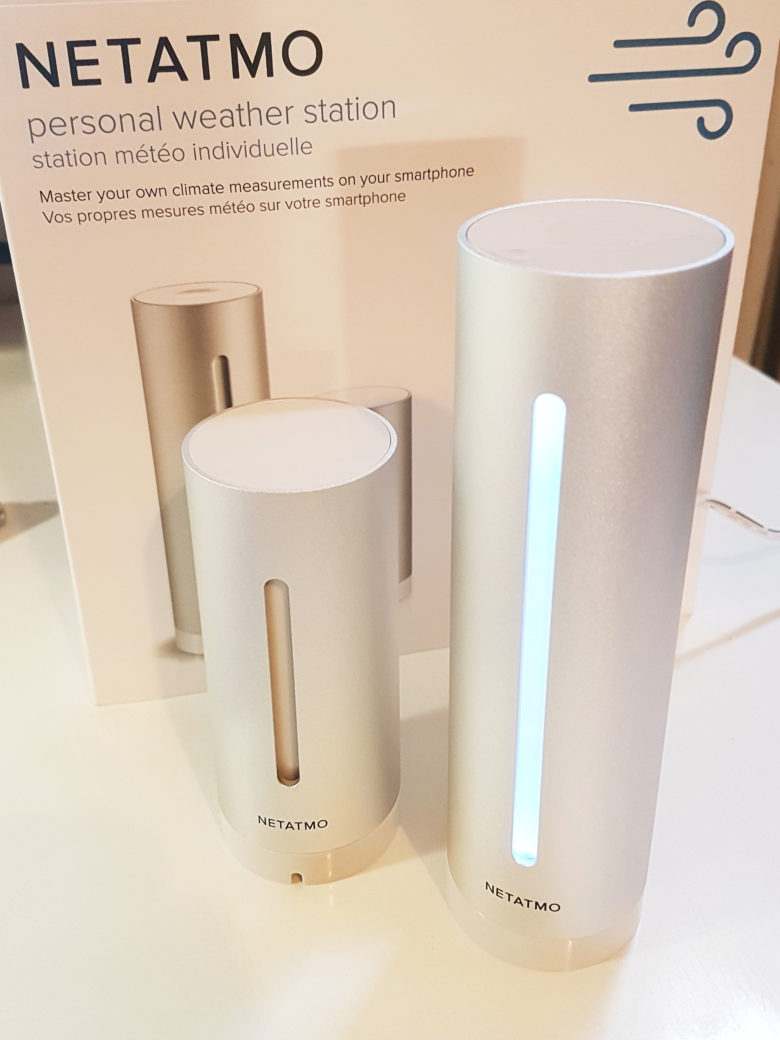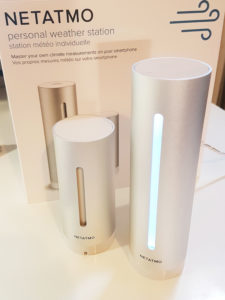 To function, the large module of the Netatmo Personal Weather Station must connect to your home's 2.4 GHz Wi-Fi, as well as to your phone via Bluetooth. So be sure to place it in a room covered by your home Wi-Fi. The rest of the procedure is simple, to say the least, and can be done without any difficulty.
Download the application Netatmo Weather on the Apple Store or Google Play since your smartphone or tablet.
Make sure your smartphone or tablet is connected to your Wi-Fi.
In the app, create a Netatmo account or use your existing account.
Power the large module using the power supply supplied with the Personal Weather Station. Check that the LED flashes 3 times. If it doesn't blink, try powering your large module with a different micro USB cable and AC adapter.
Activate bluetooth du smartphone or tablet.
Touch the top of the large module until the LED flashes blue, press "next".
Follow the instructions in the app.Note, if you are unable to install the Personal Weather Station with your mobile device, you can use the PC / Mac / Linux installation wizard available on here.

The procedure is really well thought out and relatively quick. Once connected to Wi-Fi, the station will perform a short update and be available immediately.
Here you are, you can now consult your first readings in your Netatmo Weather application, and proceed to the installation of your outdoor module ...
Installation of the outdoor unit
The smaller outdoor module is a little different from the large module, but also from the additional module (not included in the "basic" pack). Normal, you will tell me, it is made to stay outside. To tell the truth, nothing differentiates it at first glance from the additional modules, except that it is with a notch. So that's what the fastening system supplied as well as the screw and its plug. They allow you to hang your module outside your home and secure it.
Its installation is very simple : you just have to unscrew its base and remove the aluminum cover. Inside, you will find a case with two screws. Netatmo had the good idea to opt for a system that does not even require you to take out a screwdriver. All you have to do is open it and insert the two AAA batteries supplied. You will notice that the cover is provided with a gasket making the entire sensor airtight. It is therefore indeed a module intended to stay outside.
But don't go hang it anywhere, Netatmo recommends placing it sheltered from the elements. Although waterproof, the latter may indeed not appreciate the driving rains or the rays of the sun. Some users also report battery leakage problems. Nothing surprising if the temperature rises too much within the module. In order to carry out the best possible readings, we therefore advise you to place your outdoor module in the North and away from light. Like Météo France!
To do this, we have personally chosen to invest in an accessory that Netatmo unfortunately does not offer, but which for a very reasonable price, will allow you to make much more reliable readings and to effectively protect your outdoor unit from dew, rain, frost or snow, but also from wind and scorching heat. summer sun rays. It's about a protective shell TFA-Dostman specially designed for meteorological station transmitter modules. You can get this product for less than 20 € on Amazon.com.
24,88€
In stock
3 new from € 11,99
August 15, 2022 7:50 a.m.
As you can see from the pictures, this has many advantages:
its shape allows water to flow without ever getting inside,
its white color effectively reflects the sun's rays to prevent the temperature from rising too much,
the temperature will be controlled there thanks to optimal ventilation all around the sensor,
it allows you to effectively secure your module, in particular avoiding falls.
Here is! Your outdoor module is now installed and safe, all we have to do is activate the skill and discover theNetatmo Weather app. You can also get started with installing additional modules, but for now we'll skip that topic and get to it later.
Netatmo Weather application and weather skill for Amazon Alexa
The Netatmo Weather app
La weather station offered by Netatmo may be beautiful and attractive, however, she does not have a screen as we mentioned above. Indeed, it is your smartphone which will serve as a remote screen, which is to say that the quality of its mobile application is therefore crucial. Fortunately, this one is really successful and pleasant to use. Whether it's the Android or iOS app, the data is complete and readable, and the stability is excellent.
Netatmo has not forgotten to add some nice widgets that you can add to your home screen to quickly consult the main statements.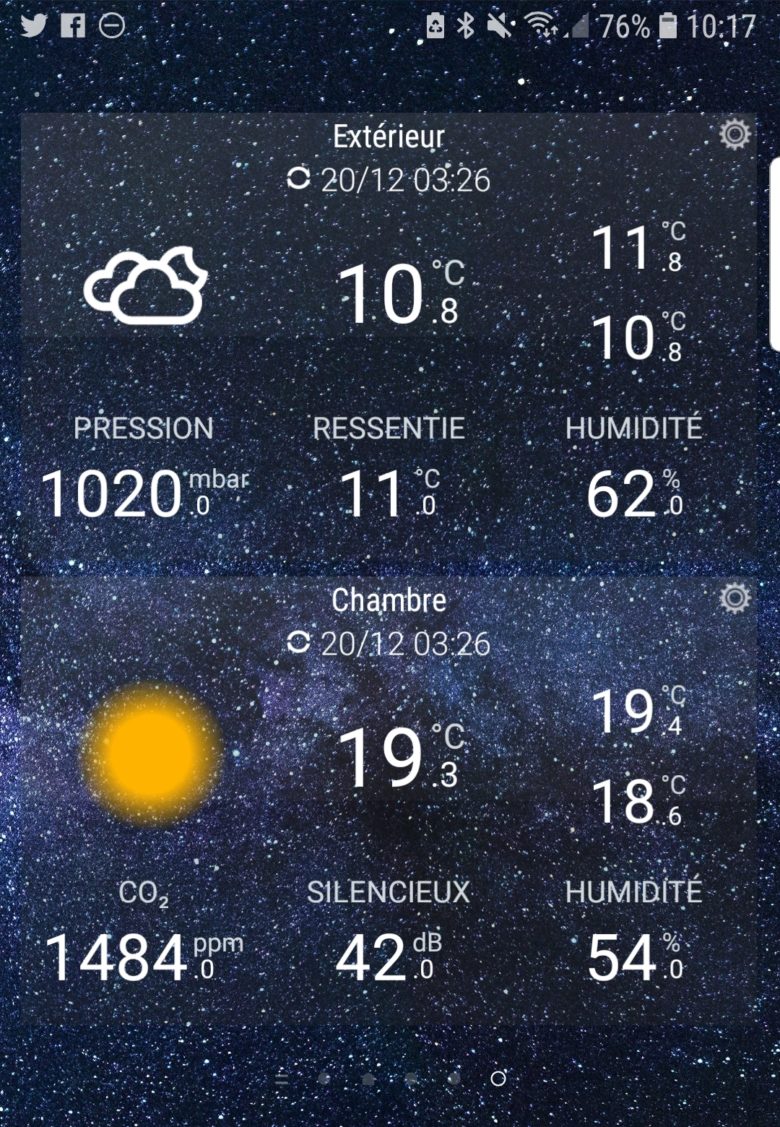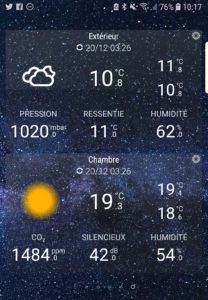 But you can also consult your weather reports on your computer via the dedicated site. It is also much more pleasant to connect to it to study the readings in more detail. You can also discover this interface by consulting the statements of the weather station installed at Netatmo's head office. What, perhaps, to convince the most resistant.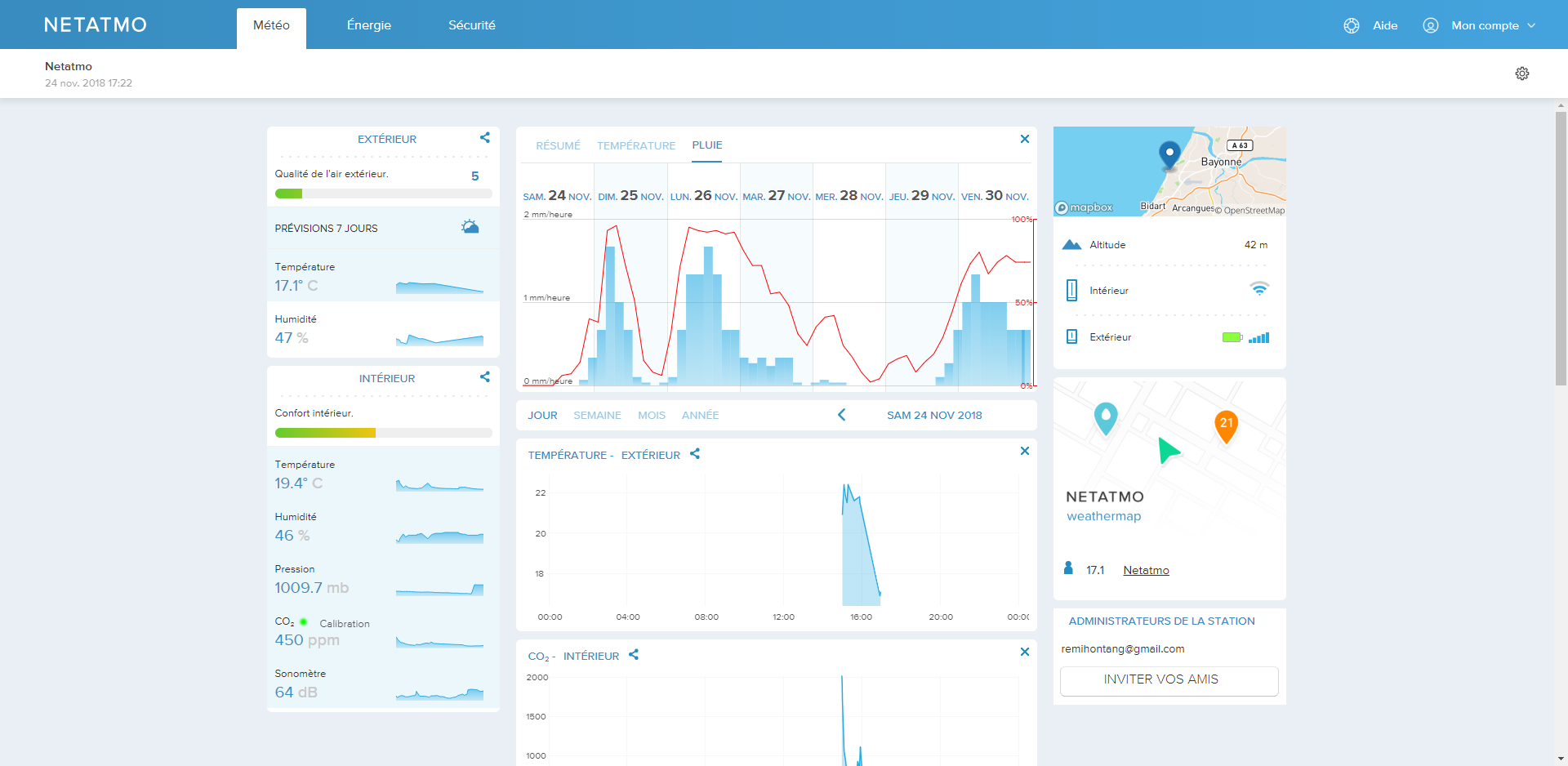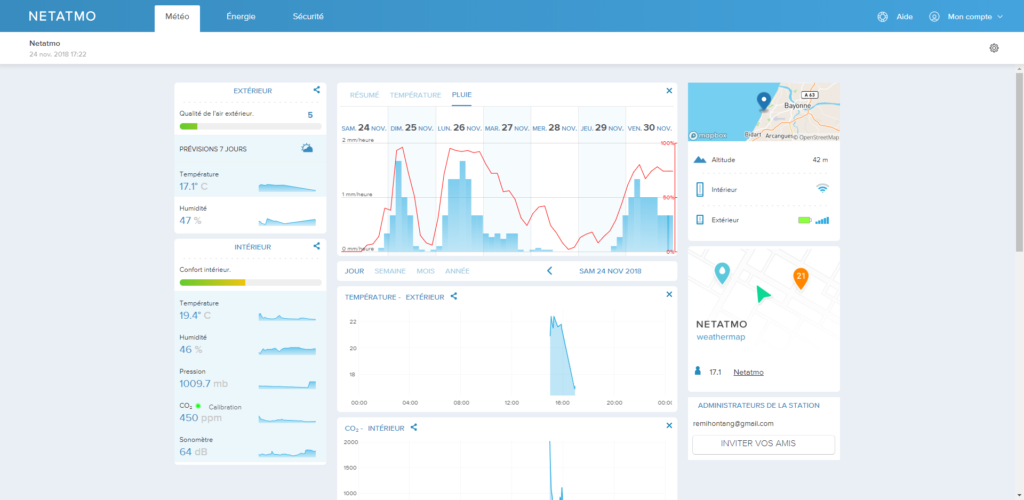 As you can see, both interfaces are quite successful and enjoyable to use, but what about its connectivity to Alexa?
The Netatmo skill for Amazon Alexa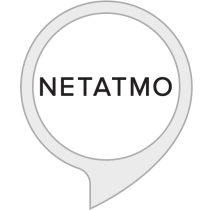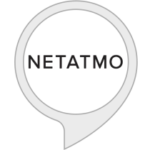 If there is a crucial point for Les Alexiens, it is the compatibility with their voice assistant. The good news is that Netatmo was quick to offer us a skill Alexa. The less good is good that it works perfectly well, we were a little frustrated ... But let's start by activating it!
To do this, again, nothing too rocket science: launch your application Alexa, go to the skill store and simply type Netatmo. Several skills corresponding to the name of the brand, this one also marketing a compatible connected thermostat Alexa, you will have to choose the one soberly titled "Netatmo". You can also activate the Netatmo skill to Alexa from Amazon.fr here.
No need to look at your phone for the ambient temperature or if it rained yesterday, just ask Alexa.
Alexa can thus retrieve all the information from your station:
indoor and outdoor temperature,
indoor and outdoor humidity,
the interior noise level,
the indoor CO2 level,
atmospheric pressure,
the direction of the wind and its force (if you have an anemometer),
the amount of rain (if you have a rain gauge)
Unfortunately, if the skill works perfectly, it is not multimodal. In other words, you will only havea simple vocal feedback, without cards added to your application Alexa, or even display on the screens ofEcho Spot orEcho Show. We also hope that Netatmo will look into the issue very soon and take advantage of the release of Echo Show and the Fire TV Stick 4K to offer us a new skill offering us the equivalent of the data displayed on mobile widgets. This would be a big plus that would clearly make the user experience ever richer and more enjoyable. One more likely to make this weather station a must-have among users ofAlexa.
Community weather thanks to Netatmo
It might sound like a gimmick to some, but Les Alexiens love Netatmo's idea of ​​allowing its users to share data from their outdoor modules on a community map. It must be said that the communities know us! So you can easily compare your data with that of your neighbors, or get ultra-local weather on the go. An excellent idea that turns out to be a real plus, even if many stations offer sometimes fantastic readings, especially because their users have misplaced or downright forgotten in a corner. This also makes it possible to regularly check the consistency of its own data with that of its neighbors. In short, it's super nice, especially since you can access it at any time from your smartphone ...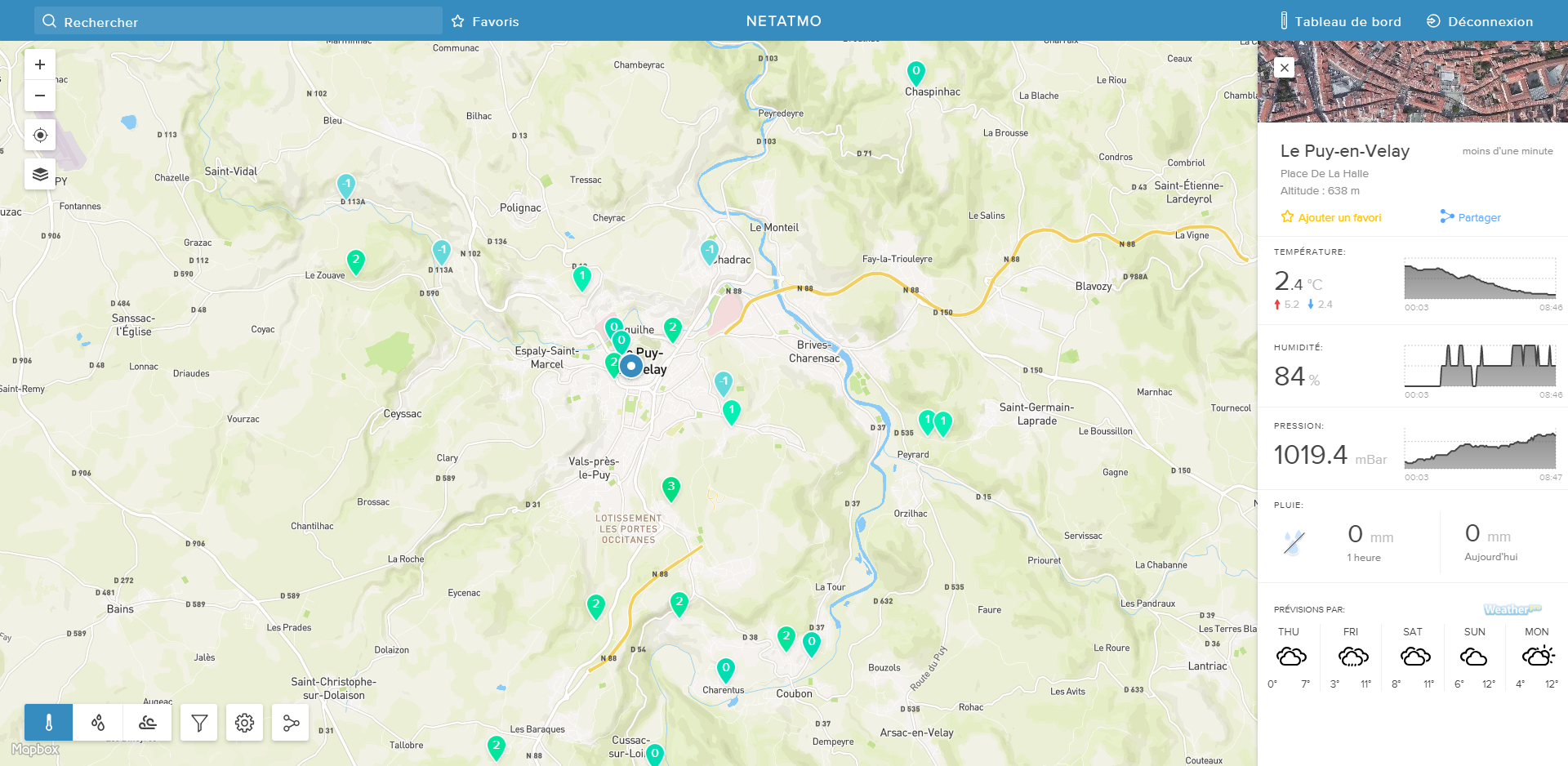 Our opinion on the Netatmo weather station
In summary, the Netatmo personal weather station is overall a success. Although a little expensive, it has a lot going for it, in particular its simplicity of implementation and its more than successful design. Some will see it as a simple trendy object, but for any weather enthusiast and user ofAlexa, it remains to this day the only solution on the market offering such services. If we can blame this station for not having a screen, it is ultimately not essential given the quality of the desktop and mobile applications. The Alexians hope, however, that Netatmo will soon be able to offer a more successful version of his skill allowing display on Echo devices equipped with screens. We can bet that the recent acquisition of this startup by the Legrand group will allow this French Tech nugget to offer us a new, even more successful version.
14,95€
In stock
2 new from € 14,95
August 15, 2022 7:50 a.m.
24,88€
In stock
3 new from € 11,99
August 15, 2022 7:50 a.m.
68,00€
In stock
6 new from € 68,00
Refurbished from 6
August 15, 2022 7:50 a.m.
69,00€
79,99€
In stock
6 new from € 69,00
August 15, 2022 7:50 a.m.
99,00€
In stock
8 new from € 99,00
Refurbished from 1
August 15, 2022 7:50 a.m.
99,99€
119,99€
In stock
13 new from € 99,99
Refurbished from 2
August 15, 2022 7:50 a.m.
169,90€
189,99€
In stock
23 new from € 152,00
Refurbished from 10
August 15, 2022 7:50 a.m.
Netatmo Weather Station
169.00€
Most
Very simple and quick installation
Modern and sleek design
Quality felt thanks to aluminum
Pleasant to use applications
Community weathermap
The lessers
No screen
Non-multimodal skill (no display on Echo Spot and Echo Show)
Insecure outdoor module hanging system
Does not like bad weather
Slightly low range of the modules