netview is far from being an unknown brand for Les Alexiens, since we have already presented the Netvue Orb Cam 720p or even the excellent Vigil 1080p. But the range of the Chinese manufacturer does not stop there and offers other equally interesting products. Among them, we notably spotted the small indoor Netvue HomeCam camera. Available in 720p and 1080p versions, the compactness and discretion of this IP camera made us want to know more and take it to our test bench.
Netvue Technologies Inc. Having already shown us its know-how in home video protection, it is with serenity that we approach this test, convinced that the brand will not deviate from its know-how. But let's see if this small indoor camera at a very low price and offering the same AWS cloud as its predecessors, will keep its promises and prove to be as effective as the rest of the range.
Netvue HomeCam 1080p: a compact camera
Unboxing
We find the same type of packaging as for the Orb Cam: a clean white packaging presenting the brand and reference of the device, a small drawing of the model, all heat-printed in silver color. It's chic and cool!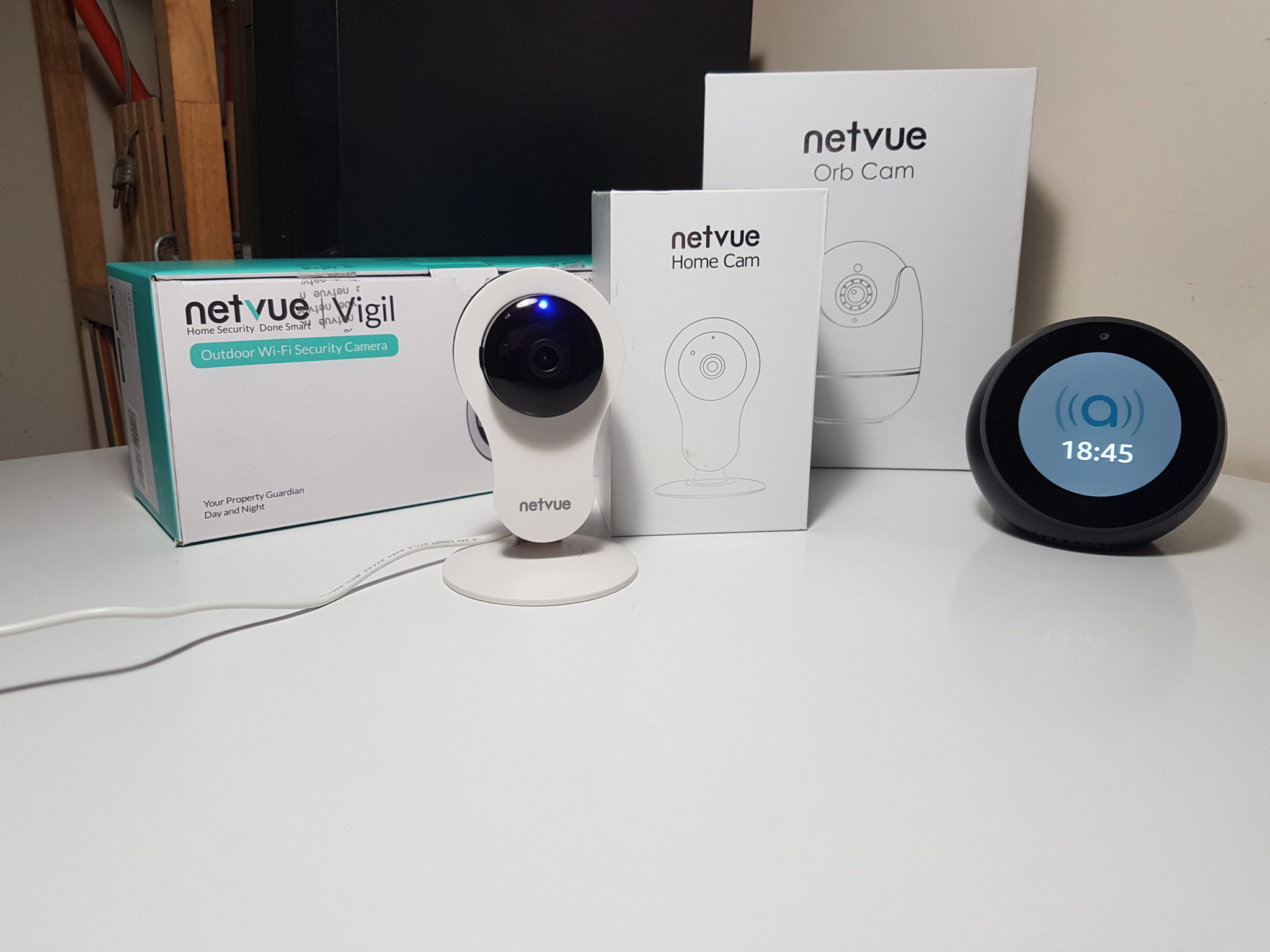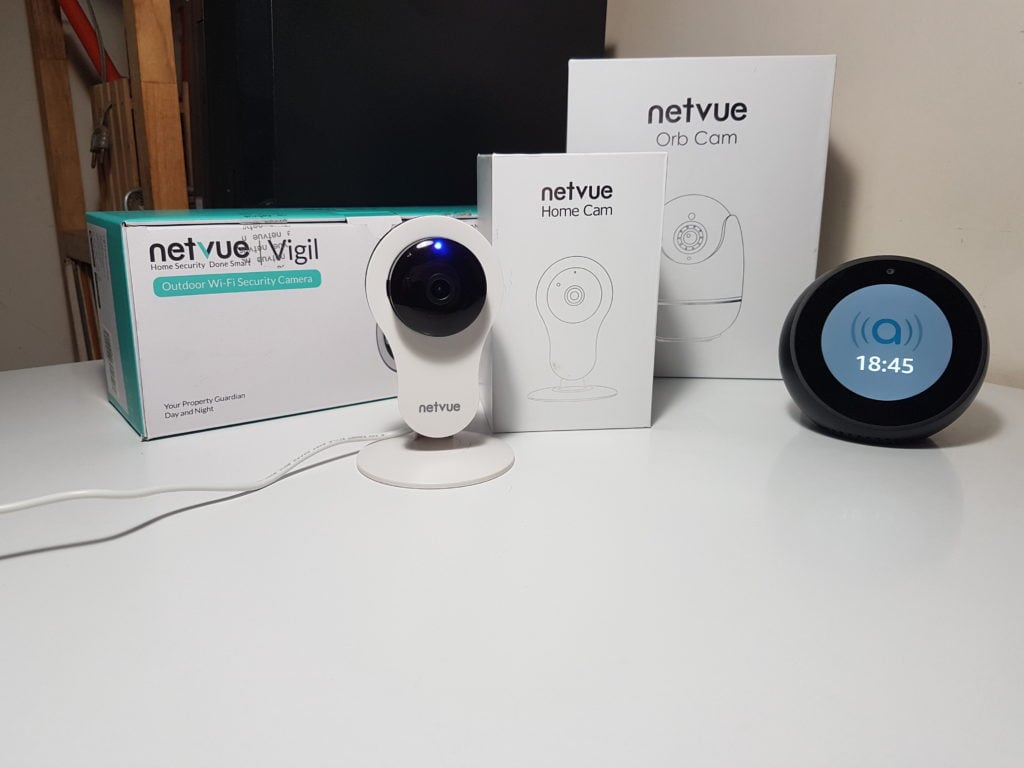 The camera is well wedged in its packaging is folded on itself. In the brand's colors, the packaging of this Netvue Home Caml exudes quality and immediately makes you want to go further ... Full HD 1080p video, motion detection, infrared vision and two-way audio: we find the standards of the Mark…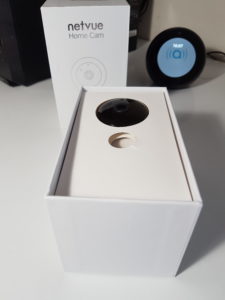 At the opening, we discover a super compact camera. The Netvue Home Cam is approximately 8 cm x 8 cm x 12 cm and weighs only 118 grams. Despite everything, the device seems quite solid and its finishes are impeccable. Dressed in white and black, it does not hide its function: to monitor and warn whatever the weather! Made of PP plastic, its base is however weighted by an aluminum plate with holes in order to be able to fix it.
Once again, the Chinese firm has planned everything and the 1080p HomeCam camera is supplied with all the necessary accessories ... In addition to its pre-assembled fixing system and its 5V / 1000mA power supply compatible 100 / 240V, you will find everything necessary for its installation: screws and plugs, self-adhesive drilling template (an excellent idea that Netvue implements on all its models), and a quick start guide. All we have to do is install it!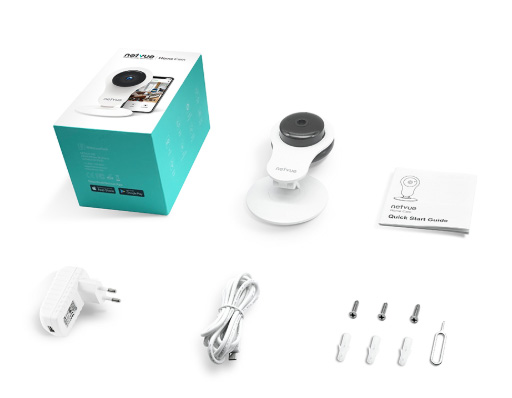 But, before getting started, let's take a look at the technical sheet of this super compact camera.
Technical specifications
Dimensions: 6.7cm x 19.5cm,
Full HD 1080p video: 1920 x 1080p at 30 frames / second,
Angle of vision : 103 ° horizontal and 130 ° diagonal,
IR night vision: 12 infrared LEDs (850 nm)
Audio: bidirectional with loudspeaker and very sensitive microphone,
Log in 802.11 b / g / n 2.4 GHz Wi-Fi,
Micro-SD slot,
Security: 128-bit AES encryption with TLS / SSL
Compatible with Alexa thanks to the Netvue skill.
Installation of the Netvue Home Cam 1080p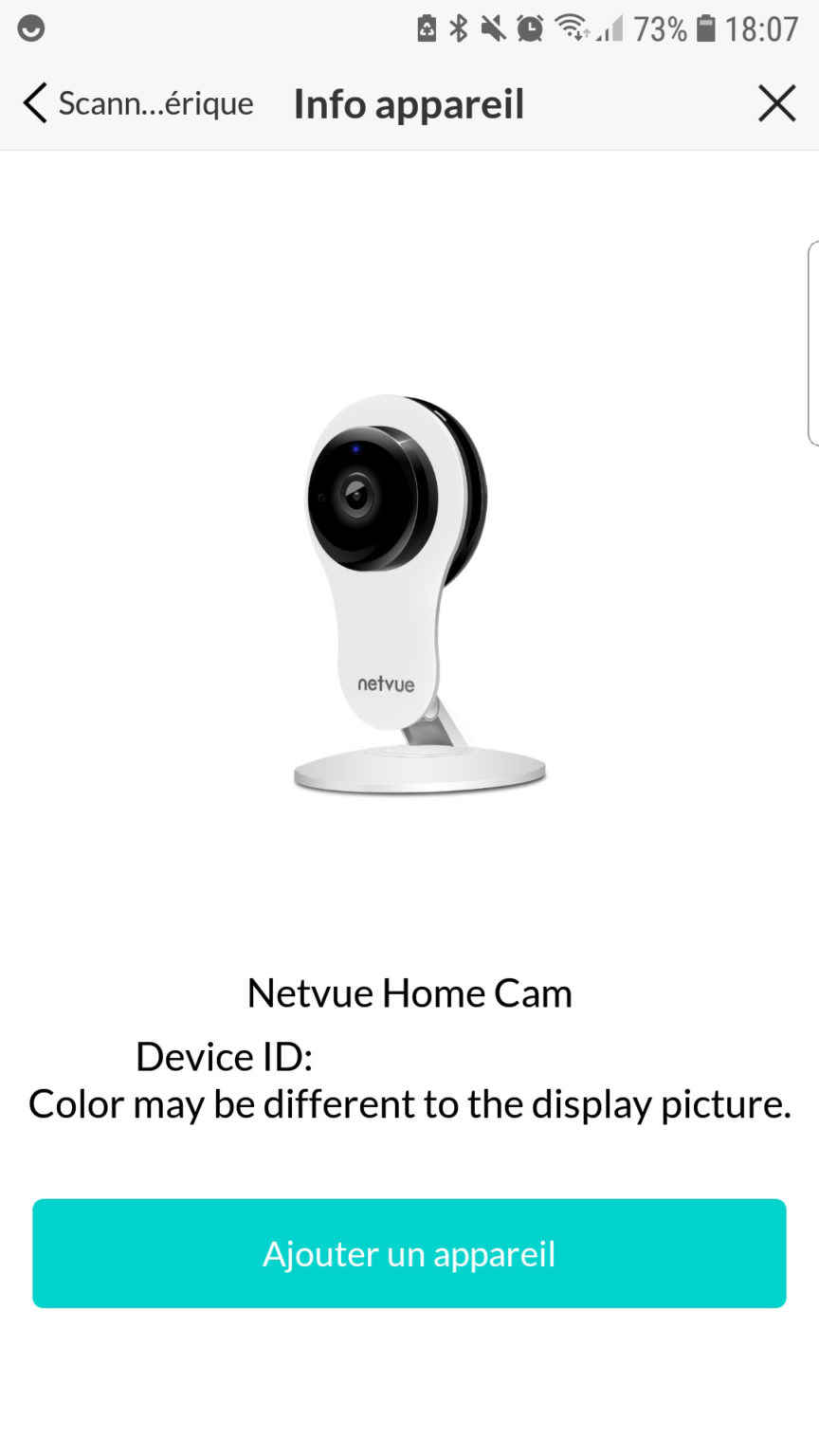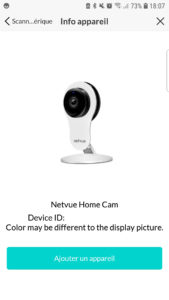 You have already installed a Netvue Orb Cam? Well, imagine that it will be even easier! Otherwise, check out our 720p Orb Cam installation tutorial, the procedure is in all points identical to that of its big sister. In other words, no difficulty to predict!
The installation procedure is relatively simple:
Create an account,
Click on "add a device",
Select the Netvue Orb Cam,
Enter your Wi-Fi password (don't forget to connect your smartphone to the 2.4 GHz network of your router or box),
The application will generate a QR Code that you will need to place in front of the camera lens.
And that's it, it's already over and you just have to activate the skill in your application Alexa or Amazon.com.
Have we lost you again?
Don't panic, remember, we made you up an installation tutorial... The procedure is identical to that of the Netvue Orb Cam 720p.
Netvue Home Cam 1080p: an efficient and discreet camera, compatible Alexa
An efficient and discreet camera
As we told you about it during the Orb Cam 720p test, Netvue offers a clean and well-thought-out app, and offers a truly responsive cloud with really cheap paid options. The Netvue Home Cam is no exception to the rule and reacts just as quickly as the other models of the brand.
Motion detection finely configurable, 10 second clips et photo captures are once again in the game. This model offers a picture in 1080p at 30 images per second and the least we can say is that despite its very small size, it offers a more than honorable quality. Note that you will have to wait a few minutes and wait for a firmware update to take advantage of it, the default firmware having scared us a little at first. But, once this update, we were rather blown away by the rendering of this small lens and its sensor, and in particular by its night vision which can make it a perfect baby monitor!
As on the other models, no lag to report, the transmission is still as fluid, the image is bright and the quality in night mode frankly good. Unlike its big sisters, you will be able to use digital zoom x8. Not bad! Obviously, the image will be a little degraded because it is a digital zoom, but this will allow you to observe the events more closely.
The big advantage of this camera, although it is wired, is its compactness. Without equaling the tiny size of the Blink XT that we tested not long ago, it is more or less the size of a number of webcams. An excellent point if you want a discreet and rather harmonious device.
This Wi-Fi surveillance camera is also fully compatible with Alexa. Netvue is also, for us, the brand which to date has achieved the best skill Alexa on the FR skill store. Despite some small problems encountered with the arming and motion detection, Netvue Technologies Inc. recently told us that we had submitted a new version of his skill à Amazon and restore those features so precious to Alexians. Phew, the Alexiens' honor is safe, the features that we experienced during our very first test are back!
Without going into the operation of the routines that we have detailed in our previous tutorials and tests, here is the video rendering on Amazon Echo Spot.
Alexa can now act as a discreet babysitter to watch your baby! We invite you to consult on this subject our tutorial and the previous test which offer you some ideas for routines.
In short, it is still a success for a Netvue product. The HomeCam camera is no exception to the rule and provides a truly qualitative image for a near low price. Available on Amazon. Fr at a price of 39 € for the 1080p version, or only € 29 for the 720p version, this camera will be as discreet as it is effective and should delight the most demanding with its really interesting quality / price ratio. It is also an inexpensive solution in view of the often exorbitant price of baby monitors, a role that it will be able to play wonderfully thanks to its two-way audio.