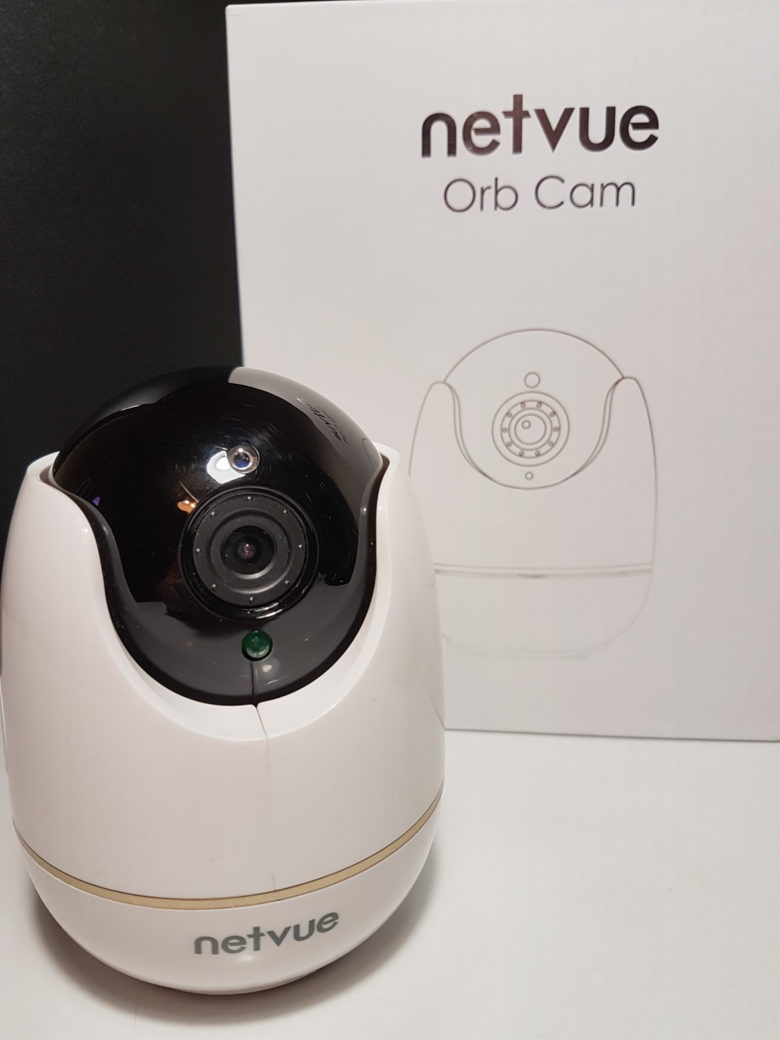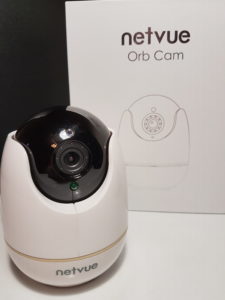 Many Alexians have discovered the world of " smart home "Or connected home on the occasion of the purchase of their first Echo 2 or Echo Dot device, then let themselves be tempted by a connected bulb, then one smart plug, why not switches, or a connected thermostat. With the arrival of theAmazon Echo Spot, many have wondered about the usefulness of a screen to use a voice assistant. Logically, as its name suggests, the latter should not require this kind of interface ... And yet, many of us have seen many advantages, and in particular that of being able to control an object which is already well known to technology enthusiasts. : IP camera or CCTV camera for those who prefer.
Indeed, what could be more practical than asking Alexa to give us an immediate overview of what our IP camera is filming? But many are disillusioned when they see the sometimes exorbitant price of the solutions offered by Netgear and its famous Arlo, or Amazon and its subsidiary Blink. That's why the Alexians searched for you a low-cost camera that is fully compatible in French with Alexa. And it's Netvue Technologies Co., a Chinese startup from the now famous city of Shenzhen, which gave us the excellent surprise to offer a small camera as pleasant as it is powerful, all for a price which, you will see, may well seduce you just as much as its many qualities ...
Netvue Orb Cam 720p: efficient and inexpensive
Unboxing
The first impression is always the right one, it seems, and the Netvue Orb 720p camera does not seem to deviate from this rule. Its white packaging is sleek, presenting the brand and reference of the device, as well as a drawing of the camera it contains, all hot-printed in silver. It's chic and cool! Inside, the IP camera is presented in a rather pleasant black plastic velvet case. On the other sides, you will find on one side the brand, on the other the main features of the device: HD video, motion detection, infrared vision and two-way audio. On the back, you finally have the full contact details of the company Netvue Technologies Co.Ltd as well as a QR Code allowing you to download the Netvue application as quickly as possible from your favorite app store, the Google Play Store for example.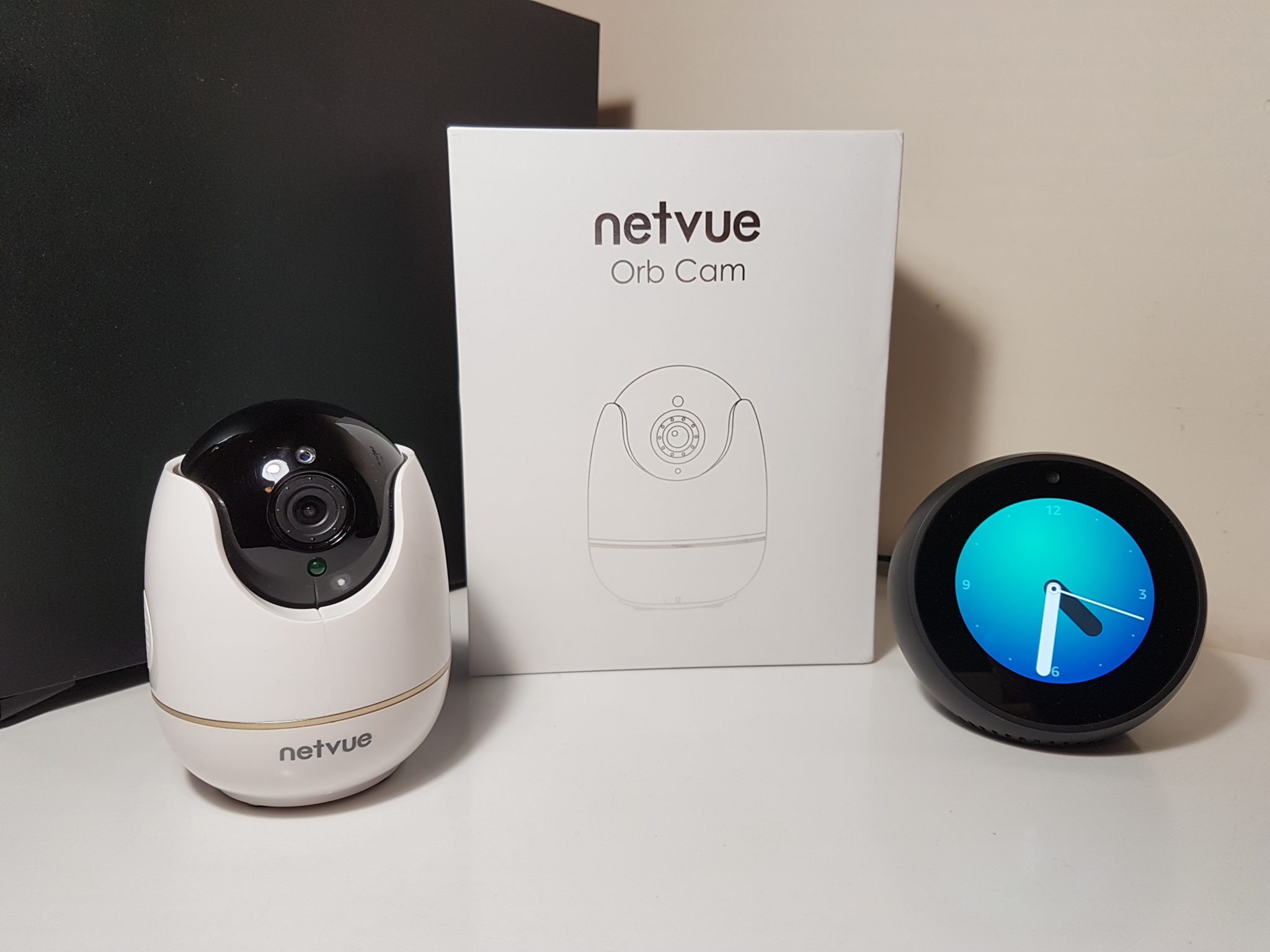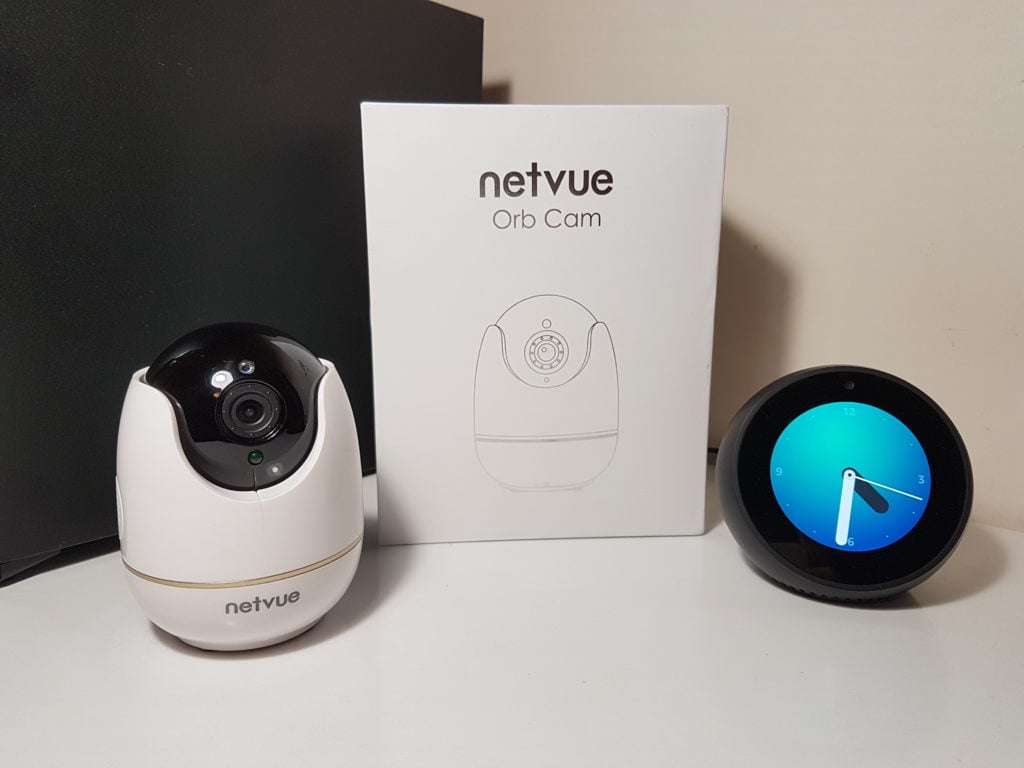 Inside, a nice little camera rather small in size (6.9cm x 9.1cm) is revealed, well protected in a small plastic pocket. White and black, the camera has a simple and refined design, a small golden line delimiting its mobile part below which the mark is simply affixed. Again, it's classy and discreet. On the right, a small white cardboard box contains some accessories: a power supply box 5V / 2000m compatible 100 / 240VA, but also a plastic wall mount, a nice little extra that many brands don't hesitate to sell separately. Another detail appreciated by Les Alexiens, Netvue took the trouble to provide you with two screws and their plugs, as well as a small boss allowing you to fix the support as quickly as possible.. We also note that the camera will be securely attached to it by a universal threaded rod, sometimes called "Kodak", which you find under most cameras / video.
Finally, you will find a 'Quick Start Guide' which, as its name suggests, is unfortunately not translated into French. But, what does it matter, Les Alexiens will explain everything to you in the language of Molière… Besides, what exactly are the characteristics of this famous camera?
Technical specifications
Dimensions: 6.9 9.1 cm x cm
720P HD Video : 1280 x 720p,
Wide and adjustable viewing angle horizontally 300 degrees and vertically 90 degrees,
IR night vision and motion detection,
Bidirectional audio,
Log in Wi-Fi 2,4GHz,
Location micro-SD,
Compatible with Alexa thanks to the Netvue skill.

Installation of the Netvue Orb Cam
After downloading and installing the Netvue app, all you need to do is launch the app and plug your Orb Cam into the mains.
The installation procedure is relatively simple:
Create an account,
Click on "add a device",
Select the Netvue Orb Cam,
Enter your Wi-Fi password (don't forget to connect your smartphone to the 2.4 GHz network of your router or box),
The application will generate a QR Code that you will need to place in front of the camera lens.
And that's it, it's already over and you just have to activate the skill in your application Alexa or Amazon.com.
Have we lost you?
Don't panic, here is the entire procedure in pictures ...
Netvue Orb Cam: The Power of the AWS Cloud
A well thought out application

Netvue gives us a clean and well thought out application. Very fast, the cloud used by Netvue is none other than that ofAmazon Web Services. Note that the Chinese brand, eager to seduce Europeans, has come into compliance with our famous and no less restrictive GDPR. For those who fear a seizure by the Chinese authorities of the servers, know that they are located in Europe in the data centers of the e-commerce giant. Doesn't that reassure you? Well, you are wrong, but that is not the point… Back to our Netvue Orb Cam 720p.
Yes, it is "only" a 720p HD IP camera, but you might get hit by the sharpness of the imageespecially at night… To be honest, we really didn't expect such quality. The image is clean and you will easily recognize the people parading in front of the camera. Likewise, the photos captured by the app are really sharp and quite usable in the event of an unwanted intrusion into your home. The cloud of Netvue keeps a 10 second clip on each detection, enough to see the face of your intruder, and this for a period of 14 days. More than enough.
As soon as the slightest movement is detected, you will be notified within 2/3 seconds which follow by the application… It's really fast and we hardly need more. Note that a slight gap exists between the visualization on your application and the reality, but if you have a good connection and a good mesh Wi-Fi network for example, this one does not exceed 5 seconds. Likewise, this will depend on your cellular connection… In 4G +, we found that really fast and quite impressive. It's even remarkable for the price! Moreover, it is good to note that 720p probably offers more fluidity than 1080p… We will check soon with the 1080p model.
The application allows you to configure a number of things, including sharing access to the camera, cloud storage - we'll come back to that - or even the motion detection with delimitation of zones, sensitivity and movement time! It's really useful and nice to find these features on a low-cost camera.
Finally, you have access to a variety of settings and information : remote restart of the device, standby mode and standby schedule, motion alerts, speaker volume, setting the time zone, setting and analyzing your Wi-Fi network, setting the night vision mode, indicator light 'status, start-up tone and the ability to rotate the camera image 180 degrees (very useful if you want to install the camera "head upside down").

Cloud or local storage
Netvue offers two solutions: the cloud storage of your recordings and / or the possibility of recording the captures on a map micro-SD. To be fair, we're not necessarily a big fan of this kind of use for a security camera, as burglars can easily grab the memory card. Unless it is well hidden or difficult to reach, it is therefore better to turn to the cloud. The only downside: it's not free.
Fortunately, Netvue Technologies Co. offers rather affordable offers in the matter. As we mentioned above, their AWS servers offer a truly impeccable quality of service, and even if it is paid, the cloud storage 7d / H24 is definitely worth it. We have not noticed the slightest problem in 14 days of use (which is the duration of the free trial of the cloud) with the cheapest offer, which costs only $ 1.99 / month or 1.76 € / month, or $ 19.99 / year either 17.55 € / year if you opt for a yearly payment (two months free). In short, for around 20 € per year, you will therefore benefit fromrecording of each motion detection for 10 seconds and a 30-day storage.
netview also offers a more expensive plan, but which allows continuous recording over a period of 14 days, with replay of course, but also storage of alerts by clips.


A skill Alexa responsive and comprehensive
Watch live video on Amazon Echo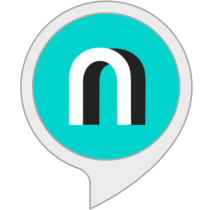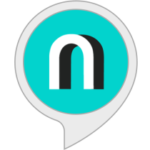 « Alexa, show me the camera at the entrance » ou « Alexa, displays the outdoor camera ". No sooner have you said this sentence thanAlexa launches the Netvue skill and displays live from your camera 3 seconds later on the screen of your Echo Spot or Echo Show, but also very soon on your Fire TV Stick.
To activate the skill, nothing could be simpler, go to your application and search for "Netvue Live Video" or meeting on Amazon. Fr. Then all you have to do is enter your login details and you're good to go!
Another good point for this camera, which definitely never ceases to surprise us, the skill also allows you to insert your Netvue Orb Cam in your routines Alexa. And that is really great! Let's see what it is possible to do in the application Alexa.
Schedule routines
In your application, you will of course find the camera in your devices, but we were pleasantly surprised by opening the routines… Netvue has thought of everything and has definitely provided us with a great skill. You can indeed create several types of routine… Suffice to say that Les Alexiens were obviously seduced by these features!
Here are some examples :
Starting routine: « Alexa, I leave " in addition to turning off the lights can, for example, turn on the camera. Here, we have chosen to activate it after a minute thanks to the feature "Wait" present in Alexa. Once the lights are out Alexa will therefore wait a minute, leaving you the task of leaving the premises, before activating the camera and its motion detection system. We love this possibility!
Detection routine: if, during your absence, the camera detects movement, you will of course be notified directly on your smartphone by the Netvue application, but Alexa can also warn the intruder that it has been detected, giving you plenty of time to take action. In this routine, the camera will trigger an alert routine, which will make the Alexa a short text of your choice. Here we have chosen to make him repeat several times "Intrusion alert", then inform the person to detect that "The owner has just been notified" while the light scene is triggered "Flash notify" of our Xiaomi Yeelight bulbs. Tremendously effective!
Note that you can define a number of parameters for your routines: the days when it will be active, but also the time slot. And since it can happen that you come home forgetting to disarm your routine, you can even ask Alexa not to run the routine for a defined time if the camera detects a presence again. Convenient, isn't it?
Return home routine: « Alexa, I'm here " will allow you, here for example, to turn on the office light and disarm the camera. Note that even though the command is "Turn on camera", it will have the effect of deactivating it if it was already on. Perfectible, therefore, but practical all the same.
Unfortunately, this routine doesn't seem to work anymore.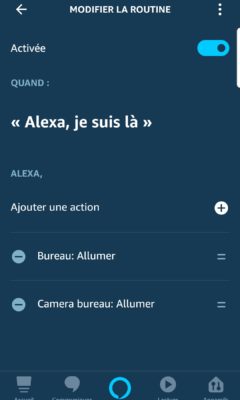 Inactivity routine: if you want, you can finally use your camera to create routines that will trigger when idle. after a defined period of time during which your Netvue Orb Cam has not detected any movement. We can imagine using it to turn off lights for example, or on the contrary to simulate a presence, and many other things.
Editorial opinion
In conclusion, you will understand, we were fully seduced by this Netvue Orb Cam 720p: nice design, responsiveness and ease of use, but also features Alexa more than interesting. Available in two colors (white like our model or black) on Amazon. Fr for the modest sum of 39.99 €, this IP camera has a very interesting quality / price ratio and largely deserves the excellent rating we give it. Note, for 10 € more, you can get the same model in Full HD 1080p.
NETVUE Orb Cam - 720p HD IP Camera
39.99€
Most
Installation simple
Responsive and user-friendly app
Sober and elegant design
Image quality and very efficient night vision
Ultra responsive and skillful AWS cloud Alexa very effective
The lessers
Slightly long installation and tedious QR Code scan
Paid cloud storage
A bit cheap fixing system
LEDs permanently on at night