Shortly before the start of containment, we presented the best way to close your doors remotely: the smart locks. While many models exist on the market, we have noticed for several years that one of them is particularly popular with members of our community : the Nuki Smart Lock 2.0. Easy to install, reliable and secure, this connected lock is also compatible Alexa. It didn't take much more to convince us to present it to you in a complete test ...
Nuki Home Solutions GmbH was founded in Graz in 2014. After a successful crowdfunding campaign in 2015, the company has grown steadily and now employs over 60 people. In addition to the current version 2.0 of the Nuki Smart Lock, the Nuki Opener and a wide range of accessories, Nuki is constantly working on developing smart access solutions for a keyless future.
Not available
August 13, 2022 4:54 a.m.
Not available
August 13, 2022 4:54 a.m.
Nuki Smart Lock: a 2.0 combo for your security
Unboxing and presentation
We received the Nuki Combo 2.0 which consists of the lock Nuki Smart Lock 2.0 and Nuki Bridge which allows connection to the Internet. The presentation is neat, the quality packaging and the product visuals really make you want to go, we can't wait to go further. Especially since the logo "Works with Alexa » figure prominently on the front ...
At the back, we find the main characteristics of the product and the prerequisites: a smartphone Android 5.0 or higher, iOS 10 or higher, equipped with Bluetooth 4.0 minimum and an interior lock. Because, yes, the Nuki Smart Lock 2.0 is intended to be installed on the interior side. On the sides, assembly diagrams let us think that the installation itself will only be a formality, and that's good!
Inside the two boxes, we discover the connected lock Nuki Smart Lock 2.0 and his Nuki Bridge. The first impression is always the right one, it seems, and in this game this product is doing very well: it exudes solidity. Made of quality plastic, black and silver, its design is pleasant and his fairly heavy weight builds confidence. In the case of a "Key turner", namely a device which is placed on an existing lock and whose role is to turn the key for us, we did not expect such an impression of robustness. We are pleasantly surprised.
"La Nuki Smart Lock 2.0 exudes solidity. " The Alexians
The first box contains the Bluetooth connected lock, A lot of 4 batteries, a little magnet for opening detection (optional installation), a installation guide paper and a card with flashcode allowing you to quickly find its digital version, as well as a Allen wrench which will prevent you from looking everywhere for the one in the right format.
The upper, round part has a button and a status indicator. It is this button which, with a simple press in its center, will trigger the opening or closing of the lock. You will notice, at the back, the slot to accommodate the key. The Nuki Smart Lock 2.0 does not replace your lock, but automates the movement of the key. Those who are more concerned will therefore not have to wonder about the security level of the lock: Nuki just turns the key for you.
"La Nuki Smart Lock 2.0 therefore does not replace your lock, but automates the movement of the key. " The Alexians
The body, black in color, houses the batteries necessary for its power supply. Provided, there are four type AA.
The lock itself is accompanied by two fixing plates to select according to the type of barrel you have: more than 3 mm thick ou less than 3mm thick. They are to be fixed with 3 screws or to be glued with 3M tape (preinstalled), it is your choice.
In the second box, we finally discover the Nuki Bridge. Because if the lock is well connected to Bluetooth, it requires a bridge to connect to the internet and be usable remotely or by voice with voice assistants (Amazon Alexa and Google Assistant).
Information
Brand:
Nuki
Model:
Combo 2.0 ( Smart Lock 2.0 + Bridge)
Supply :
4 x AA batteries (included)
Dimension:
284 x 111 x 221 mm
Weight:
1.4 kg
Autonomy:
8 to 10 months
Other:
Batteries x 4, holder x 2, door magnet x 1, user manual.
Nuki Smart Lock 2.0: easy installation and use
Quick installation
The least we can say is that the installation of the Nuki Smart Lock 2.0 does not present the slightest difficulty. Be sure, however, to check the compatibility of your lock before purchasing it.
Remove the key from your lock. It's silly, but it's good to know.
Choose the fixing plate corresponding to your needs.
Attach the plate with the pre-installed 3M sticker and / or screws.
Insert your key and the Nuki lock Smart Lock 2.0 from above.
Insert the battery pack.
Not very complicated, is it? Let's go to the settings ...
Download the Nuki app. Available for iOS et Android, you will learn all about it on Nuki's website.
Tap to configure the device.
Choose Smart lock. The application then asks you if it is already installed and a guide " step by step " launches if necessary. We just did it just above, let's continue ...
Enter your name (not that of the lock, nor ours, but yours!).
Activate bluetooth if necessary and authorize the application to access your position. Otherwise, it won't work, of course.
Hold the button central Nuki Smart Lock 2.0 depressed for 5 seconds.
It is done ! In a few seconds your smartphone is connected to your new Nuki connected lock. You can't get much faster, right?
Now that you are logged in, you can configure the lock:
Choose a name for your Smart Lock (front door, for example),
Configure the geographical position : this position will automatically lock or unlock the lock when you leave or arrive home. If this function is very useful when you arrive with the arms to load, you can obviously deactivate it later if you wish.
Calibrate the lock depending on your type of lock: this will allow the Smart Lock to know the type of handle on your door, the number of turns to be performed, etc. This operation is automatic and must be done with the door unlocked. It will be possible to come back to it later and modify everything manually (but the automatic mode works very well).
Congratulations, you are ready to use your Nuki. Smart Lock 2.0! You can now lock and unlock your door with your smartphone locally.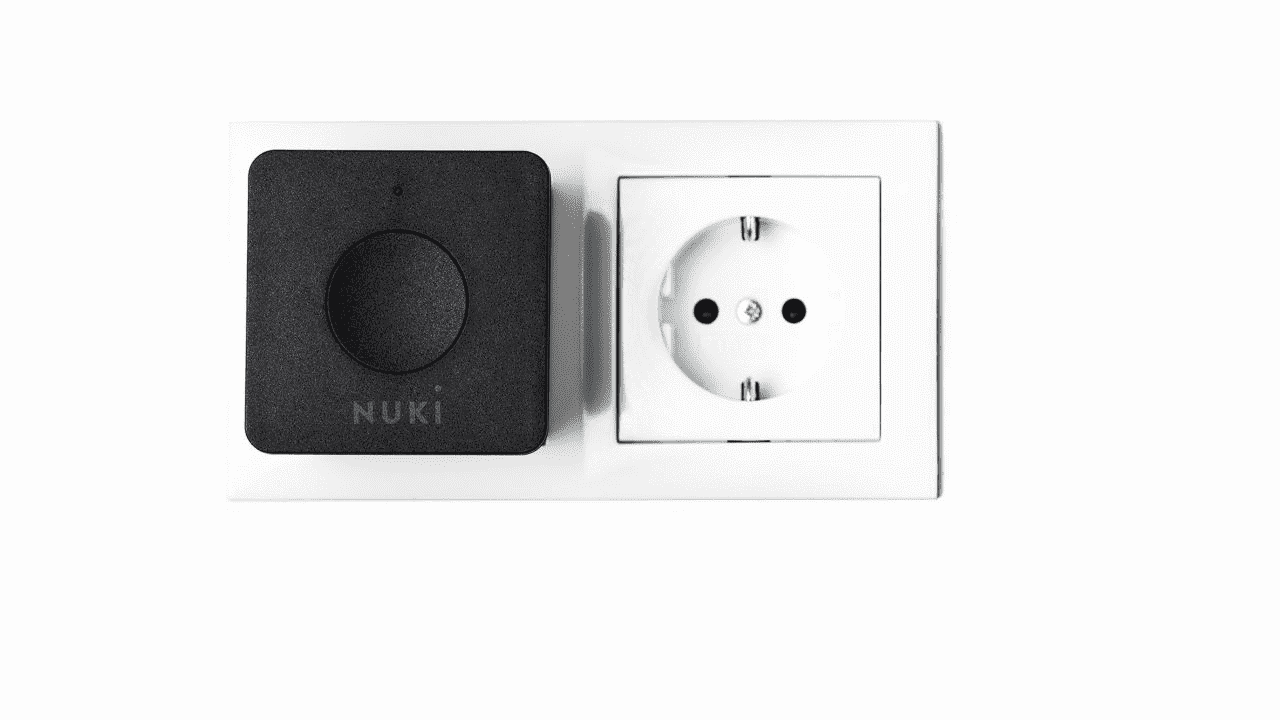 If the
Nuki Smart Lock 2.0
is already very practical on its own, we are now going to install the
Nuki Bridge
. Included in the
Nuki Combo 2.0 pack
that we present to you today, it allows the smart lock to connect to the Internet. From then on, you will be able to manage your Smart Lock wherever you are, but also with the help of your favorite voice assistant:
Amazon Alexa
!
Download the Nuki Bridge app.
Plug in your Nuki Bridge on the sector.
The LED should blink normally. If not, press the single button for 10 seconds.
Push the button of the Smart Lock for 5 seconds.
It is done ! It took about 15 seconds to complete the association. Well done Nuki!
As you will see in the video below, it is possible to lock or unlock the Nuki Smart Lock 2.0 by simply pressing the central button, by manually turning the gray part, via the Nuki app or even automatically when the smartphone is within Bluetooth range of the lock.
Note that badges / remote controls Bluetooth are also available: it is the Nuki Fob which allows to unlock or lock the door at any time without smartphone.
Versatile, the Nuki Fob works in Bluetooth with the lock - the Bridge is not necessary - and can be left with the children, the babysitter or the cleaning lady. Better than a key that allows access to the home at any time, this Bluetooth key fob remote control is programmable and you can assign it permanent, temporary or repeated authorizations. Practice !
Another optional device available: the Nuki Keypad. A 6-digit digicode ideal for people who have no smartphone, for housekeepers or babysitters, and which can also come in handy when your phone battery is exhausted.
34,20€
39,00€
In stock
15 new from € 34,20
August 13, 2022 4:54 a.m.
69,99€
79,00€
In stock
5 new from € 69,99
August 13, 2022 4:54 a.m.
Now let's see what the application offers us. Very well designed, we will see that it is rich in features.
A rich application
The Nuki app offers a large number of options. We note in particular the very practical automatic unlocking at the approach of smartphone, a activity log which allows to follow all the events, the possibility ofadd users thanks to Nuki Web or to authorize a limited time access for, for example, friends or relatives who have come to spend a few days with you.
It is possible to configure the battery type used for better management of autonomy,adjust operating mode (eco or not), the number of key turns that the lock will have to realize, receive notifications with each action, change the time zone, adjust the intensity of the indicator lightEtc. ...
Another very valuable function: Lock'n Go. This option allows you to automatically lock the door behind you past a certain time. So you won't forget to close it behind you! Be careful, however, you may find yourself at the door if your garden is large and you have forgotten your smartphone in the house.
As it is a connected object, you finally find a schedule. In the form of a calendar, it is used to define the time slots for locking or unlocking and the days on which to perform the actions.
A compatible connected lock Alexa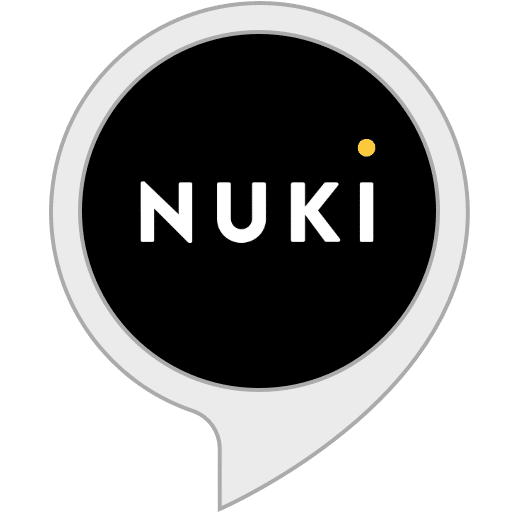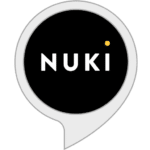 No doubt you were all waiting for us to bring up the subject Amazon Alexa ! Because yes, in addition to being usable with Google Assistant, this smart lock is compatible Alexa.
Once Nuki skill activated, our favorite voice assistant will automatically detect the Nuki Smart Lock 2.0. Note, moreover, that locks now benefit from their own category and that their use with Alexa is perfectly secure. Indeed, you will have to dictate a PIN code, previously defined, or use your application. Impossible, therefore, to open the door by being able to be heard by your Echo devices without knowing the code: Alexa Fortunately, it was not born from the last rain and will not let in any unwanted!
Better yet, it is possible to customize the actions to be performed by creating routines including the Nuki lock!
If you have a connected doorbell, you can very quickly open the door to your visitors with a voice command after identifying them. Handy if you are upstairs or don't have your smartphone at hand.
Another example of a very appreciable routine: the bedtime lockout. Who has never stood up to check if the door is properly closed? With the Nuki smart lock, you just have to say, for example, « Alexa, good night " and it will take care of locking the door if it is not already locked.
"End-to-end encryption and the NaCl (Networking and Cryptography library) process reassured us that there are no security issues! " The Alexians
Our opinion on Nuki Smart Lids
Skeptical - but not like the pit - at first, fearing that a connected lock let unwanted people into our homes, I let myself be tempted to present this connected lock. Septic certainly, but geek above all, we still wanted to try the experience. Yes, us, because it was a little more complicated for my wife - who is starting to no longer understand how to use the house and asks me for instructions - and did not want any, but I started telling myself that I do. would bear the consequences if she couldn't come home one night and had to sleep outside.
"La Nuki Smart Lock is downright awesome. " The Alexians
After an extremely intuitive installation With just five minutes and the equally easy creation of a second user, we quickly found that the house hadn't become vulnerable. At least, not more than before, since the key remains permanently in the cylinder. Moreover, the end-to-end encryption and NaCl process (Networking and Cryptography library) reassured us that there no security problem!
I then embarked on the tests of different locking modes, options in which we can quickly get lost as they are numerous (auto-lock / auto unlock / lock'n'go / Alexa / Geolocation ...), but once everything is correctly configured, what happiness! The Nuki Smart Lock is downright awesome.
Realize, you come out of your house and slam the door (softly anyway… Think of the neighbors!) And you can simply leave, the lock locking as if by magic.
Are you going home having taken advantage of the village festivals? Remember the previous year when you took an hour to go around your pockets to find your bunch of keys… Then another one to find the right key, and finally long minutes to insert it… Well, with the connected lock, no more risk of sleeping on the doormat! You arrive and the lock unlocks… All you have to do is find the handle.
More seriously, arriving at your front door and not having to look for your keys : what happiness! I nevertheless checked several times the correct locking by leaving the predefined geographical zone then by checking on theNuki app if the status had changed. And even with the help of a camera - no I'm not paranoid, but I like to see for myself… What if Nuki was wrong? Well no ! The lock always locked properly when I left the area. Be careful though during the tests and settings not to be alone at home, or without your (charged) phone on you because, while groping, you can quickly have the unpleasant surprise of having activated an option that will lock the door. its closure for example. Also remember to activate Nuki Web and, at worst, you will just have to go to your neighbor and ask her kindly to use her Internet connection.
The possibilities are enormous, when someone rings at my connected intercom I can now open the door asking Alexa. Or again, when I run my scenario Jeedom to go to bed, I can very simply check that the door is properly locked. Finally, my wife did not sleep outside and even finds it so practical that she could not do without it today. Besides, she even wants all the doors now!
In conclusion, as you have seen, the
Nuki Smart Lock 2.0
is really
an interesting product
in more than one way and
a great surprise
. Many members of
our community
advised us, we understand better why because
this connected lock offers many advantages
. Working on most European cylinders, it is easy to install and offers many features. Really practical, especially for families, our big month of testing has also proven to us that it is perfectly reliable and we can therefore only advise you to buy it!
La
Nuki smart lock Smart Lids
is sold alone at
price of 221 € on Amazon. Fr
, a rather competitive price compared to the competition. But it's a safe bet that you will prefer to turn to the
Nuki Combo 2.0
, which integrates the
Nuki Bridge
allowing the system to be connected to the Internet and which is proposed
at a rate of 299 € on Amazon. Fr
.
Nuki Smart Lock 2.0 Connected lock
299.99€
Most
Fast and easy installation
No need to change cylinder
Practical light ring
Well-designed application
Compatible Alexa, Google Assistant, IFTTT and Jeedom. API available.