First publication on 23/04/2019 - Article updated on 15/12/2019
We have already presented you with a number of compatible connected sockets Alexa, which all have one thing in common: they work over Wi-Fi. A technology well known to the general public and which has the advantage of not requiring the purchase of a bridge. However, many of us are already equipped with a Zigbee bridge, whether it is that ofEcho Show 2 or More, of a bridge IKEA TRÅDFRI, or the famous Philips Hue bridge that we find in a lot of starter kits of the brand. This is why today we turned to OSRAM, a famous company in the lighting sector, which offers a range of "intelligent" devices called Smart+. A range which is therefore based on the Zigbee protocol, on multiple partnerships with other brands, and who is certified compatible Alexa by Amazon. Relatively expensive, does this plug keep its promises? This is what we will see ...
21,37€
27,95€
In stock
5 new from € 21,37
Refurbished from 1
August 13, 2022 12:52 a.m.
47,00€
In stock
August 13, 2022 12:52 a.m.
OSRAM Smart+: an elegant but bulky connected plug
Unpacking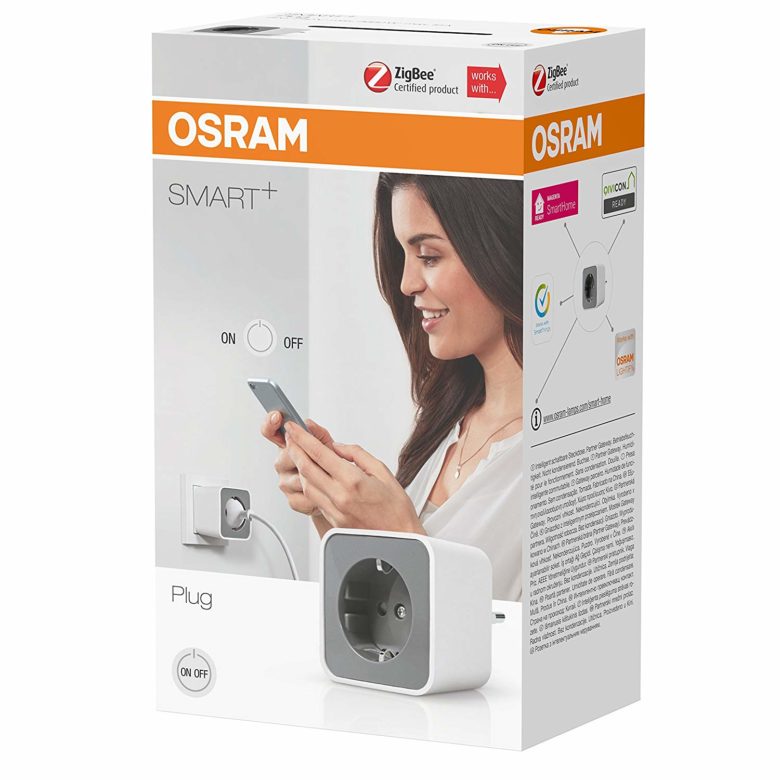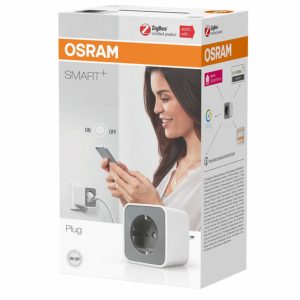 The packaging leaves no doubt: we are facing a big brand product. The packaging is neat and the cardboard quality. It contains all the elements of good product marketing: brand well highlighted with its color code, meaningful illustrations, partner logos, technical sheet.
When opened, the plug is perfectly secure in the packaging and accompanied by exhaustive instructions for use. Almost cubic in shape (it's more of a truncated pyramid in fact), it measures 8,4 x 6 x 6 cm. Its dressing is two-tone: white outline and light gray front adorned with an "OSRAM SMART+ »White. It is elegant and the finishes do not suffer from the slightest flaw. We are clearly facing A premium product. Its weight of 104 grams, rather consequent, also supports this first impression of quality.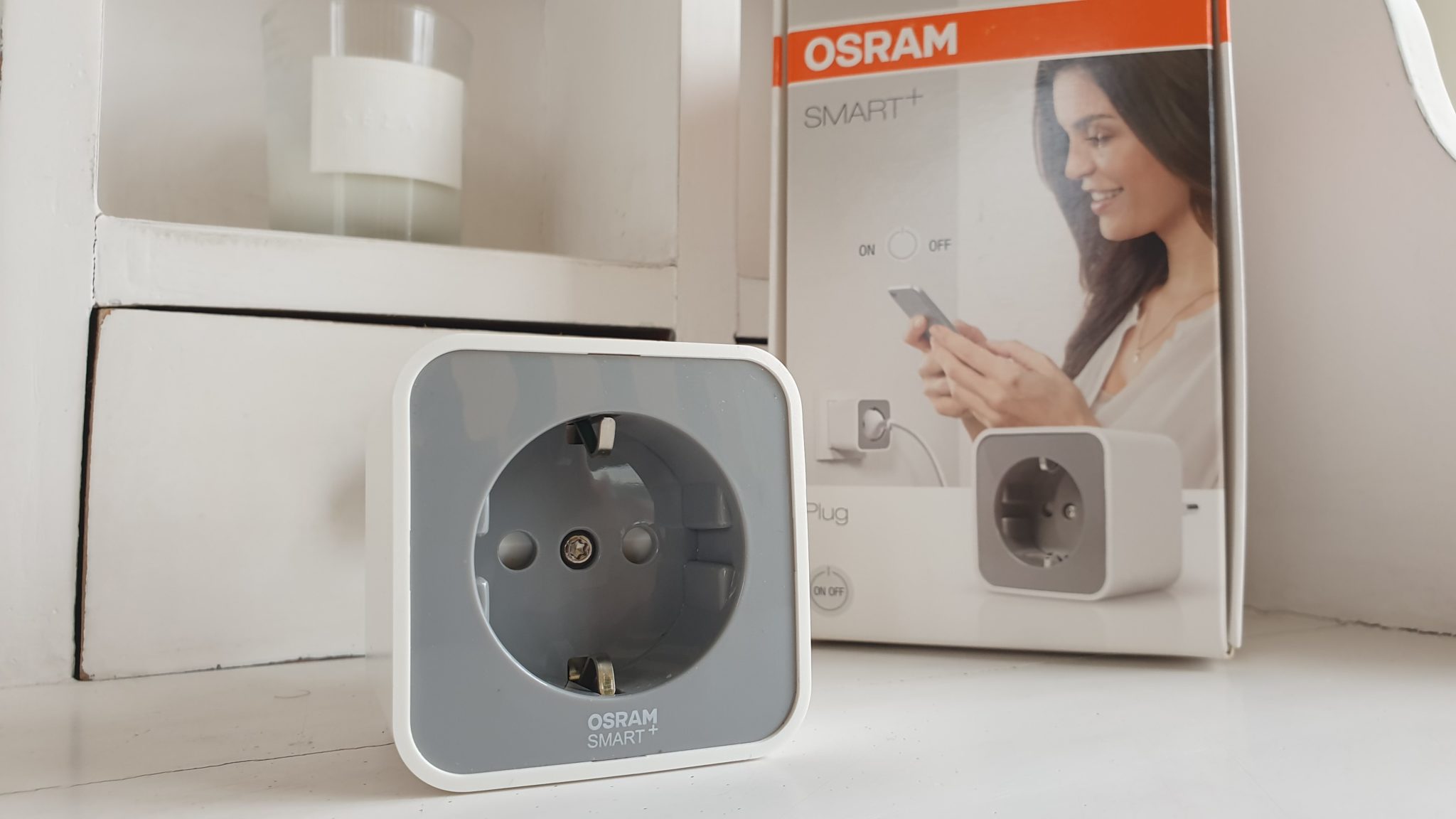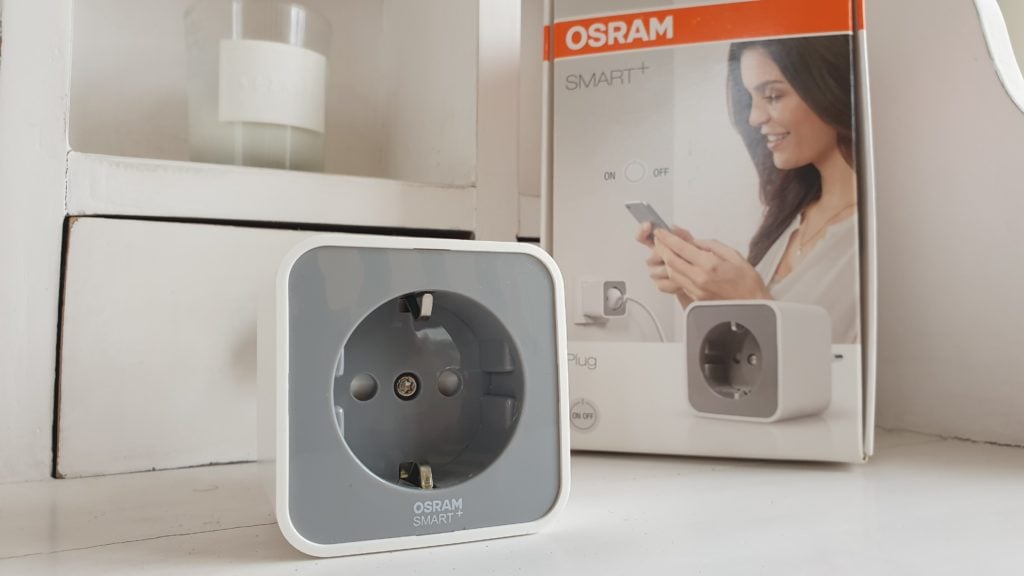 This smart plug is E / F type, the European format allowing compatibility with our type E sockets, but offering an earth via two Schutz-Kontakt type. We remind you: have no fear, this format is compatible with the vast majority of our devices which will be perfectly earthed. Indeed, only really old devices may possibly not be able to insert into this socket. So you can buy it with your eyes closed, it will certainly find its place in your home. Besides, you can imagine that a brand like OSRAM would not take the risk of offering us products that are incompatible and devoid of grounding. Their reputation depends on it!
Let's take the opportunity to take a closer look at this famous technical sheet ...
Information
Its characteristics are relatively classic: 16A and admissible power of 3W on the 680-220V at 240 Hz. The mark specifies, and it is appreciable, that its catch can offer more 25 trips, a data rarely indicated by the competition and proof that OSRAM products Smart+ go through a pre-market testing laboratory.
| | |
| --- | --- |
| Communication protocol | Zigbee |
| Item Weight | 104 g |
| Product Dimensions (L x W x H) | 8,4 x 6 x 6 cm |
| Amperage | 16A |
| Degree of protection (IP) | IP20 |
| Weight | 104 grams |
| Admissible power | max. 3 W |
| Style | Connected socket |
| Color | Grey |
| Materials | Plastic |
| Volt | 220-240 Volts - 50 Hz |
| Take type | type E / F with socket C / F |
OSRAM Smart+: the simplicity and efficiency of Zigbee
As we said above, OSRAM relies on several partnerships so that its socket can be used on many systems smart home and with different Zigbee bridges. We are therefore going to test it on the Hue Bridge that we recently presented to you during the Philips White & Color Ambiance E27 starter pack test.
Installation
We are not actually going to go into the details of its installation because it is so simple. You just need to plug in your socket et open the Hue app. Then press about 5 seconds on the power button et launch a detection of new devices in the same way as for your bulbs and accessories. The socket is detected in a few seconds and appears alongside your Philips Hue or compatible lights. Only regret, the OSRAM socket Smart+ then appears as a light bulb. It's a bit of a shame because you will find the bulb logo in your application and not that of a socket. But, basically, it does not have much importance, the functionalities of such a plug being of the most basic: on / off.
The advantages of a Zigbee plug
Why choose a Zigbee plug? Because this has several advantages:
The Zigbee is a energy efficient technology compared to Wi-Fi or Bluetooth.
The Zigbee is based on a mesh network : if its range is equivalent to that of 2.4GHz Wi-Fi (10 to 50 meters depending on the environment), each device becomes a node, which allows it to be used over a much larger area than that of Wi-Fi a simple router or an ISP box.
In the event of a network failure, you continue to benefit from a local control (but not in vocal for the moment, Alexa still requiring interpretation of orders in the cloud ofAmazon).
In conclusion,
the OSRAM connected socket SMART+ is a great product
that you will have no trouble installing and getting recognized by Alexa.
Its finishes are exemplary and its Zigbee connectivity an asset
, especially since it is compatible with a large number of partner bridges. We just regret the fact of not being able to assign it as a connected socket, but also the lack of monitoring of power consumption. However, a lot of users don't care. Last regret, unless you get it on promotion, it is an expensive product since it is marketed
around 20 € the unit on Amazon. Fr
.
OSRAM Smart+ Connected plug compatible Alexa
24.40€
Most
A Zigbee plug
Compatible with many partner bridges (including Philips Hue)
Exemplary finishes
Super fast installation
stylish design
The lessers
A little bulky
No monitoring of power consumption
High price excluding promotion