You most certainly remember the PETKIT Feeder Fresh Element P512 kibble dispenser test. Well know that this brand, founded in 2013, one of the leaders in the market for devices for pets, sells in Europe and France its new innovation: the PETKIT Smart cozy !
Un Smart Cozy, or Smart Cozy ?! But what is it? It is in fact a niche for all connected twinks and doggies, through their masters to the end of home automation. But what's the point, are you going to whisper into our ears? There are plenty that we are going to show you. Know above all that this cozy is air conditioned! By blowing hot and cold, Minou-minou will not catch a cold. It also tracks the time your animal is in the kennel, to prevent Médor from making pate.
It's a really good idea on paper, what is it actually? Follow us… and watch us!
PETKIT Smart Cozy: a ball of technology
Le PetKit Smart Cozy comes in a huge cubic box of almost 50 cm edge and near 5 kg. Its frozen impression is quite poor in information on the product itself but is very clear on its future inhabitants: cats and small dogs. But you can put whatever you want in it as long as it fits and it's legal. The first impression is therefore very good, just the cardboard and the highlighting make you want to.
The "Wow" effect is there! The Cozy is really beautiful and of super quality beautiful and of super quality. The Alexians
Well protected in polystyrene shells, we find our connected niche, a support, the connectors and a small device managing the cooling of the air. There is also an installation guide, very brief for once but explaining how to connect it via the PETKIT application. As for the distributor, the "Wow" effect is here! The Cozy is really beautiful and of great quality.
It's easy to say it's qualitative, but it takes proof, right? Well let's take a tour of the owner:
The strength of the plastics and the various elements is remarkable. Both strong and light, the material does not scratch, which is good with animals, and is easy to clean if needed.
Le power cord is made of woven material, which really gives a high end look.
Le air conditioning unit is as well finished as the rest of the product, small and not very noisy,
Le small carpet for your pet to come to bed is also of good quality and very soft.
Connect the air conditioning unit, insert the power supply, place the niche on its support and There you go. Once installed, the cozy is about 42cm in diameter et more than 4 kg. It is indeed a ball, a white cocoon in which your animal will curl up. The aesthetics are really top, all round, with its support to avoid overturning. This is a big strong point. Indeed, thanks to this, if Bernard or Mistigri is crazy and goes in a rolled-up roll, the board will first be able to hold the beast. Then if it ever comes to an end, and if by bad luck it is the open face that is against the ground, your little darling will not choke because there is a hole serving as a ventilation in the back. So even if he's stuck, which is unlikely, he won't suffocate. Safety above all.
At the level of technical characteristics : the cozy works on 100-240V and requires connection Wi-Fi (802.11b / g / n) at 2.4 GHz only. Let's now look at how to connect it to the network and use it via thePETKIT application.
PETKIT Smart Cozy: installation and use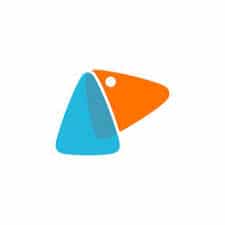 For the installation of the application, we refer you to our kibble dispenser test. You will find the application on the stores Android ou iOS et Create an account. Choose your region, that is to say your country, from a drop-down list, then put your email and a password.
Personal information is then requested. Since the primary user is your pet, enter their info, not yours. If you already have an account, just press the "+" to add it and during installation, you will be asked which animal to link it to. You can always change the information later.
To configure the device, it's relatively straightforward. For it, connect your phone to the desired Wi-Fi network and activate your GPS. Then press the red button for a few seconds at the bottom of the front of the Cozy. The LED above will start to flash rapidly. follow the instructions in French. Then enter your network key and let yourself be guided. It's pretty fast. We cannot recommend you enough to take a look at our PETKIT YouTube video test Smart Cozy made with love and presenting the installation from A to Z. You will also see the settings via the application.
You will notice that the outline of the button may light up in red or green depending on whether the Cozy is in heating or cooling mode. Yep, because we haven't told you what you can do with it yet. But know that it is really well found for the well-being of Pépette.
"The cozy will automatically adjust its temperature according to the room temperature and humidity via sensors" The Alexians
Thanks to the application, you can set the ideal temperature for your pet. This can be done manually but also automatically. This mode is quite practical because the cozy will automatically adjust its temperature depending on room temperature and humidity via sensors. Thus, if it is in a slightly cold room or if there is a little humidity, it will heat up for the optimal comfort of your pet. Conversely, if the outside temperature is enough to make your Yorkshire dry, the cozy will automatically cool down. However, unlike manual mode, it is not possible to choose the target temperature. Heating and cooling will be done via a metal plate at the bottom of the PETKIT Smart Cozy. You also have the possibility to turn it on and off directly from the main page.
There is also the smart mode which will allow you to do scenarios. So, it's up to you to choose the operating hours or even a start only when the animal gets into it so as not to operate the cozy if this is not necessary. There are, in fact, infrared sensors that will detect the presence of your hairball and activate the routine. It is also possible to turn it on only when the room temperature is higher than a target temperature. And they are cumulative. But this option is only available after updating the app. And we had a problem there during the test. Indeed, impossible to complete it, after ten tests via different Wi-Fi and GMS networks, still the same error message (sending of the request failed). So we contacted PETKIT to find out where this problem came from. The network is not to be highlighted because we made several tests, their engineers then thought of a hardware problem. VSThe latter really worked hard to find the cause of this failure which could affect all European Cozy. They finally found the solution: they optimized the access speed of the European nodes, also increased the server bandwidth and optimized the download speed, which this time allows you to upgrade successfully. Don't worry, this optimization is effective for all EU users. We spent several days trying to solve this failure together (at our level to a lesser extent of course) and thanks to this, the problem is solved. We can only highlight such responsiveness and such professionalism on the part of PETKIT!
Attention, that's not all, the PETKIT Smart Cozy will also inform you of what your cat or your dog is doing. The presence sensors will record when and at what time your pet gets into the Cozy. You will thus have a fairly clear vision of their level of activity or rather of inactivity. To do this, on the main page of the niche, tap on the small notepad at the top right. It is quite well found.
You can also go to the settings to modify the animal to which the cozy is assigned, the temperature units, the Wi-Fi, make the updates… You can also read the more complete instructions. Flashlight ? Good question, thank you for asking it ...
Use via Alexa
La PETKIT skill is available on the store Alexa in… UK. No FR Skill yet. We have seen again with the mark to know when the skill will be available. Suffice to say that with the Covid-19 crisis (when you read this article in 6 years, you may wonder what it was), PETKIT has not really advanced but confirmed to us that it was in the pipeline.
So we can imagine being able to turn it on and off by voice, modify the operating mode or temperature desired. Even if ultimately this will not really revolutionize its use, that could bring a plus.
What conclusions from this test? As they have accustomed us to it, the brand still provides us with a product of excellent quality, both in terms of quality, design and finishes. The PETKIT Smart Cozy is pretty and can fit into any interior. If you want your darling animal to feel good, not to suffer too much from the heat, mainly, or from the cold, this product is for you, do not hesitate. It also does little noise when it is in operation, which is appreciable. There are still things to review, especially the application. It takes quite a long time to react and is quite muddled. You have to go there by trial and error, which is a shame. But great efforts have been made on the translation. It would be welcome to add settings (for example to be able to have an alarm if your animal stays too long in the Cozy), to be able to act on the automatic operation or other ... You may also encounter a problem beyond your control: is your animal will adopt its new home? In the case of our test, it took a week for our feline guinea pig to deign to enter the cozy. But in the end, it was approved by the primary user ...