Alexians love smart bulbs, it's well known. In addition to being controllable by voice, they allow us to adapt the light atmosphere of our homes according to the time of day and according to our desires. Corn choose your connected bulbs is not always evident, as the offer is vast and continues to expand as the voice assistants enter the home market. If we have regularly mentioned those using Wi-Fi technology, like the Yeelight RGBW or Konyks Antalya bulb, we had until then bypassed the second most widespread technology to make our lighting intelligent: the Zigbee. But what is it exactly? We will see that in a few minutes.
When one speaks Zigbee, we often think of Philips and its Hue range. Expensive products, the prices of which often have the fault of scaring the barge, but which nevertheless seem to be unanimous among their users. What is it exactly? Is this significant price difference with most connected bulbs really justified? In short, what is this range worth Philips Hue? This is what we will see through this White & Color Ambiance starter pack test.
Philips Hue: a starter kit to get started in connected lighting
Unpacking
Philips is a big brand, well known to the general public, and this can be felt even on the packaging. In addition to the famous, although austere, logo of the brand, there is the Hue logo. Yes, the Philips Hue range even has the right to its own logo! Its colors recall part of the light spectrum, ranging from red to blue. The packaging, meanwhile, is fuchsia and highlights the color lighting that this starter pack offers us. A small visual shows the contents of this starter kit: 3 E27 bulbs, a dimmer switch and the essential Zigbee bridge.
At the opening, we immediately visualize all of these elements. The good surprise comes from the format of the bulbs. They are not too bulky, and even very light compared to the majority of Wi-Fi bulbs. The bridge, too, is a really reasonable size. The only downside remains the American format of the dimmer switch, or dimmer switch in French. This will not therefore adapt perfectly and it will probably be necessary to call on an adapter for a better finish. It's a bit of a shame, especially if you definitely want to doom your classic switches.
Features
Philips Hue bulbs
The Philips Hue White & Color bulbs have a fairly classic shape for smart bulbs, but we were struck by their lightness. They only display 110 grams on the scale for a height of 11 cm and a width of 6.2 cm. A good point, because they will not weigh particularly on your lamps or suspensions, where many Wi-Fi bulbs sometimes show a slightly high weight (180 grams for a Yeelight bulb for example). The finishes are flawless and you will notice in use that they hardly heat up.
Color temperature: 2000K-6500K

Energy efficiency label: A+

Base: E27

Design: A19

Dimensions: 110 mm x 62 mm

Input voltage: 220V-240V

Life announced: 25 000 h

Number of ignition cycles: 50 000

Light:

Warm to cold white

16 millions of colors

Beam angle: 160 ° + - 20 °

Luminous flow :

342lm @ 2000K

550lm @ 6500K

800lm @ 4000K

570lm @ 3000K

> 80 CRI from 2000–4000K

80 lm / W efficacy @ 4000K

Intensity: 10 W (equivalent to 60 W)
The Philips Hue Bridge
The bridge, meanwhile, is also light (200 grams) and rather small in size (8 x 8 x 2,6 cm). Its design is rather successful with a blue light circle testifying to its proper functioning, as well as three LEDs testifying to its power-on, its good connection to your router and to the network.
Diameter: 88 mm

Frequency band: 2400-2483.5 MHz

Height: 26 mm

Length x width: 90.9 x 90.6 mm

Max number accessories: 10

Max number bulbs: 50

AC adapter : 100–240 V AC / 50–60 Hz

Output voltage: 5 V DC, 600 mA

Standby consumption: 0,1W max.

Power consumption : 250mA max
Dimmer switch
On the left, you will find an element which is at least interesting and which is very often lacking in the competition: the " dimmer switch »Or dimmer switch. This last measure 7,5 x 8,8 x 16,5 cm and weighs only 37 grams (67 grams with the wall plate).. Two 3M type stickers allow it to be securely attached to the wall without the need for screws. Practice. The remote control is magnetized on its support and you can move it around at will. Equipped with a CR2450 battery, its autonomy is estimated at around 3 years.
Battery supplied: 1 x CR2450

Frequency band: 2400 - 2483.5 MHz

Lifetime : 50000 clicks

Max number lighting by switch: 10 without connection to a Hue bridge

Minimum battery life: 3 years

Switch depth: 11 mm

Switch height: 92 mm

Switch width: 35 mm

Wall plate depth: 14 mm

Wall plate height: 115 mm

Wall plate width: 70 mm

Weight with wall plate: 67 g

Switch weight: 37 g
As you can see, this starter pack is therefore complete to say the least and exudes quality. We expected no less from a company like Philips, heavyweight in the domestic and professional lighting sector. But what are these bulbs worth on a daily basis?
Philips Hue White & Color: the Wow effect!
Among the Alexians, we like compatible connected bulbs Alexa, and especially those that offer color. Indeed, it allows to create warm or festive atmospheres ... and see life in color! And, to say the least, is that Philips has not done things by halves in this area ...
As their name suggests, Philips Hue White & Color Ambiance are bulbs delivering white and color, as we have been able to test many others it is true, but whose lighting capacities in white are frankly out of the ordinary. Yes, they are by far the most efficient that we have been given to test. The 806 lumens are present in the most used color temperatures (around 4K).
The range of whites is simply amazing. We even find them even better than the Philips Hue White Ambiance, which is supposed to be the best in the field. And the technical tests that we were able to read here and there are clear… The values ​​given by Philips are almost perfectly exact. The measured values ​​are excellent (2 K and 695 K) with a excellent color reproduction index which climbs to 93.1 in warm white et 85.3 in cool white. This index therefore means that we will have a better reproduction of the colors illuminated in warm light than in cold light, but that inIn both cases, they are excellent, the benchmark being 90.

As for the colors, they do not demerit either. From purples to reds, passing through blues, greens and yellows, the colors are strong and saturated, intense and shimmering. A pleasure for the eyes! Philips excels in this area and quickly makes us forget the best Wi-Fi bulbs we had tested so far. Even the bulbs Yeelight seem almost bland on certain color ranges!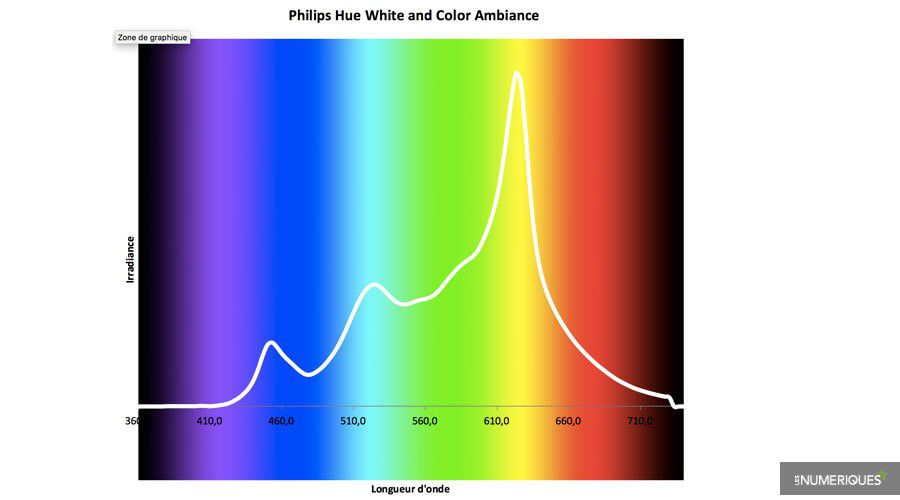 But that's not all : Philips provides us with a truly comprehensive application for Android and iOS, but also a very practical and nice "desktop" application.

Philips Hue: an application full of resources
Often times, Wi-Fi bulbs are controlled via very basic applications. If we had particularly appreciated that of Yeelight, it is with even more pleasure that we discovered the Hue application. We must admit that Philips has done it right and offers an application that is as complete as it is pleasant to use.
Four sections are offered: Home (for the management of your parts), routines (to create scenarios), Explore (the famous Hue Lab) and Parameters (which is aptly named).
Home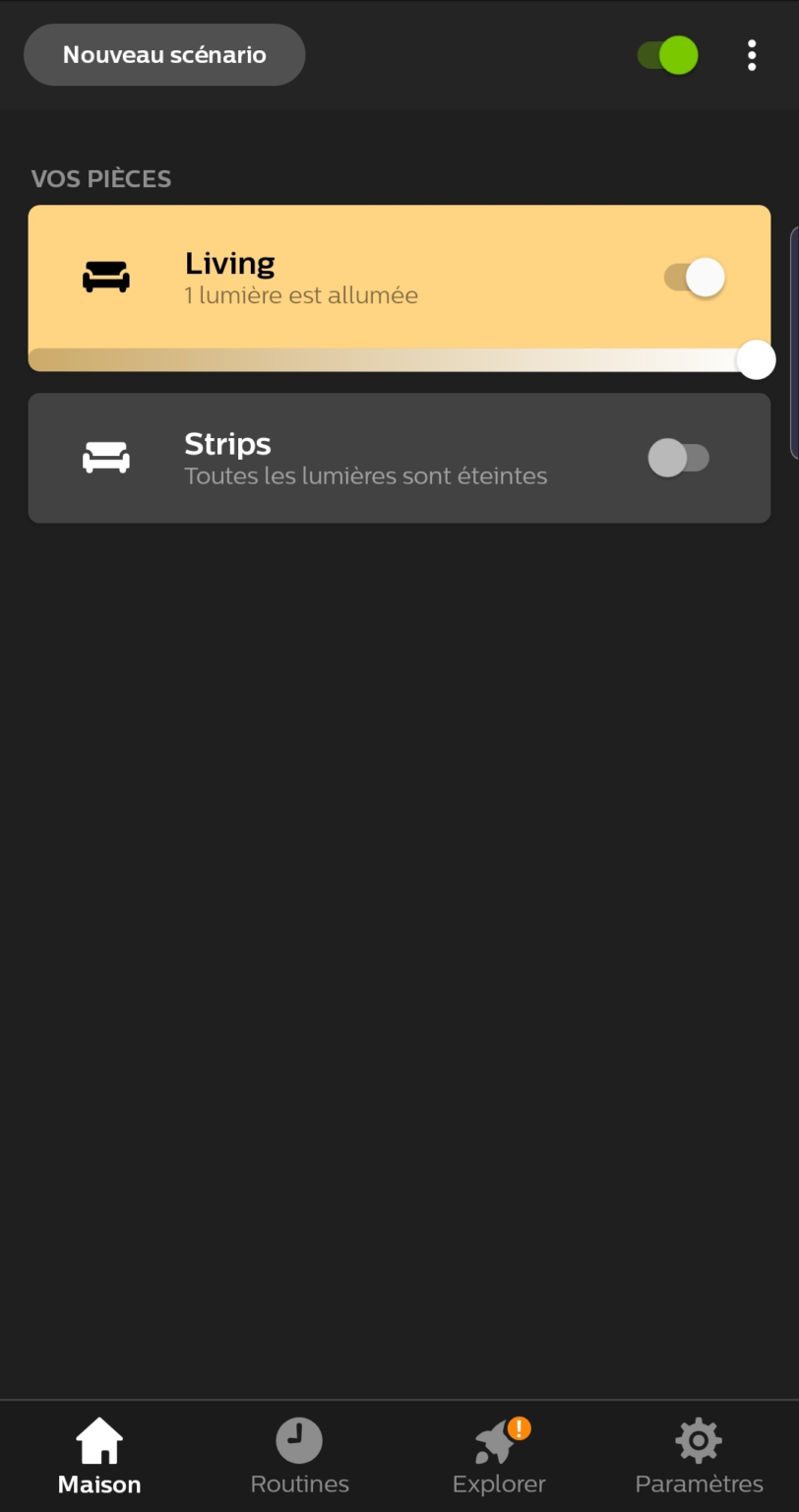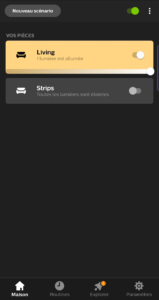 La "Home" section allows you, as the name suggests, to manage the different rooms from your home, like groups in your application Alexa. Here, of course, it is only a question of your Philips Hue bulbs and you will not find your Echo devices ...
However, we strongly recommend that you configure this section which will then be perfectly recognized by Alexa.
Un general switch allows you, at the top right, to turn your entire home on or off.
You will find the same option for each of your rooms, as well as a slider allowing you to manage the light intensity of each room, and therefore simultaneously of the different bulbs that compose it. It's simple and devilishly effective!
Routines: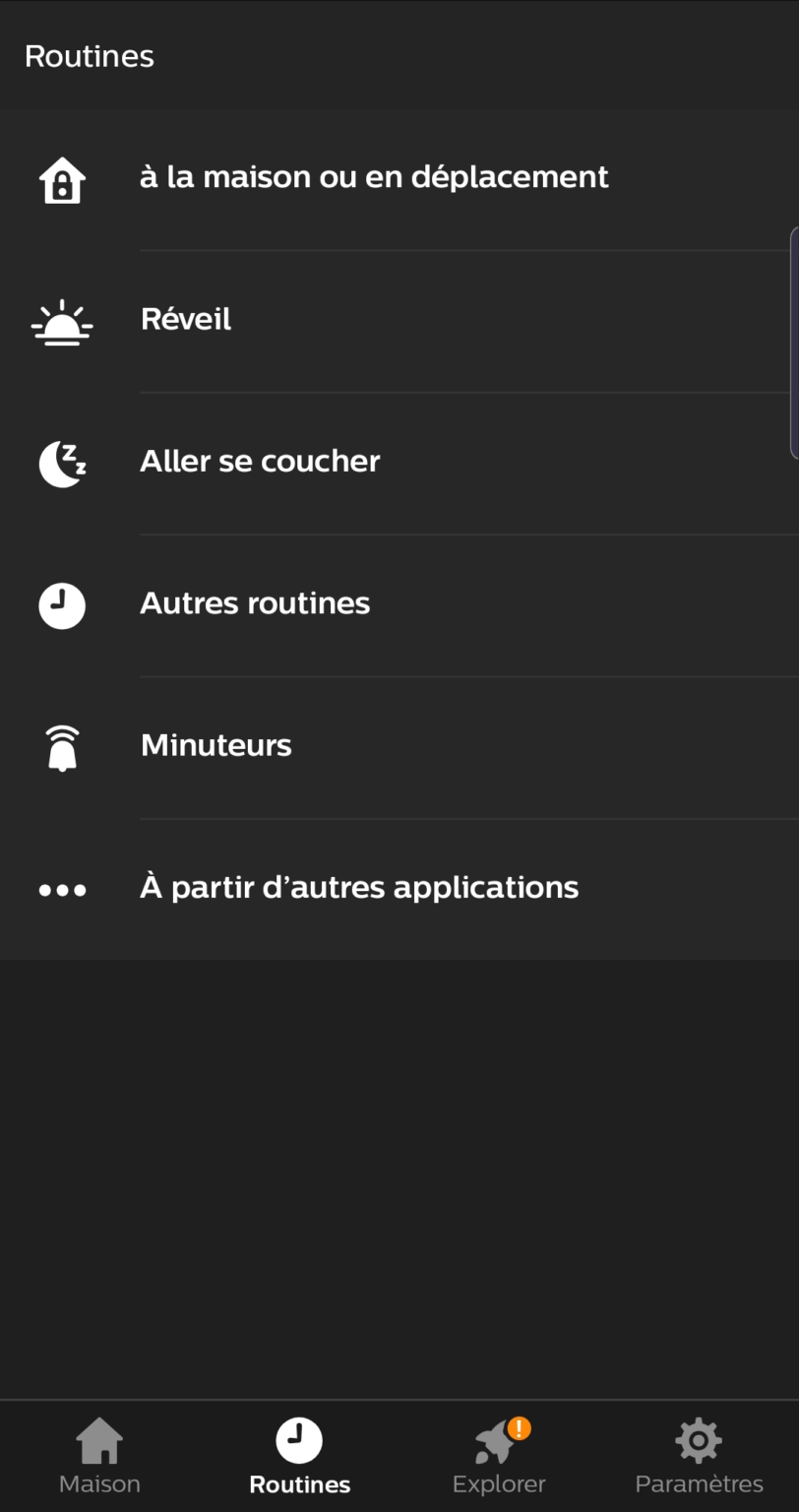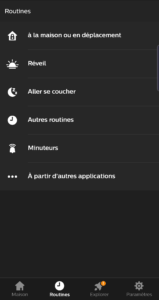 While routines are not always desirable in everyday life, they can be devilishly effective from a home automation point of view. Somewhere, it is even the basis of home automation… Not to say all its interest!
Philips has therefore planned several typical routines to automate your lighting:
- At home or on the go : thanks to geolocation, the Hue application can automatically turn on or off the lights of your choice when you leave your home and when you return home,
- Awakening : configure a light alarm clock with progressive switching on effectively mimicking the sunrise (over 10 minutes, 20 or 30 ... Your choice!),
- Go to bed : thanks to this type of routine, your Hue bulbs will prepare you for the righteous sleep. Philips engineers have worked together with sleep specialists to create the perfect mood for your healthy fall asleep. On the program, soft and warm lights that are dimmed, all putting you in perfect condition to join the arms of Morphée.
- Other routines : here, you can customize your routines more finely, manage your lights according to the time of day, from sunrise to sunset.
- Timers : the "countdown" with light allows you to activate your lights after a certain time. Useful, for example, to create a semblance of presence in your home...
Explore: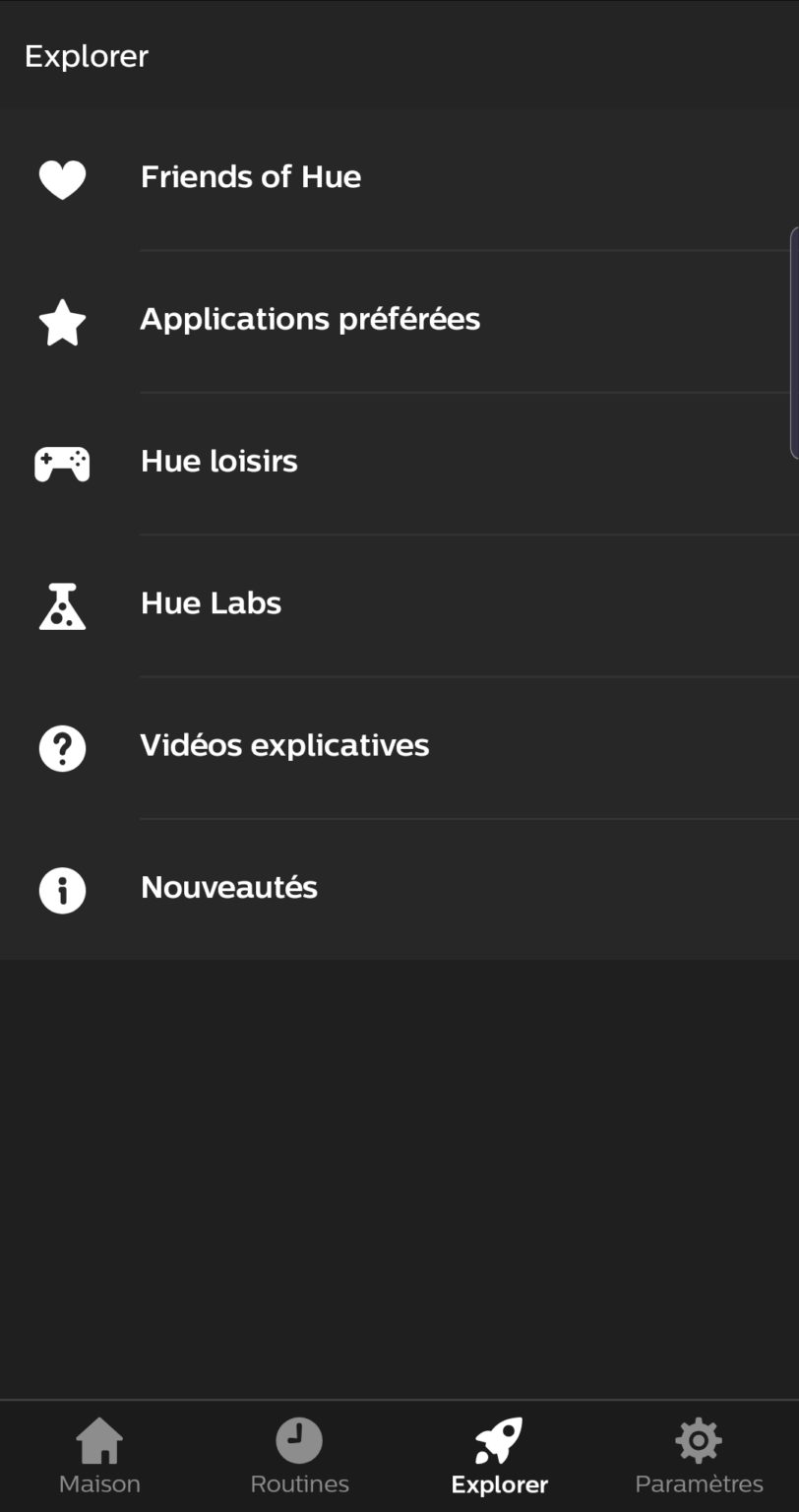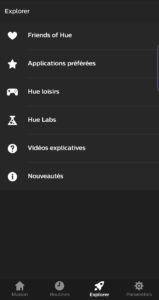 In this section, you will find, in addition to explanatory videos, the famous Hue Labs. Very popular with Hue users, this laboratory offers a number of really nice scenarios: conditioning to go to bed, brief lighting (time to get home for example), presence simulation, geolocation, sunset, various scenes and varied. Philips does not miss, in addition, to create them especially for certain events (Valentine's Day, Halloween, Christmas…). This is THE section for those who want to go further.
Another very practical section, you can create leisure areas for truly immersive entertainment lighting. Philips has notably worked with Razer on the Chroma range to provide gamers with lighting perfectly synchronized with their games. To do this, you can use the Hue Sync app...
Hue Sync: a handy desktop application ''
Because Philips also offers you a Desktop application for Windows 10 (x64) et MacOS (Sierra / High Sierra). Indeed, it can be pleasant to directly manage your atmospheres with a few clicks of the mouse. These are the famous leisure areas that we mentioned above.
Four main headings are offered according to your needs:
Scenes: 10 scenes are grouped there, with four white light scenes and six atmospheres (Blue Planet, Vapor Wave, Tyrell, Disturbia, Magneto and Hal). As always, they are super well thought out… And we would like to have more!
Games: the ultimate gamer space. 4 modes of synchronization with your favorite games are available with or without taking into account the audio. Enough to quickly make you want to invest in the famous Hue Play light bars...
Music: as its name suggests, this space will allow you to animate your Philips Hue bulbs to the beat of the music… 4 modes are also available depending on the intensity of light animation you want. Likewise, you can choose from 5 ranges of colors. Super nice to liven up an evening!
Video: it is the transposition into the Hue range of the now famous Philips Ambilight. Immerse yourself in your movies like never before by syncing your lights with Netflix, Prime Video or your favorite streaming service. Note, this mode unfortunately requires the use of a computer, but Philips is currently working to make it available on Fire TV Sticks in particular, but also on a certain number of boxes. Note that you can also play on an Android box.
Philips Hue settings:
Finally, you will find the classic small notched wheel generally associated to the application settings. Here, you can finely configure the remote control of the lights (via the Internet), you will find your different bridges (if you have already reached 50 bulbs and accessories per bridge), your different lights (bulbs or Hue lamps), the configuration of your parts and accessories, but also the precious ignition behavior arrived a few months ago following an update. This last parameter allows you to select the configuration to put back in place after a power cut… Essential so as not to wake up in the middle of the night with all your bulbs on following a storm for example!
In conclusion, therefore, we will answer the question you all have on your lips: is the Philips Hue range worth it despite its high price?
Our answer is clear: yes, undeniably.
While many grin at the idea of ​​adding a bridge that does not require Wi-Fi bulbs, it must be admitted that the Zigbee protocol has many advantages for it: low power consumption, flexibility of use, de-cluttering of routers, emissions from the radio signal, range (the Zigbee crosses walls easily and operates in a mesh network) ...
But above all we have been dazzled by the quality of the colors.
The Philips Hue White & Color Ambiance will blow your mind!
Last but not least, Philips excels in the application aspect and allows you to create absolutely unique atmospheres. That's why we give this starter kit the highest rating ever for compatible smart bulbs. Alexa.
The Philips Hue White & Color Ambiance range offers several packs with bridge included:
But also individual bulbs of different types:
Philips Hue White & Color Ambiance E27 Starter Kit
164 € (excluding promo)
Most
Super simple and fast installation thanks to the Hue bridge
Beautiful colors
Whites can be adjusted as desired
A formidably efficient dimmer
A super efficient application
The lessers
The high price
A slight lack of power