Today, Les Alexiens have chosen to focus on Zemi ZigBee Hubsmart What is ZigBee ? A country ? Who said « it is a communication protocol between devices connected via a frequency other than Wi-Fi allowing great local responsiveness while de-saturating Wi-Fi because only the Hub is connected to it » ? It's you … ? We had to throw stones at you when you were little, right?
The ZigBee, among the Alexians, we believe in it. Because having a lot of connected devices is not without consequences on our bandwidth. We therefore looked for solutions other than the big brands like Philips Hue, who often sell their single connected devices at a price close to the GDP of a developing country.
And this is still the mark Earthsmart, well known to our loyal readers, which offers us a complete solution with a Hub (or bridge or Gateway or gateway) and various compatible devices, for a price that is always very affordable. We are therefore going to offer you two tests: that of the bridge serving as a Zigbee gateway and a 16 million color bulb, at the respective prices of € 35,10 and € 21,60.
Note that Benexmart is actually a brand of Zemismart, so you can turn to one or the other depending on your preferred sales platform.
79,99€
In stock
August 12, 2022 19:51 a.m.
Earthsmart ZigBee hub and its Tuya compatible bulb / Smart Life
Unboxing of the ZigBee kit
As the brand is customary, the products are packaged in relatively austere and sober packaging : a white cardboard with a very small photo of the bridge (a crack of the designer) in the first case and a brown cardboard for the bulb. That said, there are still protections to ensure that the products are not at risk.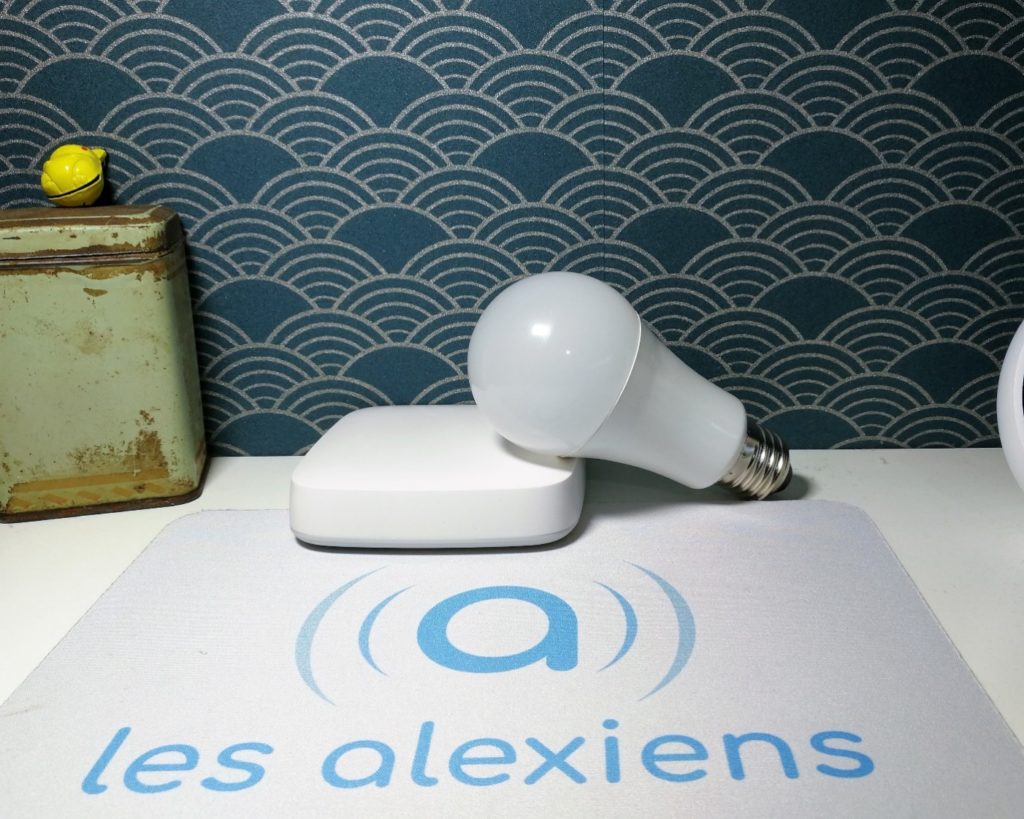 What do we find in our packaging? For the Hub, you will of course have The box main, but also a 1m10 micro-USB cable and 30cm Ethernet cable. No AC adapter supplied with. This allows the products to be sold all over the world, but it's up to you to figure out how to plug it in. In our case, we opted for the use of a connected socket which also has USB sockets (functional even when off). Power is in 5V / 1A, therefore of the standard. Note the presence of an installation guide… in Chinese. But it is quite possible to have it in English. Besides, here it is (thank you who?).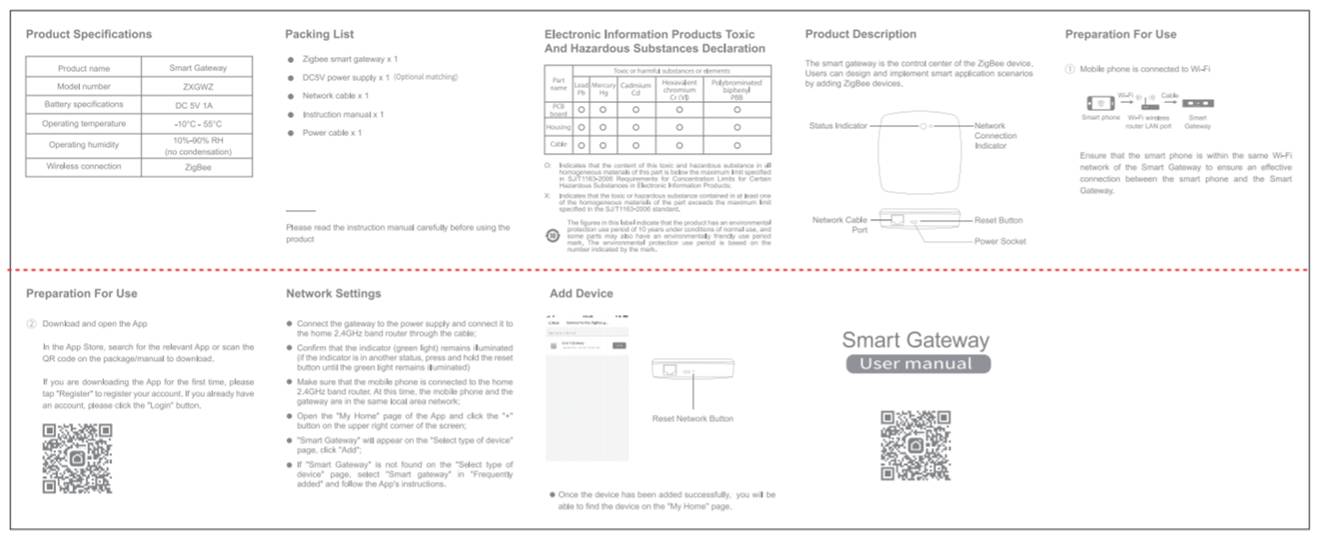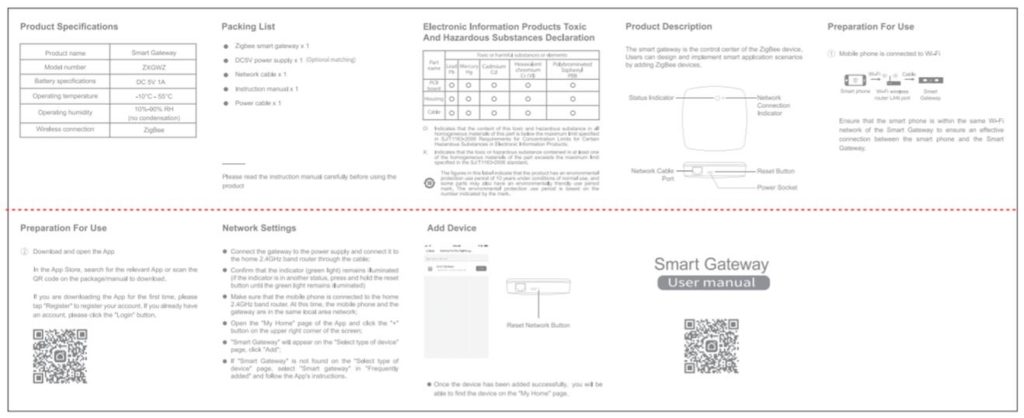 In terms of dimensions, it is a block of 9,4 cm side by 2 cm thick. There is, on top, 2 LED visible only when plugged in and at the back a ethernet port, a plug micro-USB and button reset. Everything is really harmonious, a little rounded in the corners, in good quality white plastic, it is really pretty.
Everything is really harmonious, a little rounded in the corners, in good quality white plastic, it is really pretty. The Alexians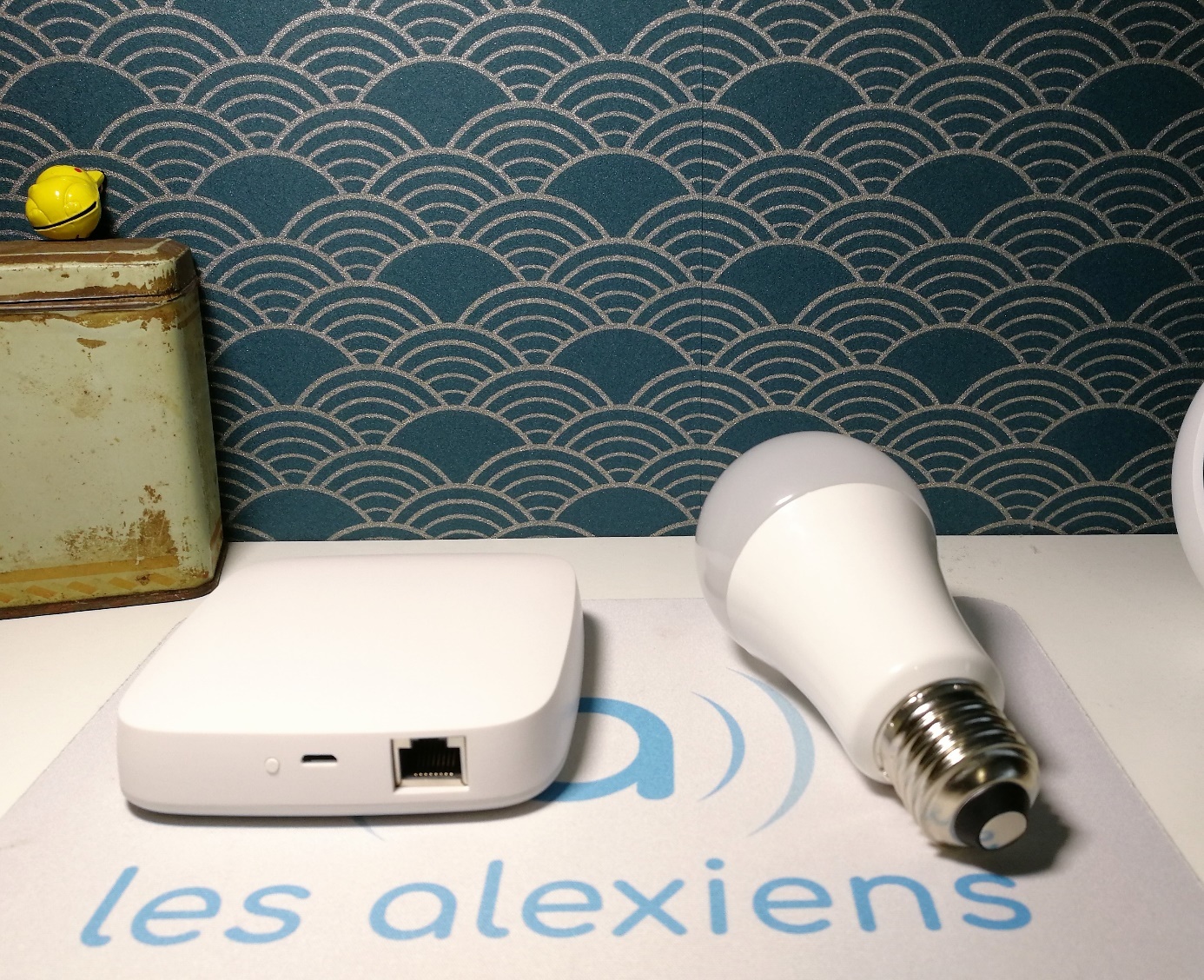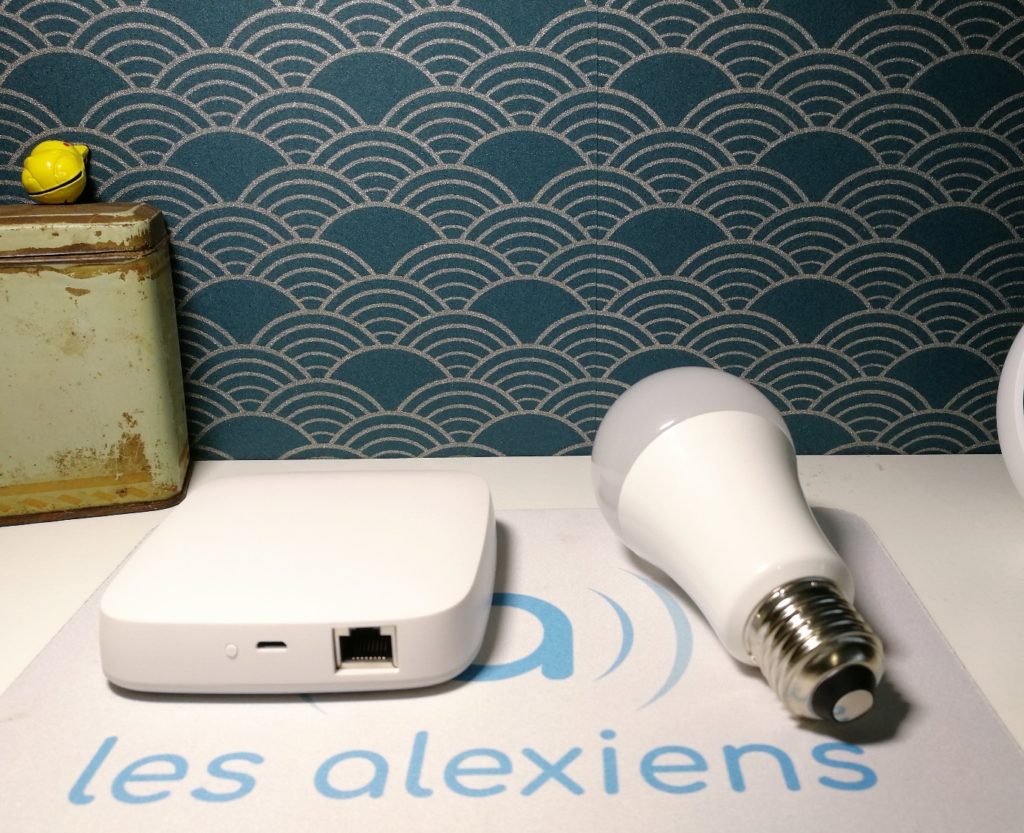 Our bulb comes with a simple yet accurate English installation guide. It is visually quite standard: white, aluminum E27 base, the globe is in translucent plastic, while the body is made of an opaque alloy. She really couldn't be more basic, except that she works in ZigBee and will allow you to vary the cold to warm whites and choose from 16 millions of colors ! The connected bulb makes 60 mm diameter et 12,4 cm high, including the base, for 73,5 g. She has a 270 ° light beam and 640 lm power, which is quite a few. It is therefore a bulb that will be very good as a backup. She consumes 8 W in operation et 0,5 W standby.
ZigBee hub and bulb: installation with Smart Life
Contrary to what the installation guides mention, instead of using an exotic app like "Hui Home", it is quite possible toutiliser Smart Life or Tuya. And it is with Smart Life that we have cracked down.
To begin with, it is necessary to connect the Hub to your box Internet via Ethernet cable. It also works great while connected to a Mesh module, as you can see in our video test. Then connect it to the mains. If all goes well, you will see two LEDs that will light up: the one for powering up and the one for viewing the Internet stream. It is not necessary to press reset or other to pair it. This button will be useful if you wish, at one time or another, to change your Wi-Fi network hub for example.
For the rest, follow the video, but in summary, it is necessary connect your phone to the same network as that of your Hub (in 2.4 GHz only, IEEE802.11b / g / n), to select " other » in devices and " bridge " then let it be. Count barely 30 seconds for the whole.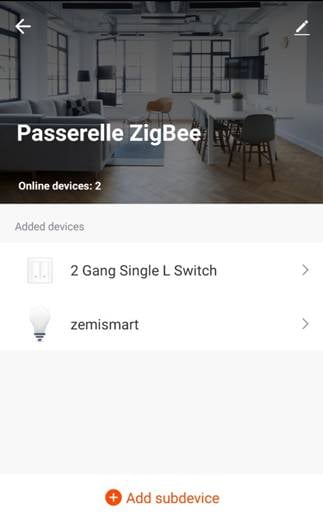 For install bulb, it's not more complicated. It may be necessary to put it in pairing mode by turning it on and off 3 times. However, it will not blink like Wi-Fi bulbs do. Then, in Smart Life, go to your Hub, on the first page, and press "Add a sub-element". The application will take care of the rest, and that very quickly.
But whether the bulb works under Wi-Fi or under ZigBee, that does not change the possibilities: variation in the warmth of whites and light intensity ; for the colors, you can vary the intensity but also the color saturation. In use, the latter are also very straightforward and really intense. As well as the changes in intensity and the different heats of whites which are also very marked. The video, with the sensor compensation system, does not really show these variations.
On the other hand, where this bulb and the ZigBee Hub are less satisfactory, it is in the fact that neither one nor the other goes back in Alexa. Effectively, impossible to make them recognize and therefore to be able to control the bulb by voice. You are going to tell us: but why talk about it then? Because it is still possible to use it to a lesser extent thanks to scenarios. Here is for example the scenario to turn on the lamp and the routine under Alexa which will make it possible to put it into operation, by voice.
Replacing " We " by "Off", you can have the scenario and the routine to turn off the lamp. But from there you see the weak point: you will need a scenario and a routine for each planned action (turn on yellow, turn on at 50%…). It is therefore not very manageable. However, we can bet that things will evolve with the development of ZigBee at Tuya / Smart Life and its wider consideration by Alexa. The other weak point is therefore that the negligible latency of the ZigBee is canceled out by the use of the routine, even if we remain within quite reasonable deadlines.
"Once again Zemismart has fulfilled its objective with inexpensive, high-quality and easy-to-use products. "The Alexians
79,99€
In stock
August 12, 2022 19:51 a.m.
In summary, we can say that once again Zemismart fulfilled his objective with inexpensive, high-quality and easy-to-use products. The ZigBee hub works relatively well and allows you to come and connect to it up to 100 devices without saturating your network. The bulb is relatively good in colors and whites, although it suffers from a lack of power and the fact that it tends to get quite hot with use. The big weak point remains the fact that it cannot be used by Alexa native. But let's take the bet that this will change with the development of ZigBee in Tuya connected objects / Smart Life.
Earthsmart - ZigBee Tuya hub / bridge / Smart Life
from 39.90 € (the bridge / hub)