Always looking for new products to present to you, Les Alexiens have unearthed a rather special catch today: a compatible RGBW connected socket Alexa, but also Google Assistant. But what is it exactly?
A connected socket Smart Life compatible Alexa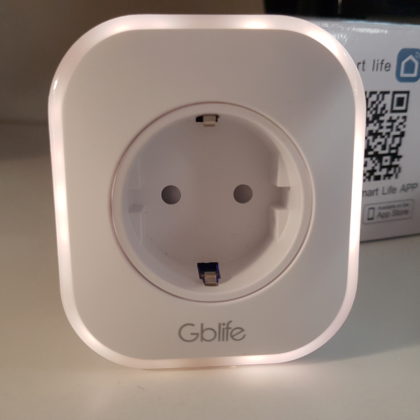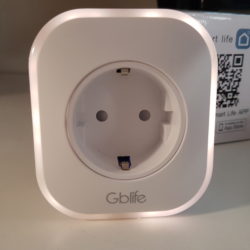 The catch GBLife RGBW is supplied in a small cardboard box not "branded", that is to say without brand, which still presents a photo of the device and shows its compatibility with Amazon Alexa and Google Home. Large QR Code allows you to easily download the app Smart Life if you haven't already.
At first glance, the GBLife RGBW socket exudes quality. Its white plastic with a satin effect is the most beautiful effect and seems to have a good density. The assembly is precise, we do not detect the slightest play and the cards are obviously of quality. It is very compact, which is appreciable because a lot of connected sockets are really bulky. As you will see, she is type E, also known under the small name of SchuKo for Schutz-Kontakt. The model tested is unfortunately not compatible with our French type F socket, but the manufacturer informs us of its very soon availability in this format and we will not fail to offer you a link to the type E / F socket as soon as this will be.
Finally, technical characteristics are displayed more than legibly over one side of the box.
We learn that this take:
requires a voltage between 100-240V,
accepted 10A maximum,
offers a USB socket with an output 5V / 2A max,
is made in china.
Good news, you may have noticed, this connected socket also offers a USB output to charge your device with a 5V / 2A output (max.). This can be really handy for quickly charging a phone or tablet without its charger. It also has an easy-access button at its top and not equipped with an LED, which will allow you to turn it off completely and not yet have an LED on permanently!
Like many compatible smart plugs Alexa that we were able to test, this GBLife RGBW works with the famous application Smart Life of Tuya. The installation will therefore be done in a few clicks and does not really present any difficulty. Do not hesitate to refer to our installation tutorial for Smart Life if necessary. Admittedly, it details the installation of a connected bulb, but the procedure is exactly the same for a socket, except that you will have to select "connected socket" and not bulb. Logic.
Installation takes less than a minute watch in hand and Alexa detects it almost as quickly: time to open your application Alexa and go to "Connected Home" and you will notice that the plug is already there!
Voice control works perfectly and with very little latency: it reacts really immediately.
A colorful connected RGBW socket!
An RGBW socket is rather unusual. No, it doesn't also make a light bulb or a light, so késako? Well, as you can see, this GBlife socket has the particularity of being able to illuminate its periphery thanks to LEDs whose color you can choose from among the classics 16 million proposed...
What interest?
We mainly saw two:
This socket can be used as a night light, a good solution if you have children or if you like to have a marker in a room or a hallway at night, because LEDs consume very little,
This plug can give a nice little touch of color to your interior.
You can choose the color that suits you best in your application Smart Life and even use scenes to have changing colors. The light intensity as well as the color saturation are adjustable in the app. It's rather nice, and since it's perfectly useless, it can quickly become essential!
You can also program a timer or timer for the lighting as for the socket, practical to turn off the night light once your child is asleep soundly for example, or to prevent it from shining all night.
In short, the
RGBW socket
connected from GBLife is really a nice plug that has a compact design and the unusual feature of having
LED lighting
which can be very practical. All for an affordable price, since it cost us less than 15 €. Ideal as a night light connected to
Smart Life of Tuya
, it is of course controllable with voice assistants Amazon Alexa and Google Assistant.
Available on Aliexpress
, we obviously recommend it to you but also advise you to ensure its compatibility with French sockets because there are several models ...
GBLife RGBW compatible socket Alexa
NS. 15 €