Today, the editorial staff has chosen to turn to a product that is of increasing interest to High Tech enthusiasts, and in particular Alexians: robot vacuum cleaners. If the latter were, not long ago, science fiction, they are now part of the daily lives of millions of people. It is in fact easily found in physical commerce as well as on e-commerce platforms. But, of course, not all of them are created equal, and ultimately few of them are connected. Among these, for our greatest happiness, a handful are compatible with our favorite voice assistant: Amazon Alexa.
As this is a purchasing criterion for many Alexians, we have therefore selected a few robot vacuums and cleaners which, on paper, look particularly interesting. In a future article, we will offer you a selection to make the best choice before the high mass of Prime Day, scheduled for July 15 and 16. Today is the brand proscenic which opens the ball with its latest model: the Proscenic Cocosmart 800T. In addition to offering us a suction function, this compatible robot Alexa also helps to clean the floor. Let's see, without further ado, if this robot vacuum keeps its promises.
Not available
August 13, 2022 17:51 a.m.
180,05€
360,09€
Not available
Proscenic Cocosmart 800T / 820T: a nice look and a practical size
Proscenic, késako?
If you are used toAmazon. Fr, you probably know the Brand proscenic. Indeed, the Taiwanese company is developing home products since 1993! In 1998, a team of Taiwanese full of ambition decided to embark on the research and development of domestic robots. Three years later, their very first model was born. While Proscenic initially focused on OEM / ODM, namely design and manufacture for other brands, the company decided twenty years later to launch its own brand. It is therefore from 2013 that appear the first robots under the name Proscenic, first in China, then in Japan and Europe. More recently, the company has even set up in the United Kingdom, Germany and France, countries where it aims to become a benchmark for the "connected home" within 5 to 10 years. And you will see, all that seems to us rather well…
Unboxing and presentation
Received in 24 hours thanks to the Premium deliveryAmazon. Fr, Proscenic Coco robotsmart 800T comes in a raw cardboard box featuring our new generation vacuum cleaner, the Proscenic logo, and the brand's slogan "Endless Love For Family", understand " endless love for family". Simple and efficient.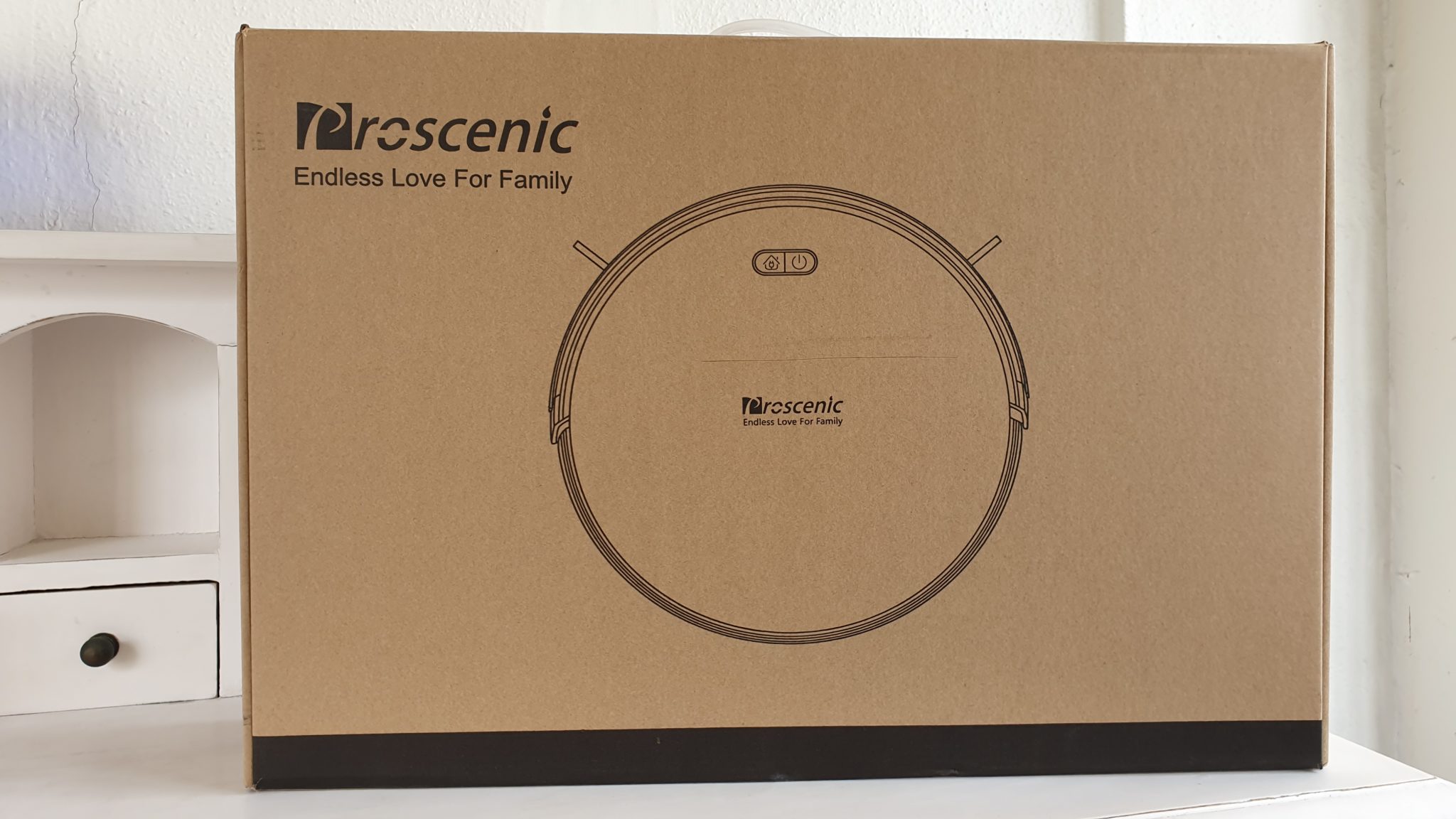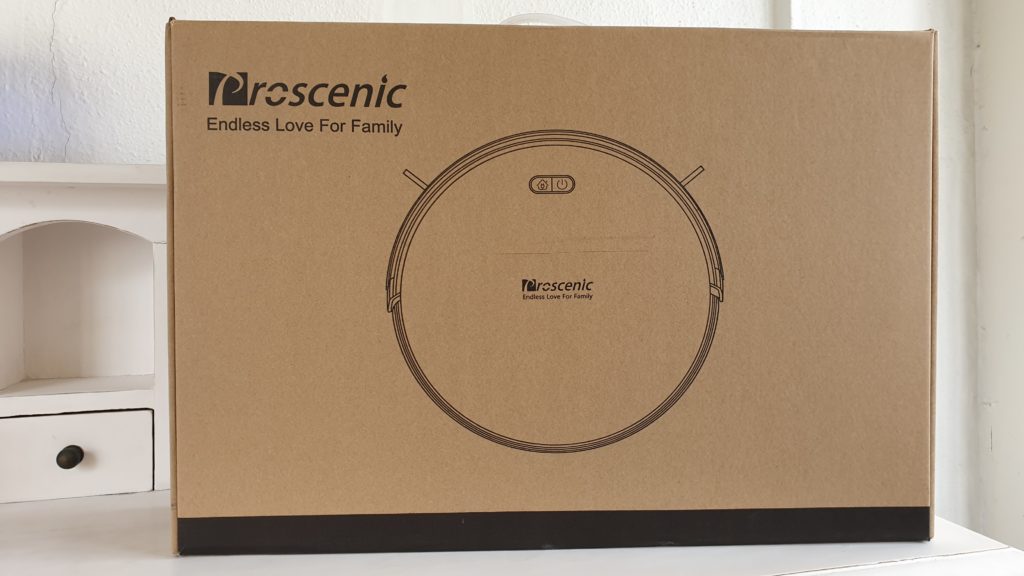 When opening, once the protective elements have been removed, we discover a nice robot gray in color with anthracite stripes and shiny coating. Our photo unfortunately renders the effect bad, but know that we were surprised by its really successful design for a vacuum robot. Some accessories accompany the whole: a dust binTwo mopsTwo HEPA filters, and four cleaning brushes (the robot having already been tested, the first two have already taken place under the robot, just like the water tank and one of the mops). a small comb equipped with a brush (and a wire cutter) is also provided to facilitate the cleaning of the various elements.
On its upper face, we logically find the brand logo and its slogan and two buttons which light up in green, yellow or red depending on the circumstances.
The right button turns it on and starts an automatic cleaning. The one on the left, meanwhile, acts as a charge indicator (it turns yellow when the robot needs recharging) and also allows it to be sent in search of its base to charge. Load ensured by a "dock" rather discreet infrared.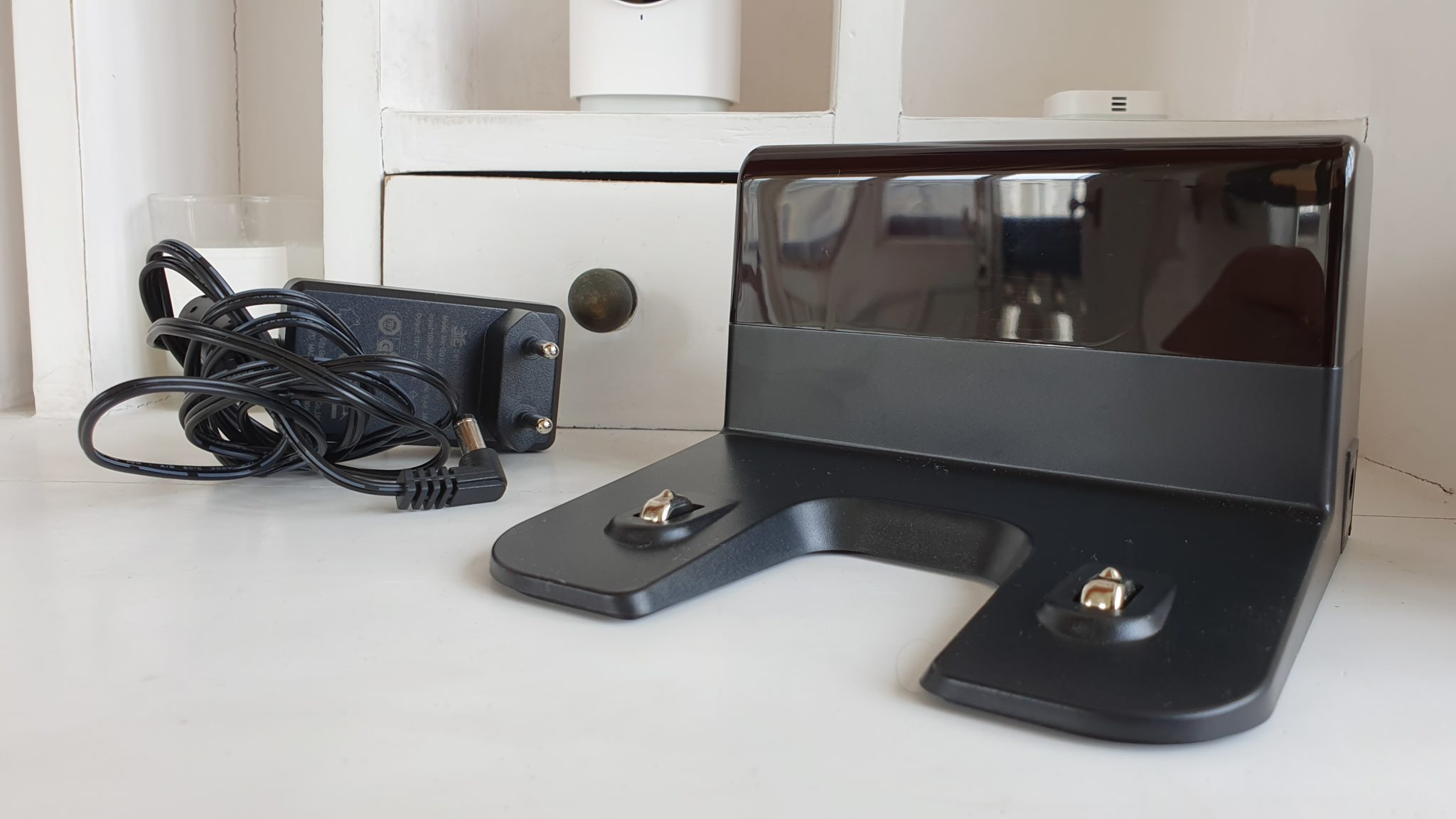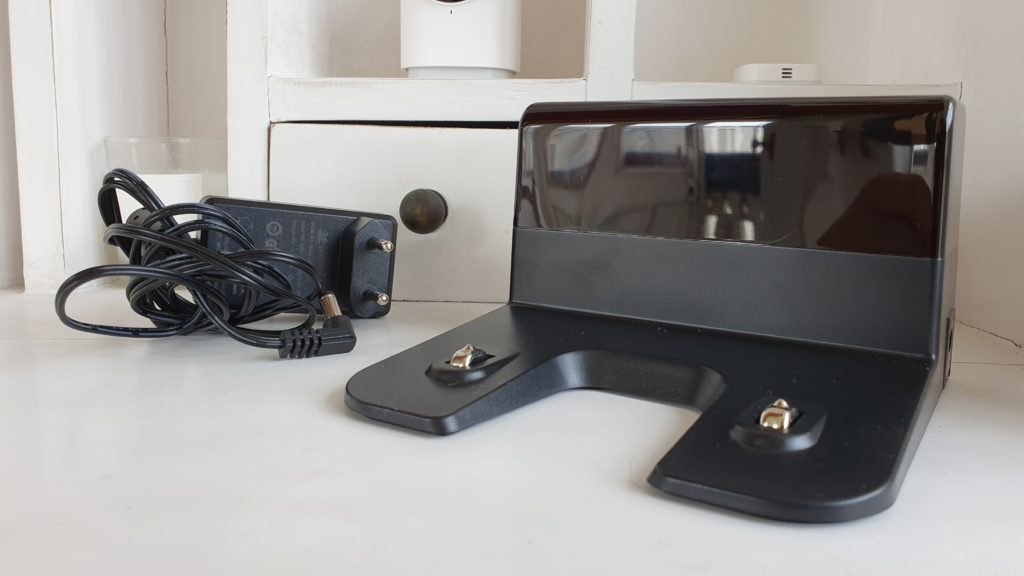 So let's take this robot out of its packaging to better discover the machine! First surprise, it is rather compact. Indeed, the Proscenic Cocosmart 800T only measures 7.6 cm high for 33 cm in diameter, making it a rather compact robot. But above all, its height seems reasonable to us, which bodes well for the possibility of seeing it pass easily under our furniture. A good point.
But let's see what's in his stomach, or more exactly, what's underneath ...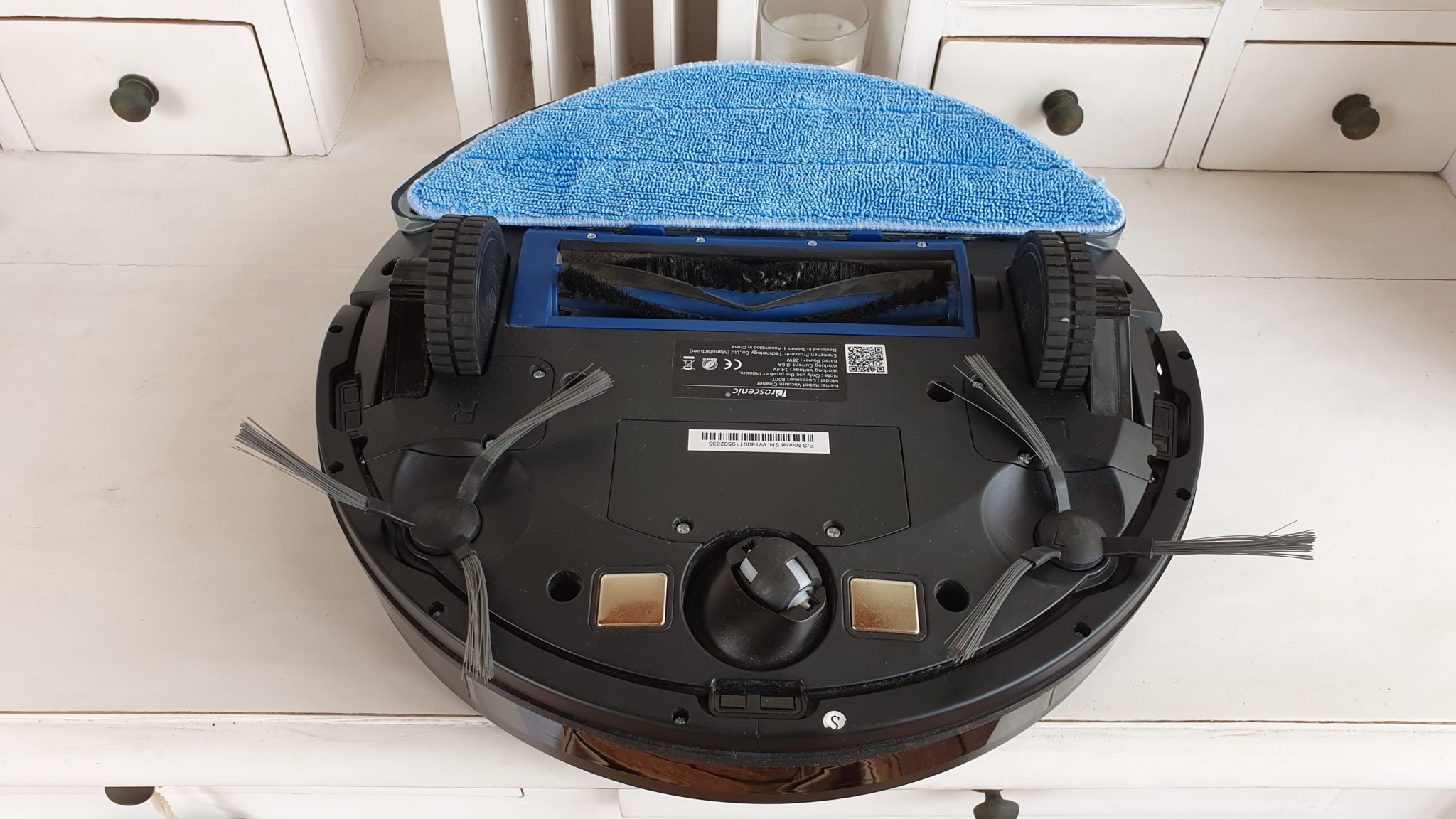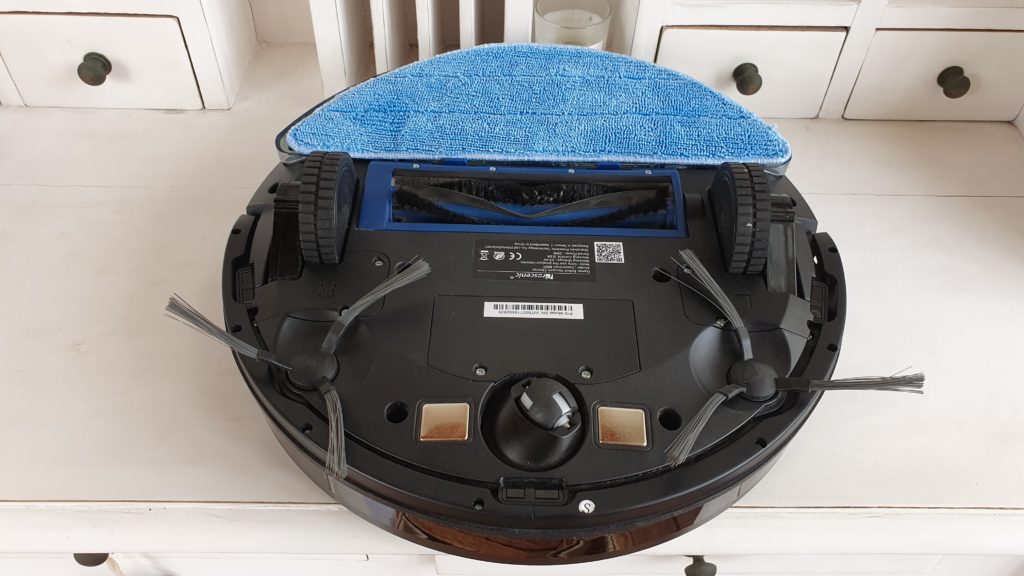 Our robot is equipped with two rotating brushes with long hairs (here, they have already been used for more than 15 days, hence their curvature). In the center, a tubular brush equipped with slats collects the dirt that the rotating brushes propel under the robot. You will easily notice that the Proscenic Cocosmart 800T is here equipped with sound dust / water container and a mop. This is how it is delivered, we made sure to present it to you as accurately as possible, having stupidly forgotten to take a picture of it before using it. It must be said that we had only one hurry: to put it into operation!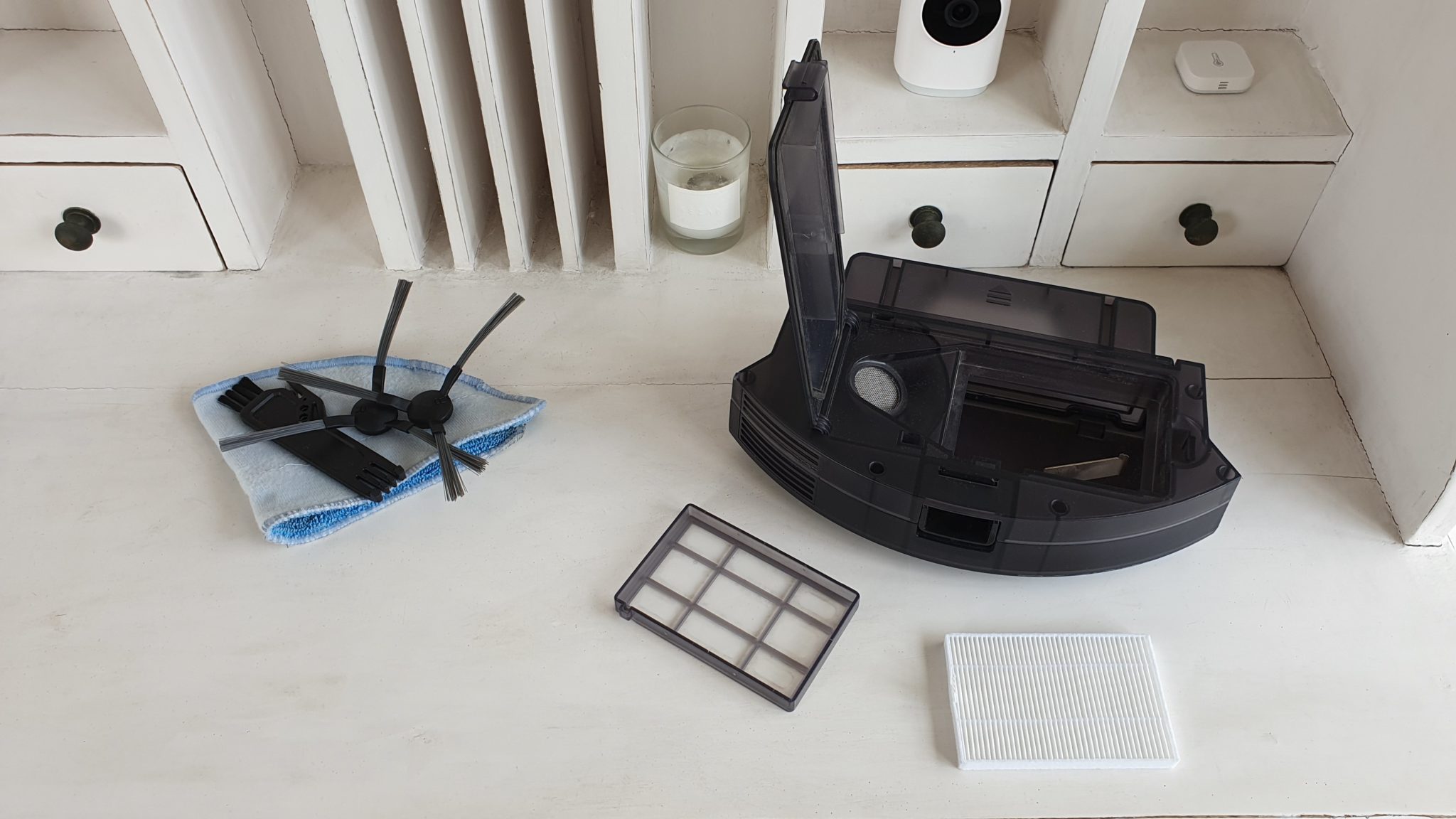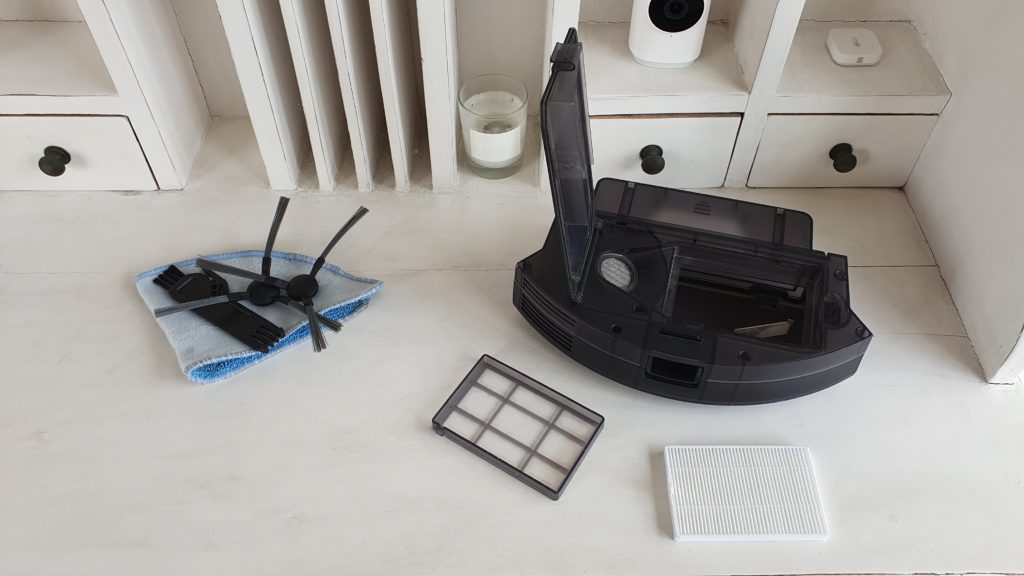 Like any self-respecting vacuum cleaner, the robot obviously comes with a bin intended to receive dust. Of a 500 mL capacity, it is besides perfectly designed for easy opening and emptying. Your hands should therefore not come into contact with the dust it contains. It may sound silly, but it is not always the case ...
The second bac, as we already know, is a electronic tank intended to receive water. If it can receive a quantity of 350 mL of liquid, it also has a space of 400 mL to collect the last dust before washing the floor. Ingenious! The only defect observed, it is impossible to open this reservoir, which makes the vimpractical dust space idea. We therefore advise you to clean it with water, and of course to let it dry before using it again, the latter including electronic components.
Before launching the robot to storm our apartment, let's take a closer look at its technical sheet.
Information
Brand:
proscenic
Model:
Cocosmart 800T
Power :
28W
Drums :
2500mAh lithium-ion
Aspiration:
1800pa
Dimension:
diameter 33 cm, height 7.6 cm
Autonomy:
100 to 130 minutes depending on the mode
Loading time :
5 hours
Remote control:
infrared
Charging station :
dock type
Accessories :
HEPA filters x2, brushes x4, mops x2
Dust container:
400ml
Water reservoir :
350ml
Connectivity:
Wi-Fi IEEE802.11 b / g / n 2.4 GHz
Other:
Cleaning comb and user guide

Proscenic Cocosmart 800T: a compatible robot vacuum cleaner Alexa
Like any device « smart home » who respects himself, the Proscenic Cocosmart 800T connects to the internet and, although it comes with a remote control, offers an app for Android et iOS that allows you to take full advantage of it.
Installation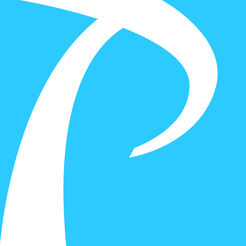 After downloading the application, all you have to do is launch it and create a Proscenic account. Connected home enthusiast, you necessarily know this kind of operation by heart. You will not be surprised to learn that this robot, like most connected objects, only accepts 2.4 GHz Wi-Fi. It is finally also good for a device brought to move in your home, few routers being able to broadcast 5 GHz beyond 15 meters around.
But back to our Cocosmart 800T. If you are familiar with the screenshots, then you know the must-have app Smart Life of Tuya. Yep, once again this is the Tuya technology Smart which supports the application part of our robot. Excellent news as we know how responsive this application is. You can therefore use theProscenic application orapplication Smart Life! Some will be delighted at the idea of ​​not yet having an additional application on their smartphone.
Being in familiar territory, you will easily select the model in your possession, in this case the Cocosmart 800T. To begin with, you obviously need turn on the robot by pressing the right button.
On the application, then select "quick connection". The application will ask you to perform a long press on the "Home" key, in other words the one on the left. Then you will just have to enter your Wi-Fi credentials. A few seconds later, the robot is ready for use!
Using the app
Before you start playing with your robot vacuum cleaner, we strongly recommend that you activate first la skill ProscenicRobotics on Amazon. Fr, unless you have opted for Smart Life.
This done, let's see what the application offers.
A map shows us the path of the vacuum robot. It indicates in white the journeys made by the device and in orange the obstacles that it encounters on its way. Below, the app indicates the area cleaned in m², the battery charge level and the cleaning time.
A series of eight pictograms is ideally placed so that you can select the different options while holding your smartphone with one hand.
A button is used to order the robot to join his base loading.
A second allows you to launch a automatic cleaning, a very practical mode that leaves the robot in control of his favorite activity: cleaning!
A pictogram of simple cleaning allows the robot to clean only one part.
One option allows only the edge cleaning of the room.
Un zone cleaning is also part of the game: practical for emphasizing a particularly dirty area, for example.
Un power button which allows you, as you wish, to select an economic mode (very quiet), normal when the rooms are not particularly dirty, or turbo if you want to release all the power of the vacuum cleaner.
A button symbolizing the water tank allows the robot to switch to cleaning mode. To use this feature, you will obviously need to have placed the appropriate tank under the device.
Finally, you find the possibility of manually guide the robot, which can be handy for taking the device to the room of your choice.
« Alexa, ask smartbot to start cleaning '
Now that you know all about her abilities, it is high time to take action and ask Alexa to put into action the Cocosmart 800T. You will hardly have time to say "phew" when your robot vacuum cleaner will inform you of the start of cleaning operations.
You can, of course, use the remote control or the app if you don't have Alexa, but if you read us regularly, there is little doubt that you are a convinced Alexian and already own a number of devices Amazon Echo.
Proscenic Cocosmart 800T: our conclusions on this vacuum robot
The qualities
As much to tell you right away, this robot vacuum cleaner pleasantly surprised us. Very quiet in economy mode, it is hardly more noisy in normal mode and remains largely bearable in turbo mode. Logical, it is aboutone of the quietest robots in its class with a sound volume not exceeding 55dB. In washing mode, with the appropriate tank, it even extremely quiet and you can, for example, watch television quietly by your side while letting it work and without having to increase the volume!
Power level, do not expect that of a conventional vacuum cleaner, robot vacuum cleaners being much less powerful. Nevertheless, the Cocosmart 800T displays quite honorable performances with its 1800 Pa which allow it to easily vacuum dirt, debris and dust, but also hair and animal hair. Thanks to his "anti-tangle" orifice, the latter will also not be disturbed by long hair.
Shipping is reduced format, and in particular its height of only 7.6 cm, allows it to go almost everywhere. During our two weeks of testing, it passed easily under cupboards, dressers, beds and low armchairs. Places that are generally difficult to access and difficult to access for a stick vacuum cleaner, for example, that we tend to forget a little on purpose most of the time.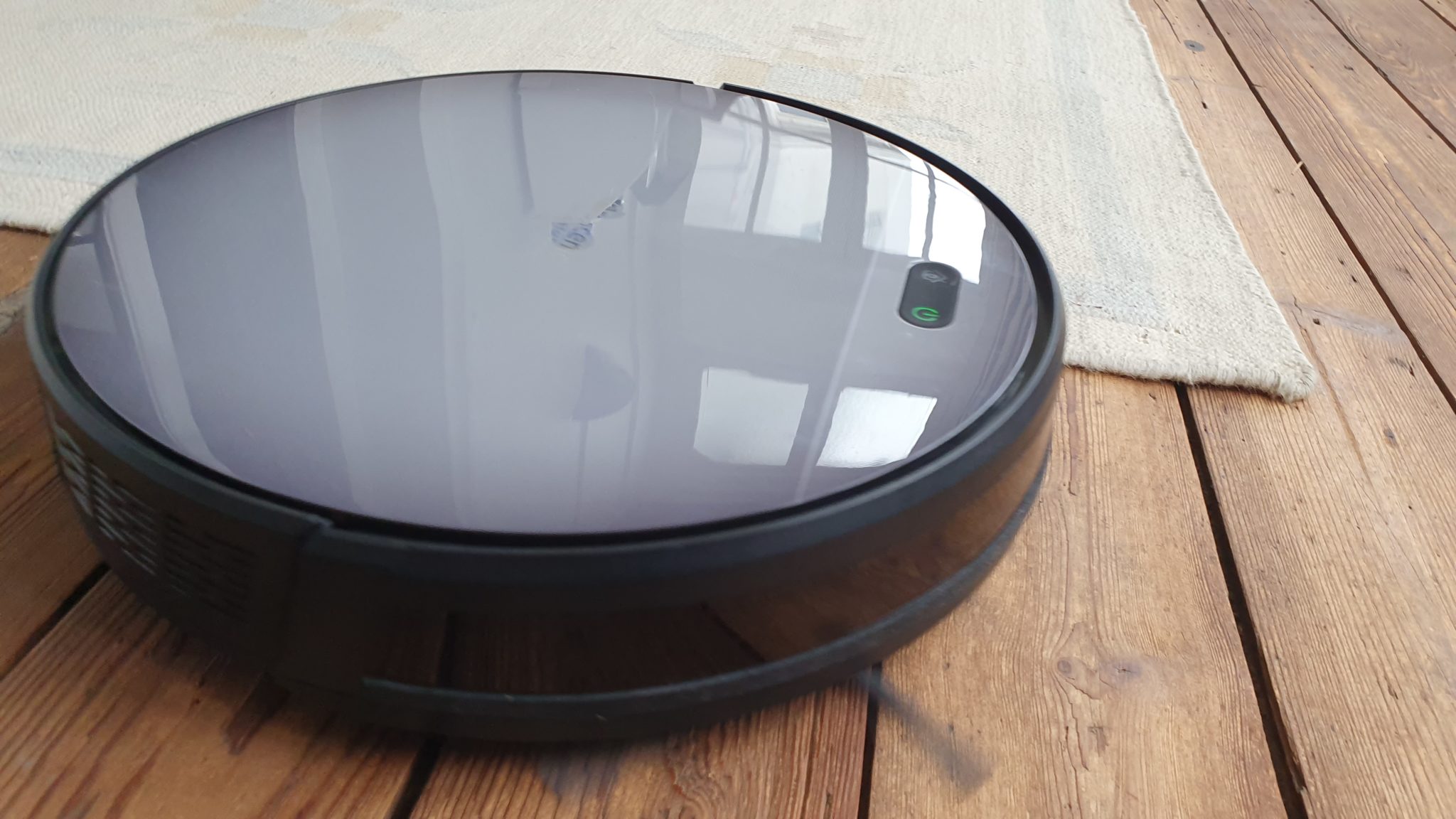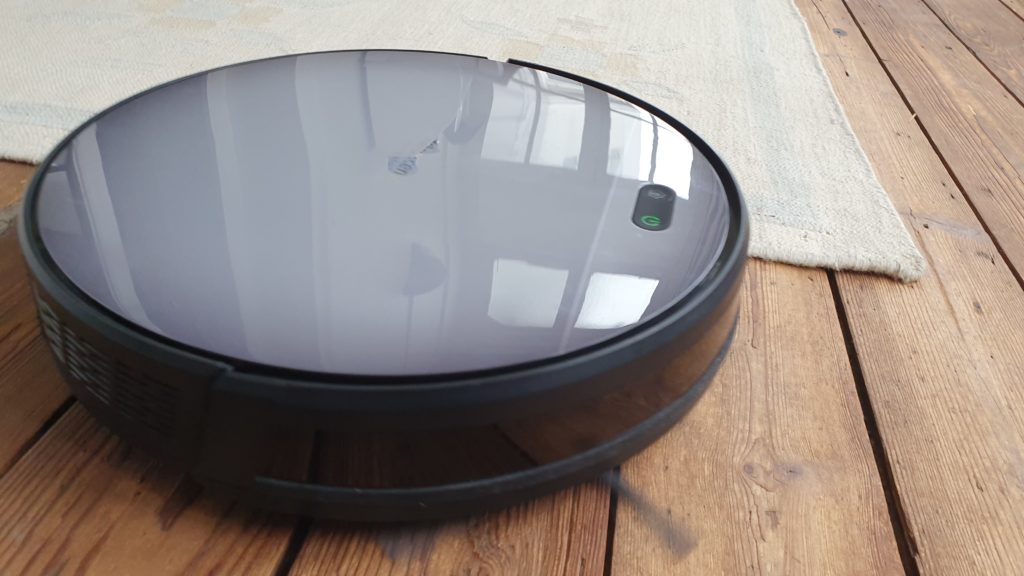 Other great point which really surprised us: his autonomy. In normal mode, it approaches two hours, more than enough to clean a surface of approximately 120m². count between 100 and 130 minutes autonomy according to the power and the nature of the ground. Indeed, even if it crosses them easily, long pile rugs will tend to force it more and therefore consume more energy.
Finally, we appreciated its ability to get out of obstacles on your own. While it sometimes seems stuck, the Proscenic 800T will play with its steered wheels and even accelerate to get out of complex situations. In two weeks, it only got stuck twice, due to a carpet that was too light and had sucked in turbo mode (so it can be useful to switch it to economy or normal mode in these cases) and when cleaning of an area with many wires and other cables (he sucked one up). We note, all the same, that he did not push more than that and stopped himself to avoid forcing too much. Better yet, he called to our rescue by telling us that we were stranded.
Note, also, that this robot vacuum cleaner is not afraid of falling down the stairs. Equipped with three anti-fall devices, it approaches the steps without difficulty and slows down to get as close as possible to the edge without ever falling.
Last but not least, this robot is not a simple vacuum cleaner, But also an efficient scrubber. Do not hope to thoroughly clean very dirty areas, it will need at least several passes in this case. In fact, we think it is more suitable for maintenance cleaning, rather than a big spring cleaning. But, once your floor is well scrubbed, it will suffice for a daily maintenance. We used it every third day with this mode, and it really helps keep rooms clean all the time. It is frankly appreciable and comfortable finally!
Faults
Unfortunately, if we loved the Proscenic Cocosmart 800T, it is not without flaws. We mainly have three things to complain about.
First, the parts cleaning. While the option seems to allow only one room to be cleaned, we noticed on several occasions that the latter didn't really know how to identify a door and would easily come out on its own. No big deal, just close the door.
La cartography seemed a little strange to us. Apart from a long corridor, it is difficult to identify the room where he is without being at home, and the robot does not seem to remember the configuration of our home. It was therefore impossible to send him to do the cleaning of a room on his own.
Other defect found, the return to the base is sometimes laborious. This being equipped with infrared, the robot has the greatest difficulty in finding it when it is too far from it. His method will then be to walk along the walls until he finds him. Otherwise, docking and loading is done without error. When he presents himself badly, he turns around and places himself perfectly in front before starting again.
Finally, and this is really the point that bothered us the most: the Proscenic app. Used on a Samsung Galaxy S10, a smartpowerful latest generation phone running Android 9, this one has the annoying tendency to "crash" or freeze. This does not prevent the robot from doing its job, but it's quite painful. Proscenic should therefore really look at its application which, for us, spoils the user experience a bit. However, the robot remains perfectly functional and has, anyway, a remote control.
Conclusion
We can already see you stamping with impatience and asking: "So, is it worth it?" " The answer is definitely yes. Although it is not without its flaws, the Proscenic Cocosmart 800T is a device as attractive as it is efficient. What a joy to send him to do these dirty jobs that few of us will regret not having to do! Perfectly suited to regular use, this vacuum robot keeps its home permanently clean and effortless! And, in addition to vacuuming, it allows you to mop ... What are the people asking for? If we regret that its application is capricious, the skill ProscenicRobot now works perfectly well. And finally, it should be noted that its faults are to be put in perspective with the price at which it is marketed! Available on Amazon.fr for the more than reasonable sum of 239 €, it ultimately appears to have one of the best value for money in its category. Certainly, devices do better, but it will easily be necessary to spend twice as much! In summary, the Cocosmart 800T is a perfect device for maintenance cleaning and for people who don't want to invest miles and cents in a vacuum cleaner.
Not available
August 13, 2022 17:51 a.m.
180,05€
360,09€
Not available
Proscenic Cocosmart 800T
About 249 €
Most
2 in 1 device: vacuum cleaner and cleaner
Pleasant design
Quiet device and long battery life
1800 Pa suction power
Skill ProscenicRobot
The lessers
Sometimes capricious Proscenic application
Cleaning of areas for improvement
Surprising mapping