Among the brands ofrobot vacuum cleaners preferred by users ofAlexa, Proscenic often returns for theExcellent value of its products. It must be said that the models of the Taiwanese brand are generally both accessible and efficient. Following the Proscenic 800T test, a convincing vacuum and mop robot, the brand contacted us to participate in the beta of its new top of the range: the Proscenic M7 Pro. After almost three months of testing of all kinds, here are our impressions of this surprising but affordable robot!
100,84€
399,00€
In stock
Refurbished from 64
August 13, 2022 7:51 a.m.
115,18€
213,29€
Not available
Proscenic M7 Pro: a top of the range at a low price?
As much to say that we were delighted to receive this robot in preview. Indeed, having already carried out many robot vacuum tests, we were delighted to be able to participate actively in the improvement of a product even before its release. However, you will see, the M7 Pro was already fully operational upon its arrival ...
Unboxing and presentation
Perfectly protected, the M7 Pro comes in a rather plain raw cardboard suitcase. Proscenic does not make frills, contenting itself with affixing its logo and a visual of the product on the packaging, which allows it to offer robots at very attractive prices.
At the opening, we are pleased to discover a robot from circular shape to the really successful shiny and iridescent black dress. Its design is both sober and modern, we like it a lot!
Its design is both sober and modern, we like it a lot! The Alexians
And, surprise, the M7 Pro proudly flaunts in its center a Lidar or LDS ! Yes, Proscenic finally offers us in France a model with a Laser rangefinder, something we were impatiently awaiting because it promises to be able to benefit from a complete mapping and a efficient navigation. We can't wait to see him at work ...
And, surprise, the M7 Pro proudly sports a Lidar or LDS in its center! The Alexians
Let's continue the owner's tour by turning over this M7 Pro. In order to be able to move, the robot is conventionally equipped with two wheels. With a fairly large clearance, they presage a great ability to overcome obstacles. Proscenic promises us that they will allow the robot to climb obstacles over 2 cm. These also have fairly pronounced notches preventing it from slipping on wet or slippery floors. They appear to be good bills and do not generate spring sound when handled. We are definitely confident.
Under the robot, we often find two side brushes et a central. Screwed to the robot as with Roborock, the sides have a curvature allowing them to stick closer to the ground their nylon bristles. We are of course a high-end robot.
Each is identified by the letters L (left or left) and R (right or right) because their curvature corresponds to their direction of rotation and it is better to avoid inverting them, which in addition to altering them would make them less efficient. In addition, a tiny brush, placed in the center, allowsavoid winding threads or hairs around the central axis and therefore prevents blockages. An excellent idea which, you will see, turns out to be quite effective.
La central brush, floating type, confirms this impression: its design is reminiscent of those already seen on the Deebot Ozmo 920 or more recently on the Roborock S5 Max.
Moreover, the internal part of the suction mouth is quite similar to that of the latter since it is hermetically sealed by a silicone membrane. This allows excellent sealing and therefore better suction. As we mentioned a few months ago in our dossier, this is a sign that Proscenic has designed a device intended to rank among the best robot vacuum cleaners on the market.
The mouth is hermetically sealed by a silicone membrane. The Alexians
The central brush has a alternating soft bristles and rubber lamellas arranged in a V. It's quite classic, but very effective, especially as this model really presents good density which bodes well for good performance and confirms to us once again that we are indeed facing a high-end robot.
And like any self-respecting top of the range, the Proscenic M7 Pro is obviously littered with sensors. Eight sensors are in fact placed under the robot: the classics infrared sensors preventing the robot from hurtling down the stairs and allowing it to estimate its ground clearance. Four more are housed in two windows of the bumper and allow the M7 Pro to run alongside plinths and walls, or to make its final approach towards its base.
And like any self-respecting top of the range, the Proscenic M7 Pro is obviously packed with sensors. The Alexians
A charging base of one fairly classic design which is reminiscent of that of Roborock S5 Max, except that it unfortunately does not have no cable cover and that its power supply is external. The robot will conventionally come and place its pins there alone to perform a charge at the end of the cycle ... Pins which, moreover, are four in number! Surprising, isn't it? You will see why in a few moments ...
A 600 mL capacity, the dust container has a fairly classic design with a push-button system and a hatch intended to receive a HEPA filter. Small originality, the classic cleaning brush takes place in a small location within the dust bin. Surprising, but devilishly well thought out because it avoids forgetting it and having to go get it when emptying it. Finally, and this is more intriguing, this tank has an opening that left us somewhat doubtful the first few weeks ...
But, three weeks after receiving the robot, Proscenic surprised us by sending us a second package containing a new, rather special charging base. Indeed, this time it was not a simple charging dock, but a automatic waste collector ! NS ! Like the iRobot i7 or S9 +, the Proscenic M7 Pro is therefore capable of empty your dust bin alone...
Like the iRobot i7 or S9 +, the Proscenic M7 Pro is therefore capable of emptying its dust bin on its own ... The Alexians
Measuring 22,5 cm x 25 cm x 35 cm This "Dust collector" is equipped with a 1050W motor and contains a vacuum cleaner bag with a capacity of approximately 3.4 liters as we traditionally knew on manual vacuum cleaners ... "Has been" with the advent of bagless vacuum cleaners, we are ultimately very happy to find them again because they will save us the only chore we have left: empty the generally very small tank of our robot! Note that Proscenic in book three and that we haven't even filled an entire one in two months of use.
Sold separately, this accessory is therefore not mandatory, but it's a safe bet that many of you will be cracked because it is sold at the more than reasonable price of 99 € on Amazon. Fr, which is much less than what the competition offers… Well designed, it fits into the collector via a cardboard support fitted with a closing tab.
But the M7 Pro doesn't just take the tedious vacuuming away from us, it also relieves us of the chore of mopping. Equipped with a small 100 mL water tank, it is indeed delivered with a mop and a set of 10 disposable microfibers. We expect him especially around the corner because proscenic has already pleasantly surprised us on this point with its 800T / 820T and, you will see, the Taiwanese brand has also decided here to offer an innovation with a Y reciprocating system that we had also seen at work on the Cecotec Conga 3690 Absolute. This makes sense since this is a Proscenic technology, we will come back to that.
In the accessories department, we are finally pleased to note the presence of a remote control, an element that is unfortunately often lacking in the most high-end robots while the most basic are equipped with it. Why? Because they can all be used with a mobile application, of course, but that's a bit of a shame because a remote control is still a plus that can be very practical if you don't have your computer. smartphone handy, for example, or if you quickly start a complete cleaning. Another scenario, if an accident occurs, it allows you to simply take the robot to the area and perform localized cleaning. It is finally a precious tool for the less tech-savvy ou for old people who generally seek more simplicity.
The remote control of the Proscenic M7 Pro is moreover much more pleasant than those which we had encountered so far. Rich in features, it allows you to adjust the suction power or volume of water, to launch a automatic or localized cleaning, to ask the robot to return to base, but also to control it and take it to a specific location. As this is an infrared remote control, we can already imagine what a remote control can bring us in terms of automation with a hub such as the Broadlink RM Pro +. Interesting, isn't it?
Before moving on to the test, let's finish the owner's tour with the essential reading of the Proscenic M7 Pro data sheet.
Technical characteristics of the Proscenic M7 Pro
Brand:
Proscenic Robotics
Model:
M7 Pro
Drums :
5200mAh Li-Ion
Aspiration:
2700 Pa
Dimension:
diameter 33 cm, height 9.3 cm
Weight:
4.5 kg
Autonomy:
150 to 200 minutes
Loading time :
5 hours
Remote control:
remote control, app and voice control
Charging station :
dock type with cable cover
Dust container:
600ml
Water reservoir :
100ml
Connectivity:
Wi-Fi IEEE 802.11 b / g / n 2.4 GHz
Accessories :
HEPA filters x2, brushes x4, dust container x 1, eu container x 1, mops x1, microfibers x10,
Other:
Cleaning tool x1, quick start guide and user manual
Waste collector data sheet
Brand:
Proscenic Robotics
Supply :
100-240V - 50/60 Hz
Power :
1050 W
Weight:
4.88 kg
Proscenic Home: an easy-to-use application
Robot installation
Before using the M7 Pro, it is obviously necessary to install theProscenic Home app. Available for iOS et Android, it is essential for configuring the device, mapping the places, carrying out programming, etc.
Once your Proscenic account created, you just need to click on "Add a device". Once the SSID and password entered, the device connects to the Internet very quickly.
A few seconds later, the robot is installed and all that remains is to choose a location and a name for it. Don't worry, you can always change it later.
This done, we discover a rather pleasant and intuitive application.
Using the Proscenic M7 Pro
The design of Proscenic Home is reminiscent of other robot apps, so you won't be at all lost if you already have one. Simple and efficient, it is full of features. By touching the box corresponding to the robot, we fall on the map and and the main cleaning options.
Three areas are displayed at the top: "Cleaning surface" with the cleaned area in m², a gauge in "Battery level" and the duration of the last cleaning in "Cleaning time".

On the right, a

"+" allows access to robot status messages: Ends of sequence or unfortunate events such as blockages of the device are indicated there.
In the middle we find a map. This will classically only be recorded after a first complete cleaning of your accommodation. Let the robot do it, even if it is a bit long, you will appreciate having a complete map afterwards.
Below the map, two pictograms are used to edit "Prohibited areas" where the robot will not be allowed to go and "Custom zones" which allow you to cut out its housing. Unfortunately, at the time of writing this test, automatic part cutting is not yet available with us,

but it seems that it is indeed on the first models marketed

. We recall that our test model is in beta, this probably explains this difference.
At the bottom of the screen are four options: " Charged " which allows you to send the robot to its station, " to clean " which starts an automatic cleaning and leaves the robot free to do as it sees fit, " fashion " to select the suction power (silent / standard / powerful) or the water flow if the water tank is installed and finally " more " which allows us to access more option.
The most interesting is obviously the complete menu available in "Plus" where we find all the M7 Pro cleaning features :
Cleaning record: a summary of the cleaning phases carried out by the robot with start time / end time, etc ...
Regular cleaning: this is the programming of your cleaning routines, you can select the frequency, the cleaning mode, the areas to be carried out ...
Do not disturb mode: allows you to set up time slots when the robot will stop working. Useful to prevent, for example, that the latter resumes a cleaning in progress in the middle of the night once its battery has been recharged,
Reduce the map: an option which bears its name a little badly, due to a clumsy translation, but which allows to restore a card recorded by the robot.
Area cleaning: this is the famous spot mode where the robot describes a circular path around a point, gradually moving away from it.
Target cleaning: allows you to select a specific area.
Y-shaped wash: mop washing mode where the robot goes back and forth in Y.
Multi-zone cleaning: allows you to select several areas on the map and clean them successively.
Deep cleaning: As its name suggests, this option allows you to order several passages to the robot. This will then perform the cleaning along the length and then the width of the room.
Auto partition area: automatic cutting of the areas of the map.
Below these pictograms, we finally find:
Device information: serial number, application versions, Wi-Fi name, IP and MAC address.
Locate the robot: if you have lost the robot, you can easily make it talk in order to find it.
Remote control: to steer the robot as you see fit.
General settings : robot name, available cards, sound volume adjustment, silent mode, robot LED indicator switch, device restart, updates, sharing management if you are multiple users, and finally indications concerning the status of consumables (brushes and filters) for and sensors in order to clean them or change them when necessary.
Proscenic M7 Pro: an efficient and autonomous robot
As you know, we always test the products for a long time before telling you about them, and the M7 Pro is no exception to the rule since we have been using it every day for nearly three months. Proscenic having asked us to test absolutely all the functionalities of the device, we were able to identify its strengths as well as its weaknesses.
Fast and precise navigation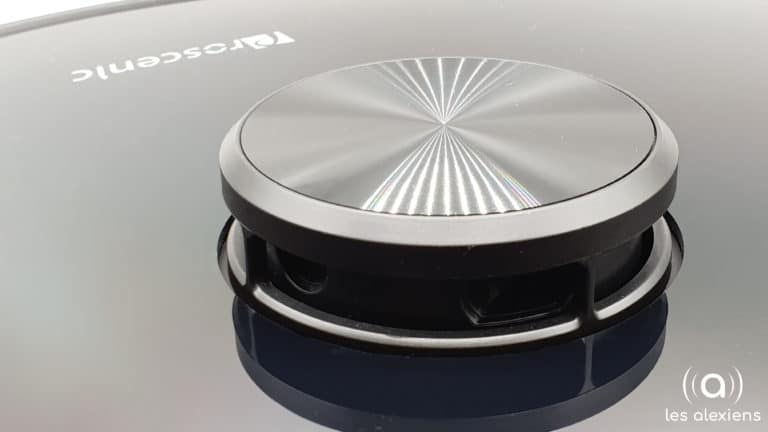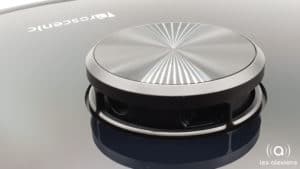 If we had regretted that the Proscenic 800T / 820T do not benefit from a laser rangefinder, this time the Taiwanese brand has endowed its high-end with a Lidar or LDS. A guarantee of efficiency, this technology is perfectly mastered on this new model. The navigation of the Proscenic M7 Pro is indeed as fast as it is precise. Particularly swift, the robot moves with a speed and precision that command respect. It is even the fastest robot passed through our hands, managing to beat the Roborock S6, whose navigation is however the strong point.
Particularly swift, the robot moves with a speed and precision that command respect. The Alexians
Only 9.3 cm high, the M7 Pro goes everywhere, or almost. It never hangs and does not forget any area. Skillful, it easily crosses more than 2 cm, and it is even the only robot that was able to cross our 2.4 cm high curb by approaching it from the front. If it can happen that it gets entangled in too many cables, it usually does very well and only hangs exceptionally.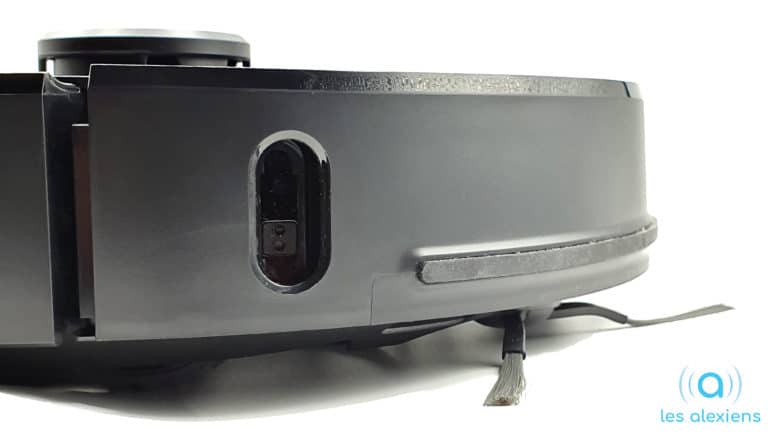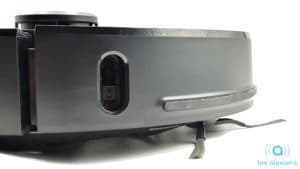 After having delimited the room or the selected zone, it carries out a systematic cleaning in its length to quite impressive speed. When you request two or more passes, the robot performs a first one lengthwise then a second crosswise, a technique that we have found particularly useful because it allows the robot to leave nothing behind and to perfectly crisscross the area.
Accurate, the Proscenic M7 Pro could almost do without its bumper as it is rare that it collides with furniture or complaints. He is also very skilled with chairs or tables, the feet of which he perfectly circumvents without hitting them.
In short, it's all good, or almost. Indeed, if it is well a defect of the Proscenic M7 Pro is its application and in particular the personalization of the cards:
The application does not allow automatic cutting of zones

. This must be done manually, which makes the exercise a bit tedious and imprecise. It is nevertheless possible to select them, but the result is a bit messy and we would like to find what is done at Roborock or Ecovacs.
Defining no-go zones is complicated because it is impossible to zoom in on the map and therefore to be precise. If the area is too small, your finger will invariably hit the "delete" button and it is difficult to do this job without losing your nerves.
Note that, being a device in beta test, our version of the application does not seem as complete as that available on devices already on the market. With Proscenic responding quickly to our feedback with updates, we are hopeful that these grievances will soon be a thing of the past. We were able to see this thanks to a member of our Facebook community in whom these features are well implemented. We will therefore update this test when we can test all of this.
A powerful suction
With an engine generating a 2700 Pa depression, the Proscenic M7 Pro ranks among the robot vacuum cleaners the most efficient on the market. More powerful than Roborock S5 Max, it equals the Conga 3690 Absolute by Cecotec by offering uncompromising aspiration. In use, it is felt, especially on the finest and most encrusted dust in carpets and rugs.
With a motor generating a vacuum of 2700 Pa, the Proscenic M7 Pro ranks among the most powerful robot vacuum cleaners on the market. The Alexians
En powerful mode , the M7 Pro is capable of unclogging very fine particles, proof that the engine power is well reflected on the suction mouth which offers high air flow, as evidenced by his 76.6 dB (A) sound level. Although it is therefore more greedy in energy, the robot still offers approximately 120 minutes of autonomy, which is rather rare.
En normal mode, the device is also very efficient and leaves nothing on the ground. Largely sufficient if the rooms are not very dirty or on hard floors, it is much quieter with approx. 72.5 dB (A) allowing you to go about your business serenely without it being too disturbing. Endowed with the soil type recognition, it applies a surplus of suction equivalent to the powerful mode when it evolves on a carpet or a carpet. In our opinion, this is the preferred mode on a daily basis, especially since it offers approximately 150 minutes of autonomy that can cover as many square meters at one time.
For the most sensitive ears, the Proscenic M7 Pro finally offers a silent mode. Although this considerably reduces its suction power, the robot is still effective on hard floors and allows the robot to evolve at night without waking up the whole neighborhood. With about 68.2 dB (A) and more than 200 minutes of autonomy, this mode is to be preferred for the passage of the mop ...
Efficient mop washing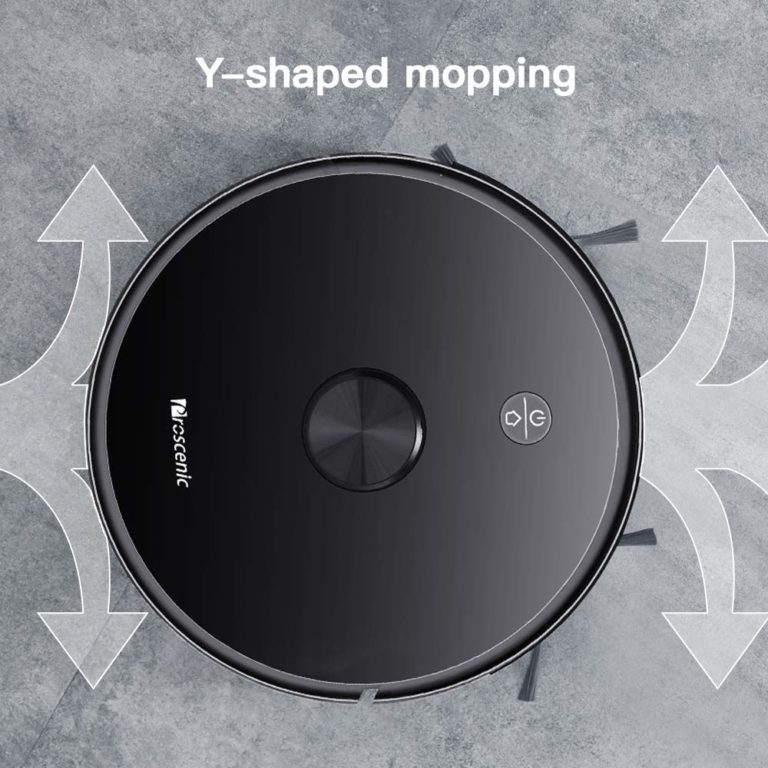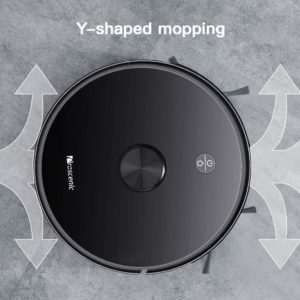 Le Proscenic M7 Pro also allows mop floors, and a really positive point, it does it pretty well for a 2 in 1 robot. As we keep repeating with each test, mop washing is still a perfectible feature on robot vacuum cleaners with a generally. Often approximate, they rarely overcome stubborn tasks. And Proscenic clearly understood this by proposing a method that is still not widely used: the Y cleaning !
In addition to a well-thought-out design that allows its cleaning plate to press the floor more convincingly than that of its competitors, it uses the famous "Y cleaning" ou "Scrubbing mode" that we discovered a few months ago at Cecotec. In other words, this 2-in-1 robot does not just graze the ground but rubs it by making a Y-shaped back and forth. And, if we hadn't found this mode so great on the Conga 3690 Absolute, it is here much more convincing, and its efficiency has, so to speak, amazed us!
[…] The Proscenic M7 Pro easily wins the prize for best floor washer […] The Alexians
It is also this mode that allows the Proscenic M7 Pro to easily win our prize for the best 2-in-1 robot for washing floors. Tested on difficult surfaces such as old tiling with not really level tiles, it managed to wash everything. Its round trips are efficient and it overcomes well encrusted tasks, on the condition of using a significant flow and performing two passes. Comes with disposable microfibers that allow a streak-free finish, it is undoubtedly the most convincing 2-in-1 robot to date on this point. Well done Proscenic!
We recommend that you make the robot perform two Y passes with the fabric mop, then finish in normal mode with microfiber: the result is then excellent!
Only downside, its 100 mL reservoir is a bit tight, but we prefer a thinner tank to an inefficient system. We can bet that the Taiwanese brand will offer us better in the years to come or will fully address the subject of robot mop, device which is lacking in its range but which it is visibly able to revolutionize as its know-how is evident in the matter.
A really practical dump station
Finally, we must obviously evoke the automatic waste collector, also called unglamorously "Automatic trash can" by Proscenic. A system that is quite rare among robot vacuum cleaners since only Shark and iRobot have so far offered this system as ingenious as it is practical. Thanks to a specific pair of pins and an outlet orifice placed under the dust container, the Proscenic M7 Pro empties itself !
"You have to admit it: the automatic robot emptying is actually a brilliant system that eliminates the need for any robot maintenance for over a month. " The Alexians
Arrived in front of the charging station equipped with the waste collector, if the Proscenic M7 Pro has worked enough, it makes a U-turn at 180 ° C and puts its rear pins on its dock which then engage a powerful suction. With a 1050W motor, the dust container is then emptied by about 15 seconds. A system necessarily a little noisy since it generates up to 98 dB (A) at 1 meter, but which turns out to be formidably effective. At the end of the operation, in fact, the dust container is completely empty and the HEPA filter clean.
After several months of use, we can only congratulate ourselves on such a system which seemed to us, until then, a little overdone. Admit it: the automatic robot emptying is actually a brilliant system that eliminates all robot maintenance for over a month. To tell the truth, at the time of writing these words, it has been almost two months since we had to intervene on the robot.
In conclusion, this Proscenic M7 Pro is it worth it? Undeniably yes, it is to this dayone of the best quality / price ratio of the year 2020. It could also be the best as its catalog price of € 429 alone and therefore around € 500 with its waste collector makes it interesting given the high-end services it offers, but we still regret some shortcomings in the application. However, we have no doubt that the brand will make changes from this point of view in the near future. For the rest, the Proscenic M7 Pro ticks all the boxes and is frankly not far from perfect. Its laser rangefinder (LDS or Lidar) and its 24 sensors allow it a precise navigation. In 2 months of use, it will never have been caught failing: it is remarkable! If we add to this his waste collector and compatibility Alexa, the M7 Pro undoubtedly becomes a "Must have" and we can only strongly advise you. In short, Proscenic is hitting hard and shaking up the market with a high-end device that is both efficient and affordable. Well done !
100,84€
399,00€
In stock
Refurbished from 64
August 13, 2022 7:51 a.m.
115,18€
213,29€
Not available
Proscenic M7 PRO Robot Vacuum Cleaner with suction column
from 429 €
Most
A nice design
Powerful suction
Efficient washing with its back and forth
Waste suction column allowing minimal maintenance
The best value for money ?
The lessers
A little noisy
Perfectable application in particular at the carthographic cutting level