A few weeks ago, we gave you our Ring Video Doorbell 3 review, a more than convincing connected doorbell that we had taken great pleasure in testing for several weeks, just like the one we have been using for almost a year and which we would like to talk to you about today: the Ring Door View Cam !
Intended to replace a peephole, this connected video door entry unit is a little out of the ordinary and has, to our knowledge in any case, no equivalent on the market yet. And yet, more than 30% of French people live in collective housing and often have an optical peephole. Ring therefore took up the challenge of proposing a device to support it and to allow everyone to easily be able to install a connected doorbell at home, even in an apartment.
€129,00
In stock
2 new from € 129,00
January 23, 2022 16 h 23 min
Update: January 23, 2022 16 h 23 min
Ring Door View Cam: a connected video peephole
Unboxing and presentation
Once again, those who know Ring will not be disoriented. The packaging of the Ring Door View Cam takes again line for line that of its congeners. Always so qualitative, it clearly makes you want to discover this device which stands out within the range ...
At the opening, thequality printing is here. The box is elegant, well organized, complete. The pleasure ofunboxing is still present at Ring, and even if the packaging may well end up in the dumpster quickly, it is pleasant to savor this moment of discovery ...
Unlike the "classic" Rings, the Door View Cam has a finish very close to the Ring Video Doorbell Pro, namely a satin nickel with the most beautiful effect. Yes, the front of this connected peephole is a success and the quality felt excellent in our opinion.
"[…] The Door View Cam has a finish very close to the Ring Pro, namely an anodized aluminum with the most beautiful effect. " The Alexians
Unfortunately, it is a little less the case for the back side. Made of white plastic that could be described as fairly basic, it clashes a bit with the front panel, which is a shame. But, we are demanding, the plastic is not ugly either, don't worry… Besides, we wouldn't have left it on our door for a year otherwise!
As this is a device intended to replace a peephole, the Ring Door View Cam consists of two parts which will take place on either side of the door. The first, external, measure 9.73 cm x 4.70 x 1.93 cm and has a traditional optical peephole that will fit into the second, interior, with a size of 12.2 x 5.74 x 2.95 cm enclosing the battery. To be compatible, the diameter of your peephole must be between 12 and 14 mm, a classic and widely used format, and the thickness of your door from 34 to 55 mm.
Indeed, this connected peephole is wireless and, as we will see, therefore very easy to install ... As usual, the brand belonging to Amazon book one complete packaging with everything you need to install without having to open your toolbox.
In addition to the connected doorbell, in two parts remember, Ring provides a 6040 mAh rechargeable battery and very short cable to recharge it on a USB socket, a power supply spare parts - you will understand why soon - as well as a small key to unscrew the existing peephole - if you have one, of course, otherwise the drill is not included.
But before continuing, let's take a look at the technical characteristics of this connected doorbell.
Datasheet
La Ring Door View Cam film and record videos in Full HD 1920 x 1080 pixels. Its camera offers a view of 155 ° horizontal et 90 ° vertical, day and night thanks to diodes infrared, and allows you to communicate thanks to a two-way audio system with suppression of background noise.
Please note, to be able to install it at home, the diameter of your peephole must be between 12 and 14 mm and the thickness of your door between 34 and 55 mm.
Brand
Ring
Model
Ring Door View Cam
Resolution
Full HD 1920 x 1080 pixels, infrared night vision
Field of view
155° horizontal, 90° vertical
Food
6040 mAh rechargeable battery
Dimensions
Exterior: 9.73 cm x 4.70 x 1.93 cm, Interior: 12.2 x 5.74 x 2.95 cm
Compatibility
Door thickness: 34-55 mm. Peephole diameter: 12-14 mm.
Weight
100 grams
Connectivity
802.11 GHz 2,4 b / g / n Wi-Fi.
sealing
NC
Other
micro-USB to USB cable for charging, installation kit (two brackets, screwdriver, screws, plugs, wires for power supply, drill bit), warning stickers ...
Ring Door View Cam: a compatible connected doorbell Amazon Alexa
Installing the connected peephole
The actual installation is relatively straightforward. You just have to unscrew your peephole with the key provided, insert the power cable and affix each part of the Ring Door View Cam in the right place: the doorbell part outside - that's better - and the power supply / peephole inside.
Attention during assembly! Indeed, and we understand better why Ring provides two, the power supply is extremely fragile and may tear if you do not screw the peephole carefully. We therefore advise you to hold both sides well during this operation so that the outer part does not turn on itself and permanently damage the tablecloth. If you can, do not hesitate to ask for help, it will save you from a disappointment like ours.
As you can see, like many other users, we tore the tablecloth during the first assembly by screwing the peephole, the outer part rotating at the same time in a vacuum. Fortunately, Ring seems to be well aware of what could be described as a design flaw and is supplying two copies. Moreover, they can even send you others if necessary ...
That being said, other than this point, installation is quick and easy. We especially liked the fact that the system does not require no fixing at the door: no nails, no screws, no glue. The tenants will appreciate it because, when they leave, they will be able to replace the peephole and return the door as it was when they arrived ... And, of course, reuse their connected peephole elsewhere!
Note, moreover, that the peephole of the Ring Door View Cam is also optical type. So it's not a camera that replaces it, but that adds to it, which turns out to be a very good point if you run out of battery, for example.
Regarding installation on the Ring app, we refer you to our Ring Video Doorbell 3 review. It is exactly the same procedure and the application offers precisely the same functionalities… With one difference: the Ring Door View Cam also offers a keystroke detection, we will come back to this in conclusion.
Our opinion on the Ring Door View Cam
After almost a year of use, we can say it bluntly: we are fully satisfied with it!
Ring app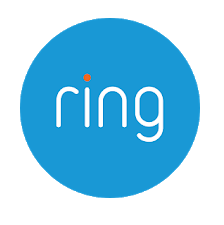 Better organized since its redesign, the Ring app is feature rich but easy to use, its new user interface being well thought out. The recent addition of three shortcuts to toggle the main monitoring modes is really very handy.
A small peculiarity of this model should be noted: the keystroke detection. Indeed, the Ring Door View Cam being installed directly on a door, it is able to detect the vibrations generated by someone knocking on the door. A really practical feature, a big plus compared to the other models, because you will see it in use if you choose one: many prefer to "knock" rather than use the button, however one can not more visible, of the doorbell . This connected peephole will therefore be able to warn you despite everything, specifying, moreover, that someone has knocked. The same goes for a person simply standing in front of the door: a notification will be sent to you. A very interesting security aspect ...
Video quality
The quality of the video is pretty good, largely sufficient in our opinion, even if an even better definition is always desirable. Better than the Ring 2, it is equivalent to that of the Ring 3 and is therefore just as satisfactory. Difficult, in reality, to really capture its full potential in a rather dark stairwell, even in daylight. At any rate, we still see faces in a very clear way, that's what really matters in the end ...
It is the same at night when infrared night vision is effective. The camera switches quickly from one mode to another, which means you don't miss anything and don't have to deal with unusable video.
The color rendering is not great, but honestly, it does not matter much ... The effect "Fisheye" is, on the other hand, more important than on the Ring 3, but as you can see, it remains quite reasonable. In short, we nitpick a little by saying that, but you have to know how to be demanding!
Audio quality
The sound quality can be improved her too. As much as you can hear your interlocutor rather well, it is more complicated for him and you will have to speak to him loudly. The speaker built into the Ring Door View Cam a bit of a limitation indeed. On the other hand, we found the reduction of ambient noise well controlled and welcome in a stairwell tending to reason
Regarding the sound of the doorbell itself, here too it is a bit weak and you may well miss a visitor if your accommodation is large or noisy… But there are solutions! The first is the purchase of a Ring chime, the associated connected chime that we discussed extensively in our Ring test 3. The other solution is obvious for an Alexian: make their Echo devices ring, we will come back to that.
Motion detection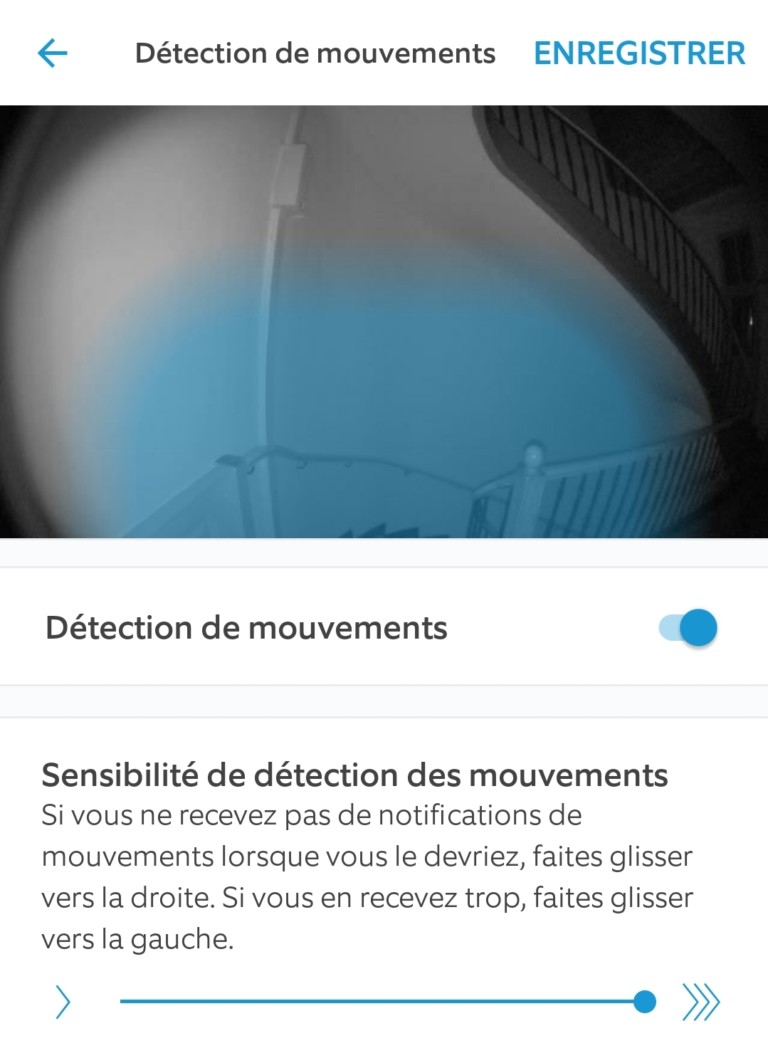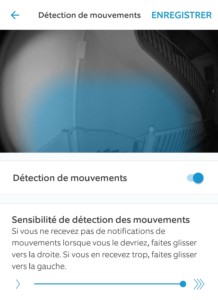 La motion detection is really excellent. In a year, our doorbell camera has only rarely been caught. Moreover, if it was, it is because we had set its sensitivity too low at the start, something that is very easy to adapt at any time in the Ring application.
It is indeed possible to adjust sensitivity and D'exclude areas, which is invaluable for even having the right to use such a product. Yes, we remind you once again that it is formally forbidden to film and record videos of public roads. Likewise, if you live in a collective dwelling, you will most likely need permission from your neighbors to install it in the common areas. It's up to you to see with them or with your trustee ...
Autonomy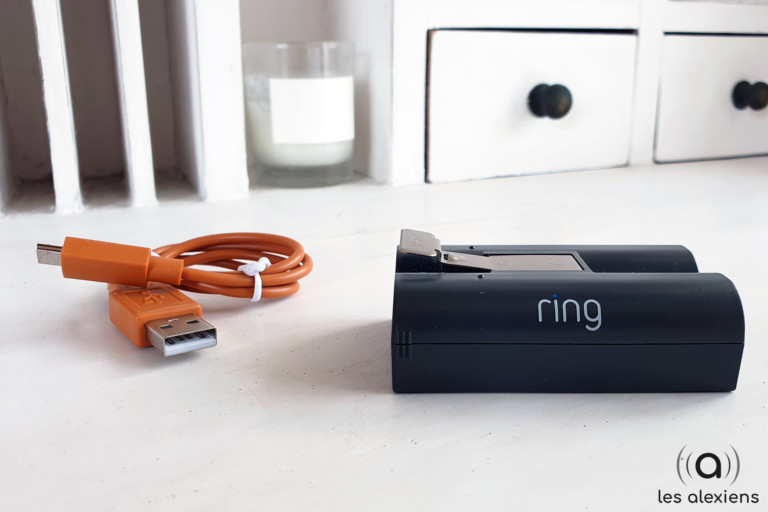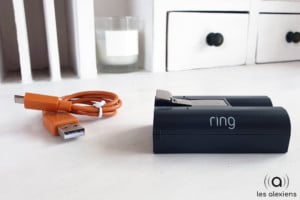 Difficult to judge because it really depends on your use. With a good fifteen detections and recordings of 30 seconds per day, all options activated (HDR, infrared, captures every hour), count about 3 months of autonomy if you check the feed regularly.
Note that this also depends a lot on the quality of your Wi-Fi network. Indeed, and it is important to note, the Door View Cam requires a good signal. Concretely, when we were not yet equipped with Wi-Fi Mesh, it was common for the camera to disconnect. Since we have meshed our network, however, no problem to report ... Moreover, it is all the more important that, unlike the Ring 3 and Ring Pro, this model only accepts 2.4 GHz Wi-Fi. … Of course, it has more range, but if the signal is a bit tight, access to live video is much longer and autonomy is significantly reduced…
Compatibility Alexa et Amazon Echo
You were all expecting it: what about compatibility? Alexa? Well, after months of waiting we can now say that she is perfect. Indeed, Amazon solved a problem that is felt on the ratings of his skill: the automatic non-display on Echo Show or Echo Spot. This is a subject that we raised with the technical teams last year who took the time to call us on several occasions to better understand our expectations… which are now fully satisfied!
Indeed, a simple press now activates the automatic display on the devices of your choice. Those with a screen, that goes without saying. Attention, on the other hand, this is not possible the detection of the movements, but we do not really see the interest of it as far as we are concerned.
€35,00
In stock
January 23, 2022 16 h 23 min
€129,00
In stock
2 new from € 129,00
January 23, 2022 16 h 23 min
In conclusion,
Ring Door View Cam
is undoubtedly a very interesting product for all those who cannot install a more traditional connected doorbell or, why not, if you have a peephole at your door.
Fully compatible with Alexa
, it is a connected object which quickly knows how to make itself indispensable and which we would be hard pressed to do without. At a time
optical peephole, connected doorbell and CCTV camera
, its reactivity with the range Amazon Echo is remarkable and the automatic display on Echo Show an undeniable plus. Although the cloud subscription is essential in our eyes, it is still very accessible since it is offered at only € 3 / month or € 30 / year. Indeed, without, the device is immediately a little more limited. Now available at
129 euros on Amazon. Fr
- its launch price was around 200 euros - the Ring Door View Cam has many advantages and a certain quality / price ratio.
Like its congeners, to try it is to adopt it!
Ring Door View Cam - Connected Video Doorbell
€129
Most
Front panel design and finish
Highly efficient motion detection and keystroke detection
Very low ringing latency, even in 4G!
Compatibility Alexa and automatic display on Echo Show
Excellent price / quality ratio
The lessers
Cloud subscription almost mandatory
Interior part a little "cheap" compared to the front
Fragility of the power supply (just be careful though)