The CCTV cameras, you know ? The doorbells too? Ring, too? We are therefore going to present you a product combining all of this: the Ring Video Doorbell (2020), the second generation of the "basic" model which uses roughly the characteristics of the Ring 2. Why this choice when the 3rd generation ring came out a short time ago? Because, thanks to this new version, the Ring Video Doorbell has gone at the price of 99 € on Amazon. Fr. Which makes it very affordable.
Ce connected video door entry unit battery operated or not, will combine an activating surveillance camera with motion detection, a video doorbell with two-way audio, night vision and all in 1080p! Is it a good investment despite its price half that of its little brother?
€150,90
Not available
January 24, 2022 11 h 09 min
Update: January 24, 2022 11 h 09 min
Ring Video Doorbell (2020): a quality video doorbell
Unboxing
The American brand Ring, bought for the trifle of 1 billion USD by Amazon in 2018, specializes in connected doorbells and video surveillance in private homes. The second generation has become the second generation in recent months with the release of the Ring Video Doorbell 3.
The packaging of the Ring uses the brand's codes, with its blue background, the product visual and, on the back, all the important features. The mention the reference "Works with Alexa » is also present on this face. It is in fact a sleeve which protects the packaging: a box opening from the top, like a case.
The doorbell, even if this word is restrictive, let's say rather video doorman, is put forward, alone, on the top of the pack, protected by black foam below the cover. The "Wow style" is really there: the Ring Video Doorbell (2020) gives an impression of robustness and seems very qualitative.
"The Ring Video Doorbell (2020) gives an impression of robustness and seems very qualitative. " The Alexians
This version exists in two versions: satin nickel (case of our test) and venetian bronze (like bronze, but in red, surely). She can appear massive with her 12,7 cm high, 6,2 cm wide and hardly 3 cm thick. For a doorbell, yes, for a doorman, no, far from it.
We also find the mounting bracket, for an micro-USB charging cable, for an fixing kit et 3 brochures (security, guarantee and operating procedure of 2 pages in each language). You also have some ring stickers, in different languages, to be put on your portal for example, with a dissuasive role ... provided that thieves know and take the time to read.
The installation kit will include a double screwdriver with a Torx type bit and another Philips type bit, 5 ankles, for an concrete drill, for an mini spirit level, screws type wood screws for use with ankles and security screw to secure your doorman in place once installed on its support.
The doorbell as such will present, visually, two distinct parts:
La "metallized" plastic base (no interchangeable shell in the case of this reference). We really have the impression of having brushed metal in our hands, the quality is so excellent. There is in the center of this part the doorbell button itself, surrounded by an LED ring (blue when it is in operation) which will light up during interactions.
The upper part, black in color, is in fact the cover of the 1080p camera. It is the heart of image processing and the motion detection of the Ring.
She is really successful and its appearance is really recognizable among all. All exudes quality, both the plastics chosen and the finishes. There is really nothing to complain about. In addition, the security screws to prevent theft of your video door entry unit are a very good idea. Note, moreover, that Ring provides free insurance against the theft of your doorbell.
This doorbell can be powered in two different ways:
By direct feed. The easiest way is to install it on an already existing system, on condition that it is in low voltage (8-24 VAC, 40 VA max, 50 / 60Hz). You may need to invest in a transformer if you don't have an existing system. To install it with this type of transplanting, just screw the power wires at the level of the screws in place at the back of the doorbell.
Wireless power supply with built-in non-removable battery. Due to the location, it is not possible to load it in place. It will therefore have to be dismantled. It is given for 6 to 12 months of autonomy depending on the settings and your use.
Information
Brand
Ring
Model
Ring Video Doorbell (2020)
Resolution
Full HD 1920 x 1080 pixels, infrared night vision
Field of view
180 ° horizontal, 110 ° vertical
Food
Internal battery. Can be connected to an existing doorbell system or transformer for continuous charging (8-24 V AC, 40 VA max., 50/60 Hz).
Dimensions
126,5 62 mm × mm × mm 28
Weight
NC
Connectivity
2.4 and 5 GHz Wi-Fi
sealing
Yes
Other
micro-USB cable for charging, very complete installation kit (two brackets, screwdriver, screws, plugs, wires for the power supply, drill bit) and two facades supplied ("satin nickel" or "Venetian bronze")
Ring Video Doorbell (2020): installation of the video doorbell
The installation of your Ring Video Doorbell (2020) will be done in two separate steps: installation on your network and physical installation. The whole will take a small quarter of an hour maximum. You can start by installing the bracket outside if you wish. To do this, present the plate where you want to put the doorbell.
Pay attention that this location allows you to receive Wi-Fi satisfactorily. But rest assured, in our case, at least 20 meters from the box, the video door entry unit worked without any problem even if the signal is considered weak. This causes some latency, but also jerks on the videos, especially since the speed is relatively low on the network tested (a little over 2 Mbps). In this type of case, a Ring ChimePro would be a good investment in order toboost your Wi-Fi signal. But we have accumulated the borderline cases (network with low speed, weak Wi-Fi signal…) and it works without too much problem.
€87,30
In stock
5 new from € 76,00
January 24, 2022 11 h 09 min
Update: January 24, 2022 11 h 09 min
For the doorbell, you need to use the Ring app, available on Android et iOS, and follow the instructions. If you haven't, start by creating an account.
In devices, press "+" at the bottom right ;
Select "Doorbells" ;
Scan the QR Code present behind your Ring;
Select or create a location by entering your address, this will make it easier for you to find it if you have several homes or branded products;
Choose the name your connected doorbell: "doorbell", for example;
Press the orange button behind the doorbell
7. Connect your smartphone to the Ring-XXXXX Wi-Fi network created by the device,
8. Go back to the application but leave the Wi-Fi linked to the doorbell by choosing "Keep Wi-Fi connection";
9. Enter your Wi-Fi credentials. Here, we had already done it for a previous model, the application therefore proposed to reuse them.
10. Continue with the settings (you can change it later);
11. Let the update run its course
12. The configuration is complete!
The configuration is complete! As you can see, It's quick and easy (15 to 20 min for physical and digital installation).
We want to draw your attention to the stability of your internet flow.
Ring products are known to be relatively sensitive. If you are far from your Wi-Fi transmitter (box, mesh or repeater), make sure you have a stable flow. We had initially installed the doorman on a Mesh connected to a 4G box. Despite an average signal (not weak), it was impossible to use the doorbell which had recurring network disconnections, very high latency and almost impossible to connect to it for the live stream. Indeed, the data flow via a 4G box is too fluctuating for a use of this type. So even if your ADSL speed is low, choose it over a faster 4G speed.
Ring doorbell: everyday use
As seen previously, in order to use the Ring 2, it is necessary to go through the eponymous application. The latter is relatively easy to use and will not ask you no particular problem.
The app is packed with features. If you go to the main doorbell settings, you will find:
Video settings : live video, previews, recording time.
Capturing snapshots : allows you to record photos at regular intervals (every hour or every 14 minutes or every 5 min. Be careful, this will affect the performance of your battery if you have not connected it to the mains. You can also cancel them.
Detection parameters : zones, precision, programming, frequency… Everything is configurable and a wizard helps you make the right settings. You have the possibility of defining an area where you do not wish to make any detection or even completely hide. It will generally be the public highway.
History : access to all video recordings of motion detections, ringtones and live videos.
Notifications : You can enable notifications only for people detection. It is very efficient and convenient if you have pets. Otherwise, you can set a detection sensitivity
Notification settings : you will define the type of notification (push, tone, etc.)
Postponement of notifications : to receive them with a few minutes to a few hours of delay.
Device Status : to find out everything about your doorbell such as its name, MAC address, available updates, Wi-Fi signal strength, etc. You can even test your Wi-Fi and check the integrity of your device (if it is was not hacked, for example, despite required two-factor authentication).
Follow us! : you can of course share access to your Ring by entering an email address.
Each detection or person ringing your doorphone can give rise to a Push notification on your phone. This is also one of the regrets that we can have. We find it very easy to miss a notification push lost among others. If a ringtone could give rise to a call type notification, it would be much more visible and easier to manage.
Another point to take into account: Ring cloud subscription. If you want to have the recordings of motion detection, ring tones or keep the video live, you need to take out a subscription. Ring is no exception to the rule by offering two plans, which you can choose from after your free trial month:
To one device, it will cost you 3 € / month or 30 € / year.
For unlimited number of devices, it is interesting if you have Ring cameras, the subscription is 10 € / month or 100 € / year.
You can find the "Protect Plans" Ring here. Without this type of subscription, your doorbell will behave like a standard video door entry unit, i.e. you will be able to react to live notifications such as answering a ringtone or watching live motion detection, but without being able to do so. save. It's still fairly accessible, but it's still a subscription, it's true.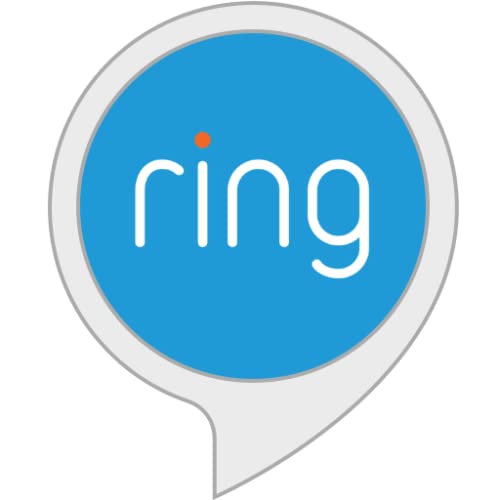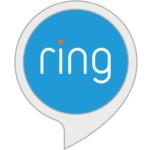 Ring owned by Amazon, the integration with his voice assistant is effective and efficient.
But for that you need activate the skill ring et enter your login details of the Ring app to connect to it. Once done, Alexa will automatically detect your device. You will find it under the name you assigned to it earlier during installation.
But what interest to use Alexa ? But it is gigantic !!
Ringtone on devices Amazon Echo
In practice, each Echo device can act as a chime. You have the possibility in the application to come and choose your Pregnant Amazon Echo who will fulfill this role. Your assistant can alert you to movements and ringing tones, as desired. It's very useful if, like us, every room in your house has its Amazon Echo : you will never miss a visitor again! And it goes further because you can choose the ringtone you want.
Another advantage is that devices with screens such as Echo Show ou Echo Spot, allowview live stream your Ring's camera. Either on demand, or when someone rings, or on detection. You can therefore use it as a camera to monitor your gate, either by asking « Alexa, ring the bell ", or by selecting the Ring in the "Connected home" menu of your Echo Show. And that's not all, thanks to its two-way sound, by pressing the microphone on the bottom left of the screen, you can communicate with your visitors via the microphones built into Echo and Ring.
Routines Alexa
If you want to go even further with your Ring, you can integrate it into routines Alexa. So, you can customize the message, launch various devices according to the event, set time slots to change the behavior according to the hours, etc.
In our example, we have chosen to replace the ringtone with a light scene where our Philips Hue bulbs blink. Practice at night, so as not to wake up the whole household but to be warned if someone comes by unexpectedly!
We switched to a HD1080p camera and it shows! No HDR like on the Ring 3, but nothing compared to the 1st generation Ring. Night mode is fine although a little dull. However, nothing catastrophic, far from it. Note that there is no effect Fish Eye important. It is a little present, but again, quite acceptable.
In terms of colors, the image tends to show low contrast colors. You can see some examples in the following photos. The sound quality is very satisfactory. The Ring Video Doorbell (2020) renders sound well, but that will largely depend on your Wi-Fi speed.
In order to allow you to judge on the piece, here is a Ring Video Doorbell 2 overview video, its installation and its use. And don't hesitate to follow us by subscribing to our channel on YouTube.
€87,30
In stock
5 new from € 76,00
January 24, 2022 11 h 09 min
€150,90
Not available
January 24, 2022 11 h 09 min
In conclusion, the answer to the question
«
is it appropriate to buy the
Ring Video Doorbell (2020)
while the Ring 3 is out?
»
is
" Yes "
!
Yes with regard to its quality / price ratio: 1080 p, night vision, video surveillance mode with motion detection, possibility of connecting it to the mains ... Yes because for € 99 only on Amazon. Fr, she didn't no competitor in its price range.
The downside remains his almost compulsory subscription to the Ring cloud to be able to take full advantage of the functions of the video door entry unit, a notification system push not visible enough on the phone and its rather weak colors. Finally, in the event of a slightly weak network, you can find its limits because it is very sensitive to it, but a Ring ChimePro from the same brand could solve this problem.
Ring Video Doorbell 2 - 1080p HD Video, Advanced Motion Detection & Easy Setup (2nd Generation)
99 € (excluding promo)
Most
Image quality in full HD 1080p
Very good motion detection
• Fully compatible Alexa with direct display on Echo Show!
Price two times lower than the Ring 3
The lessers
Cloud subscription almost mandatory
Image a little dull
Almost invisible notifications on our smarttest phone
Integrated, non-removable battery