We mentioned it at the beginning of January at CES 2020, after several years spent developing its range of robot vacuums, Roborock created a surprise by announcing its first stick vacuum cleaner: the Roborock H6. a light and handy multi-cyclonic stick vacuum cleaner allowing deep cleaning. Equipped with an OLED display, it is not a connected object but, as we will see, the perfect complement to a robot. Indeed, if these are full of qualities and have many advantages, we have observed during our many robot vacuum cleaner tests that they still have gaps and that their suction power still leaves a little to be desired. After the tests of Roborock S4, S5 Max et S6, let's see how the Robo Rock H6 is a precious ally and if it really keeps its promises!
Update of 15/05/2020:

the Roborock H6 is available Amazon.fr at a rate of 399 €. Although it may seem a bit expensive, only the Dyson V11 which costs 700 € manages to compete with it and it is undoubtedly the best performance / price ratio of the moment!
Roborock - H6 Cordless Handheld Vacuum Cleaner, Strong Suction 2500pa, Cyclone Filter, Dust Collector, New Arrival
Price as of: August 13, 2022 9 h 50 min
Roborock H6: a practical and aesthetic stick vacuum cleaner
Unboxing and presentation
Delivered in a logically imposing packaging, the very neat presentation of the Roborock H6 is reminiscent of that of the S6 robot. On the front side, we find the brand logo and the model of the device, a visual of the product and its main characteristics: a significant autonomy, for an "featherweight" design, the advanced filtration and very powerful 140AW suction (Air Watts).
At the opening, we are immediately impressed by the large number of accessories provided. Roborock has not cut corners and offers us a truly complete product.
We find of course the vacuum cleaner body multi-cyclonic, the essential rigid hose, the carpet brush, the mini motorized brush, for an a flexible pipe, for an nozzle, the dust brush, and obviously a compact power supply.
Le Robo Rock H6 also comes with a wall mount acting as charging station in order to always have an operational vacuum cleaner available. Very practical and really well thought out, it allows you to hang all the accessories on the wall, which avoids losing them, but above all to put the device back on charge with a simple gesture. We have already noted that it is particularly light and easy to handle.
"From a design point of view, the Roborock H6 is really very successful. " The Alexians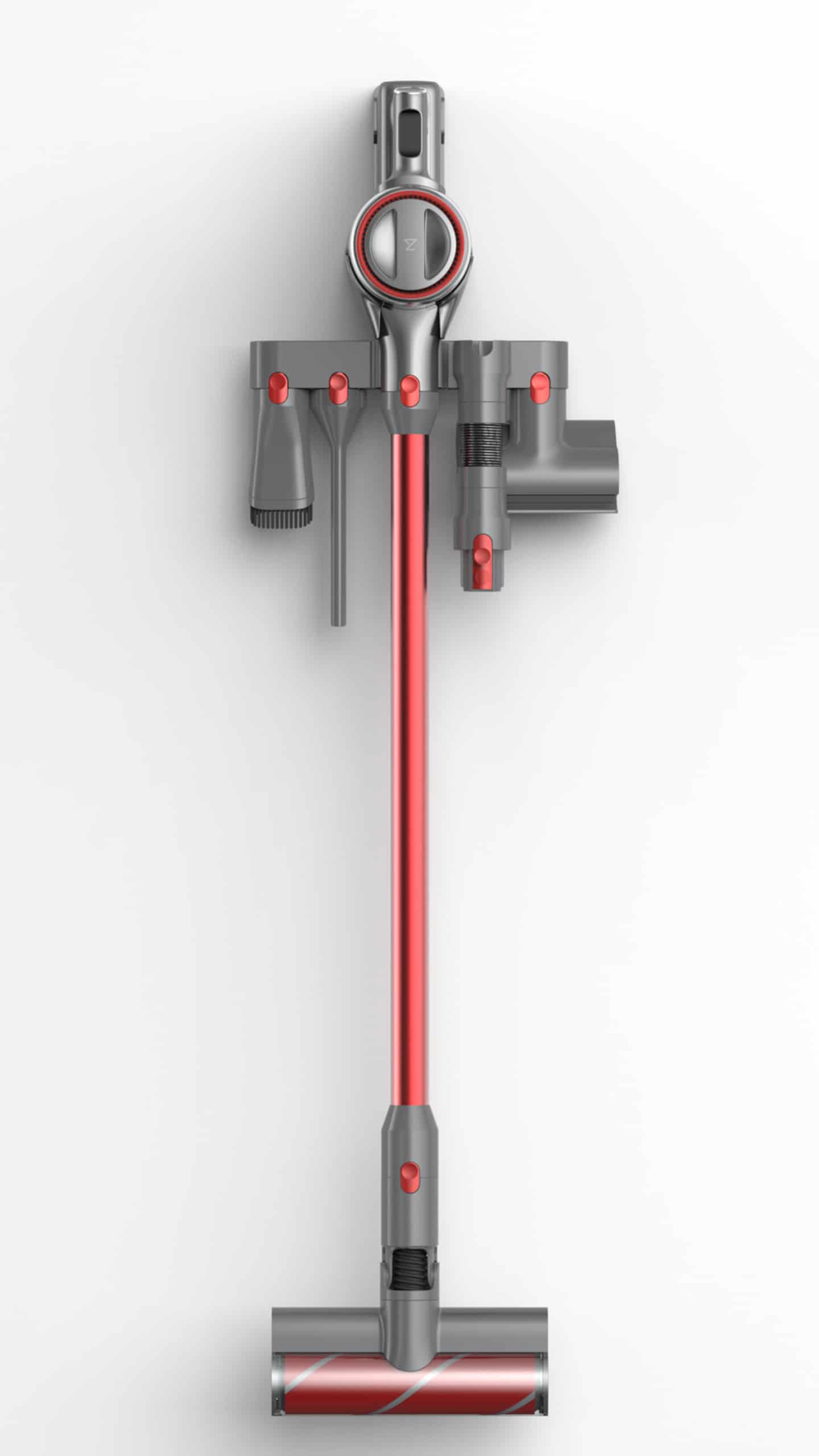 From a design point of view, the Roborock H6 is really very successful. Its anthracite gray and red, both metallic, suit it perfectly and make it a device in our opinion very desirable with a very high-tech touch which fully satisfies our geek side. The plastics are of excellent quality, the accessories exude solidity, pimples fall naturally under the fingers and the little OLED screen is as well integrated as it is easy to read. Design level, it's all good, as always with Roborock!
Let us now see, in detail, each element of this beautiful vacuum cleaner and its performance after a quick review of its technical characteristics.
Roborock H6 Datasheet
Brand:
Roborock
Model:
H6
Drums :
LiPo 3610 mAh
Aspiration:
140 AW - up to 25 kPa in max mode (5.8 kPa in Eco and 9.8 kPa in Normal)
Dimension:
284 x 111 x 221 mm
Weight:
1.4 kg
Autonomy:
up to 90 minutes in Eco mode (15 in max mode)
Loading time :
4 hours
Sound level :
84dB max
Charging station :
wall mount accessory holder
Tank :
400ml
Accessories :
HEPA filters x2, brushes x3, nozzle x1, flexible hose x1, tank x 1
Other:
Power supply x1, support x 1, user manual.
Picture Roborock H6
Roborock H6: a high-performance stick vacuum cleaner that is pleasant to use
The body of the vacuum cleaner
Of type multi-cyclonic, the body of the vacuum cleaner is compact and really light for a device of this type since it only displays 1.43 kg on the scale (2.4 kg with rigid tube and carpet brush). It measures 28.4 cm long (battery included) for 22.1 cm high and its 400 mL reservoir has a 11.1 cm diameter. In other words, it is neither bulky nor heavy.
Its featherweight also makes it possible to handle it for long minutes, to easily lift it at arm's length to reach the most difficult areas, and even to use it with ease on a stepladder. Farewell to the dust sheep perched here and there!
Whatever the position, the three buttons of the Robo Rock H6 fall naturally under the fingers: one to select the suction mode (Eco, Normal, Max), For a lock the suction, a relaxation of put in function.
Shipping is 1.3 inch OLED display always remains easily readable, indicating whether the suction is locked or not, the percentage of battery remaining when not in use or the time remaining during operation, and finally the mode used (eco, normal or max) .
Performance worthy of the best stick vacuum cleaners which means that the Roborock H6 will not have to be ashamed of a Dyson V11, to name but one. The Alexians
From a power point of view, the H6 displays figures that make you dizzy! Its 420 Watt motor delivers no less than 140 AW, generating depressions of 5.8 kPa in Eco mode, 9.8 kPa in Normal mode et 25 kPa in Max mode. Performance worthy of the best stick vacuum cleaners which means that the Roborock H6 will not have to be ashamed of a Dyson V11, to name but one.
Air-Watts, denoted AW, correspond to the ratio between air flow, suction and power consumption. They therefore indicate the efficiency of the engine and allow the devices to be compared with each other.
Le dust bin, with a capacity of 400 mL , is not very big but well designed. It fills up fairly quickly, but very easy to open, its emptying does not require disassembling the body of the device thanks to a opening button cleverly placed just above the battery. The OLED display also warns us of the need to empty it, or to clean the filters, a very good point!
Emptying is fast and the positioning of the hinge towards the front rather clever because it prevents dust from spreading everywhere as you have seen on other models. This design also has the advantage of not putting our hands in contact with the contents of the collector. So hygienic!
Le multi-cyclonic filtration system is him too easily removable and washable, which allows easy maintenance of the filters. Filtration carried out over no less than five levels, each composed of several cyclones, to which are added filters.
A cyclonic filtration system separates dust from the air by gravity. Heavier, the latter is then redirected into the collector. On the Roborock H6, this air treatment is carried out several times for more efficiency, hence the term multi-cyclone.
From HEPA filters, or High Efficiency Particulate Air, allow to "Filter" the air sucked in by the vacuum cleaner before he is thrown back into a room and capturing 99.97% of particles (down to 0.3 microns), even the most microscopic pollens and molds.
Its multi-cyclonic system is easily removable and washable, which allows easy maintenance of its filters. The Alexians
The first, made of fabric and foam, has a good density and comes off very easily to be washed in water. Just like the second which is even more accessible since it suffices to unscrew the upper body of the vacuum cleaner to remove it. It is therefore easy to type it or brush it regularly in order to unclog it. Also cleanable with water, Roborock promises us that it will still keep 99.7% efficiency after 20 washes !
In terms of autonomy, this broom vacuum cleaner is not left out either. Her 3610 mAh Li-Po battery, very compact and light, gives it a battery life of up to 90 minutes in eco mode, 60 minutes in normal mode and a little more 15 minutes in max mode. This is much more than on a Dyson V8 or V10 and it allows you to comfortably clean around 100 m² at one time, more if you are equipped with a breathing machine who will have sided the work. Roborock has particularly worked on this point and has chosen to equip his H6 with a Lithium Polymer battery, the very first on a stick vacuum cleaner.
Compared to Lithium ion batteries, LiPo batteries have many advantages:
weight / power ratio: for the same power, they are much lighter, which allows the H6 to be particularly manoeuvrable and to weigh only 1.43 kg.
constant power: they have no discharge stage (no Peukert effect) and retain all their power during use. Concretely, you will have the same power at 100% load as at 20%.
lasting power: you know, batteries erode and lose their efficiency over time, sometimes quickly. The Roborock H6 Lithium Polymer battery retains 85% of its power after 600 cycles, that's huge!
Full battery charge takes 4 hours, which is quite long, but quite in line with the sector average given the significant autonomy offered.
The Roborock H6 Lithium Polymer battery retains 85% of its power after 600 cycles, that's huge! The Alexians
Noise level, the Roborock H6 does not shine with its silence, but how can you blame it for a powerful vacuum cleaner? Silence is indeed rarely a quality of these devices and our measurements are still quite reasonable since we noted 70 dB (A) in economy mode, 74 dB (A) as standard et 84 dB (A) at maximum power. Note that our measurements were taken above the device, at 1 meter, with the nozzle which is far from being the quietest because the suction is done on a very small surface.
Now let's see what the accessories are ...
Many accessories
This is one of the characteristics of high-end vacuum cleaners: they are generally delivered with several essential accessories. Roborock has understood this and offers a plethora of accessories on his H6. We have received the "Europe package" which offers no less than five! And, the least we can, is that there is everything you need ... Or almost.
A rigid pipe
This is the base, you will tell us, but know that the H6 comes with a rigid pipe. Lightweight, it is 75 cm long et clips very easily to the various accessories intended for it. You will notice two pins which allow, you can imagine, to supply the elements which require it.
Motorized carpet brush
It is the most voluminous of the packaging, the one that you will probably have to use the most. It measures 29 cm long connection included. The brush part is 25 cm long for a width of 10 cm. Made of good quality plastics, it lets us easily observe the scroll. This is practical because it allows you to see if something is blocked, but especially to know at a glance which brush we are dealing with, Roborock offering a second type brush. "Fluffy" for the most fragile soils - not delivered in the European package, but which you can purchase separately if necessary.
Turning it over, we see that it is composed of a roll with two types of hair : black soft and hard white. In addition to two wheels placed at the level of the handle giving it perfect stability, the brush is also equipped with two small wheels to protect your floor from possible scratches and rubber slat allowing nothing to be left on the way.
We are indeed faced with a brush intended for rugs and carpets which, thanks to its two rows of hairs with very different characteristics, will be able to deeply unclog dust. Well designed, it is easy to extract thanks to a cap that can be unscrewed with a screwdriver, or even a simple coin.
With its own motor with a power of 50W animated by the depression created by the main motor, this brush is formidable and fills the tank at speed V. We therefore realize that, although efficient, our robot vacuum cleaners are not yet able to do such a job. and that a stick vacuum cleaner is definitely a perfect complement.
Finally, like robots, this brush has a sensor. Placed at the level of the engine, it allows detect rugs and carpets and thereforeautomatically increase the suction power. Once returned to hard ground, it returns to normal immediately, which saves energy.
A mini brush
Fortunately Roborock has not forgotten the mini brush, a really practical element, not to say essential on a stick vacuum cleaner. Very similar to the one found at Dreame or Dyson, it allows you to clean cars, sofas or mattresses. Combined with the filtration system, it is very useful for hunting down mites and removing the dead skin they are fond of.
The mini-brush can be used to clean cars, sofas or mattresses. The Alexians
Nozzle, dust brush and flexible hose
We obviously find the most traditional accessories: nozzle et dust brush. Comes with a very practical flexible and extendable hose, they make it possible to make dust everywhere. Every element has its interest and the whole point of the Roborock H6 is a truly complete stick vacuum cleaner.
[…] The whole point of the Roborock H6 is a truly complete stick vacuum cleaner.The Alexians
Finally, we find a wall mount. Once again very well designed, we expected no less from Roborock, it serves both as a charging base and allows you to hang or unhook accessories with one click. A place is provided for each and no one will therefore drag on the ground. The big advantage, you will understand, is to avoid losing them and looking for them everywhere. Who has never looked everywhere for his nozzle? Note, Roborock should offer a support to pose, a kind of foot which will be fixed under this support. This is very clever because not everyone wants or can not drill through their walls, especially tenants ...
The wall bracket serves both as a charging base and allows you to hang or unhook accessories with one click. The Alexians
420,00€
In stock
Refurbished from 1
August 13, 2022 9:50 a.m.
Roborock once again makes a remarkable entry into the vacuum cleaner market! After having proven its ability to produce some of the best robots on the market, the Chinese brand is now tackling that of stick vacuum cleaners and directly competes with the industry leader, Dyson, and its top of the range V11. Just as efficient as the latter, the Roborock H6 is in every way a success. Its light weight gives it great maneuverability for exceptional user comfort and its ergonomics are truly remarkable. Thanks to its OLED screen, you always know how much autonomy you have left and when it is necessary to clean your filtration system. In conclusion, we can only advise you to acquire this model which, at

price of 399 € on Amazon. Fr

, has shaken up the market for stick vacuum cleaners and put an end to the preeminence of the English giant. The Roborock H6 is, for us, the ideal complement to a robot vacuum cleaner… Roborock as long as it is! Available soon in Europe, we will be sure to notify you of its release.
Roboroch H6 - Stick vacuum cleaner
399€
Most
Very light (1.4 kg) and handy
Excellent suction up to 25 kPa
Multicyclonic system
Carpet and rug detection
A very practical wall mount
The lessers
A bit small but easy to empty dust container
A little noisy but it's a vacuum cleaner!
Optional fluffy brush