In the eternal quest for best robot vacuum cleaner, our eyes often turn to China. It must be said that the heavyweights of the sector, the American iRobot with its robots eponymous and German Vorverk under the brand Neato, got bogged down in patent wars and somewhat forgot the basics in a booming sector: innovation. The Chinese, on the contrary, have nothing more than this word in their mouths, and Roborock is the perfect illustration of this. Founded in 2014 by Richard Chang, the company is still a young first, but it continues to succeed by relying on an R&D team of more than 200 people who is constantly innovating. After the very successful Roborock S5 Max, the Chinese firm recently surprised again with the new and last iteration of its S6: the Roborock S6 Max V. a robot doped with artificial intelligence that we presented to you not long ago and that we have since sifted through for over a week ... Let's see what's in it.
€604,36
In stock
5 new from € 604,36
January 21, 2022 13 h 00 min
1 332,38 €
In stock
Refurbished from 1
January 21, 2022 13 h 00 min
Roborock S6 MaxV: you have beautiful eyes, you know?
This is the brand's promise: the Roborock S6 MaxV would be a smart robot. Well, almost, but much more than his elders of which he takes more or less the same presentation ...
Unboxing and presentation
Supplied in a compact, white cardboard box of beautiful craftsmanship, the packaging features on its front face a robot with a familiar design all dressed in black. Its provenance is not in the slightest doubt: it is indeed a Roborock. Only available in black, for now anyway, we nevertheless notice a difference compared to previous models: a two-camera module.
At the opening, we find the standards of the brand and a familiar layout that we will spare you from describing this time to dwell a little on its eyes ... Well, on its two cameras, but for a robot it's just like! Circular in shape, the Roborock S6 Max V doesn't revolutionize the genre, but being a proven and effective format, why complain? Her metallic black dress is sparkling and looks great on her.
"Her metallic black dress is sparkling and looks great on her. " The Alexians
We find, on the upper part, the now traditional Laser rangefinder. Also called LDS for "Laser Detection System", this PreciSense ™ LiDAR allows the robot to accurately map its environment and move around even in the dark. Flocked with the brand's logo, its streaks reflect a beautiful iridescent light.
Three buttons accompany it: one for localized cleaning, one for on / off which can also be used to launch a complete cleaning cycle and the traditional button dedicated to returning to the station. Perfectly assembled, they are both discreet and very practical. Three stripes, which are reminiscent of the gills of a shark, break the monotony of the design and give it a touch of aggressiveness. the Roborock S6 Max V will it make short work of its competitors?
Just below, on the edge, are revealed to our amazed eyes its stereoscopic camera. Why stereo? Without a doubt so that he can see better. Maybe to widen his field of vision? More probably for night vision, but we have no answer on this subject ... Anyway, they give it a very special look and propel us more than ever into the world of robotics. But, this time, it's not science fiction ...
Registration ReactiveAI ™ leave no doubt, we are propelled into the era ofartificial intelligence. An AI whose goal is clearly explained: the recognition of obstacles. But also everyday objects, such as animal excrement, weighing scales or shoes lying around, we will come back to this. A technology implementing a convolutional neural network trained on tens of thousands of images and animated by a Qualcomm® APQ8053 processor that the brand claims to be 50% more powerful than that of the S6!
Let's continue with the owner's tour. In addition to two cameras and a laser rangefinder, the Roborock S6 Max V has many sensors. Numbering 14, just that, they mostly take place under the robot. These are the famous anti-fall sensors which allow him in particular not to run down the stairs, but not that ...
A last takes place on the right on the edge: the proximity sensor. It allows the robot to follow the walls with great precision and not to come and scratch your great-grandmother's sideboard, or more likely your last IKEA piece of furniture, but also to spot her charging base for the final approach before loading. Yes, each sensor has its own interest!
With the beast returned, let's take a look at the other elements. We therefore find two driving wheels, as always, as well as a small omnidirectional wheel bordered by the power spindle. This has a good travel which will allow the robot to overcome obstacles up to 2 cm.
"[…] Good travel that will allow the robot to overcome obstacles up to 2 cm. " The Alexians
Next to the right wheel, as always with Roborock, takes place the side brush. The same design as those of its predecessors, it has 5 blades and is one of the brand's signatures. Developed in collaboration with DuPont, a pioneer in plastics and polymer materials, this unique piece allows the vacuum robot to dislodge the most stubborn dirt and benefits from several rotation speeds adapted to the type of floor up to 1350 rpm. A priori, everything suggests that it will be as effective as on the S4, S5 Max and S6.
Le central brush is also identical to that of the S6, or even the S5 Max, difficult to judge because the difference is played mainly at the level of the density of the hairs which seems to us quite identical. If you already have a Roborock S6, you will be able to keep its accessories to use them on the S6 MaxV, they are the same.
This brush takes place in a housing identical in all respects to those of the brand's other high-end products with a seal perfectly achieved by a silicone gasket. As we keep emphasizing, this is one of the elements that makes the difference with lower-end robots such as the Xiaomi Mi Vaccum Mop P STYJ02YM, because this more expensive design prevents energy loss. A suction power that Roborock has also increased to 2500 Pa, 25% more than on previous models. We will see if this is felt in practice.
"Suction power increased to 2500 Pa, ie 25% more than on previous models. " The Alexians
We are also familiar with the dust container. Of a 460 mL capacity, it is not the widest but remains in the average of the sector. It is the same as on the Roborock S5 Max. Sadly, once again, no anti-return tab and nothing obstructs the inlet opening, so be careful not to overturn it when removing it.
We find, with pleasure, another system borrowed from the S5 Max: a large volume water tank. Of a capacity of 290 mL, it allows several parts to be washed without having to recharge it, this is excellent news, especially as the electronic management of its peristaltic pump (or roller pump) offers us the choice between 3 water flow rates: low, medium, large. The brand announces that it will clean a 70 m² apartment more than 3 times or a 240 m² house In one time.
Finally, we find the charging base. More compact than that of the S6, it is unfortunately devoid of cable cover. It's a bit of a shame, we must admit, especially on such a high-end robot. Fortunately, Roborock thought of fitting the cable with a Velcro. It's already that.
The other accessories are surprising, as you can see. We reassure you, it is unlikely that the normal package will be composed in this way, but we appreciate the attention of Roborock who provided us with plastic poop so that we can fully test this promising robot vacuum ...
Also note that the robot is only supplied with a single mop, but all the same a HEPA filter spare accompanied by the traditional instructions for use and technical characteristics… Here it is!
Information
Brand:
Roborock
Model:
S6 MaxV
Drums :
5200mAh Li-Ion
Aspiration:
2500 Pa
Dimension:
35 cm x 35.3 cm x 9.65 cm
Weight:
3.67 kg
Autonomy:
200 minutes (in silent mode)
Loading time :
less than 6 hours
Remote control:
app and voice control
Charging station :
dock type
Accessories :
HEPA filters x2, brushes x1, dust container x 1, mop x 1
Dust container:
460ml
Water reservoir :
290ml
Connectivity:
Wi-Fi IEEE802.11 b / g / n 2.4 GHz
Other:
Cleaning tool x1 and user guide
Roborock S6 Max V: a finally intelligent robot vacuum cleaner?
That's it, here we are: here is the Roborock S6 MaxV review. After a promising discovery, let's see what this famous stereoscopic camera and, above all, the associated ReactiveAI ™ artificial intelligence will bring us. But before that, let's proceed with its installation.
Installation on the Roborock application
"The home screen is similar to that of other robots of the brand, the interface is still simple and intuitive. " The Alexians
It is with pleasure that we find the Roborock app. Once again, it couldn't be easier than installing this robot. From launch, it is indeed automatically detected, so just click on it, enter your Wi-Fi credentials (2.4GHz only) and let's go. Our smartphone connects to the device and transmits everything to it before it performs its installation.
One minute later we can use the S6 MaxV. Once again, this frictionless installation procedure commands respect and we can only commend the brand for it. Note, moreover, that nobody has NEVER told us of any problem at this level, it is rare enough to be underlined.
The home screen is similar to that of other robots of the brand, the interface is still simple and intuitive.
At the top right, a small "+" allows you to add different models,
In the center, finally, you can enter the heart of the beast and access all the settings of the S6 MaxV.
At the bottom, a navigation bar provides access to the space Notifications, To thecentral screen, or your User profile.
Let's go a little into the robot's settings where we find a screen that is rather familiar to us with in the center the map of our home and the main functions of the robot.
Three areas are displayed at the top: "Cleaning area" with the cleaned surface in m², a gauge of "Remaining battery" and "Cleaning time".
In the middle, you find the map. This will only be recorded after a first complete cleaning of your accommodation. Let the robot do it, it's a bit long, but essential.
Below, a second pictogram is used to select the suction power delivered by the Roborock S6 MaxV (delicate, quiet, balanced, turbo or maximum) and the water level (a little, a lot, madly, not at all), but also to customize the default settings for each room. And that, we will see, it is simply brilliant!
Below the map are three options: " room " which allows you to send the robot to a particular room, " all " which starts an automatic cleaning and leaves the robot free to do as it sees fit, "Zone" to select the perimeter of your choice.
At the bottom, finally, two big buttons allow you to send the robot to recharge or start and pause cleaning.
Top right, take place the classics three small dots allowing you to access the robot's advanced parameters.
Dance « vacuum cleaner settings« , various options are offered such asmapping recording, saved map mode (beta) which makes it possible to modify a plan or floor (creation of invisible walls or prohibited zones, etc.), Indicator light to deactivate the robot's LEDs when it is parked (it is better), the Carpet mode (for more powerful suction on carpets and rugs, etc.), the time zone setting, NDP mode for " do not disturb ", Car where you can program automations, Accessories and maintenance which informs you about the usage time and the remaining life of the main parts of the device, the remote control which serves to transform your smartphone as a remote control and control the robot, and finally an option to locate the robot if it got lost in your 800 m² or more likely if you can't find it because it got stuck under a bed, for example. You can finally choose the robot tongue, set the volume of his voice (rather high to the max, moreover) and carry out any firmware updates.
Roborock S6 MaxV: artificial intelligence at the service of everyday life
Now let's get to the heart of the matter: artificial intelligence. You will see, she may not change everything, but she truly brings a very big plus...
Navigation: excellence has a name
We already said it in our last S5 Max test, if there is one thing that sets a Roborock apart from another robot vacuum, it is its navigation. In this area, the brand excels, and the Roborock S6 Max V is no exception to the rule. The alliance of technologies PreciSense ™ et ReactiveAI ™ does not take long to be felt: its cartography is millimeter and its movements formidable.
"The alliance of PreciSense ™ and ReactiveAI ™ technologies is not long in being felt: its mapping is precise and its movements formidable. " The Alexians
Movements also a little different from many of its congeners since the S6 MaxV performs them lengthwise. A technique that allows it to be even faster by limiting turns, which saves it precious time. Add to this the highly visible contribution of the camera and we are no longer very far from perfection. Because yes, this stereoscopic camera and the associated AI really bring something.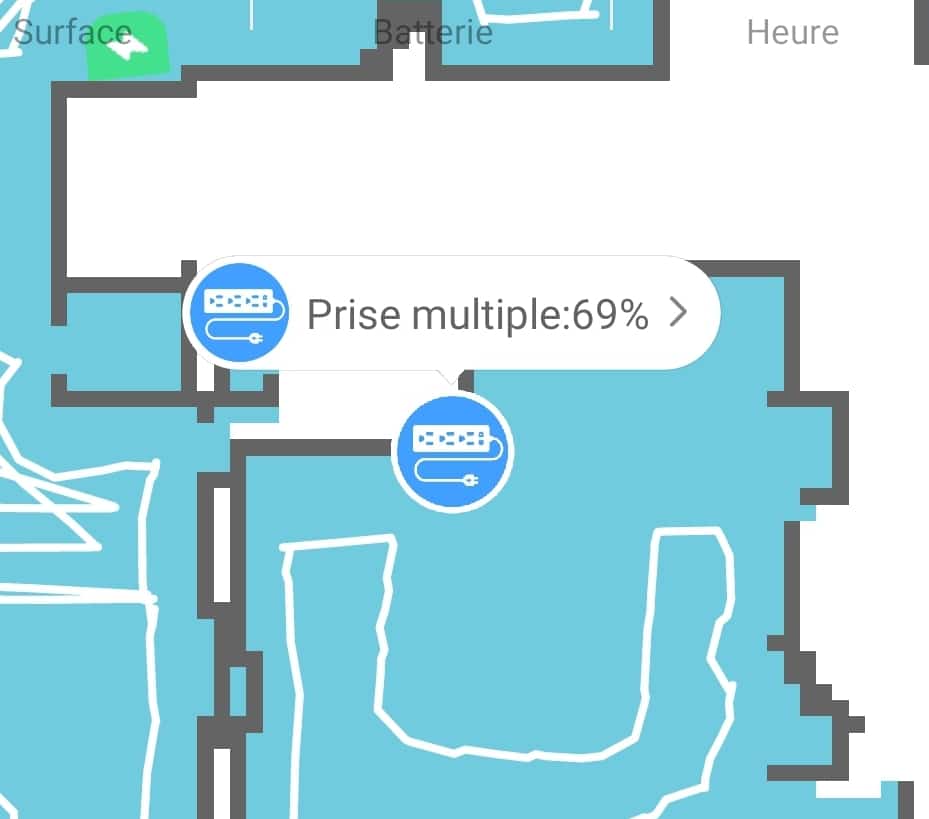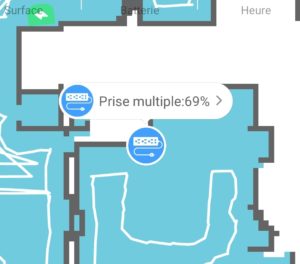 The robot anticipates objects much better that he is brought to cross. We tested it by moving them around and putting them in its path: it is almost never wrong and, unlike its predecessors, it will bypass them long before it gets to their level. Able to identify them thanks to his neural network, he labels them if he has learned them well and that they are more than 5 cm wide and 3 cm high.
The label says a percentage of ID reliability that we've never seen reach 100%, with the S6 MaxV probably lacking in self-confidence because, let's face it, he's pretty good at this little game.
We only trapped him with a pencil, but we were unaware of the size limits at the time, although he seems able to exceed them in the future since he was able to avoid our Aqara Cube 4.5 cm ridge several times - even if he identified it as a power strip.
The multiple sockets that he can easily identify, as well as cables, light fixtures, but also animal excrement. Whether it is placed in the middle of a hallway in the dark or in a corner, he will never have tried to crush our plastic poop that he has always labeled for what it is… Bravo!
Note that we received this robot very early, before its commercialization, and that Roborock continues to teach it many things. Like any AI, that of the S6 MaxV is therefore called upon to progress over time. Moreover, we have already noticed progress which testifies to its rapid capacity to adapt and to a real learning process.
In the event of an error, it is possible to ignore the identification and indicate to the robot that it was wrong so that it can perform it correctly the next time. However, in practice, this has a major advantage: the robot has never been entangled in cables or other objects and has always completed its tasks by returning to the station without assistance. It's really comfortable because it allows you to fully rest on it.
Best of all, it's the only robot in the fortnight tested for a year that managed to climb on a soft mat and clean it without curling it into a corner. All robots usually hate him, and if he did start by having difficulty attacking him from an edge, he was able to identify the test that was before him and finally decided to attack it differently. We are awaiting confirmation from Roborock to tell you: it seems that he has chosen the best angle of attack since he never repeated his first approach. If this is indeed the case, we will be able to affirm it: here are the first signs of a true intelligence… which obviously remains artificial nonetheless.
"This is the first time we've seen so many application options on a 2-in-1 robot and it's just great, well done Roborock! " The Alexians
Further improved mapping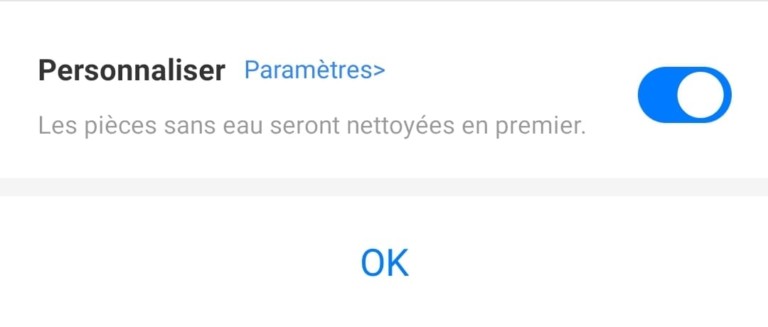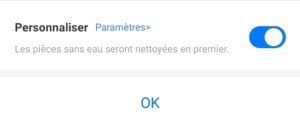 We greatly appreciated the application improvements concerning the mapping. On this point again, Roborock masters his subject like no other brand.
Sa multilevel mapping is easy to customize by modifying the automatic cutting in the application, and even by defining default parameters for each part that the robot will apply systematically unless there is a counter-order.
Another strong point, if it is possible to indicate the order in which to clean the parts, its automatic mode will lead it to respect an implacable logic: start with the parts that only require vacuuming and end with a passage through the mop. This will prevent it, in particular, from going with a wet wipe where it shouldn't be. Roborock has also created a mode called SnapMop allowing you to select a cleaning intensity according to the rooms: more water for the slightly oily kitchen, less for the laminate flooring in the entrance, for example.
This is the first time we've seen so many application options on a 2-in-1 robot and it's just awesome, well done Roborock!
More powerful and quieter suction
Let us come to a crucial point: the suction power. Capable of treating an area of ​​around 100 m² in one hour, the Roborock S6 MaxV now offers suction of 2500 Pa. This is a gain of 25% compared to the S6 and it can be felt in use: its efficiency is now equivalent to those of the best in the sector and in particular of the Deebot Ozmo 950 from Ecovacs. A very good point, even if it perhaps fills its tank a little quickly (460 mL against 480 mL for the S5 and S6). We have also noted better detection of carpets and rugs, a feature that can really be improved on the latest models, which is now rarely overlooked - except on certain thin and light rugs - although it is still not as precise as at Ecovacs . Tiles, on the other hand, are immediately recognized.
Regarding noise, here too the robot pleasantly surprised us. While we expected a higher sound volume due to a very similar design and more powerful suction power, it is not. Compared to the S6 that we had measured between 56.6 dB (A) and 71.4 dB (A) for the max mode, the new Roborock S6 Max V shows fairly similar results ranging from 60.2 dB (A) in delicate mode to 70 dB (A) in maximum mode, with 67.6 dB (A) for the balanced mode which is generally the most used. Note that if you activate carpet mode, the maximum power will be applied, although many will muffle the sound a bit.
Always a good autonomy
Just like navigation, autonomy is a point on which a Roborock never disappoints and the S6 MaxV is no exception to the rule. Always with a battery 5200 mAh lithium-ion, it displays almost the same performance as the S6 with 100 minutes of battery life in maximum mode, 120 minutes in balanced mode et up to 170 minutes in gentle mode. This is a little less than the 180 minutes announced by the manufacturer, but our measurements were carried out under conditions that we consider normal and not ideal: with different types of floor (parquet, tiles, carpet and rugs) and a tank full water attached to the back which by increasing its weight necessarily impacts its consumption. In short, it is more than enough to cover at least 200 m² at one time and it will suit almost all users. Otherwise, the robot will go to recharge itself anyway before finishing its cleaning.
Washing: notable and appreciable progress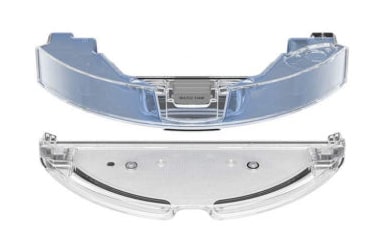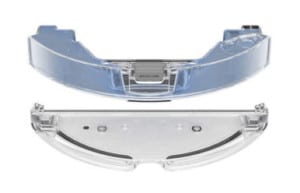 Like the S5 Max, the Roborock S6 Max V is equipped with the brand's new mop cleaning technology. Consisting of a 290 mL reservoir, double that of the S6, to which a cleaning plate is attached, the robot does seem to maintain effective pressure on its microfiber for a rather convincing wash.
However, like all 2-in-1 robots, this functionality can still be improved, but in the end it is doing as well, if not better, than those adopting the Y-cleaning method patented by Proscenic and that we find at Xiaomi or even Cecotec.
Sa peristaltic pump offers a good water flow that can be adjusted on three levels and the result is, all in all, quite honorable. Unless you design a system capable of rubbing by printing a movement with the mop as announced by Ecovacs on its Deebot Ozmo T8 AIVI to come, it is difficult to see how to do better.
As usual, the Chinese manufacturer does not disappoint and the
Roborock S6 Max V
undoubtedly marks the beginning of a
new era in household robotics
: that of artificial intelligence. Far from the gadget, it is a considerable contribution to the functioning of robot vacuum cleaners. Although still imperfect, the technology
ReactiveAI ™
is required to improve and give us ever more satisfaction over time.
€604,36
In stock
5 new from € 604,36
January 21, 2022 13 h 00 min
1 332,38 €
In stock
Refurbished from 1
January 21, 2022 13 h 00 min
Offered at a price of 649 €, the Roborock S6 Max V is without a doubt one of the best, if not the best robot vacuum cleaner on the market to date. The competition is fast approaching and he will likely lose his top spot quickly but, for now, it's the most convincing model in our eyes and by far our favorite. With a price that is still reasonable, Roborock strikes a big blow and consolidates its place among the market leaders. Well done!
Roborock S6 MaxV - robot vacuum cleaner and mop
€649
Most
Millimeter navigation thanks to PreciSense ™ and ReactiveAI ™
Excellent battery life of 180 minutes
A powerful suction of 2500 Pa
Perfectly handles all types of carpets
The lessers
A mop washing always perfectible (although in clear progress)
No cable cover on the charging base
Some errors of appreciation