When trying to figure out which robot vacuum cleaner offers the best value for money, one name often comes up: Roborock. The brand, although rather recent, is indeed more and more present and famous on the French market. This is why we wanted to present it to you and, above all, to test one of their models.
Roborock's offer is quite small and therefore very easy to read with two large ranges, each made up of two models: xiowa et Roborock. As you can imagine, the first is the entry level, the second the top of the range. It is the latter, which bears the name of the company, that particularly caught our attention and in particular their new model: the Roborock S6 robot vacuum and mop.
Following the success of the S5, the Chinese company quickly upgraded its star model with a brand new version that promises to be even more efficient. After the Proscenic 800T andEcovacs Deebot Ozmo 900, let's see if this Roborock S6 really deserves the popular enthusiasm it enjoys ...
545,99€
In stock
5 new from € 545,99
Refurbished from 6
August 13, 2022 8:51 a.m.
480,00€
Not available
Refurbished from 1
August 13, 2022 8:51 a.m.
Roborock S6: a pleasant design, a careful design
A growing company
Before examining this famous Roborock S6, let's take a look at the eponymous company. Contrary to popular belief, this is not a brand owned by Xiaomi. Admittedly, the two companies are linked, the Chinese high-tech giant being in particular a shareholder and major client of Roborock to whom it subcontracts the manufacture of its own robots, but the manufacturer of robot vacuum cleaners is indeed an independent company.
Founded by Richard Chang in 2014, the Beijing-based company has more than 500 employees 40% of which are dedicated to R&D. Thus Roborock has in particularrobotics experts, that goes without saying, but also in artificial intelligence, which allows it today to excel in terms of navigation, one of its major strengths that we are just going to put to the test ... Available in more than 40 countries, including France and almost all of Europe, this robot specialist is undoubtedly a brand to watch very closely.
Unboxing the Roborock S6
First surprise, the Roborock S6 is provided in a rather compact white cardboard for a robot vacuum cleaner. Beautifully crafted, the latter presents on its front face the three colors available : anthracite gray, white and pink, or like our white and metallic gray model. A small patch allows them to be differentiated at a glance on the packaging, as well as on the side faces where the color is also repeated. The whole thing is accompanied by the logo of the brand, the model of the device, and four pictograms informing us of its main qualities: the speed of cleaning, the suction described as "lossless", presence of a laser rangefinder to map and possibility to mop.
At the back, the brand develops the main characteristics of its S6 by quickly explaining the technologies used. We have only one desire: to go further and discover this robot vacuum cleaner and mop that seems so efficient.
Very well arranged, the packaging reveals a beautiful robot supplied with a lot of accessories: the charging station of course, a power cable European type, a plastic plate on which the robot will rest, a water reservoir, two mops reusable cloths, a set of 10 disposable microfibers for the dirtiest places, an additional HEPA filter (the first is already installed on the robot), a set of 4 replacement filters for the water tank, and a multilingual user manual really very complete and perfectly translated. Unfortunately, no additional brush, but you will see that this is most likely due to the fact that the side brush should have a particularly long life due to its very design.
La charging base, also called dock, is particularly well designed since it contains the power supply and an ingenious system allowing you to hide the cable, but also a transparent plastic plate intended to protect the robot's parking place when the latter is equipped with its swab. Indeed, if you are already the owner of a vacuum cleaner, you may have noticed that they have an annoying tendency to lose a little water or to dampen their base and that it is better to remove it as soon as possible. . You can therefore leave with peace of mind and operate the Roborock S6 without fear during your absence.
The rest of the accessories are also very complete. In the case of a 2 in 1 robot, which will be able to wash in addition to vacuuming, the S6 comes with a small water reservoir of only 140 mL and a lot of two cloth mops. These are really good quality and their white color, although messy, does not clash with the rest of the device. the fastening system is ingenious and securing them perfectly is a snap.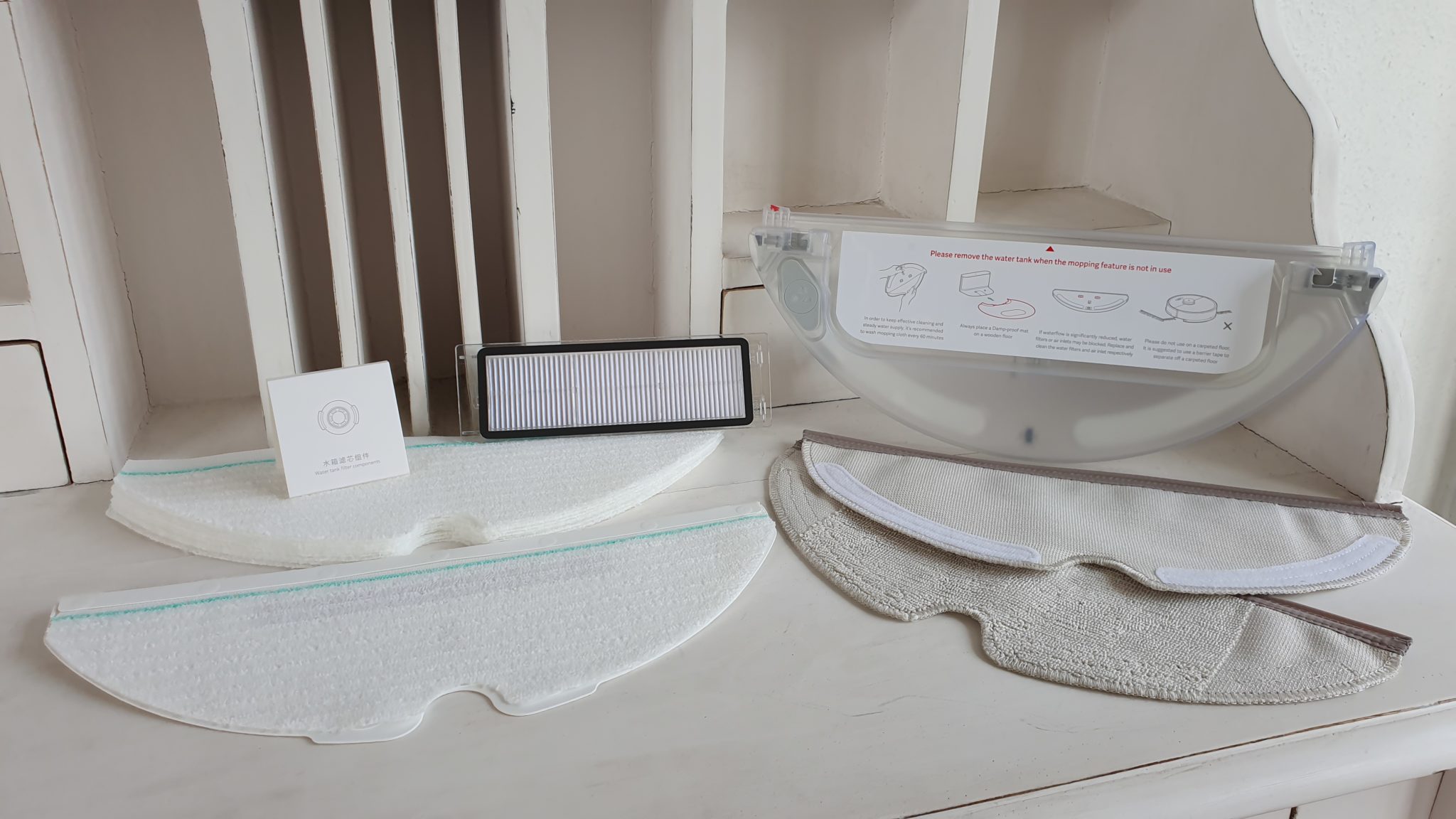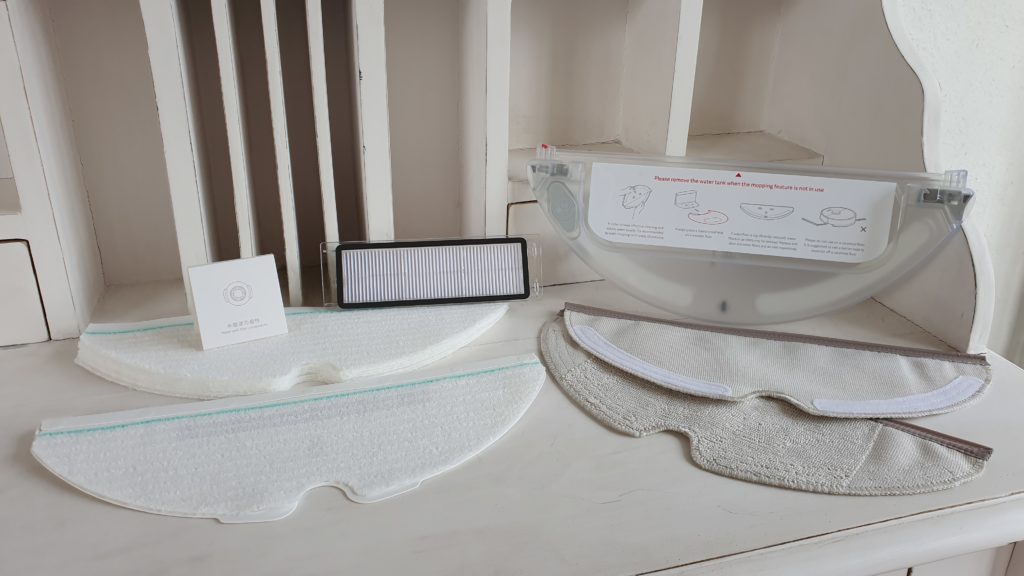 It suffices to slide the seam of the mop onto the tank starting from the small red indicator, and it therefore falls perfectly in front of the Velcro surfaces. It's smart and no risk of seeing the "rag" take the trunk, even if we must admit that we have never been confronted with the situation on other models before.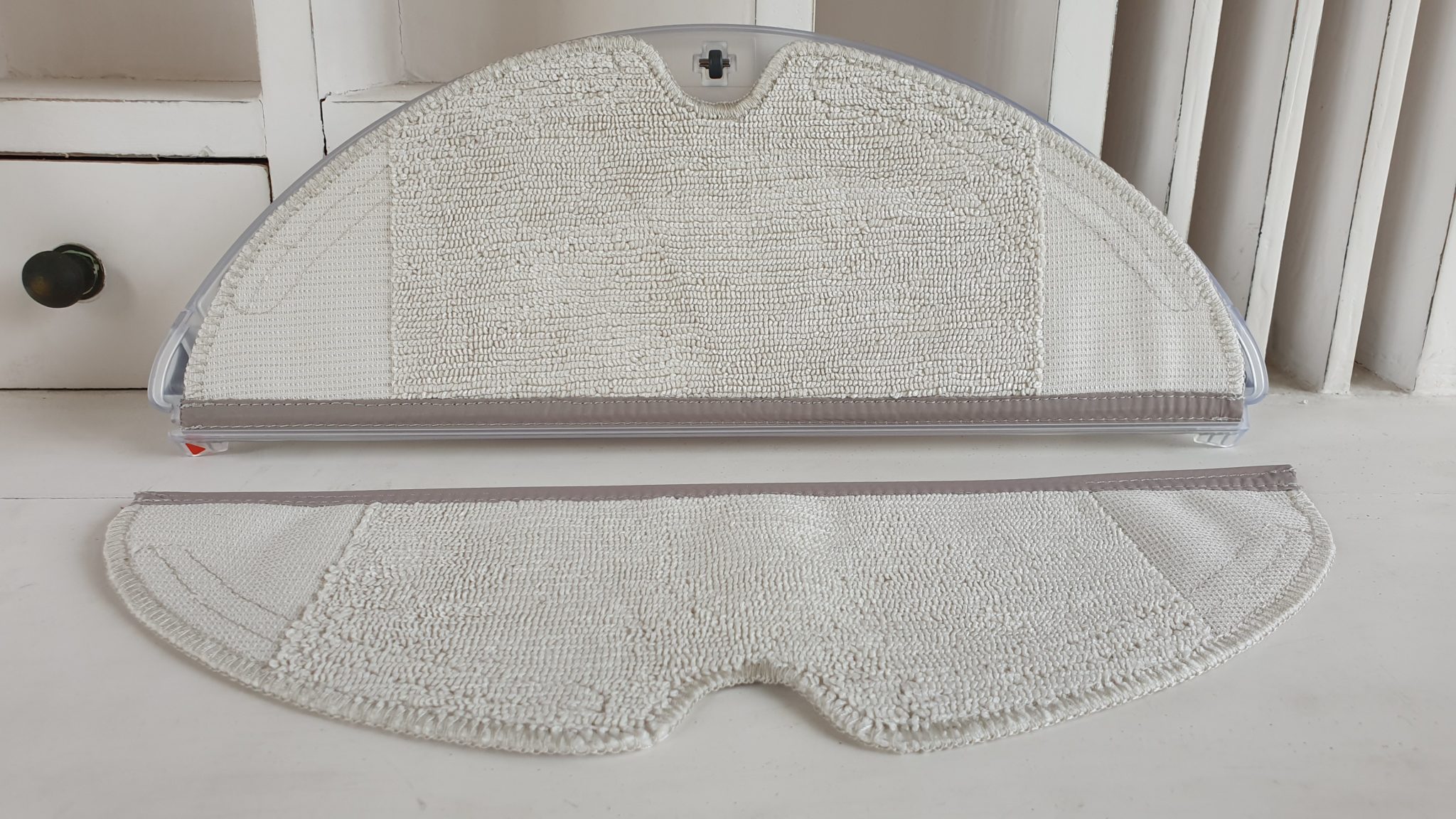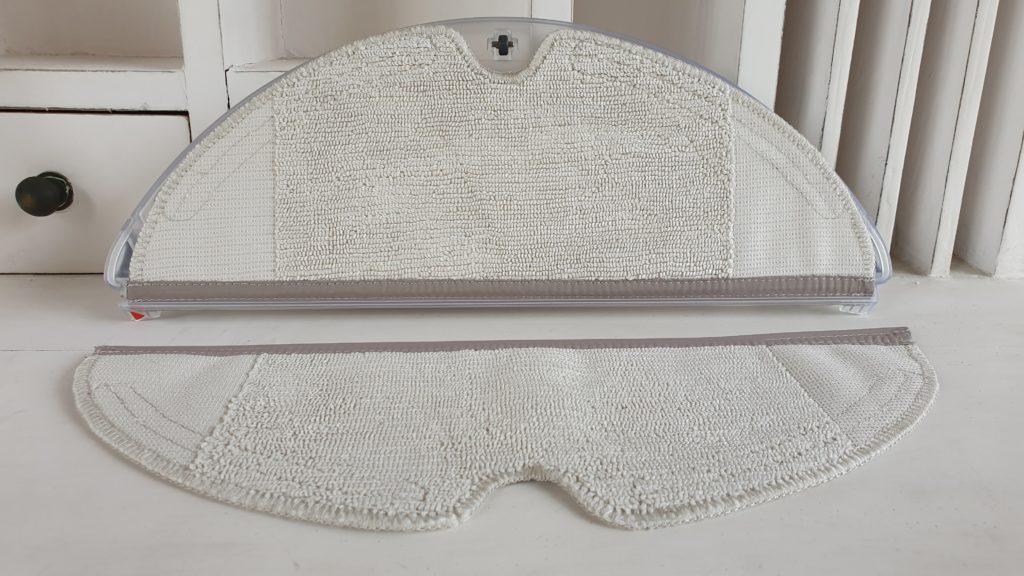 A small button allows you to choose the water flow : weak or important. Unfortunately, this one is only adjustable in this way and not via the app as on the Deebot Ozmo 900 or even Proscenic 800T. We'll see if it's still effective, but it would have been interesting to be able to do it from the Xiaomi Home app. Pity.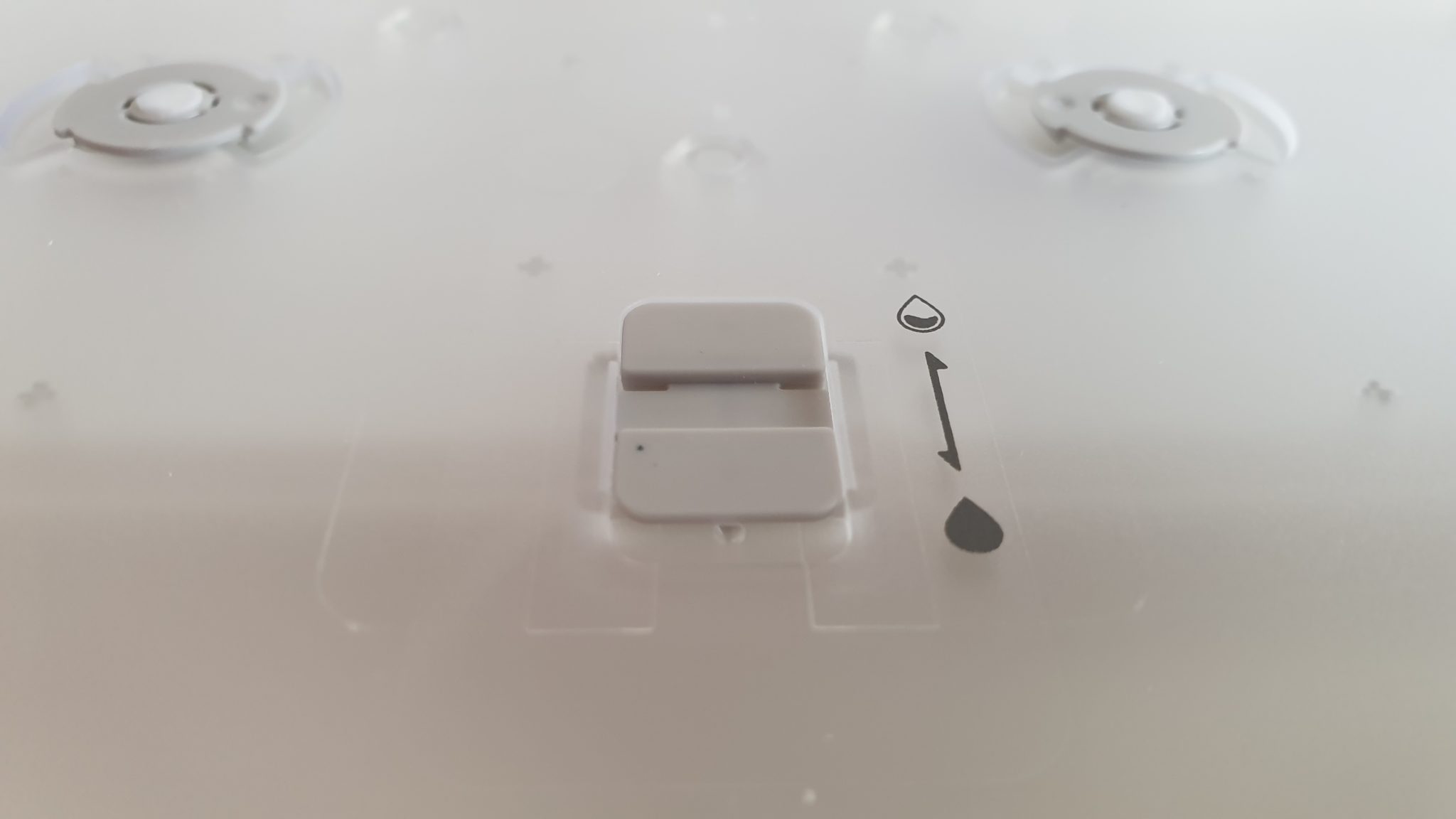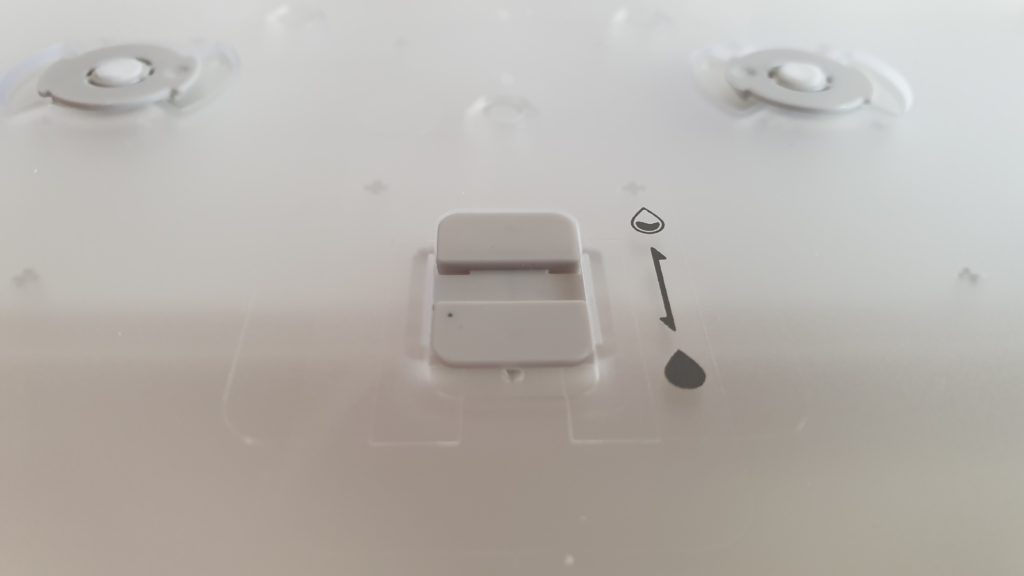 Surprise, Roborock thought of proposing a second method there as well thought out: a disposable microfiber system, which seems particularly interesting for vitrified floors which will thus be glossy, but also for surfaces which do not require a large flow of water, or even dry cleaning. These microfibers, which will not necessarily be disposable if you take the time to clean them, are attached to a plastic plate equipped with a system of "press" buttons and are inserted into the tank just as easily.
Okay, that's all well and good, but what about the Roborock S6 itself?
To begin with, it is a beautiful robot! His design is very successful, very balanced. Its bumpers, also immaculate white, just let appear two sensors (one frontal and one on the right side) and two ventilation grilles. In order to protect your furniture from possible collisions, a very discreet white rubber band is present on the front face.
Le Roborock S6 weight (3.6 kg) and its rather imposing dimensions (35 cm x 35.3 cm x 9.65 cm) suggest good performance. Indeed, being heavy is clearly an advantage for a vacuum robot, because it allows it to maintain good ground clearance, not to "bounce" off the roughness of the floor, and therefore to maintain good suction. In short, it is perfectly in the middle of the top-of-the-range models, that is to say a little imposing but too much, sufficiently heavy but without excess in order to be easily handled. It takes that to embed all the necessary electronics!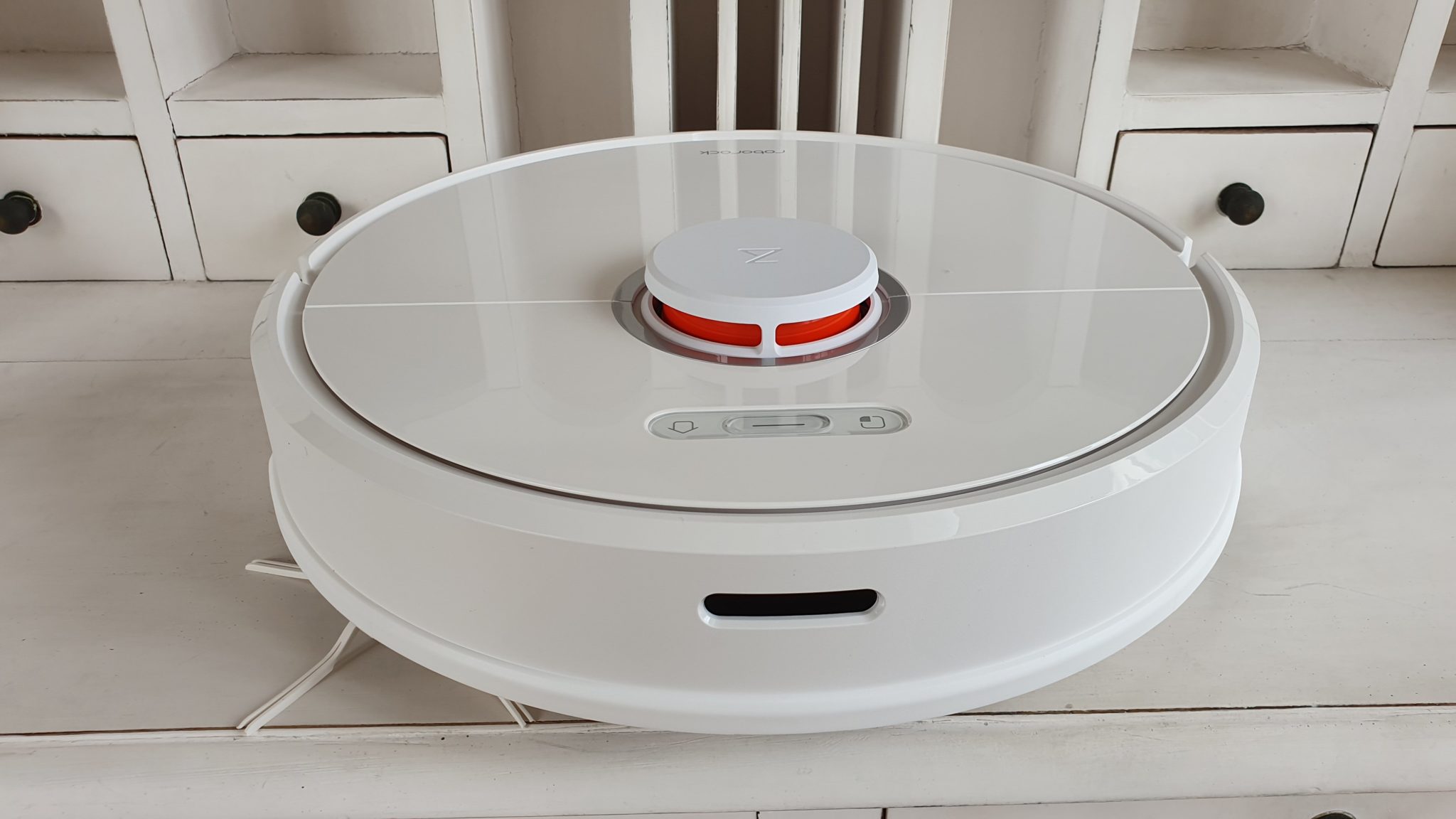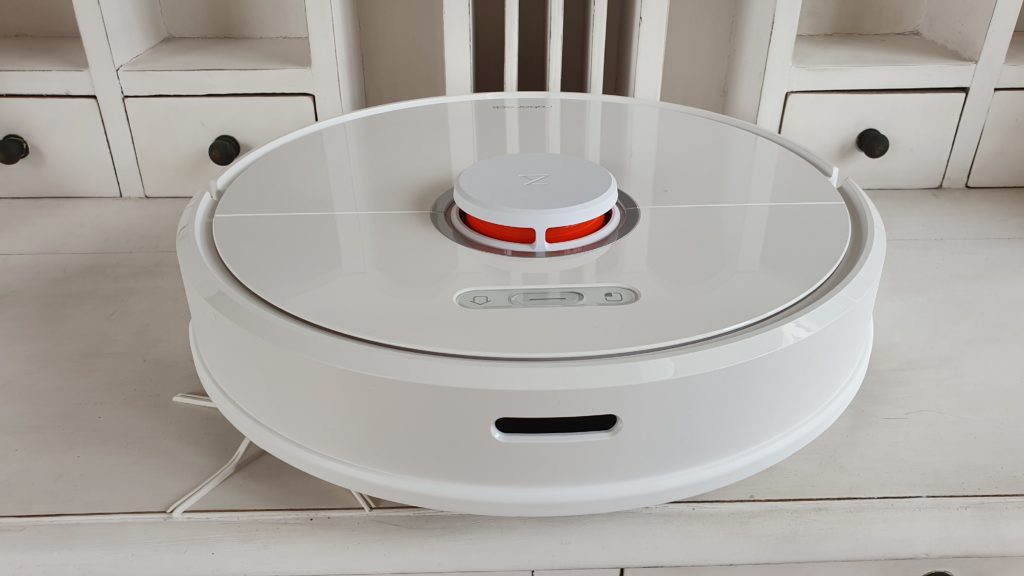 Shipping is Laser rangefinder, or Lidar, offset forward has the particularity of being red in color, probably for the sole purpose of breaking up the monotony of white. It's very successful and it allows you to better understand how it works. The latter is circled, with your choice, in gray or pink in its white version and has a discreet Roborock logo at its top. It's simple, efficient and elegant.
In addition, we find three very practical physical buttons : on / off which also allows to launch a automatic cleaning, a button of zone cleaning which allows the robot to clean a localized area of ​​1.5 m² before returning to its base (practical for small everyday accidents) and a button to give it the order to return to charge. A very good point because not all robots are equipped with one, and in the absence of a remote control, it is convenient to be able to launch the device without necessarily having to take out a mobile device to control it through its app.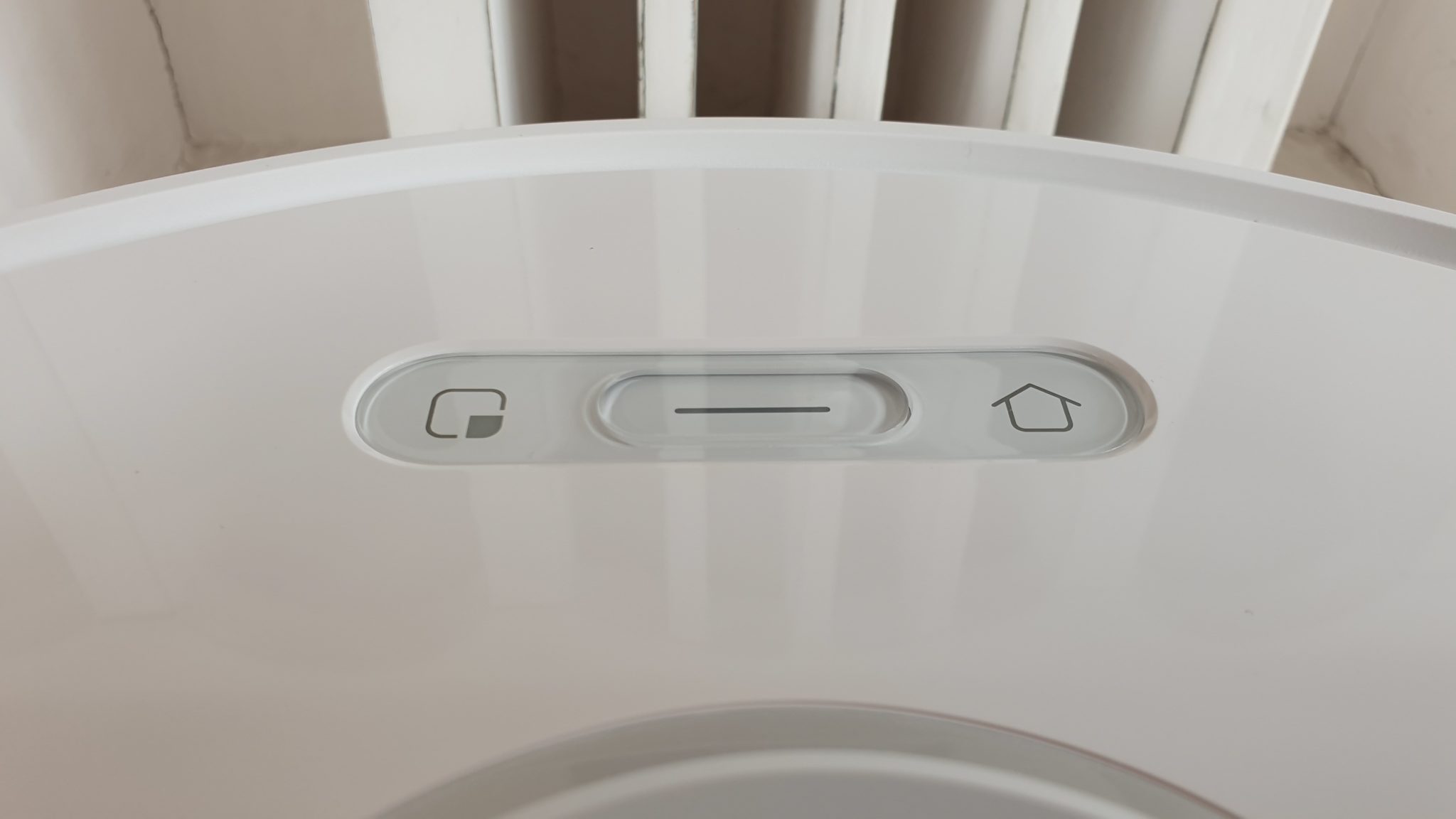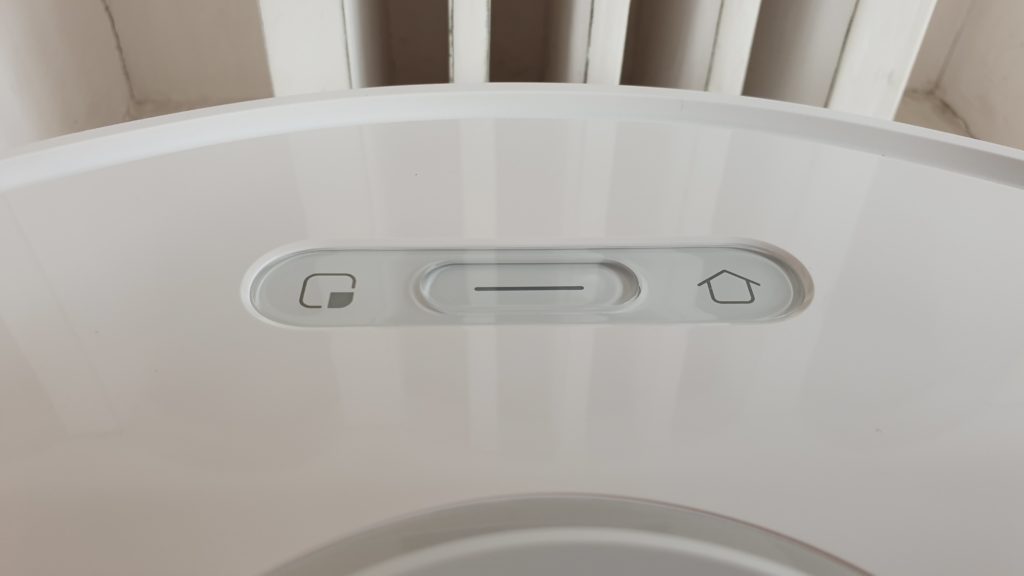 Before turning it over to get a better look at its seventeen sensors and two brushes, let's take a look at what's hiding under the hood. The latter opens very simply and does not seem fragile. Another good point.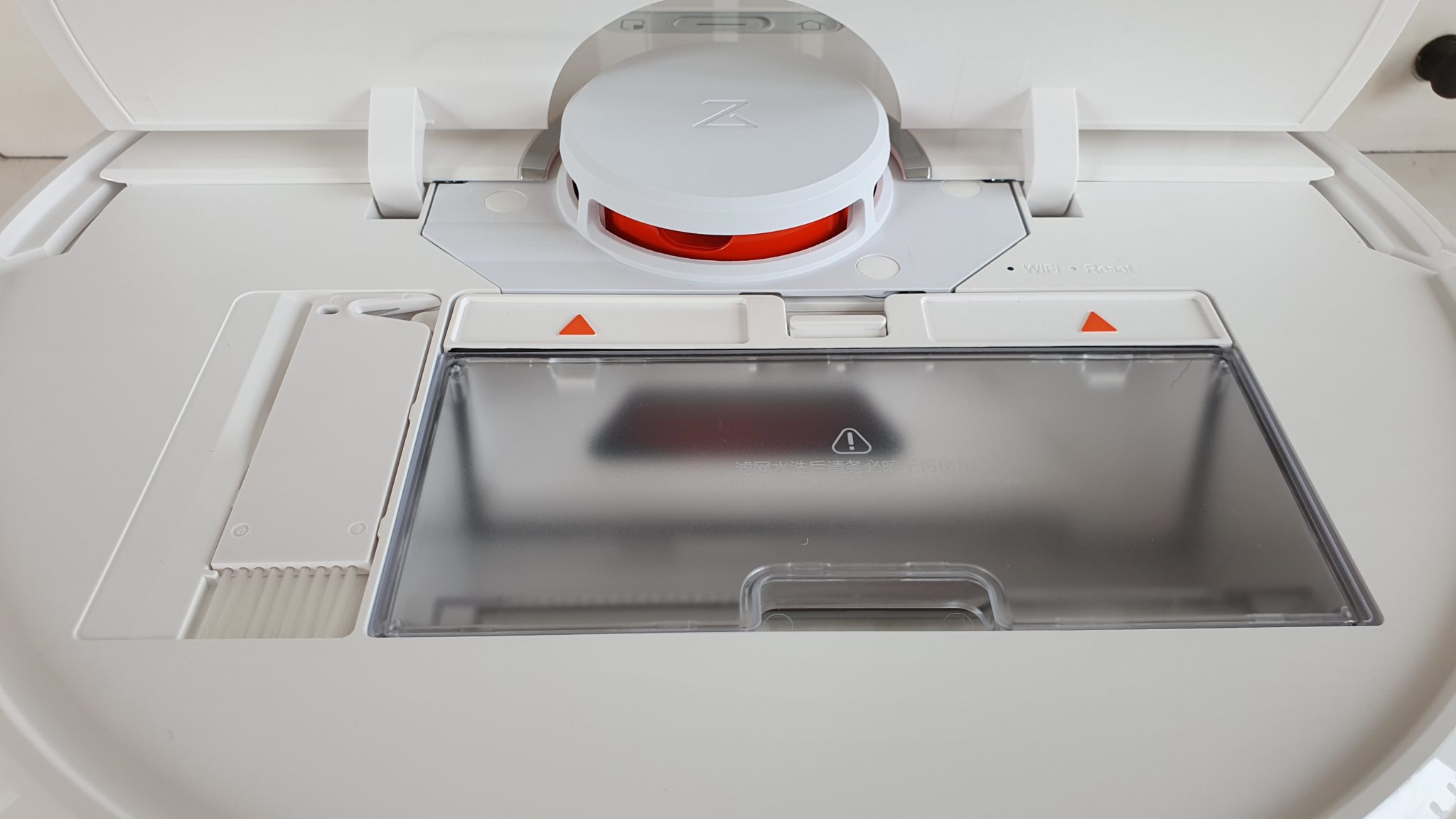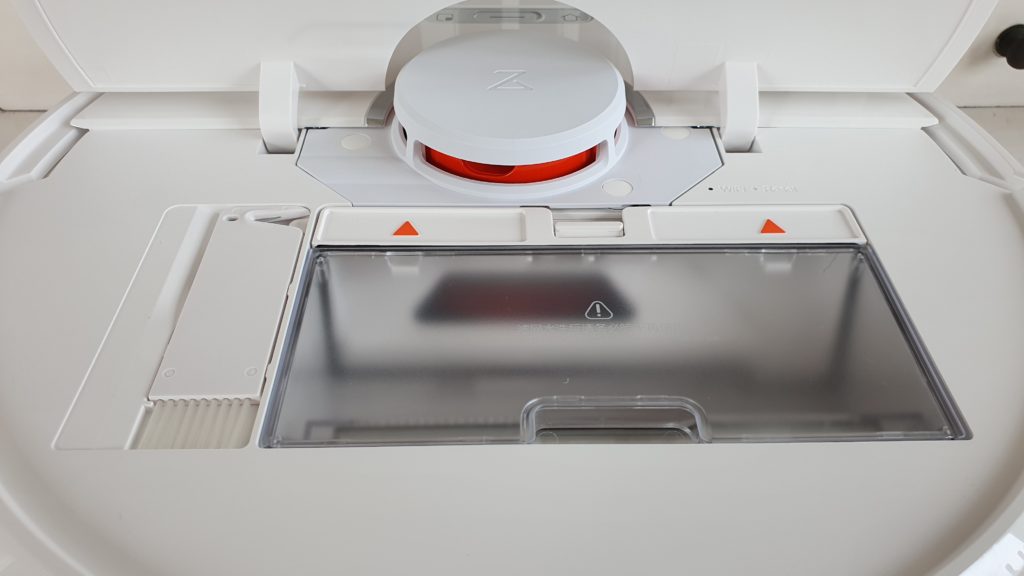 Unsurprisingly, we find a dust bin like the Deebot Ozmo 900, with the difference that this one does not have a handle. Nevertheless, its removal is really done without the slightest difficulty, since it suffices to pinch two buttons mounted on springs and lift it.
A capacity of 480 mL, it has a capacity as well as a design quite similar to that of its competitors, integrating a HEPA filter, the opening hatch and inlet port not closed. It will therefore be necessary to take care not to transport it anyhow for fear of seeing the result of its work reach the ground again. We will also see there in use if this is problematic.
The classic small cleaning brush supplied with all robots and fitted with a cutting part is placed in a dedicated location under this cover: a great idea which can prevent you from losing it or simply looking for it each time you clean it.
The contact between the dust container and the suction mouth seems to have been particularly worked, just like all the joints. Siliconized or provided with rubber, their assembly is meticulous, which suggests that 2000 Pa suction will suffer little or no loss.
You will also see the brushes that we will detail after a quick tour of the composition below the Roborock S6.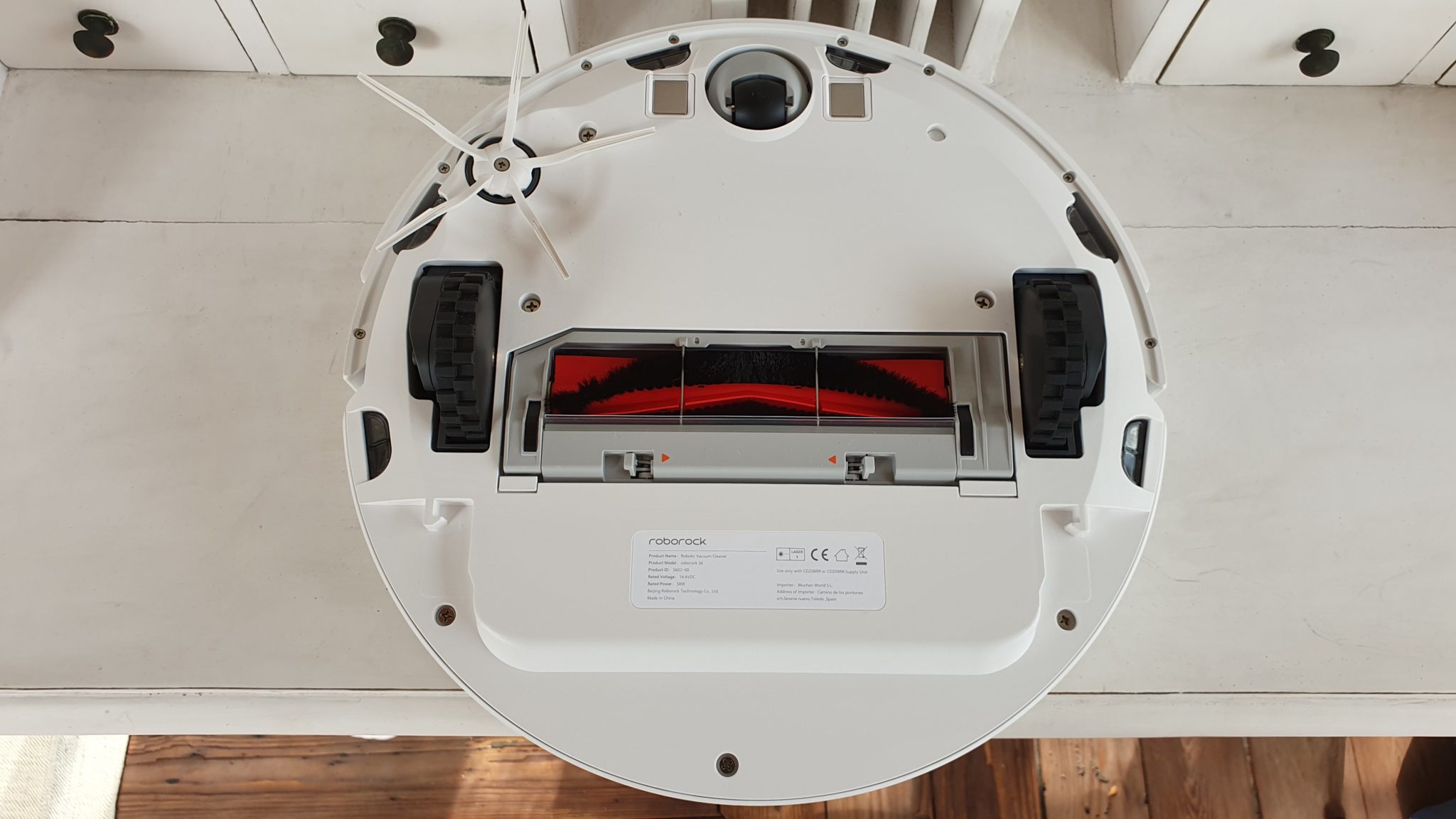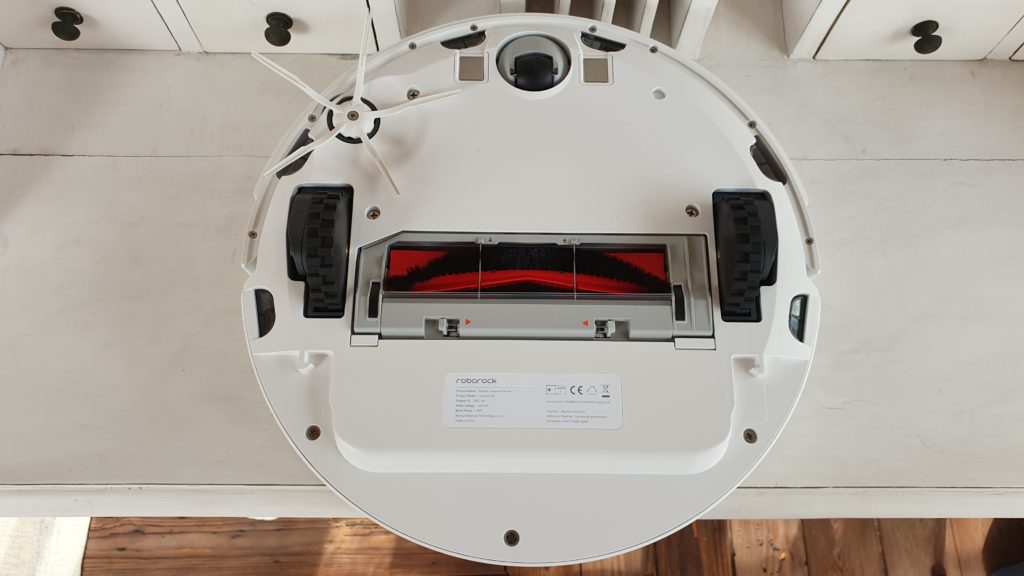 Under the device, the design is not surprising, it must be admitted that the robots all look more or less from this point of view. So we find six so-called "cliff sensors" (anti-fall, but not only, these also allow the robot to adapt its height to overcome obstacles), two rubberized notched wheels rather wide and benefiting from a significant clearance. Roborock claims that his robot can climb obstacles over 2 cm high and slopes with an inclination of 25 °. It promises ! However, we found them a bit noisy and more fragile in appearance than those fitted to Ecovacs robots.
As with the latter, precisely, the Roborock S6 presents a central V-shaped brush with both plastic lamellas and bristle lines with good density, which gives hope for good efficiency on all types of soil. It is easily removed by pressing on the small buttons with springs of its cover which has, as on the Ozmo 900, two metal rods preventing the robot from sucking up threads, socks lying around or other unwanted objects. for a robot. Finally, a thin transparent plastic blade allows the robot to maximize its contact with the ground and collect the last dirt.
Its only side brush, located on the right when the robot is normally placed on the ground, is unusual. Endowed with five branches and not three like on its predecessor the S5 / S50, it is made of flexible plastic and has been the subject of a unique development for Roborock. Created by DuPont, a pioneering company in plastics and polymer materials which notably invented Neoprene, Teflon or even Kevlar and Lycra, this unique piece allows the vacuum robot to dislodge the most stubborn dirt and also benefits from rotation speeds adapted to the type of floor. With a density improved by 250% compared to the Roborock S50, it performs rotations up to 1350 rpm! We will not see it in use, it happens that it simply stops rotating to avoid being damaged, or because the coating is not suitable (thick carpet for example). In addition, a dismantling showed us that it benefits from mini brushes at its axis to avoid being blocked by fine threads, long hair or other hairs, sworn enemies of robots.
For those who want to go further, here is the traditional summary technical sheet ...
Roborock S6 Datasheet
Brand:
Roborock
Model:
S6
Drums :
5200mAh Li-Ion
Aspiration:
2000 Pa
Dimension:
35 cm x 35.3 cm x 9.65 cm
Weight:
3.6 kg
Autonomy:
150 minutes
Loading time :
3 hours
Remote control:
app and voice control
Charging station :
dock type
Accessories :
HEPA filters x2, brushes x1, water tank x 1, dust container x 1, mops x2, microfiber plate x1, microfibers x10, 4 water filters
Dust container:
480ml
Water reservoir :
140ml
Connectivity:
Wi-Fi IEEE802.11 b / g / n 2.4 GHz
Other:
Cleaning tool x1 and user guide
Roborock S6: the strength of the Xiaomi Home ecosystem
An extremely simple installation on Mi Home
The Roborock range, due to its partnership with Xiaomi, is fully integrated into the Mi Home home automation ecosystem. In other words, users of brands Aqara, Mijia or Yeelight will be delighted to be able to also use their robot with their favorite application. This is undoubtedly an advantage for Roborock, especially since, as you will see, the installation is incredibly simple!
Indeed, once your brand new Roborock S6 is on, you just have to launch the application so that it is immediately detected! Yes yes, no need to go to a menu or even enter an SSID and a Wi-Fi key if you are already using the application, Xiaomi Home instantly offers you to add it with your other devices and suggests your router with its credentials.
But how the hell is that possible? Via the ZigBee of the Xiaomi or Aqara bridges? Clearly, no, we were far too far away and beyond our reach. gateway Aqara during this test. We therefore suspect that this is a Bluetooth detection via our smartphone.
In summary, the Roborock S6 is therefore proposed to you when opening the application and you are simply invited to select your router, then to connect it, then to assign it a name and finally a room. Everything is done in less than two minutes as evidenced by the catches. This is unheard of, it's remarkably well thought out and absolutely awesome, let's not mince words. Well done Roborock!
It's unheard of, it's remarkably well thought out and absolutely awesome, let's not mince words. Well done Roborock!
If, however, this is your first time using the app, the process won't be much more complex and all you need to do is create an account and enter your Wi-Fi credentials before the magic happens. Whatever the method, it remains fast
Besides, let's see what the application offers us as functionalities ...
A rich and efficient application
The application Xiaomi Home, or Mi Home for close friends, is really rich and the possibilities offered to control the Roborock S6 are numerous.
At the opening, you will find a thumbnail with a visual of the S6. You just have to open it to access its control screen.
Three areas are displayed at the top: "Cleaning area" with the cleaned area in m², a gauge in "Remaining battery" and the duration of the last cleaning in "Cleaning time".
In the middle, you find a map. This will only be recorded after a first complete cleaning of your accommodation. Let the robot do it, even if it is a bit long, you will later appreciate having a complete map.
At the bottom right of the map, a small pictogram allows you to choose the suction power delivered by the Roborock S6: silent, balanced, turbo or max.
Below the map are three options: " room " which allows you to send the robot to a particular room, " all " which starts an automatic cleaning and leaves the robot free to do as it sees fit, "Zone" to select the perimeter of your choice.
At the bottom, finally, two big buttons allow you to send the robot to recharge or start and pause cleaning.
Next to the power pictogram, you can see a button "Modify the map". This will obviously only appear when the robot has mapped your home. This is a particularly interesting option that will allow you to:
modify the predefined zones by robots by splitting or merging them. This is very practical because, you will probably have noticed it if you already have a vacuum robot capable of mapping, the cutting carried out is not necessarily always very happy, the doors being often misinterpreted or the parts cut without the we know why. The use of this feature is a bit tedious, but it has the great merit of existing, which is not always the case with the competition. A very good point therefore.
define no-go zones. Useful if you absolutely want to prevent the robot from going to certain places. You can materialize them in two ways: an enclosed area, or simple virtual barriers. Possibilities that we will qualify as essential on a high-end robot and which are therefore very present.
restore the map. This option will allow you, as its name suggests, to choose a card for your robot. Useful if you have several floors since you can map each of them, or if you take it on vacation to your second home for example. Just select the card for the robot to start using it. Remember to do this action once the robot is placed in its new environment, and if you have changed the location of the charging station, give it a minute, time for it to use its lidar and locate itself. Unlike other models, we were impressed with how easily the Roborock S6 scans its surroundings.
Top right, you find the classics three small dots allowing you to access the robot's advanced parameters.
Dance « vacuum cleaner settings« , various options are offered such asmapping recording (apparently in beta), the carpet mode (the robot will apply more powerful suction to carpets and rugs, etc.), the time zone setting, Choice of language in which the robot will speak to you (French is available and the voice is rather pleasant compared to the competitors), the volume adjustment, NDP mode to "do not disturb", Car where you can program automations (we will come back to this), the maintenance program which displays the usage time and the remaining life of the main robot organs, the remote control that allows you to transform your smartphone as a remote control and direct the robot, and finally an option to locate the robot if it got lost in your 450m² or more likely if you cannot find it because it got stuck under a bed, for example.
Le delayed start allows you to create simple automations with very complete choices: repetition (once / every day / week only, weekends, etc.), the suction power to apply during the routine, and the area to be cleaned.
THEcleaning history gives you the opportunity to see what the robot did and when, with a map showing the journeys made. Perfect if you don't trust him!
The option " GO " allows you tosend your Roborock S6 to a specific location and possibly launch a localized cleaning. A very appreciable and not so common feature.
Un User manual lets you know everything about your device and can answer your main questions. But if you've read this test correctly, you shouldn't have much of it anymore. You can also contact Roborock customer service in this way.
Finally, general settings allow you to change the name of your robot (here, it's Nestor), from share device with another Mi account, to check the availability of a update (they will generally be offered to you, but impatience is frequent among the user), to access information on the network connection status (name of the Wi-Fi network, signal strength, RSSI, Mode, IP address, MAC address) ... But also to add a quick shortcut of your Roborock S6 on the home screen of your mobile device. This is smart because it will prevent you from having to dig into the Xiaomi Home application and access the robot directly.
Extensive automations with Xiaomi Home
As we mentioned above, the great strength of Roborock robot vacuum cleaners is undoubtedly their perfect integration into theXiaomi home automation universe. In addition to finding your S6 in your application Xiaomi Home, you will be able to create many automations and even control it with certain equipment Xiaomi Mijia ou Aqara. And that, as much to say to you that it is downright brilliant!
Let's take a simple example using a ZigBee Aqara switch (8 to 12 € on Gearbest) which will allow you to program actions according to the support you will perform. For our test, we placed the small Aqara switch on top of our intercom, which allows us to control the robot when leaving our house without even having to leave. smartphone.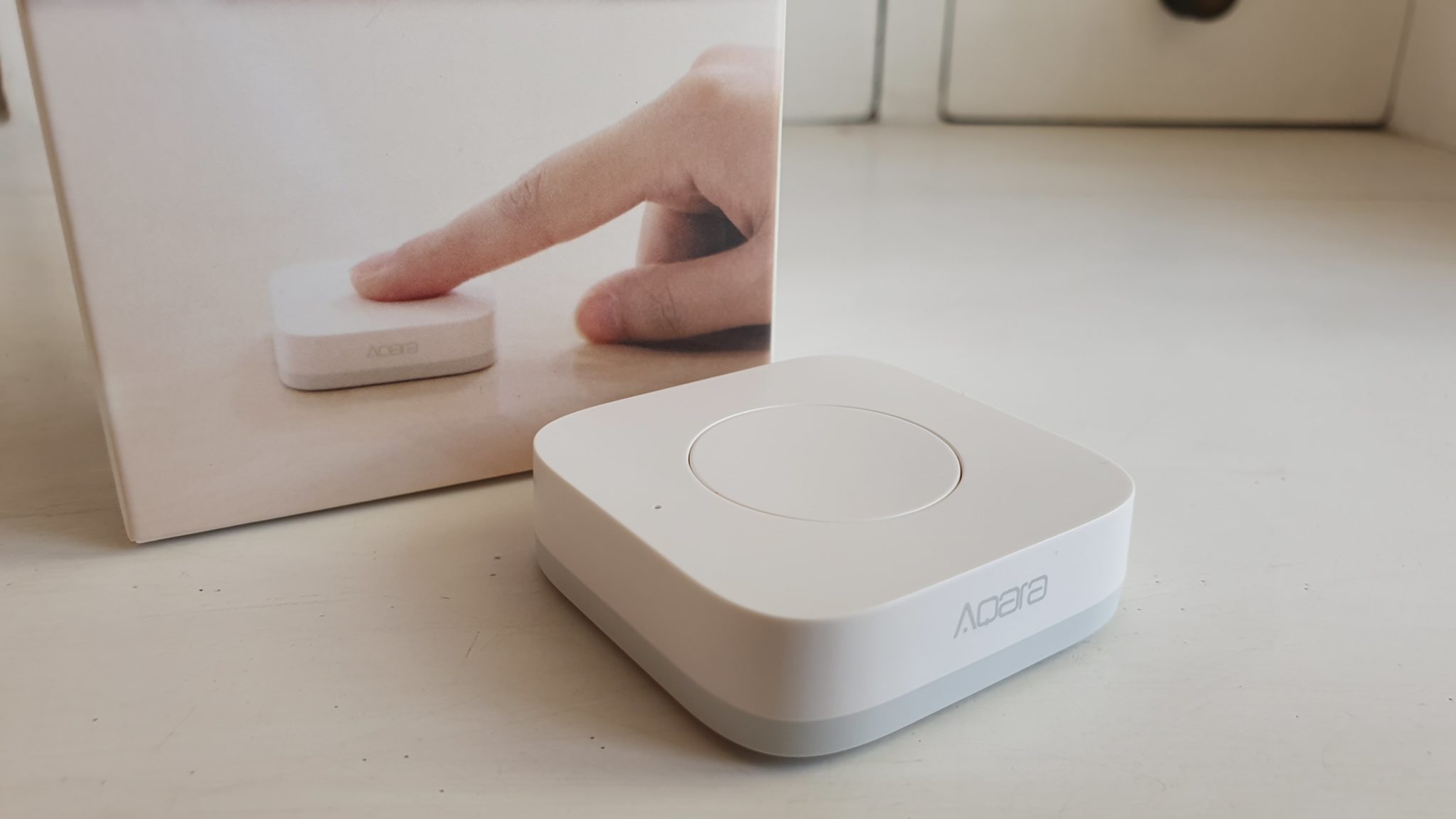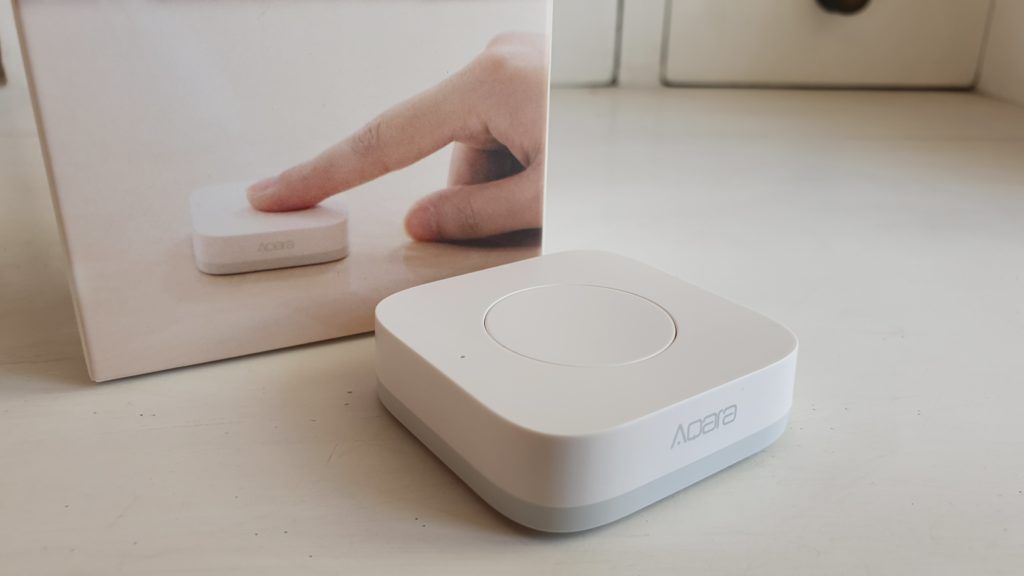 This switch accepts three actions, you can launch the robot with a simple press, pause it with a double tap, or bring it back to its base with a long press. Awesome isn't it?
Obviously, you can imagine many other scenarios with other sensors or switches, we think in particular of the Aqara Cube (12 to 15 € on Gearbest), or to a Aqara presence detector (yes, we love this brand!) which upon your arrival at home would order the robot to stop its activity. Unfortunately, Xiaomi Home only offers three possibilities for robots to date, but it is not excluded that all of this will be developed later. In the meantime, it is to our knowledge the only application that allows you to do that and it's just great!
Okay, that's all well and good, but what about the performance of the Roborock S6?
Roborock S6: a complete robot vacuum cleaner with formidable efficiency
We are not going to go four ways: The Roborock S6 is, to date, the most efficient vacuum cleaner we have tested and we'll explain why ...
Uncompromising navigation
Like the Deebot Ozmo 900 from Ecovacs that we presented to you previously, the Roborock S6 is equipped with a laser rangefinder, also called Lidar, which allows it to precisely map the environment in which it operates. It is just as precise as its competitors and has the same flaw: it does not like closed doors. In fact, we have never met a robot that can tell the difference between a closed door and a wall, and this is really a point that manufacturers should be working on, because that sometimes forces you to direct the robot yourself in a room since it can no longer go alone since it has stupidly placed a wall.
Despite this, the biggest highlight of the Roborock S6 is undoubtedly its navigation. Like most robots, it begins by circling the room or area to be cleaned, then zigzags. It does not forget anything, its cleaning is precise and systematic, its speed of execution impressive. In turbo mode, it is simply impressive. In addition, he also amazed us on his ability to return to his base or to go to a specific point in our apartment. He does not just use his memorization skills but seems to analyze his environment in real time to determine the shortest path. It is quite fun to watch and we can see real improvements compared to previous generations of robot vacuum cleaners.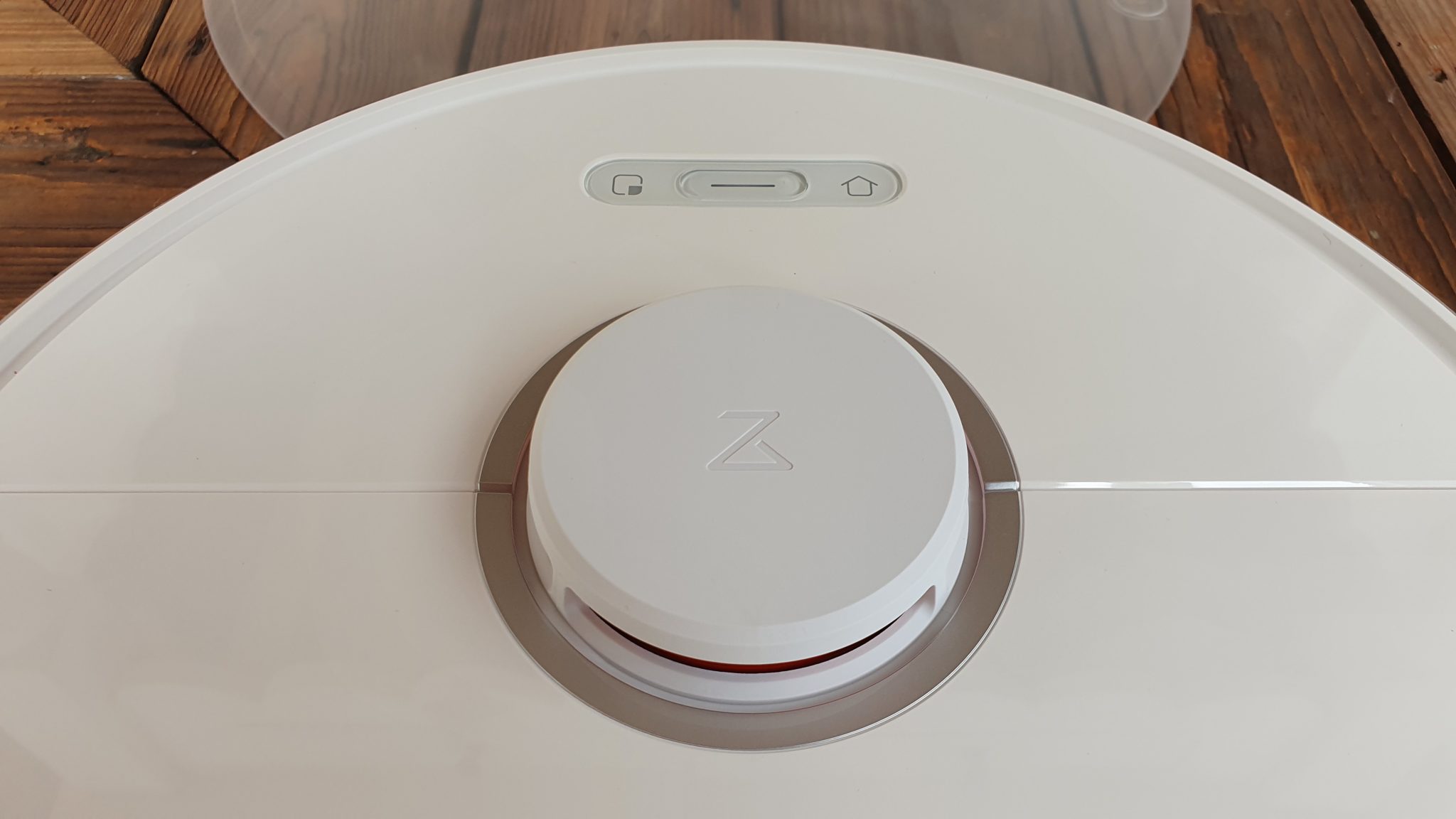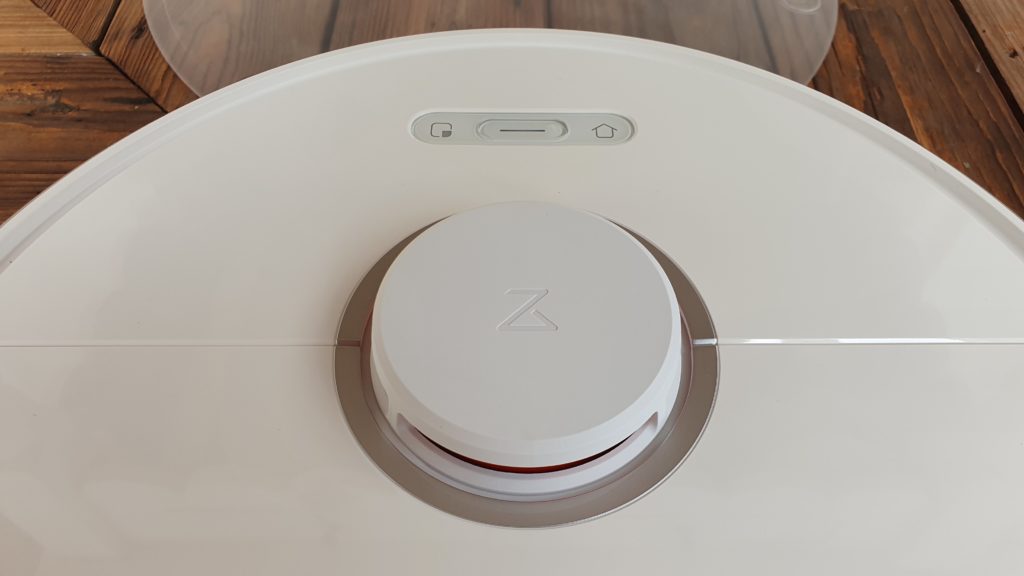 Powerful suction, rather efficient washing
Nothing to say about the suction side, the promised 2000 Pa are clearly there thanks to a fan running at 1500 rpm. The Roborock S6 leaves almost nothing behind and does not expel dirt too far thanks to intelligent management of the speed of its unique side brush which, let us remember, can reach the rate of 1350 rpm. It is the same for the central which remains relatively clean and does not clutter up hairs and hair. The two brushes are in fact provided with "micro-brushes" systems preventing them from coming to block their axes. It is clearly effective.
Le "Carpet mode", however, did not convince us as much as at Ecovacs. This one doesn't always seem to go off, or belatedly, where a Deebot Ozmo seems foolproof. Likewise, do not forget to remove the mop, the S6 obviously does not know how to differentiate the types of soil. Basically, this makes sense, since the water tank is completely devoid of electronics.
Nevertheless, on the washing side, the Roborock S6 is quite efficient with its 3.6 kg, although its all small reservoir of only 140 mL does not allow it to wash large areas and especially to adjust the water flow from the Mi Home application. It's a shame, because we find this feature on robots three times cheaper. But note, once core, this is more of an extra feature than a real wash. On this point, the only ones who are doing really well seem to be those dedicated to this task ... And who still cost a small fortune to this day.
In short, it is therefore a little extra that will not exempt you from taking out your good old mop once a week, but which is still very appreciable. For daily maintenance, the Roborock S6 is doing very well compared to the average of its competitors.
Another point that can be improved, finally, edge cleaning is a bit rough, especially with the mop. Failing to shine, the Roborock S6 is here also in the average of its direct competitors.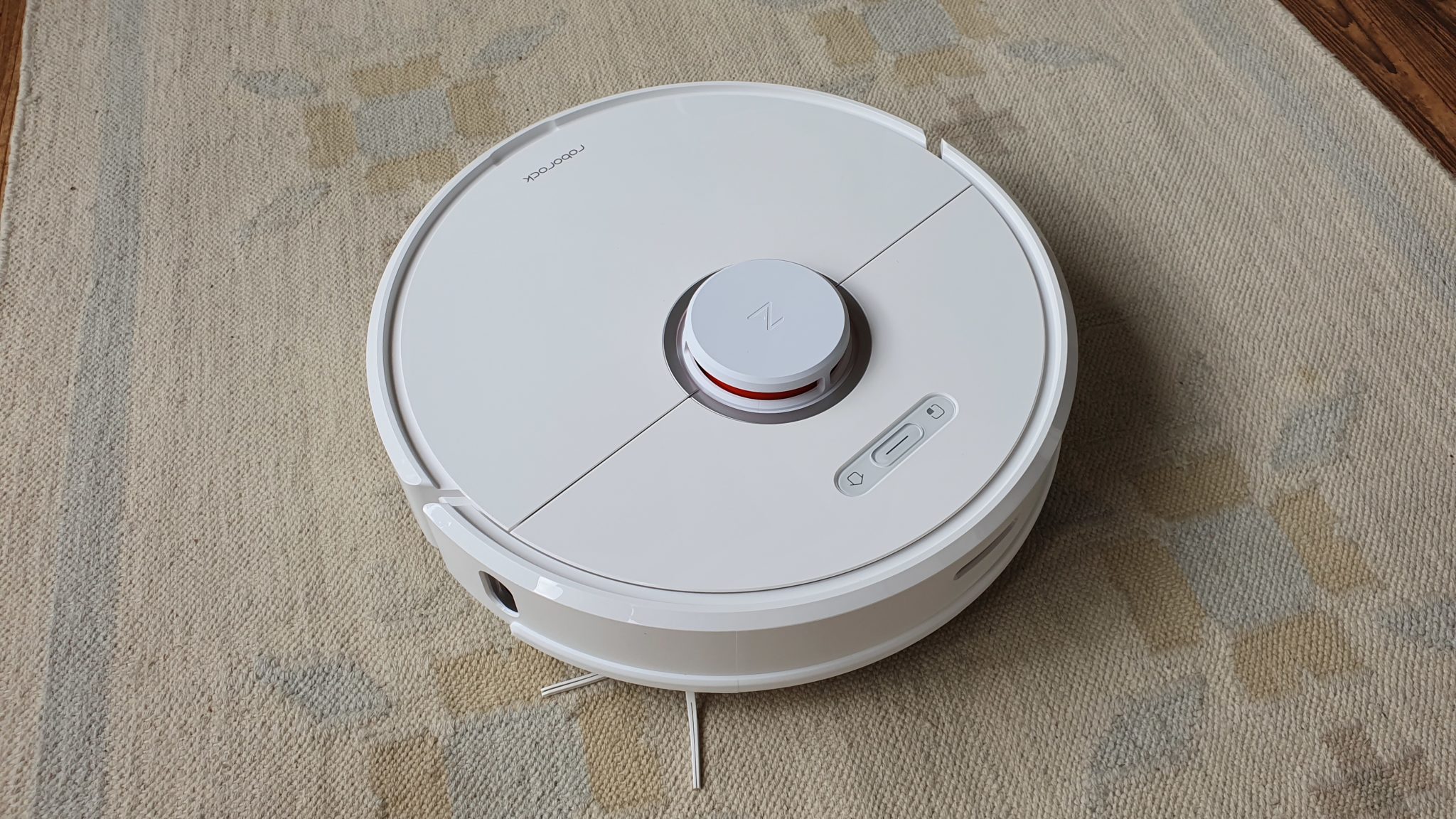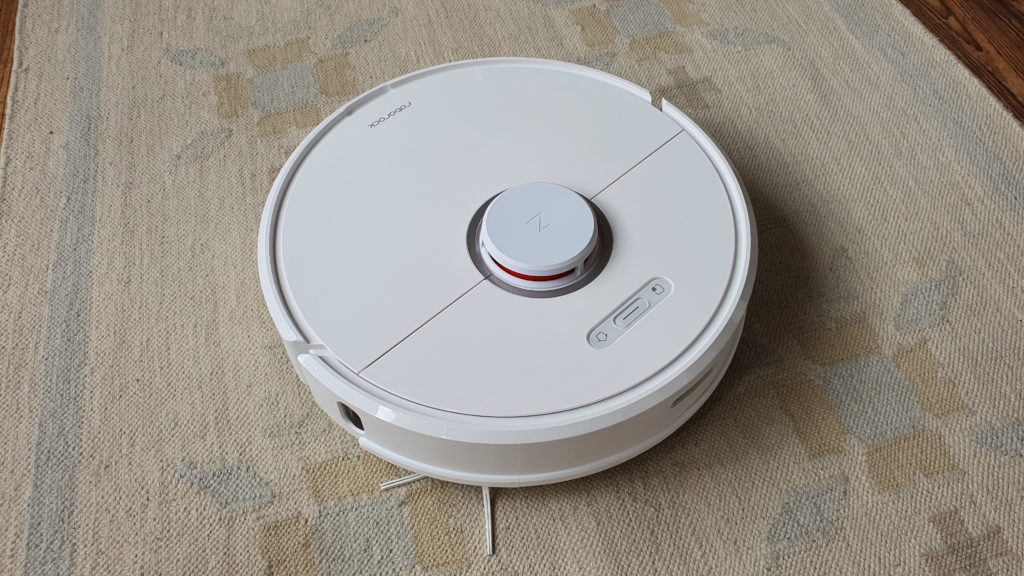 Silence and autonomy at the rendezvous
In terms of silence, on the other hand, the Roborock S6 excels! The brand says it has reduced the noise generated by 50% compared to the S5 and we must admit that this S6 is at the very least discreet, only being really noisy in "max mode", and to a lesser extent in "turbo mode". ". But this remains more than bearable, especially since it is logically much faster with these two modes. In "night mode" or silent, it is really very discreet for a vacuum cleaner, but this is necessarily done at the expense of speed of execution.
We tested it using a sound level meter, in a room with a rather noisy parquet floor in terms of traffic, and the measurements show between 56.6 dB (A) for night mode and 71.4 dB (A) for max mode. Levels that seem to correspond to those indicated by the manufacturer and remain at the bottom of the basket for this type of device. A very good point therefore!
In our opinion, the "balanced mode" offers the best suction / noise / autonomy ratio. Because, of course, the use of the two most powerful modes impacts its autonomy.
On this last point, again the Roborock is more than faultless. In our tests, it showed an endurance of 100 minutes in max mode et 120 minutes in balanced mode. In night mode, the most economical, it even held up to 152 minutes. Unbelievable! This is two to three times more than the Ozmo 900, but this is explained by its 5200 mAh lithium-ion battery, where many of its competitors have preferred Ni-MH.
In the end, it is clearly an undeniable advantage when your accommodation exceeds 70 m². In addition, its recharging is done really quickly, especially if you do not completely empty its battery. Count just over two hours for a full charge.
Control the Roborock S6 with Alexa
Before closing this test, let's study the question of the connectivity of the Roborock S6 with Alexa.
obviously, Roborock S is compatible with our favorite voice assistant. You will therefore be able to benefit from voice control from your appliances Amazon Echo. It's cool, isn't it?
To do this, nothing simpler :
Activate the skill Roborock on Amazon.Fr,
Then link your Mi account by entering your credentials,
Start a detection of new devices.
Unlike most of its competition, Roborock even gives you the option of using whatever little name you choose for your S6 (and even previous models, by the way).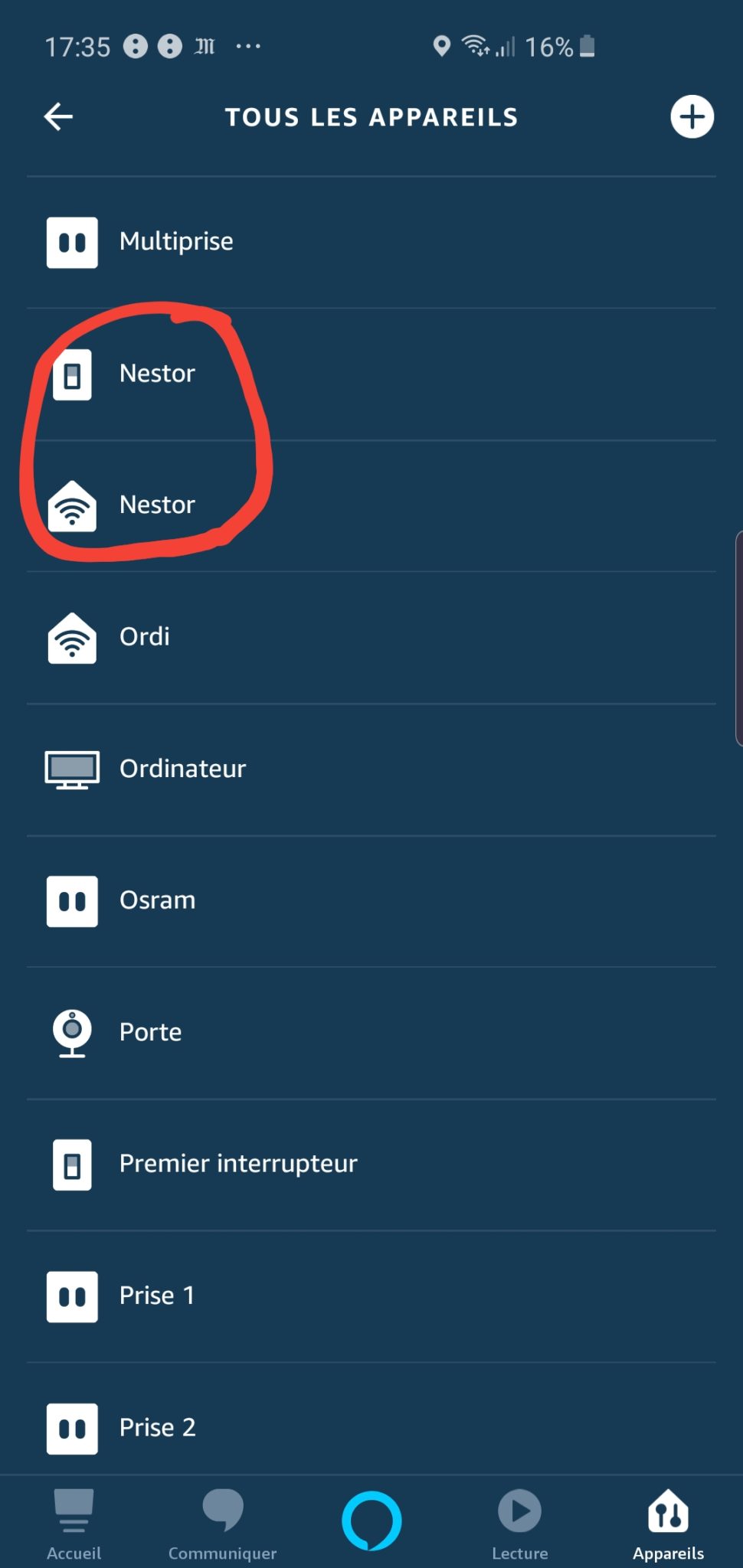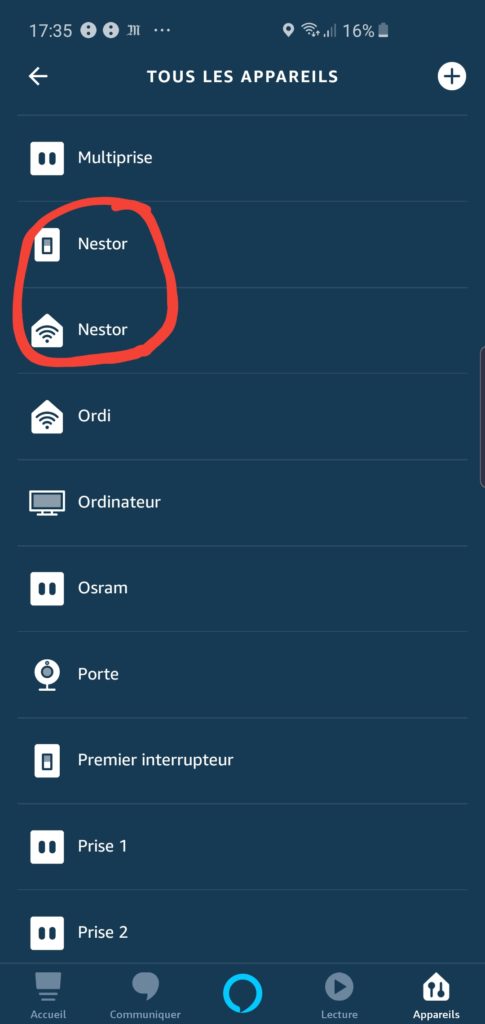 You can use the following commands:
« Alexa, turn on Nestor "
« Alexa, turn off Nestor "
Ok, this is a bit basic, but if you're used to create routines Alexa, know that the Roborock S6 allows it! Indeed, quite surprisingly but ultimately very clever, the brand has chosen to declare its robot both as a switch and as a miscellaneous device toAlexa. A switch to turn on (on) and pause (off) the robot, a device (off) to make it return to the base. This ultimately results in the possibility of using it in routines. Smart, right?
Although it is not yet possible to send it vocally in such or such a room, it's a safe bet that future development will one day allow us to do that, especially when theintegration of Xiaomi Home with Alexa will be fully effectively. In the meantime, like the automations on Mi Home, you are able to create a whole bunch of routines that are interesting to say the least, even just fun… That's great, isn't it?
In conclusion,
the Roborock S6 is clearly one of the best robot vacuum cleaners on the market
. Equipped with very complete application functionalities,
its navigation is formidably efficient and its cartography precise
thanks to its laser rangefinder. We particularly appreciated its perfect integration into the Xiaomi Home ecosystem which, in addition to allowing a
installation of extraordinary simplicity
, offers
numerous and innovative automation possibilities
. As for his
skill Alexa
, it also allows
create routines
, a first in the still very closed world of
compatible robot vacuum cleaners Amazon Alexa
.
Performance level, sound powerful suction of 2000 Pa allows it to leave almost nothing on the way and its washing, although it can be improved, remains quite honorable. With a very comfortable autonomy and low noise level, the Roborock S6 is without a doubt an excellent product that we can only advise you, especially if you are already a user of the Xiaomi ecosystem.
Marketed at € 599 on Fnac.com et Darty.com, this robot is finally establishing itself as one of the best quality / price ratios on the market. Note that you can also find it a little cheaper on Gearbest.com (520 € at the time of writing), which makes it even more competitive.
545,99€
In stock
5 new from € 545,99
Refurbished from 6
August 13, 2022 8:51 a.m.
480,00€
Not available
Refurbished from 1
August 13, 2022 8:51 a.m.
Roborock S6 - Robot vacuum cleaner and cleaner
549€
Most
Pleasant design
Truly intelligent navigation
Important and comfortable autonomy
Fast and quiet robot
Compatibility Alexa and possible routines
The lessers
A bit high: does not go easily under all the furniture
No remote control
Washing functionality to be improved: water tank too small, flow rate not adjustable by the application