We mentioned, a few weeks ago, the connected bathroom across the Oclean X Pro connected toothbrush, a product as surprising as it is convincing. Today, we are adding to our sink an accessory that is not connected but nonetheless packed with technology: the Simpleway automatic soap dispenser.
Why an unconnected object? Because not all are intended to be, but, above all, because it turns out to be perfect for respecting the famous barrier gestures. Indeed, you cannot ignore it, the new coronavirus has not taken a vacation and if we are mainly talking about wearing a mask now, the first barrier measure is undoubtedly. hand washing. And new technologies can prove useful in our fight against Covid-19, let's see how.
Simpleway: an automatic and aesthetic soap dispenser
Unboxing
Presented in an elegant glossy white cardboard packaging, the automatic soap dispenser simple way at first glance offers an equally elegant and contemporary design. Note, concerning the company, that the latter notably manufactures products of the same type for the Chinese brand Xiaomi, a detail which proves its quality as its innovative character!
The packaging takes up, as is generally the case, its main characteristics: it is a automatic washing foam dispenser relying on induction for its activation and infrared to detect the presence of our hands. In other words, it's packed with technology and it's mostly contactless. Interesting !
When opened, the impression is still as good. The upper part contains the pump, the lower part the liquid soap. The Simpleway soap dispenser is downright aesthetic, curvaceous, with a minimalist and elegant design which will go perfectly with the most contemporary bathrooms or kitchens.
Really easy to use, you will need less than a minute to have your first foam made with the Simpleway soap dispenser. Indeed, it suffices to screw the tank to it, namely, to insert 3 AA batteries (not supplied), touch its induction on / off button… And let's go, you just have to rub your hands!
An automatic soap dispenser full of technology
If we are talking to you today about this product, it is because contrary to what its name might suggest, Simpleway did not keep it simple. Indeed, this soap dispenser is full of technology.
To begin with, the activation is done quite simply by placing your finger on the "on / off button". If we put quotes, it is because it is not really a button, but a induction surface avoiding mechanical actuation and allowing perfect hygiene, no dirt or bacteria that can lodge in it.
"Simpleway did not do it in simplicity" The Alexians
The same applies to the distribution of washing foam: the pump of the Simpleway distributor is fully automatic and is activated via a infrared cell. No need to pump the soap to make it go up, just bring your hand close and a beautiful white foam falls into your hands in less than 0.4 second.
This is obviously the whole point of the system: the without contact. From a hygienic point of view, we do not do better, and in these times of health crisis when we have been told for weeks that the first and most effective barrier gestures against the coronavirus was to wash one's hands, this device could not be more interesting.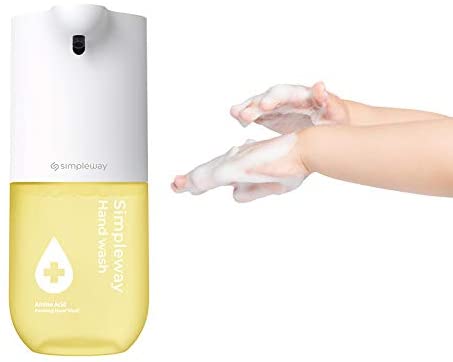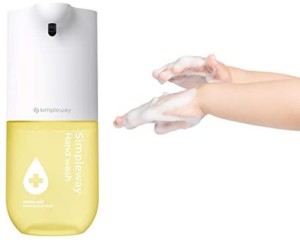 Indeed, the dispenser makes a washing foam from liquid soap by injecting air. The result is a soft and light foam with a 12: 1 air / liquid ratio very economical since you will need less than a milliliter of soap, 0.68 grams precisely, to wash your hands. With its capacity of 330 mL, the reservoir therefore allows up to 440 washes of hands! It's quite huge and, you will see if you fall for it, the level drops much less quickly than with traditional systems.
But the technology does not stop there, it is even in this famous foam. Indeed, Simpleway designed a particularly effective product since it is able to eliminate 99.9% of bacteria that we usually find on our hands such as Escherichia coli, Staphylococcus aureus, Candida albicans, etc. Besides this antibacterial effect, this washing foam is of course capable of eliminating viruses such as the coronavirus, like any soap, if you wash your hands conscientiously ...
Note, finally, that the chemical formula of the soap has been the subject of special care. Containing no dyes, the soap contains gentle skin care ingredients such as niacin amides with a slightly acidic pH and therefore very close to human skin. You can use it at will, it will not damage the pH balance of your skin and the addition of coconut oil and glycerin for moisturizing functions will make your hands soft, smooth and non-greasy.
Simpleway: our opinion on the automatic soap dispenser
So, what to think of this unconnected but automatic object despite everything? It's very simple: it's great! Moreover, we have already started to buy others to put them everywhere in the house so it turns out practical, efficient and economical.
Convenient because automatic, its contactless system allows perfect hygiene and has never been faulted during our month of daily testing. He always answers present!
"My hands are very soft! " Martin, almost 4 years old
Efficient because it always delivers the foam quickly, never "drains" it, and remains perfectly clean. On a daily basis, it is a real pleasure to use.
Economical because it dispenses a minimal but perfectly adequate dose of soap. If you have children, this dispenser will indeed allow you tosave soap and to avoid that they put it everywhere, but will also have a playful effect which we found quite interesting. Our 4-year-old guinea pig found it very funny and didn't take more than 5 seconds to understand how it works. The mousse seems to please him particularly and he has said it himself: "My hands are very soft! " In fact, in addition to its antibacterial properties, the washing foam generated by the Simpleway vending machine is very effective and, above all, pleasant to use.
In short, you will understand: we strongly advise you to invest in this Simpleway automatic soap dispenser! Moreover, if we have chosen to move away from connected objects a little, it is because it has fully convinced us and fits perfectly, despite its lack of connectivity, in the home automation world. Home automation, in fact, has for essence to automate the objects of the house, not necessarily to connect them! And, it must be admitted, for around € 20, this is a product that should seduce you as much as we do and fit perfectly into your bathrooms or connected kitchens.
Simpleway - automatic soap dispenser
NS. 20 €
Most
Modern and elegant design
Highly efficient infrared proximity sensor
Fast foam dispensing in 0.4 seconds
An effective soap (eliminates 99.9% of bacteria)
An economical system
The lessers
Requires a suitable product, but easy to find (we did not find any other defect).
€24,70
€29,99
In stock
3 new from € 24,70
January 21, 2022 17 h 53 min
Update: January 21, 2022 17 h 53 min