Connected doorbells are, without a doubt, a must have for the Alexians. Also called "connected doormen", these devices allow you to monitor your front door and even communicate with your visitors. Even absent, you will not miss any passage at home!

After the somewhat failed presentation of the most famous product ofAmazon, in this case the Ring 2, we have chosen to present a more affordable alternative to you, but just as effective on paper. In this case, it is the SpotCam Video Doorbell Pro that we presented to you in our folder on connected doorbells. After two months of use, the arrival of the skill on the FR store is a perfect opportunity to finally present it to you ...
SpotCam: an accessible and pleasant connected doorbell
Unboxing
Delivered in a well-made white packaging, the SpotCam connected doorbell is presented on the front face accompanied by its chime. Two models are offered by the Taiwanese company: SpotCam Doorbell et SpotCam Doorbell Pro. It is the latter that we will discover.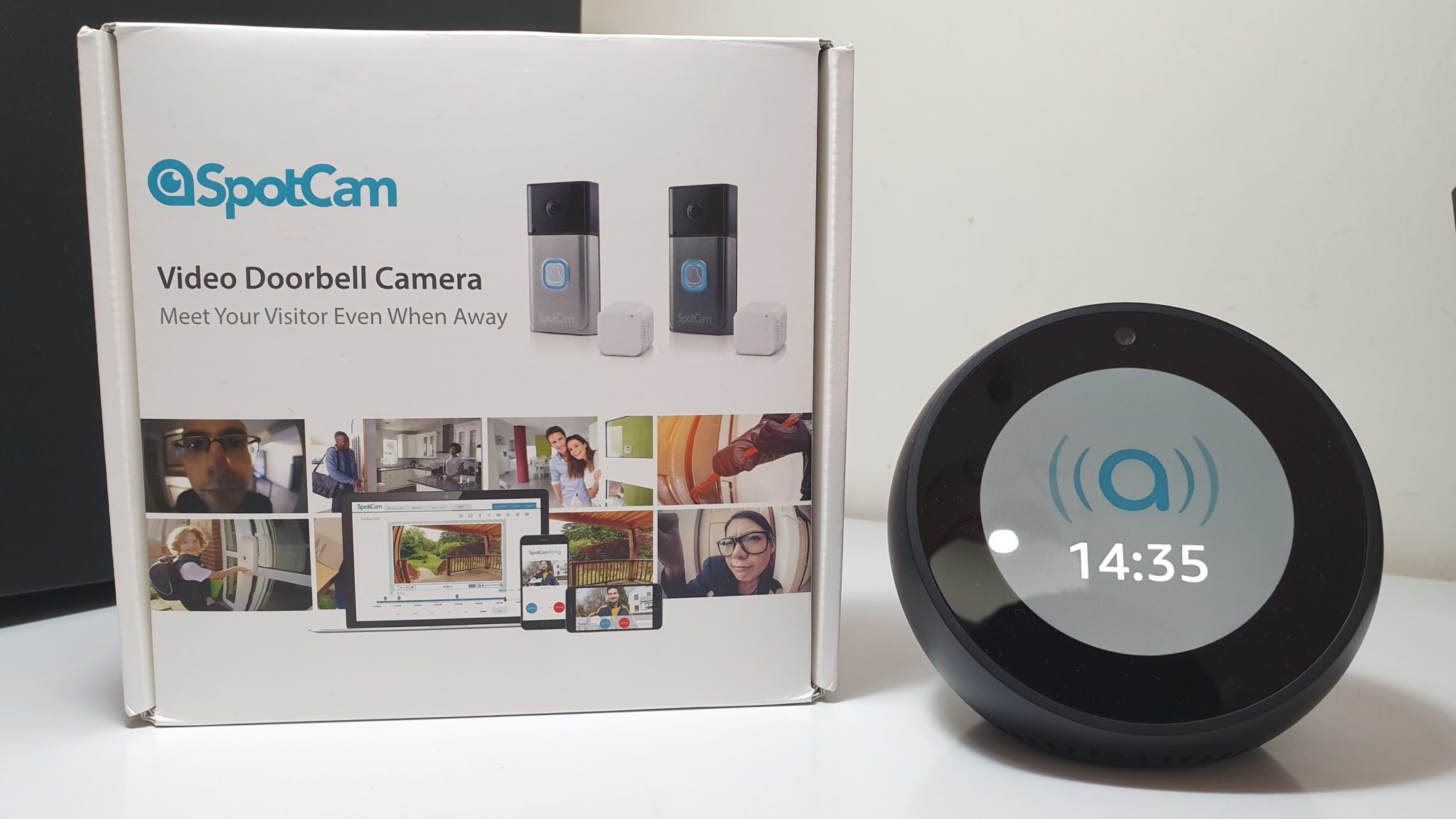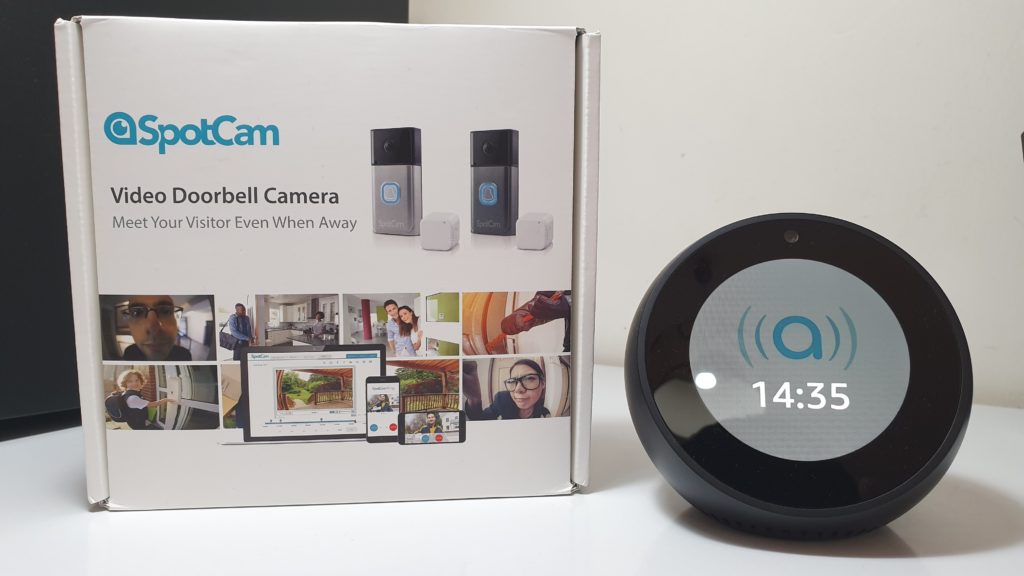 At the opening, we therefore discover an anthracite gray doorbell with a metallic effect. Mainly made of plastic, its finish is however the most beautiful effect and you have to really touch it to realize that it is not metallic.

You find in the center, in a fairly classic way, a large square button (2.5cm side) accompanied by a pictogram signifying its function which is none other than to ring the doorbell. At the top of the camera, the lens testifies to the presence ofa camera which elegantly blends into the crowd.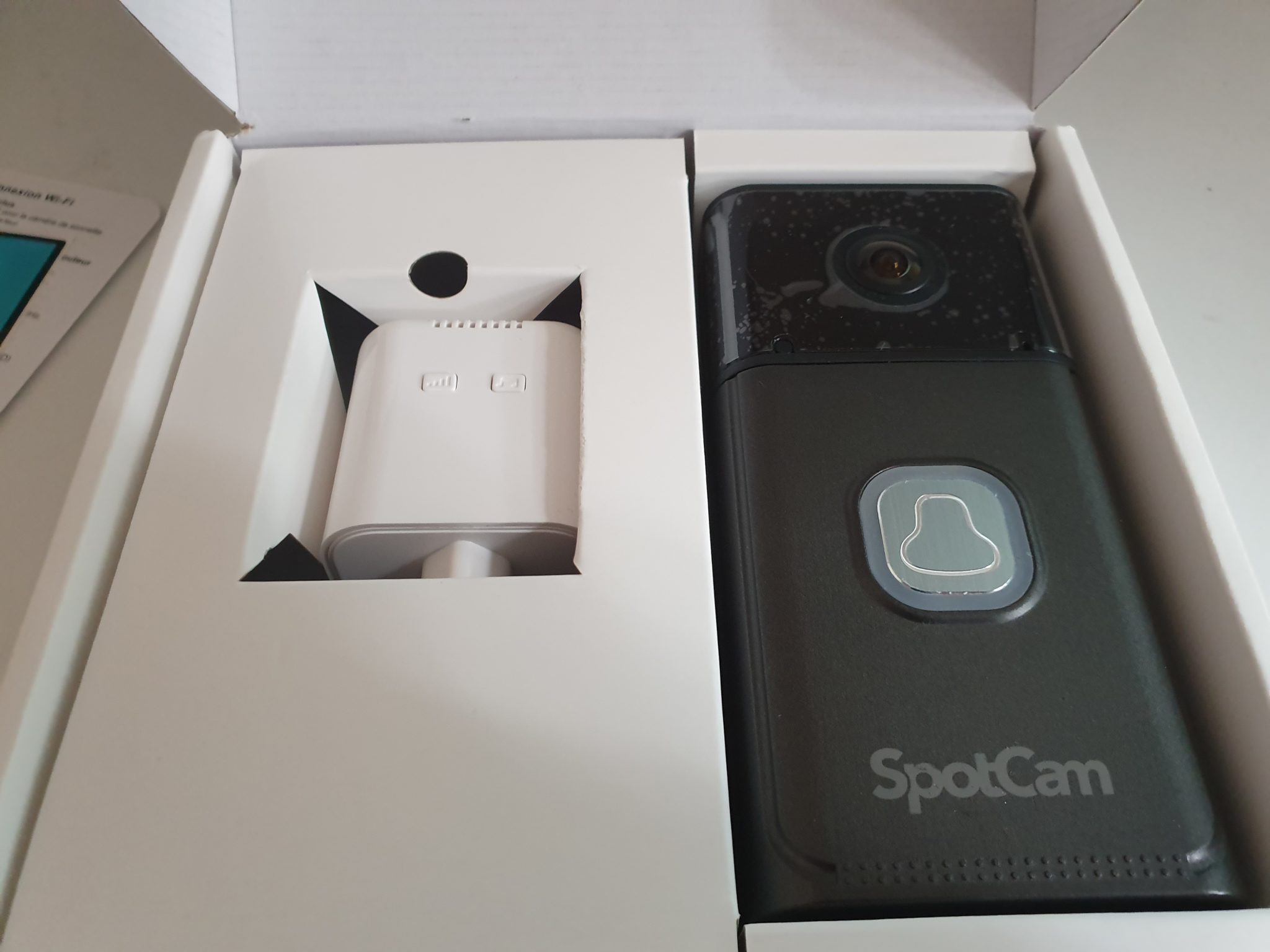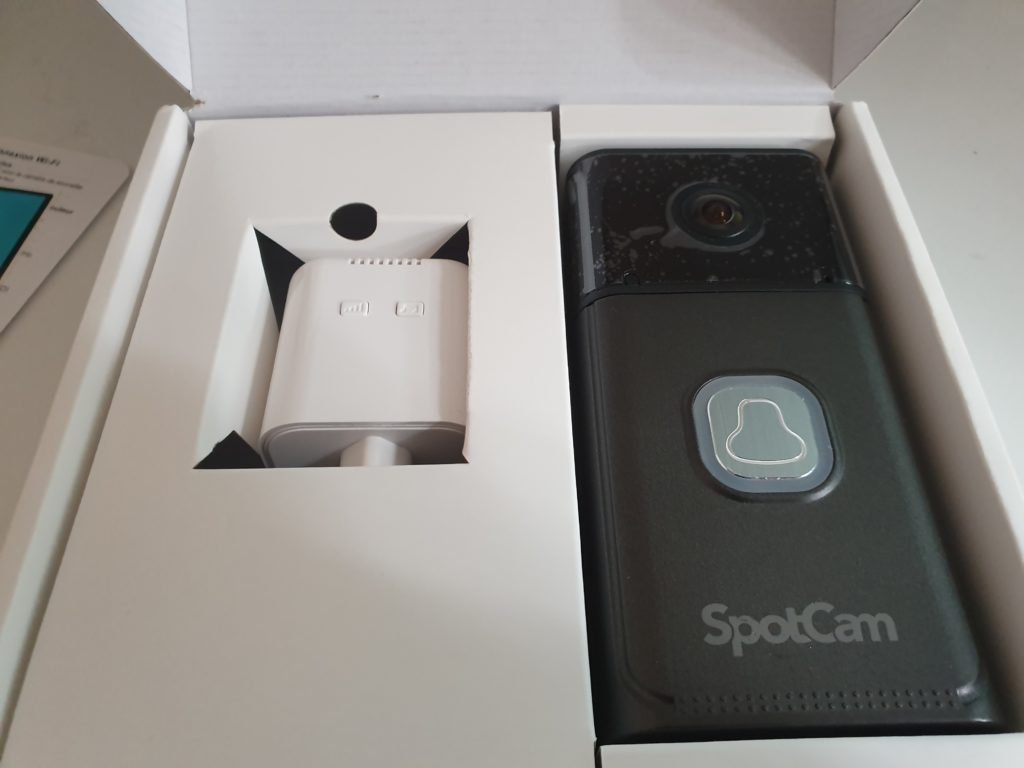 A point often raised by customers is the generally large size of this type of device. The SpotCam Video Doorbell Pro is in the middle, measuring 12.9 cm x 6.3 cm for a thickness of 2.2 cm when installed (measures taken by us, those of Its technical sheet Amazon. Fr being a bit more important…). A very reasonable format when we know that this connected doorphone is wireless, and must therefore accommodate within it the batteries necessary for its power supply, in this case four AA 1.5V alkaline batteries (be careful not to use zinc-carbon salt batteries). In the end, this connected doorbell fits in a hand of a perfectly reasonable size - neither too small nor too large - and will blend in well with the door casing of your door, not to mention that it will not weigh too much on the latter since 'she displays only 112 grams on the scale (without the batteries, of course).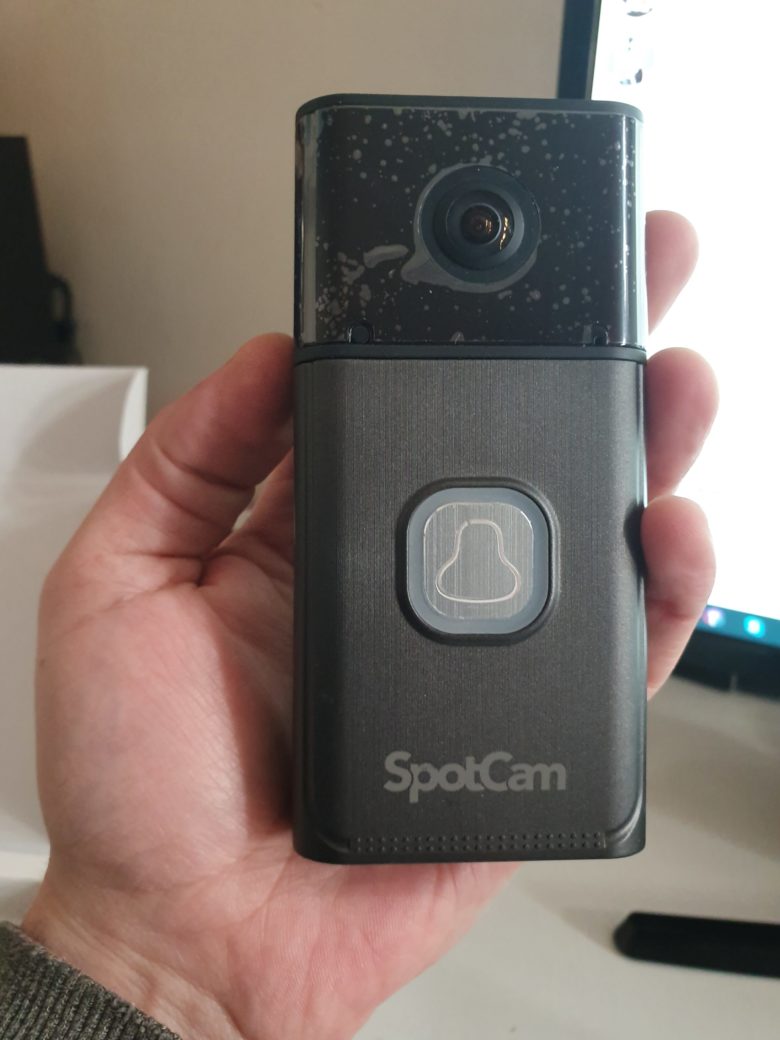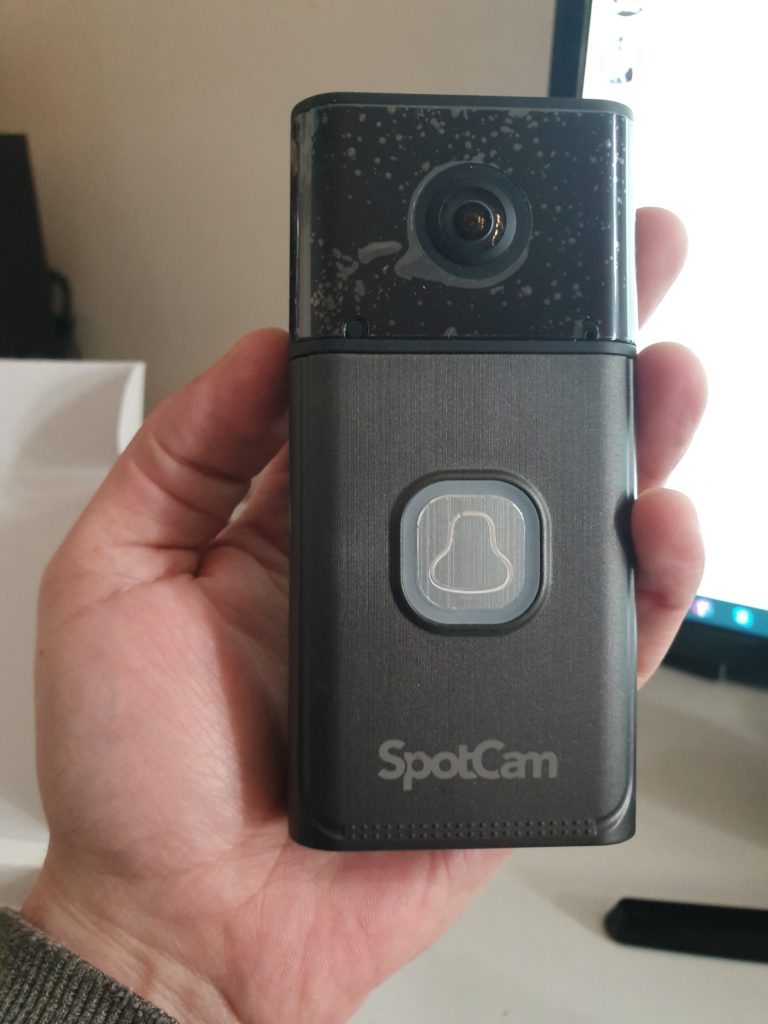 But what about our famous carillon? Almost cubic in shape, the latter measures 4.4 cm side once inserted into a socket. It presents a classic type E / F plug without earthing. So no worries for our French facilities.
A small blue LED, which does not stay on permanently (it is rather appreciable, it must be admitted) testifies on the frontage of the good connection of the chime to your home Wi-Fi.

Your informed eyes will probably not have failed to notice two buttons: one is for theWi-Fi pairing device, the other intelligently allows mute the sound of the chime and not to be disturbed evenings and weekends, for example.

Finally, and this is one of the main strengths of SpotCam: their connected doorbells all have a micro-SD slot allowing you to accommodate a memory card of the same name, with a capacity of up to up to 32 Go for those who prefer to avoid the cloud. Note that the manufacturer also had the brilliant idea of ​​placing this storage on the chime, and therefore inside your home! Its compactness allows you to place it on any outlet. But before that, let's take a look at its technical sheet ...


Information
| | |
| --- | --- |
| Video resolution | 1080p at 30 fps |
| Angle of vision | 180 ° panoramic fisheye |
| Protection sign | IP54 (dust and water splashes) |
| Night vision | Infrared |
| Audio | bidirectional |
| Warehousing | Cloud (free for 30 days) + microSD |
| Food | Wireless (4 AA batteries) and 220V for the chime |
SpotCam Video Doorbell: a doorman full of resources
Quick and easy installation
Before starting the installation, you will obviously need download the SpotCam app for your device Android ou iOS.
You can also configure your connected doorbell via the SpotCam website.
To do this, all you need to do is:
create an account, by entering e-mail and choosing a password of course,
connect to it,
click on "add SpotCam" in the menu,
follow prompts of the configuration wizard.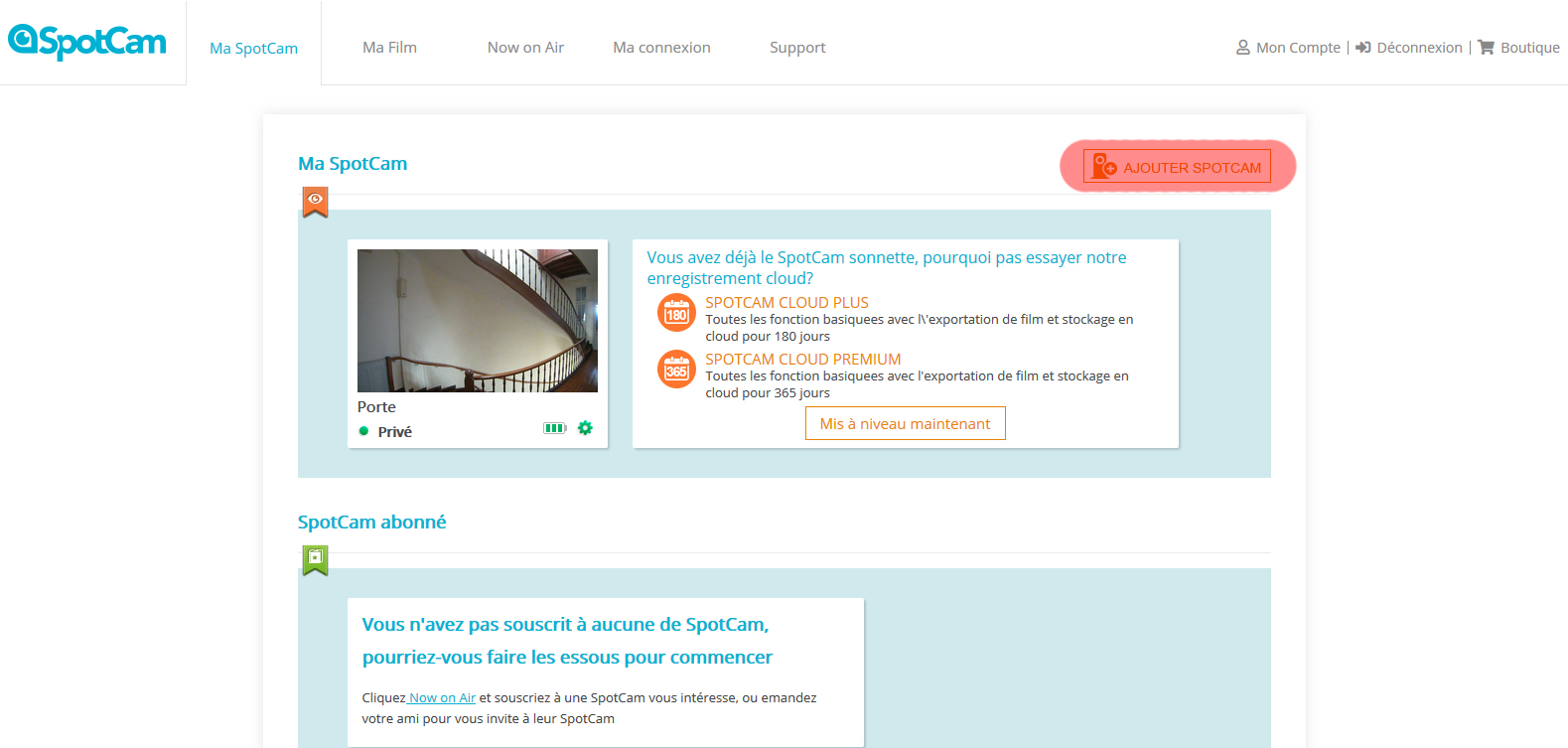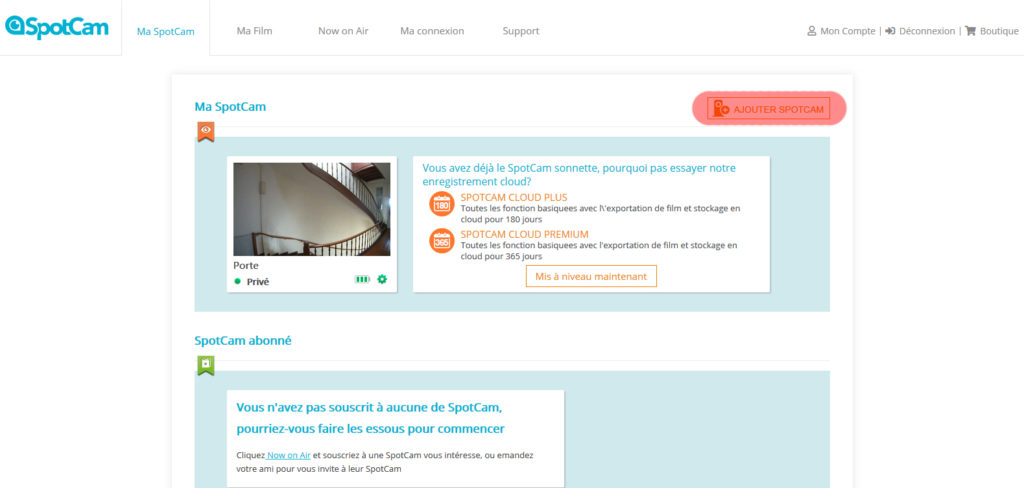 All this shouldn't take you more than 5 minutes., whether on the browser version or the mobile application ...
Now let's move on to the physical installation of our connected doorbell. To do this, you will need to grab a drill. Unless your walls are made of cardboard, it's still better! Anchors, Phillips screws and even the bit for your screwdriver are provided, it is appreciable. Four little holes and you're done. Then insert four AA type batteries or rechargeable batteries (we recommend), not supplied this time, preferably in the right direction (the negative pole on the spring side). These should last between 3 to 6 months, so rechargeable can be a good idea.
Four infrared LEDs then light up, indicating that the device is working well. All you have to do now is gently replace - always better - the cover.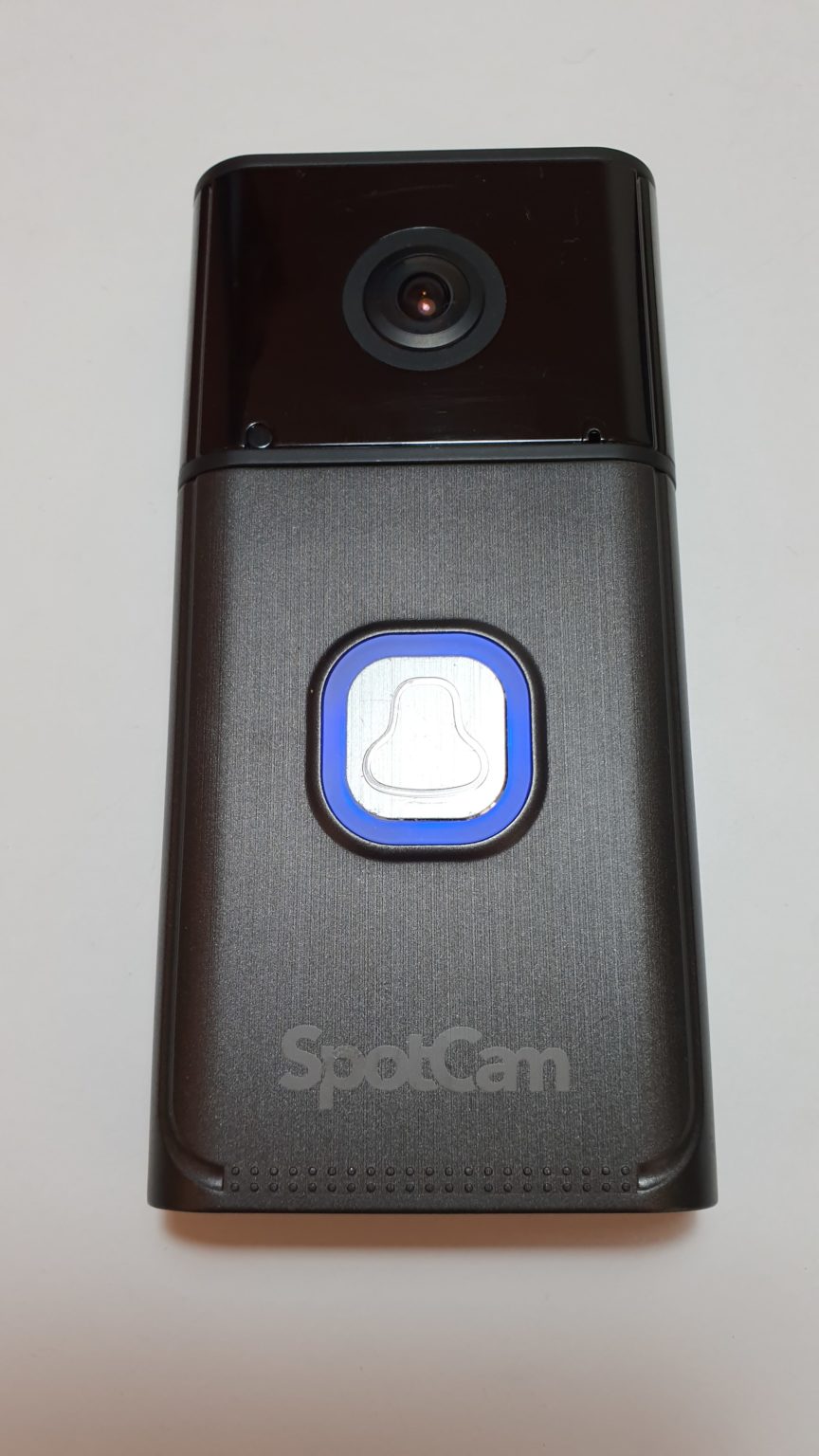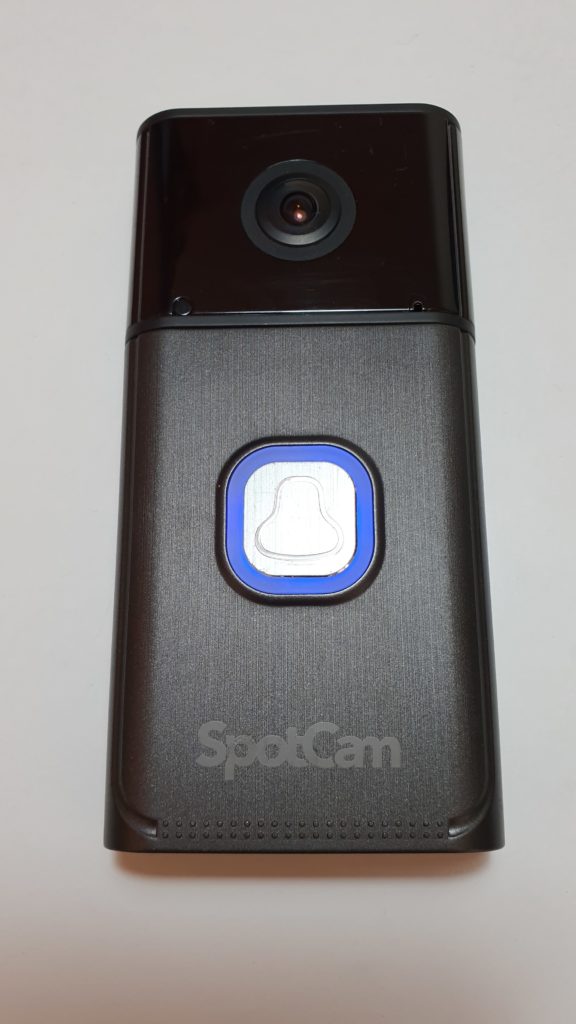 The button lights up in blue, our doorman rings and in the process we hear for the first time the melody of our little chime inside our accommodation. Great! Note, moreover, that three sounds are offered to you: a very classic "ding dong", a barking dog, and a crying baby. Amusing!
Two seconds later, our smartphone rings in turn. Yes, it is indeed our doorman who warns us in turn. Our phone then behaves like a call and offers us either to answer or to hang up. So you can see, but also interact with the person waiting in front of your door! Not bad is not it?

Finally, and this is an excellent point, SpotCam thought about securing the battery compartment cover. To remove it, you will have to unscrew a small screw placed under the lower edge. But that's not all: if despite everything someone tries to remove the cover in order to remove the batteries and deactivate the device, a fairly powerful siren will ring before it even gets there, and will likely attract the attention of the neighborhood.
Let's take a closer look at this application and see the features it offers.
An efficient application
The basic settings allow you to choose to:
choose a name for your camera, useful when it comes to viewing it on Alexa,
deactivate the camera if you wish,
deactivate the status LED if you prefer your camera to remain unobtrusive,
choose or not an HD resolution and choose, parameter which will obviously influence the quality of the stream, but also on your storage space,
choose between automatic or permanent night vision or to deactivate this mode,
play on the sparkle,
fine-tune alert notifications on your mobile, but also by email, for different cases (when the doorbell is pressed for example ...),
deactivate the microphone,
set the default speaker volume,
choose between three tones for the chime,
etc ...
But what about our dear Alexa?
Alexa becomes your doorman
You probably can imagine it, but if we have chosen this model, it is because it is compatible with Alexa!
Activate skill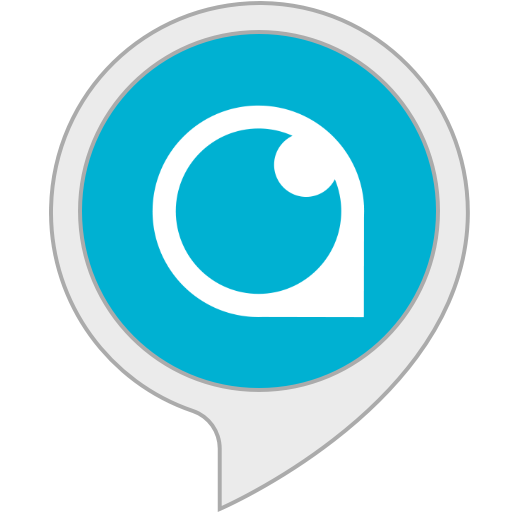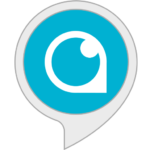 To activate the skill, nothing could be simpler! Just go, as always, either in your app Alexa and look for the SpotCam skill, either activate it from Amazon. Fr. You can also choose to skip the site alexa.amazon.fr if you like.
Visualize your doorstep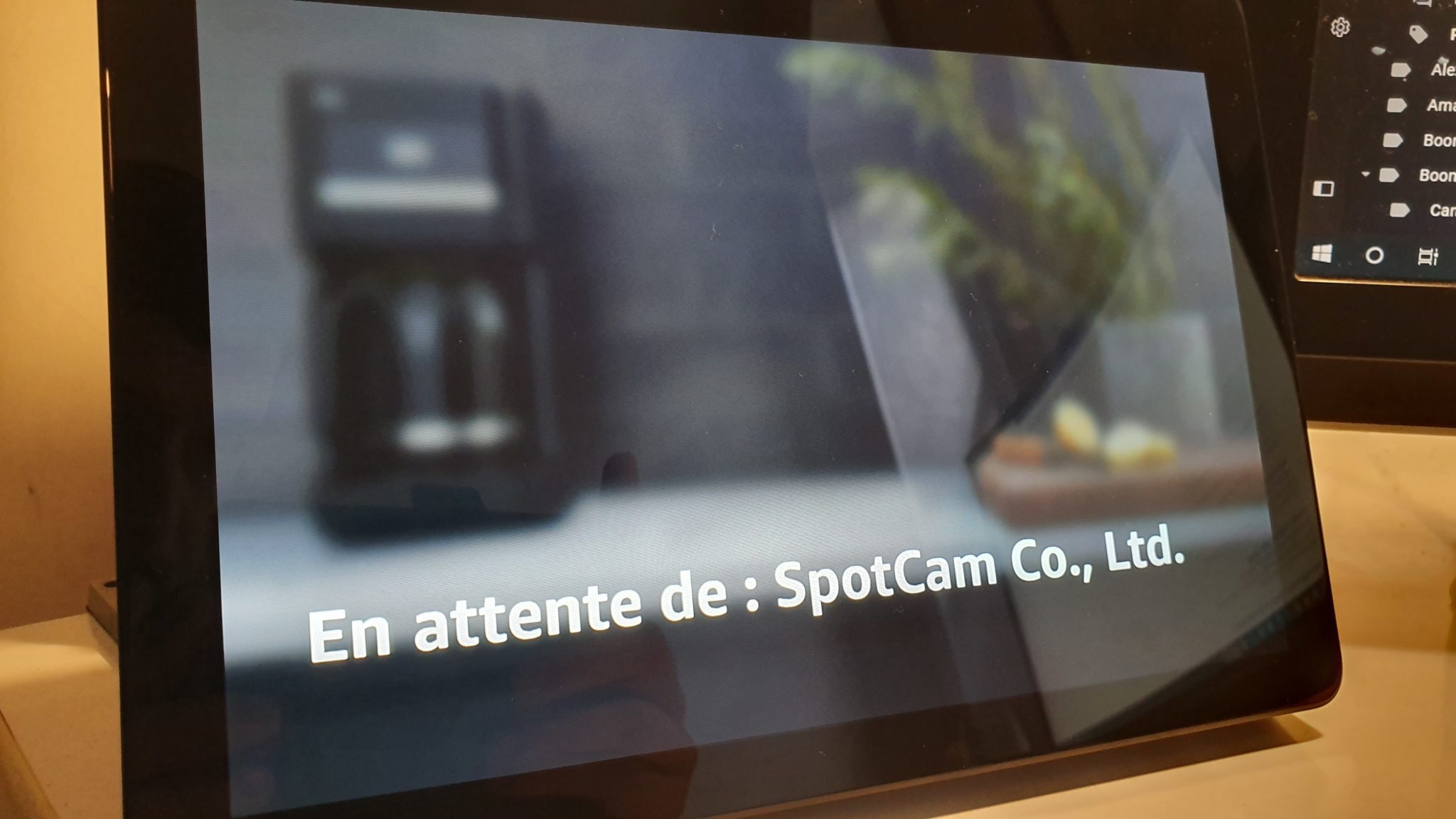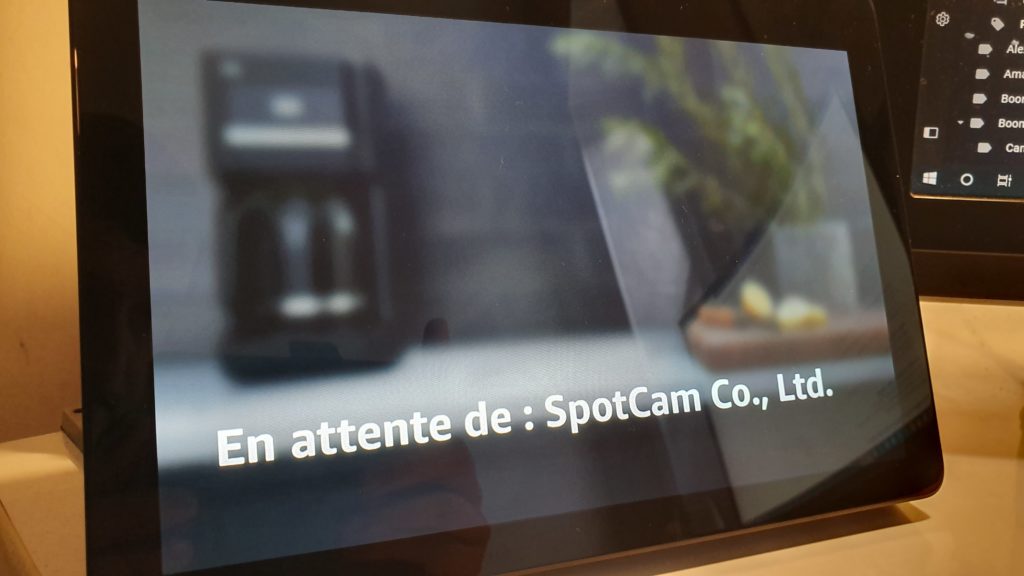 Sadly, display is only on demand and you will have to ask Alexa. We would have liked it to display the feed on its own, but is it possible? At this time, we haven't found the answer yet, but it looks like the API ofAlexa do not allow it yet. Update 25/01/2021: Alexa now offers this possibility, but it is still not integrated into the brand's video doorbells.
Another cool feature that we would like to see happen soon: make Echo devices ring. It would undoubtedly be a big plus. A priori, this is now possible, Ring proposing it. UnlessAmazon does not reserve this exclusivity, it would also be interesting to benefit from this functionality, although the chime already fulfills this function. Yes, Les Alexiens are demanding!
Not available
August 13, 2022 8:51 a.m.
Conclusion
The SpotCam Doorbell Pro Wi-Fi connected doorbell is quite a pleasant surprise! With a very competitive price positioning, the latter allows you to benefit from completely qualitative services. Full HD 1080p video, night vision, alerts by email and on a mobile device: almost nothing is missing.

Unfortunately, the operation of the skill is not always excellent and we have often had trouble displaying the image on our Echo Show 2, Echo Show 5 or even Echo Spot. Moreover, unlike that of Ring, the skill is rather limited since it only offers to view the flow as if it were a simple camera. But can we really blame SpotCam? No because Amazon does not yet seem to allow, to date, to go much further with our Alexa in FR version. As the APIs of our favorite voice assistant keep evolving, we are nevertheless optimistic that SpotCam will update its skill when all the features are finally available in France.
Another black point, but which there too can find a solution: consumption. After five months, we are on our third set of four batteries. This time we have therefore opted for rechargeable batteries, the future will tell us what it is and we will be sure to update this test to bring up the subject.
If, like most connected devices today, the solution relies on the cloud, we also appreciated the fact that the subscription is in no way essential, but also the quite reasonable prices charged by the brand. Indeed, it will only cost you $ 2.95 per month (or $ 29 per year) to store unlimited all your videos for 6 months, or 4.95 $ / month ($ 49 per year) to benefit from a full year of storage. For those who are cold in the cloud, finally, the presence of a microSD port is a great idea and will save you a dollar extra.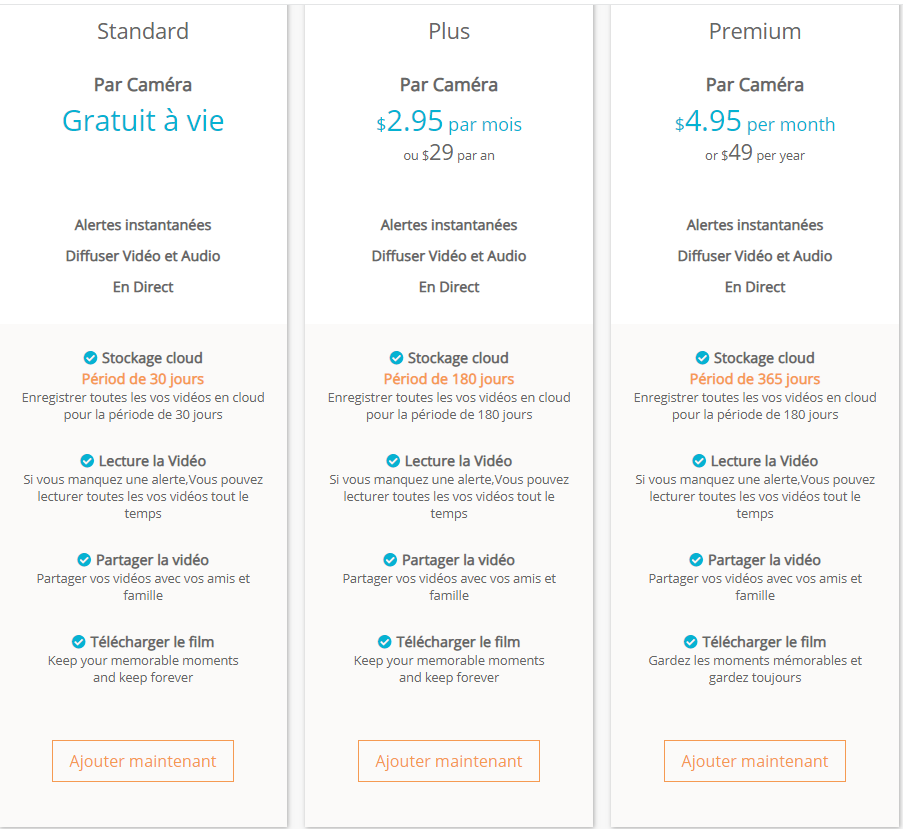 In short, this SpotCam Video Doorbell Pro appears as a serious and economical alternative (except in batteries) to the famous but expensive Ring ofAmazon. A wise choice that is sure to interest many Alexians. Note that we strongly advise you to invest in rechargeable batteries if you do not want to spend money on batteries.
SpotCam Video Doorbell Pro
129€