In this summer season, the Alexiens continue in the outdoor connected sockets tests, the first test not having been very conclusive. We therefore set our sights on the TECKIN brand, known among others for its compatible sockets Alexa, bulbs, lamps ... We are convinced that outdoor sockets can greatly facilitate our life whether it is to plug in objects under shelters (which standard sockets may not withstand too much due to humidity or heat ) but also directly outside, at the mercy of bad weather, without having to go out into the garden.
La TECKIN double input socket is sold € 28,99 excluding promotion and is CE and RoHS compliant. She has a IP 44 . Small catch-up lesson on IP (protection index) for those who take us along the way. The latter is composed of 2 digits, the first ranging from 0 to 6 (representing protection against solids, the 6 corresponding to protection against dust intrusion) and the second from 0 to 8 (representing protection against liquids , the 8 corresponding to total immersion). An IP 44 concerns protection against foreign bodies larger than 1 mm and against splashing water. This therefore means that it supports a little more than rain, splashing associated with watering for example, but not immersion or large amounts of water. This is good enough for standard use in a garden where the risks of inadvertently watering it do exist.
28,98€
36,99€
In stock
2 new from € 28,98
August 12, 2022 16:51 a.m.
33,34€
In stock
August 12, 2022 16:51 a.m.
TECKIN SS42: compact and efficient
The SS42 comes to us in a white glossy cardboard with a drawing of the socket on the front, as well as the highlighting of its IP 44 and its characteristics on the back. At least things are clear and unlike taking ALBOHES the information is verifiable.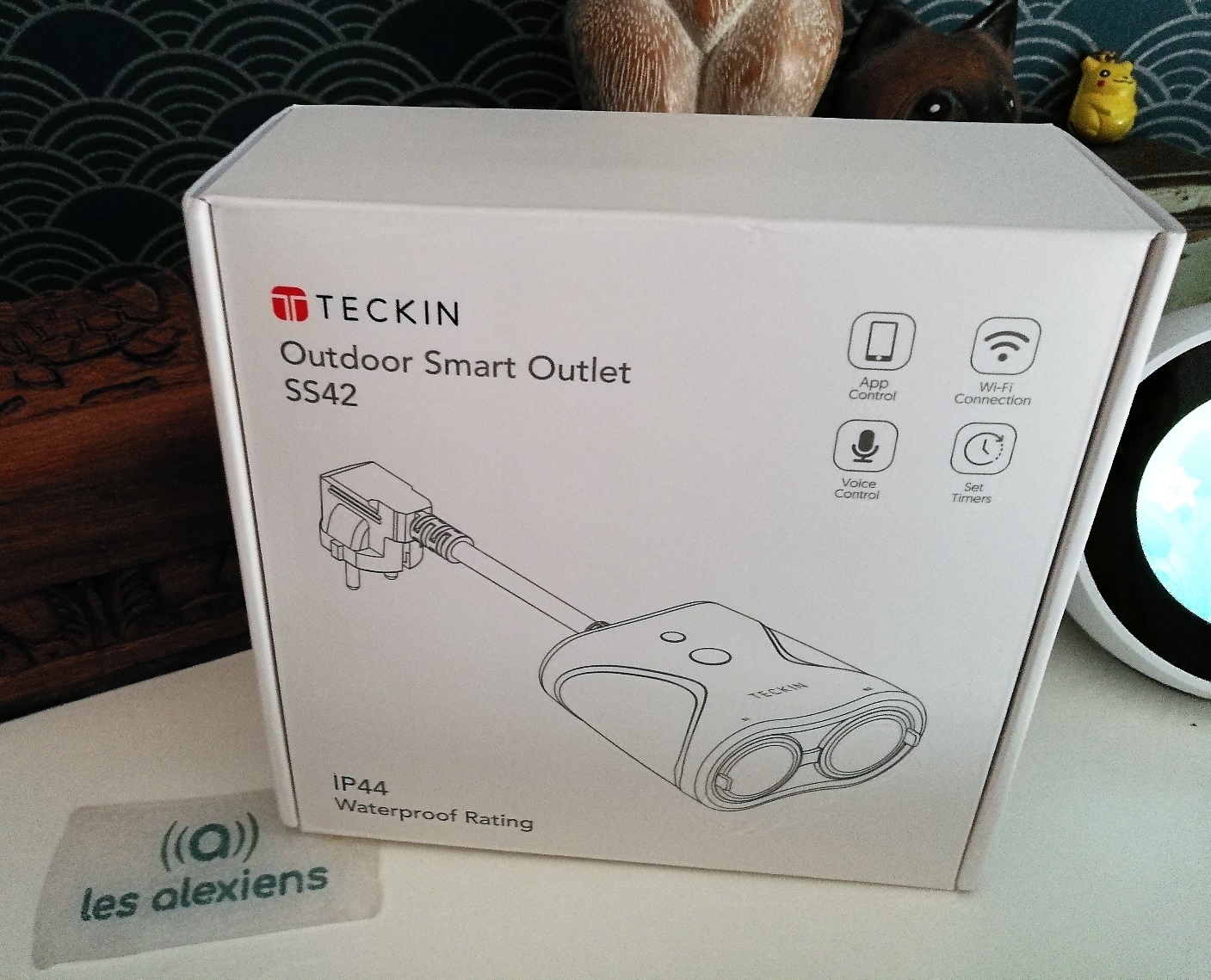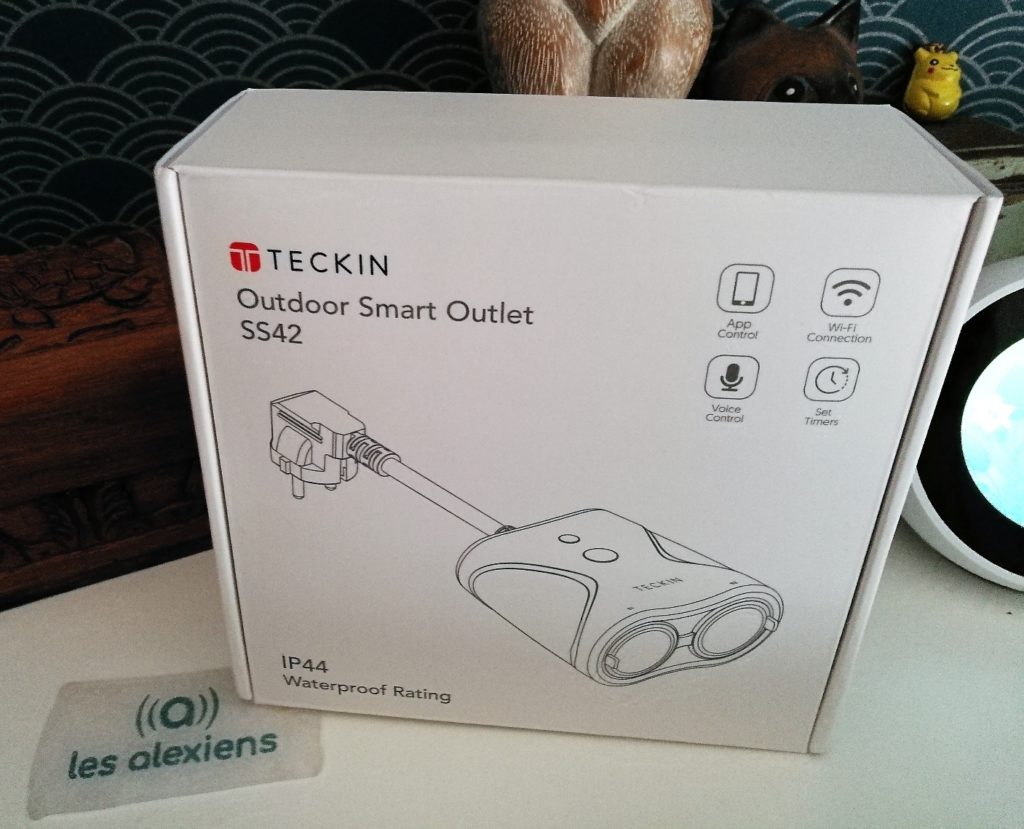 Our take is accompanied by its user manual in 5 languages including the French of good quality. This is in fact a procedure for using the socket under Smart Life and detection by Alexa or GH. Very well pictorial, in very good French, no complaints. There is also a removable part of the socket that is the plug cover. It is a piece of soft rubber type plastic which is put on the two entries (or one of them if one puts it on one side) and comes to block them to avoid the entry of dust and water. On the other hand, it is impractical due to the fact that it is completely detached from the socket and can therefore be lost. It doesn't hold up very well either ... A system attached to the main block would have been easier to use.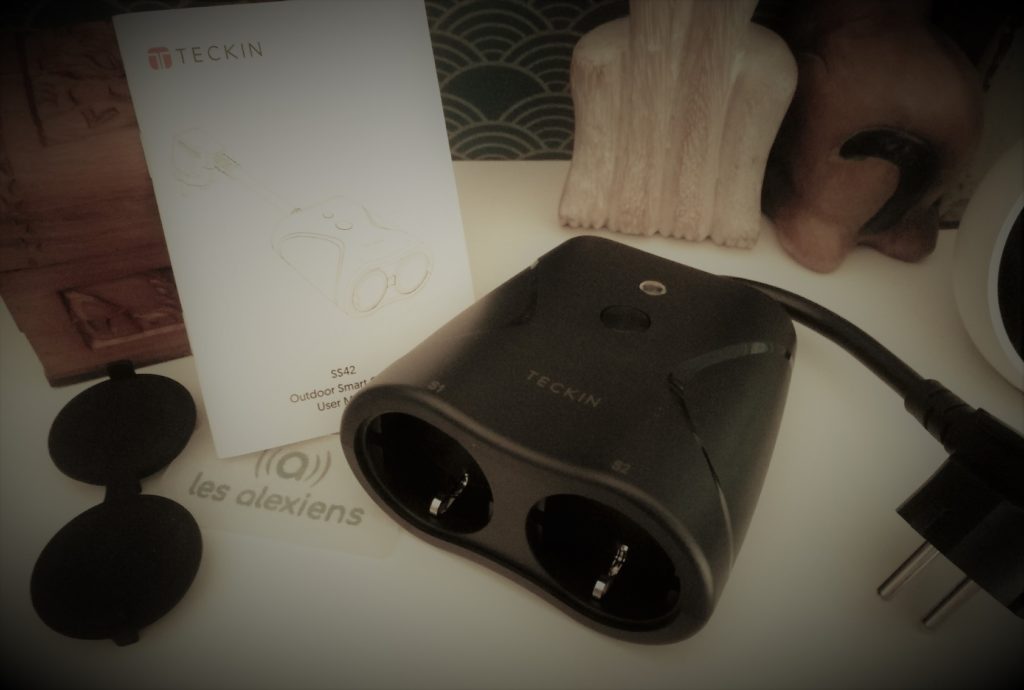 The take as such is quite sober. She looks like a pair of binoculars! Of course, it is completely closed and the button is in fact under a plastic cover and the screws are also protected. It's here condition sine qua for outdoor use. Plastic is very thick and strong. Its cord is 16 cm with the length of the included male plug. You can see in the photos that we are on female Schuko type sockets, therefore suitable for French cameras without any problem. It is the same for the male plug with a stud for the earth. The two sockets are independent in terms of use by the application but in physics, there is only one button which will light the socket in its entirety. This is an advantage in the sense that the type of button chosen will not suffer from untimely triggering like the touch buttons but necessarily having to go back through the application to turn off one of the sockets is not necessarily the simplest if you wish. use it in manual.
At the level of technical characteristics, we are on very good! It works on 110-250V, 56-60Hz and support a max amperage of 16 A product for maximum power of 4000 W. It is also given for a range of use between -20 and 60 ° C. Log in 2.4 GHz Wi-Fi uniquely. Regarding the dimensions, we are on a fairly large block, but this is explained by the double grip and the fact that it must be protected as much as possible: 10,5 cm long without the cable, 10,5 at the widest and almost 5 cm thick for a weight of almost 300 g.
TECKIN SS42: can be used with Smart Life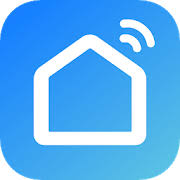 The installation of our socket will be done very simply with the application Smart Life. Don't forget to activate the Skill Alexa to be able to use it with your Echoes. We are not going to detail the procedure that you will find in our tutorials Smart Life.
Even the detection mode is done like the other outlets: once plugged in, press the power button for a few seconds. The blue LED will flash green. This means you have entered pairing mode.
Under the app, tap the little more at the top right to add a device and select "plug", select your Wi-Fi (and GPS if necessary) and let it search. Once the take is found, you can rename it. This will be its generic name. We see that even if it passes by Smart Life, the brand has personalized the interface, if only with the visual of the detected socket.
By selecting the socket under Smart Life, you will see that you can drive the two sub-outlets individually and rename them as you want. The customization by TECKIN can also be seen here with a visual in the background. By going to the alarm clock, you will open an option allowing you to program a switching on or off of the outlet when you wish (add timing) but also a countdown to turn it off or on at your convenience. The functions are therefore those totally classic of the sockets under Smart Life.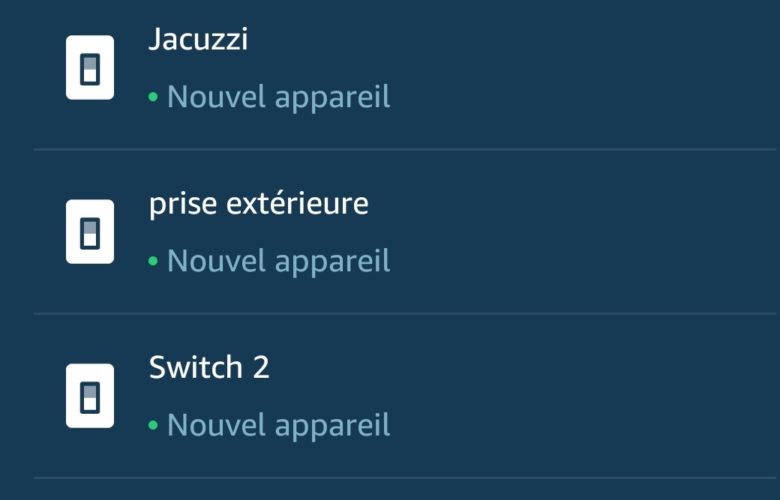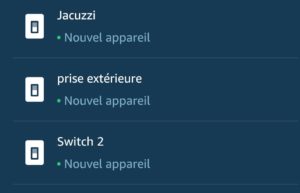 Alexa will automatically discover the global take, but the sub-takes may not be. In this case, start a search for new devices via Alexa and they will go up.
From there, do a few tests to make sure everything is working properly and then we can go outside and play (we recommend that you set the plug inside and then move it to make it easier).
TECKIN SS42: a breath of fresh air for your grip
As in our first test, we tested the TECKIN SS42 in fairly "extreme" conditions in order to ensure its proper functioning in an ordinary garden. First of all, it is possible, even more or less recommended, to fix this socket on a wall but we did not choose this to put it in a worst-case scenario. Indeed, everyone does not necessarily have a well-placed external electrical arrival or under Wi-Fi coverage. And in some cases, the connected outlet will be placed at the end of the extension cord in the optimal location.
Also, it was placed directly on a sandy soil, in full sun, with average temperatures of 32 ° C in the shade during the day and 15 ° C at night, and a relative humidity varying from 43 to 75%. And it went very well. She tolerated the heat relatively well (over 38 in the sun) and day / night variations. Voice control is also no problem. She is very responsive. The physical button is robust enough not to snap into place on its own if insects pass over it (this is the advantage of push buttons).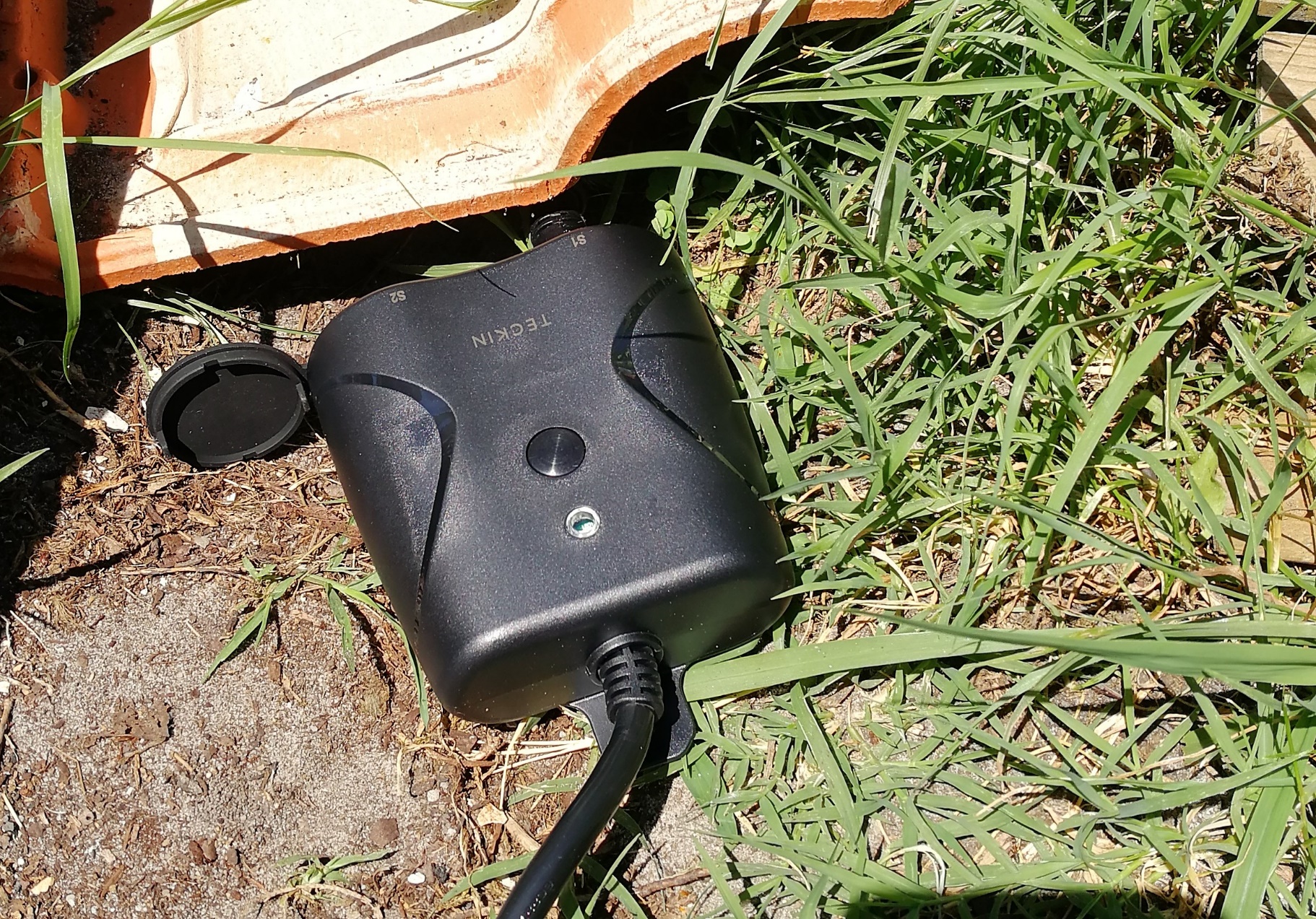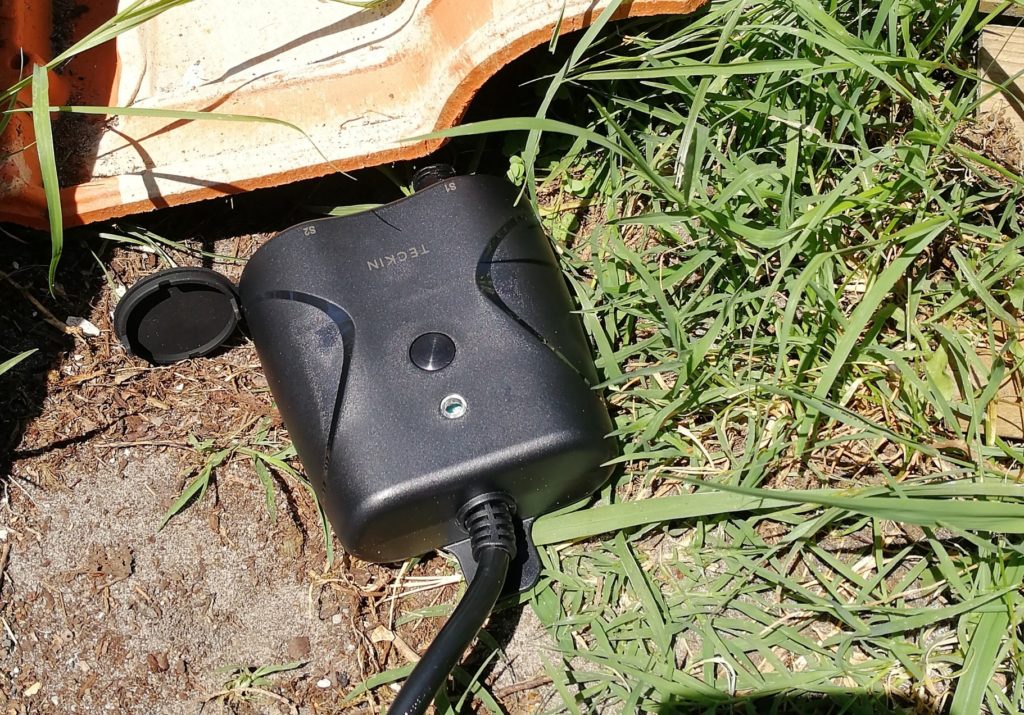 We also tested its splash and rain resistance. Because indeed, depending on its location, it will necessarily get wet at one time or another. With its IP 44, you don't have to worry too much. Our scientific test, perhaps patented, is to water the vegetable garden next to the outlet and also "inadvertently" water it.
Well in the case of our TECKIN, no problem was found. She did not go to safety, nor extinguish herself as she had done the ALBOHES plug. It must be said that the button will not be triggered on its own given its mode of operation and that its rating 4 for water protection is quite suitable for this situation, although it should not be soaked either.
But out of conscience, we made a other test by spilling two glasses of 250 ml of water (case of an aperitif that goes wrong). And no problem to regret. It was even possible to see that water does not stay on the socket, or very little. This is a very good point.
In conclusion, this connected double input socket for the exterior is a very good product. We pushed it to its limits (at least) and it didn't fail. It supports water and dust very well, and can therefore remain outside permanently. To be on the safe side, you can shelter it a little bit more than we did. It offers protection adapted to the use assigned to it. The control of the two individual sockets is very practical, but we can regret that it only works by the application. Indeed, via the single physical button, it is the entire plug that is controllable. It is very easy to install, robust, programmable and reliable. However, we can highlight that the cache system is not the most ingenious that we have seen.
28,98€
36,99€
In stock
2 new from € 28,98
August 12, 2022 16:51 a.m.
33,34€
In stock
August 12, 2022 16:51 a.m.