Like any good Alexien or fan of unlimited home automation, you may have come to agonize " that damn Wi-Fi that is rowing more and more! And in addition, there are only 30 devices connected to it! Seriously, it's not possible !!! "… Yes… Because whatever one says, it is a fact. The more devices you have connected, the more your network can show signs of weakness, slowdowns. From there, several possibilities: switch to fiber (but there will always be a limit to Wi-Fi), switch to ZigBee or adapt a mesh system.
Mesh, or Mesh, will allowextend your Wi-Fi network in your home and thus have uniform coverage. Indeed, the intensity of Wi-Fi will decrease with distance. If in addition you have devices that shoot, those at the end of the network will have trouble communicating. With a Mesh system, the different modules will amplify and distribute the Wi-Fi more constantly. Thus, you will be able to more easily capture the network wherever you are and also be able to "boost" it a little because it will be more uniform because the modules have the particularity of managing the connections to associate your devices with the most efficient access point to a moment t.
We have tested the TP-Link Deco P9. It is a hybrid mesh system, that is to say that it integrates in addition to a simple Wi-Fi mesh system a PLC connection between the modules. The goal ? To be able to reach remote areas or areas that are difficult to access by the Wi-Fi waves of the main module (thick walls for example). Some of the data will pass through your electrical circuit and will be returned in the form of Wi-Fi. Sold for € 219 in a set of 3, it is advertised for a speed of 1200 Mbps and 1000 Mbps in CPL. And compatible Alexa !!! Let's see…
190,52€
219,90€
In stock
26 new from € 188,52
Refurbished from 2
August 13, 2022 16:52 a.m.
TP-Link Deco P9: unboxing
TP-Link is a Chinese brand specializing in home networking products. She is very well known in this sector and it still remains her main activity. It has proven its worth for years and its range is growing more and more. The Deco range has many different references (CPL, simple mesh, more or less powerful and interconnectable) and the P9 is the latest addition to the range. It is also the most powerful of the hybrid range.
Our 3 modules are packaged in a white and light blue cardboard box, using the brand's colors. Fairly bulky and heavy, this packaging highlights the modules and emphasizes the advantages of the beast: anti dead zone, possibility to connect up to 100 devices, Easy to put in place, covers more than 560 m², 1200 flow rates et 1000 Mbps, and operation with Alexa and IFTTT.
The three modules are well wedged in cellulose cells and are delivered with a power cord each but a single RJ45 Ethernet cable. There is also a quick installation guide which is very quick because there is only one page in French telling you to follow the instructions of the TP-Link Deco application ...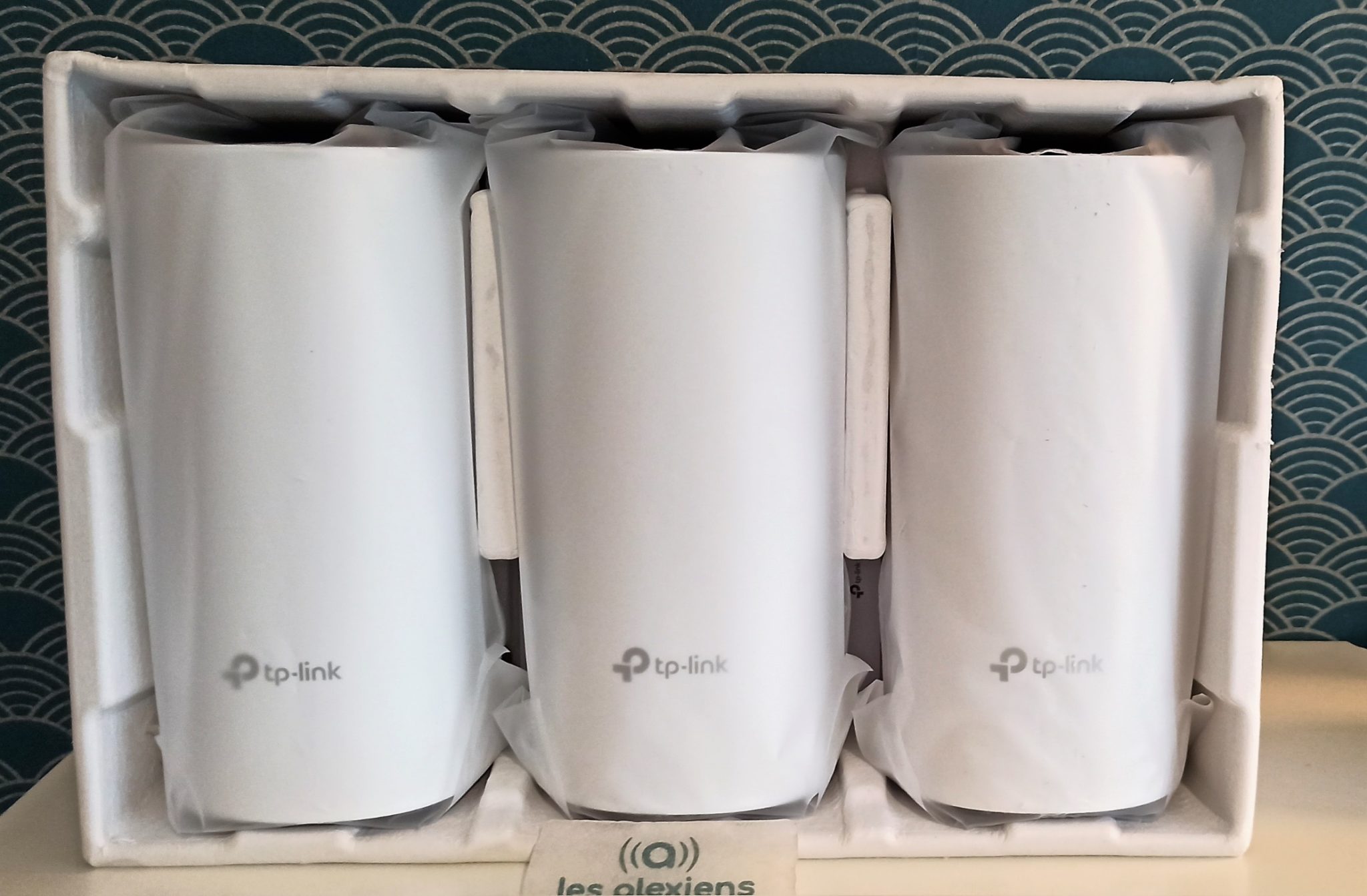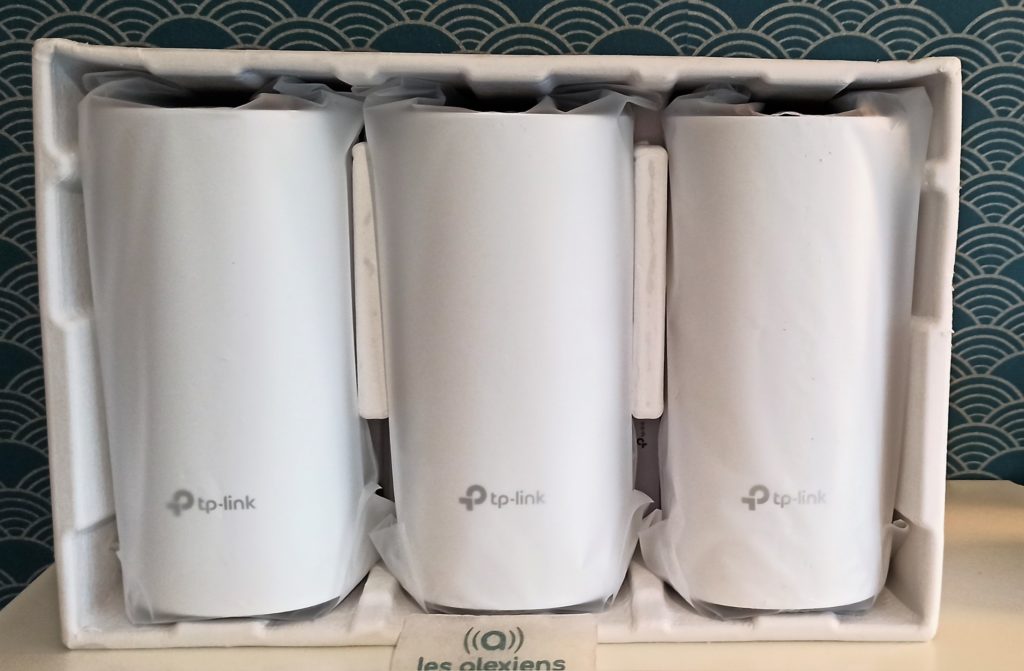 In terms of design, we are on the 19 cm high, 9 cm wide and 380 g. Quite voluminous therefore, but the color and the visual make them blend quite well in an interior. They are made of standard quality white plastic, which is quite thick. The top, back and base are black plastic. The top is also quite neat because we can guess the P of TP-Link with the logo which is in fact an LED giving the status of the module.
There is on each module 2 Gigabit ports and on the underside the insert for the power cable. So in the end, it's both pretty basic and pretty pretty.
Let's take a quick look at the characteristics of the modules:
Mesh protocol in 802.11k / v / r. That is to say, basically they will allow devices to quickly find an access point, accelerates identification.
300 Mbps in 2,4 Ghz et 867 Mbps in 5 GHz… Ah yes, the 1200 Mbps? Well, in fact, it's the addition of the two theoretical bit rates of the two bands…
MU-MIMO : multi-user, multi-input and multi-output. That is to say that thanks to this, your modules can communicate with several devices at the same time. They are faster and more easily manage multi connections.
Access point
IPv6 compatible : longer IP address, therefore more IP addresses possible and therefore less risk of saturation.
Guest network
Parental control
...
TP-Link Deco P9: commissioning and use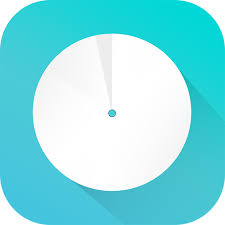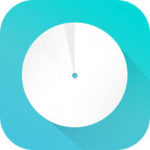 The products in the TP-Link Deco range are entitled to their in-house application: TP-Link Deco. The manufacturer sells us dreams by telling us that the installation of the P9 will be a breeze thanks to it. So act. But first of all, you need to create a Deco account. Then, indeed, nothing very bad, even if it is rather long. We invite you to follow our video to see the installation in practice and discover the P9s at the same time. But if you want a quick summary, here it is.
Once in the application, press the "+" at the top right, and choose the type of Deco you are going to install. You must unplug your internet box in order to come and couple the P9 (any one) with the Ethernet cable provided. Once powered on, when the module turns blue, the application begins its work. Activate your phone's Wi-Fi to establish communication with the module and let it go. The application will ask you for the location of the P9 and will then detect the type of internet connection you have (fixed or dynamic IP). Dynamic IP helps to better secure your network. Then it's up to you to determine the name and password of your new Wi-Fi. Your network will then be created. You will then need to connect to this new network to continue. This step is quite long, between 1 and 2 minutes.
Following this first step, you can set up additional modules (it is possible to do this later by pressing the + in the application). The procedure is simpler. Just plug in the module and let it be detected by your phone. It's up to you to choose whether the module is on the same stage or not as the main P9 and to choose the part. The application will then integrate it into the network. This is still a bit long. But ultimately, it is done without problem and very easily, as advertised.
Now let's take a closer look at our Deco application. You will find that it is quite simple, even simplistic for some. There are actually quite a few possible settings. For people who want to be able to manage everything, this can be a brake, for others, who do not want to mess around, it can be a strong point. It is really debatable and both opinions are admissible.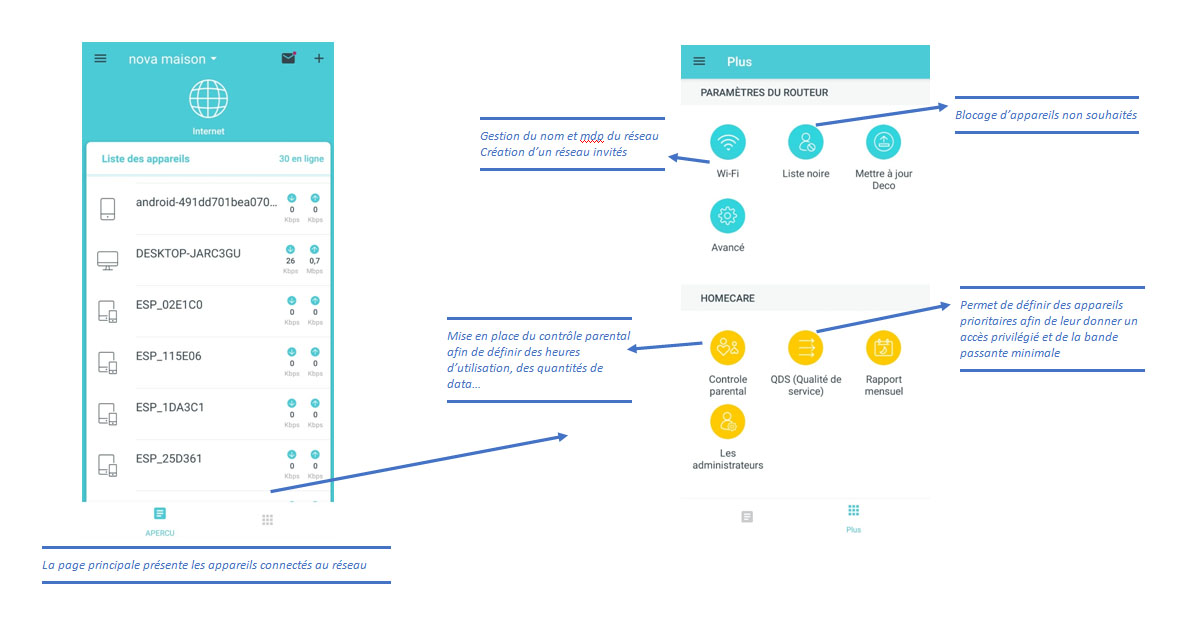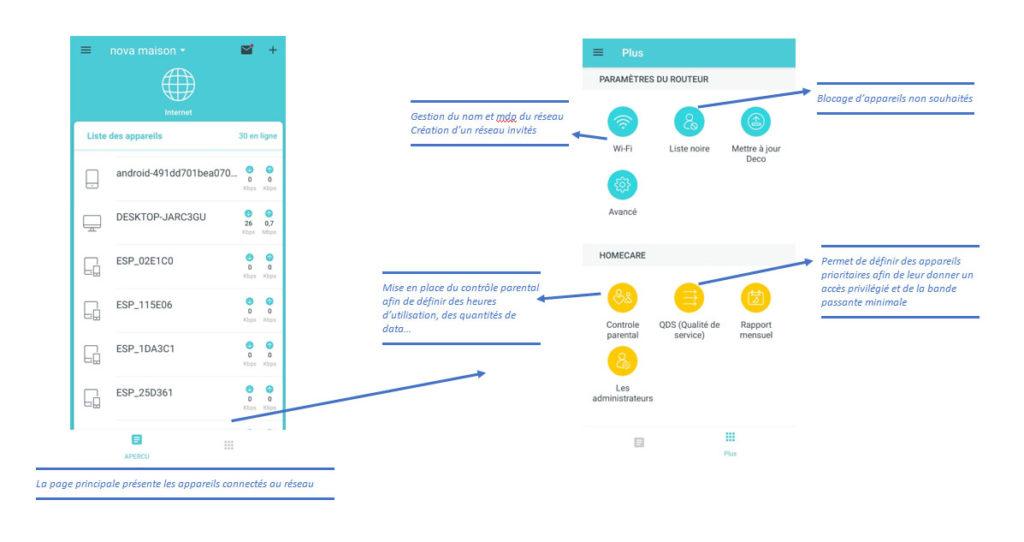 Le advanced menu lets go a little further. But as you can see, it's pretty basic ... There is still the possibility of switching to IPv6, to manage VLAN, reserve fixed IP addresses or to choose if your Mesh is a router or access point.
Little attention from TP-Link, you have the possibility by going to LED control de choose the hours during which your P9s will turn off their LED… Nice.
In terms of use, we reinstalled around thirty connected objects for the test in order to see how easy it is to juggle between 2,4 and 5 GHz. Indeed, you know that almost all connected objects only work in 2,4 GHZ. Some Mesh allow you to choose the frequency, or at least put one on standby for a certain time. You can see that with the P9 this is not the case. There is no possibility to juggle the bands. So he does it all by himself. But does it do it well? Well for once, yes. Because of the thirty objects only one posed problems. Everyone else connected without any problems. The Mesh therefore manages the frequency allocation very well autonomously. But being able to force it if necessary would be welcome.
And in use, what does it give? Well listen, that's not bad at all. Difficult to give you figures in all directions with ascending and descending flows, the whole being compared with your theoretical flow, your box, the extent of your home, your walls, your electrical network ... In short, it's a fairly empirical return after several days of use that we are going to present to you.
First of all, let's clear one thing up. If we look at the packaging of the P9, it can make believe that the hybrid system will boost your network even beyond its theoretical capacity. Be careful, it will only boost your network beyond the theoretical Wi-Fi speed by "adding" the speed from the PLC. That's all. If you have an initial throughput of 10 Mbps, you will not have a throughput of 11 or 12 Mbps. But if your Wi-Fi allows you a theoretical speed of 6 Mbps (it depends on your box router, on the place where you receive it), you will be able to have more. But in no case will you have more than your 10 Mbps in total.
Daily, we have seen notable improvements on the network, which was already in Mesh with modules from another brand. This remains subjective of course, but despite 39 connected devices (including 2 PCs, 4 smartphones, 2 game consoles, 1 CPL TV decoder, a connected TV, 2 Fire TV Stick 4K 8 appliances Alexa (Echo Show, Echo and Dot) and all the rest in connected objects Wi-Fi and ZigBee bridge), a clear improvement in the speed for surfing the Internet, responsiveness of connected devices or other has been seen. Two values ​​if you want: the ping on an online game that was previously around 150 to 300 has dropped to less than 50 on average; a test with all the devices in operation, including HD TV requiring about 5 Mbps, made it possible to achieve a speed of 6 Mbps in Wi-Fi on a console, knowing that the theoretical speed of the network is 12 Mbps. It is therefore clear that the Wi-Fi speed, in the absence of the network, is boosted and that this is being felt.
And finally, what aboutAlexa ? Hey yes, it is marked roughly on the packaging… Too big we will say… Because if you look at the screenshot below, you can see that it is not only available in English, German and Japanese... So nothing in French, again. The skill is actually not available with us. What a disenchantment… In principle, if it happens one day with us, it will be possible to turn on or off the LEDs of your P9, to switch it to night mode (so again the LEDs), to activate the WPS, d '' activate the guest network, perform a speed test or even prioritize specific activities such as streaming, gaming or a particular device on demand. It's a shame, because even if it is possible through the settings of the app, doing it by voice will be really handy.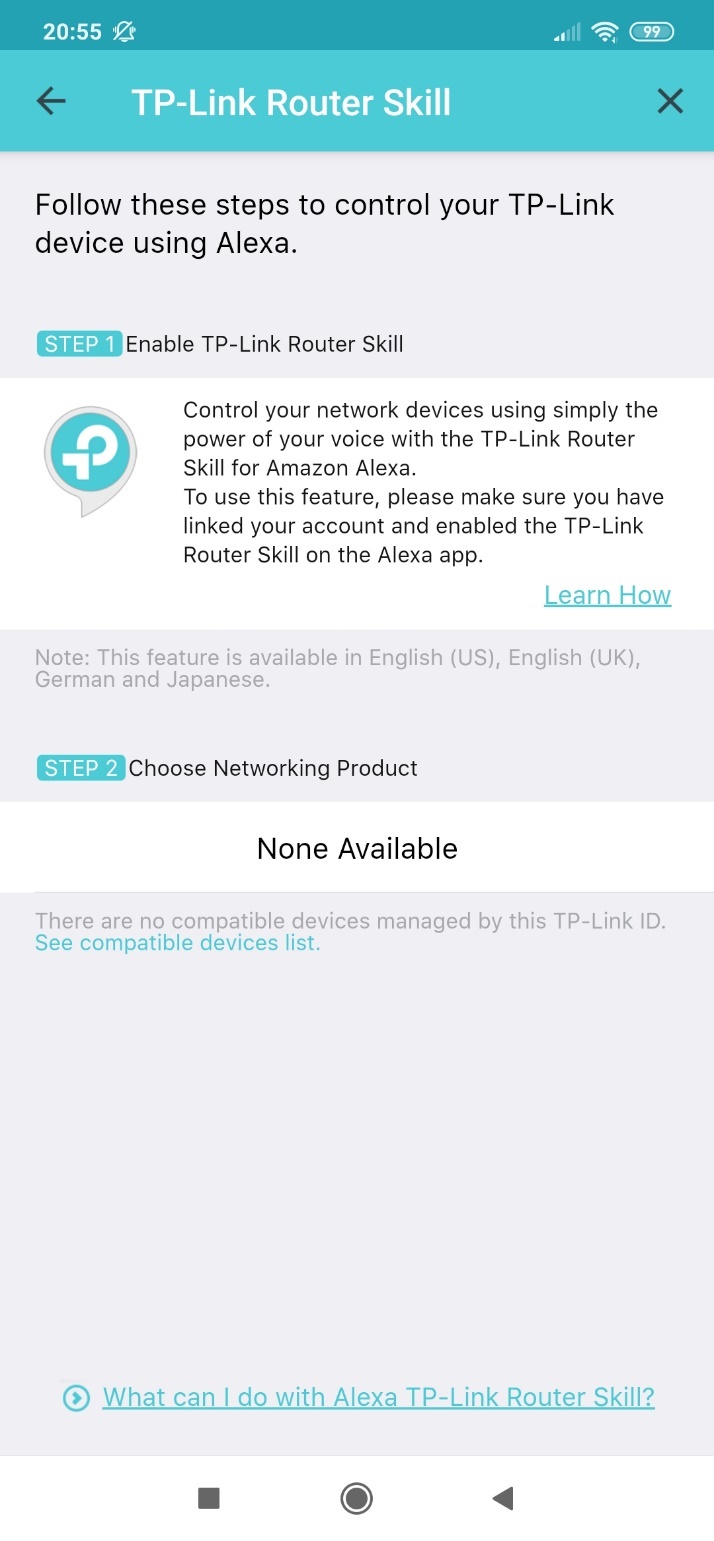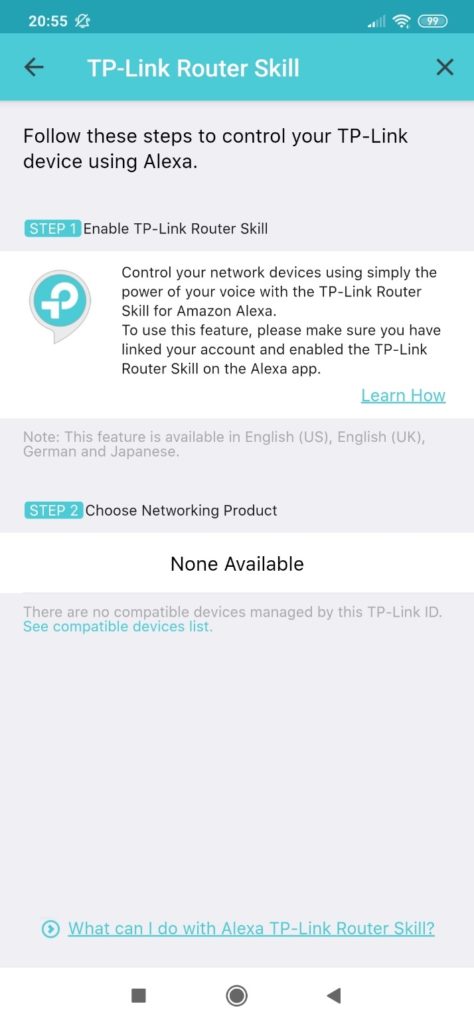 190,52€
219,90€
In stock
26 new from € 188,52
Refurbished from 2
August 13, 2022 16:52 a.m.
In conclusion, the Deco P9 hybrid network mesh system is a very good product for a very reasonable price compared to other systems on the market, because at a little over 70 € per module. During our real tests, and not in the laboratory with nice graphics and theoretical curves, the speed has noticeably been improved in all the uses made: surfing, games, connectivity ... The hybrid mode seems to bring a real plus compared to a Mesh network standard that we were already equipped with. It installs very easily and is also very easy to manage. But it can also be a weak point because for those who like to hack their network in the smallest details, the parameters are not very advanced. Impossible for example to force the 2,4 GHz ... The big problem remains that despite what is announced, the Deco P9 is not (yet?) Compatible with Alexa in France…
190,52€
219,90€
In stock
26 new from € 188,52
Refurbished from 2
August 13, 2022 16:52 a.m.
TP-Link Deco P9, Powerline Wi-Fi Hybrid Mesh System
around 219 €