In the family of connected bulbs, Les Alexiens want an E27. But not a simple gloomy and sad looking E27. No, we want pretty, we want retro, we want beautiful! Ok, ok… We have what you need: a retro-effect bulb thanks to its filament LEDs, connected via Wi-Fi! And this time, it's TP-Link that sticks to it.
La TP-Link KL50 is a LED bulb E27, A60 (standard size) from 7W, soft white 2700K. It works with the home application, Kasa Smart, and therefore with Alexa because the skill is available. This bulb of 800 lm to a vintage design but at the same time modern with the choice of its colors. At € 14,90, what is it worth?
31,00€
In stock
5 new from € 27,73
August 11, 2022 20:52 a.m.
Not available
August 11, 2022 20:52 a.m.
TP-Link KL50: unboxing
We no longer present the Chinese brand TP-Link specializing in home networking products. It has been present for some time on the connected devices market, here is one of the latest innovations: the KL50.
Our E27 is packaged in a white and light blue cardboard, using the brand's colors. It highlights the product with beautiful visuals of both the bulb and the Kasa app. Operation with Alexa, IFTTT and Google Home is highlighted from the front. The remarkable characteristics are presented on one of the slices: dimmable, controllable from anywhere, device group management, energy management and controllable by voice. The intrinsic characteristics, they are written in very small, under the bottom of the box. The first impression is very good.
The first impression is very good. The Alexians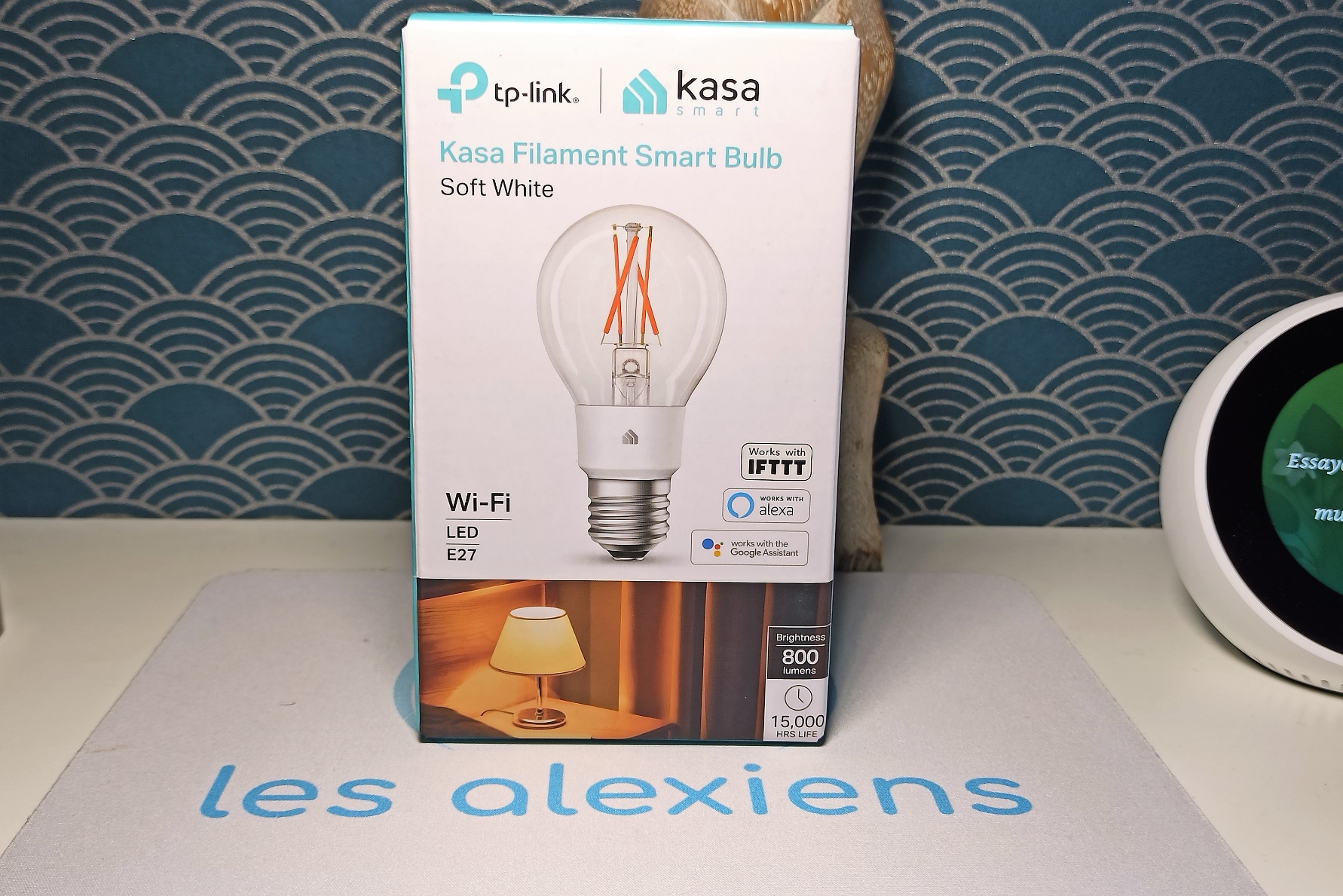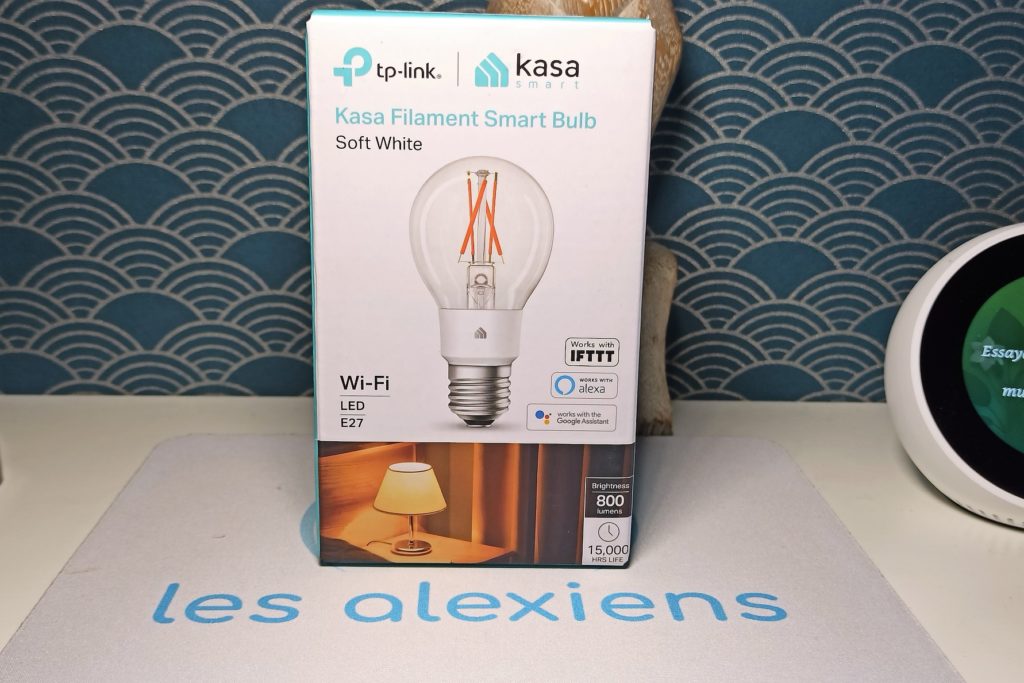 We find our bulb and a notice in 27 languages ​​!!! Hey yes, even languages ​​never seen ... So you might as well tell you that the information is more than light ... In one page you are told to download Kasa and follow the info of the application. There you go ...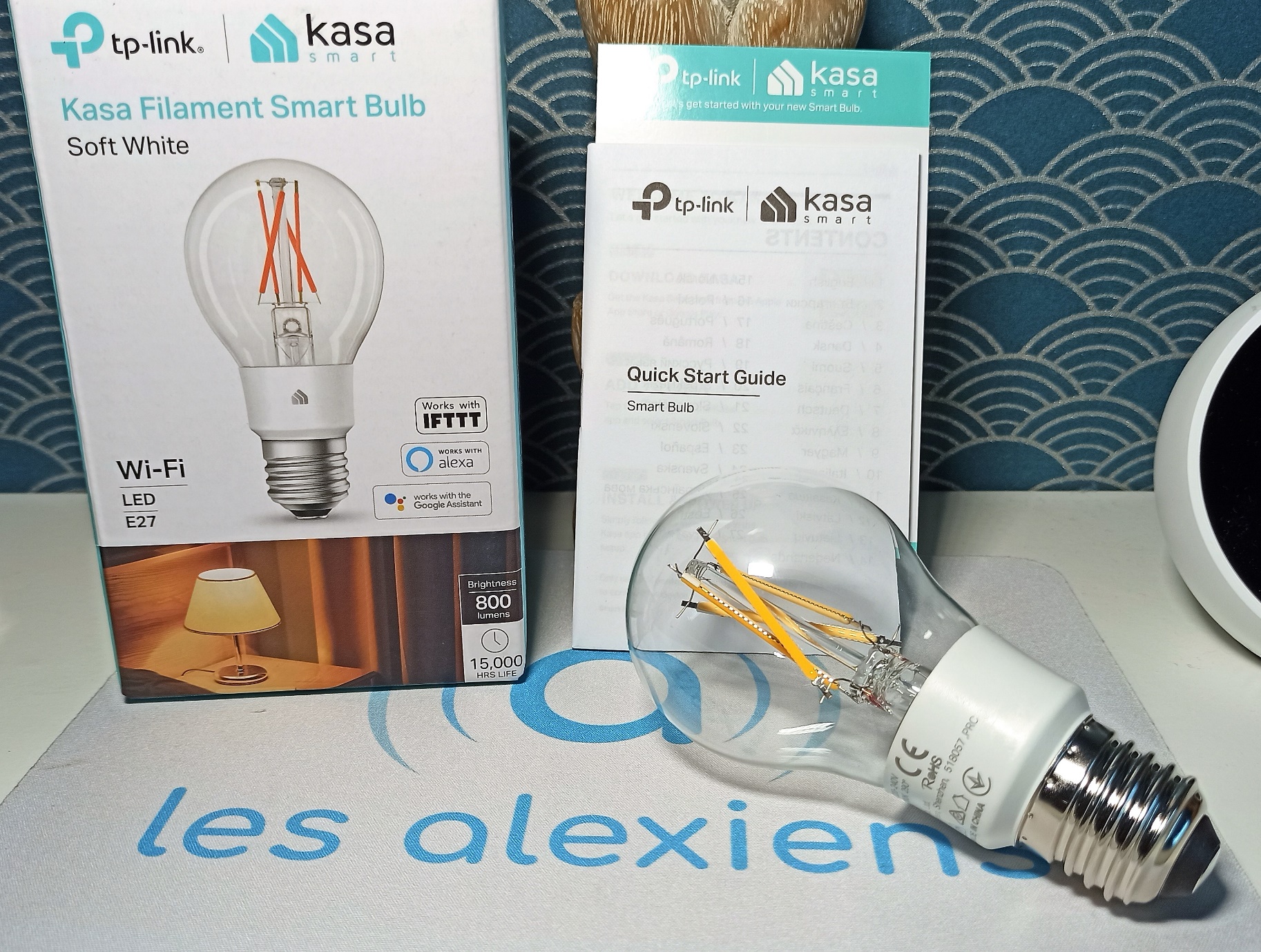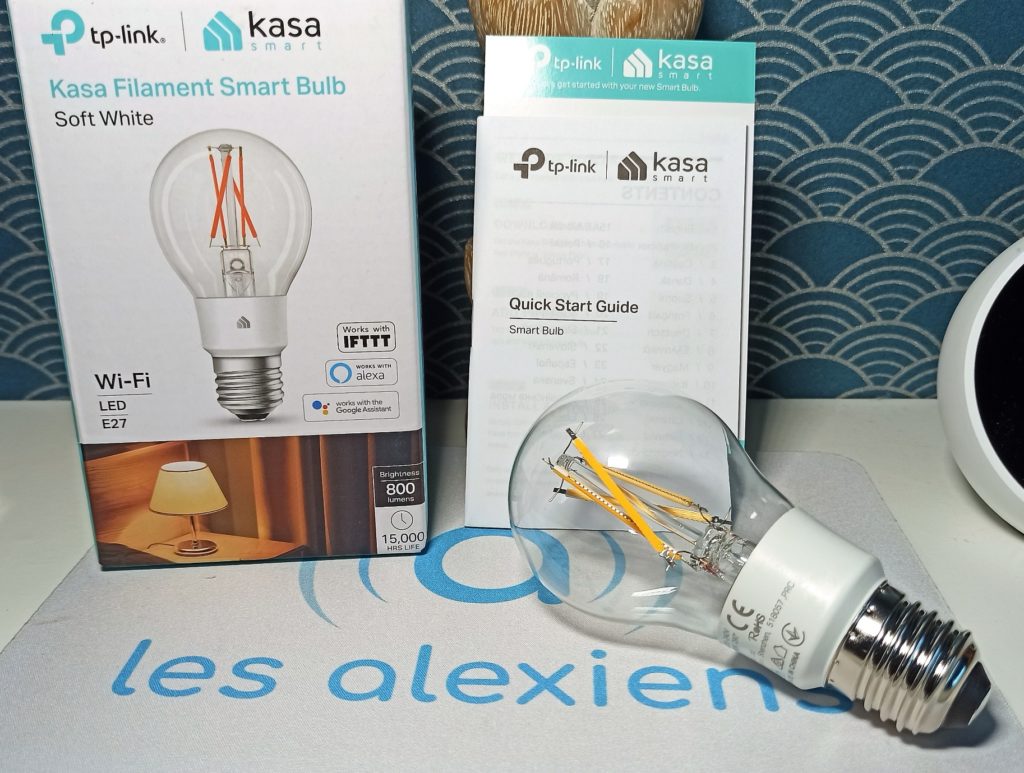 Regarding the KL50 bulb, the visual is really successful. TP-Link did not follow the 100% retro fashion like other brands by making a golden or aluminum Edison bulb and screw. The mark remained on white, which, mixed with the filaments, gives a curious neo-retro look. Its 4 crossed filaments are all in all fairly standard compared to other bulbs of this type. Small remedial course: we are talking about filaments, but these are made of very small LED chips. Its retro aspect is linked to these filaments.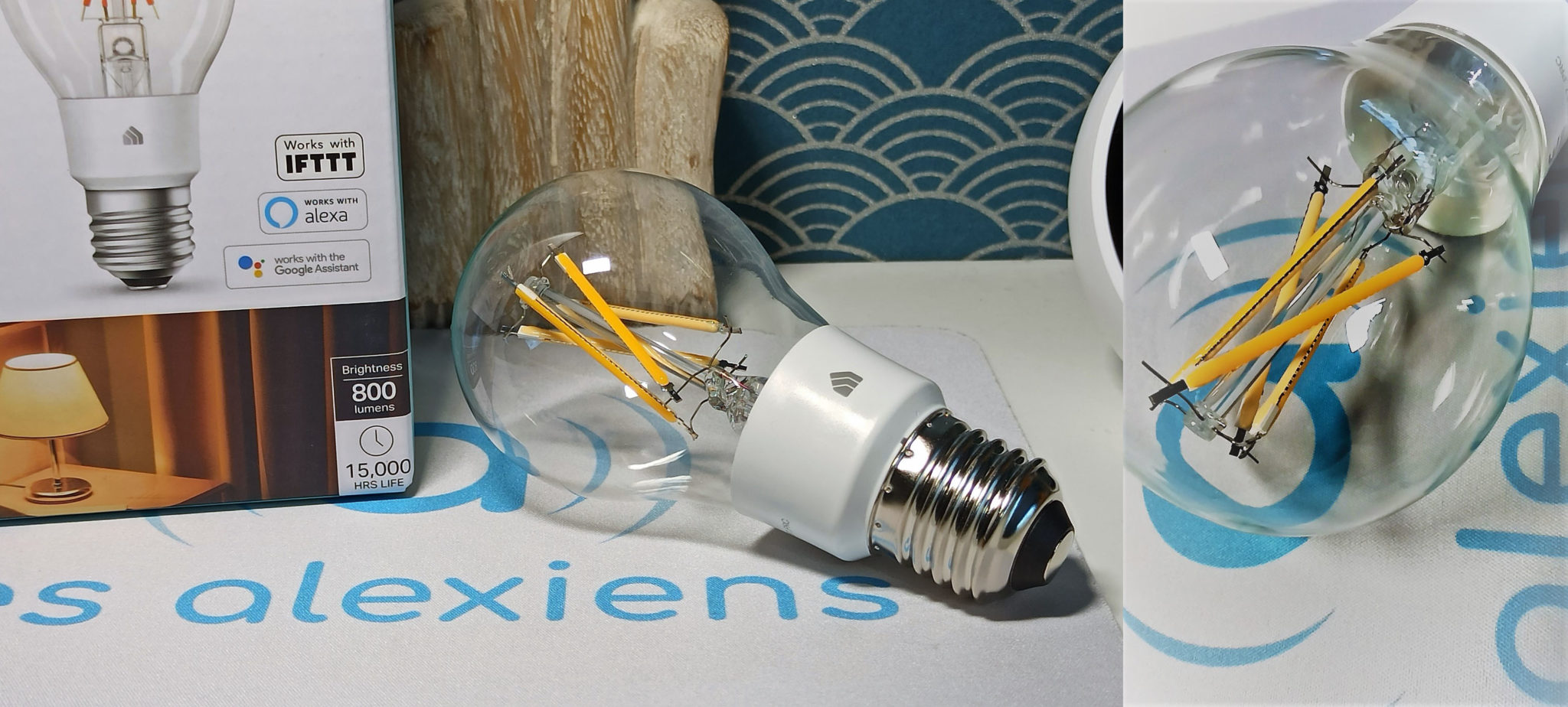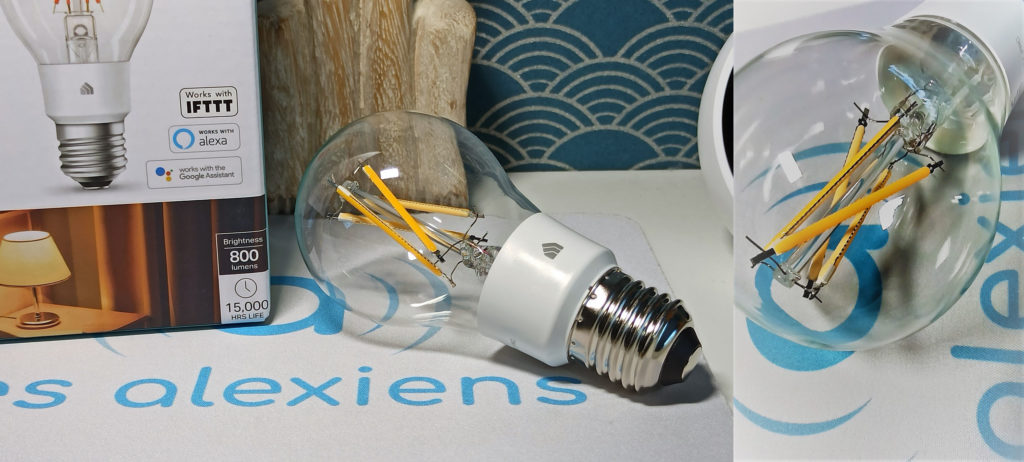 In terms of materials, we are on a "middle ground" bulb. That is to say a transparent glass bulb (and of significant size where the bulb of other LEDs will only be a quarter of the size) with the insulating glass mount clearly visible as on incandescent, the ballast in composite as on the LEDs and a metal base. It is very well finished and quite light (Approximately 53 g). During use, we did not observe any significant rise in temperature.
Regarding the characteristics, it is 6 cm in diameter at the widest and 12 cm long once in place. She is from class A ++ (7 kWh / 1000 h) and is advertised for 15000 hours of operation (1,7 years permanently on and more than 20 years if used 2 hours per day) to 800 lm. It works in 2,4 GHz Wi-Fi, IEEE 802.11 b / g / n. At the electrical level, 220-240 V and 50/60 Hz. Its IRC is greater than 80, which is the minimum to expect from this type of bulb. Only the fact that it is a unique warm white can be leveled at the weak points. This choice of 2700K white means that despite its 800 lm, it will not be suitable for the main lighting of a living room where we rather expect a whiter light. She is perfectly suited to an auxiliary lamp, for a bedroom or a bedside lamp.
TP-Link KL50: operation with the home application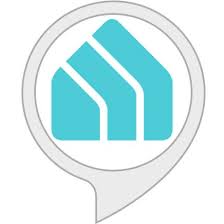 TP-Link brand products are entitled to their in-house application: Kasa Smart. We therefore proceeded with the installation using this application and the dedicated skill. First of all, you need to create a Kasa account. This is quite fast: an email, a password and validation of your account using the activation email.
Because we know that you like the videos, and once becomes customary, we were happy to put you in joy thanks to an explanatory video, my faith of very good quality. But in summary, here is what to remember.
Once in the application, press the "+" at the top right, "add a device", " Smart Light "and" LED filament bulb ". To put the plug in pairing mode, simply turn it on and wait about 5 seconds until it flashes… Then follow the standard procedure: selection of the Wi-Fi network, let the detection take place and rename it. This is quite long, however. It takes a good big minute. There is a firmware update thereafter.
To use it in a simple way, rename your bulb. If you have activated the Kasa Skill Smart, Alexa automatically discovers it. Otherwise, start a search.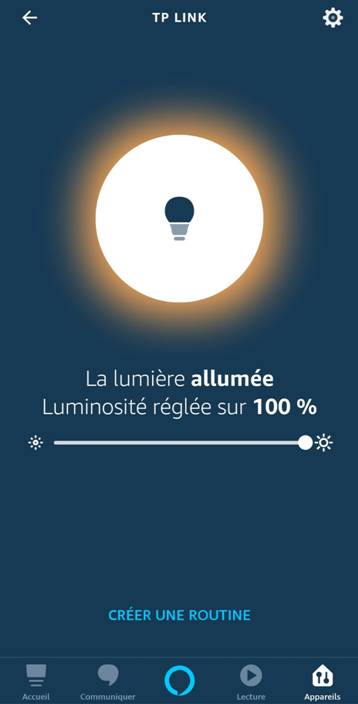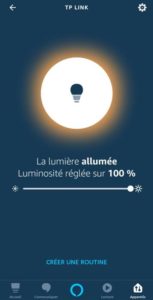 Let's take a closer look at the app. It is possible thanks to it to come to turn on and off your bulb but also to come to vary the light intensity. This is done by sliding your finger on the semi-circle or by selecting one of the shortcuts pre-recorded at 1, 25, 75 or 100%. But still in soft white.
The good surprise of this bulb is the fact that there is a monitoring of electricity consumption. It allows you to follow instantaneous consumption, an average over 7 days and over the month. The application also gives an estimate of the gains compared to an equivalent 60W bulb. A big strong point.
Want to see our TP-Link bulb in action? Take a look at this video test. The responsiveness is quite correct via direct use of the application but also by Alexa. Soft white is very present, even if this luminous heat causes a large part of the intensity to be lost. The video does not do justice to the different levels of intensities which are actually quite marked. There is no flickering of the bulb when it is filmed, proof of the quality of the product… This is a bulb that we really liked.
In conclusion, the TP-Link KL50 is a very good product. She's got one very good light intensity with its 800 lm (one of the maximum intensities for bulbs of this type) and a shimmering color. Its weak point remains the fact that the warmth of white cannot be changed, but this is counterbalanced by a consumption monitoring very well come for a bulb. The application is also very good, although there has been a lack of stability in 4G with some brands of phone. To be continued on this point. For 14,90 €, it is a very satisfactory quality / price ratio.
31,00€
In stock
5 new from € 27,73
August 11, 2022 20:52 a.m.
Not available
August 11, 2022 20:52 a.m.
TP-Link KL50 Wi-Fi Connected Filament Bulb
14.90€