The in-ear headphone market is very competitive and finding the rare pearl is not easy. The ANC (or Active Noise Reduction) function is now a must and more and more manufacturers are sticking to it. One of them, Tronsmart, is a brand that we follow for the quality of its products and its value for money. And it is to her that we are turning with two new products, the Apollo Air and Air +, little brothers of the Apollo Bold.
Sold from 55 €, you will be entitled to headphones True Wireless Stereo Plus (TWS +), ANC, autonomy of 4 x 5 hrs, IP45 and can interact with your phone to launch your connected assistant ! We are on devices at an unbeatable price in terms of features. Is it really as interesting as it sounds?
Tronsmart Apollo Air / Air+: unboxing
IF you follow us regularly, you know that Tronsmart is a company specializing in the manufacture of audio accessories, in close connection with GeekBuying because it is their brand. Eric Cheng, its founder, started to create a wide range of gadgets and in 2013 he switched to mass production of his inventions. Its leitmotif is: « If you offer the customer quality products at an affordable price, nothing can stop you from expanding ». And it is true that the prices are relatively low compared to the quality. So far, the brand has not disappointed us ... Well, a little with the Apollo Bold, much too big.
The ApolloAir are named after the Greek god Ἀπόλλων, god of song and music. They come in packaging faithful to the brand code with orange and blue, in heavy cardboard boxes and glossy prints. On the front, a visual of "Air", ANC and aptX well put forward. On the reverse side you can find almost all of the specifications… in English. Moreover, everything is in English, even the user guide.
The packaging is very qualitative! A real pleasure for the eyes if you like the colors that fart. It opens like a box of chocolates, removing the top. Loving finishes, Tronsmart protects its products with transparent plastic which also enhances the products. All the elements (case, headphones and cable) are nested in a molded plastic shell for better protection.
You will therefore have:
Apollo Air headphones,
A case that can be put in a trouser pocket without any problem,
A very short USB-C cable
4 silicone tips in advance (2 large and 2 small)
No storage bag, but in principle, this is not really necessary given the size of the case. Indeed it does 6cm long, 4cm high and 3cm deep for a weight of 32 grams. In white and shiny plastic, it does not suffer from any problem with the finish. On the back, a button will be used for pairing. Next to it, the USB-C female plug will allow fast charging of the set in 2,5 hours. It will allow charge the headphones 4 times.
The top opens to put the headphones in thanks to a magnetic snap. You will notice the inscriptions relating to the safety marks of use CE, FCC, RoHS… On the front panel, a small LED will give the charging status of the box: blue, all is well, flashing, charging, red, to be charged because less than 10%.
We tested the white version of the Apollo Air, but they exist in black. But there is little chance that the color will change the performance right? The headphones are made of ABS type plastic, in one piece. Small, they have a length of 3 cm for a diameter of 1,5 cm and a depth of 2,5 cm (including 1 cm of tip) for 4 grams each. The design is very similar to all the ones we find on the market today, which claim to be the twin brothers of Air Pods.
The atria have 3 distinct parts:
The headset which will come to be put in the auditory canal. The basic one is size M but you also have a pair of S and another of L.
The middle part, in shiny and smooth plastic, wide enough, which will help the earpiece to hold well in the auricle thanks to its shape. It will come to be wedged on the conch of the ear but also at the beginning of the pavilion. Quite small, she will not force and will not interfere at all when wearing.
The outer part consists of 2 zones. An area close to the horn which will contain the diaphragms and processors and a vertical part which will contain microphones. The entire surface is tactile.
There is in the end 6 pickups per piece, distributed over the lower and middle internal part of the headphones, as well as the widest area. Everyone will have a role to play in the ANC but also during appeals. The finishes are very good and they fit very well into the ear canal. Considering their size, they adapt to all types of ears, even the smallest. You can wear them for hours without pain or bumps.
Once in place, they are quite aesthetic and hold up well. Perfect for sports, especially since they are IP 45.
Tronsmart Apollo Air / Air +: technical characteristics
Design :
Case dimension : 6 x 4 x 3 cm for a weight of 32 grams
Headphone dimension : 3 x 1,5 x 2,5 cm (including 1 cm tip) for 4 grams each
In terms of sound :
10mm graphene diaphragm, a simple sheet of carbon atoms arranged in a hexagonal pattern, one atom thick!
Sound modes : only one basic but possibility of having preset modes via the Tron applicationsmart.
Supported Bluetooth codecs : SBC (basic codec with a lot of losses), AAC (less loss, especially with Apple products) and aptX. The aptX codec will allow you to have much better sound quality than the previous two codecs. We are approaching CD quality but we are not at all Loss-Les nor Hi-Res Audio.
Frequencies : from 20 to 20 Hz. That is to say all that can perceive the human ear, therefore a very vast sound.
Connectivity :
Bluetooth : 5.2 and 2,4 GHz. Profiles A2DP / AVRCP / HSP / HFP. Everything you need for streaming and audio communication.
Multipoint connection : no
NFC : no
Voice Assistant : not integrated but possibility of launching that of the telephone.
TWS + : binaural connection. Each listener will be linked independently to the smartphone. So you can only use one. This allows for better responsiveness, low latency and better stereo management.
Generalities
Reading autonomy : 5 hours in 50% reading mode. Possibility of charge 4 times with a full charge of the case.
Loading time : 2,5 hours to charge the case, 2,5 hours to charge them in the case.
Noise reduction : active hybrid. 35 dB reduction.
IP 45 : therefore resistant to rain and sweat.
Color : white or black
Note that in addition to that, they embed the chip Qualcomm QCC3046 dedicated to mid-range products. As for the Bold (having a better processor), the brand did not take into account the Lossless aptX HD codec but only the aptX. However, there is an Apollo Air + version that runs the Adaptive AptX codec, which is even better but a bit more expensive..
Tronsmart Apollo Air / Air +: use
It is first of all necessary to come and pair your headphones with your smartphone. To do this, leave them in the case and press the button on the back of the case for 2 seconds. At the same time, on your phone, activate your GPS and in the Bluetooth settings, click on the headphones when they appear and select "Pair". And There you go !
By pressing the (i) to the right of the headphones, it is possible to select the type of audio codec to use directly in the parameters (SBC or aptX). Of course, go for the second to have a very good sound. But it stops there. To go further in the settings, it is necessary to go through the house application.
THETron appsmart, even if still improvable, has evolved a lot lately. Once the app has downloaded, open it and select the Apollos Air / Air + headphones among the available devices. Then tap sign in and wait for them to sign in to the app. It's better than before where you had to redo the complete pairing each time. There you just have to have them detected by the application. But you have to do it every time you open iteven after the screen has gone to sleep. As painful as possible ...
Once in the application, you will be able to activate or deactivate ANC and ambient mode. Ambient mode amplifies external sounds to make them audible through headphones, the reverse of ANC. The interest is to make you aware of your environment such as in the street for example. It is quite reassuring. With the middle tab, the waves, you will have access to pre-established and non-modifiable sound profiles, more numerous than before. The last tab allows you to come and modify the actions to be launched when you press on the touchpad. You can come and decide what to do with a single press, 2 presses, a long press… for each of the headphones. This will range from changing tracks to activating ambient mode and launching your voice assistant. Smartphone.
To launch the telephone's voice assistant, you will be asked to choose the one to activate during the first use: GA or Alexa.
In the end, even if it has improved significantly, the application lacks fluidity, simplicity and a custom equalizer.
Regarding the sound, it is a very good surprise! Even though they don't support Hi-Res Audio for the price, the apt X codec and aptX Adaptive work wonders. The sound is very balanced. The bass is present but not omnipresent. The mids and highs are well restored, undistorted and present. The sound is rich but lacks a bit of depth and detail, but also of spatialization. The management of the stereo is very good. Keep in mind that we are talking about products between 55 and 80 €, so no twirling sound or coming from everywhere at the same time, but the rendering is very good and that makes them versatile headphones!
If to this you add an ANC that works very well, you will enjoy yourself. To say that we have a reduction of 35 dB seems unlikely to us, but it is nevertheless very clear. Of course, you will not have the same result as with headphones at 400 €, you have to remain lucid. It is especially the bass and mids that will be filtered, the highs are a little less well managed. But this is still the case with this type of product, especially in entry and mid-range. However, this is absolutely nothing in the sense that it is not possible to manage the level of active reduction. It is ON or OFF. Only the most expensive products allow this. Ambient mode also works very well. But even observation, it is not configurable.
It should be noted excellent tactile response ! You don't have to do it 5 times to launch an action, it reacts like clockwork! One of the best we have had to test.
Regarding its use with connected assistants, you have to be clear from the start: we are not on Built-In. This means that there is neither Amazon Alexa, neither Siri, nor Google Assistant embedded. You can come activate your phone's assistant, provided that the latter is not on standby, otherwise, nothing happens. But if you are a fan of the concept, you will be able to manage your playlists by voice, send routines or perform actions just like you do with your Smartphone.
In phone mode, the sound is clear, but be careful not to get into the wind. The results are quite satisfactory without being exceptional either.
To get an idea of ​​the Apollo Air, take a look at our video test. Do not forget you subscribe to our YouTube channel and like the video to encourage us!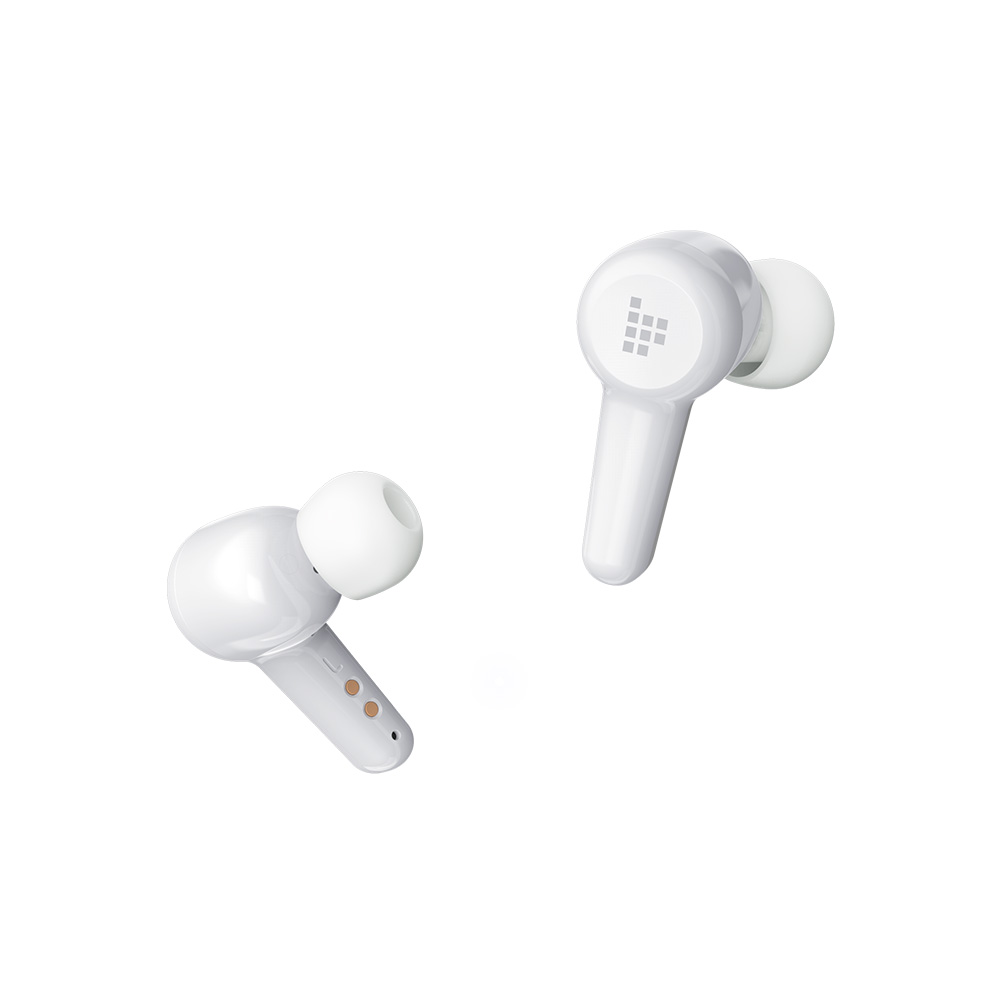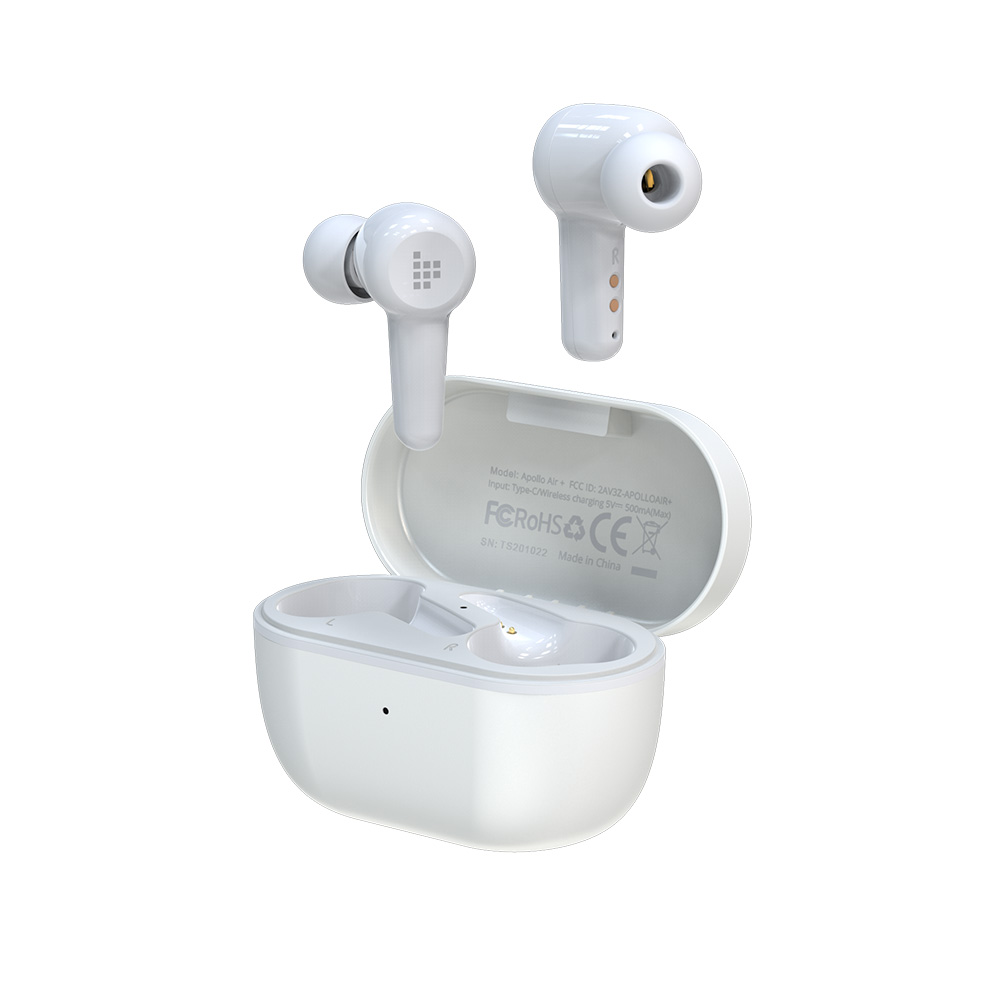 In conclusion, Tronsmart did a great job on the Apollo Air and Air +, but also by significantly improving a disastrous application which now becomes simply very average. For a price from 55 €, the Apollon Air are real wireless WTS + with a binaural system, an ANC working very well and sound goes everywhere, well rendered and rich thanks to the aptX and adaptive aptX codecs. The application has therefore a real interest in managing the customizations of the headphones and launching the ANC or the ambient mode. However, the connection system is always painful. So we have some really good midrange headphones for an entry-level, entry-level price! If you are looking for good sound, versatility and one of the best value for money, these are for you!